45 Reviews
Recommended by 98% of couples
Quality of service

5 out of 5 rating

Average response time

4.9 out of 5 rating

Professionalism

5 out of 5 rating

Value

4.8 out of 5 rating

Flexibility

4.9 out of 5 rating
22 User photos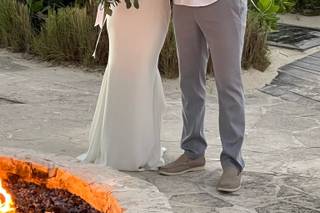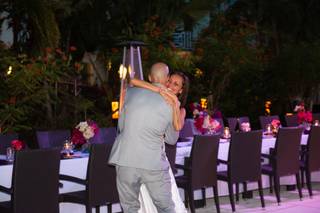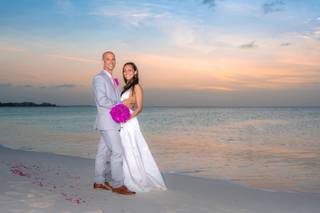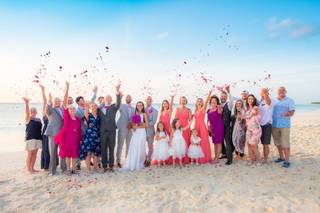 + 18

photos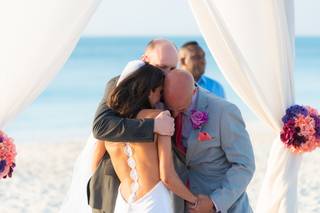 Kristen R.

Married on 02/04/2022

The wedding of our dreams thanks to Teresa!

The beach wedding of our dreams was made a reality thanks to Teresa! The day was intimate and family focused (only 12 of us) but she completely understood our needs, style and values and helped us every step of the way. All our planning was able to be done digitally without ever having to meet Teresa or her vendors in person. Just before arriving we had a COVID scare thanks to Omicron, but Teresa was patient, confident and did an amazing job calming my nerves with positive vibes. The day we finally arrived on the Island we met with Teresa and the Photographer (Anita from Brilliant Studios, also awesome) for the first time to review what we had planned over cocktails and became fast friends. We were totally prepped for a smooth wedding day, and it went exactly as Teresa laid out. Thanks completely to her super strong on island connections, organization, out going personality & professionalism! I couldn't have asked for anything more from our wedding coordinator.

Kary M.

Married on 04/20/2021

Incredible!!! Best decision we could have made!

Teresa went above and beyond for us, every step of the way! She made every detail so special, we couldn't have imagined such a beautiful wedding! Check out the pictures and decide for yourself, but my advice is to look no further.

Rory F.

Married on 04/11/2021

Perfect Day!

Teresa was fabulous! Although our wedding was very intimate (my husband and I and our two daughters) there is no doubt in my mind that whether there had been 4 or 204 guests, Teresa would have pulled everything off amazingly. It was a fun, stress free day and exactly what we were looking for! Turks and Caicos is a very special place, and we are very thankful for our special day!
Thanks again Teresa! - Rory and Justin

Are you interested?

Send a message

Kevin M.

Married on 04/09/2021

Indescribable surprise engagement


Phenomenal. I planned an engagement proposal with planner Teresa and photographer James. Both provided exceptional service and made the experience beautiful. It was everything and more! They brought my proposal to life and I couldnt be happier with the end result.

Carly-Ann M.

Married on 11/02/2020

Unbelievable experience! A real life dream.

I cannot even beginning to explain how incredible our experience was with Tropical DMC and Teresa! This was obviously a destination wedding for us so planning from a far was my initial concern. Thankfully, we were directed towards Teresa and Tropical DMC! From the beginning she was so relaxed and professional! We finally met a short 3 months before the wedding and she was on top of EVERYTHING! All my questions were addressed before I even had the opportunity to ask them. When the day rolled around, it was honestly SEAMLESS! Teresa was one step ahead of everything! I also want to address that she took care of EVERYTHING. She was my only point of contact rather than having 5 different vendors to try and keep in contact with during the planning. A little side note, I also planned a wedding reception back home after the destination wedding and I was BEYOND shocked at how many people I had to talk to and how little my coordinator actually did. It only showed how much Teresa truly did on our big day and I am SO thankful she was there to literally make the magic unfold! THANK YOU! It was a real life DREAM.

+ 4

photos

Devon M.

Married on 04/11/2020

Tropical DMC = Your Dream Wedding Come True

We met Teresa with Tropical DMC in November 2018 when we were scouting Turks & Caicos for our November 2019 destination wedding. We were only on the island for three days and wanted to leave with a plan in place so we knew we would need some help. Teresa was great! After getting to know us and a feel for what our dream wedding looked like, she took everything we said into consideration and we spent the afternoon visiting the locations she thought would mesh with us and our tastes. I'm not going to lie, it was a long afternoon, but she killed it! We left with a decision on our locale and the decision to work with Teresa!

We are so thankful we had her throughout all of the planning and during our wedding week. She makes everything so easy and stress free by taking away a lot of the headaches a bride would normally have - finding, vetting & contracting countless vendors to name one.

I am a self proclaimed perfectionist with a touch of OCD, so you can imagine the anxiety I felt toward my wedding day especially since I wasn't able to do anything hands-on. Teresa was very patient with me throughout the planning process and was always available to answer my never-ending questions and talk me through all of my crazy ideas.

Our wedding far exceeded our expectations, was an absolute dream and a huge success and that is mainly because of Teresa! We could not have done it without her! She was a pleasure to work with and if we had to do it all again, she would 100% be by our sides.


Michelle R.

Married on 01/18/2020

Simply amazing at planning every detail

I highly recommend Teresa and her team! Every detail was perfect! I met with Teresa in October 2019 to plan our January 2020 wedding for 60 guests. We did not have to do anything.. she had it all done. There were times I called her/text her and she reassured me it was all taken care of, and she was right. She planned for us the most amazing wedding weekend. From the early arrivals dinner, to the kickoff/rehearsal dinner, to the wedding, to the day after boat ride, and farewell dinner.. everything was perfectly planned. All of her vendors were so great to work with. My husband and I tried doing a few things on our own, but we learned the hard way on that... only use her contacts! She was very kind to both mine and my husbands parents, who are not great on their feet... helping them get around and making special accommodations for them to walk us down the aisle. The day of the wedding was windy.. she had it all figured out. She simply did not miss a beat. She even knew how to bustle my gown after the ceremony when my sister and bridesmaids could not get it right.
I keep getting told by all guests that it was the best wedding weekend. Thank you Teresa for making that happen, we would not change a thing.

Beverly C.

Married on 12/05/2019

Wedding planner

Very pleasant to work with. I didn't have to lift a finger which is exactly what I wanted having a wedding in a place I'd never been before! She knew exactly what I wanted! Highly recommended!!

Tropical Destination Management's reply:

Thank you so much for your kind reply - it was a pleasure working with you to create your special day!

J.j.

Married on 04/18/2019

Teresa is a Dream!

We hired Teresa to coordinate our April wedding on Grace Bay. We live in the U.S. but several people we know on Provo recommended Tropical Destination Management. We made the right choice. Teresa is a complete professional. Everything was perfect and easy from
start to finish. We wanted three days of elegant, easy events that we could enjoy with our guests and that's what we received. It was absolutely perfect.

Planning process - Teresa was very accessible and helpful. The hardest parts were finalizing details that only my fiancé and I could determine in the end - choosing the venue, determining the readings and songs/playlists. You can trust that whatever vendor Teresa recommends will delight you and your guests. Everyone ended up exceeding our expectations. Our guests are well-traveled and connected and they had the most incredible week filled with love and joy.

Onsite coordination - Teresa was phenomenal onsite. She made us laugh, everything went off without a hitch, and we had the wedding of our dreams. All of our guests gushed about the week and several commented on how amazing our wedding coordinator was. You will feel like you have a friend by your side. I was calm and in the moment the entire day.

I have planned large-scale corporate events for hundreds of people in my past life so I am very knowledgeable about what an events coordinator should do. Teresa is a caring, detail-oriented professional who will help you achieve your vision. She rivals the best planners I have worked with and importantly, only works with trusted vendors who will all come through.

The best part of hiring Tropical Destination Management is letting go of managing all of the minutiae (before and during your wedding or event) and getting to focus on what really matters - being present and making memories with your loved ones. I would hire Teresa again in a heartbeat!



Kelsey

Married on 06/23/2018

Teresa at Tropical Destination Management is fabulous! She did an awesome job planning my daughter, Kelsey's destination wedding. She was always available to discuss various options and every detail was taken care of. We really enjoyed working with Teresa from the beginning process through the wedding day.

Brooke

Married on 03/31/2018

Teresa and her team at Tropical DMC could not have done a better job with our wedding! Everything was perfect from the rehearsal dinner down to the décor. Truly anything is possible with them on your side! They took my Pinterest dream wedding photos and turned them into reality!!! Since we don't live on island, a lot of our communication was over email. We were able to meet in person twice, but once Teresa got to know us and our style, we trusted her to just run with it and do her thing - she did not disappoint!! I was absolutely stunned on our wedding day as everything started to come together. We got married at my parents villa, and she completely transformed the place into something out of a fairytale. Not one thing went wrong during our wedding - if something did, we had absolutely no idea about it!

Not only does Tropical DMC have so much knowledge and connections with the best vendors on island, they are absolutely great people to work with! Teresa is such an amazing person and makes you feel so special throughout every step. No matter how many times I changed my mind, she was always so patient. I have no regrets and highly recommend any couples to use their services. It's so important to enjoy the process and the wedding day, and that's exactly what Teresa and her team allowed us to do. They took the reins on everything, while we just enjoyed every moment. We have so many wonderful memories. Thank you so much to Teresa and the Tropical DMC team!! We are forever grateful!!


Nicole

Married on 11/11/2017

Teresa was great throughout the wedding process and I would highly recommend her to any bride and groom going to Turks. She knows the island very well and she will get anything done that you need. We had the wedding of our dreams! Thanks Teresa!

Bianca

Married on 07/22/2017

The entire experience was amazing! My groom and I did not need to stress over the details of the wedding. Teresa was extremely accommodating and flexible and truly helped make our day special! Thank you!

Michelle

Married on 07/15/2017

Planning a wedding to have in another country could have been very difficult without being there, but Teresa made the experience a breeze. She was a pleasure to work with. She sent us all the options we could choose from (flowers, to decorations, food, fun trips to have with our guests, hair and makeup) and gave helpful tips on all of them which helped us make our decisions. She was very accommodating in answering our questions and although we were on a island we were able to have everything wanted there (even flowers that don't grow on the island). She was even there on days we had planned other events for our guests and the day of the wedding to make sure everything ran smoothly. The decorations and flowers were more beautiful than we had expected. The food was absolutely delicious and the staff was so helpful and accommodating. We could not be happier with the way our wedding turned out. It was a dream and turned out more amazing than we had ever hoped. Thank you, Teresa, for making our wedding so special!

Timothy

Married on 07/01/2017

Teresa and her team were amazing at everything. Payments, set up, meeting times, flexibility with changing parts of the ceremony last minute due to sunset time etc. Highly recommend! And after the wedding we used her the following week to reserve and attend several dinners and outing which we could not have gotten into without her "pull". She knows everyone on the island and is highly respected. It would be a mistake to use any other company except Teresa's. We never had a strained moment with the planning of our celebration. Thank you Teresa and Team Tim, Daisy and family July 1 2017....most beautiful day of our lives:) Feel free to contact me if you have any further questions or concerns.

Lady M.

Married on 05/20/2017

Teresa is a true professional and great wedding planner! At first I was hesitant to hire a wedding planner, since I plan events for a living & knew exactly what I wanted for my big day. Teresa took my vision, my concerns, my dreams, and made our wedding day perfect!

She is well respected and known throughout the island with vendors, businesses, and the general community. She knows how to do business in the Caribbean while meeting the expectations of Americans.

Nothing every goes 100% as planned, that's just a fact! Teresa quickly addressed every issue that came up and fixed them, to make our day perfect!

She is phenomenal! A great person who happens to an outstanding destination wedding planner. If you are getting married in the gorgeous island of Turks & Caicos, hire Teresa!

Robin

Married on 05/12/2017

I was a little nervous at first booking Teresa for my destination wedding without meeting her first, but once I started working with her and went down to meet her, I knew we made the right decision. She was always on point and up to date with everything. Not only is she a super nice, personable person, but she's funny, down to earth, and does absolutely everything in her power to make sure you are happy and get exactly what you are asking for. Everything that she did for us completely surpassed my expectations. She took our ideas and made them into a dream wedding that I could never have imagined for myself. Everyone who attended our wedding had an amazing time, and she made sure of that. She carried my train, made sure I got something to eat on the wedding day, and made sure everything hair was in place. I might even cry just writing this because I even wish I could go back and do it all over again in the exact same way it happened just because it was that amazing.

Harriet L.

Married on 04/10/2017

A magical, stress free, perfect wedding day!

My husband and I had planned our wedding to be in Turks and Caicos but knew trying to plan a wedding so far away (we are based in the UK) would be extremely difficult. One evening after googling for the perfect place to stay I stumbled across Teresa's website and instantly fell in love with the style of weddings she creates. After having a conversation with her and giving her our ideas it was done, the initial plans were drawn up and away Teresa went to ensure they became a reality.

Fast forward 12 months later and I woke up on my wedding day to Teresa and her team setting up our wedding in our beautiful Villa on Sapodilla Bay. Whilst I was getting ready, she worked absolute magic, I had so much trust in her that I left it to Teresa to make it perfect and the first time I saw everything was when I walked down the aisle.

Thank you so much for creating an absolutely stunning wedding ceremony, table setting, catering, music, the whole lot. I will be forever grateful for you ensuring I had the best day ever.

+ 3

photos

Cara

Married on 03/06/2017

Teresa was exceptional. There was not one single detail that she didn't think of. Planning a destination wedding remotely was something I worried about but Teresa quickly learns your style and taste and created our exact vision. From start to finish she was there to see that everything ran smoothly- and it did. My wedding day was perfect thanks to her and her team!

Lori

Married on 12/28/2016

Teresa Brunner is the most fantastic wedding planner I could have ever asked for. We just returned from our wedding 2 days ago, and my family and I are still amazed!! My sister kept saying "you are the calmest bride I have seen, aren't you worried about anything?" I would laugh and say no, but it was true, I was calm. Teresa made me feel as though she had everything under control from the first time we made contact via email. Coming from the States and getting married on an island you have never been too can be incredibly worrisome, which is why I knew I needed a competent wedding planner to help me with all the details. Teresa stayed in touch with me for months leading up to our wedding via emails and phone calls if needed; she even met me at the Villa as soon as we arrived on Turks and Caicos. Teresa took care of everything for us, from the secluded Taylor Bay Beach location, to setting up excursions for us and our family while we were on Turks and Caicos. Every single person she hired for our wedding was professional and did an amazing job!!! These services included stunning beach decorations, flowers, acoustic guitarist for our ceremony, our pastor, hair and makeup artists that came to our Villa, private caterer for our reception dinner at our Villa, and the most amazing photographer. Thank you, Teresa, for helping create the most spectacular wedding for us!
Lori & Stephen McDermott 12-28-2016


Kelly

Married on 10/08/2016

Teresa and her team were absolutely wonderful. To this day when I hear brides talk about how stressed they are about their wedding I almost feel guilty over how much Tropical DCM handled for me. Like any wedding we had a few hiccups that I could have lost my mind over but Teresa and team to the rescue....
- We had to change the flowers a little over a month before the wedding and Teresa was on top of emailing me new options ASAP (and they turned out even better than the original choice)
-We had Hurricane Matthew blow through Tuesday before my Saturday ceremony which closed the Miami and Provo airports for 24 hours. Teresa somehow helped change my parents' flight so that they made it just in time for my dad to walk me down the aisle. LITERALLY life saving.

I could go on and on about how beautiful the beach ceremony space was and the reception decor, set up and FOOD! were exactly what we were hoping for. I would 1000% recommend Teresa and Tropical DCM. Kelly & Jim 10/08/2016 Royal West Indies Resort.

My husband and I got married in the middle of what seemed like one of the worst monsoon storms to ever hit Turks & Caicos during the month of May. The forecast for the day seemed perfect, it showed sunny with a few clouds and a 20% chance of rain. We thought we were in the clear for a beautiful beach wedding, instead an unexpected storm passed through right as we were heading to the ceremony in the later afternoon. We got married amidst torrential rain, strong winds, life threatening lightning and thunder to boot, and -- thanks in a HUGE part to the efforts of our wedding coordinator Teresa Brunner -- we still got hitched without a hitch!

Throughout the planning process, Teresa was attentive, organized and resourceful. She helped to alleviate any additional stress leading up to the wedding by providing helpful tips and responses that kept me and my husband on track and staying within budget for the big day. She took the reigns on our rehearsal day and made sure all of our attendants (and little ones!) knew exactly what they were doing, and made it fun and enjoyable throughout. On our wedding day, I knew I had absolutely nothing to stress about because Teresa and her team were on it. Despite the monsoon weather Teresa not only showed up, her and her staff ROCKED our wedding. I was expecting maybe half of the staff to be there, for things to be a little bit slow, run a little behind, but no. Teresa had a FULL staff, and set up the ceremony and reception BEAUTIFULLY!!!!!!!

She is the most hard working wedding coordinator I have ever met, and I seriously cannot express my gratitude enough, she saved our wedding from being a total disaster!!! If you're looking for a event planner that not only is truly thoughtful, considerate, professional, AND that you can fully rely on (in a unexpected weather crisis!), look no further!

I cannot say enough about how wonderful my wedding was. Teresa went above and beyond what we expected. She even added tiki torches, additional flowers, a beautiful table for signing our paperwork, and more. It was a surprise when I walked down the "aisle" on Grace Bay beach. What wedding planner would ever do that? No one! ... Except Teresa. We were stretched financially due to a new baby, but Teresa made sure our ceremony was still fabulous despite our restrictions. She was professional and responsive via email throughout the planning process and even more lovely in person. Thank you Teresa and your team for the best day of my life!

Krista

Married on 03/19/2016

I'm so thankful we used Tropical Destination Management as our wedding planning service! Teresa was wonderful to work with. We were determined to have a stress-free wedding. Teresa handled everything- trust her to make decisions for you!

The day of our wedding was so easy- we spent the day relaxing while Teresa and her team set EVERYTHING up! We literally showed up to our ceremony and were treated like guests at our own wedding. No setup, tear down... etc. This is how a wedding should be!

Teresa is extremely creative and delivered an elegant & well coordinated ceremony, cocktail hour and reception. The timing was perfect; the evening flowed seamlessly. The vendors she works with (photographers, florists, DJ, etc.) are top notch and I would recommend her services to anyone!

Personality-wise Teresa is exactly what a wedding planner should be: sweet, calm and professional. If there were any hiccups during the wedding- we were certainly not aware! She handled everything effortlessly (at least it seemed that way!).

Do yourself a favor and reserve your wedding date with Teresa- and trust her input! I'm so glad we did!!

Janice

Married on 07/25/2015

Theresa was very organized and her years of experience contributed greatly to the success and ease of the event. I had no concerns that everything would play out beautifully. And it did. Most importantly I was able to enjoy the event without the worry of details.
Are you interested?
Send a message