36 Reviews
Recommended by 100% of couples
Quality of service

5 out of 5 rating

Average response time

5 out of 5 rating

Professionalism

5 out of 5 rating

Value

5 out of 5 rating

Flexibility

5 out of 5 rating
1 User photo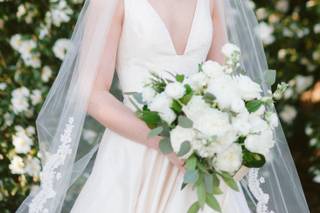 Courtney

Married on 01/12/2019

10/10 would recommend!

Tracy is an absolute gem! Just take one look at her Instagram feed and you will see exactly what I'm talking about. Her ethereal makeup and hair styles are what got me to book her, but her personality is what made me want to be her best friend!
Even though Tracy specializes in intricate twists and braids, she absolutely nailed the more simplified low bun I was wanting. I used Tracy for a trial run, my bridal portraits, and our wedding day. I actually emailed Tracy in a panic after my trial saying I had a change in heart and wanted to go in a different direction for my hair, and she was so accommodating and sweet about it. Not only that, she offered to try multiple hair styles the day of my bridals just to ensure I was happy with my look! She even texted me afterwards asking how the portraits went. So sweet!
On the day of our wedding, Tracy brought in 2 other girls to help with my 8 bridesmaids, mom, and mother-in-law. They were equally as talented and awesome, definitely not just some random "assistants." Everyone looked flawless and wanted to hang out with Tracy the entire day. Her effervescent personality coupled with her talent make her an absolute must for your wedding! Please do yourself a favor and hire Tracy to be your wedding beauty guru. You will not be disappointed!

Britt

Married on 03/24/2018

Tracy was recommended to me by my planner, and as soon as I saw her Instagram I knew she had to do my hair and makeup. To put it simply, she was phenomenal. By the time my mom and I left our trial appointment (yes she did a trial for my mom, too!) I wanted her to be my new best friend. Not only is Tracy fantastic at making you look like a natural beauty, she is quite possibly one of the sweetest, friendliest and most patient people I have ever met. I received so many compliments on my hair and makeup throughout the wedding night and I owe it all to Tracy. I've never felt more beautiful.
Also! And this is important: I danced, jumped, twirled and spun all night long and not a single hair fell out of place. Tracy is a rockstar.
Review from the Mother of the Bride
As a mother of the bride who is a touch high maintenance when it comes to her hair and makeup, I have nothing but wonderful things to say about Tracy. She was beyond sweet and so so patient with me as I explained exactly what I wanted. She suggested ideas clearly and gave her professional opinion in a genuine and friendly way. Tracy has extensive product knowledge, is fabulous at what she does and so efficient (I wish I could make myself look so good so quickly!). Most importantly though, Tracy was easy to contact, quick to reply and treated us like we were her most important client. And on the day of she was so helpful and so much fun!

Jessica

Married on 12/16/2017

Tracy was an absolute joy to work with! I was extremely happy to use her throughout our wedding planning process. Your hair and makeup on your wedding day is supposed to be perfect and she made sure that mine was. I had a trial in early November and then a few other sessions for engagements and bridals. Tracy made me feel so comfortable and it was easy to make adjustments if need be. We only had a few hours to get ready the day of the wedding so Tracy had a few colleagues there to help. They were amazing as well and my bridesmaids looked absolutely stunning. Overall, my experience was incredible and I would love to work with Tracy again in the future.

Are you interested?

Send a message

Monica

Married on 09/30/2017

Tracy was the absolute sweetest vendor I worked with for my wedding! She is so personable and made me feel so comfortable throughout my trail, bridals and wedding. Starting at the hair and makeup trial, Tracy worked to make sure I was 100% satisfied with my look and was happy to make tweaks along the way so on the day of the wedding everything looked perfect! Not only was I impressed with Tracy, but all 9 of my bridesmaids, our two junior bridesmaids, our flower girl and the MOB and MOG were in love with their final looks. Everyone looked flawless with the airbrushed makeup and Tracy and her team put their special touch on everyone's hair which looked amazing. I would definitely recommend Tracy for your upcoming wedding!

Emily

Married on 04/08/2017

Tracy is GREAT!! She was such a joy to work with and knocked it out of the park on our wedding day! Not only is she extremely talented but she was an absolute blast to have around while she was helping us get ready. I had a specific idea in mind for my hair and she took it and made it into something even better...I got so many compliments all night about how my hair and makeup turned out. She nailed it with my bridesmaids/mothers/mother-in-laws makeup and her assistant did such an incredible job with everyone's hair!

Kelcie

Married on 11/05/2016

Tracy was an amazing stylist to work with. She took all my ideas and created the best look (hair and makeup) for my bridals and wedding. She was easy to schedule and contact. She and her assistant Lacey was able to work with my bridesmaids and create beautiful styles for them as well. They were a fun addition to the wedding day. Tracy also took on the role of photographer for fun hotel pictures with myself and bridesmaids. I loved working with Tracy and would highly recommend her to any bride!

Corley

Married on 10/15/2016

I LOVE Tracy Melton. I repeat.. I LOVE Tracy Melton. She's joyful, funny, smart (like super quick), and crazy talented. I absolutely love her as a person (total girl crush.. yeah, I said it) and she does amazing work. She's one of those people that you meet and automatically feel a connection with. After 5 minutes, I felt like I'd known her my whole life. I genuinely looked forward to seeing her because she made me feel so comfortable.

As a "messy bun and no makeup" kind of girl, I prefered the natural look in my bridal portraits + on my wedding day and.. WOW.. Tracy nailed it. I came to her with a few ideas and she used them to perfectly enhance ME. I've never felt more beautiful. Naturally beautiful. I mean.. I don't want to brag, but.. I looked goooooorgeous! I got so many compliments, my bridesmaids looked amazing, it stayed on throughout the wedding + reception, and the pictures have turned out divine.

Tracy Melton was the best vendor on my wedding team and I cannot describe how much it meant to have her there through the process. She was a consultant, advice-giver, and really, a friend. She made me feel calm and beautiful the day of my wedding and I would recommend her for ANY and ALL hair or makeup services.

Brittany

Married on 04/16/2016

Tracy was not only one of my favorite vendors that I had the privilege of working with, but also one of my favorite people. I booked her to do my hair and make up for my engagement photos and wedding day (for me, my mom, and bridesmaids). She was without a doubt one of the best investments that I could have made because not only was her work flawless, but I truly felt like I had made a new best friend - and what more could you want from someone who is with you on one of the best days of your life? I would (and do) recommend her to everyone that I know because she is seriously the BEST OF THE BEST! I can't wait to get the chance to work with her again!

Shannon

Married on 06/27/2015

I could not have made a better choice when choosing Tracy. She is such a sweetheart, easy to talk to, and listens to any concerns well. She did my wedding day hair and makeup, plus all of my bridesmaid's hair. Some of my bridesmaids did not have a clue what they wanted, but they were all very happy with the outcome. She made my hair and makeup look amazing. I got compliments on it all night! I cannot say enough good things about her!!

Samantha

Married on 03/28/2015

Having Tracy do hair and makeup for my wedding was one of the best decisions I made during the wedding planning process! She is fun to work with, energetic, open to suggestions, and extremely talented. I loved the way all of our hair and makeup turned out and my bridesmaids all told me how much they enjoyed getting to know her before the wedding. I cannot say enough good things about her. I highly recommend her!!!

I think it's safe to say that brides, in general, tend to put a lot of pressure on themselves to look their best on their wedding day. After meeting with Tracy, all of that pressure faded away because I knew I was in good hands! She looked at the photos I had brought in and came up with a bridal look that exceeded my expectations. She also did the same thing for my mother and 6 bridesmaids, who had nothing but wonderful things to say about her at the end of the day. Not only is she incredibly talented at what she does, but she has a contagiously fun energy that made her a complete joy to work with throughout the entire wedding process. I cannot recommend Tracy highly enough!

Annie

Married on 01/17/2015

Are you looking for a talented hair and makeup artist who can not only work wonders, but is someone you would want to be friends with?? Tracy is your girl! She is kind, helpful, thoughtful, flexible, encouraging, and crazy talented! Tracy not only made my wedding party and I look gorgeous, but she helped us all calm down and have fun in the process --which was invaluable to me on that highly emotional day! She is a gem and I am so grateful for her work.

Tracy was wonderful! She is so patient and really wanted to make sure I loved my hair & makeup. She and an assistant provided hair/makeup for my entire bridal party, and they made the getting ready process so fun for everyone. Everyone loved their hair/makeup & I would definitely recommend Tracy to anyone! Thanks Tracy!

Tracy is fantastic to work with! She was so efficient and fun and fit right in as I was getting ready with all of my bridesmaids. I was nervous about how I would look on my wedding day, but she made my hair and makeup absolutely flawless, which made me feel confident around so many people at the wedding. I'm so grateful I got to work with Tracy. It was one of the best wedding planning decisions I made!

Laura

Married on 11/22/2014

I cannot say enough nice things about Tracy, she is AMAZING!! She is so sweet, and was just like one of our friends while we were all getting ready. I changed my mind about my hair after my trial, and she spent so much time on the wedding day making sure it was exactly what I wanted. I highly recommend her for any hair and makeup needs and will definitely be using her again for myself!

Christen

Married on 10/17/2014

Tracy was EXTREMELY professional, and was always prompt in her responses to my many questions. She diligently styled my hair over and over again until it looked exactly the way I wanted it to, and she matched my makeup beautifully with my natural skin tones and specific requests. I often tell my friends that Tracy was the most favorite vendor I worked with throughout my entire wedding planning experience. I HIGHLY recommend her to any bride-to-be and her girls!

Hilary

Married on 10/04/2014

Tracy was wonderful from start to finish. She is the girl you want in your bridal suite on your wedding day. She is so sweet and patient and she worked hard to make sure my 7 bridesmaids and I all absolutely loved how we looked. Our hair and makeup held up all night and looked perfect in pictures!

Nicole

Married on 09/20/2014

Tracy was the best decision I made while planning my wedding! From day 1 she was very attentive and had an open mind to what my vision was. She took that vision and turned it into exactly what I wanted, perhaps, even better than I wanted. The day of the wedding she was on time and came prepared for what we threw at her! I can only imagine having to deal with so many type A women! I would highly recommend Tracy for your special day and all the events leading up to it!

I did a makeup lesson with Tracy and it was worth every penny! Best decision ever! Tracy had worked on a few of my brides and they always look amazing so I decided to do a makeup lesson with her. She is SO sweet, amazing at what she does and very professional. You would be crazy not to work with her!

Molly

Married on 06/28/2014

Tracy did my hair and make-up for my bridals and my wedding day and I was SO happy with it! We did 2 looks on my wedding day and it was exactly what I had imagined. Tracy also did 5 other family members for me and she was so great and calm on the day of the wedding! Everyone looked beautiful and we were so thankful for Tracy!! She does amazing hair and make-up but is also very sweet and fun and a great person to have around for most of your wedding day :)

Christine

Married on 05/10/2014

I loved having Tracy do my hair and makeup for the wedding. She made me look and feel so gorgeous and did the same for all of my bridesmaids. All of the girls loved their updo's and she made my mom look absolutely beautiful! Not only does she do amazing work, she is very professional and such a sweet person. I really enjoyed working with her!

Jane

Married on 04/26/2014

Tracy Melton and her sidekick did an amazing job on me and my bridesmaids! She made me feel like a beautiful bride and made my bridesmaids look gorgeous! She is so sweet and I would recommend her to anyone. She did around 15 girls make up & hair the day of my wedding. That's a lot of girls but she did awesome! Thank you Tracy for making me look and feel like a beautiful bride on my wedding day!

Tracy is amazing! In addition to doing my hair and make up, she did my mother's hair and makeup, and make up for my bridesmaids. Everyone looked absolutely stunning! Besides being extremely talented and professionalism, Tracy is extraordinarily sweet and fun! She was such a great addition to our day! I think every bride should hire tracy for their wedding because she is the best!

Tracy is extremely sweet and kind. She did my makeup and hair along with my bridesmaids hair and makeup. The updo she did for me was stunning! My bridesmaids and I loved working with her! The makeup she did for us was airbrushed on and lasted all day! She came to our hotel and it was like having one of the girls there! I would highly recommend her!

Amanda

Married on 12/07/2013

Tracy was fabulous! She braved driving through an ice storm to make sure she would still be there to make us beautiful the day of my wedding! I was so thankful that when so much was going wrong, she was so enthusiastic about being there.
At the trial run, she was able to immediately put me at ease, which doesn't happen too often when I get my hair done. She was so quick to listen and discuss what I wanted and encouraged me to tell her if I didn't like anything. The hair and makeup trial went great, and when I asked for a few changes (I'm not super comfortable in a lot of makeup), she was so positive and great about it.
My 5 bridesmaids adored her and said she made them feel so comfortable - she seemed to fit right in with everyone hanging around the bridal suite! Their hair was beautiful and each one was so unique. She even squeezed my mom in and made her so confident about herself.
My husband was thrilled with the outcome - he said it was a perfect balance between being dressed up for a wedding, but still being myself. He also said my eyes took his breath away during our first look, which is total kudos to Tracy.
Overall, I could not be more happy with her. I would highly recommend her to anyone who is looking for an easygoing, joyful and extremely talented hair/makeup miracle worker!
Are you interested?
Send a message