50 Reviews
Recommended by 100% of couples
Quality of service

5 out of 5 rating

Average response time

5 out of 5 rating

Professionalism

5 out of 5 rating

Value

5 out of 5 rating

Flexibility

5 out of 5 rating
4 User photos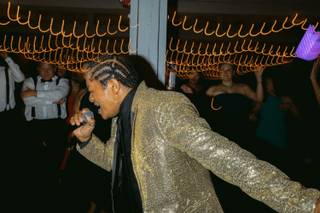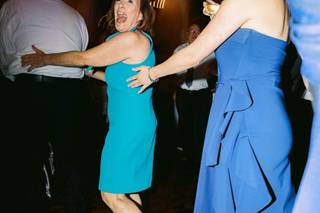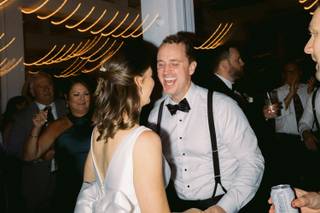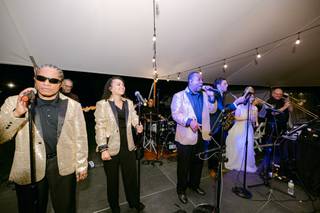 Featured

Pat

Married on 11/05/2022

Truly the Best

Total Soul played for my sister's wedding a few years ago and when I got engaged last year, I knew there could only be one band playing at my wedding. Jeff was without question the best vendor that we worked with. His email responsiveness, general flexibility, and calm demeanor was a breath of fresh air when wedding planning. Even though they are based in NJ, they made the trip down to VA and absolutely brought the HEAT. They didn't ask any questions when we requested our first dance song be something off their catalogue and they absolutely nailed it. The dance floor was packed the entire night and everyone continues to tell us how much they loved the band. Considering the amazing service and the incredible product, their price is MORE than reasonable. I would recommend this band to anyone!

Total Soul's reply:

Pat- thank you for the compliments. It was my pleasure working with both you and Parker in preparation for the big day. We had an awesome time performing for you and all of your guests. I hope to see you and Parker again soon!

Jeff

Katarena B.

Married on 10/02/2022

Oh What A Night!

The band was the hottest item of the night! I had the absolute time of my life while they performed at my wedding. They handled introductions, did some DJ-ing here and there, and completely amazed me with the performance. Total Soul is the the Total Package!

Total Soul's reply:

Katarena - Thank you for hiring Total Soul for your special day, and thanks to you and Nick for your kindness toward the band. Many years from now as you recall happy memories from your wedding day, we hope thoughts of Total Soul will bring a smile to your faces. Best wishes to you and Nick for a long and happy marriage. Please also extend our thanks to your family and guests.

Nicole W.

Married on 09/03/2022

Total Soul was the best!!!

Hiring Total Soul to play at our wedding was one of the best decisions we made! Jeff was so responsive and easy to work with leading up to the big day and the band brought such amazing energy. Our guests are still talking about their "Billie Jean" performance!! Hire these guys, you won't regret it.

Total Soul's reply:

Nicole,

Thanks for hiring Total Soul, and for such a nice review. It was an awesome party! All the best to you and Mike. We hope to see you both again soon at another event!!

Jeff

Are you interested?

Send a message

Alec S.

Married on 08/20/2022

Our best wedding decision!

When we booked Total Soul, I expected them to be good, based on the videos I saw. Really good, in fact. But I confess I wasn't prepared for just how INCREDIBLE they were. They learned a few songs for us and sounded as if they had been playing them for years. They performed an especially rollicking hora, and had people on the dance floor all night long - which is what my wife and I had hoped for. Multiple guests have told us that they were the best wedding band they've seen. My wife and I met in the marching band in college, and they even let us sit in with them for a few songs!

Maybe just as important - Jeff was an absolute pro to deal with. He was very responsive and helpful before the wedding, and made our lives very easy on the day of by helping to coordinate toasts and dances. The entire band brought great energy and helped make our night one we'll remember forever. I cannot recommend Total Soul highly enough!

Total Soul's reply:

Alec,
Thank you for the great review. We had a fantastic time performing for your guests, and performing live and on stage with you and Wendy! I also enjoyed working with you in preparation for the wedding and the surprise performance. I'm hoping to see you both again in the near future. All the best to you and Wendy!

Megan

Married on 05/28/2022

Best band ever

What an INCREDIBLE band. Jeff and his crew made our wedding an absolute blast. They are receptive and really know how to read the crowd. Our day would not have been what it was without them. Fun, talented, organized, and unforgettable. Thank you, total soul!!!

Total Soul's reply:

Megan- Congratulations to you and Brendan, and thank you for chosing Total Soul! We had a blast and really appreciate your kindness.

All the best to you both!!!

Jeff

Logan S.

Married on 05/14/2022

The best band (and most affordable) you could ever ask for your wedding

Total Soul was the best wedding decision we made! They were by far the most reasonably priced, but beyond that they made the entire wedding! Before the wedding Jeff was on top of everything and super responsive. At the wedding they brought the HOUSE DOWN!! All our guests were talking about how amazing they were, we had so much fun with the band! Choose Total Soul for your wedding band you will be happy you did!

Total Soul's reply:

Congratulations again to you and Emily! I really loved the pictures that you shared and can't wait to dig into the videos that were just sent! I'm looking forward to seeing you both again in Cape Cod in June of '23!

Jeff

Kristy B.

Married on 09/24/2021

Incredible band!

Total Soul is incredible. They performed at my wedding this past weekend. The band manager Jeff is extremely easy to work with and reach. They are the total package....they sing, dance, and perform out on the floor. My guests raved about them. They even learned our special songs to perform live (father/daughter and mother/son). They also did our introductions, provided a piano player for cocktail hour, and provided speakers/microphone for our outdoor ceremony. They got everyone out on the dance floor and knew exactly what songs to play. I highly recommend this band

Total Soul's reply:

Kristy,

Thanks for the compliments. We really enjoyed performing at your wedding. Everyone in the band also was very appreciative of how kind you and Evan were to the band.

We want to wish both of you many years of health and happiness!

Jeff

Erika F.

Married on 08/22/2021

Book this band!

Book Total Soul if you want your guests to be raving about the band, the party, and the music. Total Soul had everyone dancing even before salads were served. They played last minute requests, learned new songs for our wedding, and provided beautiful ceremony music in addition to keeping the crowd on their feet the entire night. They are true professionals, true artists, and are so incredibly easy to work with. They were flexible with us when we bumped our wedding due to COVID and were so easy to communicate with. I cannot say enough about them. People will be talking about our wedding for years to come because Total Soul was involved. I know we will have family and friends booking them for other events- they are the absolute best!

Total Soul's reply:

Erika,

Thanks to you for the great review! The band really enjoyed performing for you, Patrick, and all of your guests. There was a ton of energy and happiness in the room this past Sunday.

Thanks also for treating the band so nicely. I hope that we see you both again soon at a future gig!

Best wishes,

Jeff

Alicia J.

Married on 06/03/2021

Exceptional!

I cannot put into words out exceptional this band was. Not only did they play almost every song I requested, but they worked very closely with the me, the bride, beforehand to plan each detail of the day. A 7 piece band sounded like a 10-12 piece band! You will not find a better wedding band, I promise you! xoxo to Total Soul!

Total Soul's reply:

Thanks for all of the kind words, and of course for taking care of our meals. The food was outstanding!

Congratulations on an awesome event. I really enjoyed myself that night. It was especially fun for me to spin some of the Latin requests and watch the dance floor fill up!

Best wishes to you and Adam for many years of health and happiness!

Jeff

Poppy J.

Married on 05/29/2021

Best band ever

I don't even know where to begin. Total Soul was AMAZING! Every single person at our wedding was raving about them all night. I've never seen a dance floor so consistently packed throughout the night. I completely lost my voice from singing along and had to put a knee brace on both knees because I was dancing so much! Every single musician; horns, keyboard, drums, and guitar; were all SO talented. And those singers! Unbelievable! They kept the party rocking!
You'll be totally sold on Total Soul!

Total Soul's reply:

Thank you for hiring Total Soul to perform at your reception. I'm very happy that you and Matt were able to finally get the wedding you deserve after the postponements due to the pandemic. It truly was a night to remember!!

Best wishes to you both :-)

Jeff

Anne

Married on 08/10/2019

Blew the roof off!

Jeff, the band manager, is a pro. He knows the importance of flow and momentum at a wedding. His expertise and easy going attitude removes stress from the day. You're in good hands!
The band is not an ordinary wedding band. These are true musicians who are there to perform and feed off the energy of the people. Everyone danced- young and old. We didn't want the night to end!

Total Soul's reply:

Anne- thanks for the outstanding review. We had a great time at your wedding. You and Jonathan were a pleasure to work with leading up to the wedding day. We really appreciated the way the band was taken care of as well, especially knowing that we travelled from NJ to northern Massachusetts. It was truly a highlight of our summer!

All the best to you and Jonathan!!

Jeff

Michelle

Married on 01/20/2019

The most fun night ever

Total Soul made our wedding legendary. The band as a whole is talented, but the singers have a knack for bringing people on the dance floor and giving the place to life. They played many of the songs we requested on our list; the most impressive was when they learned a new song for our first dance. (And he ROCKED IT!) Everyone says the bride and groom don't get a chance to dance much at their own wedding, but we were on the dance floor the entire time. You couldn't drag me off! Lastly, Jeff, the band director, was very easy to work with. He helped us play the music at the ceremony, introduced us for the first dance, and all the music in between breaks and eating. It was seemless and yet, it constantly kept the energy of the room up. All my friends kept saying "Who is this bad? Where did you find them? They are the best wedding band I have ever seen." I'm so happy I did find them because they truly helped make my day the best day of my life.

Total Soul's reply:

Thanks Michelle. We also had a great time performing for you and your guests. It was a very memorable night.

All the best for many years of health and happiness to you and Paul!

Jeff

Michael E.

Married on 11/10/2018

All You'd Hope For and Then Some

Jeff & Total Soul were awesome in all respects. Their sound is excellent. They had all our guests on the dance flr (all our friends and parents' friends) throughout the reception. While Motown may be their bread & butter, they have range, and play contemporary hits, classic rock, etc, and play it all quite well. The bands gets out on the dance flr & will get your guests amped up. We seldom saw anyone in their seats.

Jeff was highly professional from our first interaction till after the event. He promptly responded to all calls/emails and his emails always addressed Qs/concerns. What is more, he was highly flexible...our event was in a small space & the venue was strict.

Obviously, wedding bands are pricey. These guys provide ridiculous value. I paid 40% of what several friends paid & rec'vd what I believe was a superior product. We rec'vd a slew of compliments throughout the night & the following day re the band.

Look no further.

Total Soul's reply:

It was great working with you as well. It was an awesome reception for sure.

All the best to you and Eukrania!

Jeff

Caitlin

Married on 07/20/2018

I love Total Soul. Jeff and the rest of the gang made our wedding perfect. Everyone LOVED the music, and we were on the dance floor the entire night! I can't say enough about how awesome this band is - I highly recommend having them at your wedding!

Kathleen

Married on 10/21/2017

Total Soul was the best money we spent on our wedding. Our guests had so much fun. The dance floor was full to capacity from beginning to end. The band took very few breaks and their energy and enthusiasm was contagious. They more than exceeded my expectations. We received more compliments on the band than I can even count. Prior to the wedding Jeff was always available to answer our questions. They were simply the best!!!!!!

Christine

Married on 10/14/2017

BOOK TOTAL SOUL NOW! Seriously, this is the most amazing wedding band you'll ever hear. My father is a musician, so naturally we had multiple musician guests and all of them were saying how amazing the band was. From the start, Jeff was super easy to communicate with and very responsive to emails. He was flexible during the planning process, even when we threw a few last minute song requests their way. They are stellar musicians and know exactly what to play to keep the party going! The dance floor was packed all night. They are reasonably priced and are worth so much more! Book this band. You'll have such an awesome dance party!

Rory

Married on 08/25/2017

I've never written an online review, but Jeff and Total Soul were so good that I feel compelled. Months after the wedding, so many friends and family still say how good the band were. The sound quality, energy, and showmanship were just incredible - I really can't think of a way to say how impressive they were. A couple of my musician friends (and play weddings and events) just stood there in awe, and everyone else danced non-stop. On top of that, Jeff was so easy and accommodating to work with, from the first phone call to his help coordinating on the day. It felt like he was organizing the wedding with us, not at all like someone who was being paid to do a job. You really can't go wrong here.

Total Soul's reply:

Thank you for the review! I hope you and Kate are doing well and enjoying married life. It was a pleasure working with you and playing for all of your guests. Hopefully we can perform for you again soon! Best wishes- Jeff

Kelsey

Married on 05/28/2017

I can not say enough how incredibly awesome Total Soul is!!! My husband and I attend a wedding when we first started dating and said "IF and when we get married we are hiring this band!!!" They were the first vendor I contacted after our engagement because we wanted to make sure they were available for whatever wedding date we chose. Jeff is very responsive via email and was professional through out the entire planning process. We got tons of compliments on how awesome they were for our reception!! They made our wedding night SO FUN!!! My husband and I spent hours dancing with our friends and family and I could not have asked for a more fun night. Jeff and all of the band members are very professional, friendly and obviously very talented! We had a rain shower before our ceremony and Jeff made sure to take care of everything regardless of the rain. I had absolutely no worries regarding the band come the wedding day because I knew he would take care of everything. I also really like how you can choose how many members you would like to hire depending on your budget. To save on cost we hired the minimal amount of members but you would have never known! Thank you so much for playing a huge role in making our wedding night the best night ever!! Do yourself and your wedding guests a huge favor and HIRE TOTAL SOUL!!!! :)

Dana

Married on 11/12/2016

Total Soul is outstanding in so many ways! We booked them for our November (day) wedding after seeing them at another wedding. The band's energy, talent, and professionalism are top-notch. Jeff was a pleasure to work with in planning, as he is very experienced and accommodating. Even for a day event, the band had our guests out dancing the entire time. For weeks after our wedding, our guests continued to comment on the band's exceptional performance! We could not have been happier with having Total Soul perform on our wedding day, and without any reservations we would highly recommend them for any event!

Brenna

Married on 08/27/2016

We were lucky to see Total Soul play at a family wedding in 2015, and knew that we had to book them for our wedding on August 27, 2016 in Lenox, MA. We cannot thank them enough for the fantastic addition they were. Jeff is wonderful and easy to work with, and the band is so very talented and fun. We had an absolute blast and Total Soul was just absolutely amazing. The #1 remark we had from guests was how phenomenal the band was. We had so many friends say that when they get married they have to have Total Soul play!

Nunzio

Married on 08/13/2016

This band is THE BEST! So good, so nice, so professional. They accommodated all of our requests and had the dance floor packed the entire night. Highly highly recommended a million times over!

Nunzio and Julia Moudatsos

Dana

Married on 07/16/2016

This band made our wedding day! They were so flexible and easy to work with. By far the best vendor we dealt with while planning our big day. They took it a step above! Amazing voices and awesome instrumentals. They had a perfect mix of down time and live music. Really had everyone out of their seats and dancing! Our wedding guests couldn't stop talking about them! One guest even decided to book them for her own wedding afterwards! Total Soul is the best! 7.16.16 D&A

Total Soul's reply:

Thank you very much for your note, and treating the band so nicely at your wedding. It was a fabulous wedding!

All the best to the two of you for many years of health and happiness!

Jeff

Matthew

Married on 07/09/2016

BEST WEDDING BAND EVER! Total Soul was amazing. Our guests barely even ate their dinners because nobody wanted to get off the dance floor! From the moment they started playing, every song was a hit and the atmosphere was pure party. They sounded fantastic, and their singers also came and performed in the crowd sometimes. Mananger Jeff was fantastic to work with leading up the event. He was always prompt with responding to all my emails, and was very organized. He played all the songs we wanted, and also gave us a musician to use for our ceremony. Their lighting design was also fantastic. For north Jersey wedding bands, you are not going to get a better deal then Total Soul. Their price was a lot less than other similar bands. I would absolutely recommend using them for your wedding!



The music that "Total Soul" put out is incredible and it shows both the dedication and chemistry involved. Your ability to bridge generations between fabulous Motown and classic R and B and rock and roll from years past, with the pop and top 40 of today is amazing I am not blowing smoke, as I have personally been a big fan of Motown and beach music for a long time, but you guys consistently perform those songs as well or better than the original artists. All of the vocalists, male and female, without exception, are amazing. Each one contributes in different ways but all incredibly talented. The timing and quality of your back up musicians---horns, keyboard, guitar, percussion, is also, frankly, pretty amazing.

Because of my work, I attend and have attended many corporate functions and large parties, with some good bands, often in Las Vegas. I have also been lucky to attend some wonderful weddings with good music. However, when it comes to putting out music that people love to dance to, with the energy that you guys perform it, no band that I have heard cranks it up better than you guys. These sentiments were echoed, in some form, by so many of our gusts who danced the night away with you guys.

Travelling from New York to Sarasota, Florida, on little sleep, to perform on the beach, with the amazing stage set up and sound and equipment backup of the size that was there, was amazing. The logistics of providing for and having ready all of the equipment had to present challenges but it was all seamless. Coordinating the music to the fireworks, going out of your way to learn a couple of songs that we asked be played that I can't possibly be on anyone's playlist, (and then performing them so well ) were all just part of what made the night so special. Your particular hard work, to put it all together, went above and beyond. Many have no idea of the time and organization needed to pull it all off the way you did.



Hiring Total Soul was the BEST DECISION we made during wedding planning! We originally saw the band at a friend's wedding two years before. As soon as we got engaged, we knew we wanted to hire them. Despite the fact that they are from NY and our wedding was in Philadelphia, they had no problem traveling. From the start, Jeff was so receptive to my emails. We were engaged for 17 months and during that time, Jeff happily responded to my (many) emails and questions. Total Soul was so flexible! They were even happy to make changes when we requested different songs only a week before the wedding - they are truly AMAZING. The amount of energy they brought to our dance floor was unreal! We had people dancing the ENITRE time and their music was popular for people of all ages. So many of our guests have told us that they've never seen a wedding with so much dancing and said that Total Soul was the best band they have ever seen at a wedding! Their value is too good to be true - similar bands in our area are charging upwards of $12,000! Thank you Total Soul - you are very highly recommended by us!
Are you interested?
Send a message