59 Reviews
Recommended by 100% of couples
Quality of service

5 out of 5 rating

Average response time

5 out of 5 rating

Professionalism

5 out of 5 rating

Value

5 out of 5 rating

Flexibility

5 out of 5 rating
19 User photos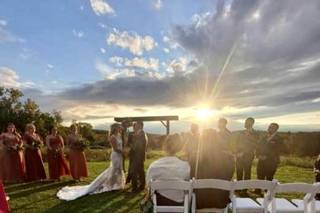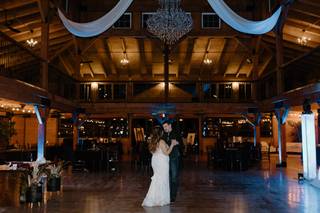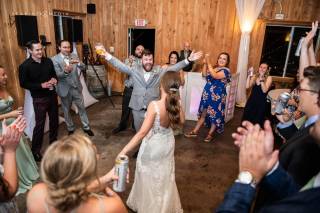 + 15

photos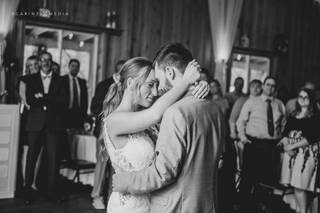 Featured

Olivia R.

Married on 10/02/2021

For the perfect wedding!

Hire Mike! He was excellent to work with from the start. ON the day of, he was attentive and was a tremendous help in keeping things moving smoothly and on time which was a tremendous help to my husband and I as we tried to enjoy the night we worked so long to plan!

He played a mix of the playlist we provided, along with some tried an true party songs that kept people on the dance floor for upwards of 4 hours!

His set up was beautiful and looked incredibly professional and lux so it elevated the reception space even more. Would 10/10 recommend up lighting as it really made the ambiance perfect as the night went on.

In sum, you can't go wrong with Mike wit and humor and attention to detail. He even helped the bridal party relocate ceremony flowers so the man can do it all.

We are incredibly appreciative of all he did for us to make our night the dream that it was. On top of it all, he created a video of the night via the dance floor which was so fun to be surprised with after the big day.

Thank you, Mike and Torgo Entertainment!

+ 2

photos

Mary S.

Married on 10/22/2022

Wedding in October

Torgo was wonderful! He is very professional, and communicates well. He knows how to read the room and plays to the crowd. Definitely recommend!


Justine

Married on 10/21/2022

Best Wedding DJ in the Finger Lakes region!

DJ Torgo was absolutely amazing for our wedding in October 2022! His high attention to detail, strong communication skills, and professionalism really put our minds at ease when planning for our big day. After our first meeting, we knew immediately that we did not have to stress about anything on our wedding day! DJ Torgo made great recommendations for our wedding day timeline, music selection, and equipment set up at our venue. He even matched the dance floor lighting to our wedding colors. DJ Torgo also took our eclectic music styles and made a fantastic music blend of songs for cocktail hour, dinner, and dancing, with only a list of must-plays from our wedding party and us. And we also must mention DJ Torgo's Emcee skills were fantastic – which was important to us when planning our wedding. We even had a few extremely last-minute changes that he was super accommodating with and made our day truly special. From start to finish, DJ Torgo was responsive, friendly, and truly listened to what we wanted to make our special day so perfect.

Thank you, DJ Torgo, for everything, the night could not have been more perfect thanks to you, and we highly recommend you for a wedding DJ!

Are you interested?

Send a message

Jeri-Lynn P.

Married on 10/15/2022

A Great Experience!

We used Torgo Entertainment for our wedding at Glenora Winery and couldn't have been happier! Michael was excellent throughout the entire process from our initial meeting to the planning stage and to the wedding itself. He was very thorough and meticulous with details and gave us some really good advice on other aspects too based on his experience. Micheal did a great job keeping the crowd excited and people on the dance floor throughout the night. He is a true professional, who takes pride in his work, and genuinely cares about his clients and providing them the best service possible. Overall, I highly recommend Torgo Entertainment to anyone looking for quality and professional DJ services.

Nick G.

Married on 10/07/2022

Torgo Entertainment Crushed it

Torgo Entertainment was a great decision for our special day. We started talking to him early in the process and found his industry knowledge, willingness to listen, and overall organization was extremely helpful and put our minds at ease. His setup was perfect and he was able to add to the overall aesthetic, matching the up lighting to the colors of the wedding.

He made the first dances special with fantastic lighting and a great intro to the wedding party.

When it came time to get the dance floor going, no one wanted to leave. He took into consideration all of our do and don't plays and we had a blast.

Thanks for being a part of the best day of our lives.

Jamie

Married on 10/01/2022

Excellent, Kind, and Killer Dance Party

I did a lot of research on DJ services for weeks and I'm happy I found Torgo Entertainment! Not only did he play great music and had a great light setup, but he basically helped me come up with a timeline that I used for everything the day of. During the whole day as I ran around, him and his assistant, would occasionally stop me and make sure I was doing good and having a great time. The service they provide was 10 out of 10. They were punctual, best timekeepers, kind, fun and supportive. Choosing Torgo Entertainment will be one of the best decisions you will make when celebrating your special day. I know it was one of mine.

Nick C.

Married on 09/17/2022

Top Notch Wedding DJ!

Mike was the DJ for our wedding and he was awesome! Communication was great, we spoke multiple times before the wedding to make sure every detail was covered. Mike was fun and enthusiastic throughout the entire planning process. At the wedding Mike and his wife exceeded all expectations. Everything went as planned and everyone was dancing all night! We had an incredible time thanks to Torgo Entertainment.

Alicia R.

Married on 09/10/2022

Exceptional!

DJ Mike was amazing! 100% recommend! He was beyond accommodating, his music choices were perfect, and kept our guests dancing the entire night. The glow sticks he surprised our guests with were an added bonus and we couldn't have been more happy with the services Torgo Entertainment provided.

Madeleine Q.

Married on 09/03/2022

Amazing! Highly recommend

Mike was amazing! We have received endless compliments on the music played at our wedding. He was timely, professional, funny, and played a perfect mix of music to accommodate all of our guests.

Megan O.

Married on 08/06/2022

Best in the area

We could NOT have found a better DJ for our wedding!!! Torgo was helpful and organized during planning, prepared and well-timed for the ceremony, and an absolute BLAST at the reception. He read our crowd SO WELL and did such a great job balancing our "eclectic" tastes with an all-out dance party -- from classic rock to the crab rave, he did it all. Our guests and wedding party (many of whom are VERY picky) had nothing but praise! We FULLY recommend!!!

Kara P.

Married on 06/25/2022

Best dj ever!

We had a great experience with Mike, our DJ. He was thorough and detailed and provided us with ideas for songs when we needed inspiration. Our dance floor was packed the entire night, and he did a beautiful job lighting the room to match the colors of the wedding. I cannot recommend him enough!

Wayne E.

Married on 06/11/2022

Excellent, Professional, Well Equipped

I've seen DJ Torgo at many events, and when I had the opportunity to hire him for our wedding reception I didn't hesitate to book him. He had a thorough pre-event checklist and state of the art equipment including backup mobile power. He was exceptionally punctual, professional, and courteous, and communicated with us throughout the event planning. If I ever have need of a DJ in the future I will never look to hire anyone else, as his services were more than worth the money.

Joseph B.

Married on 06/10/2022

Excellent DJ

Torgo entertainment was very responsive and flexible with us. We had some traditional and non-traditional music which was no problem. Lighting and sound for the event was really incredible, and we'll suited for the venue. We also used the PA system for our speeches and everything went through flawless. Torgo entertainment was even able to make a custom intro for us.

Jessica O.

Married on 06/01/2022

Amazing Night!

Mike was great from the beginning! He was very responsive and helpful, assisting us with our timeline a bit and telling us what he usually plays at different points during the night.

We told him some songs/artists we like and don't like, and let him take the lead from there. He didn't disappoint! Our guests loved the music he played. He also helped us out with our introduction, which we got multiple compliments from our guests on.

Hiring Mike was such a great decision - from the beginning, to arriving early to set everything up, all the way to ensuring us and our guests were enjoying the entire night.

Thank you, Mike, for everything! We loved it!

Emilee C.

Married on 05/28/2022

Wedding DJ

Torgo Entertainment was one of our best wedding vendors. He kept the day/night running smoothly with his timeline he made for us. He took lead in a very professional way when needed. He played really great music that kept the wedding party and guests moving on the dance floor. Not only were my husband and I both impressed with him but multiple guests mentioned to us how great he was.

Jamie

Married on 05/21/2022

Rocking times

Torgo was great. He played all the music we requested. My guests had fun dancing on the floor. Thank you for an awesome time.

Kristi Q.

Married on 10/23/2021

Professional and Detail Oriented

Mike is professional and detail oriented. He has been a professional DJ long enough that he has turned the engagement into an efficient process and yet he executes with a very engaging style making time well ahead of the event to review specifics with his clients. In our calls with Mike, he was very thorough and addressed all of our concerns and even brought up a few issues which we had not anticipated. While Mike stuck to our eclectic song list, he also weaved in at our request a few popular songs to ensure we engaged our guests and got them up on the dance floor. Mike was very flexible as we had to endure several delays through the pandemic and was always willing to return our deposit until the next date was set. Mike had a great rapport with the venue which meant less coordination required on our end. And finally, given Mike's seamless transitions from one song to the next, he really made it a fun event for all who attended.

Lucy A.

Married on 10/16/2021

Great to work with, detail oriented, made our wedding a perfect night!

Our interaction started out with a conversation regarding what our goals were for the reception and in a very detailed and systematic way he was able to give us options and guide us to what we feel was a perfect evening. He took the time to ask what our preferences were and gave us honest feedback as to what he believed would work best. He did a wonderful job of reading the crowd and was able to make sure people of all ages were on the dance floor. During the reception he did an awesome job and would not hesitate to recommend him to any one of my closest friends.

Brittany S.

Married on 08/14/2021

Highly recommend!

Mike @ Torgo Entertainment was a great DJ! Very professional, very flexible with my 3 date changes due to COVID, as well as many other random changes I made along the way!!! Everyone had a great time!

Katy D.

Married on 07/23/2021

Happy with service

He kept the party going and played a whole bunch of different songs. Exactly what we wanted!!!

Meagan K.

Married on 07/17/2021

Torgo is an Adaptive Master

Torgo did a fantastic job at our wedding, working well with our suggested music, and even tailoring our music throughout the event upon hearing about things in our past. For example we were giant nerds, and people mentioned that throughout, and interspersed between the dancing jams was stuff like Zelda and Final Fantasy and it was great. All around wonderful experience.

Andy P.

Married on 07/03/2021

Great service!

If you're looking for a DJ for your event, you needs not look any further than Torgo entertainment! Mike truly went above and beyond the call of duty for our wedding and we knew we were in good hands before, during, and after our big day. Leading up to the wedding, we had a call with Mike to go over how we wanted the wedding to go and we sent him a playlist of some of our favorite music. He scouted our venue before the call and we discussed how the uplighting would work best, so we felt like we were getting the most out of the upgrade we selected. On the big day, mike and his assistant Mic'ed up everything so our guests heard every word of our outdoor ceremony without anything being distracting or in the way. During our reception, Mike kept the momentum high by playing a great selection of our favorite music and some tried-and-true party bangers, seamlessly and tastefully transitioning between songs throughout the night. The uplighting made the venue look awesome and we were thrilled we opted for that option. Mike even surprised me with some vanilla ice deep cuts after hearing my brother mention the ninja turtles in his best man speech. It seems like a small detail, but that's the thing- Mike sweats every small detail so you can kick back and enjoy eminent of the event. A few weeks after the wedding, Mike sent us some GoPro footage from the party that we were thrilled to watch a few weeks after, which we hadn't expected but really appreciated.
We can't recommend Torgo entertainment enough! You'll be in great hands with their team, and your guests are going to have a great time!!

Derek P.

Married on 06/26/2021

Great service & communication

We had a great experience working with Torgo Entertainment. He played the songs from our playlist at the right moment and filled in the rest of the night exactly how we expected & hoped for. He was super responsive leading up to the wedding to make sure everything was lined up correctly.

He helped the night run smoothly by announcing transitions and being flexible when it didn't go as planned - it was super hot in our venue so our guests ended up going outside, and we called them back in for the father-daughter/mother-son dances. He has a lot of different service options & was super flexible with us - would definitely recommend!

Mackenize W.

Married on 12/12/2020

Professional and Experienced

Torgo was engaged and professional from our first conversations. He had great recommendations when we asked about event flow and layout. With Covid restrictions, we did not have dancing, but the music still set the environment for a fun and unforgettable night. I would definitely recommend Torgo for your wedding!

Alexa M.

Married on 11/07/2020

Mike was an absolutely AMAZING DJ!

My husband and I were like many other couples effected by COVID with our planning. Mike has been amazing every step of the way. He was attentive, responsive and flexible. Prior to our event we had a call with him and he truly dismissed all of our fear and anxiety. The day of our event he was calm, cool and collected. He had everything planned and under control. He even coordinated with my father-in-law prior to the event to help him customize his speech. My one task for Mike was to keep the people on the dance floor and he truly did that. As I think about the night, I missed eating both ice cream and cake (as did many of my guests) because we were too busy having fun on the dance floor. Mike truly created an amazing atmosphere which was fun for everyone - young and older adults! My husband and I give our highest recommendation for Mike. Thank you so much Mike for a great wedding and lasting memories!
Are you interested?
Send a message