91 Reviews
Recommended by 100% of couples
Quality of service

5 out of 5 rating

Average response time

5 out of 5 rating

Professionalism

5 out of 5 rating

Value

5 out of 5 rating

Flexibility

5 out of 5 rating
11 User photos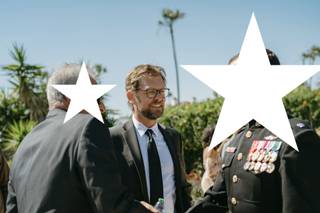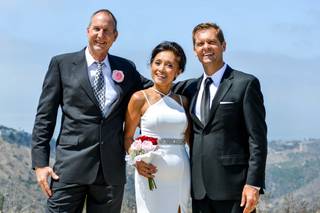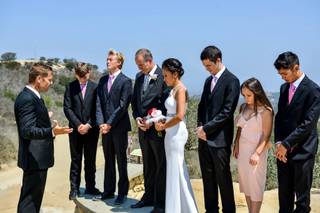 + 7

photos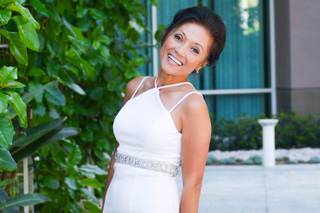 Featured

Lacey I.

Married on 10/15/2022

Saved our wedding

Todd and his family saved our wedding. A few weeks before our day, we found out that or officiant and dj were double booked and would not be able to our wedding. While speaking with Todd we found out that his son is a DJ and son in law a photographer, they all miraculously had availability on our special day. They made everything so effortless and stress free. I highly recommend them.

Nashvows.com - Todd Rodarmel's reply:

It was such a pleasure being involved in your wedding and I am so glad we were able to help with photos and music too!

Ryan

Married on 12/09/2022

Todd was the perfect Pastor for our wedding!

Everything about our experience with Todd was great and we are so glad we went with him! After our wedding ceremony had finished, just about every guest we spoke with told us how funny Todd was and what a great job he had done. He made such a great impression on everyone in such a short amount of time! It was the perfect blend of serious, religious and humor. He kept the audience engaged and attentive. We could not have been happier and highly recommend him!

Nashvows.com - Todd Rodarmel's reply:

Thank you so much Ryan! It was such a pleasure to get to know you and Shaylin and to share in your beautiful wedding.

Autumn

Married on 10/12/2022

Amazing experience!

Todd is the best! I would highly recommend him! He is the perfect balance and all the things you would want in a pastor. He is easy to work with and so great at what he does. You will not be disappointed.

Are you interested?

Send a message

Jacqueline

Married on 04/16/2022

Best Wedding Officiant - EVER

Having Todd officiate our wedding in 2022 was one of the best decisions we made for our big day. He brings both the heart *and* the professionalism needed for any wedding. Todd helped us craft our vows and ceremony in a way that was meaningful to us. And when he found out we were having trouble getting our venue locked down, he helped us get the perfect spot. Also -- he's just a cool, normal guy and in those in-between moments of a wedding (before, photos, after) everyone loved having him around; there was no awkwardness having a pastor hang out with our friends and family. We HIGHLY recommend him for any wedding.

Nashvows.com - Todd Rodarmel's reply:

Thank you so much Jacqueline! I loved being part of your day with your family and friends. It was obvious you are well loved!!

Virgil B.

Married on 08/18/2018

A very blessed experience!

We just moved to OC from another state beginning of 07/18 with 08/18/18 wedding date. At the same time my husband and I were looking for a church. We believe in God's Grace that we found MVC and got to meet Pastor Todd seeking advice for spiritual guidance for our union. Upon meeting him he gave us a deep and meaningful path and at the same time he was available on our planned wedding date and offered to marry us. From that meeting everything else went well with the planning. Todd's ceremony was beautiful and insightful for our life ahead. It was truly a blessed experience and we recommend Pastor Todd not just because how amazing was his ceremony but you can see in his heart that he cares. We continually grow at Mountain View Church with Todd as the pastor.

Jody

Married on 06/09/2018

We hired Pastor Todd Rodarmel to officiant our wedding and we could not be happier! We set up an appointment prior to our wedding to meet him and go over the ceremony details. We instantly knew Todd was the one for us. During the initial meeting, Todd explained the words he planned on using during our ceremony, as well as additional prayers he could state to enhance the religious aspect. Todd truly made our ceremony unforgettable. So many of our guests raved about his performance. Even my dad said he was the first pastor that really grabbed his attention and he wanted him to keep speaking as he was so fascinated in the words he preached. Todd's humor was inventive and witty. Yet his words were so genuine. We are so happy we hired Pastor Todd and we will definitely recommend him to our loved ones. Todd is a true professional.

Nashvows.com - Todd Rodarmel's reply:

Thank you so much for your kind words! it was truly my pleasure.

Latosha

Married on 03/05/2018

Todd helped me to plan a surprise wedding on the beach! It was a very small ceremony with my husband, his father my aunt and of course me. He provided everything that I could imagine to make my big moment memorable. I live in Arizona and came into town on vacation so I did not really have the ability to set anything up. Todd took care pf everything and even recommended a wonderful place for dinner afterwards. I couldn't be more pleased with his service. THANKS AGAIN!!!

Amanda

Married on 12/16/2017

Our wedding location had to be moved last minute due to the Thomas fire. Todd was referred to us by the original pastor we were going to use. We contacted him with only 7 days till our date and jumped on a call with him to discuss details. He was very organized and walked us through how the whole ceremony would look. We only had about a 30 minute consultation with him and on the day of the wedding he spoke as if he had known us so much longer than that. He arrived 30 minutes prior to the ceremony and met with both my husband and I separately. The whole ceremony was flawless and so comfortable. After he took care of getting witnesses to sign the marriage license and completing the paperwork so we didn't have to. We really cannot thank him enough for stepping in last minute and putting so much thought into our special day.

Todd, thank you from the bottom of our hearts!

Melissa

Married on 10/22/2017

Todd was the officiant for our wedding in October. He was absolutely wonderful!! We met with him a few months before the wedding and spent about an hour going over the ceremony and answering questions about our relationship so he could get to know us a bit. We were looking for a religious officiant, and Todd definitely fit the bill. But I also think he is super flexible and bases his words on what you want for your wedding, which we loved. When it came time for the wedding, we had no doubts he would do an excellent job and he definitely did! He was so good, in fact, that a couple guests asked us if he was an actor we hired! As far as pricing goes, I definitely think you get what you pay for. We probably spent a bit more on this than we had originally planned, but I can absolutely say it was worth every penny! It was a seamless process with him! I can't wait to see our wedding video, as I'm sure some of his words will be in it! Don't hesitate to have Todd be a part of your wedding!!

Anabel

Married on 10/06/2017

I came across Todd on a YouTube video while I was researching venues in OC. I fell in love with the way he delivered a beautiful wedding ceremony. While doing more research on him I knew he would be a perfect fit to deliver our wedding ceremony and he did just that. I highly recommend Todd. He is a Christian pastor and his delivery is serious but yet adds a twist of humor. I loved that.

Amanda

Married on 09/23/2017

After our initial consultation, my fiancé and I were confident that Todd was the right person to officiate our ceremony. He has a very professional/experienced demeanor that is balanced by a calmness and great sense of humor. We worked with Todd to customize our ceremony and he seamlessly integrated it all - I am SO pleased with how everything went. We received tons of compliments regarding Todd from our guests - they all appreciated his message on the "Three Kinds of Love" and thought he had a great presence. It was a pleasure working with Todd - Highly recommended!

Mika

Married on 08/13/2017

When my husband and I were deciding on an officiant, we began asking around and were referred to Todd. Thanks to our friends for the referral because we found the right guy! Todd was polished, open minded, helpful and made the entire process easy. We met with him prior to the wedding to ensure we were a match for each other and we loved him. Since our wedding, I've had several guests comment on what a great job he did. Thanks Todd!


Paige

Married on 06/10/2017

We are very glad we chose Todd to officiate our wedding! He did a great job, had a great message, and was very helpful and responsive throughout the planning process. We would highly recommend!

Nashvows.com - Todd Rodarmel's reply:

Thank you Paige! It was my pleasure!!

Katie

Married on 05/27/2017

Todd is our pastor so it was a no brainer to have him officiate our wedding. He is down to earth, funny, professional, and thoughtful. We had at least 10 of our friends and family tell us individually that our wedding ceremony was the BEST they've ever witnessed, and we have to agree! We love you pastor Todd!

Jena

Married on 04/22/2017

HIGHLY RECOMMEND!! Todd was the perfect choice to officiate our wedding this past April. He was a class act and so pleasant to work with! Planning a cross-country wedding is not easy, but he always made himself available for video chats to help us through the process. He was the perfect combination of sentimental, spiritual, and silly and had the entire ceremony memorized! He was able to help us create a meaningful wedding ceremony and people still compliment us to this day on our choice! Thank you so much, Todd!

Nashvows.com - Todd Rodarmel's reply:

Thanks so much Jena! I loved working with you guys!!


Jake S.

Married on 02/14/2017

Made our wedding so special

Todd was the best! He made my wife and I"s day the best. How many times do you go to a wedding and the person leading the ceremony is so boring and out of touch? Todd is the opposite. He made it so fun, kept it about us and the ceremony was just how we wanted it. He is so easy going and helped us feel comfortable. When we renew our vows someday I hope Todd is still doing weddings so we can hire him back.

Lauren

Married on 09/17/2016

Todd was amazing! He worked with us every step of the way to create a custom ceremony that really represented us as a couple. He was a true professional in every way, leading an impeccable ceremony embodying the perfect combination of sincerity and lightheartedness. We even had many friends and family tell us that it was the best ceremony they had ever been to! We cannot express our gratitude enough to Todd! Highly recommend!!!


Nashvows.com - Todd Rodarmel's reply:

Thank you Lauren! It was great working with you and Will and your families!

Jamie

Married on 09/17/2016

Being an out of state bride, my fiancé and I actually met Todd for the first time via FaceTime. From the moment we spoke to him, we knew he was the right choice. We didn't choose to write our own vows so we pretty much left it up to Todd! Crazy, right? We couldn't have been happier with our ceremony went! Todd speaks so well, and has the right mix of laughter and love. You will not regret having Todd officiate your wedding.

Amber

Married on 08/06/2016

Finding the right person to marry my husband Jarred and I, at first, seemed like a pretty difficult task, seeing how Jarred and I do not go to church. I had about 3 months to plan the wedding and the first week I was wondering how I could possibly find someone, and not just anybody, but someone special, to truly convey the depth of our love and make our ceremony very personal.
After researching a ton, I came across Todd Rodarmel, known as the OC Wedding Guy. After reading his bio and finding out he was happily married for 27 years, we had to meet with him. Hands down, BEST DECISION!!!
Jarred and I instantly connected with him. We were laughing, smiling, just bonding with his energy!!!! He is very honest, experienced and down to earth. His demeanor and personality is friendly, upbeat and his smile is contagious!! It's like we could just feel the happy aura in the room when we met and how much he truly loves marriage!! He REALLY believes in it and his knowledge/life lessons on marriage are undeniably meaningful and we 100% agreed with them.
Jarred and I just had our amazing ceremony at the Monarch Beach Resort in Dana Point, August 6, 2016! It was the best day of my life! Todd was incredible! He met with me before the ceremony, I was just happy as can be, he brought that positive energy and I was ready to see him at the altar beside Jarred. Todd had our family and friends laughing, crying and all the greatest feelings in between. He brought our love to life and intertwined details of our life that made the ceremony unbelievably perfect. The ceremony was the absolute most important part of the wedding for us and we are beyond grateful that we chose Todd to marry us!! We HIGHLY RECOMMEND HIM!! Please take our advice, he is amazing.
He helps guide you through the entire ceremony, step by step, with ease. His flow and patience was flawless. He truly loves marrying others, I'd say it's actually a GIFT of his. Natural and happy! Thank you Todd!!!!!

Katie

Married on 08/04/2016

We live in Las Vegas and were having a destination wedding in Temecula, CA. While our ceremony is/was outside at Lake Oak Meadows, having a Christian ceremony with a pastor was very important to us. Seeing as how we attend church in Las Vegas, not Southern California, finding the right officiant for our wedding was a very important part of the actual ceremony itself, if not THE most important part of the ceremony. After a few unsuccessful emails and phone calls with local churches around the Temecula and Murrieta area, we found Todd here on Wedding Wire. Todd was on vacation in Italy when we initially contacted him and he still reached out to us and replied very promptly. When he returned we set up a time to FaceTime "meet" since we were in Vegas and he was in SoCal. The meeting went great. He ran us through a sample version of his ceremony and it brought tears to both of our eyes. We instantly knew he was our guy. Throughout the coming months when we needed anything, Todd continued to very helpful with planning the order of the service, instructing us how to obtain a marriage license in California, etc...

Finally it was the day of the wedding. Todd's officiating was awesome. All of our families and friends, Christian and non-Christian alike, absolutely loved the ceremony. As did we. It was funny, sweet, sincere, uplifting, everything it needed to be. We would be remiss if we failed to mention that It was NOT cool that day in Temecula. 90+ degrees and Todd stood in a black suit outside in direct sunlight like a champion during the 25 minute ceremony and seemed completely un-phased by the heat and how uncomfortable he must have felt.

Following the ceremony Todd took our marriage license and mailed it in to the State of California for us. A huge benefit and help since we had so much other stuff to worry about packing up and keeping track of before we returned to Las Vegas. Absolutely recommend him. Wonderful way to start our marriage.

Nashvows.com - Todd Rodarmel's reply:

Thank you so much Katie! I loved getting to be with you in person. You and your wedding were absolutely beautiful!!

Nikki

Married on 07/31/2016

Todd was the perfect officiant for our wedding. Everybody raved about how wonderful his speech was. If your looking for something meaningful, relatable, funny, yet passion filled, he is your guy. I had more comments on how good he was than I can count. It was such a blessing to have him be apart of our wedding.

Nashvows.com - Todd Rodarmel's reply:

I loved working with you Nikki!

Lindsey

Married on 07/23/2016

We couldn't be happier we chose Todd to officiate our wedding. In fact, the first time we went to his church we knew he would have to marry us. The ceremony was my favorite part of the entire day thanks to him. The message was received by every guest and I could literally see love blossoming all over again in the couples that attended. There is perfect balance in his message and touches on all the important parts of the institution of marriage. It's hard to express the gratitude we have for him. If you are hesitant, don't be, he will take care of everything and make your special day more exceptional than you could have imagined.

Brandie

Married on 07/20/2016

Todd Rodarmel is absolutely amazing. From the first time we sat down with him to our wedding day, we couldn't be happier with our decision to have Todd as our officiant. All of our guests were so happy with his message and overall persona. He was perfect for our atmosphere, it was like he was part of the family. Honestly, I am beyond thankful that Todd was able to be apart of our wedding day. His words are so inspiring, genuine, and kind. We are so excited to begin married life officiated by such an amazing person.

Nashvows.com - Todd Rodarmel's reply:

Thank you so much for your kind words. It was truly my pleasure!!

Freddy

Married on 06/26/2016

Rev. Todd did an extraordinary job celebrating our wedding. He made everyone feel comfortable and incorporated everything we asked in our ceremony. It seemed as if he was a family friend, because of the way he got to know us. He eased our nerves and led us through the ceremony without a glitch. Everyone asked us how we knew him because they were so impressed with him. He told us to call him anytime, before and after the wedding if we needed. This was a destination wedding, so finding an officiant was tough, but we absolutely found the right person in Rev. Todd. I would highly recommend him.I want to go to his church just to hear him speak again!

Nashvows.com - Todd Rodarmel's reply:

Thank you so much! I do hope you come soon to visit me at church. Make sure you say Hi when you do!


Katie

Married on 06/24/2016

Todd was simply amazing at our wedding! When my husband and I started planning our wedding we knew we wanted a simple ceremony, nothing to long but still had everything you would want to be said in a ceremony. Since we were planning a destination wedding we had to search for an officiant through online and reviews. Once we found Todd's website and listened to his intro video we basically knew he was perfect! We watched a couple of videos of weddings he has done and thought he said the most perfect ceremony's and had a great speaking voice. It was great that I was able to do a Skype call with him since we don't live in the area and he went through the whole ceremony with me and it was perfect! Almost no changes had to be done. Once the wedding day came around it went exactly as planned and we got nothing but compliments from all of our guests on how great of an officiant he is! We are so happy we choose Todd for our wedding and can't imagine having anyone else. Our ceremony was so perfect and beautiful. It will be something we will remember forever. We recommend Todd for anyone getting married and needs an officiant! If your planning a destination wedding like we did he made the process very easy and he will make your ceremony something people will talk about forever!

Thank you so much Todd for being so great!
Are you interested?
Send a message