Reviews
5.0 out of 5 rating
Quality of service

5 out of 5 rating

Average response time

5 out of 5 rating

Professionalism

5 out of 5 rating

Value

5 out of 5 rating

Flexibility

5 out of 5 rating
100%
Recommended by couples
41 User photos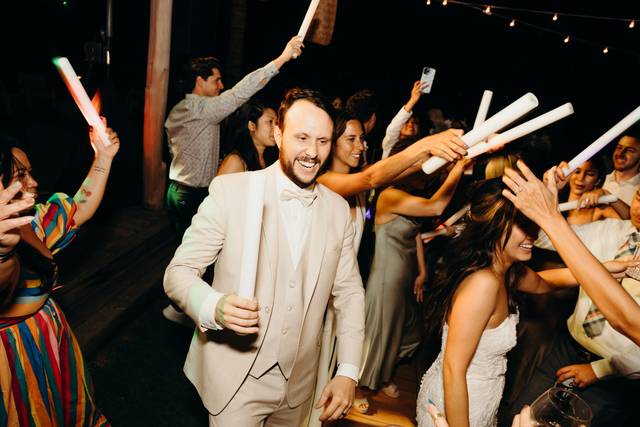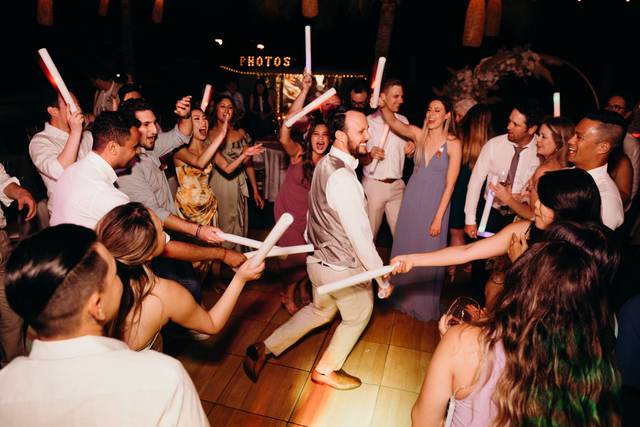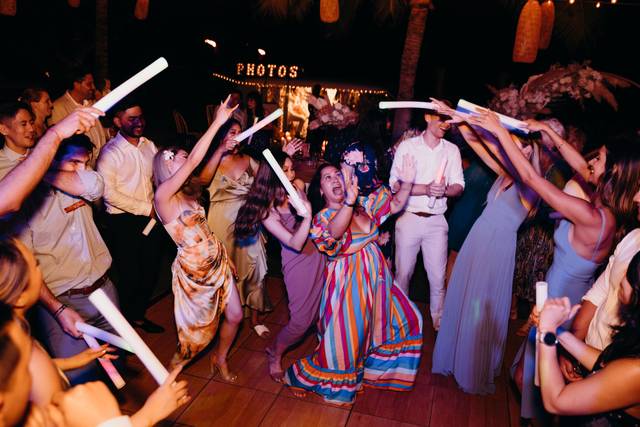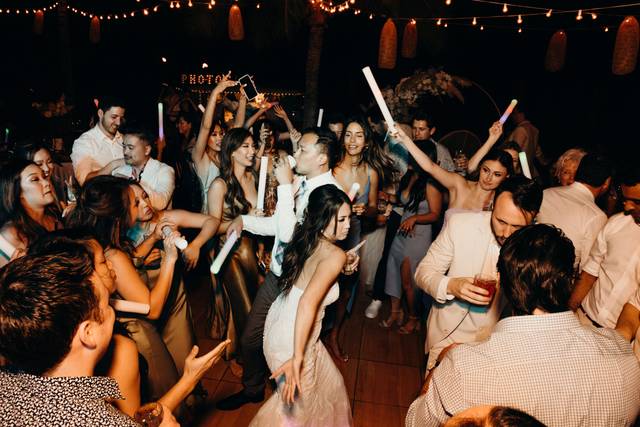 + 37

photos
Emily H.

Married on 02/18/2023

Unforgettable Wedding

My husband and I had an incredible time at our wedding at Fairmont Orchid on 2/18/23 with DJ Tiger and Betsy. It was very important to us to have a fun, professional DJ at our wedding and DJ Tiger was truly the BEST. We didn't expect too many guests to dance and party, but we were pleasantly surprised at how DJ Tiger's music and energy influenced the room. Our guests filled the dance floor until the last song (Yeah by Usher) ended. We received so many compliments from our guests after the wedding and they thoroughly enjoyed a fun night. Moreover, we also enjoyed working with Betsy, who made the whole wedding planning easy and stress-free. Betsy was always on top of the planning process and was excellent at our reception. Betsy was organized, responsive via text/email, communicated clearly, and made sure all our requests were noted. We can't say thank you enough to DJ tiger and Betsy for being a part of our big day and highly highly recommend them if you're looking to have a fun-filled and memorable wedding/event!

Isabel

Married on 01/21/2023

Best wedding party ever

DJ Tiger was great. We enjoyed working with him and his family. They helped build off of our playlist and could read the vibe of the party to keep the party going. Everyone at the wedding had the best time and it seemed like DJ Tiger had fun too! We highly recommend them.

Shabnam

Married on 11/19/2022

DJ tiger and his wife are phenomenal professionals on the Big Island, Hawaii. I had a wonderful experience working with Betsy his wife in particular!

DJ tiger and his wife are really a dream team for any wedding. I think DJ Tigers experience, professionalism and flexibility is distinct among other DJs. In particular I worked with his wife Betsy who is a one stop shop for knowledge, great advice and all kinds of wedding planning. Betsy is empathetic, helpful and one of the best resources on the island. Do yourself a favor and hire them if you're having a wedding in Hawaii. I believe they fly to the other islands as well. You won't find a vendor that cares more and is more thoughtful and reliable than they are!

Are you interested?

Send a message

Annie R.

Married on 07/23/2022

Best duo around!

DJ Tiger & Betsy were the best. Easy to work with and on top of their game. Felt super organized and our guests loved them as well! Strongly recommend!!

Kristin C.

Married on 07/03/2022

The best wedding DJ we could have asked for!

DJ Tiger and Betsy were such a pleasure to work with to prepare for the wedding and made our wedding the celebration we had dreamed of and such a fun dance party! Even family members who never dance made it to the dance floor, they really captured our vision and made it even better!

Jillian

Married on 01/09/2022

This wedding planner gives 5 stars!

I am a wedding planner and worked with Betsy and DJ Tiger for a January 2022 wedding at the Mauna Kea Resort. I had such a wonderful experience working with them during the planning process and on the event day. Betsy is incredibly responsive and accommodating. She is extremely knowledgable and really extended her time and expertise to us. On the wedding day, DJ Tiger arrived on time, set up very quickly, and was very present to answer questions and chat through timeline. DJ Tiger's skills are out of the this world - he kept the dance floor going the entire night and his talent is unmatched! One of the best DJ's I've worked with, hands down. 10/10 recommend them to anyone planning a Big Island wedding!

Haley S.

Married on 08/05/2021

Amazing, fun, professional

Dj Tiger and Betsy were amazing from start to finish. Our guests had an amazing time dancing! They helped pull off some amazing surprises as well. All around BEST night ever.

Jessica R.

Married on 07/17/2021

Best night ever!

Dj Tiger was the highlight of our evening! The planning materials sent weeks in advance helped plan the music and EMCEE portion of the evening. It was thorough, thoughtful and FUN, and made the weeks leading up to the wedding relaxing and exciting on the planning front. Our guests couldn't stop talking about how WONDERFUL DJ Tiger was!!! He kept the energy high and dancing going throughout the evening. It was many of my guests first time being in a dancing setting since the beginning of the pandemic, and DJ Tiger took the experience to the next level. I HIGHLY recommend DJ Tiger for your wedding/event!!! Thanks DJ Tiger and Betsy for all you did to make our wedding reception a total BLAST!!!

Mindy B.

Married on 06/01/2021

Wedding Music

DJ Tiger and his wife (Betsy) are the BEST at what they do. Their music fabulous,. The attention to detail were excellent. They are the most sweetest, professional and nicest people ever. They were there from beginning to the end. and We could not have as a good time without them.They made our daughters wedding so special. They will be forever in our hearts. I highly recommend to anyone ..Big thanks for all you have done for us. You wet above and beyond...We love you...

Nicole B.

Married on 04/02/2021

You made our night!!!

WOW! DJ Tiger and Betsy Jones are a dynamic duo, that MADE our wedding day! They exuberate Aloha and have helped us along every step of the way. From asking if we needed extra assistance with the wedding, giving advice, creating our special mashup, and putting together theeeee best playlist. It was the highlight of everyone's night! We've never seen a wedding party dance the ENTIRE time. Every age group danced their heart out. We are so appreciative to have had them light up our night. DJ Tiger and Betsy are more than just your vendor, they are like family! Thank you both for making it the best night of our lives, we couldn't have done it without you! With Much Aloha- The Borisoff's

Tiffany B.

Married on 03/05/2020

Best DJ for your Wedding on the Big Island

DJ Tiger was one of the main highlights of my wedding day! Coming from California, a big must-have for me was having a very fun (and lit) dance floor. I had a lot of trouble finding musicians on the Big Island, and kept coming across vendors that had older, laidback music. After hours of research, I finally found DJ Tiger. When I read reviews and listened to his soundtrack online, I knew I had to hire his team. I am so glad I did because they were extremely responsive, easy to work with, professional, and really knew how to read the crowd. He played really fun, modern, clubbing music that got all my guests to dance. There was even an encore at the end! The dance floor was completely full and everyone had the best time. I highly recommend DJ Tiger Productions if you want an upbeat, party atmosphere.

Dan J.

Married on 03/05/2020

Awesome experience at Fairmont Orchid

These guys were awesome. Betsy was simply the best. She worked with me throughout the entire planning phase, right up to the minute the procession song started. Constantly making sure we were ok, going above and beyond what we expected. Small extras, like grabbing some water for us during the photo shoot, was something I didn't expect. That is the level of service you'll get from them. She even spotted some billing errors the wedding coordinator made, and notified, corrected them for us.

Music? That was top notch as well. We had a small wedding (23 people), and they created a perfect mix based on the 10 sample 'must play' songs I provided. Some of my guests asked for their playlist since it was so good. We opted for the extra club type lighting, which I recommend. At first didn't think we needed it, but looking back i'm glad we had it. Most of the 23 people were dancing which was way more than we expected. Would definitely hire them again!

Robin

Married on 03/04/2020

WOW! Thank you DJ Tiger and Betsy!

We can't thank them enough for the amazing job they did at our wedding. From the initial call to the end of the night, they truly MADE our wedding perfect!

While I was in the wedding planning process I had spent a LOT of time and research looking for the perfect DJ. Music is really important to us as a couple so we knew it had to be perfect. I came across DJ Tiger and Betsy and after our initial call I just knew that they would be a great fit – and I was right! They played all of the songs that we asked for pre-ceremony, cocktail hour and of course, the dancing. I even recall saying to my husband on the day, "WOW they are playing everything we requested!" :) They even traveled all the way from Kona to Kauai for us which we were very thankful for.

They didn't play corny DJ songs, they mixed songs together for an easy flow, and really LISTENED to what we wanted and our vibe. They were professional and experts and really knew how to read the crowd to ensure everyone was having a great time. If you're on the fence about a DJ, search no more! LOCK THEM DOWN!


Bree K.

Married on 02/13/2020

The best dj!

DJ Tiger is the man!!!! He played the best music and had the entire wedding on their feet all night! But we can't review DJ Tiger without mentioning how great his wife Betsy was! She was probably the most attentive person out of all of our vendors. She brought us(bride and groom) water between the ceremony and reception. She had our dinner plates served to us early so that we could eat quickly and then spend time with our guests. Before the wedding, she was very prompt in responding to questions and really made the breakdown of our reception go smoothly. She was a great and can't say enough good things about her! Our whole reception went great because of these two wonderful people and they made our reception something all of our guests will remember. If you are looking for a DJ, please stop right here. Call DJ Tiger, and book with him before he gets booked. You will not regret it!!
Mahalo Nui Loa DJ Tiger and Betsy!!

Jean L.

Married on 02/02/2020

Betsy and DJ Tiger had everyone smiling and dancing!

I did not know that a wonderful couple/company DJ Tiger and Betsy were from just reading the other reviews...THEY ARE AWESOME and THEY MADE US FEEL LIKE A FAMILY! My daughter decided to have her reception on the Big Island of Hawaii and I had NO IDEA where to begin or start for hiring a local DJ. Betsy calmed me down and gave me a virtual hug from Hawaii to Texas and said she would help me anyway she could! She did so much more than help me make my daughter's dream come true, she made both of us feel like family! (I am tearing up now just thinking of every phone call and email of distress I sent out and how Betsy and Tiger took the time and effort to make my stress lessen! They listened to my chaotic urgencies about our "unique" family dynamic and they performed and outshined all the other DJs on the Mainland, USA.
They were extremely professional, ALWAYS corresponded back quickly and set-up and take down were organized and seamless! They played all the requested songs and even had "a stick in the mud dancer" get some grooves on the floor!
This Mom from Texas will forever be grateful for the wonderful job they did to make my daughter's dream a reality!

Simone B.

Married on 01/18/2020

The Best! Only DJ to use

Betsy and DJ Tiger went above and beyond to help with our wedding. From helping us decide the right music, coming up with a timeline for the day, to assisting the day of. They were always available and responded quickly during the planning if we had any questions. Our wedding wouldn't have been nearly as great if it wasn't for them. There is no other vendor you should use!!

Maria

Married on 01/04/2020

Do not hesitate to book with DJ Tiger!

Betsy and DJ Tiger were incredible! They will work with your budget and go above and beyond to make sure you're taken care of. If you're a bride planning your destination wedding, don't hesitate to book with DJ Tiger! It was the easiest decision of the entire wedding planning process.

Allison P.

Married on 11/10/2019

Simply the Best!!

We planned our wedding in Hawaii from the mainland, which is never easy. DJ Tiger made it so easy and always had the right song playing all night. We didn't always know what we wanted him to play during the reception, but we just gave him an idea of what type of songs we liked and he found the most perfect songs!! We got a whole bunch of compliments from our guests about how great he was and how he read the crowd well. Thank you so much Betsy and Tiger, you made our day so special!!

Monica

Married on 11/05/2019

Amazing experience

We had an exceptional engagement party with DJ Tiger and Betsy Jones! They wanted to make sure we were completely happy and got all our favorite song requests. They seamlessly set up and broke down at our venue. Our guests had the best time dancing and many didn't leave the dance floor. They work easily with resort coordinators making it so easy for you to enjoy your party and leave the details to them! Thank you for making our party fabulous!! Monica and Adam

Lola C.

Married on 11/02/2019

Awesome night

They are so easy to work with and just want to make your day perfect for you and your soon to be husband I couldn't have asked for a better night dancing the time away with those near and dear

Emily O.

Married on 10/19/2019

Creative Mash Ups that Kept our Jet Lagged Crew Dancing ALL NIGHT LONG!

Wow. Just wow. For our wedding we had two goals for our party: everyone would be able to drink as much as they wanted and we would have LOTs of dancing. When selecting a DJ, we didn't have very much to go on except for the reviews posted here and the recommendations from our wedding planner so we were kind of just crossing our fingers and hoping.

When DJ Tiger starting pumping beats, to say that our expectations were blown away would be an understatement. He had creative mash-ups of crowd pleasers with eclectic EDM and hip-hop jams that were absolutely incredible. Honestly, I had more fun dancing to DJ Tiger than I did seeing many famous DJs in Vegas. He was that good and his set SO fun. All my guests were commenting on it.

As proof, we had many guests who came to the wedding from the East Coast (6 hour time difference) only days earlier who kept the dance floor packed until our event ended at midnight. Prior to the wedding I was worried that our party would fade out early due to jet lag -- but everyone wanted to keep going! My 70 year old Dad with arthritis even came out and started dancing, and commented later, "I couldn't believe it - everyone was on the dance floor!"

I really also liked working with Betsy, DJ Tiger's wife to organize the event. She was detail oriented and very sweet. My guests also said that they had lovely interactions working with her making requests, etc.

Finally, I also noticed that they waited to play the explicit music until the two children present went to bed. A small detail, but very considerate and appreciated. Its all about the little things

Emilie G.

Married on 10/18/2019

Wedding at the Hualalai - amazing experience!

DJ Tiger and Betsy were phenomenal to work with! Betsy was especially amazing at communicating with us - her email response times were incredible. They both had extremely high attention to detail to ensure every minute of our night was exactly what we wanted. Tiger played all the songs we asked for in the perfect order and he was also incredibly flexible to play requests from us and our guests during the night as asked. Betsy had an amazing creative suggestion for a memorable exit we wouldn't have known to do or thought of with the perfect music to match. We were planning all the way from New York City but knew we were in the best hands with these experts, and they far exceeded all of our expectations. We can't recommend them enough!

Andrea A.

Married on 09/28/2019

Betsy was amazing!

Betsy and DJ Tiger were awesome! Betsy was very responsive and answered all our questions in a timely manner. She helped us with our timeline and made sure the reception went smoothly. I highly recommend DJ Tiger and Betsy. They are very professional and easy to work with.

Sara Q.

Married on 09/21/2019

Best dj ever!

Words can't even express how AMAZING DJ Tiger and Betsy are. Not only were they hands down the best vendors we used, they were the best DJ's we've EVER experienced at any wedding we've been to. Betsy went above and beyond ahead of the wedding to make me feel comfortable and even helped me with suggestions on where to go on the Island. DJ Tiger took our very specific requests and mixed them perfectly together with such skill. It was like we were at an upscale dance festival (which is what we wanted), and he tailored everything to our tastes and he did it with a smile! Our guests are STILL talking about how great the music was at our wedding. He kept everyone on the dance floor the whole time and the energy was incredible. You can tell Tiger and Betsy truly care about their clients and I wouldn't be surprised if they become life long friends. Their passion is at the forefront of what they do and we are eternally grateful we found them because they truly made our wedding special. They are worth every penny and much much more. Don't hesitate for a moment to book them. You will not be sorry!

Jessica K.

Married on 09/01/2019

An Absolute Dream to Work With!!

To start off, I am not the bride, but the wedding coordinator for a beautiful September 2019 wedding at the Mauna Kea Beach Hotel! My company is based out of San Diego and it was my first time planning a wedding on the Big Island, so I was a tad nervous about doing all of the work from a distance. Betsy and Tiger were SO delightful to work with! They were so incredibly organized, knowledgeable about the guest demographics, and extremely responsive getting back to me within a few hours! They also were kind enough to give me a lot of amazing advice about the venue. On the day of they were spectacular, keeping all of the guests on their feet and out on the dance floor! The wedding would not have been the enormous success without them. Coming from a coordinator, on the day of you want to make sure that all of your vendors are on the same team and that their end goal is the happiness of the bride and groom. Betsy and Tiger take this very seriously and go above and beyond!! You NEED them on your wedding day!
Are you interested?
Send a message