311 Reviews
Recommended by 99% of couples
Quality of service

5 out of 5 rating

Average response time

5 out of 5 rating

Professionalism

5 out of 5 rating

Value

4.9 out of 5 rating

Flexibility

4.9 out of 5 rating
93 User photos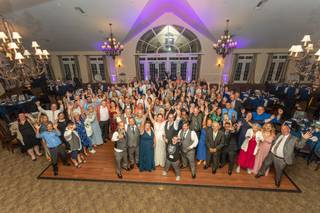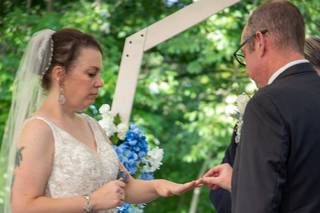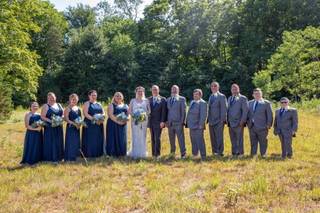 + 89

photos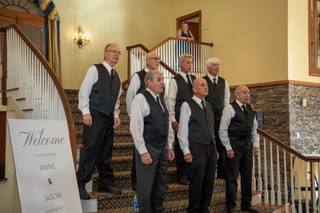 Featured

Jason

Married on 08/12/2022

Exceptional

From the moment we stepped into the venue for the tour with Jim, working with The Riverhouse was a masterclass in how to host a wedding. We had only heard exceptional feedback about them. Nothing negative. Believe me, I looked hard to find it, too. That's why we chose them. Now we see why. They made us feel important and comfortable every step of the way. Kelley, Hattie, Matt, and Katie were professional, responsive, and fun, and ensured we made the rounds and still had time to eat. Our attendants, Rob and Maria, made us feel like rock stars. The service and food were amazing, our guests are still raving about the hors d'oeuvres and the portion sizes at dinner. Not your typical wedding where everyone goes home hungry! We loved the food so much that we packed our leftovers up to take home. Overall, we'd say The Riverhouse venue and staff were EXCEPTIONAL!! and would highly recommend them for any occasion, especially a wedding.

+ 5

photos

Amanda M.

Married on 01/14/2023

The best of the best

Rarely do you have a wedding and after it is over have not one thing gone wrong! Kelly, Matt, Hattie and staff were Rockstars and made our dream wedding a reality!! Couldn't have asked for a better team

Meaghan T.

Married on 09/25/2022

September 25, 2022

The venue, staff, food and wedding coordinators were absolutely amazing. From the beginning of the tour to the Big day. It rained on our wedding day so we could only take photos on the grounds but they still came out beautiful. This venue gave me and Devin everything we dreamed of for our wedding!

Are you interested?

Send a message

Jill G.

Married on 07/30/2022

Amazing!

Where do I begin? From our first tour of the Riverhouse to picking up our reception items after our wedding, from top to bottom we had the best experience working with the Riverhouse. I have NOTHING but positive things to say about all aspects of our wedding and would wholeheartedly recommend them. Everybody who we worked with was professional, extremely responsive and put us at ease every step of the way. The venue itself is beautiful, the scenery if beautiful, the food is delicious and plentiful...I could go on and on! They accommodate special requests without batting an eye. Overall -- EXCELLENT!!!!

Joslyn B.

Married on 06/25/2022

Superb Service

The Riverhouse went above and beyond for my husband and I. Matt was amazingly helpful the day of and all of our guests were complimenting us on the food, drinks, and staff. I would highly recommend using them for your wedding!

+ 3

photos

Kelly

Married on 06/18/2022

It has been a dream of mine for years to have our wedding at the Riverhouse one day, and they honestly made it a picture perfect day! Hattie and Kelley helped us through the entire process and kept us on a perfect timeline. Every single detail of our wedding was planned and just as expected, if not BETTER! Our guests continue to rave about the food, both appetizers, and the main meal (and even the late night snacks!) The space is perfect, both inside and out. Our photographers were able to take amazing shots all over the property. It truly was the best night of our lives, and we owe a huge part of that to the wonderful staff at the Riverhouse!

Stephanie N.

Married on 06/05/2022

Amazing venue and team

The Riverhouse staff was so amazing to work with from beginning to end. The food was excellent (we're still hearing raving reviews almost a year later) and the space is perfect. We couldn't have asked for a better venue.

+ 8

photos

Stephanie

Married on 04/10/2022

Exceeds expecations

The team at the Riverhouse was amazing. They were so attentive and responsive. They kept us fed and happy all night and were so accommodating throughout the planning process

+ 11

photos

Lauren P.

Married on 12/04/2021

The PERFECT wedding venue!

We had the most amazing experience at the Riverhouse and couldn't be happier! From the first time we stepped into the venue, we knew it was the place for us. From the decor, to the set up, the view off the back deck, the bridal suite, grooms room and most importantly 1 wedding at a time! It was everything we had wanted and so much more!
The communication throughout the entire process was smooth and very responsive. Hattie and Kelley were amazing to work with and got back to me within 1 day.
And then COVID hit and we were the very first wedding to be canceled. I mean 5 days away from having our wedding reception. We rescheduled 3 times after that. Kelley and the entire staff at the Riverhouse made this challenging time as easy as they could for us and for that we will be forever grateful.
And as our day approach, Julie (our banquet manager) was wonderful to work with! She was calm, reassuring and so positive! Our wedding day was everything we dreamed of and so much more! And that is all thanks to the Riverhouse and their wonderful staff. We got so many amazing compliments on the venue, food and staff!
If you are looking for an amazing venue, with wonderful staff, great food and a one of a kind experience, look no further! I would recommend the Riverhouse to any couple!

Caralee

Married on 10/22/2021

Incredible Venue - Makes everyone feel like family!

Riverhouse @ Goodspeed Station is an amazing venue and even more amazing, caring, thoughtful, professional, kind and passionate TEAM behind every email, tour, phone call, door... and especially the execution the DAY-OF THE WEDDING! My couple's excitement was non-stop from the moment they booked the venue until the day-of... this was hugely due to the wonderful team, taking such great care of our questions and details throughout the planning process.

BIG SHOUT OUTS & THANK YOUS to Kelley & Julie!

To top it all off - there are gorgeous spaces for ceremony, cocktail hour & reception. Having the food & beverage all taken care of in-house is such a treat!

Jillian M.

Married on 06/19/2021

Wedding Panner Bride Recommends RH!

I got married at The Riverhouse June 19th 2021 and I couldn't have picked a better location for my ceremony, cocktail hour and reception! I have been a wedding planner for years, and I had very high standards for venue, catering, and service, and The Riverhouse knocked it out of the park!! Hattie and Kelley were absolutely amazing to work with. We booked during COVID (April 2020) and they kept me well informed with their policies and procedures throughout my planning process. They were quick to respond, had great ideas and made some stressful moments fun! Fast forward to the wedding day- it was incredible! Our guests are still talking about the food-it was truly amazing! The Chef worked with us to create a menu that our guests would remember, but honestly their menu and offerings don't need any changing!! Their staff was professional and moved quickly and quietly throughout the ballroom through 3 dinner courses! The ambiance throughout the Riverhouse is peaceful and elegant and my guests were blown away. It sprinkled on our wedding day and I don't think my guests even noticed (I know I didn't!). I had a bridal attendant assigned to me and my husband the day of the wedding and she lead us through the entire evening so we and my immediate family could relax and enjoy from start to finish. I cannot recommend The Riverhouse enough to anyone-you truly can't go wrong here.

Christi S.

Married on 05/01/2021

Amazing venue, incredible hospitality, delicious food

The Riverhouse at Goodspeed Station is honestly the most INCREDIBLE venue and we HIGHLY recommend them to everyone!! The staff who work there just make it an absolute dream. The venue is beautiful; well kept and laid out perfectly. Our gratitude to them is endless for running the most amazing wedding ever. Their hospitality is out of this world. The service that us as a bride and groom, along with the service provided to our wedding party, our parents, and all of our guests was out-of-this-world. The amazing service is something that we are truly in awe about because it was that good. We were married there on May 1st 2021. We had booked our wedding right before the Pandemic started. Throughout these crazy times, we were always contacted by someone who answered any questions or concerns. They truly care about their couples and it is clear it's not JUST a business. Kelley was absolutely amazing helping us plan our wedding. She was so accessible, kind, and genuinely excited to help us in any way she could. On our wedding day we worked with Julie who is so wonderful. She helped things go seamlessly, kept us both at ease, and truly wanted us to have a perfect wedding with every last detail. For instance, when the bridal party arrived they had drinks and food waiting for us and attendents on hand ready to bring us anything else we wanted . . they brought shirley temples to our flower girls without even being asked. . . every little thing they thought of. We always had someone ensuring there was nothing we needed (and we never did because they gave us EVERYTHING!) I would choose the Riverhouse a million times over and I hope this review truly shows how amazing they are so couples can experience the magic of getting married there

Kayla E.

Married on 01/19/2020

We love the Riverhouse!

The staff at the Riverhouse are out of this world. From the very beginning of the process, Hattie and Kelley were amazing - they responded to every email and silly question within the same day and always let me know if they needed something from me to keep us on track. They worked so hard to accommodate every request and always went above and beyond. Just when we thought it couldn't get any better, we had our details meeting with Linda. She was fantastic. She took such good care of us and assured that we would have everything just the way we wanted it. On the morning of the wedding, it was a little snowy so they allowed us to go to the venue earlier than anticipated to take photos on the deck. They also worked with us to decide if we should have our ceremony outside or not. They were even so kind to shovel everything in case we decided we wanted it outside - they were just so good to us. We can't thank them enough. Michelle was our bridal attendant and she made us (including our parents) feel so cared for. She was there with what we needed before we even knew we needed it. She was lovely. The food was outstanding - the portions were large and the food was delicious - our guests are still talking about it. We cannot thank the Rivehouse enough - they made our wedding dreams come true. We will always be so thankful for all that they did for us and for the memories they helped us create. We love you all! THANK YOU!

Amanda

Married on 08/10/2019

An absolutely perfect Day!! Can we do it again?!

Our wedding was truly the most perfect day and we owe it all to the staff at The Riverhouse at Goodspeed Station! The Riverhouse is a beautiful venue and provides many great locations for photos! Aside from how beautiful the venue is the staff is truly amazing! When I met Hattie and Kelley they both are so nice and welcoming that I felt like I was at home. I knew that they would be there to help us the whole way and they definitely were as we've been planning over the past two years! I had so many questions that they promptly answered. They gave helpful and honest feedback which I truly appreciated! My dream was to have a ceremony by the water and they made that come true by having it down by the river. It was absolutely beautiful and perfect! We can't say thank you enough for making our dream come true! We are still receiving compliments as to how great the food was, how beautiful the venue was and how much fun everyone had! For our Hors D'oeuvres we had Arancini, Korean Short Rib Dumpling, Pineapple Glazed Chicken, Mac and Cheese with Lobster, Crispy Quinoa Slider, Blackened Shrimp and Penne Bolognese pasta during cocktail hour. All were amazing! Our meal options were Grilled Filet Mignon, Cajun Seared Swordfish and Stuffed Breast of Chicken. Which everyone loved their meals! We have had multiple people say it was the best meal they've ever had at a wedding they've attended!! Hearing all these compliments meant so much to us! We also had the pleasure of working with Julie and Linda. We met them a couple days before the wedding and went over our decorations and vision for the day of the wedding. They truly made our vision come to life. It was more beautiful than we could have ever expected!! They made the day so perfect! We can never say thank you enough for all of their hard work setting up all of our decorations and making the day run so smooth!! You always hear that something will go wrong at a wedding. I can honestly say there is nothing we know of that went wrong! Our day ran so perfect and smooth! Thank you ladies!! We had Michelle for our Bridal Attendant and she is just absolutely amazing at what she does! She is exactly what every bride needs on their wedding day! She is so kind and helpful! She was one step ahead of us the whole day and had anything we needed right on her! She is just amazing!!! Our wedding was so perfect it could not have been any better! We are still on cloud nine and wanting to do it all over again! Thank you everyone again!!!

+ 2

photos

Karalyn F.

Married on 08/04/2019

Hands down the best wedding venue

The Riverhouse was one of the BEST decisions we made hands down. They always clearly communicated deadlines and what was needed of us in order to make our day run smooth. They were accommodating and super flexible to schedule detail meetings. Day of they were UNREAL. There was an emergency the morning of our wedding and we were unable to get ready in our offsite location. Our day of coordinator Linda got ready early and opened for us a few hours early so that we were able to finish prepping for the day. It was an honest to god life saver and put me at ease when everything was going wrong. Throughout the day the entire staff was accommodating and helpful - even helping my 9 month pregnant sister bustle my dress and take twigs out of it. We went back a couple weeks later for their first "A Night to Remember" and the entire staff remembered us and was so kind.

Abby

Married on 07/26/2019

Incredible Wedding

My husband and I got married at the Riverhouse on July 26. From our first tour, we knew the Riverhouse was the place we wanted to get married. Hattie and Kelley were absolutely incredible from day one and went above and beyond throughout the entire process. They both replied to every email very quickly. Hattie helped me with so many things I hadn't even thought about! The Riverhouse is very accommodating and their staff were incredible the day of our wedding. Linda, our coordinator, did an outstanding job with every detail and bringing our vision to life. There was a car accident that delayed my bridal party and guests- but Linda truly helped keep everything on track so we did not lose precious moments. Our guests RAVED about all of the food! I have truly been in a depression now that the wedding is over because it was such an amazing day and I'm sad to not be working with the Riverhouse anymore!

Jillian

Married on 07/13/2019

No Words Can Thank Them Enough

The Riverhouse was the best choice we made during the wedding planning process. Since we live in Las Vegas, we had to plan our wedding across the country and because of that we were unable to tour venues ourselves. My fiancé and I sent our moms to the Riverhouse to go check it out and facetime us. The riverhouse was closed that day for a private party but our moms explained the situation and the Riverhouse graciously let them in and gave them a tour. They had seen a few different venues at this point but when they left Riverhouse they told us this was the one. So without even seeing it myself we booked it. The Riverhouse was so responsive and accommodating throughout the entire process. Hattie and Kelley answered every email and phone call and really guided us through the entire process which was so easy because they have it down to a science. The few weeks leading up to the wedding they answered every email so quickly and made all adjustments that I requested. Week of the wedding we met Linda who organized the entire wedding day as the day of coordinator and she was amazing. She executed all my thoughts and ideas and I didn't have to worry about anything. I was blown away when I saw the venue that day. The Riverhouse staff did such a great job and I know this was the best choice I made. Michelle the bridal attendant was SO good too. She did everything from making sure we had drinks all night to fixing the bustle on my dress.

The food was phenomenal. Everything from the apps to the salad to pasta to dinner. Best wedding food we've ever tasted. All of our guests told us the food was amazing and they actually ate everything because it was so good. They also accommodated for gluten free so well!! I highly recommend the espresso bar and seafood bar! They were huge hits at our wedding.

I was so nervous I made the right decision since I couldn't see the venue myself but I can confidently say this was the best decision. The Riverhouse was everything I could have wanted and more. They take such good care of you, they listen to you, the food is amazing, they help make all your design ideas come to life, and the whole staff was so friendly.



Brittany A.

Married on 07/05/2019

The Riverhouse=Amazing

There are no words to describe how my wedding went at the Riverhouse. They did such an amazing job making my wedding the best day of my life. The ceremony set up outside was perfect, the food was amazing, Hattie and everyone at the Riverhouse worked to make me feel I was the only bride they've ever worked with. Everyone made me feel special and I would 100% recommend the Riverhouse to anyone looking for a wedding venue.

Ashleigh

Married on 05/25/2019

A Personalized Wedding Experience

The Riverhouse at Goodspeed Station was the best decision I could have made about my wedding! I had planned our wedding from California, and right from the start Hattie and her staff made it easy. Hattie contacted me and suggested a FaceTime appointment, where she showed me the venue and talked me through the options that the Riverhouse offered. As the time got closer, Kelley took over, but she was just as resourceful and calming as Hattie. They made me feel as if I was the only bride that they had on the books!

Aside from the excellent staff (and I can't forget to mention Linda, the day of coordinator, and Michele, our server for the night!), let's talk about the food. It was UH-MAZING. All of our guests loved everything that they had to offer, especially the hors d'oeuvres. When you book with the Riverhouse, you must have the lobster mac n' cheese!

Overall, if I had to do my wedding all over again, I would pick the Riverhouse again and again. They made the experience so easy, even from a distance, and I cannot say enough good things about the Riverhouse and their staff!

Lacey

Married on 05/24/2019

Wedding may 24 2019

This venue was amazing! They really make sure everything is perfect for the BIG day ! They treat you like king and queen and it's awesome ! They are on top of everything and it was the most perfect day of my life

Jessica L.

Married on 05/18/2019

Best Wedding Venue Ever!!

The Riverhouse exceeded every expectation we had for our wedding, it is an amazing venue!! Kelley and Hattie were so incredibly great to work with during the planning process, because of them, the planning process was stress-free! They were so attentive to answering any questions we had, and always answered back in a timely manner! Also, they are so incredibly friendly, it makes you feel like you have known them for years!! They made our vision we had for our wedding come true! The day of the wedding, our bridal attendant, Michele, was nothing short of amazing!!! She was so incredibly attentive and made sure through the entire night that we, along with our parents, had everything we needed. My father even made several comments on how awesome and attentive Michele was, along with the rest of the staff! Anything we needed that night, they were right there to make sure we had it. We were able to do cocktail hour outside on the patio, and the staff were so great on passing the apps around both inside and outside were the guests were. I am so glad our guests were able to enjoy the wonderful view from the outside patio/deck. We had a large wedding, 240 guests, and we received many compliments on how wonderful the food was from the apps, to the pasta, to the main course! If I could do my wedding all over again at the Riverhouse, I certainly would and I wouldn't change a thing! Don't waste your time looking at other wedding venues, pick the Riverhouse, you will not be disappointed!!!!

Liz V.

Married on 05/11/2019

Can't say enough good things about The Riverhouse!!

We cannot say enough good things about The Riverhouse!! Hattie & Kelley, the sales staff, were absolutely amazing. From the day we toured to the night before our wedding, they answered every crazy question I had and were super helpful with suggestions. The banquet staff the day of our wedding was just as amazing. Michelle, our bridal attendant, made sure our drinks were never empty and our food didn't sit on our table getting cold while we were talking to guests. Our parents and bridal party were treated like royalty. Linda, the banquet manager, was also exceptional making sure everything was running smooth and taken care of. Our guests are still raving about the food and how they want more! The entire venue is fantastic - it's beautiful enough by itself but it's also versatile so you can bring in your own style and it will all come together. If you're looking to feel stress-free during your wedding planning and the day of, book The Riverhouse!!

Dara

Married on 03/30/2019

Obsessed!

To say that the day was perfect is an understatement. From the minute we decided to go with the Riverhouse, all the way until we left the venue on our wedding night, we had the best experience ever. The staff went above and beyond! I wrote sooo many emails with questions of all sizes, and every single one was answered so quickly, calming my nerves. Hattie, Sarah, and Kelley helped to make our wedding exactly what we had wanted.
During our wedding day, Sarah was there to be sure everything ran smoothly. Everyone was so prepared! We also worked with Michele, who took such great care of my family and bridal party! From having a celebration cocktail ready, to bustling my dress, she was right there!
Every person I have talked to has gushed about how perfect the day was. The venue was beautiful and we lacked nothing! This was by far the best decision we made and we wish we could do it all again this weekend!!

Caitlin

Married on 03/29/2019

Amazing staff and venue!

The staff and venue made everything so easy for us. They were very helpful throughout the entire planning process, I highly recommend!

Hilary

Married on 02/09/2019

5 star service

Everyone at the riverhouse went above and beyond for our wedding and every day prior. From accommodating my family to visit before booking, quick responses to emails and phone calls and even adding personal condolences when I lost my father. Their food is outstanding especially the mashed potatoes. There is something for everyone on the menu. And they really made sure I was taken care of the day of with my own attendant. The fact that they provided the bar, cock tail hour, and the cake in their price made planning much less stressful.
Are you interested?
Send a message