32 Reviews
Recommended by 96% of couples
Quality of service

4.9 out of 5 rating

Average response time

4.7 out of 5 rating

Professionalism

4.9 out of 5 rating

Value

4.8 out of 5 rating

Flexibility

4.8 out of 5 rating
1 User photo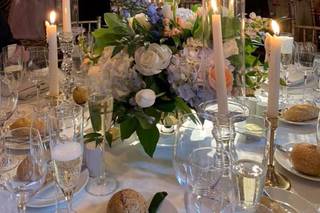 Kristine W.

Married on 04/06/2019

The Best Venue & Service in Philly

Our entire Wedding Weekend took place at the Rittenhouse Hotel and each individual experience we had there made it a magic moment in our lives. The Rittenhouse is truly exceptional and their service is outstanding.
Starting at check in, the whole Wedding Party felt like royalty. Our rooms were ready early and of course they were gorgeous and comfortable.These rooms were some of the best hotel rooms many of Wedding Party had ever stayed in and they felt pampered and glamourous. The staff treated my husband and I to a Bridal Suite gift upon arrival and we wanted for nothing the entire time.
The Reception was beautiful and the service provided was outstanding. The Cocktail Hour and After Party were perfect and everyone kept raving about how incredible the food and cake were. We were told by our guests that it was the most delicious wedding food they had ever had. If you are looking for food to serve at the Cocktail Hour get the Dim Sum- our guests went crazy for it!
We also had Bridal Party hair and make-up done in the salon and I cannot recommend that enough. Every staff member was amazing and they truly are artists. Not to mention that the food provided was delicious as well.
The Brunch on Sunday was a feast; there were so many delicious options that guests had multiple helpings. Originally we were going to have our Brunch downstairs but so many people stayed over that we had a Brunch for 90 guests. Instead of the Rittenhouse telling us that it would be impossible to accommodate so many guests when we had originally anticipated 40 people, the Rittenhouse moved us to the Ballroom and made it happen! Again, the Rittenhouse went above and beyond.
This hotel, its location, its staff, and its catering are incredible. This is easily the best Wedding and Reception Venue in Philadelphia.

Ewa

Married on 10/13/2018

Thank you for a memorable day!

We held a luncheon reception for around 40 guests at the tea room. We were sold on the room it because of the beautiful natural light, which created a pleasant atmosphere. The patio also created a lovely, relaxing backdrop. Jessica Kerrigan and the Rittenhouse team were fantastic to work with from the very beginning. Jessica was great about helping plan a menu within our budget, was easy to communicate with, and ensured that our lunch was set up impeccably and ran smoothly. The service and food were stunning, and our guests still remember the day fondly. We highly recommend the Rittenhouse, and especially the Mary Cassatt Tea Room, for special gatherings!

Jackie

Married on 10/13/2018

The Rittenhouse Hotel knows the meaning of customer service, something that is so hard to find today. They made each step of the process easy, anticipating our needs, and leaving no detail unattended to. I couldn't be happier with the wedding/service we had at the Rittenhouse.

Are you interested?

Send a message

Andrea

Married on 05/19/2018

I got married yesterday and I could not wait one more day to write a review of the Rittenhouse! They truly made our weekend magical! We got married on the same day as Prince Harry but it was us who got the real royal treatment from the RIttenhouse. The hotel is beautiful, the food is amazing, but it is truly the team that you get to work with that makes the experience so special! They went over the top to make our weekend special - every little detail was perfect and truly above and beyond our wildest expectations. There were so many surprises that I wasn't even expecting that Jessica, Lanay, Bruce and the rest of their amazing team put together for us just to make us feel extra special on our wedding day, for example - a surprise, beautiful (giant!) ice sculpture for our raw bar and personalized notes and gifts in our room as well as our parents'. All of our friends told us that the couple never gets to eat at their own wedding - well the Rittenhouse team makes sure that is not the case! We were able to enjoy all of the delicious food (it was so SO DELICIOUS) because of the team taking care of us. Every single bite was not only delicious but also beautifully presented. Highlights were the dumpling bar, perfectly cooked steak, funfetti cake pops, and the wedding cake! They also made sure that our ceremony ran smoothly - Bruce is a pro! I could not imagine a more perfect weekend! I could go on and on because they truly went over the top but I will sum it up: Not only is the hotel beautiful and the food amazing, if you're looking to get married somewhere where the team truly cares and want to make sure that every detail is memorable for you and your family, choose the Rittenhouse!

Leonard

Married on 02/25/2017

Lanay and the entire team was over the top. Responsive, precise, accommodating, and engaging and made sure that the night was flawless. I would highly recommend using the hotel.

Jane

Married on 11/12/2016

From our first meeting w Lanay- she was an excellent professional who answered our questions and was essentially our party coordinator. The tasting was such a luxurious and wonderful experience. Bruce was our maitre d' who was so professional-- yet friendly and excellent at his job. All the staff that evening and the brunch the new day- exceeded all our expectations. Well worth the investment and the bride and groom and whole family had the experience of a lifetime

Rosemary

Married on 02/14/2015

Kudos to all at the Rittenhouse Hotel who made Lauren and Jamie's wedding to quote a guest,
"the best wedding/event they ever attended"! Lori, Bruce, Dayna are professionals who
out did themselves for our event! Catering exceptional! Kiss Bar, Raw Bar, Peking Duck,
Dinner and Wedding Cake....Exceptional! If you want an event to remember a lifetime there is only one venue in Philadelphia, The Rittenhouse!

The Rittenhouse Hotel did a great job. The night was amazing. Lori and Bruce took care of our every want and need and made sure everything went smoothly.

Vanessa

Married on 08/24/2013

Had a wonderful, exquisite wedding at the Rittenhouse and Lori was nothing but helpful.

Tacy

Married on 08/24/2013

Because of the staff's professionalism, attentiveness and competence The Rittenhouse provided the perfect milieu for my daughter's wedding. It was a weekend of celebration in a beautiful setting that allowed my family and friends to be immersed in the full happiness and meaning of a joyful union of two people setting their new path together. Flawless.

Kristen

Married on 08/03/2013

Lori and the staff were amazing. Attentive to all of the needs of the party and myself. She even helped tighten my dress! They catered to any allergies or requests within reason and ensured that everything was perfect. It was the most amazing wedding and we couldn't have done it without the amazing people at the Rittenhouse.

The Rittenhouse Hotel's reply:

Kristen,
Thank you for your kind comments. It was definitely a pleasure to assist you and Jamie making this day one to remember a lifetime.

The Rittenhouse is the nicest venue with the best food and service in Philadelphia and the wedding event exceeded our expectations. Lori is a master at what she does and attends to details, provides excellent insight and helped us make choices that enhanced the occasion and were not afraid to make recommendations and helped us decide where to spend our funds. They were readily available before the event via phone, email and in person and met with us multiple times so everything was nailed down. Lori responded to every issue with a smile. Lori is a go to person and if we have opportunity to have another party, Lori will clearly be involved at the Rittenhouse. Keith's history with the hotel and knowledge of food/events as well was an added benefit. He was able to call on his skills to ensure that the weekend went off without a hitch. His interest in the food choices and personal discussions with the chef helped us to make the cocktail and dinner choices amazing. Lori and Keith are both professional and competent and a team that cannot be matched. There was nothing I can think of that needed to improve for all was superb.

I cannot forget the excellent service from Bruce and Michael who orchestrated the ceremony and reception with aplomb. They had the event humming and ensured all went smoothly. The food was delicious so our hats off to the chef. Many of our quests commented as to the entire experience down to the accommodations with Jamie's support and attention to detail. The reception staff were very accommodating and all were children friendly to the babies brought by family and friends. Our personal rooms on the eighth floor including the presidential bridal suite were fabulous and the service from the bellman and cleaning personnel was terrific. We so appreciate all that was done by everyone at the Rittenhouse. Lori and Keith both know that we are available for references to other potential clients as are the bride and groom.


The Rittenhouse Hotel's reply:

Thank you Thank Thank you! I enjoyed ever minute with you and I look forward to the next time we can plan another event.
xo

Jessica

Married on 05/04/2013

I am so happy that I chose the Rittenhouse for my wedding. The staff worked with us for 14 months to create an event that captured everything we were hoping for. Everyone who worked with us was an expert and a true professional. They were able to fix any issues that arose over the planning process and they kept us informed as things progressed. The actual wedding weekend was a dream. The food was fantastic and so many of our guests told us that the hotel staff and accommodations were fantastic. Everything and everyone at the Rittnehouse worked seamlessly and my husband and I did not have to do anything except have a totally amazing time.

The Rittenhouse Hotel's reply:

Jessica, I loved making this day one to remember a lifetime!

Barbara

Married on 10/14/2012

The Rittenhouse Hotel in downtown Philadelphia was the most exquisite place for our wedding.
We chose to have the wedding and reception in the Mary Cassatt Tea Room. It was breathtakingly gorgeous!
The staff was wonderful. They were short one person, but pulled off everything to perfection.

Darlene

Married on 06/23/2012

MY DAUGHTER AND I VISITED A FEW VENUES AND IMMEDIATELY WE FELL IN LOVE WITH THE RITTENHOUSE!!! MY DAUGHTER FELT VERY RELAXED AND THE DIRECTOR OF SALES AND CATERING COMPLETELY UNDERSTOOD THE THEME MY DAUGHTER WAS LOOKING FOR. AMAZING, DIRECTOR AND STAFF AS WELL AS THE PERSONNEL STAFF IN EVERY DEPARTMENT AREA OF THE HOTEL. AN ABSOLUTE DISPLAY OF GENUINE INTEREST AND COMFORT IN/FOR THEIR GUEST. AGAIN, JUST PHENOMINAL!!! LORI, SPECIAL HATS OFF TO YOU!!!

Alyssa

Married on 05/26/2012

The Rittenhouse Hotel was really top of the line, the height of professionalism. They have running a wedding down to a science. On my wedding day I did not have to worry about a single thing. They were on top of everything. The icing on the cake, so to speak, was when my husband and I got home and were about to try to figure out how to preserve our wedding cake for a year, when we opened the box and found it was already wrapped in plastic and foil. They really think of everything! We used their chairs, linens, silverware and plates at no extra cost, so you don't need to worry about rentals. They also did our cake, which came out beautiful, and delicious. We received many compliments on the food. The venue was beautiful. Overall our experience was excellent, and I would definitely recommend this venue.

Rachel

Married on 05/12/2012

To start, I have to say that everything happens for a reason. Our original wedding venue (very unique, white space) cancelled on us with 6 months to go. We were won over by the Rittenhouse's service (and, to some degree, our "bind") despite our original "no ballroom decree. Now, almost a year past that surprise (a true wedding "worst case" scenario), I can honestly say that it was 100% for the best. The Rittenhouse Hotel was the best thing that happened to us. First of all, the director of catering, Lori, is a Type A bride's dream. She helped ensure our entire planning process (take 2) went without a hitch...which was the same experience on the day of the wedding. Second, the Rittenhouse's reputation for service is well deserved – from the white gloves to cookies and champagne at check in. Our guests – both those who stayed overnight and those who just enjoyed the reception – are still raving. Third, thanks to the Rittenhouse's team (and our florist / event designer), the ballroom was transformed into a space more gorgeous than we could have imagined. Lastly, the food was incredible. Having attended 30+ weddings as a couple, we had certain expectations of "wedding food". The Rittenhouse does not serve wedding food. It's restaurant quality, delicious and made-to-order. I cannot imagine a more beautiful, seamless execution of our day and recommend them to the highest degree possible.

Rachel

Married on 05/31/2010

When I was planning my wedding, it was really hard for me to find reviews or pictures of weddings at The Rittenhouse. I went with my gut and chose this hotel for my cocktail hour, 4 hour dinner/dance as well as the primary hotel for our OOT guests to stay.

Besides the amazing location and elegant decor, The Rittenhouse gets an overall 10 out of 10 from me due to the excellent customer service and attention to detail. From the first email inquiry I sent to now, 2-months after the wedding, I received nothing but top of the line service from everyone I worked with. They made me feel like my wedding was the most important wedding they've ever had.

During my tasting I met my personal waiter who only served my husband and I on our wedding day. Our main contact, Lori, was super responsive and met every need we had including off-menu items for cocktail hour and a custom four tier wedding cake. I swear, "No problem, absolutely, right away, that's a fabulous idea!" were the only things we heard from her during the entire process. The staff must go through a rigorous training program, because everywhere we turned there was a helpful hotel employee eager to please us.

I can honestly say we feel good about the value we received for the cost not only because of the fair pricing, but also due to all the 'extras'. Our hotel room as well as our parents were complimentary on our wedding night and we were all upgraded to the best suites available. We had a team of people insuring everything went smoothly all day, which makes it unnecessary to hire a wedding planner. I didn't have to rent linens or chairs or even make menu cards, this is all complimentary. We didn't spend a dime on cocktail hour decor since it took place in the beautiful picturesque lobby with an outdoor patio. Also, and I know this shouldn't be an 'extra', but the food was amazing. I mean AMAZING. My husband and I are real foodies living in NYC and were blown away by everything we ate at our wedding and heard the same from guests.

We have no regrets about our choice for a reception venue. This hotel went above and beyond our expectations giving us the most memorable day of our lives.


Lindsay

Married on 04/24/2010

Amazing service and gorgeous venue! Could not have been any better...it was my dream wedding!

Michael

Married on 10/11/2009

We can't imagine getting married anywhere else! The hotel is beautiful. The service is amazing. Yes, it is more than your typical venue, but you get what you pay for! Allison Crane and her staff with so professional and helpful in the planning of the wedding. On the actual day, Budo Banul was beyond helpful. He even helped to bustle my dress after the seamstress hooks snapped! Everyone says you don't have as much fun at your own wedding but this will not be true if you are married here! We thought our wedding was the best we had ever been to and we imagine you will too if you choose the Rittenhouse for your venue. There is no need for a wedding planner because the staff does everything for you the day of the wedding. You will not feel like a host but like royalty! I would say the hardest part of having our wedding there was trying to pick which foods we liked more at the tasting. Everything is so delicious it was a hard decision!

Danielle

Married on 07/22/2005

It was an extremely well put together wedding- couldnt have asked for a nicer hotel in Philadelphia!Since i was a little girl I wanted to get married there!They were so responsive to my needs and every detail was perfect!

The Rittenhouse Hotel staff (from the front desk, concierge, catering and event planning) were exceptional. They were professional, knowledgeable and very easy to work with. We were able to be guests at our own wedding. Additionally, the hotel is beautiful. I would highly recommend The Rittenhouse for any events.

We loved how our wedding turned out. The cocktail hour was perfect, we had a piano player in the background and the view of the garden was nice. The food was great, our tasting was amazing. The service at this hotel is impeccable. Our gifts were taken to our room, we had a personal server during the wedding, strawberries and champagne waiting in our bridal room. Everyone was great. The cake was delicious as well. I have no complaints. The location was great since we only live few blocks away, so planning was very easy. We had our wedding on a Sunday just to save a little bit of money, otherwise we could not afford it with our budget. On Sundays they do a bundle package, doesn't provide a huge choice but for us the choice was just perfect and you can always add on, we did a cheese station and shrimp cocktail as our add on. I would recommend this venue to anyone who wants no worries on the wedding day because they take care of everything.

Emily

Married on 05/24/2008

They know what they are doing! The whole day ran so smoothly and I did not have to worry about a thing. The food was delicious, the room was beautiful (and turned over from ceremony to reception swiftly and perfectly), and the service was great. I could not have asked for more!

Jennifer

Married on 05/03/2008

The Rittenhouse is an exceptional place to have your dream wedding. All of the staff are courteous and polite, and theycater to your every need--especially when you are the bride! ;) The ambience is incredible, and the food is fantastic, too. My husband and I felt very pampered the entire evening at our Sweetheart Table.
Are you interested?
Send a message