62 Reviews
Recommended by 100% of couples
Quality of service

5 out of 5 rating

Average response time

5 out of 5 rating

Professionalism

5 out of 5 rating

Value

5 out of 5 rating

Flexibility

5 out of 5 rating
4 User photos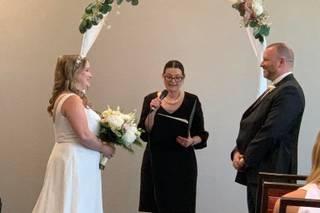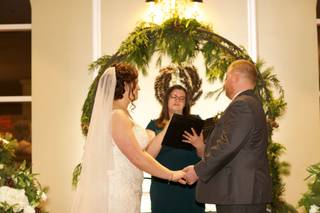 Tracy S.

Married on 06/18/2022

Wonderful Ceremony

We are so happy we chose Rev Anne as the officiant for our wedding on 6-18-22. Rev Anne was so great to work with and made planning our ceremony easy and not stressful. She worked with our requests and was very helpful the day of when things got hectic right before the ceremony. We had many compliments from guests and would highly recommend Rev. Anne for any ceremony needs.

Emily

Married on 10/08/2021

After our ceremony, we greeted each of our guests individually as they entered the reception. They ALL said the same thing to us: "What a beautiful, meaningful ceremony! It was so "you"!" Many of them asked us how we knew Rev Anne Styx, and were completely shocked when we said we actually didn't know her at all. The ceremony was just so personal and heartfelt, it seemed as if The Rev was an old friend of ours. We planned our entire wedding long-distance, so pretty much all of our communications with The Rev were via email. It worked out wonderfully. Anytime we had an idea or suggestion for our ceremony, she responded quickly and enthusiastically. It didn't take long at all to nail down the final wording for our ceremony. It was beautiful on paper, but even more incredible when we finally experienced it on our wedding day. You simply can't go wrong with The Rev for Whatev. She is awesome!

Lauren B.

Married on 09/12/2021

Wonderful!

Rev. Anne worked with us for two different ceremonies—a wedding and a vow renewal, a year apart due to covid—and she absolutely knocked it out of the park for both. She was flexible in rescheduling when we first decided to split our ceremonies, and helpful and prompt when writing and revising our ceremony scripts. On the big day, she was punctual, and expertly took charge of choreographing the ceremony for our rehearsal. She even rolled with us accidentally going a bit off-script during the ceremony this year—I don't think the audience even noticed! We highly recommend Rev. Anne for any wedding (or vow renewal) ceremony.


Are you interested?

Send a message

Rachel

Married on 12/14/2019

Best Decision We Made!

Reaching out to Rev for Whatev for our wedding officiant was the best decision we made! Rev. Anne was super responsive and made the whole picking our ceremony process fantastic. She sent us ceremony samples and rough drafts of our finalized ceremony for us to approve it. Rev. Val performed our wedding ceremony and was even able to come to our rehearsal! She was amazing! Val made sure that everything was seamless and flowed well. She offered advice when I wasn't sure how I wanted people to walk down the aisle.
Val made sure our rings and hand written vows were in hand and ready for the ceremony. She also checked in with the DJ and made sure everything was perfectly on time. Even though our ceremony was on the simple side, Val gave it personality and meaning. We even had people ask us how Val knew us afterwards because she seemed so personable! We definitely plan on recommending them to others!

Jennifer A.

Married on 08/03/2019

Beautiful Reading of our Ceremony

Reverend Anne has a great process for couples to write their ceremony, whether it be a custom ceremony to you need help to write your. She was early to the venue and made sure I was comfortable with everything prior to the ceremony. She noted the locations or the rings and roses and came prepared to do a beautiful job. 5 stars!

Cindy A.

Married on 03/01/2019

The Best Rev!

This is a wonderful Rev! She was the extremely professional and helpful. I absolutely recommend her! She did a wonderful job!

Cynthia

Married on 11/09/2018

Awesome officiant!

Between the positive reviews and the name, I decided to check Rev. Anne out, and I'm so glad I did! She gave us templates and ideas, was patient with us and our constant questions, and helped calm my nerves at rehearsal. The ceremony itself was wonderful!

Josh T.

Married on 04/28/2018

The Rev. For Whatev.

Rev. Anne was excellent - she had good advice about our vows, kept our rehearsal incredibly organized, and helped us have a really lovely ceremony that was better than we could have imagined.

Katherine

Married on 12/09/2017

Anne did a wonderful job delivering our ceremony - we absolutely recommend her!

Tanya

Married on 12/08/2017

A true pleasure! Couldn't be happier with the services I received. Professional, friendly , attentive, affordable and accommodating!

Rachel

Married on 10/14/2017

Rev. Anne recently officiated our wedding, and she was exactly what we were looking for.

My now-husband and I knew from the get-go that we wanted a simple, non-religious ceremony, but one that was a bit more significant than having a friend get ordained online. After a little online searching I came across Rev. Anne, and after seeing that she named her business The Rev for Whatev, I knew she was just what we wanted.

We had an initial Skype call to talk about what we wanted our ceremony to be, and she was friendly and receptive to everything, and sent us sample ceremony scripts that we could either choose or use as inspiration to create our own. We wound up using pieces of her non-religious ceremony scripts, picking a reading of our own, writing our own vows, and sharing a personal story, all of which Rev. Anne collaborated seamlessly into an eloquent ceremony.

We didn't have a wedding party processional, so we opted to not do a rehearsal, so we didn't actual meet Rev. Anne until the big day. She sent us a helpful email in the week beforehand reminding us of key things and showed up early the day-of to walk us through everything that was about to happen. She was calm, organized, and friendly, and immediately picked up on the fun/casual vibe we wanted our day to have. She even fixed my train for me before I headed down the aisle!

Our ceremony went off without a hitch and had everything we wanted in it. Multiple people came up to us during the reception to tell us how great the ceremony was, specifically calling out our officiant as being awesome. Within the next week, Rev. Anne emailed us the delivery confirmation for our marriage license that she had submitted so we knew all the paperwork had been sent.

If I ever get married again (hopefully not!), I would hire Rev. Anne again in a heartbeat, and can't recommend her highly enough to anyone currently looking for an officiant who will be flexible enough to do their ceremony their way.

Melanie

Married on 07/28/2017

Rev Anne was amazing! She made our wedding ceremony so beautiful and meaningful! She took her time to do the ceremony and you could really tell how passionate she was about making this the best day of our lives! She was very professionally from the day that I met with her and you could tell she loves what she does. She was a pleasure to work with and truly made the whole process extremely easy. She helped me created an outstanding ceremony that I will remember forever! I would highly recommend Anne to anyone!

Tony

Married on 05/20/2017

We love working with Rev For Whatev. Anne have always delivered great service and very friendly and professional reverent. Looking forward in working in many events to come!

Thanks,
Extreme Sounds Entertainment & Lighting
extremesoundsentcom

Caitlin

Married on 10/01/2016

When we started our search for a wedding officiant, my husband and I set out to find someone that would make our ceremony as meaningful as possible and when we came across Rev. Anne's website, we knew she was the one. Her website and Facebook page allowed us to see pictures and video of all of the many weddings that she has performed and really convinced us that she was exactly what we were looking for. From the very beginning, she was prompt in communicating with us. She allowed us to piece together an individualized ceremony from examples of several different scripts, allowing us to choose the parts that really spoke to us as a couple. We booked a rehearsal with her as well and although I am a complete control freak about everything, I was so grateful to have Rev. Anne there as she was able to put my mind completely at ease regarding the details of the ceremony. On the day of our wedding, the weather was great and we were surrounded by loved ones, but Rev. Anne's flawless delivery of the beautifully written wording and vows really made our ceremony perfect! We have had SO many compliments on what a great job she did and how much everyone loved what was said during the ceremony. We would recommend her to anyone in a heartbeat! Thanks again, Rev. Anne! (Married 10-8-16)

Ryan

Married on 09/24/2016

Rev. Anne officiated our wedding a couple of weeks ago. She was helpful and organized during the planning process and helped us come up with a personalized ceremony that was just perfect. She helped us to weave in quotes, readings, and even a special "family circle" to include my daughter.

On wedding day, things weren't going as planned due to issues with the venue, but Anne stepped in to keep things calm and flowing as well as possible. For the ceremony itself, things went even better than expected.

Our guests raved about Anne and the ceremony. We got so many wonderful comments about her and got a lot of requests for her info, which we happily gave.

Choosing "The Rev for Whatev" was one of the best wedding decisions we made and I can't recommend her enough!

Emily

Married on 08/05/2016

Rev. Anne performed the most beautiful ceremony for our wedding. All of our guests gushed over how wonderful she was. We highly recommend her services!

Joann

Married on 07/16/2016

Anne and Pam were a pleasure to work with. They were both very friendly and helpful throughout the process. Their flexibility was great and they exceeded our needs and expectations! Thanks so much for a fun and beautiful ceremony!

Rev Anne was amazing!!! She accommodated all of our requests, was so kind, and made the whole wedding party and parents totally at ease. We didn't speak until 20 minutes before the ceremony, and I knew I was in great hands. Very responsive over email. Heartfelt ceremony! INCREDIBLE VALUE!!!

Jim

Married on 11/14/2015

Fantastic job! Rev. Anne did a beautiful job with our ceremony. From start to finish. Great communication and wonderful ceremony. Thanks Rev!

My wife and I were married on Nov. 8th at the 19th Century Club in Oak Park Illinois. In the year leading up to the wedding we spend the majority of our agonizing on the details of the all-important reception, like most of our engaged/married peers did.

But here's the thing... our ceremony was the best part of the night! And so much of that is because of Rev. Anne. She brought experience, responsiveness, flexibility, and charisma to every aspect of planning and officiating our wedding. With a keen blend of gravitas and friendly midwestern warmth, Anne just makes you feel like you've known her for years. My wife and I felt like we had an old friend up there with us.

Her deft touch was made all the more spectacular by the fact that we planned this Illinois wedding from Washington, D.C. Anne was vigilant in meeting us over skype, ensuring that we could together craft a personal and meaningful secular ceremony. It was a truly tailor-made ceremony using mostly Anne's well-considered and thoughtful language.

During our rehearsal, Anne kept things moving efficiently. She handled our questions with humor and grace and we felt very confident going into the ceremony. At the wedding itself, Anne brought the words on the page to life and amazingly kept a nervous and otherwise easily distracted groom totally absorbed in the moment.

After all the drinks, dancing, and funny photobooth pics -- it's still the vows and promises my wife and I made that resonate in our minds. And isn't that how it should be? Anne was instrumental in making those moments ones we will never forget.

Could not recommend her highly enough!

Rev. Anne Styx was the officiant for our wedding, and my wife and I could not have been happier with the job she did. She made us both feel very comfortable given the stresses of getting married and gave a fantastic service. We would definitely recommend her.

Rev. Anne Styx was awesome and we are so glad that we chose her to be our officiant for our wedding day!

Magdalena

Married on 07/11/2015

Jessica was awesome! The Rev for Whatev couldn't have provided us with better Rev. We had a small wedding, we didn't even need a rehearsal dinner. Jessica scheduled a Skype call to go over everything and make sure we have what we wanted. Everyone commented about the ceremony and how well it went. Not only she provided the beautiful ceremony (Yes, she almost made me cry!!), she also provided weather updates:) We can't thank you enough Jessica!! Much appreciated!

We had a great experience with Rev. Styx. She worked with us very last minute and still made the ceremony very personal. We didn't want to mention religion, and she kept to our wishes. She added key cultural elements and she was already familiar with them, which speaks to her experience. Her pricing was very fair and she always responded within hours, was early and very helpful. We heard from a lot of friends that they thought we had known Rev. Styx for years and that they thought her words really fit us.

Jenifer

Married on 06/06/2015

I cannot say enough good things about Rev. Anne. She created such a beautiful service for us. It was so personal and thoughtful. All my guests remarked how beautiful it was. She was so accommodating though out the process and she even came all the way out to Rockford. Memories of my wedding will be filled with the wonderful service. I would recommend her to anyone.
Are you interested?
Send a message