73 Reviews
Recommended by 100% of couples
Quality of service

5 out of 5 rating

Average response time

5 out of 5 rating

Professionalism

5 out of 5 rating

Value

5 out of 5 rating

Flexibility

5 out of 5 rating
4 User photos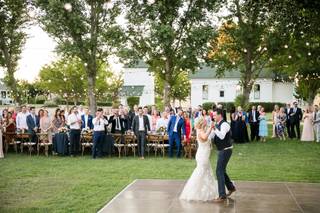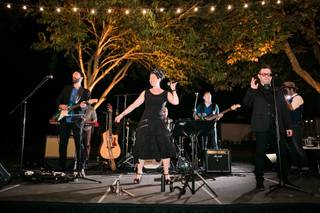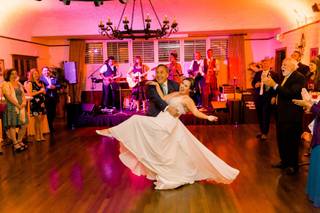 Bryan C.

Married on 07/02/2020

Amazing energy!!!

I had the great honor of being at a friend's wedding in February 2020 and The Replicas Band was the entertainment that night! Wow!!! They energy was off the hook. Veronica Puleo is a powerhouse of vocal talent and stage presence. We danced the whole night long. It's truly amazing how important the entertainment is at a wedding. So much fun!!!!

Emily J.

Married on 07/20/2019

Best dance party ever

We booked The Replicas for our Santa Barbara wedding after going to see them play at the Sagebrush Cantina in Calabasas about a year out from our wedding. They're used to playing some pretty large parties/venues, so I'm sure our 115-person wedding felt pretty small, but it was like having our own private concert. Booking a kick-ass band was our biggest reception priority and they did not disappoint. Veronica and Mike work with you to put together a song list that you'll love and they also learn up to three custom songs - including my groom's favorite song, which they played at the end as a surprise. They were truly amazing and I'm still getting compliments from my guests about how great my reception was thanks to them!

Meghan

Married on 09/08/2018

Hellooo best party ever!

I'm actually a photographer and have been to over 100 weddings and I can say with certainty: The Replicas are hands down the best wedding band I have ever had the pleasure of witnessing. My husband's #1 goal for our wedding was to have a super fun memorable party with a top notch band. We hired The Replicas on for our very own wedding in Paso Robles last month. Super Fun Memorable Party- CHECK. Veronica and I had an initial phone call that left me in a position thinking "this is more expensive than I was hoping…….but I know if I set up a call with my fiance, he will 100% understand." It was worth every penny. They gave us a list of songs to choose from and curated an epic play list from it. Tom Petty, Chris Stapleton, Queen… the list goes on. They learned our first dance song since it wasn't on the list. The band truly was an investment for the entire reception Veronica was a fabulous host and our guests haven't stopped talking about them ever since. We are super appreciative of their talent and would highly recommend them.

Are you interested?

Send a message

Greg

Married on 10/14/2017

Our wedding photographer, who is a personal friend of mine, recommend Veronica and The Replica's to us. I took him at face value since he has great judgement, and he didn't disappoint! First off, Veronica was super cool when we first chatted over the phone and really gave me a good feeling that we were choosing the right band. Secondly, she had so many music options to choose from, we were really able to tailor our music to the theme and tastes of the wedding. And the 3-piece guitar trio was awesome – they took our wedding to the jazz-level coolness we were seeking out. Oh, and let's not forget to mention that all our 115 guest raved about the music and how it set the wonderful mood for the night. Thanks Veronica and The Replica's for making the night just a lovely, lovely evening!

Lucille

Married on 09/22/2017

Hi Veronica,
I just attended my niece's wedding, at which your band played. You guys were amazing. I couldn't stop dancing, nor could I stop telling everyone what a great band Kristen and Alex had at their wedding.

I'm attaching a photo I took of the band during the wedding. I think it's a nice shot, that maybe you would like.

This Jersey girl had a blast!
Keep rocking!

Lucille Andaloro

Steven

Married on 09/16/2017

I picked The Replicas Music because I was impressed from the sample videos from their website. Also after speaking with my venue about it, it turns out that they were the one and only recommended vendor for live music at this venue and there was nothing but wonderful praise. I spoke to a few other live bands, but something never felt right with the others. Veronica and her team were extremely organized and will with you throughout the entire process. I certainly have not hired a live band before but they made it really easy. I reviewed their list of music and based on their performance during my wedding, they can literally rock out to any song you choose on their list. I still remember the rendition of "everlong" during the dinner and it was awesome. We had a number of elderly in our wedding and everyone was up and dancing because they were that good. My wife is really frugal and she wanted to go with a DJ to save money but during the wedding she said The Replicas were worth it every penny at the wedding. They made an already memorable day for me even more so. You cannot go wrong with choosing The Replicas, they will deliver and make your party memorable and awesome.


Jenna

Event on: 06/17/2017

The Replicas played at my charity fundraiser for Kidsave and they were great! They were super flexible and easy to work with. Everyone had a great time dancing and we got tons of positive feedback about the band after the event. I highly recommend them for your next party!

Josh

Married on 01/07/2017

I could not say enough great things about the Replica's team! Veronica is the most knowledgeable when it comes to suggesting musicians. I booked a violinist for my wedding ceremony, gave very specific instructions on tempo of the song and she NAILED IT! It was beautiful, everyone raved about how great she was and how it was true musicianship. Thanks so much for being part of our big day!! J&J

Sam

Married on 12/31/2016

The Replicas are the best!

From the very beginning, we knew we wanted our New Year's Eve wedding to be a tremendous dance party and The Replicas gave us one for the ages. Not only are Veronica, Mike, and the rest of the band incredible musicians (their rendition of Bohemian Rhapsody has to be heard in person to be believed), but they know how to read a room and bring the party. The vibe is less "wedding band" and more "your favorite band." We spent the entire night on the dance floor and guests of all ages still haven't stopped raving about the band. When everyone feels like they only heard songs they know and love, the band is doing something right.

The Replicas also managed the flow of the evening perfectly. They timed their breaks around our meals and speeches, so that people were ready to dance when the dance music started. Veronica was an amazing MC, handling not only the usual first dances, multiple rounds of speeches, etc., but leading us through the countdown to midnight. It could've been a mess, but she handled it ably, timing out the end of the pre-midnight set in a way that got everyone up from their seats, energized, and ready to ring in the new year.

But even before the wedding, the Replicas were wonderful to work with. They're total pros, and they provided us with a lot of confident guidance from the very start. Veronica is very honest about what's going to work and what isn't, but it was always with an and understanding of what we were going for and an eye towards giving us the reception we wanted. Basically, trust her — she's right about everything!

We also asked the Replicas to learn two songs for us — a first dance and an epic post-midnight closer. They did an amazing job with both.

In short, we could not have been happier with the Replicas and would recommend them unconditionally to anyone.

The Replicas Music does not cease to amaze. We have used them several times for several events in our family. They have provided us with the best string trio, jazz trio, solo pianist, and the most incredible dance bands. We highly recommend them for any event. They can play any genre you wish. Our guests are still raving about how wonderful the music was in our last event.

Samantha

Married on 10/29/2016

The Replicas were nothing short of amazing. From start to finish, they were incredibly fun and professional to work with. They had great suggestions, they listened to our ideas, and they showed up with enthusiasm and class. The quality of their music and performance was a 12/10. We are still receiving emails from our guests commenting on the extraordinary caliber of this band- I cannot recommend them more highly.

Light

Married on 09/04/2016

LOOK NO FURTHER! Not only are The Replicas as tight and professional as they come, Veronica Puleo & Mike Holowatch are fun, funny and wonderful to work with! They seemed to truly care about and understand the feelings we wanted to create for our guests and, even more importantly, nurtured the actual emotions on our wedding night, playing the perfect songs at the perfect pace to keep the love flowing and the party alive. They felt like more than a band at our wedding, they felt like friends who helped give us one of the most love-filled, magical day of our lives!

Light & Frank

The Replicas Music's reply:

We adore you guys! Your wedding was so beautiful and heartfelt. You chose such an amazing team of event professionals. It was an absolute honor and a pleasure to be a part of this beautiful time in your lives. We loved customizing your song list and working on your specific tunes. You chose material that was so far off the beaten path, it made our job that much more fun!!! Wishing you both countless years of health, happiness and love.

TheReplicasMusic variety band recently played a wedding I attended and they blew me away. They played everything like the record! And they knew so many songs from so many different eras. Super talented and so much fun to watch! The MC truly had a knack for engaging the crowd and keeping them on the dance floor.

James

Married on 08/28/2016

we had guitar duo, we passed them a Chinese song to learn, and they learn it really well. my friends noticed the song right away, and it was consider a little surprise to them.

Alice

Married on 08/28/2016

Love Replicas Music! I am so glad that I booked them for my wedding. They are very easy to work with, no problem for communication. The artists are professional and handle our special requested song so well. They also match the outfit for our wedding theme color. My guests love their performance.

User2831583

Event on: 08/27/2016

This band is a top choice for large scale events that need a lively vibe, with gold star players, and a versatile set list. The voices, charisma, style, sass, and talent are just off the charts. The band is tight, classy, creative, and puts on a hell of a show.

Melissa

Married on 08/20/2016

The Replicas were absolutely amazing at our wedding in August. They played a great variety of music with so much enthusiasm and spunk. Our guests danced all night long and didn't want the reception to end. So many people have since since commented how great the band was that night and how it made the party really come to life. Veronica and Mike were so friendly and easy to work with, and very hospitable when we had a meeting at their place to discuss the set list. They are extremely passionate and it shows. Wish we could do it all over again!

These musicians are so incredibly talented! Everyone was on the dance floor from start to finish at our wedding. Even when they were playing dinner music, our guests didn't want to eat, they simply wanted to keep on dancing. Veronica and Mike are so easy to work with and truly knew how to create the perfect song list based on our musical tastes. They were so very helpful every step of the way. Also, our guests kept commenting on the perfect volume level. They were never too loud. They also provided a guitar duo for our ceremony. They were outstanding! The guitar duo also moved over to our cocktail hour to serenade us there. We are over the moon and so happy we chose The Replicas Music for our special day!

User2699791

Event on: 07/25/2016

Trust me, the Replicas organization is professional and completely reliable. I booked a jazz/pop guitar duo for a Corporate Outdoor BBQ Event, and they were fabulous. The two guitar players were extremely talented, and well versed in a variety of music from the 70's to the 90's. The Replicas Manager attended to ensure we were completely satisfied. I highly recommend this organization. You definitely get your money's worth. Stop looking and call them. They are flexible and can accommodate any of your needs.

Darcy

Married on 06/25/2016

The Replicas rocked the house at our wedding on June 25th! They made our wedding so great and we are so happy that The Replicas were a part of our night. We had so many guests come up to us to tell us how great the band was!! They made our wedding so special!


Kathryn

Event on: 06/18/2016

The Replicas were FANTASTIC from first contact until the last song. We contacted Veronica in hopes of having The Replicas play at my client's big birthday party and from that first phone call, I knew we were in good hands. They invited my clients to their rehearsal and even learned a new song for the party. They killed every number they played and had the whole party up and dancing all night long. In my experience, that rarely happens. The Replicas were professional, enthusiastic, flexible and SO MUCH FUN!
Thank you Veronica, Mike and the rest of the Replicas team!

Krissy

Married on 06/18/2016

The Replicas are really good at what they do - which was perfect for our wedding! My husband & I were very concerned since our taste in music is not really conducive to getting people on the dance floor, & we're kind of allergic to pop music & most danceable tunes. With some feedback from us (we took a copy of their song list and marked up songs we liked & songs we didn't), they managed to execute an awesome set list that we loved & kept people moving.

Our first dance song was on their play list, but we had rehearsed a highly choreographed routine to Natalie Cole's version, specifically, so needed all of the accents to be in the same places. The band learned that version for us & sent us a rehearsal recording so we could practice to it! Made all the difference in the world as hearing it for the first time performing it would not have been good - so grateful for this. They also learned songs for our parent dances & for the cake cutting.

The band continued to play at a very appropriate level after our entrance & first dance (and a couple of other songs) during dinner - I was a little distracted, but everything felt very seamless to us. They took only a couple of breaks for which we prepared 15-min play lists (they'll do this for you if you want).

Communication with Veronica & Mike was great - they were warm, super responsive, & helpful. We actually booked them without hearing them live, then went to hear them at a showcase. We were very happy with the musicians - less so with the vocalists, but the female vocalist we selected (who had been sick at the showcase) was better than we expected. Our MC kind of missed (the whole point of) inviting other fathers & daughters specifically onto the dance floor mid-father/daughter dance (Dad's Day weekend), and forgot our last-minute b-day song request for the groom's aunt. They do require a stage & lighting (not all bands do), which added $820 to our expense. But I'd definitely hire them again if I need a band!

The Replicas Music's reply:

We are so happy to get another five star review! This wedding was absolutely gorgeous from start to finish and we were proud and honored to be a part of that. We strive for the utmost professionalism at every event and take pride in every detail, especially when it comes to music and production. The first dance is such an important song and moment on your big day. We loved that specific arrangement and sinking our teeth into it :-) The video of your first dance was so sweet and flawless.

Thank you for letting us know about your experience. We will be sure to explain our contractural rider requirements more clearly and thoroughly with future couples.

Alison

Event on: 06/18/2016

This was a BIG Birthday celebration for me, and I really wanted a great band. We looked at several bands, but the Replicas had the best sound, and they were wonderful to work with. During the months leading up to the party, they sent me their play list, so I was able to tell them exactly which music I wanted, and they had a great play list. They also learned three new songs that were special to me. Everyone at the party was blown away, and I got so many notes afterwards, and the band was the highlight of the party!!! I cannot recommend them more highly, they made the party very special for me, and the way these played had everyone out on the dance floor all night!

Dante

Married on 05/21/2016

We were so fortunate to have the opportunity to book The Replicas for our wedding in Santa Ynez, CA. Their repertoire is enormous, choosing a full evenings song list was easy to do, and they were so accommodating with our song requests. Not only did they absolutely nail the material, but we were told numerous times by our guests, "This is the best cover band I've ever heard." Closing out the night with an outstanding performance of Purple Rain was the perfect ending. It is no wonder numerous publications are calling The Replicas the best wedding band in Los Angeles. They are that and so much more. Book them if you can.

Monica

Married on 05/21/2016

This band is seriously amazing!! Not only do they sounds great, they are awesome to work with!!! Our wedding guests were blown away and everyone had a great time dancing the night away. They made our wedding the party of the year!!
Are you interested?
Send a message