41 Reviews
Recommended by 98% of couples
Quality of service

4.9 out of 5 rating

Average response time

4.8 out of 5 rating

Professionalism

4.9 out of 5 rating

Value

4.9 out of 5 rating

Flexibility

4.9 out of 5 rating
15 User photos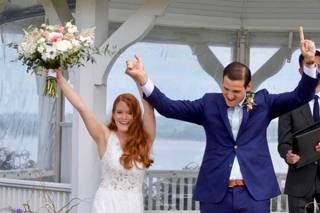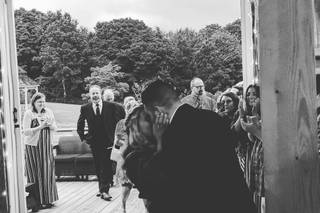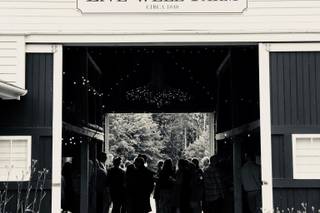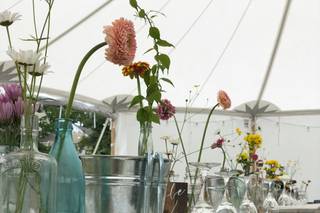 + 11

photos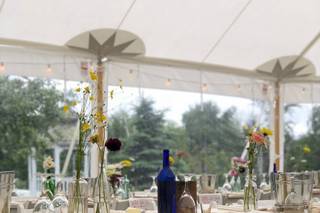 Sophie T.

Married on 09/25/2021

Absolutely amazing

Kristina was our wedding coordinator and she was the best decision that we made. She was incredibly calming and reassuring throughout our wedding planning and we knew that we could count on her. Throughout the small inconveniences that popped up, she was always ready and willing to help sort things out. We honestly do not know what we would have done without her and we are so grateful that we had her there to guide us through the planning process!

Pamela S.

Married on 05/01/2021

True Team Members!

Kristina was our partner in crime for over two years (thanks to Covid and having to delay for 9 months), and we are so thankful to have her throughout the entire process. It was a difficult time planning and replanning the wedding, and Kristina was supportive, honest and kept us apprised of all the next steps. No matter what we knew we could count on her to bring our vision to life and she was a huge help coordinating with all of our vendors. We had no hesitation handing over the reins on the day of, confident that all the details would come together and everything turned out perfectly!

Ali

Married on 03/20/2021

Best wedding planner in Maine!

Kristina was the absolutely BEST! My now husband and I planned a last minute wedding after having to pivot a few times due to COVID. This was the third wedding we planned spanning from CA to NC then ME. Kristina was the first planner I met with and instantly clicked. She was amazing to work with, kept us on schedule - especially the week of, helped source amazing, budget-friendly vendors and ensured the day went smoothly. Both my husband and I were able to relax and soak up the day with our family who we hadn't seen in over a year! She took every precaution necessary due to COVID ensuring our day was safe yet special. I can't recommend Kristina enough!

Are you interested?

Send a message

Hannah R.

Married on 01/03/2021

Wonderful!

Purple Orchird has a wonderful team! Me and my fiancé ended up not going with any kind of planner (we will see if that was a mistake or not) but purple orchid rep, Kristina, was VERY nice and helped me out even when she knew that we weren't going to hire them. She understood my situation and wanted what was best for me. I cant imagine the kind of service they will provide for people who actually give them money! They are fantastic people and if you need a planner, purple orchid are the ones to hire!

Angelina

Married on 07/12/2019

So glad we hired them!

WOW were we lucky to have hired this group! Not only did they keep everything wonderfully organized (a trait I can't exactly boast of myself) but they had great ideas and managed some last minute snags without my or my family ever knowing about it! Jarron is impressively efficient and organized and thought of all the things we hadn't well before the wedding weekend. It was such a relief having Jarron and Katherine around to run the day, organize the table settings, set up the ceremony stage, corral guests into the barn just before it briefly rained, bring our dog down to the reception to say hi and even help procure late night pizza! We are so grateful to them for making the day happen so fabulously!

The Purple Orchid, Event Planning's reply:

Angelina,

Thank you so much for your kind words! We had SUCH a blast working with you and Ravi during your special weekend. It was such a joy for us to see the beautiful, colorful and FUN day! It was especially lovely to see two loving families coming together.

Congratulations a million times and please keep in touch! We can't wait to see how your love story continues.

Sending love and laughter

Aneesha

Married on 06/29/2019

Incredible planner!

We are still on cloud 9 from our wedding and cannot thank Kristina and her team enough for making it all happen. From the endless phone calls to all the last minute details to the most perfectly orchestrated day, Kristina did a truly phenomenal job. Even my mom has not stopped raving about our incredible coordinator--we didn't have to worry about a thing and could not have imagined a better day.

Thank you and we hope to cross paths again soon!

Erin T.

Married on 06/29/2019

Incredible Team!

We had an amazing experience with Nikki, Kristina and Jarron on the Purple Orchid Events team. Nikki was our main planner and she was absolutely fantastic! I knew we were in great hands. She was excellent at making sure all the t's were crossed and i's were dotted - making sure every little detail was ready to go and taken care of. We had our dream wedding and it could not have happened with out this team!

Nikki was great at checking in with me as the wedding day got closer to answer any of my numerous questions and to help take care of the vendors as well. I left her all my notes and items that I wanted set up a certain way, and everything was executed beautifully! (even better than I could've hoped for).

The day went so smoothly thanks to Nikki and Jarron - I can't thank them enough and would highly recommend Purple Orchid Events to any future bride. We booked them after my husband's sister used them - another fantastic wedding, which after attending, I knew I could trust this team with one of the most important days of our lives.

Also, they are a delight to work with! They are very kind and very responsive. And they'll make sure your dress train and veil look fabulous walking down the aisle ;)

Thanks for everything Nikki, Jarron and Kristina! Best day ever!

Whitney

Married on 06/23/2018

Kristina and her team (Katherine & Jarron) were amazing! I think my laid back personality frightened Kristina at first as I'm a super procrastinator, but she helped make sure all tasks were complete before the wedding. They made sure my day went smoothly. Zach and I were not bothered with anything the day-of and had the best day of our lives. Kristina took us down to a local spot on the ocean to take pictures. I only have a few from the photographer and they are AMAZING- can't wait to see more! Jerron cleaned up as much as possible, making the cleanup the following day super easy. I would highly recommend Kristina and her crew. Kristina is super organized and experienced, and easy to work with. Thanks so much!!

+ 5

photos

Elizabeth

Married on 05/19/2018

Brian and I are still trying to find the right words to think you and your team for what was a fairytale wedding for us. From the moment I first talked to you I knew you were the planner I wanted to work with. You made everything so easy to plan and make last minute changes. The amount of compliments we received about YOU from Saturday night is incredible. You transformed the boring classic white wedding tent wedding into a colorful wildflower explosion party that was just ABOVE and BEYOND what I ever even knew was possible!

It still baffles me all that planning we did with a million email and just paper discussions on a vision turned into that magical weekend. From taking control at the church rehearsal (still cracking up about that night and Fr. Ed) to the boat then riding around in golf carts when I probably should have been getting ready… oops.. you let my carefree spirit run free and I felt doted on hand and foot. "No" literally never came out of your mouth when I asked for an adjustment….or when I wanted to carry a bale of hay (still sorry about almost giving you..and my mother..and sister.. a heart attack). I remember asking you early on when you said what was the most important thing for me and I told you it was to have my parents stress free and enjoy the night. Im SO pleased that they not only enjoyed the night.. they too cannot believe the quality wedding you were able to put on. The number of "wows" and "stunning" and "best wedding we're ever been to" comments are still coming in. EVEN your first aid skills were tested and THAT couples asked me the other night to personally thank you for being so kind and helpful with her bum toe.

Durinda

Married on 09/16/2017

Kristina and her crew were awesome! Affordable, professional and wonderful to work with! They made our wedding stress free and awesome! They care about the details as much as we did! They were always there! Thank you so much! Would hire you again for any event! Thanks Lindsey & Adam

Jamie

Married on 09/09/2017

Hiring Purple Orchid was hands down the BEST decision we made in our wedding planning process. Our wedding day was a complete fairytale and we were able to live every moment fully because Kristina and Meli were there to take care of everything for us as coordinators. We started planning about two years prior to our actual wedding day, and being from New York, we needed someone with knowledge of the area. I immediately clicked with Kristina and felt in such good hands. She was so patient with me every step of the way and always made me feel like a priority, even though my wedding was so far away and she surely had events that were sooner and more pressing. She led us to incredible vendors and as we got closer to the wedding, our stress level actually DECREASED because she handled all of the coordination in the weeks and days leading up. She made us feel so relaxed and well taken care of on the day and on top of it all, she is just such a kind and fun person to have with you on that very special day. Her and her assistant Meli had everything under control, and we quite literally worried about nothing the day of. We trusted them completely and it was PERFECT. My family and friends all commented on how well put together everything was and my response to them was always "Kristina and Meli are amazing!!!!" We'll miss them and wish they could plan every event in our lives! We can't say enough incredible things about The Purple Orchid, they are a MUST have for your Maine Wedding.

Kim

Married on 08/12/2017

Where to begin with Kristina- our wedding was amazing beyond our wildest dreams and we couldn't have done it without her. For a long time we ambitiously attempted to plan a large-ish wedding on a private property from long distance single-handedly and once we realized that this was impossible to do while working full-time jobs, we sought out a planner. From our first conversation with Kristina she immediately started making suggestions and we couldn't pass up the opportunity to work with someone who has as much experience as she has, and who has worked with so many local vendors. Kristina was fantastic and just what we needed-- she was responsive and professional, mentioned every detail that we might have overlooked, and was straightforward while being kind, encouraging, and unbelievably generous. On the day of the wedding I was able to leave the site to get ready and had total confidence in Kristina that everything would be in the right place, and when I came back everything was set in the right place and beautiful beyond anything I could imagine. She was super lovely with our family members, and despite having a million things to do she made sure that we were happy, relaxed and well-fed. It was such a pleasure working with Kristina and we would recommend her to friends and family in a heartbeat. There are many talented event planners in Maine but if you're looking for a team with a deep breadth of experience in the area and who have worked with basically everyone, hire PO as soon as possible. And enjoy every moment!

Emily

Married on 07/22/2017

We worked mostly with Chelsea and she exceeded all of our expectations as our wedding coordinator. Chelsea has such a confident, upbeat attitude, which really helped lower our stress levels throughout planning. We hired her for day-of coordination for our wedding at a flower farm. The venue was a blank slate property in the sense that all vendors needed to be brought in, as nothing was provided by the venue. Even though we had hired for day-of coordination, rather than using full planning services, Chelsea went above and beyond. She reached out to vendors and made sure the wedding schedule was given to all vendors and everyone was on the same page. She was organized, reliable, and made sure we had all of our bases covered.

There were many moving pieces with our wedding, and we are SO happy to have found Chelsea. She really helped us feel at ease and kept us on track with our priorities and timeline. She has the most awesome, positive personality, and handled everything calmly and professionally. Chelsea really helped the entire day run smoothly. We were able to enjoy the day with friends and family, thanks to her. If you are wondering whether you have room in the budget for a coordinator- you NEED to make room.

Thank you again, Chelsea! For everything :)

Kim

Married on 08/13/2016

Hiring " The Purple Orchid, Event Planning" was the best decision we made for a successful and fun wedding. Kristina Slocum was quick to respond to us and thought of so many details we didn't even think of. The week before, and especially the day of the wedding was so "stress-free" knowing that they taking care of everything. I would highly recommend this business!!

The Purple Orchid, Event Planning's reply:

It was such a pleasure working with all of you. What a perfect day! Thank you, Kristina and Team

Dana

Married on 06/11/2016

I am a photographer. I have photographed weddings, i have been to weddings, and like a crazy woman I decided that I would plan my entire wedding. Planning an entire wedding is really hard to do and I do not suggest it for most people. Having a professional to make sure you are doing things right is really important. I made the decision to hire a day of planner because I wanted to enjoy the day rather then direct it. Kristina was great. She and I got together about two months before the wedding and came up with a plan on how the day should be. She sent me forms to fill out so that I could have a time line, so that she would know all my vendors, she would know what a I ordered for the wedding and from whom and she made sure that all the planning I had done was correct. She found a few mistakes that I had made in my ordering and she worked with my vendors to fix them. She worked with my Officiant and all of these different vendors and had them all working together to make my day as easy as possible. I know there was behind the scene drama going on on my wedding day that I had no idea about. Like dealing with the crazy intense wind and rain during my outdoor wedding. She had to run out and buy tons of umbrellas to keep folks dry as they waked from tent to tent. She made sure that my day ran smoothly and that made all the difference. I got to enjoy the day. My only major decisions was how much I should eat, drink, and dance with my husband, family and friends. Kristina, her team, was the best wedding decision I made. I would highly recommend them.

The Purple Orchid, Event Planning's reply:

Hi Dana!
I'm looking through your wedding photos and want to re-live that day. It was so wonderful and what a great group of people. Hope you are having a great fall season. Best, Kristina

Pauline

Married on 09/05/2015

Thank you so much Kristina for ensuring that my husband and I had the best wedding. Kristina went above and beyond from the moment we hired her. She is THE BEST! We got married on an island in Maine and we planned the wedding from Denver, CO. Despite the numerous logistical issues we ran up against Kristina was there to calm us down and make sure everything went according to plan. She is proactive, professional, detail-oriented, and yet manages to be laid back and fun. Our calls with Kristina were usually very late for her (time zone differences) but she was always available and happy to help. She went above and beyond what we even expected and saved us multiple times when things fell through or we needed a last minute change. She worked so well with our other Maine vendors and her assistance on the day of was unbelievable. Honestly, my husband and I always say she was our best wedding planning decision and we recommend her services to anyone!! THANK YOU Kristina!! - Pauline and Jody

Lindsey

Married on 08/15/2015

Kristina and Chelsea were excellent as our day of wedding coordinators (and the consultation package). Kristina assisted with recommendations throughout our planning process, and really helped to plan the timeline of our day to ensure things ran smoothly. She contacted all of our vendors prior to our Big Day to incorporate everyone in our working timeline. Our wedding was held at a non-traditional outdoor venue, that had never had a wedding on the grounds before, and as we were coordinating and bringing in all vendors ourselves, it was extremely important to us to have someone like Kristina there with her expertise in coordinating weddings and being able to to take care of all the small but important details that need to occur, so that we could enjoy our day just being the bride and groom, and get married! They were there early to help set up and meet with all vendors arriving, and stayed well into the night to make sure everything went as smooth as possible. Kristina successfully navigated through the day and alleviated any stress that may have fallen on us, and we are so thankful for that! We also had Chelsea come by on the night of our rehearsal dinner to help out, as we had a large wedding party and wanted to get everyone on the same page, and it was so great to meet with and go over things with her instead of on the day of, when things were guaranteed to be even more hectic. . It was a pleasure working with both, would highly recommend them to anyone looking for a wedding coordinator!

The Purple Orchid, Event Planning's reply:

Thank you so much for the kind words- it means so much to us that we were able to help you two create a perfect day! You guys are wonderful! Please keep in touch. Best, Kristina and Chelsea

Kelly

Married on 07/25/2015

Kristina and Chelsea are a god-send! We feel very thankful to have decided on a day-of wedding coordinator. Kristina was excellent to work with from the very start. Planning a wedding two states a way, we had an initial phone conversation that alluded to an immediate connection and understanding of our wedding needs and vision. She met us prior to the event at our wedding location. Our wedding was at my husband's family summer home; thus, we had to pull in MANY different vendors to come out to this little Maine, island. Kristina organized all the vendors seamlessly. She contacted each one prior to the wedding and took that worry off of our plates and allowed us to enjoy the morning leading up to the big moment. The day of the wedding she showed up early to help with set-up and nailed every last one of our little details (and as a teacher, there were many). During all of this she remained friendly and professional. We are extremely thankful that we went with a day-of wedding coordinator and that this was The Purple Orchid. I would highly recommend them!

Kathleen

Married on 06/21/2015

This review will not even begin to do justice to the services Kristina and her staff provided for my daughter's wedding. The wedding took place at our home and even though that was overwhelming at many points, Kristina's competence and experience assured us everything would run smoothly. She is detail-oriented but kept us focused on the event as a whole. We weren't sure if we could fit the expense of hiring a planner into our budget but the reality is that if we hadn't, we would not have had the amazing wedding we did! Kristina's checklists and advice were invaluable and her wedding day presence was phenomenal. We highly recommend Kristina and the Purple Orchid (thanks so much to her assistant Chelsea, too!) to anyone planning a wedding in Maine. Sometimes it is not just the business smarts but the personal touch that makes an experience with a company unforgettable. We will always remember the generosity of time and spirit that Kristina provided us on this very special day.

The Purple Orchid, Event Planning's reply:

Kathleen,

Thank you so much for giving us the opportunity to work with your family. You opened up your home and welcomed up like we were part of the family. Thank you, thank you!

Michelle

Married on 06/13/2015

Kristina and her staff were amazing! The network of people she knows and her ability to get things handled are second to none. We had the most amazing wedding and the best part was it was stress free!

The Purple Orchid, Event Planning's reply:

Thank you Michelle for your review- I know everyone including ourselves really enjoyed working with you on your wedding. xoxo

Lynn

Married on 10/03/2014

Kristina from The Purple Orchid was absolutely wonderful in every aspect of her services. Always available and in touch, getting each detail just right. We were out of state and she became our hands on the ground, she saw exactly what we wanted and when above and beyond what we expected. All of our guests said that this wedding weekend event was unlike anything they had ever been to, it exceeded all of their expectations. That made my son, my daughter in law and us very very happy. By all means use her services, you won't be disappointed!!!

Patty

Married on 09/13/2014

I hired Purple Orchid for only the day-of coordination (in hind sight I wish I had hired her as my complete Wedding Planner!). She was thorough, detail-oriented, and organized during the week before the wedding. She did not need any hand-holding and was independent and professional - exactly what you need on you big day! She coordinated with ALL of the vendors during the week before to make sure the schedule was nailed down and took care of the little details that the bride and groom might overlook. She set up all of the table decorations, brought us appetizers during photos, coordinated first dances and toasts with the DJ, and was there for general support throughout the whole event. She even took care of things when it started to rain (like bringing things inside!) and I barely even noticed that it was raining at all because I didn't have to worry about anything! I can't thank her and her staff enough for the fabulous job they did, and all with a relaxed, sensible attitude which helped to calm everyone down just by being in the room. I highly recommend Purple Orchid Event Planning.

The Purple Orchid, Event Planning's reply:

Thank you Patty and Todd- you two were so great to work with!
You looked amazing and it is evident the love you two share. Such a pleasure- please stay in touch. All the best, Kristina and team.

My mom suggested that we hire Kristina of The Purple Orchid Event Planning and we haven't stopped thanking her! My parents, my husband, and I can't say enough good things about how beautifully Kristina handled our wedding day (and the planning leading up to it).

From Day One, Kristina was organized, helpful, endlessly supportive, and totally reliable. She thought of things we didn't, and remembered things we couldn't.

We couldn't have been happier on our wedding day. Much of that happiness is owed to Kristina's experience, hard work, and calming presence. We had total faith that she would carry out our plans. She did - in fact, she turned them into a reality that was better than anything we could have imagined. The day was wonderful, and we owe Kristina huge thanks for that.



The Purple Orchid, Event Planning's reply:

WOW, Thank you! I love what I do and especially so when who I'm doing it for people who totally deserve it! You, your fiance and family are so pleasant and welcoming...you two are perfect for each other and I THANK YOU for allowing me to be a part of it.

All the best to you all... sending much love and laughter your way. Kristina

Hiring Purple Orchid Event Planning for my Maine wedding was the best decision I ever made. After speaking with a number of different Maine wedding planners, Kristina stood out as capable, knowledgeable, and ready to take on the job. I hired her soon thereafter and decided to go with the "full service" package- and to this day, it was the best "wedding purchase" I made.

Kristina was instrumental in executing the vision I wanted. She listened to what I wanted and was receptive when I explained what I did not want. She was attentive to my style and also came up with great ideas. She gave me the names of amazing vendors, all of whom were in my price range. She kept me on my deadlines and reminded me of my to-do list.

On my wedding day, Kristina was incredible. She took care of all my needs and more. She helped set up the tables, made sure the decorations were perfect, put up signs, set up the escort cards. She constantly checked in on me, brought me sparkling water, and kept us to our schedule. We had an incident where the dock broke with the entire wedding party on it – and she ran around, drying the groomsmens' pants! At the reception, I actually saw her filling up water glasses! Kristina wanted to make sure it was the best possible day ever and it was. We received compliments from every wedding guest including several "best wedding we've ever been to". It couldn't have been the wonderful day it was without the help of the Purple Orchid team.
Seriously, do yourself a big favor and hire Kristina. You won't regret it!


Bronwyn

Married on 08/22/2014

We hired Kristina of Purple Orchid as a month of coordinator for our wedding on Peaks Island. It was so helpful to have her coordinate our vendors for the month of the wedding since we had a lot of logistics with planning a wedding on an island. She really stepped in and took charge of many aspects of the planning which was amazing. She was lovely, easy to get in touch with, and everything went splendidly during the wedding. I highly recommend Kristina!
Are you interested?
Send a message