Reviews
4.9 out of 5 rating
Quality of service

4.9 out of 5 rating

Average response time

4.9 out of 5 rating

Professionalism

4.9 out of 5 rating

Value

5 out of 5 rating

Flexibility

4.9 out of 5 rating
99%
Recommended by couples
83 User photos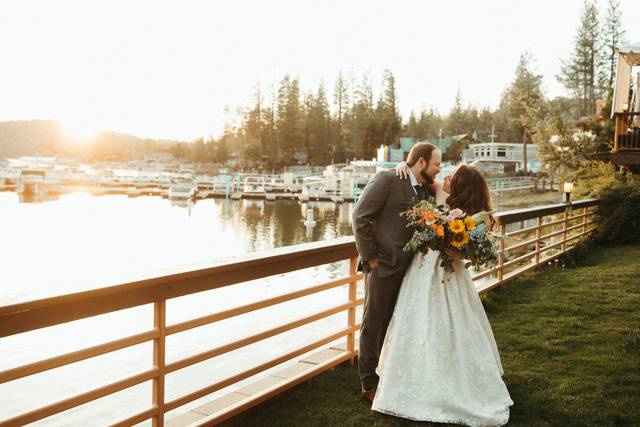 + 79

photos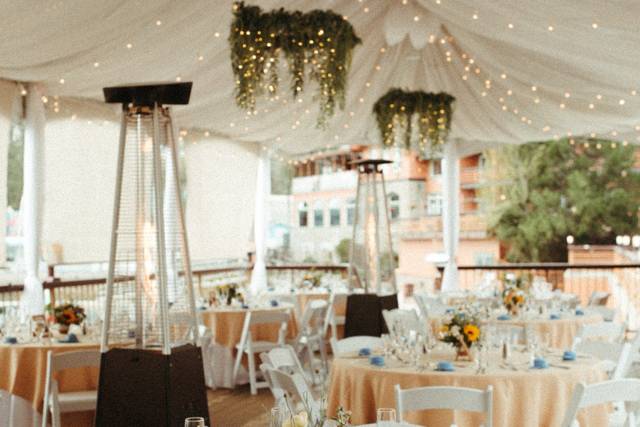 Featured

Kelsey E.

Married on 04/17/2021

Best Venue Ever!

If you are looking for the perfect wedding venue, look no further and book the Pines Resort ASAP.

Having kids and living far away, I booked the Pines Resort solely off pictures and videos online and the communication I had with their previous coordinator, Jessica and I am so happy with my decision. The Pines Resort is the most beautiful backdrop for your wedding venue, we had our ceremony on the lakefront lawn and ceremony in the lakefront tent. We booked the venue a little over 1.5 years in advance, pre-COVID. The Pines Resort offers a wide variety of packages for many different price points, and overall I was attracted to the Pines Resort based off their reasonable pricing, beautiful scenery, and amazing Wedding Team staff.

After the previous wedding coordinator left about 6 months before my wedding, I was nervous. However, their new wedding coordinator, Randi, is quite possibly the best person I have ever worked with and was so easy to work with. From the moment she took over, she was super hands on and so responsive, emailed back right away and hopped on a phone call to answer any questions I had (being a covid bride, this happened frequently). And then throughout the entire planning process she was so available, she never made me feel dumb for any of my questions, and made great recommendations about everything. She was so kind and knowledgable and easy to work with. Randi also took care of reserving our space for our rehearsal dinner and day after breakfast.

Randi and her assistant were a dream on our wedding day, coming to our room whenever we had questions. They made the day seamless and ran perfect. All of our guests kept telling me I was the calmest bride, and I give most of the credit to Randi and the fact that I planned my wedding for 1.5 years. Also, when Randi noticed my son did not have a boutonniere (the florist said he was too young for one since he is 2), she went and picked a flower and made him one. The service she provided was above and beyond.

The food was so delicious! All our guests were raving how it was the best wedding food they ever had. We chose the BBQ Buffet, however, due to COVID it was platted and guests were able to ask for additional plates.

Randi and her whole team will seriously make you feel so relaxed. Our wedding was everything we could had dreamed and more, and it's all thanks to The Pines and their team. The team even cleaned up all the decorations we brought and put in a location so we didn't have to worry about cleaning it all up on our wedding night. Not only is the Pines Resort the most amazingly beautiful venue, they really take care of you. You won't regret booking the Pines Resort as your wedding venue!


+ 10

photos

Jessica

Married on 10/23/2023

The pines resort is a such a gem!!

The pines resort is a such a gem. My husband and I got married here in September 2023 and had the best experience. We worked with Randi and Brittany who were so accommodating, friendly, and supportive. Unlike many other venues, the pines was able to accommodate a smaller wedding (35 people) without pushing a minimum food and drink cost which is super rare to find. The venue itself is so beautiful, our ceremony and reception over looked the water and everyone had such an amazing time. The vibe and atmosphere is so amazing, staff are all so friendly and you really feel like you care. The day of our wedding, we had some small mishaps and Brittany and Randi were able to work to find solutions while we got ready for the big day. We really felt taken care of. Highly recommend this venue to anyone and everyone!!

Taylor

Married on 10/02/2023

amazing!!!!!!

Overall our wedding day went amazing. Our guests were so impressed with everything- the food, drinks, ambience, music etc. We loved how everything turned out and would definitely recommend this venue to others getting married! The all inclusive package made everything super easy for us. Thanks again!

Are you interested?

Send a message

Sara S.

Married on 08/19/2023

Wedding 8/19/23

The Pines and their staff made our wedding so incredibly beautiful and took all the stress away from us so we could really enjoy the day. They were very accommodating with requests and helped coordinate all the vendors so we weren't fielding questions on the day of/days leading up to our wedding. Our guests all commented on the delicious food and great service as well as the convenience of having everything in one location. We are so grateful to everyone at the Pines for helping make our day so perfect. Would highly recommend to any couple who wants a stress free planning and wedding day!

Stella S.

Married on 05/06/2023

Better than we could have dreamed!

We got married at The Pines in May 2023. Nick, Brittany, and Randi were fantastic to work with. They communicated with us regularly by phone and text throughout the planning process. They helped me to find my vendors and to plan each piece of the day. The whole team was very flexible and worked extremely hard the day of the rehearsal and day of the wedding to help us have a wonderful time. The wedding was better than we could ever have dreamed-- we will have wonderful memories for decades to come!

Nancy S.

Married on 03/17/2023

The perfect wedding experience!

I am beyond grateful for all the coordinators and staff at The Pines. My wedding was so magical. The weather and beautiful scenery made everything seem like a dream. Hands down, would recommend this as a wedding venue. Randi the wedding coordinator made my experience with planning so easy and stress free. I was truly able to enjoy every aspect of my wedding thanks to all their hard work. If you envision a rustic, picturesque venue this is definitely the place. They helped me find all the best local vendors. Everyone raved about the food from their restaurant Duceys which catered the event. The bar stsff was great. I can't express enough how fantastic my wedding experience was. We will forever be visiting this wonderful spot!

Janelle J.

Married on 10/22/2022

Amazing experience

We had the most wonderful wedding at the Pines. Everything from the staff, food, decor and overall flow of the day was perfect. We had the wedding out on the lawn and the reception in the lakeview room. We worked with the coordinator Randi throughout the process and she answered all of our questions. Nick and Brittany were our day of coordinators and they were fabulous. Easing our minds during stressful situations (aka possibility of rain). One amazing thing about this venue is how willing they are to work with you. It was projected to rain during our ceremony and The Pines was doing everything possible to make sure our day was going to be just as special. They have multiple options if there will be rain, and that is definitely a plus! I ended up not raining and the views were gorgeous.

We had our rehearsal dinner at Ducy's and it was so fun for our family to mingle and hang out together. Ducy's also catered the wedding and the food was phenomenal. We have gotten so many compliments.

The girls got ready in a suite and the boys got ready in a chalet.

Vendors
Photographer: Amber Verdugo
Floral: Sweet Dreams Weddings
DJ: GTE event crew, DJ Dion
Hair: Hair Loft Clovis
Officant: Rich Wilson

+ 16

photos

Hailey B.

Married on 06/17/2022

Most attentive coordinators!

We would get married at The Pines 100 times over again. We loved our day! Seriously! They made it PERFECT. Food was amazing! Coordinators were amazing! Venue was BEAUTIFUL. Only suggestion for the venue is a renovation of the restroom for the guests. Randi and Nick are spectacular and any couple would be lucky to have them by your side on your day!

+ 3

photos

Emily W.

Married on 06/11/2022

Best Venue and Most Amazing Wedding

Such a beautiful venue with so many amazing people. Bass Lake is gorgeous and the food was incredible. The staff were so professional and helpful through every step. Randi and Nick made sure my wedding was perfect and were so attentive to anything I needed. The chef made amazing meal choices and the day of everyone raves about the food. I would highly recommend this venue if you are looking for a beautiful view for your ceremony. They have a beautiful indoor option as well if need be. Such a perfect place for my wedding.

Carrie L.

Married on 06/04/2022

Best Day Ever!!!

There are not enough stars to give Randi, Nick and Brittney for the amazing event they help me put on at The Pines Resort. Every day I think about how I want to go back and relive the entire weekend. Randi bent over backwards to help me for almost two years to plan. When I couldn't find the right flower vendor she found me the PERFECT match because she listened to me and saw my vision. Her understanding of this vision also made my day of look EXACTLY like what I had envisioned. The food was amazing, the space and decor were amazing, the views were amazing, the staff was amazing and the entire process went great! We also hosted a Friday night welcome reception for all 125 of our guests with heavy apps and smores at the fire pit. Honestly, we had many friends and family tell us it was the best wedding they have ever been to. If you are on the fence about where to have your wedding, go with the Pines Resort in Bass Lake, CA!!!!!

+ 3

photos

Lisa H.

Married on 05/29/2022

Magical & Memorable Weekend

Randi & Nick are an amazing team and I had zero worries leading up to and the day of the wedding! Gorgeous backdrop for one or the best days of my life! Everything ran smoothly and everyone loved the location! I wouldn't change a thing!

+ 2

photos

Cindy Z.

Married on 05/13/2022

The most venue and super nice staff!

This place is to die for. We have been coming here since I was a child and now had my wedding here. The best view in the world right here in Bass lake. The staff was bar none!!!
Great experience!!

Casey S.

Married on 10/29/2021

Amazing!!!

Not only is this venue gorgeous, the wedding coordinator, Randi Miller is exceptional.. she and the staff helped to make my husband's and my day perfect! I was so stressed when I showed up, and Randi put me at ease. The food was amazing and I would recommend this venue to anyone getting married or having an event. Thank you Randi! Everything was absolutely perfect!

Polly P.

Married on 10/23/2021

Best Wedding experience!

This was an INCREDIBLE place to get married. Randi and Nicholas were absolutely wonderful to work with and made the whole process so easy and smooth. We planned a wedding in less than 6 months and couldn't have asked for a better location or venue. Great communication from Randi and Nicholas and they were able to answer all our questions along the way and assisted the day of with everything. My flowers for the bouquet didn't arrive in time and Randi created an even more beautiful bouquet with last minute flowers we got- she is an amazing wedding planner! The food was amazing (wish we ate more- some advice, make time to eat food!) and the service provided was incredible. I can't thank Randi and Nicholas enough for assisting in making this day so great. Everything went extremely smoothly and had so much fun. It was a beautiful place to get married and all our guests loved it as well.

Hannah

Married on 10/09/2021

Wonderful Mountain Wedding

We got married in November! Randi and Nick are amazing! They kept us right on schedule and were a calm presence on a very busy and special day! The wedding setup was beautiful, food was amazing. Could not have asked for a better wedding day. Memories will last a lifetime and people could not stop telling us how amazing our wedding was. Thank you again to the staff at The Pines Resort, especially Randi and Nick for everything! Love, Chase and Hannah.

Shahnaz S.

Married on 05/05/2021

The best venue!

My husband and I are incredibly grateful to have our wedding at the Pines Resort. From the beginning to the end, Randi and Nick were very helpful. They made our vision come true. I wanted an all-white wedding with greenery (leaves and stuff), with a gold accent (gold chairs, and some decoration). With those instructions provided to them, they exceeded our expectations, I mean - our decorations, flowers, everything was absolutely stunning!!! We were pleasantly surprised. THIS PLACE IS MAGICAL in itself and the service is exceptional. Also to add, My husband is Korean and I am Indian. We requested some of those flavors, and they were accommodating towards our culture/food. On the day of the wedding, everything went smooth and we just overall felt so grateful for such a wonderful experience. We had guests come from many different places (Minnesota, Hawaii, Colorado, Georgia, etc), and they all loved this beautiful resort and its amenities as well! Leading up to the wedding, we had other events as well there, rehearsal dinner, etc. Our overall experience was incredible and we thank the pines and their staff for making it easy for us.

Cynthia

Married on 10/27/2019

It's true what they say..

Your wedding day will not be exactly how you picture it. I was told this from the moment I was engaged. Something always happens & you can't let that ruin your day.

Now my wedding was on October 27, 2019.
I had selected The Pines Resort because it is BEAUTIFUL, the views, the lakeside, forest trees, everything is so whimsical.

Jessica (wedding coordinator) is the best & most responsive person I had during my 2 year engagement.
My husband & I originally selected September of 2018 to get married but I had fallen severely ill , during that time Jessica was able to postpone my date, when we spoke & met again she asked & checked in to see how I was feeling. She never forgot a single detail I mentioned to her.

Now on the day before our wedding, pg&e decided to shut off power the day off our wedding throughout the mountains.

This was it, the big day, & now there was no power.
The moment Jessica was informed, she let us know right away the best way to take action to keep the day running as smoothly as possible. We moved from the deck(stunning) to the lakeview room (gorgeous) because it was on generator.
As the girls & I were getting ready for the day, the power shut down, thankfully some of us were already ready to go, Jessica was sure to call whenever there was an update, I mean common there wasn't any power & I was flippin out! She brought over to my room some potatoes(my favorite) to calm my nerves & assured me the day would run smooth. She's a pro you guys! She pulled a master piece out of thin air!
When my DJ had no power she had a speaker ready to go, when my song didn't load for my grand entrance, she had a similar song already downloaded & ready to go! This is the woman who makes dreams come true.
When my bustle busted , she ran into another room & pinned my dress back together.
When my family was getting too far into the bubblies she was able to control the best she could & get the timeline flowin.
When they say your day won't be exactly how you picture it to be, it's true.
For me it wasn't but I'm thankful to have had Jessica every step of the way because she made it perfect! My husband & I have nothing but great memories because she took care of everything & that allowed us to be present & I would go through the day all over again if I could.

+ 6

photos

Brie

Married on 09/01/2019

Beautiful view and professional staff

I can not thank the staff enough for everything they did for to make sure our wedding went amazing. Jessica, the coordinator, was awesome with checking in and making sure last minute things were out and ready to go! I personally felt so unorganized but all my guests complimented me on how organized they felt it was so the staff was on it! Our timeline ended up changing last minute due to the heat with pictures but it was easy to talk it out and make the rest of the night run smoothly. I would recommend this venue for any wedding. The honeymoon suite was perfect and you can make it into a nice little vacation!

Kacey

Married on 07/27/2019

Such an amazing experience!

If you are at all on the fence about booking your wedding at the Pines Resort, DO IT. I don't even know where to start on what a pleasant, professional, reasonable, well-done, AMAZING experience it was.

Their wedding coordinator, Jessica, is quite possibly the best person I have ever worked with. She was responsive from the get-go... emailed back right away and hopped on a phone call to answer all of our initial questions up front. And then throughout the entire planning process she was so available, she never made me feel dumb for any of my questions, and made great recommendations about everything. She was so genuine and kind and easy to work with, my husband and I couldn't stop saying how lucky we were! Her and her assistant are a well-oiled machine when it comes to day-of... I legit had not a worry in the world because I knew they would be taking care of us.

The food here is also FANTASTIC. We met the chef at our tasting and immediately felt in good hands... the food was delicious and you could tell the pride he takes in his work. Still to this day (2 mos later) people that attended are RAVING about the food! It was stellar.

Jessica and her whole team will seriously make you feel so capable and at ease. Our wedding was everything we could have imagined and more, and it's all thanks to The Pines and the team they have there. Aside from being a stunning location, they really take care of you. HIGHLY RECOMMEND!

Brianna

Married on 07/18/2019

Beautiful lakeside resort!

Everything was perfect from Jessica the wedding coordinator, to the beautiful scenery, and the food! Highly recommend!!

Emily

Married on 05/04/2019

AMAZING wedding experience at The Pines

We had an absolutely stunning wedding at The Pines, and I am immensely grateful for Jessica and Diane and the whole team there that helped make our wedding spectacular. The location is GORGEOUS (wedding lawn right by the sparkling lake, wonderful reception deck overlooking the water and the lawn) and we love the proximity to Yosemite. Most of our guests stayed at The Pines for the weekend too, and it really felt like we were at a big summer camp with all of our friends and family. The whole wedding went almost perfectly, but whenever there were any slight issues, Jessica handled them smoothly and quickly and I really truly felt like I had nothing to worry about and we were being very well taken care of. When my husband and I didn't really get a chance to eat much during the reception, Jessica immediately boxed up two portions of our meal and had it sent to our room, and also boxed up some desserts to be sent up there as well, which was an amazing thing to come back to at the end of the night. I can't emphasize enough how happy I am to have had our wedding here, and I would recommend it to anyone looking for a beautiful outdoor wedding venue with a team that is capable, professional, and experienced while still making you feel like your wedding is unique and important and not like just another wedding in a booked calendar.

Brenda

Married on 04/07/2019

Jessica is such a wonderful coordinator!

I must say I chose the Pines for the location of the ceremony site with it being right on the Lake, Jessica coming with the location as a coordinator was a HUGE BONUS! SHE IS AMAZING! We definitely had some hiccups in the day but Jessica was amazing at making sure the day still continued to go smoothly and make sure our BIG DAY was amazing! Everything turned out more than we can ever dream of! Thank you Jessica for dealing with all of our shannagins and making our day so special for us and our family and friends!

Natalie

Married on 11/17/2018

Amazing! Perfect! Beautiful!

Looking for a place to get married?? Search no more. The Pines Resort was absolutely amazing. Everything about our date was perfect. The rooms were awesome and such a great price in the winter. The food at Ducey's Lake and Ducey's bar and grill was fantastic! The wedding coordinator Jessica Muzychenko-Trettin and her assistant Diane Brown were the best! They made sure our day ran so smoothly. Not one thing went wrong and the timeline was on point. I can't thank them enough for making our day so perfect and special! I highly recommenced getting married here!
-The Altenburgers

Kathy

Married on 03/23/2018

Wow wow WOW!!! Jessica was incredible from the moment we met her! Accommodating, efficient, flexible, available, etc. Our wedding was a dream for me! Weather was "ify" and thanks to Jessica, we were able to still have beautiful outdoor ceremony with spectacular reception in lake view room. She was very professional, attentive & VERY helpful every step of the way right through to the very end of our weekend there! Food was impeccable and everyone was pleased with it all! Thank you!!

Miranda

Married on 11/11/2017

If I could give more than 5 stars I would. Everything about having my wedding at The Pines was perfect and easy, from blocking rooms to nailing down every nitty gritty detail. Jessica is the day-of coordinator and she is beyond AMAZING. She will answer any question without making you feel silly and will be five steps ahead of you, even when you think that's impossible. Communication with the resort and Jessica was always prompt and helpful, which is so important during this stressful yet fun time. Since so much is included with their wedding packages, it helps get more tasks off your plate. Talking of plates, the food was SPECTACULAR and we actually had guests asking if they could purchase an extra dinner to take back to the room with them. Everyone loved the accommodations that came along with staying at the resort, and almost two months later we are still getting comments about it being the "most beautiful wedding" people have ever attended. You can save money with the nature & built in decor at the resort and have a naturally gorgeous wedding. I can't say enough great things about it. JUST GET MARRIED HERE!!
Are you interested?
Send a message