88 Reviews
Recommended by 98% of couples
Quality of service

4.9 out of 5 rating

Average response time

4.9 out of 5 rating

Professionalism

4.9 out of 5 rating

Value

4.8 out of 5 rating

Flexibility

4.9 out of 5 rating
21 User photos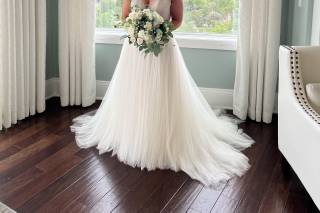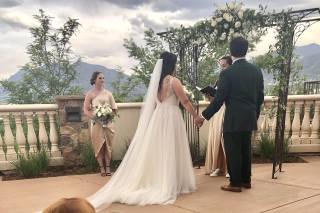 + 17

photos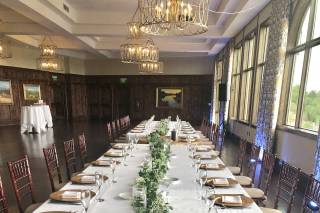 Featured

Melissa D.

Married on 08/02/2020

Literally, stop looking for venues and get married here

I highly recommend having your wedding at The Pinery! From beginning to end, the process was so easy. Since the venue is all-inclusive, all of your vendors are in one place. They provide you with a timeline so you know when to schedule meetings, who to contact, when to make payments, etc. Everyone we worked with was so friendly. Our coordinator was Michelle, and she was the best. She was stress free the entire time, made sure all of our details were in place, and went above and beyond on the day of our wedding. She brought us appetizers after we took photos, grabbed extra gluten free desserts from the back, and we were able to sit back and enjoy the day without worrying where we needed to be.

The venue itself is gorgeous. We got married in February, and knew we would need to be inside since the weather might be bad. The interior is gorgeous, and once decor and flowers were added, it was beyond anything I could imagine. I made my own flowers and brought in some table decor, and the floral folks were able to put together amazing bouquets and centerpieces. You also can't beat that view of Pikes Peak. The price was also very reasonable, especially when compared to other venues in the state (and we looked at a ton of them). The food is excellent. I legit can't get over how good it was. Our guests are still raving about the food and desserts.

We had a killer time on the dance floor as well! Karson knows what he's doing and knows how to get a crowd dancing. He was a great MC, and again, we did not have to worry about anything day of.

Seriously, go tour The Pinery. I don't know how you can find a better place to have your wedding.

Victoria W.

Married on 06/05/2022

Amazing venue

Wow, Michelle made our wedding day amazing! I would choose this venue and Michelle over and over! I am so happy with the decision to get married here! Everything was so professional. Michelle took care of everything the day of and I had no stress! Everyone commented about how professional Michelle is as well as how gorgeous the venue is! One thing I love about this venue besides the views is how much is included in the price!

+ 2

photos

Brittany G.

Married on 11/20/2021

Have your wedding at The Pinery!

If you are getting married in Colorado Springs, you need to host your event at The Pinery! Their coordinator and entire staff are the best of the best! They make the planning process stress free and efficient and listen to what you want for your day and turn it into reality! The flowers and decor, food, cake, music, and atmosphere were incredible. We were blown away by the professionalism of the staff and quality of the service we received. We continue to have our guests reach out to us about what a great time they had. We are so grateful that we had our wedding at The Pinery. We treasure our experience and memories from that day thanks to the staff and venue.

Are you interested?

Send a message

Clarissa C.

Married on 11/06/2021

The Best Team!

PLANNING
We were a little nervous going into the planning process since we were planning a destination wedding but Michelle, the venue's wedding coordinator/manager, made everything absolutely perfect. We flew in to Colorado Springs for a day leading up to the wedding and she lined up meetings with the venue, florist, caterer for the food tasting and baker for the cake tasting all in one day back to back. We were also able to send several packages to the venue to avoid bringing them on our flight in, which we appreciated so much. One of the packages required a signature for delivery but no one was available to receive it at that time. Michelle took the situation into her own hands and went to the post office to pick up the package before it was sent back to the original sender – we were/are SO THANKFUL! She went above and beyond to make sure our day went exactly as planned. She even read the lengthy booklet of instructions I had provided that detailed where I envisioned everything being placed and what I wanted to leave the venue with at the end of the night. She 100% nailed everything.

FLORAL
I knew exactly what I wanted my floral to look like to the point that I ordered pampas grass from Ukraine and burnt orange silk flowers from China to get the look I was going for. I was very specific in my request that I only wanted champagne color floral, greenery, dried palms, dried bunnies and pops of burnt orange from the floral I had shipped in. Aside from a champagne flower that pulled a little on the pink side (the main part of the flower was champagne but the tops of it were a light shade of pink), the florist did a GREAT job taking my vision and bringing it to life. They bent over backwards to ensure every pink-ish flower was pulled from any and all arrangements. They also fluffed the arrangements to make them look like that's how they were supposed to be. At the end of the day – they were GORGEOUS and EXACTLY what I wanted. Thank you to Liese and the floral team for being patient with me and my bridesmaids (who are pickier than I am) and bringing my vision to life. They were PERFECT!

THE FOOD
I was extremely nervous about how the food was going to turn out for dinner. I've been to quite a few weddings and the vast majority of them had mediocre food at best. We also wanted to make sure my dad enjoyed the food that night. He's where I get my pickiness from. He initially requested that he get a peanut butter and jelly sandwich for dinner because it was "safe" and he knew he would like it. LOL Luckily, no peanut butter and jelly sandwiches were requested after he tasted dinner, AND he was bragging on how delicious the food was that night (and for weeks after). We received a lot of compliments on how great the food was from all of our friends and family. We might be biased but it was the best food we've had at a wedding BY FAR.

THE CAKE
We didn't want the traditional wedding cake so we asked for a cinnamon roll wedding cake. It was unique, cute and DELICIOUS. My husband also requested a Fall Out themed groom's cake. For those who know what I'm talking about, he requested a bottle cap design. She did a great job on the design and the cake was so yummy.

THE DJ
Wow, we had a PARTY. The DJ followed my song requests for ceremony, cocktail hour, dinner and party songs to a T. He also knew exactly when and how to transition the songs and he played the best end of night song – all of our guests made a giant circle around the dance floor singing to Journey. He kept the energy up the whole night and we had a BLAST!

OVERALL
We LOVE The Pinery at the Hill. Their all-inclusive experience made wedding planning simple and The Pinery team executed our vision flawlessly. If you're considering this venue or another, I strongly recommend that you choose The Pinery at the Hill for your big day.

If I could re-live this day, I would. Team 100% included.

Thank you for your professionalism, calm demeanor, and for making our wedding day everything we could have asked for and more.

Sincerely,
The Cavanaughs

Bobby H.

Married on 08/22/2021

Incredible Location & Team for our Dream Day :)

Michelle and the Pinery team was absolutely amazing! My husband and I are both military, stationed on opposite sides of the country and our families live in TX. We decided to get married in CO and we couldn't have found a better venue for all of our wedding desires. From the initial planning, Michelle was very organized and responsive. The Pinery made it simple when it came to deciding floral, table settings, cake and food tasting, and all the details in between. My husband and I were able finalize all of those details in one day at the Pinery! We had Zoom meetings with the DJ and were in contact with Michelle and the rest of the team before our big day. Amidst work schedules and planning for our big day, Michelle was the best day of wedding coordinator! We are so thankful for the Pinery. It was a beautiful venue for our wedding ceremony and reception, accommodating, and all around delightful. We highly recommend it. :)

Maddy M.

Married on 07/07/2021

Best venue ever

I cannot rave enough about the Pinery at the Hill! Michelle, our wedding coordinator, is one of the most incredible people I've ever had the pleasure of working with. My husband and I fell in love with the Pinery and booked it for July of 2020. Once COVID hit, we of course started having concerns about our wedding but Michelle was so quick to respond to our emails and always put my mind at ease. Once June 1st hit, we needed to make a decision whether to postpone (free of charge) or carry on with our intend wedding date on July 19th. We called Michelle who talked us through all of the safety procedures they put in place, and who reassured us that our 100 person wedding is good to go! We literally cried tears of joy! Throughout the next month and a half, Michelle was right there to answer any questions, help with wedding planning and where things are going, etc. She even planned our whole rehearsal dinner (which we had upstairs in their other space) when our original restaurant backed out. I trusted her with everything! The Pinery, and all of the vendors associated with it, were nothing but accommodating, communicative and 100% understanding of last minute changes or concerns. We were able to drop everything off the day before the wedding, and Michelle handled the rest. I couldn't have imagined a more perfect wedding day despite everything going on in the world. Michelle took charge of everything and everyone and it was so nice to let go of control and just enjoy the day to its fullest. Michelle even brought us a beautiful plate of apps upstairs for my husband and I to enjoy before our grand entrance! It's the little things. Everyone raved about how amazing the food was both at the rehearsal dinner and reception, not to mention the delicious lunch provided to the wedding party! Oh and I can't forget our awesome DJ - Logan! We loved him and so did everyone else! Overall, Michelle and everyone at the Pinery exceeded my expectations and more. I can't thank them enough for the most perfect day that we will cherish forever.

Kelsey S.

Married on 07/02/2021

The BEST Venue in CoSprings!

Michelle and the Pinery staff are the absolute best! They took care of every single detail. It was completely stress free and we had the wedding of our dreams!

Emily E.

Married on 06/27/2021

Amazing, beautiful, wonderful!

I cannot say enough good things about The Pinery at the Hill and their amazing staff! The road to our wedding was a little bit bumpy due to the pandemic, we had our original plan ready to go and a month before our date, we decided to postpone. Michelle so amazing to work with throughout our 2 and a half year planning process. She was easy to communicate with, very accommodating, and listened to everything I wanted. Our big day finally came and it went off without a hitch! The staff was warm and welcoming to all our guests, Michelle worked behind the scenes to make everything run smoothly, and the venue was gorgeous. The day was beyond any of my expectations and I am so pleased we chose to go with the Pinery! I could not recommend this venue enough!!!

Fernando E.

Married on 05/22/2021

No regrets, only the best!

My husband and I toured several different venues before ultimately booking The Pinery at The Hill for our wedding in May of this year. Other venues we toured only allotted half days for a much higher cost. In addition, all of the amenities provided in The Pinery's wedding packages were an important requirement because we didn't want each other (or family members) worrying about anything except celebrating!
It is not an exaggeration when I say, this venue is utterly beautiful and elegant. It was everything we were looking for! There was not a spot at this venue that was unattractive for photos. The view of downtown Colorado Springs and The Rocky Mountains is the cherry on top. Our guests were incessantly complementing our choice in having our wedding celebration here.
If the pristine venue itself doesn't sell you, the team makes it a no-brainer. Michelle and the entire staff at The Pinery were absolutely fantastic! Everyone was extremely professional and accommodating. Michelle and Liese made sure to respond to ALL of my emails in a timely manner, answering any questions we had, and happily made adjustments when we asked.
It's clear that everyone employed at the Pinery takes pride in what they do. We truly felt like we were in great hands during the entire planning process and the day of our wedding. Michelle arranged for my husband and I to have a few minutes alone after the ceremony to take a breather and she even brought us some hors d'oeuvres to snack on before our grand entrance. Furthermore, she had our barely-touched dinner boxed up for us to take home.
It's the little things that meant a lot to us.
I could rant and rave about The Pinery at The Hill for much longer but I trust you'll see the magic for yourself when you choose them for your celebration!
You won't regret it!

+ 3

photos

Jessica L.

Married on 11/21/2020

Nothing short of amazing!

We had our wedding at The Pinery at the Hill in November 2020 and had Michelle as our wedding coordinator. As someone who does events for a living, I was so relieved to find a team so responsive, friendly and timely at a venue so beautiful! They were nothing short of amazing.

While our wedding downsized due to Covid, the venue was extremely accommodating to ensure every one of our guests that attended in-person were safe. And while it's near impossible to do that, I really appreciated them working with us on any additional precautions we requested. In addition, they helped me set up a super high quality Zoom option which made those who couldn't attend in-person, super happy as they could "take part" in both the ceremony and reception.

On our actual wedding day, they really did go above and beyond. Not only did Michelle make sure I had a moment to step away with my husband and really sink in the day - but I seriously cannot rave enough about the food and dessert. Our guests were pleasantly surprised it wasn't just another "wedding dinner of plain chicken or beef". To sum it up, my bridesmaids couldn't stop eating and danced with pie, so I think that explains it all.

Thank you so much to Michelle and the team for making our day so memorable! You guys are the best!

Ashley P.

Married on 09/26/2020

Love Michelle!

We had our wedding on 9/26/2020 and I wouldn't change my experience for the world (strange to say that now). Michelle and her team are incredible at what they do. Michelle only keeps the best waiters on staff. They find a way to say yes to everything. They went above and beyond for every single guest that came. Please don't cancel or postpone your wedding... you won't regret going through with your big day regardless of what it ends up looking like. Covid is here to stay, we have to learn how to safely live with it. We had 133 guests; no one got sick. All of my guests will not stop talking about how wonderful our wedding was. This would not have possible without Michelle and her team. I owe every thank you in the world to them. Michelle is a dream come true. Ivy is amazing. Liese far exceeded my expectations for flowers. Rachel's donuts are some of the best you'll ever have. People are asking me where I got them from in town. The food was Altitude Group standard. Everyone raves about how great the food was.

Michelle understands that this is a tough time right now. She held my hand and kept me in check through multiple freak outs prior to the wedding. It's as much of a roller coaster for her as it is for every bride. She goes above and beyond for her clients. She will do anything to take care of her clients in the best way possible. Please treat her with kindness because I can tell you for a fact, Michelle doesn't have a bad bone in her body. We did not postpone... I am glad I listened to Michelle and let her guide me

Sarah F.

Married on 06/08/2020

Everything we hoped for and more!

My husband and I got married at The Pinery in August of 2019. We could not have asked for a more perfect venue and day! The Pinery is an all-inclusive venue, so your caterer, cake artist, DJ, and florist are already selected and ready to meet with you at your convenience. They also set up for you on the day of your wedding. This made for a VERY stress free experience and all who contract with The Pinery were wonderful! We worked with Michelle during our wedding planning process and she is incredibly warm, friendly, organized, and detail-oriented. She made sure everything went smoothly on our wedding day and it all came together in the exact way we envisioned! We highly recommend The Pinery to anybody. Our wedding day was the most magical day of our lives and we are eternally grateful to The Pinery and Michelle for this storybook experience!

Kellie

Married on 01/07/2020

Five Stars x 1,000,000

My husband and I could not recommend the Pinery at the Hill more. It's an absolutely amazing venue with incredibly professional staff, amazing food, beautiful views and I could go on! We were always so excited about the Pinery from the moment we booked the venue. Planning was seamless and easy from the moment we began. The Pinery staff is a well-oiled machine and made everything easy and less stressful for us. We had everything in place and set with a few months to go before our wedding.....then COVID hit. Dun Dun Dun. The main reason I am writing this review is because of how impressed we were with our wedding coordinator, Michelle, during this time. She was amazingly professional and kind and helped us navigate through the realities of the pandemic. Any couple who had to work through their wedding plans during this time knows just how stressful it was. While we were FREAKING OUT, Michelle calmly guided us through our options and reassured us that everything was going to be ok. We ended up postponing our wedding by two months and we reduced the size, but despite all of the changes, in the end it was everything we could have hoped for and more. We have the best memories from our wedding day and we are so grateful to Michelle and the Pinery for making our dream a reality.

Sarah C.

Married on 09/28/2019

Lovely All Around

Our experience at The Pinery was wonderful! Michelle hits it out of the park as a wedding coordinator. From the moment we met her, she made us feel welcomed and known. Her responsiveness is unmatched and her willingness to work with us was astounding. She is a lovely person in general, which makes all the difference. My husband and I attribute much of the success of our special day to her. The venue was a hit, the flowers were beautiful - thanks Liese! Finally, the DJ, Logan, was unreal. He was professional and truly paid attention to our guests to play the perfect songs for our friends and family. Thanks Pinery for a fantastic experience!

Kristen B.

Married on 08/24/2019

Pinery on the hill

Went and talked with them. It seemed amazing

Mattie R.

Married on 08/23/2019

Amazing venue and people

Michelle at the Pinery is AMAZING! So kind and caring. Super helpful the day of. We loved the venue - it's beautiful and all our guests said best wedding ever! Beautiful location, beautiful people to assist you as you plan this big day. Michelle answered so many questions from me before the event. Everything was great.

Mary T.

Married on 08/12/2019

Beautiful wedding and experience

This past weekend my daughter and now son in-law got married at the Pinery at the Hill. I can not say enough about how beautiful the wedding turned out. From the very beginning, the staff at the Pinery was extremely friendly and helpful. Michelle worked with us through the entire process and was a true delight. Michelle is warm, friendly and kind-hearted and at the same time, very organized and professional. This was my first wedding I have ever planned and being out of state complicated matters for me. However, Michelle was very accommodating when I was in town for planning sessions and made the process so easy. My guests are still raving at the elegance and beauty of the wedding. Everything went as planned and I am so pleased with all Michelle did to make this happen. I also wish to thank Liese for the beautiful flower arrangements, Chef Kelsey for the delicious food and all those who provided services for our wedding. The DJ was awesome and keep our guests dancing and having a great time. The groomsmen lounge and bridal suite were wonderful areas for our bridal party to get ready and relax. As my daughter parted in the limo at the end of the night, she turned to me and said "this was magical and better than what she had dreamed/envisioned". As a mom, I couldn't ask for more. Thank you to the entire staff at the Pinery for tending to all the little details to make my daughter's wedding so incredibly beautiful! Mary Terwilleger

Tameshia C.

Married on 08/09/2019

The vendors where very supportive and reliable, you called and they responded.

Having my wedding at the Pinery was the best decision I ever made. Michelle really exceeded my expectations. She said leave everything up to me, I take care of you and that she did. Thank you Michelle and the rest of the Pinery staff for making my wedding stress free and magical.

Alex

Married on 08/03/2019

The Pinery at the Hill exudes perfection

The staff at The Pinery at the Hill could not have made the process of putting our wedding together more seamless. Mackenzie was technically our day-of coordinator, but describing her as such would be selling her short. Not only did she ensure that we were able to book the date that we wanted, but she walked us through the planning process, simplifying each step along the way and making sure all questions were answered. Each package was perfectly outlined for us, detailing food, floral, cake and bar options. Our tastings for food and cake, as well as our floral meeting, were all perfectly executed and planned. The day of the wedding, we were all well-taken care of before, during and after all festivities ended. The bartenders were phenomenal and the DJ curated a fantastic playlist that more than satisfied our music taste. We could not have asked for a better experience with The Pinery at the Hill and would recommend it to anyone looking for a beautiful, unforgettable experience.

Jessica S.

Married on 07/26/2019

Five Stars-Highly recommend!

The Pinery at the Hill staff made our wedding dreams come true. The staff is AMAZING. The wedding planning process was so easy and stress free thanks to the staff. Our wedding day was so fun and enjoyable because I knew everything was taken care of and in good hands. The venue itself is just beautiful, can't beat the views. Highly recommend!

Debbie M.

Married on 07/07/2019

Mother of the Bride

This is a beautiful and classy venue with an extremely helpful staff! Codi Watson assisted us through every detail and my daughter's wedding day was stunning, stress free and a day we will remember forever! We were so proud to share this gorgeous venue with our family and friends!

Shanae S.

Married on 06/01/2019

Amazing Venue!!!!

They made my wedding a dream come true! They have everything you would want or need! They food was amazing and the cake was perfection.

Julia D.

Married on 12/13/2018

Wedding Painting at The Pinery

I am a wedding painter and just painted a wedding at the Pinery! It is a beautiful venue, clean, elegant and has wonderful service. There is easy, ample parking, so its easy for guests and large parties to access. It's close to town, and easy to get to. I love the chapel and how it is literally steps from the reception site, and bathroom. It is an all in one perfect spot for a wedding. Highly recommended!! I hope to paint more weddings here in the future!

Kourtney A.

Married on 10/13/2018

Simply put: exceptional!

Simply put: EXCEPTIONAL!

My husband and I recently celebrated our wedding at The Pinery and every single detail and minute of the day not only met, but exceeded our expectations.

Pre wedding: We both have very demanding careers with incredibly busy schedules that often require us to work 24+ hours and nights and the entire team at The Pinery accommodated our schedules without question to make things as easy as possible on our end. Communication was through face to face interactions, email and even text messaging. There were also several phone and "after hours" meetings due to our inflexible schedules. I was surprised at how easy the entire process was.

Wedding day: WOW! From the time we arrived at the venue at 8am until we left well after midnight, the day was perfect. The staff was receptive to every request and last minute change needed. The floral staff double checked the arrangements with me early in the day and were happy to make any changes I wanted. Lunch was provided for our entire wedding party as well as mimosas for the girls and bloody marys for the guys. Neither myself or my husband were inconvenienced at all during the day, the team simply took care of everything. The ceremony started on time and the rest of the night flowed effortlessly. The reception was AMAZING and the DJ played music appropriate to the vibe the reception was going. The staff ensured we also were able to eat and the food was delicious. At the end of the night, the staff were still more than willing to help us clean out the rooms, load our cars and made sure we had everything we needed.

Post wedding: Since our wedding, we have received thank you emails from the staff and they have aided us with items that were accidentally left behind by some of our guests. So many of our guests raved about the beautiful views, friendly and helpful staff and outstanding food and beverage services. As we reflect on our wedding, we are very happy we decided to celebrate our wedding at The Pinery and would recommend it with highest praise!

Special thanks: First of all to Mackenzie, the coordinator at the venue, is OUTSTANDING at her job. She is communicative, punctual and organized. She was involved every step of the way and was available on our wedding day for anything we needed. She truly exemplifies professionalism and is among some of the best you can find. Secondly, huge shout out to Anthony, who was our DJ, for working seamlessly with the live band we had and for making our reception one of the most fun parties we have ever attended! He also accommodated last minute changes to lineups and speeches without faltering once. Also, big thanks to Lisa with the floral services. I met with her months before and showed her pictures of the ideas I liked and talked with her about my vision and she exceeded my expectations with all of the floral designs. Last, but certainly not least, thank you to the kitchen and bakery staff. The food was phenomenal and everyone raved about how great it all was!

I cannot recommend this venue enough! Thank you again to the entire team that made our wedding so special and so fun!

Benjamin H.

Married on 10/08/2018

Flawless from start to finish

My wife and I thought the world of the Pinery from start to finish on our wedding process. Their attention to detail and their painstaking effort to make your day go without a hitch makes them a stand out if you're looking for a venue. The way they handled everything from our flowers, arrangement, rooms, and the minor issues that came up through the day was exceptional. We could not have been happier with our wedding experience.
Are you interested?
Send a message