138 Reviews
Recommended by 100% of couples
Quality of service

5 out of 5 rating

Average response time

5 out of 5 rating

Professionalism

5 out of 5 rating

Value

5 out of 5 rating

Flexibility

5 out of 5 rating
70 User photos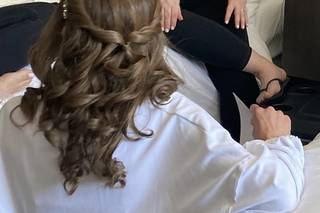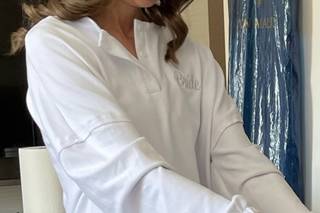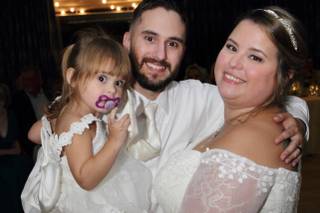 + 66

photos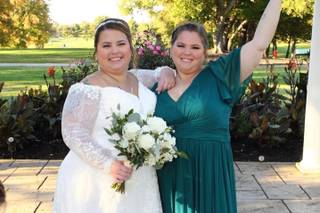 Ally G.

Married on 05/07/2023

Excellent service!

The Pin Up Girl company was excellent to work with!!! After the trial I decided to go with a different hairstyle and they made it look beautiful on the day of the wedding. They showed up early and were able to get all my girls done before the photographer came. They were personable and kept conversations going in the morning. My makeup stayed on ALL night!

Shannon L.

Married on 03/25/2023

Simply the best!

Pin Up Girl is the best! We had a bridal party with all different ages and hair types and they made everyone look fantastic! We were impressed with their ability to look at a brief inspiration photo and execute to perfection. Whether it be curls, half up do, short mom hair curling, or even hair glitter, they nailed every look! I usually sweat a lot and even ended up taking pictures in the rain and my hair and make up stayed throughout the entire day! They showed up on time (actually early!) And worked consistently through to finish early and keep our day on schedule. They are true professionals and simply the best!

Lauren C.

Married on 10/21/2022

Attention to Detail!

Allison was so great to work with. I had to move my wedding due to an unexpected illness and she gladly worked with me on a new date. I also had to wear a wig for my wedding and with her experience and expertise, you couldn't tell. She was so flexible, made everything easy, and wanted to make sure I looked and felt my best on my wedding day. I would highly recommend Pin Up Girl NJ!

Are you interested?

Send a message

Kelsey P.

Married on 10/15/2022

Wedding makeup / hair

Allison and her team were amazing before and the day of my wedding. She completely understood what I wanted for my make up for the day and she completely nailed it. The prices were extremely reasonable and every one of my girls plus my mom loved their hair and make up for the day. The airbrush was perfect and everyone's make up lasted the entire day. I can't recommend The Pin Up Girl NJ enough!!

Cassandra S.

Married on 10/14/2022

Amazing experience. Definitely made my day

Absolutely amazing. They were kind and understanding and so flexible. They did such an amazing job and was able to capture what all of us wanted. My sister used them for her wedding and I knew I wanted them for mine and I'm so happy I went with them. ABSOLUTELY RECOMMEND

Corinne

Married on 09/30/2022

Very professional, understanding, experienced, listen to exactly what my girls and I wanted for our hair and it's exactly what they got!

Very professional, understanding, experienced, listened to exactly what my girls and I wanted for our hair and it's exactly what they got! They were timely and made sure everyone was happy before they left. They kept timeline and were very helpful with advice and things to think about with your hair/hairstyle for the very long day ahead! Highly recommend

Joanmarie

Married on 09/18/2022

Amazing! I loved the way my makeup and hair turned out!

Everything was perfect! I loved my hair and makeup! Allison and her sister were fantastic!

Jess G.

Married on 09/03/2022

Easy & Good quality experience!!!

I had a great experience with Allison and Brielle for our wedding!! Timing was excellent for the morning of and everyone was happy with their looks. Really liked the airbrushed foundation & everyone looked very natural! Reasonable pricing & very friendly and relaxed team- highly recommend for your wedding.

Christy L.

Married on 08/11/2022

Amazing work

Allison and her team are amazing. They do hair and makeup on location. Everybody looked fantastic for my wedding!

Holly B.

Married on 05/21/2022

retro-tastic!

Allison and her team are truly amazing!! I had a retro 1950's theme wedding and they went above and beyond! Everything was perfect! I had my trial at her home in Jackson and Allison was so sweet and helpful and the look was fantastic! I of course had many questions on makeup and scheduling for the wedding day after the trial and Allison responded quickly to my emails and was super helpful. She and her team even got to our location earlier than originally planned so we could be ready by the time the photographers came. Allison and her team were amazing and worked super fast and got me, my 4 bridesmaids, my mom and my mother in law all ready in time. They are also just such fun ladies, I had such an enjoyable time talking with them as we were all getting ready! The end results for me and my ladies - words can not describe how happy I was and how beautiful I felt on my wedding day! Truly a wonderful team and made such an early wedding morning fun and stress free. They nailed all the retro looks! I couldn't have been happier. Highly recommend Allison and her team!! Thank you again ladies!!

Margaret C.

Married on 04/11/2022

Amazing Experience!

Allison and her team were amazing! They were punctual and organized. The three of them got myself, 5 bridesmaids, my mom, my mother-in-law, and grandma all ready with time to spare. All of us loved our hair and make up and it stayed put all night. We all have different hair types and lengths, and Allison was able to create different and unique hair styles for all of us. Lauren did everyone's make up; she was fast, efficient, and listened to what we asked for. The Pin Up Girl prices cannot be beat and includes application of fake eyelashes and airbrush make up. A lot of other companies charge extra for these. I am so thankful to Allison, Lauren, and Nicole for making us all feel beautiful and comfortable the day of my wedding!

Corinne C.

Married on 03/26/2022

My girls looked beautiful and natural

I love the Pin Up Girl team. I have worked with them two other times as a bridesmaid so when it came to planning my own wedding, I knew I was going to be going with Allison and her team. It is absolutely impressive how quickly the glam team was able to do the hair and makeup for my wedding. There were four artists in total and I had twelve girls in total who needed to get hair and/or makeup done (I KNOW). They were able to make it happen with some time to spare.
My favorite part about them is how they were able to make the girls look absolutely beautiful but everyone still looked like themselves. The team really listened to what the girls wanted and brought out their amazing features instead of trying to transform them. To me, that was something I absolutely wanted from a bridal hair and makeup team. In planning, Allison was always very quick to respond and answered all of my little questions. To top it off, the services are very much affordable compared to the other options we have out there. If your venue is far from Jackson, don't be discouraged! I was far away too and we made it happen! I am so happy that I went with the Pin Up Girl NJ team. They started my wedding off on the most fantastic note and my hair and makeup was exactly what I wanted!

Marion C.

Married on 12/31/2021

Wonderful Service!

Alison was excellent to work with! She asked me what I wanted and delivered exactly what I had asked for! I wanted a natural look and that's EXACTLY what I received. Alison was great to talk with as she did her work and miraculously calmed my nerves on what could be a highly stressful day. I'd hire her again in a heartbeat!

Brooke C.

Married on 10/15/2021

Nothing short of perfection!

I cannot say enough great things about Allison & Pin Up Girl NJ! Allison was super responsive for all my questions and concerns. She was flexible when we had to reschedule our wedding. She was super helpful in creating a hair style that was everything I envisioned and more! The girls were great when it came to the day of our wedding. It was a well oiled machine, and made all my girls look fabulous! Thank you again!

Erin B.

Married on 10/07/2021

Great day .

Allison and Brielle were amazing. Everyone was so happy with their hair. I don't think it could have went better . I definitely recommend the pin up girl .

Amanda M.

Married on 09/19/2021

Star treatment

Allison and her team are true artists. Beyond that, they are professionals who know how to put the pedal to the metal and get things done. This was especially evident for my bridal party, which included 5 energetic flower girls getting their hair done. Despite the chaos, Allison and Brielle worked carefully and patiently to make each of our hairstyles perfect, and Lauren worked her magic make each of us up in a way that was both beautiful and natural. You can place all of your trust in The Pin Up Girl, no matter the occasion. Don't even think twice, just go for it!

Jena M.

Married on 09/18/2021

Absolutely Wonderful!

Allison and her team made me, my bridesmaids, and my mom feel our absolute best for my wedding! I would hire them again in a heartbeat. Their skills with airbrush makeup and hair were incredible - my makeup lasted 12+ hours, looked flawless, and felt light and natural. All of the girls requested different styles for hair and makeup and they all looked amazing. Allison was super responsive, punctual, and her team was warm and friendly which made the day so much more fun. I would recommend them to anyone and everyone and hope I get the chance to hire them again!

Honour H.

Married on 06/05/2021

Awesome! Def recommend (:

We booked last minute and Allison was so flexible and responsive to everything we needed. She was such a calm presence, and of course did amazing work. It was a very chill environment. Our hair held up all day and was gorgeous!

Amanda

Married on 05/29/2021

Glowing Bride

Allison and her team at ThePinUpGirl were fabulous to work with for my big day. As a bride that doesn't often wear heavy (or any !) makeup on the daily, I definitely didn't want a face full. They worked with me patiently as I decided on "the perfect look" and I couldn't be any happier with how it turned out. Also, I highly recommend her hydrofacial and jelly mask just before your big day! It was both relaxing and helped me get a great smooth look and glow.

Ashley K.

Married on 04/24/2021

Wedding Hair and Makeup

Allison and her team were absolutely amazing!! We did our trial a few weeks before the wedding and in true indecisive bride fashion, the morning of my wedding I told her about just a few changes I wanted to make to my hair and makeup styles...and it turned out even better than I could have ever expected!! She took my vision and ran with it, no questions asked. Her team is so creative and knowledgeable about what works for different hair and skin types. When my bridesmaids and mom showed them pictures of what they wanted, they went with it to make sure every person felt comfortable the entire day! We had a beautiful day, but was on the beach and the wind was crazy!! Our hair stayed looking amazing the entire time after hours on the boardwalk/beach and through the entire reception! Also, although they used a decent amount of hair spray, my hair was still flexible and not very stiff/slicked. Our makeup felt weightless with the airbrush technique and lasted the entire night too!

For Covid, the whole Pin Up Girl team had masks on and practiced social distancing with one another to help keep everyone safe and happy (even though we were all vaccinated and family).

Thank you Allison and all of the Pin Up Girl girls!! You helped to make the day so much better!

Lauren K.

Married on 04/09/2021

Everyone looked amazing and were highly satisfied with their looks.

*Photo Credit Tina Elizabeth Photography*
Allison, and her team bring wedding day magic with their hair and make-up looks. I booked The Pin Up Girls in April 2020 for bridal, mothers, and bridesmaids makeup and hair. Allison listened so well to what I envisioned for my wedding day look, and she totally delivered a stunning look that lasted all day/night. During the wedding planning process, we needed to postpone our wedding date from April 2021 to January 2022. Allison was so empathic during this challenging time, and I am so lucky her/her team were available for our new date. My wedding date also followed a huge snow storm (we received over a foot). This occurred the day before my wedding. I was so nervous about my bridal party, and vendors traveling on the road the following morning! Luckily, everyone got to my mother's home safely, including Allison and her team, who were ready to roll right away. From start to end, they effectively completed eleven hair, and make-up looks. Everyone was professional, and fun! We finished hair/make-up with plenty of time to spare. Everyone looked amazing and were highly satisfied with their looks. Overall, my favorite things about Allison's company were: 1.) they provided both hair and make-up services, the prices were bundled into different packages to choose from; 2.) they provide services on location so you do not have to worry about traveling to a salon on the wedding day; and 3.) they are professional and positive. Working with them was a stress free experience and so enjoyable! Look no further for the full package for your wedding day. Thank you so much Allison and The Pin Up Girls!
-Lauren K.

Kristen W.

Married on 03/27/2021

the best!!

Allison and her team were absolutely amazing!! from the beginning, Allison responded quickly any time I had a question or concern. My two biggest priorities were quality and price and I can say with 100% confidence that they are the best you will find and the affordable prices are just a cherry on top.
Wedding day: They were punctual and efficient. In 3 hours, they got myself, 6 bridesmaids, 2 moms and a junior bridesmaid done with hair and makeup. Not a second of stress the entire morning. everyone was confident and excited with how their look turned out, and hair and make up held through a windy 11 hour day.
absolutely the best and I can't be thankful enough to have found this team!

Amber

Married on 11/06/2020

Amazing and professional!

I can not say enough great things about Allison! From start to finish she was absolutely amazing. We had to postpone our wedding due to covid last year and Allison was so helpful and immediately responsive when I reached out. Mine and my entire wedding party's hair lasted the entire day! Her and Brielle were very officiant and made to stay on schedule for my wedding day.

Catherine M.

Married on 10/09/2020

Amazing service and team!!

The Pin Up Girl team is amazing! I've been working with Allison since December 2018. I really wanted a vendor that offered both hair and makeup services and I'm so glad I found Allison and her team. We ended up having to postpone our October 2020 wedding a year, but still decided to have a smaller ceremony on our original date. Allison was so flexible and accommodating when I told her we had to postpone but that I still wanted to use her services for our intimate ceremony. When it finally came time for our larger celebration, Allison was so responsive and put all my worries to rest. They are masters in airbrush makeup and made me and girls look flawless. Brielle did everyone's hair and we all looked perfect. I couldn't have asked for a better hair and makeup team!!

Jennifer V.

Married on 09/06/2020

Perfect hair and makeup!

I may be biased because I work with Allison but even my bridesmaids who didn't know her all agreed that the hair and makeup done by Allison and her team was spectacular. She is kind, funny and does amazing work! Every guest loved our hair and makeup and I could not recommend her more! Reasonable prices and very accommodating!
Are you interested?
Send a message