296 Reviews
Recommended by 98% of couples
Quality of service

4.9 out of 5 rating

Average response time

4.9 out of 5 rating

Professionalism

4.9 out of 5 rating

Value

4.9 out of 5 rating

Flexibility

4.9 out of 5 rating
131 User photos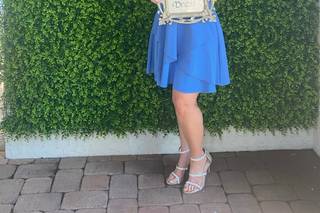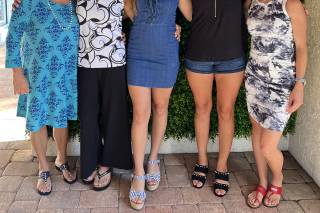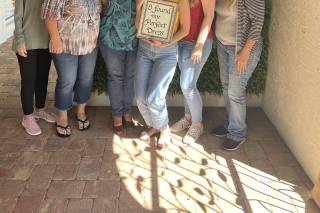 + 127

photos
Featured

Erin J.

Getting married on 05/07/2023

Beautiful Experience from Beginning to End

I recently said yes to the dress at The Perfect Dress Sarasota and I am ecstatic I did. All of the staff were wonderful and really brought a positive attitude to everything they were doing. I am a plus size bride and the store had so many options that I didn't feel anything but beautiful and worthy to wear these gorgeous gowns. Faith, the associate who I worked with, was phenomenal! She took into consideration everything I thought I wanted in a dress and pulled some amazing dresses! She made the appointment truly feel about me and just ran with my constant style changes until she pulled the 'perfect' dress! I could keep going on about all the great things with this store and wish all the many future brides success at finding their dress at The Perfect Dress.

Rebecca M.

Getting married on 11/30/2023

Absolutely an amazing experience

I came in not expecting to find my dream dress. But with the help of the lady at the store I found my dream Dress! Not once did I feel overwhelmed.

Santana M.

Getting married on 09/23/2023

The best experience

My experience at The Perfect Dress was everything I hoped it would be. This was my first time wedding dress shopping, so I wasn't sure what to expect, but my consultant, Serena, was phenomenal. She truly listened and asked questions of what I did and didn't like and gave me time in each dress to really feel them out. After showing her a photo of a dress I liked by a designer not carried in the boutique, she went and found something that was even better. I'm so thankful for my experience and even more thankful I found my perfect dress!

The Perfect Dress of Sarasota's reply:

Hi Santana!
Thank you so much for your kind review of our store and our consultant Serena! We appreciate all the feedback! We cannot wait for your beautiful dress to arrive and for the gorgeous pictures of your wedding! :)

Are you interested?

Send a message

Patricia H.

Getting married on 04/22/2023

Speachless 10/10🤩

Theresa helped me find my perfect dress on July 10th! It was my first time trying on wedding dresses and the first one i put on i was like this is 100% THE ONE! I cried so hard because the dress is more than anything i've ever dreamed of. It's literally my dream dress🤩🥺 thank you so much for making my upcoming wedding even more incredible with such a wonderful dress. I highly recommend this bridal shop to every bride!! Huge selection of beautiful dresses, and the people who work here are absolutely amazing, so nice and friendly! Can't wait to share the picture of my dress after the wedding in April!😊

The Perfect Dress of Sarasota's reply:

Hi Patricia!
Thank you so much for such a kind review! We are so happy you had such an amazing experience and can't wait to see the beautiful pictures of you on your wedding day! :)

Pati K.

Getting married on 04/08/2023

10⭐️ wish it could be more!

I recently took my granddaughter Abbigeal, to The Perfect Dress in hopes of finding the perfect dress. From the time we got out of our vehicles, the experience began. We walked in the front door and it was "perfect". Gorgeous dresses of every kind. Very welcoming atmosphere. Stephanie came out and helped our bride, Abbigeal. She was attentive, listened to Abby's wishes, likes, dislikes. Hard to believe the first dress was "The Perfect Dress". Abby tried on others but nothing compared to that first dress. Stephanie and Trillian were really listening. Emotions were high. Stephanie and Trillian gave my granddaughter the total experience. We now have a memory. I cannot thank you enough. As a Grammy, you find the memories mean more than anything else. Thank you to Stephanie and Trillian for giving all of us one of the most precious times our our lives that we will never forget.

Jenny N.

Getting married on 02/18/2023

Found my dress

Theresa was my bridal consultant and she did a wonderful job! She had dresses pulled out and set aside for me before I arrived. Along the way, she listened to my opinions and feedback and took them into consideration to find me additional dresses to try on. She was efficient and delivered what I wanted during the appointment while happily taking into account my family's feedback as well. I'm so glad I found my dress here!

The Perfect Dress of Sarasota's reply:

Hi Jenny!
Thank you for your beautiful review of our consultant, Theresa! We are so happy you had such a good experience and found your perfect dress! :)

Christina B.

Getting married on 11/29/2022

I felt comfortable the whole time!

I had an appointment today with Ashley! I had gone to David's bridal before and had a horrible experience with their customer service as I have anxiety so sometimes I get overwhelmed and David's bridal made me feel bad about it. I let Ashley know about that and she was so understanding, and told me that I would have a wonderful experience there! Ashley was easy to pick out different styles with and she never made me feel uncomfortable! She was easy to have a conversation with, tell her my honest feelings about the dress and she never pressured any dress on me. We joked about the different dresses and i had a genuine good time wedding dress shopping, and i ended up finding the one! Ashley gave me confidence in my dress and had a seamstress take a look at where it needs to altered. I felt pretty on the outside and on the inside! Thank you Ashley and everyone at The Perfect Dress 🤍

The Perfect Dress of Sarasota's reply:

Hi Christina!
Thank you so much for your kind review of our store and consultant Ashley! We know she had just as much fun working with you as you did with her. We are so glad you felt comfortable and confident in your beautiful, perfect dress! :)

Myriah M.

Married on 11/11/2022

5 stars all around!

The name says it all! Everyone at this boutique was so lovely and thanks to Amanda, I did find my perfect dress. Highly recommend!!

Kayla

Married on 11/05/2022

Gorgeous shop and experience!

My stylist was Julia, and she was a dream! Very professional, fun, and attentive to my vision and wishes. She made the experience perfect, and she found The Dress of my dreams! So happy I said yes at The Perfect Dress, and I highly recommend Julia!! Thank You!!

Rosemary

Married on 10/15/2022

The Perfect Dress gives a perfect experience!

My experience at The Perfect Dress was outstanding! Julia did an amazing job, and I felt like we were best friends by the end of my first appointment. She really listened to everything I liked and didn't like, and was able to help me narrow it down. I didn't find my dress at my first appointment, so Julia gave me all the information I needed so I could go home and do my own research. I found a dress I loved, and thankfully they had it for me to try on! You can tell the staff here really cares about you and making you feel beautiful on your wedding day. I can't recommend them enough!

Jamilla

Married on 09/24/2022

The dress was amazing!

I found my perfect dress! They altered it, and worked with my schedule for those appointments. They made me feel beautiful and made sure I knew what was happening every step of the way. The made sure I wasn't anxious when the dress didn't fit after the first fitting visit. There were a few small stains after alterations and when we pointed them out, they immediately removed them.

+ 5

photos

The Perfect Dress of Sarasota's reply:

Hi Jamilla!
Thank you so much for leaving such a kind review! We are so glad we were able to help calm any nerves. You and your husband look absolutely stunning! Congratulations on being such a beautiful bride!

Jaclyn A.

Married on 09/10/2022

Faith is top notch

I am so beyond thrilled that I decided to make my first stop The Perfect Dress! And let me say, with the assistance of my amazing wedding specialist Faith, I was out of there in an hour with my DREAM DRESS and ACCESSORIES! I have an 18 month old son so knowing that I could make such an important decision in such an efficient manner was awesome. Faith was personable, patient, helpful, and intuitive. Honestly, I ended up with the first dress I tried on. Then she styled me with accessories after she clearly "got" me and the vibe that I was looking to execute. Given that my wedding was in 6 months, she made sure that the dress would arrive in time for alterations, etc. On top of all of that, she was an absolute delight to get to know for the hour! Extremely knowledgable and really fun to work with. I highly recommend this shop!

Audrey C.

Married on 09/07/2022

Best selection and they make you feel soooo SPECIAL!!

After visiting several stores in the Tampa/ Sarasota area, The Perfect Dress wedding dress boutique was by far the best. They have an enormous selection of gorgeous dresses in a range of prices and the team was fabulous. I had not known dresses were taking longer to arrive due to shipping delays nationwide, so I was really in a time restriction to get my dress (and VERY stressed). My husband and I had a formal elopement and although there wouldn't be guests, having a beautiful dress that was all elegant and my style was important. My consultation appointment was wonderful, and Stephanie took the time to understand my needs, style and certainly my time frame. After trying on a lot of dresses, Steph held one that she thought would be IT until I'd tried on all the others. That was the dress! I purchased my dress, veil and accessories and had them perform the alterations. I couldn't have hoped for a better experience. I worked primarily with Steph but Julia, Kim, and the seamstress who did my alterations were all amazing. This company is the absolute best, and I wouldn't waste time at other stores. You will be made to feel incredibly special throughout the process and they truly care about their brides and customers.

Mia M.

Married on 09/03/2022

Mother of the Bride Shopping

I am the mother of the bride - our daughter's wedding is 09/03/2022. Up until this point, I've had a very stressful experience trying to find a dress. I went to a number of little boutiques, Saks, Nieman Marcus and spent hours and hours online trying to figure out which ones to order. A friend recommended that I check out The Perfect Dress. I stopped in on my way to an appointment and WOW!! What a great experience. Even though I didn't have an appointment, Faith made time for me. She was awesome!! She asked me questions and listened to my concerns and wants - she pulled about 8-10 dresses and helped me try them on. This process gets pretty personal - Faith zipping and unzipping, pulling and clipping - over and over. I felt 100% comfortable and never felt pressured at any point. I now know that I would have NEVER found my dress "on the hunt - alone". I needed the professionalism and the knowledge of an expert (someone who knows how to help you choose the dress and get you in and out of it) - and that's what I found at The Perfect Dress. I bought EXCATLY what I was looking for and can't wait for my fitting! THANK YOU FAITH!!!

The Perfect Dress of Sarasota's reply:

Hi Mia!
Thank you for such a lovely and kind review of our store and our amazing consultant Faith! We are so happy you were finally able to find a dress that you love at our shop. We cannot wait for your first fitting too and for the beautiful wedding you can wear it to! :)

Monika A.

Married on 08/20/2022

Wonderful Place!

Ashely was so helpful and I had such a positive experience finding my wedding dress!! She made me feel very comfortable as I changed in and out of gowns and was very supportive. She also made sure to be respectful of my budget and the style I was going for. I highly recommend getting your dress here!

Alize

Married on 05/28/2022

Amanda was amazing!!

Amanda was amazing helping me finding my perfect dress for my big day!!
It took almost two hours but she never gave up and stayed positive and helpful the whole time.
They have so much different style, model and designers that there is a dress there for everyone!
Highly recommend :)

Olivia U.

Married on 04/03/2022

Loved the whole experience!!

Perfect dress was amazing and they made everything so easy!

Heather

Married on 04/02/2022

Amazing experience!

I'm so glad I stumbled upon this shop! I was greeted with professionalism, and family and I felt so welcomed. My nine year old future step daughter came with us, and she was made to feel important, too. Mary was my stylist, and I'm so happy. She was friendly, helpful, and helped me be open minded to different styles, and her feelings weren't hurt when it was a "no" for me. I'm so happy I was able to "say yes to do the dress" here! I would definitely recommend to other brides!!

Brandy P.

Married on 03/19/2022

Absolutely amazing!

My stylist was Theresa. She was so amazing! Helped me find my perfect dress. Very very helpful and sweet! Would definitely recommend seeing her! Thank you so much.

Sabrina L.

Married on 03/19/2022

Best Dress Buying Experience!

I was there for less than an hour and found my perfect dress! I filled out a questionnaire and sent in pictures prior to my appointment. Amanda was my stylist and she nailed it. I tried on 7 dresses and all of them were the style that I was looking for. I felt at ease throughout the entire process and knew I was in good hands. Amanda understood what I was looking for and made the whole experience enjoyable and comfortable. She was so sweet and fun to talk to as well. I really didn't think I would find the dress that quickly but I did. The entire staff is friendly and accommodating- highly recommend!

Breanna J.

Married on 03/11/2022

Beyond my expectations!

You are literally going to the wrong place to find your dream dress if you aren't going to The Perfect Dress!
Cindy was BEYOND sweet, motivating & super knowledgeable of my wants of my perfect dress and I FOUND IT! Kim is so amazing for accommodating my entourage, I felt like the most beautiful bride to be! Thank you ladies for being so incredible!

Michelle W.

Married on 01/23/2022

This was THE BEST shopping experience ever

If you are in the market for a dress I 100% recommended The Perfect Dress. Staff is so friendly and this was honestly the smoothest and most professional dress buying experience ever. They listened to my vision and took into account my theme and budget. It was so hard to choose because they have so much variety but at the end of the of the day I knew I found my perfect dress due to my happy tears! This is the best bridal shop ever!

Leanna

Married on 12/19/2021

Dress of My Dreams

The perfect dress helped me find and alter what was truly the dress of my dreams. I'm not a huge fan of trying on clothes (with this as an exception), but they zeroed in on my taste and budget and quickly found truly "The Perfect Dress". I bought the dress from them almost 3 years before I finally walked down the aisle as Coronavirus continued to push our date. The Perfect Dress was great because they reached out to me ahead of each new date to make sure I remembered how much time I needed to alter the dress. Even when I forgot to tell them we postponed, they remembered to ask me. Highly recommend!

Kailyn

Married on 12/11/2021

Absolutely perfect!

I had the most perfect appointment here! We arrived early and they immediately took us back. Sue was a dream to work with and she knew exactly what I was looking for. The store had many styles to choose from and the workers were very kind! I just want to thank Sue for making this special time in my life so perfect! She did awesome!!!

The Perfect Dress of Sarasota's reply:

Thank you so much Kailyn for your recommendation of our boutique and Sue. She truly loves her job and we are so excited that we were able to be part of your special day! We look forward to assisting you
during this important time in your life! Best wishes from all of us here at The Perfect Dress!!

Madison W.

Married on 11/06/2021

Incredible Bridal Experience

The professionalism, talent, warmth and overall experience the Perfect Dress team delivered was truly unbelievable. I've never felt so beautiful like I did with their stylists and the dresses they picked for me. I felt seen and that they were really listening to what I was going for in my dress. I didn't really know what I wanted and they guided me to something better than I could have ever imagined. From saying "yes" to my dress, to getting my veil steamed, I felt so taken care of. My wedding dress is one of the happiest, beautiful parts of my wedding. My now husband was completely blown away with it! Thank you Perfect Dress for everything! I'd highly recommend them to any bride!
Are you interested?
Send a message