18 Reviews
Recommended by 89% of couples
Quality of service

4.5 out of 5 rating

Average response time

4.4 out of 5 rating

Professionalism

4.3 out of 5 rating

Value

4.5 out of 5 rating

Flexibility

4.5 out of 5 rating
2 User photos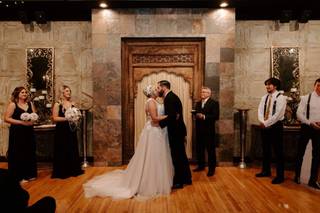 Featured

Ryan

Married on 09/22/2018

Made My Dream Wedding a Reality

The Palace is AMAZING! Tracy took care of us from the moment we met her at an open house and past our wedding day! The price is comparable to other area vendors, but this venue is the only one that gives you your money's worth! The Chateau, the smaller building they have, was PERFECT for our ceremony. We needed next to nothing for decor. The included wedding planner was the thing that put us over the top to select this venue. This part was so amazing. The decor provided was amazing! That really took a weight off our planning process. This isn't just a venue you book and then show up to, this is a venue experience. You will NOT regret booking this GORGEOUS venue! They truly want to help you create your dream wedding (or event) and do so.

The Palace Event Center's reply:

Thank you so much, Ryan!! We loved every minute of it! Thank you for letting us be apart of your big day!

Debbie

Married on 06/27/2020

Our experience so far has been amazing!!!!

Brooke is super sweet, very professional and answered every question I had! The venue is beyond beautiful and included deco which was a life saver!!!! This venue is perfect! So glad we chose this venue and so glad We got to meet Brooke! All my wedding stress is gone now! She made it that easy!!! Our wedding is next June but I had to write about how amazing it has already been!

The Palace Event Center's reply:

Thank you so much Debbie!! We appreciate you and are so excited to be apart of your big day here at the Palace!

Alexia M.

Married on 01/26/2020

Beautiful venue

Brooke and Tracy at The Palace Event Center did an amazing job! Brooke did all the set up and tear down for the wedding so we were able to just enjoy the perfect day. They have a "storage room" with decorations for clients to use if they don't want to purchase decorations they're going to use once. And it's included in the rental of the venue! They made our day as stress free as possible! Such a beautiful location!! We fell in love with it the moment we stepped inside!

Are you interested?

Send a message

Kathryn

Married on 03/23/2019

Absolutely LOVED having my wedding reception here. They took care of almost everything, DJ, catering, cake and linens.

Shelby

Married on 09/16/2017

The entire team was wonderful!

This place was beautiful on the inside. The staff was quick to change it from ceremony setting to reception setting. Be aware that it is a distance to drive.

Sherry

Married on 06/09/2012

It was the perfect venue, perfect day and wedding of our dreams. The staff went out of their way to help us. We wanted a special color for chair covers and they were ordered in advance and all came in. Wanted a special cake and they went out of their way, even going to Norman to order the cake and get samples to taste. Jenna, the wedding planner was always available for us and handled everything we needed. Also, stayed at The Manor and it is well worth it. Made day worry free, had hairdresser and makeup person come there. Pictures taken there. LOVE the Place...

Cathy

Married on 11/11/2011

The Palace Event center did an excellent job for us, we had a beautiful wedding, no problems, food was great, cake was great, their all inclusive package made the day completely stress free for my family. When you take into consideration all they offer, it is a great value, the staff was super and they treated me like a princess.

Taira

Married on 10/17/2020

Really nice

Bethany was super nice and very professional. I was blown away by the amount of decor items they had for use.

The Palace Event Center's reply:

Thank you so much for your kind words, Taira! We really appreciate you and enjoyed getting to meet you!

Emily

Married on 06/10/2017

I had my wedding reception at The Palace Event Center with over 300 people and I was so happy how everything turned out. Riley and Tracy from the Palace were a pleasure to do business with and Stephyn and her team from Southern Charm Events were there to put the final touches on the reception which was awesome because I didn't have to worry about a thing while me and my bridal party were getting ready on the big day. Overall, I am super happy with The Palace Event Center and so happy we chose to have our reception there.

Ashley

Married on 04/21/2012

I was very impressed with the service and quality that we (and our guests) received during the wedding and reception. I LOVED the fact that they took care of the cake, dj, linens, food/ alcohol, and so much more. I didn't have to deal with any vendors on my wedding day. All we did was set up centerpieces, guest book table decor and the aisle decor. Danielle in particular helped SO much. She answered all of my questions (I had a ton throughout the process) and did whatever she could to make sure I didn't have to worry about anything. It's the best bang for your buck in the metro.

Shauna

Married on 11/19/2016

Beautiful venue. There is lots of space for everything you need!

The Palace Event Center's reply:

Thank you so much for your kind review, Shauna! We appreciate you!

Jenna is AMAZING!!!!!!!
This venue is beautiful and staff is always helpful and willing to help anyway they can to ensure your day is as perfect as you dreamed it to be.

Jami

Married on 09/20/2008

We rented "The Chateau" at The Palace Event Center. We had our seremony and reception in the same location. The staff flipped the room really quickly. They set up and took care of the linen rentals. Overall we were happy with our choice. They were better than expected for the price.

Allie

Married on 06/11/2010

We held our reception at the Palace Event Center. The venue was wonderful, the cost was fabulous for the space we had. They were wonderful when it came to last minute changes. We were able to add guests and tables a week before the wedding which was wonderful. It was difficult to communicate with them. I would request information via email and would not get a response until a week later. Overall I felt communication was difficult. Everything went wonderful the day of. The food was wonderful and the bar was well priced. The cake was fabulous and they served it for us. Overall I had a wonderful experience, however I had minimal expectations.

Tracy

Married on 06/06/2009

Excellent place. Couldn't have asked for a better place to hold my reception. Beautiful and very helpful!!!!

Angela

Married on 11/12/2011

We had a good experience overall with The Palace Event Center and our wedding coordinator. They were able to accommodate our requests and the day of the ceremony went very smoothly.

Darby

Married on 04/03/2010

I had my reception at the Palace. It is a beautiful venue, and that is why my husband and I decided to use it. However, our wedding was right at the time that they were changing to have all their services inclusive. I chose to not have all their services, but rather to use my own vendors, because I knew exactly what I wanted, and their services did not meet my ideas. I never had trouble getting ahold of the woman that ran their services, but she was not very helpful. Instead of offering information and trying to help me make decisions, I had to ask every question to pry information out of her. I should have asked more, I suppose, because there ended up being a lot of hidden fees and things that I had to pay for in the end, when I had told her up front that one reason I was having trouble choosing a venue was because I was discovering that everyone had hidden fees. She assured me that this was not the case for them, and that I would be very aware of everything I'd had to pay for up front...which was simply not true. Also, the owner of the Palace was talking poorly of my family and I to my florist when she came to deliver my flowers. The owner told her that people like us was why they were going to require that brides use all of their services. She also referred to us as 'cheap'. Little did she know that a woman that she believed to be the florist's assistant was a close family friend. Also, we actually spent more money than we would have if we'd used the Palace's services because they could not offer me what I envisioned. Basically it is a beautiful facility, but I would not recommend it to anyone because of the very unprofessional employees.
Are you interested?
Send a message