Reviews
5.0 out of 5 rating
Quality of service

5 out of 5 rating

Average response time

4.9 out of 5 rating

Professionalism

5 out of 5 rating

Value

5 out of 5 rating

Flexibility

5 out of 5 rating
100%
Recommended by couples
Awards
18 User photos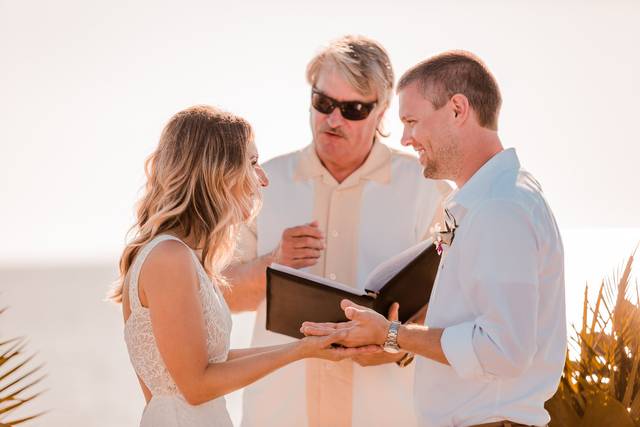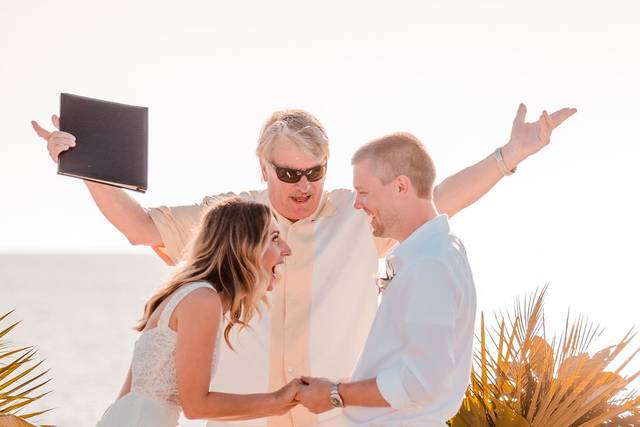 + 14

photos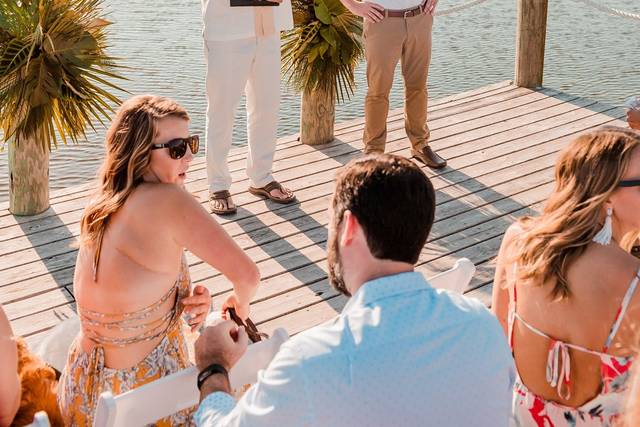 Melissa

Married on 10/15/2022

Wonderful experience!!

Rande made our day extra special! The ceremony was exactly what we wanted - very meaningful and memorable. We are so grateful that we chose him to officiate our wedding. We were very fortunate!

Jessica P.

Married on 05/20/2021

You can't get any better!

Rev. Rande is fantastic! My husband and I couldn't have asked for a better ceremony! Do yourself a favor, don't think twice and BOOK HIM!!!!!

Jennifer

Married on 09/27/2018

Our ceremony was absolutely perfect! I would recommend him to anyone in a heartbeat! He went above and beyond to help make our day exactly what we hoped it would be!

Are you interested?

Send a message

Melinda

Married on 05/12/2018

Rande did an awesome job officiating our wedding. We were able to meet with him prior to the wedding, again for a rehearsal and then the BIG DAY! He did a great job of keeping it light and airy as well as short and sweet. I would definitely recommend him to anyone getting married in the Outer Banks!

Megan

Married on 05/11/2018

Rande was awesome!! He was so easy to work with and quickly responded each and every question we asked! He was so flexible and will work with you to create whatever ceremony you envision. For us, it was a very casual yet meaningful, non-religious script that was the perfect fit for our day. He even brought along some homemade treats for our two pups that were included in the ceremony. Highly recommend!!!

+ 4

photos

Donna

Married on 10/28/2017

Rev. Rande Banks married me & George on October 28th 2017. Perfect wedding, Perfect Day. He was very informative, we never rehersed anything, he knew all the right things to say. We highly recommend him. With a parent from both sides had deceased, he was very good in all the right words and prayer to say. He is perfect in everyway. Thank you so much Rev. Rande,,,,,,,,,,,,

Jen

Married on 09/25/2017

My husband and I met Rande at the OBX Wedding Association Bridal Expo, made our arrangements and paid deposit. Spoke with Rande only days before the wedding and he calmed me down as I was quite nervous. We did not have a rehersal as our wedding was small but he told us "get to me and I'll get you through it". He did exactly just that on the outskirts of hurricaine Maria on the beach and it couldn't have been more beautiful. Highly recommended and a great guy all around.

Brooke

Married on 09/23/2017

Rande came highly recommended by someone who traveled to the Outer Banks to get married. After talking to him, I knew we made the right decision to choose him!! He was so accommodating with how we wanted the service to go, all the way to when we were able to meet with him in person to go over e everything. He was very reasonably priced and made our wedding very memorable! Whether you are looking for a longer ceremony to truly show your love, or something short and sweet, he is able to do it all! I will forever recommend Rev Rande Banks! We cannot thank him enough!

Jessica

Married on 05/27/2017

Rev. Rande Banks did such an awesome job with our beachfront wedding ceremony! He helped make our ceremony specific to us and what we liked, and added in a couple of beachy things to fit with our theme. He even mailed off our license for us so we wouldn't have to worry about it during our honeymoon! We would definitely recommend him to anyone! Thanks again for making our day so special!

Sherry

Married on 04/29/2017

Reverend Banks did a wonderful job officiating our beach wedding ceremony. He made our wedding ceremony very special and we would recommend him to anyone that is having a wedding in the outer banks!!

Pamela

Married on 10/03/2014

My husband and I are from VA, and Rev Rande Banks married us October, 2014. We started planning that January and I had to put all my faith in them, venue and all and it was well worth it!!! Rande kept in close touch through emails and phone calls. My husband and I were only able to come down twice before we were married, and Rande took the time to meet with us to make sure everything was perfect!!! The ceremony was beautiful, the decor was beautiful! I highly recommend Rande and his wife, they are wonderful people. They really made us feel special and made our day special!
Scott and Pam, VA

Kristiana

Married on 06/21/2014

I feel that Rande has become part of my family after our wedding. I cannot say enough nice words about him. He is so sweet and genuine, and when I was searching for a wedding officiant, I took the time to actually sit down with some officiants and get to know them. In my opinion, officiants hold the biggest role of the entire wedding- after all, they're the one's who actually marry you and your husband! I didn't want our officiant to be a stranger that we met maybe twice before the actual wedding. We sat down with Rande and communicated a few times and my husband, my dad, and I all felt extremely confident with our choice.

Not only was he helpful with the ceremony, he helped me with the layout of my programs, advice, and encouragement! My guests loved the ceremony, and enjoyed the "Land Of Beginnings" ceremony (it's amazing, and extremely fitting for my family since generations of my family have grown up in the OBX).

I could seriously go on and on and on about Rande. My husband and I look forward to meeting up with him again and continuing our friendship. If you are in need of an officiant, definitely contact Rande.

Danielle

Married on 09/18/2013

Reverend Banks did an amazing job officiating our beach wedding. He was very helpful & responsive with any questions we had throughout the ceremony planning process & provided great suggestions. We really loved how everything came together & the creative touches he added during the ceremony. We couldn't have asked for a better officiant & would highly recommend him to others interested in Outer Banks beach weddings.

Kate

Married on 04/27/2013

Rande was one of the most affordable officiants we found. Honestly I can't believe how much people charge for this service. He is very laid back which worked because we had our ceremony on the beach. We only met him a couple times before but felt like we knew him by the time he delivered our ceremony. He had some of his own templates but was able to add in some verbiage we found online. He did use an incorrect name when we wanted to honor a deceased family member but I feel like it was an honest mistake and he corrected himself. Very responsive to emails and requests to meet.

Casey M.

Married on 01/07/2012

Thank you (8 Years Late!)

I am very late at writing a review, but a conversation I recently sparked with a friend reminded me how I have never reached out and expressed my appreciation for Rande officiating my wedding! Rande was great at working with my husband and I in deciding on vows that fit for us, and worked with our budget. I also have to give kudos for his ability to be calm and collected when there was a last minute change in our ceremony (sand ceremony and the jars broke!) not to mention it was one of the hottest days in July!

the outer banks officiant.com's reply:

I am so grateful that you have thought of me after all of these years, I remember your ceremony well! I do hope our paths shall one day cross again, until then..God Bless and God Speed!

Allison A.

Married on 06/28/2011

Caring & supportive officiant

Rande Banks and his wife helped us with a private ceremony - including vows and pictures before / during / after. We didn't have a ton of specifics in mind, so he helped us round out a ceremony that made sense for us. I felt like we were non-traditional, coming from 2 different faith backgrounds, and Rande knew just how to bring it together for us to find meaning without leaning too far one way or the other. I felt very supported, and not judged, for choosing what we wanted to have happen even though it wasn't a large or traditional ceremony. His kind guidance will always be remembered and appreciated.

+ 2

photos

Lauren

Married on 09/28/2010

Rande was our efficient and he did a great job. We called him last minute due to a cancellation and he was able to co e that afternoon to marry us!

Rick

Married on 09/12/2009

Rande is simply the only choice if you are planning an outer banks wedding! He is extremely professional, and very laid back. He will definitely make you feel comfortable on a day when you might be a little nervous. On our wedding day a short rain storm hit right as the bride was walking down the aisle but Rande was able to keep everyone calm throughout the service. He also assisted in finding the "lost" wedding rings before the wedding. We consider Rande a part of our growing family and hope to remain close as he is now one of our friends that we wished we could see more often! Also Rande's wife took care of some of the details that make a wedding more memorable as far as getting the setting to look and feel special. My hat is off to the both of them!

Kate

Married on 08/06/2010

I hope Rande Banks is a part of our family forever. He perfectly suited our beach wedding in Nags Head and took care of all of our needs. We loved meeting him in March and felt very at ease with him right off the bat. Same thing a few days later when he met my parents. He is much easier to contact by phone than by email! which is not really surprising if you understand OBX culture. He got to know us well enough to write a beautiful ceremony and led us gracefully through our vows. We had amplification at our ceremony through Ruth Wyand but I don't think Rande needed it! The night before our wedding he called to go over some details and really set me at ease. I was very worried about the emotional state of my groom and he called and carried him through that special crisis that is pre-wedding hysteria. He did a great job getting a very nervous, tearful groom gracefully through the ceremony while I bubbled over with excitement. He was a truly wonderful blessing to our wedding. He also recommended Argyle's for our cake, who we ended up using.
5 days after our wedding, we went to Dare County Register of Deeds to pick up our marriage license. Turns out, Rande forgot to sign two pages and they couldn't process it. My husband called him and he DROPPED whatever he was doing to come by and get it right.
I highly recommend him!!!!
Are you interested?
Send a message