Reviews
5.0 out of 5 rating
Quality of service

5 out of 5 rating

Average response time

5 out of 5 rating

Professionalism

5 out of 5 rating

Value

5 out of 5 rating

Flexibility

5 out of 5 rating
100%
Recommended by couples
104 User photos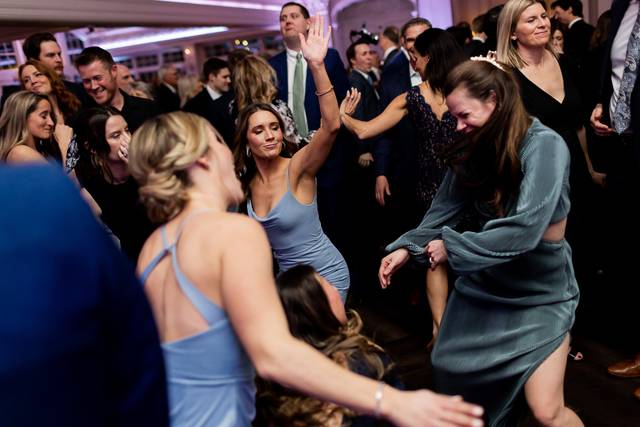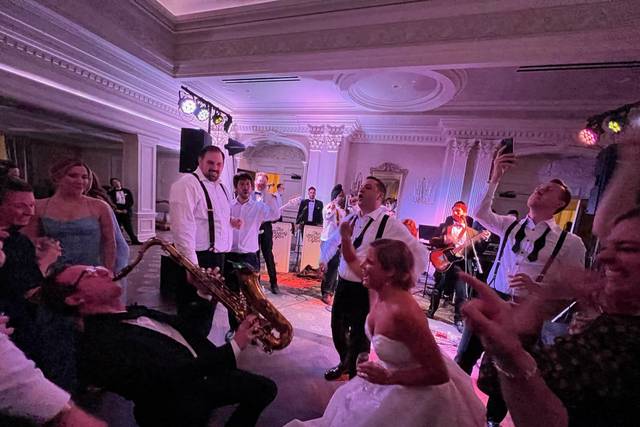 + 100

photos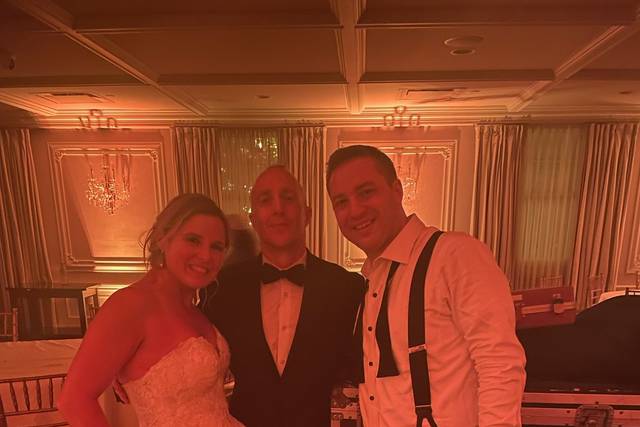 Jessica G.

Married on 05/21/2023

The Best Band

The Morning After Band exceeded all of our expectations. Our guests are still talking about how much fun they had because TMA kept the party going the entire time. They accommodated all of our requests and were so easy to work with the entire time!

Mary M.

Married on 03/11/2023

The Morning After Band is AMAZING!

Run don't walk to book The Morning After Band! TMA was absolutely amazing. They are so fun for everyone at your wedding. What I love about them most was that they play medleys of multiple songs so you do not get tired of dancing to the same song for too long. Their song list is varied and they can do a lot of different types of music. When people bring up our wedding to us they always mention how great the music was! Dom was so easy to work with. We had some weird requests for introductions and special dances and everything was perfect. They truly killed it, I highly recommend TMA!

+ 3

photos

Matt G.

Married on 12/31/2022

Amazing New Years Eve Wedding

The Morning After band exceeded our expectations and then some. They had our wedding party on the dance floor the entire night. If you are looking for a band for an upcoming wedding, we highly recommend them. Dom and his team are extremely professional from start to finish. They will go above and beyond to make your wedding day special for you and your guests.

+ 6

photos

Are you interested?

Send a message

Samantha G.

Married on 12/30/2022

Best Night Ever!

The Morning After Band was the best part of our wedding. They brought the party and the energy! The dance floor was packed and we were singing our hearts out all night long! Our guests are still talking about how great our band was and how much fun they had! Highly recommend this band if you're looking for a classy high energy band for your wedding.

Megan K.

Married on 12/14/2022

Amazing Wedding Band

Hands down the best decision of our wedding!!! My husband went to drum lessons when he was younger with the drummer of the band and has said since we started dating that he always imagined them playing at our wedding. Well I am so glad that they did! Everyone including my grandmother was on the dance floor all night long!! They brought such great energy and even came out onto the dance floor to interacted with the guests while playing. They played every genre and nailed every song they played! We've been married for a couple months now and people are still telling me how amazing they were at our wedding!

+ 8

photos

Audrey

Married on 11/05/2022

November 2022 -Avalon, NJ Wedding

TMA was the best band ever! We heard that statement over and over from our guests after our wedding. From the very beginning they were so easy to work with and listened to what we wanted or provided great suggestions/advice. They kept our guests on the dance floor all night and played a wide range of music. I can't recommend them enough. They are super talented, easy to work with and they will make your wedding reception an absolute blast!

Lauren

Married on 10/30/2022

The best decision for our wedding!

The Morning After Band made our wedding a PARTY. They brought the songs (a lot of Motown!) and the energy to keep people dancing throughout the entire wedding - the dance floor was still packed at the end of the night when we had to shut it down. The song we wanted for our first dance was not on their song list but the band was willing to learn it and send a demo mp3 beforehand - we were so grateful they were willing to accommodate to help make our day extra special. My only disappointment is I couldn't meet them because they all seem like the coolest people. Couldn't recommend them more!

Christine L.

Married on 10/09/2022

No better choice for a wedding band

We could not have made a better selection in choosing a band for our wedding. The music was one of THE most important wedding details to us and this band exceeded our every expectation. They were fun, energetic and kept people on the dance floor. They made our reception the kickass event that guests still talk about; my husband and I love rewatching our reception video and reliving what a fun time our guests had on the dance floor.

Working with them ahead of the wedding was a breeze. They helped us make our music decisions and were super patient and easy-going with all of our questions. They were extra accommodating when we asked for a special performance by the grooms family and made us feel comfortable and confident in all of our choices. They were simply all-around nice people to work with and gave us one less logistic to worry about.

Working with them was the best experience we could've had.

+ 2

photos

Jj Weiss

Married on 10/08/2022

Brought the energy

Dom and the band were out of this world amazing. My wife and I have a wide range of music tastes and our families weren't short of requests but the band nailed everything. From belting out Earth, Wind and Fire to rocking out Drunken Lullabies and closing the out night with an incredible sax solo from Born to Run they were nothing short of perfect. Every single person we have spoken to since the wedding has mentioned how great the band was and they don't even know how easier they were to work with on the planning end. They sounded amazing and were super easy to coordinate with and work with leading up to the wedding. If you're looking for a live wedding band don't bother looking any further TMA band has everything you'd possibly want to hear on your day and they'' make planning the music one of the most enjoyable parts of wedding planning!

Maxine S.

Married on 10/03/2022

Best band anyone has ever heard!

The Morning After blew the doors down at our wedding! There are no words, people are still raving, weeks later. This was the highest energy band anyone has ever heard at a wedding. The best is they catered to all ages, played music that everyone at the wedding could dance and enjoy, and then NEVER STOPPED!!! It was like a concert, our guests couldn't believe it. Don't hesitate. If you can hire THE MORNING AFTER, you will have the best wedding any of your guests have ever been to!! We promise!! Thank you, guys, for the most remarkable night!!

Meredith

Married on 09/28/2022

5 Stars!!!

If you are considering The Morning After and they are available for your wedding do not hesitate to book. Our wedding was over four months ago now and people still comment on them! Dom and the band were the easiest to work with. They even learned our first dance song - There will be time by Mumford and Sons - and it truly made our day memorable.

Michael D.

Married on 09/09/2022

September 2022 Shore Wedding - AMAZING!!

Dom and the rest of the band were absolutely amazing. They were such a pleasure to work with and had the dance floor packed the entire night! We could not have asked for a better band experience. We would 10/10 recommend them to every one of our friends / family. THANK YOU!!

Nicole C.

Married on 09/09/2022

Hire them!

Hiring The Morning After Band was one of the best decisions we made during our wedding planning process. From the beginning Dom was extremely responsive. He took time to work through the set list and figure out the vibe we were going for. At the wedding, things got even better. No one, and I mean no one, left the dance floor all night! My cousin booked them right after our wedding for her wedding because she was so impressed. I cannot say enough good things about them, all I can say is look no further. If you want a dance party, this is the band for you!

Michelle R.

Married on 08/28/2022

Amazing experience!

So happy with our choice to have The Morning After band at our wedding!! From the planning meeting with Dom, to the day of - everything was smooth and easy. Everyone complimented us that our wedding was like a concert. Our first dance with the band performing felt like something out of a movie.

Jacqueline T.

Married on 08/20/2022

Amazing to work with and so fun at the reception!

My husband and I booked the TMA band for our cocktail hour (jazz trio) and the 9-piece band + DJ for the reception. Dom was so accommodating and wonderful to work with, and every musician in the band was incredibly talented! So many of our guests told us they were the best wedding band they had ever seen. Would highly recommend!!

Marc S.

Married on 07/01/2022

The Experience of a Lifetime, We Love TMA!

Dom and TMA were absolutely incredible from beginning to end. Starting with the planning process, Dom was super responsive, flexible and easy to work with. The Band learned and played all of our dance songs and special requests and perfectly fit them in throughout the night. Our crowd literally would not leave the dance floor the entire night, and each time we stopped to greet a guest, all they would talk about is the band! Our wedding would not have been the same without TMA. Dom and the band really went above and beyond to deliver a performance that our guests are still raving about and will do so for years to come. If you want your guests up and dancing for a night of non-stop fun they'll never forget, look no further than TMA!

Molly F.

Married on 06/18/2022

Amazing band

We had the absolute best time at our wedding and TMA band made it absolutely PERFECT. They had the best mix of songs, had everyone on the dance floor for the whole night. Could not recommend them more. Live music was one of the best spends we could have made for our wedding, and no money better spent than with TMA. They were so easy to work with, and had rave reviews from our guests.

Danielle F.

Married on 05/28/2022

Awesome Wedding Band!

The Morning After Band was everything you could ask for in a wedding band - high energy, amazing vocals, and great stage presence! And their range of music is phenomenal from punk rock to hip hop and everything in between. We also loved their horn section, really added an extra level of energy. Our guests still talk about how great they were! Dom, the band manager, was really easy to work with - he really made the process fun and was honestly one of the most enjoyable vendors to work with. We would definitely recommend them to a friend, they really helped make our big day special, and had our guest dancing and having a great time all night long!

Katlyn C.

Married on 05/19/2022

Such an easy planning process to create the greatest wedding reception we could've asked for!

The Morning After is incredible! from the first call, I had with Dom, I knew I wanted to use this band for our wedding. Dom is so professional and helpful in preparing for the wedding and helping the bride and groom decide on music. TMA is a group of friends and that shows on and off the stage. Their chemistry is so obvious and it makes the whole atmosphere enjoyable. We got so many compliments on our band and are still getting a year later! Our wedding was one of the greatest days of our lives, and TMA made it that much better!

Kevin

Married on 05/14/2022

Tma nailed it!

Absolutely amazing. They were great from start to finish. The wedding was rocking and the band definitely did their part to help that! Even better was their flexibility. We had our final call with Dom and still hadn't picked our first dance. When we had narrowed down to two neither were on their standard list of songs but Dom put us at ease and said they would learn either one we chose. Couple days later we have our wedding and they absolutely nailed our first dance. Could not be happier with their communication quality of music and just overall experience. Highly recommend!!

Allie B.

Married on 10/30/2021

The absolute best!

My friends and family still can't stop talking about TMA and how they were so incredibly talented and FUN at our wedding. Just some bullet points to prove how amazing they are -
- Rather than a first dance, I wanted my acappella friends to sing with the band and they pulled it off spectacularly with no rehearsal
- All of our singer friends still talk about how amazing their singers are
- They were flexible with our weird timing and different locations in our venue (we did cocktail hour first, then ceremony, straight into dinner)
- The jazz group at dinner was PERFECT
- They were honest about what would sound better with their DJ during breaks, who was also- awesome. Kept everyone dancing while the band rested
- My friends invited them all to the after party because they were so fun (being true professionals, they declined)
And they just were really fun to work with!!! Can't say enough good things about them, definitely hire them!

Courtney M.

Married on 10/08/2021

The best band for our wedding!

From the booking, planning process and day of our wedding The Morning After Band was the absolute best. I discovered them in AC and knew I needed them for my wedding! The communication was always so easy with them. My husband and I can be picky about our music and they were so accommodating in letting us be apart of everything. From ceremony, cocktail hour and reception everything was just perfect. When everyone talks about our wedding the first thing they always mention was the band, they absolutely made our wedding. I am so grateful for TMA band because they really made my vision of my wedding come to life! If you are considering them for your wedding or event BOOK THEM!!! you won't regret it!

Brooke F.

Married on 09/18/2021

Amazing, amazing band!!

Absolutely love The Morning After - they totally crushed it. First, the band members are so freaking cool, but legitimately so. They are a bunch of people you would genuinely like to hang out with. Second, their music selection is great - particularly if you're looking for great live songs that people want to dance to. They had a killer punk-pop set at our wedding that was so much fun and went over really well with the guests. Third, they are great to work with. I wanted to sing two songs to my husband and they were happy to learn the songs I wanted to sing and accompany me the day of. They gave great suggestions for song orders and overall were a pleasure to work with. 10/10 recommend, you cannot go wrong with these guys.

Jackie R.

Married on 09/18/2021

Incredibly talented band that kept the party going

Going into our wedding, we thought we wanted a DJ. My husband and I have an eclectic taste in music and was concerned the only way to check all the boxes was with a DJ. While searching for one, TMA was brought to our attention and it took a few short minutes on their Youtube to change our mind. Booking TMA was the BEST decision we could have made for our reception entertainment. From the beginning, Dom made us feel incredibly comfortable and excited about what was to come. He worked with us on all of our requests (our wedding was non-traditional and we had few quirks to accommodate) and when the day arrived we had nothing to worry about.

As for our wedding day, to say we were blown out of the water was an understatement. Their talented vocalists and musicians not only kept the party going all night, but kept our crowd in disbelief over how incredible they were. Their MC, Johnny, kept everyone engaged and set the mood during dinner and band breaks. The energy was kept high well to the end of the night and weeks later, people are still raving about how great the band was. If you want your wedding to be a party that people truly enjoy themselves at, book TMA now!!

Danica L.

Married on 09/11/2021

Amazingly Talented

The Morning After is an incredibly talented group of musicians. We first saw them perform live at Xfinity and loved their energy and how they were able to engage the crowd. We knew they would be perfect for our wedding right away and are so glad we chose them. Dom is professional and a pleasure to work with, making every aspect of planning for the big day as easy as possible with his flexibility and recommendations. Highly recommend for a polished crew and really stand out performance!!
Are you interested?
Send a message