99 Reviews
Recommended by 100% of couples
Quality of service

5 out of 5 rating

Average response time

5 out of 5 rating

Professionalism

5 out of 5 rating

Value

5 out of 5 rating

Flexibility

5 out of 5 rating
87 User photos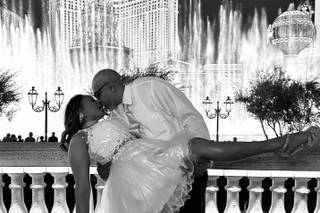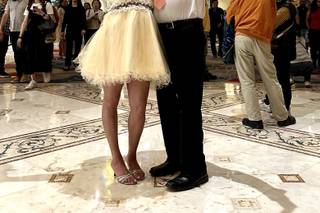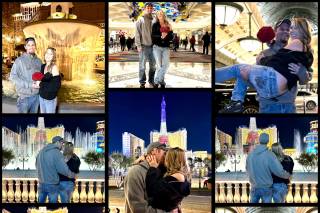 + 83

photos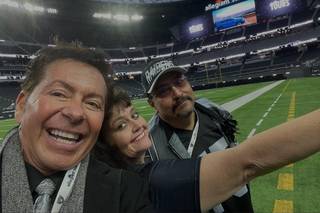 Makenzie B.

Married on 05/12/2023

Absolutely amazing experience!

I came across Rolands website while looking for a mobile officiant. I called and he answered all my questions. I set up everything on his website which was very easy. He confirmed our reservation and kept us updated all the way up until it was time to meet. He was on time, very pleasant, funny, and knew the best spots for the best pictures and ceremony. He really made the experience great for us, I would choose Roland 100 times over!

Dana H.

Married on 04/08/2023

Amazing ceremony

The ceremony was amazing. I was worried about having my day in Vegas. From the moment I made contact I felt so much more at ease.

The ceremony was everything I could have dreamed of. Heartwarming and even funny at times.

The photos...were that extra touch.

Robin W.

Married on 03/03/2023

Wonderful experience

Roland is absolutely amazing! We couldn't have asked for a better wedding experience. In our short time together, he learned more about us and retained the information, than a lot of people who have known us for years. He made everything simple and fun! Thank you for the amazing experience! :)

Are you interested?

Send a message

Tammy M.

Married on 01/15/2023

Wonderful, caring, helpful

Roland was very responsive, answered all my questions. He was so helpful and sweet. He cared all about our experience. Thanks for everything!

Emily E.

Married on 12/31/2022

Unforgettable & Magical

From the moment I connected with Roland I absolutely loved him! Looking for a last minute elopement (at 8am on NYE nonetheless!!) was overwhelming until I happened upon Roland and his endless great reviews! He lived up to everything and more for us, how he is able to capture the spirit of your love in such a short time, put together a personalized ceremony like he has been there for it all! He put together the best team; photography by Debbie, video with David & a FAB limo - and the day fell into place like a dream.

Could not have made this happen without Roland, and couldn't imagine our wedding day without him!! Such a wonderful, loving man, who is the best at what he does!

The Mobile Minister's reply:

Please believe me when I tell you Emily that our whole experience together was Magical for me as well!!! I will never forget your Amazing Wedding Morning! It was worth getting up early for YOU!!! LOL Maybe when you guys do a renewal with Elvis we can make it at Night Time!!!

Kevin W.

Married on 12/17/2022

Call roland the mobile minister!

From start to finish, Roland mixed in perfect amount of personalization, humor, and, of course, Elvis. If you are an Elvis fan or not, Roland is a must for your special day in Las Vegas. If we could give six stars, we would. Everyone in attendance continues to rave about how much fun it was and we agree. Thanks again for bringing the passion and enthusiasm Roland!



Colleen C.

Married on 11/17/2022

Roland August the mobile minister

Right from our 1st contact in May 2022 all the way to our wedding at Raider Stadium on Nov 17 2022 if I had a question he answered right away. He made me feel special throughout the whole process and made my day a day to remember

Pieter D.

Married on 11/10/2022

You are a true Star!

We had a surprise wedding arrange for us by the children for our 32nd Anniversary (was planned for 30th, but Covid….)!

What an awesome surprise! Elvis met us at the LV sign and went all out!

Personalized and entertaining.

Thank you so much Roland, you mad it worth the wile traveling from Germany for this experience!

Abigail K.

Married on 11/02/2022

Last minute, beautiful wedding

Roland was perfect from start to finish. We wanted a minimal but meaningful wedding and that's exactly what we got. Roland made it fun and beautiful at the same time. Highly recommend him to anyone wanting to tie the knot in Vegas!! 5stars all around :)

Bianca B.

Married on 10/25/2022

Extraordinary Minister exceeds ALL expectations

OMG!!! Ladies and gents, Roland is your guy! He made our wedding day way better than we could've ever pictured it as an elopement. It was intimate and so romantic because of everything Roland advised and executed. Our pictures came out phenomenal. His words were so graceful, real, unscripted, and from the heart. His energy is exactly what is needed in a minister. Amazing prices with an even better experience and memory. Don't hesitate to book him for all your minister and photography needs!

The Mobile Minister's reply:

I really cannot take all the credit for the Amazing Reviews I receive like yours Bianca, because I am mirroring the beautiful energy of unconditional Love that I am receiving from the two of you standing right in front of me glowing with acceptance and generosity and vulnerability on the best day of your lives!!! I got a huge blessing from the two of you and for that I am forever grateful and a part of your Family!!!!

Ed Herr

Married on 10/11/2022

Amazing Wedding Ceremony

This was quite more than what we were expecting. Roland was professional, personally sincere and we had the most amazing wedding ceremony in front of the Bellagio! Awesome pictures and we believe we have made a friend for life. Thank you Roland.
Jen and Ed!

Spark C.

Married on 10/01/2022

Amazing/ Fun/ Kind/ Gorgeous/ Talented/ Elvis

I can't say enough about Roland August. We hired Roland as Elvis to officiate our wedding at the hospital so my father could give me away. From the very first communication, Roland was very responsive and so kind!! He arrived with everything we needed. He was professional, FUN!, inclusive, a great singer/performer, and handsome! We couldn't have picked a better Elvis and I'm super picky. I didn't have time to do much research but as luck would have it, he was recommended and after doing a quick image search, we hired him on looks alone (we got lucky he was available). We also heard from him post ceremony and he was just as kind and sweet. Don't hesitate; you will not be disappointed. 10 out of 10! Roland, if you see this, thank you for not only doing a great job, but for being such a sweet person. I wish you continued success. Xo

The Mobile Minister's reply:

Lol I did see this!!! I usually try not to read reviews because I don't want to say anything negative that might ruin my day! In this case I am super glad I read your review… It's totally made my day! But sincerely what makes my day even better is meeting people like you and your beautiful family on the best day of your lives! It was totally a blessing meeting you and your wonderful dad! I wish you and your family all the best in life and love moving forward! And thank you so much!

Brianna P.

Married on 09/30/2022

You'd think I was paid to write this!!! AMAZING!

I don't think I could encourage or rave about Roland without it sounding like I was getting paid to do so!!! He and his wife, Sandy, truly made my husband and my wedding day beyond what we could have possibly dreamed. He was prompt, friendly, communicative, and all around AMAZING! He made sure that our 8 year old was involved with our ceremony in creative ways as well as talked with him and related to him as well as my husband I. Instead of "just having a minister" we felt like we had a friend marrying us. Thank you Roland! I couldn't and wouldn't recommend anyone else that is better!

Anthony R.

Married on 09/26/2022

100% the best

Roland made the ceremony over the top. Brought items we to help elevate the ceremony. During the ceremony his take made the wedding magical. If your going to hire an officiant, do choose anybody else.

Pete W.

Married on 08/23/2022

Absolutely perfect!

Roland was absolutely the perfect person to marry us. He was so personable and made us feel comfortable, special and important. Our day would not have been as perfect if it was not for him. We feel as though he is part of our family now.

Keith E.

Married on 05/29/2022

What a great experience!

My Partner and I surprised a group of friends at Joe's Stone Crab in Las Vegas with a "flash wedding" in the private dining "The Boardroom". Roland was spot on with his presence, his genuineness, his comedy, and his very caring and loving words for our ceremony. Working just from email and Venmo we made our plans with Roland and everything worked perfectly! Thank you Roland, we will remember you always. Peace. Keith & Terry

Nicole K.

Married on 05/13/2022

Exceeded all of our expectations!

Using Roland's Mobile Minister services was hands down one of the best decisions we made for our entire wedding! He was incredibly helpful throughout the entire process, and was able to customized our ceremony in a way that made all of us in attendance truly feel the love and positive energy that day.

William O.

Married on 05/08/2022

Vegas Elvis

and performed our vow renewal ceremony in front of the Bellagio water fountains on Sunday, May 8. He was very responsive to my texts prior to arriving in Vegas so we decided to have him entertain us at my niece's wedding reception the next day. At both ceremonies he was so professional and friendly, just perfect for the occasions. I cannot recommend him enough.

Erika H.

Married on 05/02/2022

A wonderful experience all around!

I contacted Roland in late December to book a wedding in February. He was always very prompt and polite in his replies. Online booking was quick and easy - we were able to have our preferred date and time. We finalized the details once we landed in Vegas. Two days later Elvis was serenading us as we were married by the Vegas sign. I can't say enough about the great vendors he works with . Our limo driver Michele and our photographer Jules were a pleasure to work with. Our pictures came out beautifully and we really couldn't be happier.

The Mobile Minister's reply:

Thank you so much for your kind review! It was great meeting the two of you in person on your Big Day and I honestly had as much Fun as You did!!! All the Best!!!

Todd A.

Married on 03/24/2022

Wedding at Caesar's Palace Gazebo.

Roland was awesome! So easy to work with. Always responded to my texts or phone calls immediately with answers to any of my questions! I highly recommend his services!!

Danielle C.

Married on 03/12/2022

Nelson Ghost Town Wedding

If we could give Roland 100 stars instead of only 5, we WOULD! He was the icing that topped our cake at Nelson's Landing Ghost Town. He arranged everything for us and made the entire wedding process super easy. He was very responsive when I had questions, and we both felt very at ease with him. The 2 couples who attended our wedding also commented on how amazing he was performing our ceremony. We hope to renew vows someday just so we can have him perform them :) HIGHLY RECOMMEND!!

The Mobile Minister's reply:

Thanks so much for this kind and glowing revue! I have to say in all honesty that my weddings are only as deep and heart-felt as the Couple I am Marrying...so basically I am just a mirror to the two of You...Reflecting back the Love you are expressing on your Special Day! I am the one that truly gets the Blessing just by being there with you, on your best day ever! So thank you so much!!!

William

Married on 03/02/2022

Zimri & William 03/02/2022

My wife and I are so happy with the experience we had with Roland. The photos were amazing as was the service. We did not know what to expect. This wedding surpassed
all our expectations.
I would highly recommend The Mobile Minister to anyone who wants a high quality wedding at a price that will not break your bank or disappoint you. Thank you Roland!!

Ryan M.

Married on 01/23/2022

The best ever!

As a wedding photographer myself, I've seen hundreds of officiants and Roland is the GREATEST! We were excited about his pricing and that he was able to conduct our ceremony in English and Spanish. Roland showed up early and really took time to ask questions and get to know us before our wedding. During the ceremony he was able to brilliantly interject stories and qualities that he found during those conversations and really made our vows seem more personal and genuine. Roland was kind, funny at appropriate times, and really made our wedding day special. Roland's passion for his work is evident! He's amazing and we can't praise him enough.

Bradley

Married on 11/19/2021

Roland is great

Roland is truly the best wedding officiant, entertainer, and minister in Vegas or anywhere for that matter. Recommended 10000%

Gregory H.

Married on 10/23/2021

Our Minister and New Friend

Roland is DA MAN!! Not only did he make our ceremony memorable and enjoyable, he gave it a spiritual touch like no other. He became family and friend to us due to his caring and exuberant nature. We were not just married in the eyes of the law, but we truly believe we married in the eyes of the Lord. On behalf of an extremely satisfied and grateful newlywedded couple, THANK YOU ROLAND-thank you very much. Forever your family, Gregory and Marla Hollenquest!!!!!! 10-23-21

+ 2

photos

The Mobile Minister's reply:

Greg and Marla!!! Thank you so much for this heartfelt review....You touched my hearts with your sincerity and vulnerability with each other. The Gratitude that came out of Greg was so pure and beautiful all of us were lifted to a higher place in that moment!!! Thank you for the gift of choosing me to do your wedding! And yes let's get together again!!!
Are you interested?
Send a message