26 Reviews
Recommended by 95% of couples
Quality of service

4.8 out of 5 rating

Average response time

4.7 out of 5 rating

Professionalism

4.7 out of 5 rating

Value

4.8 out of 5 rating

Flexibility

4.7 out of 5 rating
16 User photos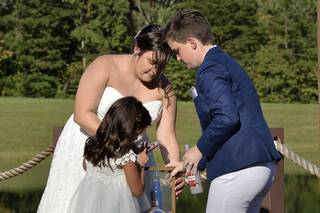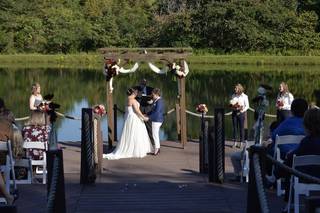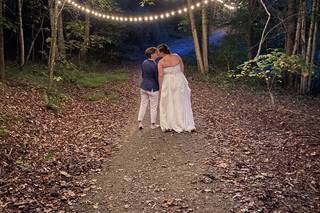 + 12

photos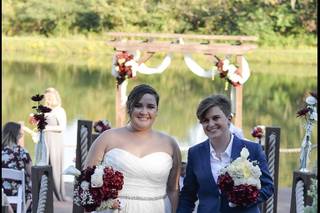 Featured

Amber A.

Married on 10/14/2018

A venue that goes above and beyond

I have had the pleasure of being a guest at a wedding at The Meadows and directing another one here. Not only is it beautiful, but the staff and owners do so much behind the scenes to make sure everything runs smoothly. They are flexible and jump to assist vendors and the wedding party and family in any way they can. I would recommend this venue to many other brides.

Arielle B.

Married on 04/24/2022

Great wedding!

Tyler was AMAZING. Helped us with everything we needed. Venue was perfect

Hailey L.

Married on 05/29/2021

The Meadows gave me my dream wedding!

We just got married here on may 29, 2021 and it could not have been any more perfect than it was. All my husband and I wanted to was to be married outside and when we found the Meadows we knew this would be where that would happen. We loved the venue and the staff from the beginning. We were planning on a budget and the venue had different packages to accommodate. Then each vendor was so willing to make our ideas for the day a reality. You feel so confident in what the day will be because each vendor they have knows what they are doing. On the wedding day we were expecting nothing but rain all day long. The staff knew that I wanted to get married down on the dock and did everything they could do to make that happen. Everyone was expecting to do the rain plan but all the vendors and staff worked miracles and got the deck set up without hesitation. The rain held off right until the end of the ceremony and it was all I imagined for that day. Because of how well they do their jobs and how kind the staff is, I did not have any concerns about the day itself. My mind was at ease and we were able to actually enjoy our day.

I can not say enough of how appreciative we are to have had the pleasure of getting married here and working with The Meadows. I highly recommend the venue and truly thank each one of them for making me the happiest bride.

Are you interested?

Send a message

Katie

Married on 08/24/2019

Best venue ever!

This venue was absolutely perfect and the staff went above and beyond to make sure the day was perfect!! Donna was extremely helpful during the entire process and made everything feel completely effortless

Nicole

Married on 09/15/2018

Amazing Venue, Amazing owners

This has taken me way too long to post but let me tell you about this AMAZING venue and the even more AMAZING owners! One of the owners, Donna works with each couple. She set up meetings with us to get a plan in place for what we wanted, she worked with the venders and distributed the money and contracts to them, and answered our thousands of questions! On top of all of that, my husband and I got married Sept 15 and if you don't recall that crazy weekend let me remind you what was happening! Hurricane Florence was barreling at North Carolina! This venue is an outdoor venue with a backup rain plan under the pavilion but when we are talking torrential downpour, 50+mph wind, we were all a little concerned! Not only had Donna been so wonderful the entire planning process.. meeting with us, answering all our calls, making sure we knew she had everything under control and making sure we weren't stressed, but she was right there with us trying to figure out what do about the hurricane. My husband and I thought about rescheduling the wedding or changing venues but we loved our venue and the people with it and we didn't want to push back our wedding. Tyler Rhodes (Donna's son and owner as well), took his own time and helped to put up tent walls all around the pavilion the week of the wedding to keep out rain and wind. He ordered a second golf cart (usually used for guests that are older to get to the deck or pavilion) and golf cart enclosures (to keep the rain out) with their own money and the wonderful workers picked up every single one of guests as they stepped out of their car and brought them down to the pavilion to prevent anyone from walking in rain or mud. They did everything in their power to keep our day just as magical as we could've ever wanted. The wedding may not have been out on the dock but it was still just as beautiful. We had a great time and the rain held off (thank you Lord!) for us to even go take pictures out on the dock. Even though you may not be getting married in a hurricane I can assure you these wonderful people can help ease the stress and give you the most beautiful wedding no matter what circumstances may arise. The day of the wedding, they were right there doing everything and checking on us. We couldn't have asked for a more wonderful venue and owners to go with it! 💕

Michelle

Married on 06/24/2018

This venue is so amazing. Beautiful and spectacular views. Awesome people and easy to work with. Very helpful and they assist in anyway they can. Just breathtaking.

Samantha

Married on 06/02/2018

I had my Wedding at The Meadows at Walnut Cove in June, 2018. From day one of planning, Donna made this process very easy and flexible to work with. She has a list of preferred vendors (who are awesome). The venue was absolutely beautiful and very accommodating for 200 guest. They have many packages to choose from that makes the wedding planning process simple. She would respond to any calls or text very promptly. I couldn't have chosen a better lace to have my wedding at!

Samantha

Married on 05/05/2018

My daughter had her wedding at the Meadows on June 2, 2018. It was beautiful. The weather was questionable the day of wedding, but the staff and the wedding coordinator watched the radar and weather forecast closely and would report to me and my daughter to make a decision to have the ceremony on the deck or under the pavillion. The weather cooperated and we were able to have it out on the ceremony deck which is beautiful! The photographer, the caterer, the florist and everyone involved were so easy to work with and I would recommend this venue to anyone for the beauty, the value and the ease of the entire event.


Nicole

Married on 03/24/2018

The venue and staff are awesome! We had snow on March 24 but staff and caterers worked hard to make the event go off without issues.

+ 2

photos

Zachary

Married on 10/29/2017

We had our wedding here in October. The staff was helpful, friendly, and made sure our day was perfect. They were incredible hosts and exceeded expectations. Thank you Donna and family for everything. I highly Recommend this Venue.
Photo Credit: Carol Powers http://www.infrontofthelens.com/

Savannah

Married on 09/17/2017

Our daughter and son n law got married this past weekend
It was beautiful, food was awesome, staff was courteous, everything was perfect
I would HIGHLY recommend this venue to ALL
thank you
for making our daughters special day PERFECT

Rachel

Married on 09/09/2017

I had my wedding at The Meadows on 9/9/17, it was perfect!!! I could not have picked a better venue. Everyone is super nice, professional, and extremely helpful! I highly recommend them for any wedding!!!

Angela

Married on 05/06/2017

Awesome venue. Beautiful spot. Professional staff. All inclusive options. They make your day as stress free as possible. You won't regret booking here.

Jacki

Married on 04/29/2017

We got married at the Meadows in April 2017, and we could not have been more pleased with how wonderful everything turned out. Donna was fantastic, and we absolutely loved working with her and her family. She was always very quick to respond and was so patient while we asked a million questions throughout the process. The ceremony and reception spaces are gorgeous, and everyone that attended our wedding is still talking about what a great choice we made!

We selected one of their all inclusive packages, and I'm so glad we did. We were able to get a great deal for the venue, caterer, florist, wedding cake, DJ, wedding coordinator, and rentals. The vendors you can choose from in the packages have all worked together before, so everything worked very smoothly together! It was also super convenient that they handled a lot of the logistics. We talked to the different vendors about our choices, but then Donna or Tyler would handle contracts and payment. It was almost too easy!

Jessica

Married on 04/15/2017

This is a fairly new venue, however pictures simply do not do this place justice. It is in a word, MAGICAL. I heard about this venue from one of the owners, Tyler Rhodes with Anything Music DJ's. He was originally just our DJ, but recommended his venue that himself and his two lovely parent, Matt and Donna own. We received a very reasonable price for both the dj services and venue. A lot of venues originate as something, then convert into a wedding venue after a relative, child, etc. uses it as a wedding venue and word of mouth takes off.
The Meadows at Walnut Cove has been built and created for weddings only. They have spent years making a dream come true, and it is truly a vision. I feel so lucky and honored to have gotten married there. Our guests couldn't believe its beauty, and it is obvious how much blood, sweat, and tears have gone into making this venue a dream come true. They consulted wedding planners and vendors in its entire creation, in order to ensure it would be the best venue possible. I cannot say enough about this venue. It is magical. HIGHLY recommend.

Brooke

Married on 11/16/2016

We chose The Meadows at Walnut Cove for our November wedding and could not have been happier! It was absolutely beautiful! From the moment we arrived for our tour, Tyler was so professional and honest about everything. We could tell that he was truly genuine and not just trying to get us to book with him. After we decided to book, Donna was a huge help. Any time I needed anything, all I had to do was text her and she would respond within minutes...even if it was something that wasn't really a responsibility of the venue, she was there to help and give suggestions! Donna even called me a few weeks before the wedding just to check in on me and see how I was doing with the final planning. I thought that was so sweet!
We got more compliments than I can count from people that attended our wedding on how beautiful the venue was! The stadium style seating at the ceremony provided great views for everyone. The lights hung threw the trees made it feel like we were in a movie. It was absolutely stunning! If you are getting married soon and need a venue...put The Meadows at THE TOP of your list for places to visit! Tyler and parents are a joy to work with!

Amy

Married on 07/30/2016

I got married at the meadows in July. The venue is very beautiful for a outdoors wedding and provides you will a backup plan for rain. The service was great at the meadows, Tyler and Donna were great help and offered to get you anything that you needed. The day went by smoothly and I did not have to worry about the stress of setting everything up. I would recommended this venue to anyone!

Susan

Married on 07/30/2016

The Meadows wedding venue is a beautiful place to have a wedding. My daughter's wedding was in July, and it was absolutely beautiful. The owners and staff took the time to make sure everything was perfect for my daughter's wedding. I would recommend this wedding venue to anyone who's looking for an awesome place to have an outdoor wedding and a wonderful reception area.

Shawna

Married on 06/18/2016

The Meadows was a beautiful venue for my sisters wedding. As a wedding photographer myself I have photographed at hundreds of locations. This is by far one of my favorites! It's the perfect combination of elegant and rustic. The staff was incredibly helpful and enjoyable to be with. From the beautiful water front to the gorgeous pavilion and romantic woods it made for a perfect setting!!!

Brittany

Married on 10/08/2017

What an amazing place?! Don't pass this place up! We would this place via a Facebook post when they first opened! As soon as we visited we knew we wanted our wedding here. We booked October 8, 2017. Our wedding was absolutely perfect! Thankfully the rain held off for us to have the ceremony on the deck. This family ran venue is perfect! Donna and Tyler were amazing through the whole process. Donna and Tiffany we'd seven more amazing on my wedding day! Quick to jump in and save the day. My strap to my dress broke right before I was about to head down the aisle. Donna was quick to help me get it pinned ask before we headed down. When we forgot our cake serving kit, Donna saved the day again! Had one on stand by that we were able to use! Our wedding was perfect and venue was everything!

Samantha

Married on 10/16/2020

Beautiful venue

This venue was made for us! I couldn't have imagined a more beautiful place to say "I do" to my best friend. Wonderful people to work with.

Bethany

Married on 10/01/2020

Beautiful location and helpful staff

We are so happy with how our special day turned out at The Meadows! We loved the scenery and the facilities! Tyler and his crew were so helpful, especially the day of! They helped us with things we hadn't even thought about! We added DJ services and linens to our package and it was absolutely worth it! Very convenient to go that route!

Our only complaint about our time at The Meadows was that the gates weren't closed early enough which allowed guests up close to the dressing areas earlier than we had expected.

But overall, a truly amazing experience!

+ 2

photos

Quansuella M.

Married on 11/04/2019

Mondern Country

I requested to use the venue for a week day wedding. The price is more than reasonable and I was able to use the venue, not only from 10am until midnight, but I was also able to use it for a Bridal shoot and Engagement shoot for no extra fee. There was also an area for the men to hangout, which I did not find at any other venue I went to visit.

Samantha V.

Married on 10/15/2020

Great truly all-inclusive venue!

The venue is all-inclusive and super easy to customize. All the necessary things for a wedding are included except for the officiant, the dresses, and the suits. There is also a list of vendors for things like transportation, hotels, and make-up.

Amber

Married on 11/17/2018

I love the Meadows at Walnut Cove, Stunning!

The Meadows was ABSOLUTELY BEAUTIFUL! Almost every single guest had something wonderful to say about the venue. How beautiful it was, how did we find it, it was amazing, how intimidate it all was, etc. One of our guest even said that our venue was the most beautiful and favorite he had ever seen, and trust me this was a huge compliment for us because he is always attending wedding. At least 10, if not more, just in 2018. This place is BEAUTIFUL!
The Meadows does packages, a silver, gold, and platinum. The packages helped us pick our other vendors, our DJ, caterer, florist, baker, rentals, all of it. My husband and I went with the silver package and for all that came in our package it was excellent. Silver was $10,000 but with the "extras" it was more like $11,000, not including the $500 security deposit.

Are you interested?
Send a message