27 Reviews
Recommended by 95% of couples
Quality of service

4.8 out of 5 rating

Average response time

4.9 out of 5 rating

Professionalism

4.8 out of 5 rating

Value

4.8 out of 5 rating

Flexibility

4.6 out of 5 rating
Awards
20 User photos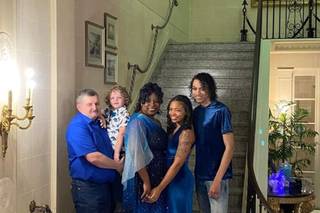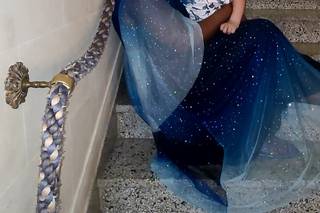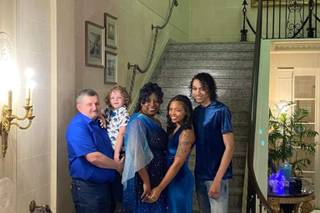 + 16

photos
Mary M.

Married on 05/08/2022

Beautiful Historic Mansion

We chose the Mansion at Woodward Park because it was a beautiful, historic building that was located close to downtown Tulsa. Our guests would be able to stay at a convenient hotel downtown and enjoy both Tulsa and our wedding. The staff is very experienced with weddings and the venue has space for the bridal party to get ready and the groom's party to get ready in separate quarters. It's very roomy in side. Our wedding was held indoors but the guests enjoyed walking the grounds and playing some lawn games that we had set up. Especially good for the younger guests. The kitchen is a "catering kitchen" which means you can't cook in the kitchen. However, our caterers, Ludgers, were familiar with the setup and our food was nice and hot., Just a note, if you are interested in booking the mansion you should get your date in early as the Tulsa garden clubs have first choice on their dates. Overall, the staff at the Mansion was extremely accommodating and we had a beautiful wedding.

The Mansion at Woodward Park's reply:

Thank you for this useful feedback for our future brides and grooms! It was a genuine pleasure to be a part of your special day, and we hope to see you in the park for many more milestones and memories to come!

Tiffany A.

Married on 02/22/2022

100% Awesome

This was the perfect place and people. They truly made my 20th wedding renewal magical. Leona and staff were amazing to work with and made sure everything was perfect in everyway.

+ 5

photos

Tami U.

Married on 05/30/2021

Absolutely hands down best venue for our wedding! Leona was the best along with her staff!

Leona made our day absolutely special by allowing the Mansion to feel like our home!

Are you interested?

Send a message

Julie

Married on 09/07/2019

I mean, it's gorgeous...

Loved the mansion, and loved working with Cristen! Our first visit she gave us a full tour and told us some of the history of the mansion. She was extremely responsive leading up to our day, and helped us really think through how to set everything up. We also ended up renting the Travis Room at the Tulsa Historical Society so we had a super smooth transition between ceremony (Travis) and reception (TGC), and used the bridal suite the morning of. We got so many compliments on the venue, and it was the perfect size for our event!

Morgan

Married on 03/31/2019

I didn't end up booking the Mansion for my wedding, but the venue was at the top of my list. Cristen explained and showed us all the available areas of the Mansion and the Garden Center. Cristen even helped us pick out which rooms and areas of the Mansion and the Garden Center we would want to rent and added up all the prices for us. And Oh My Gosh!!! The pricing is so affordable for such a beautiful, historic venue.
The main reason I didn't choose the Mansion was because I am disabled and the property is spread out and includes a lot of stairs. It was a personal chronic illness issue that had nothing to do with the venue.
Cristen wasn't trying to upsell anything and she wasn't pushy at all. She really cares about making yf
If you are on the hunt for a great venue, definitely check out the Mansion & the Garden Center.

The Mansion at Woodward Park's reply:

Thank you so much, Morgan!! You are such a dear woman and I am so excited for you to have such a happy wedding day. I know you've found the perfect venue and I couldn't be more excited for you to have a comfortable and enjoyable day; that's what it's all about: CELEBRATING YOU AND YOUR LOVE!!! Thank you for your kind words- I am so happy to have met you! -Cristen

Hayden

Married on 08/04/2018

We had an indoor ceremony and reception at the Mansion at Woodward Park at the beginning of August, and everything was perfect! Cristen worked with us so much over an entire year, as we booked the venue in August 2017. My husband and I were doing all of the planning from our home in Los Angeles, and she was always on top of replying to my countless emails asking questions and double-checking information! She also worked with us several times for in person meetings when we were visiting Oklahoma to see family or do more planning. Cristen made sure the set up provided by the staff was exactly what we needed and wanted, and even though we had to do a lot of the rentals and decorations set up ourselves (bridal party and family), we had amazing vendors who helped up with set up and tear down so everything came together like clockwork! She made the process so smooth and easy, and I'm so happy we booked the Garden Center not only for how beautiful it is and the amazing pictures we now have, but mostly because Cristen is such a rockstar! And I also want to mention our day-of coordinator assigned by the venue, Meredith, because she was incredible. She was so helpful with anything that I needed, that our families needed, or that our vendors needed. She was always nearby, and she was so friendly to everyone and honestly such a joy to have there. I couldn't be happier with our wedding experience at the Mansion at Woodward Park!

The Mansion at Woodward Park's reply:

Hayden!!! You are too kind! I appreciate your thoughtfulness in writing this review and am so grateful that you and Josiah had a positive experience at The Mansion. You were so fun to work with and I'm just happy we got to be a part of your day. I know you two will have many wonderful years ahead. -Cristen

Sonya

Married on 08/06/2016

We held our ceremony and cocktail hour at the Tulsa Garden Center. We used the indoor main floor for an August wedding and it was perfect. We still had beautiful pictures outside before and after the ceremony, but had a beautiful indoor air-conditioning venue for the comfort of the guests. The cocktail hour inside the Garden Center worked out wonderfully as guests could eat and mingle while we were taking pictures. Janet Gaither was our point-of-contact throughout the process and was fabulous with which to work.

Tiffany

Married on 06/04/2016

I love the Tulsa Garden Center! I want to get married all over again. It was the perfect setting for my June wedding, just beautifully romantic. They are so easygoing and helpful. I had an outdoor ceremony and indoor reception. They did everything they could to accommodate my number of guests (roughly 90) and made it flow with ease. I cannot say enough great things about them!!!

Carol

Married on 06/19/2015

Such a beautiful place! Our family thought it would have cost far, far more than it actually did. I was certain I did not want the anxiety of worrying about weather, so I was planning on an indoor wedding until I met Doris - head of the grounds crew. He completely put me at ease that no matter what the weather was like, he & his team would take care of everything. Just be aware, they book up early. We booked them 13 months in advance.

Erika

Married on 08/02/2014

It was a gorgeous venue! There are so many places for great pictures! Janet was very helpful they did what they said they were going to do. I loved it.

Venue is absolutely beautiful.

This has been a favorite spot of ours for years. It was great to host my daughters wedding there and it was an almost perfect night (not the caterer) for the value we were very impressed. The staff was very helpful esp. with the clean up and set up. Perfect with the sunset in the main area. Made it a magical night.

Chelsea

Married on 09/13/2013

Our venue was perfect! It's a gorgeous vintage mansion that makes a perfect background for a wedding! Janet was so sweet and accommodating, any time we needed her she was there to help. I'm looking forward to returning to do our one year pictures here!

Angela

Married on 09/01/2013

My fiance and I felt like we had searched high & low for the perfect wedding venue in Tulsa when we finally visited the Tulsa Garden Center. It was like a cliche moment in a movie, I kid you not, when we both looked at eachother and just knew "This is it".

I couldn't be happier that our "This is it" turned out to be such a joy to plan and base our entire day around. Janet Gaither, the Event Coordinator, was a pleasure to work with, and put with my many phonecalls, emails, and impromptu visits delightfully. She helped us envision our ceremony & reception as well as made sure each table and chair (set up by the Garden Center) was exactly as we planned.

Overall I have to say my favorite aspect of getting married at The Tulsa Garden Center are now looking back at the photos. From our outdoor Ceremony, to Pictures in the Gardens, and the reception inside the Mansion. The Garden Center made for the most gorgeous backdrop for the happiest day of our life :)

Merrilee

Married on 07/20/2013

We held our wedding reception at The Tulsa Garden Center on July 20, 2013.

From the moment we were engaged, we knew that we wanted our reception to be at the Garden Center. Having grown up in Tulsa, I have always loved the Garden Center, it is one of the most beautiful landmarks in Tulsa. We were ecstatic that the venue was available on our wedding date, we booked it immediately.

Janet was an absolute joy to work with – she was professional, friendly, flexible and quick to respond. She was also helpful in providing recommendations on various types of vendors to follow up with for items needed for our reception.

Our reception was beautiful and perfect, there is nothing that we would have changed. We are so happy that our reception was at The Tulsa Garden Center.


This venue is beautiful. The outdoor ceremony area, combined with the indoor space is perfect for a wedding. Our wedding occurred in August, so it was just too hot for our ceremony outdoors. However, we loved the segmented rooms with a different feel in each one. The main room where the guests are seated could use a facelift. Overall, great place!

Teri

Married on 10/30/2010

I got married in a beautiful outside ceremony on Oct. 30th at the Garden Center and it was absolutely PERFECT! We did the outside ceremony on the steps of the historic mansion and our reception in the auditorium. The convenience of having both ceremony and reception in one place was a blessing and made the transition smooth. Everyone at the Garden Center was prompt, professional and courteous. Everything went off without a hitch. I loved the time I was given to do rehearsal, set up for reception and even the smallest details that I didn't think of were not forgotten by the staff at the Garden Center who helped make it a more than perfect day. I highly recommend the Garden Center!!!
Teri & Russell White
10/30/10

Jennifer

Married on 09/10/2016

The Garden Center was an amazing place for our reception this past September. There was definitely an issue with dates--we weren't particular, so we just took the last date that they had, but Janet (event planner at the Garden Center) said that it was the only date for a month in either direction. We'd originally planned on a smaller wedding so didn't book the large room on the north side, but Janet worked with us when our wedding exceeded original expectations. Only thing to know is there are some requirements about vendors, including a required vendor for linens. Didn't matter to us, but worth knowing before you go in.

Karem

Married on 04/28/2012

Stunning venue, received tons of compliments from guests. Janet was easy to work with and went out of her way to be flexible so that I could have a stress free wedding day. A little pricey, but the money goes to a good cause, and well worth it. I highly recommend!

Gorgeous venue. Have been here several times. The staff is always friendly.

Sharlene R.

Married on 05/07/2021

Beautiful Space in a beautiful setting!

It was the perfect space for our wedding of 50-60 guests! Beautiful space, and everyone was so accommodating and helpful

Molly D.

Married on 06/05/2020

They made the day beautiful and easy!

Getting married toward the beginning of the pandemic seemed an almost impossible task, however the team at the Tulsa Garden Center/The Mansion at Woodward Park went above and beyond to be accommodating (all while following regulations). They made the day flow effortlessly, if there were any hiccups I certainly had no idea. The communication leading up to our big day was seamless, which put me at ease. The venue is beautiful in and of itself but the people there are even more so! We felt so honored to have married at such an iconic location and will forever have a place to visit.

The Mansion at Woodward Park's reply:

Thank you for sharing your experience and we are thrilled you had a memorable day. We enjoyed helping you celebrate and hope to see you in the future!

We had our wedding reception at the Tulsa Garden center for about 60 guests. The space and location were perfect for an intimate wedding with a smaller group of guests. Janet Gather at the Garden Center is very organized and professional, however make sure you coordinate with her your on-site visits/wedding planning in the facility. She is NOT happy when you show up without an appointment. I cannot blame her.
One negative is that the Garden Center requires 'security' present during the reception event for the facility. I imagined a security guard. In reality this was two random older people who sat at the reception desk of the facility. To be honest, they struck me as a cranky older couple. I had an event planner who kept the entire reception flow on track. I thought it was poor form when one of the security individuals came up to me on the dance floor to clarify I knew it was almost time for us to leave. I had a wedding coordinator who was on top of everything, and I felt it wasn't professional of them to go directly to the bride/groom, especially when we were out enjoying our night. Other than this, the facility is beautiful and historic and a great space to celebrate a wedding.

Leta

Married on 05/17/2014

Janet at the Tulsa Garden Center is great to work with for a special event.

Kelina

Married on 08/07/2010

We had our wedding in the rose garden. They didn't provide seating and you could only place chairs on gravel or cement areas which kind of limits where you have your ceremony. The lady who booked us didn't give us a receipt so we had to go back later and get one, Overall, it was a good site.

The Mansion at Woodward Park's reply:

Rose Garden weddings are Not Tulsa Garden Center weddings. Ceremonies are permitted in Woodward Park by Park Permit only.
No chairs are provided.
Are you interested?
Send a message