79 Reviews
Recommended by 97% of couples
Quality of service

4.8 out of 5 rating

Average response time

4.9 out of 5 rating

Professionalism

4.9 out of 5 rating

Value

4.8 out of 5 rating

Flexibility

4.9 out of 5 rating
24 User photos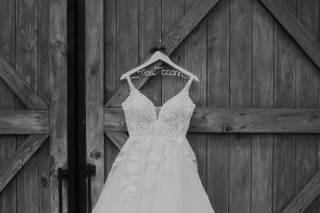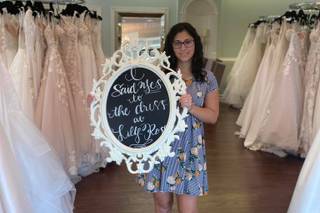 + 20

photos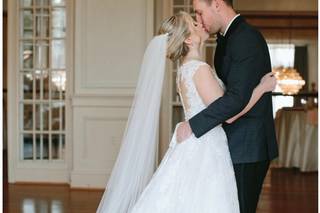 Featured

Olivia W.

Married on 10/17/2020

Amazing experience, great staff!

Kathryn was my consultant and she was just wonderful! My first appointment I went alone so I could get a better sense of what I wanted before my family/friends traveled down and Kathryn was super helpful at picking things out that matched all the different styles on my pinterest board. For my second appointment, I had narrowed down the style and designer I liked and she helped pull different dresses based off my feedback. I was down to a couple dresses that I was between, but not 100% sure about yet and at the very end she had me wait for a dress that had been in another bride's dressing room that she thought was a perfect mix of my final picks. It ended up being absolutely perfect! I never would have found that dress if she hadn't taken my feedback and had known about the inventory! She also picked out the perfect veil that looked like it was made for the dress! I never would have thought to wear a veil until she brought it out and it ended up being amazing! Overall the experience was great and I never felt pressured to buy anything or rush, Kathryn encouraged me to take my time and try on as many dresses I needed to no matter how many appointments I needed. It's a very personalized, friendly experience and I love the boutique atmosphere. I highly recommend the Lily Rose to any future brides, they make dress shopping so wonderful!

The Lily Rose's reply:

Hey Olivia,
Thank you so much for your review! We greatly appreciate it. I am so glad you had a wonderful experience at the store. It was a pleasure to work with you and help you find your wedding dress!!!! Congratulations on the recent wedding!!!!
Best,
Kathryn

Ashley M.

Married on 05/30/2021

Found my dream dress!

I was super stressed going into wedding dress shopping, but as soon as I arrived at Lily Rose, the staff was so kind and helped me feel better. I found my dream dress after trying on only a few dresses. Alissa was so helpful and made my experience so pleasant! Highly recommend looking for your wedding dress at Lily Rose!

The Lily Rose's reply:

Thank you for the review Ashley!!! We are delighted you had a wonderful experience shopping for your wedding dress! Congratulations! It looks like you had a beautiful wedding day!
Best,
Lily Rose Team

Maria C.

Married on 05/10/2021

The perfect personalized experience to find your dress!


The perfect place to find the dress for You!
After going to a couple or large wedding dress stores, I was able to book a last minute appointment at Lily Rose. Bonnie was my consultant and super super helpful in helping me find my dress. I never felt pressured to purchase or rushed to get me and my party out of there. The staff as a whole were very professional and clearly enjoy their work. My mother and my mother in law accompanied me and wanted me to try on all sorts of styles. We arrived early to our appointment and were allowed to browse and look at the dresses. Afterwards Bonnie pulled the ones I wanted to try on, the dressing room was very spacious and had a large mirror that allowed me to get the first look of how the dress fit. I am so glad I called to booked an appointment. My mother and bridesmaids were also able to look at styles and try items on. I felt cared for and genuinely pampered! I whole heartily recommend to all brides who want a centered and wholesome experience!


Are you interested?

Send a message

Ranen J.

Married on 04/10/2021

Yes to the Dress!

Lily Rose Bridal is a fantastic choice for a wedding dress boutique. They have a great selection of dresses and have excellent customer service. They went above and beyond to make wedding dress shopping fun and stress free.

Emily P.

Married on 12/19/2020

Amazing experience!!!

I stumbled upon this store while I was trying to find a certain designer. I didn't have an appointment and they didn't have the dress that I came for, but the employees worked me in and were just so amazing the entire time. They took such great care of me and made sure that I had everything I needed and that I loved everything about my dress! Highly, highly, HIGHLY recommend!!

Taylor S.

Married on 11/23/2019

Beautiful Dresses and Great Service!

We ordered Bridesmaid dresses from The Lily Rose Bridal and it was such a wonderful experience! They had the dress in a different color for me to try on for my girls and helped me with ordering it in each of their sizes in the color I wanted. They were so helpful and kept me informed of all the details and when the dresses arrived, when the girls picked them up, etc. They have a very large selection of Wedding Dresses and Bridesmaid Dresses and I was so glad we were able to get our bridesmaid dresses there! Absolutely beautiful with amazing customer service! Highly recommend them for all brides!

Meghan

Married on 10/05/2019

Found my Dream Dress

Lily Rose Bridal was a great bridal boutique and made my wedding dress shopping experience perfect. Everyone there was so friendly and really listened to my wants and desires. I found my dream Hayley Paige dress and said yes at Lily Rose.

Taylor

Married on 08/24/2019

Go here first!

The Lily Rose was the second store I went to. It was a little smaller than the first store, but I liked MANY, MANY more gowns here. I also cancelled my other appointments after going to The Lily Rose. Bonnie was my consultant and she was AWESOME. The experience was just relaxed enough, but still structured enough to make sure I found my perfect dress. After my appointment, I was torn between 2 dresses, and called Bonnie that night. She promptly returned my call and managed to get me in the next day. She knows the inventory like the back of her hand, and was able to answer any and all questions and make great recommendations on accessories. Don't waste time anywhere else, go here first!

Sarah

Married on 07/13/2019

Excellent experience

The staff at Lily Rose was amazing. They made the process of finding a wedding dress so much fun and helped me to pick out the perfect dress. They were also great when it came to selecting a mother of the bride dress, making my mom feel more comfortable than she did anywhere else. What a great bridal salon!

Monica

Married on 06/29/2019

Best experience...Kathryn is great!!

I had a specific dress in mind and called all the bridal salons in Charlotte area that carriers that designer (dress was a few seasons old and not in salons). The Lily Rose is the only salon that said we don't have that dress, but we have many others that you could possibly love and if you still want to try that particular dress we'll order a loaner. I was blown away by that customer service. The dress I picked was the first one I spotted on the rack and first one I wanted to try on. I went ahead and tried on more to confirm. Kathryn was so patient, never pushing me for a decision. After I said yes to the dress, she selected the most perfect veil, sash and hair piece. My bridal look was so me, she absolutely nailed in. Months later when my dress came in, she remembered it was mine and they knew me when I came back to pick it up. I think a bridal gown is one of the biggest wedding decisions and can be potentially difficult but they made it so enjoyable and easy (it was the only salon I visited!). I would recommend the Lily Rose to any bride and a few of my friends have already said that's where they'll go when it's time to pick out their dress.

+ 5

photos

Amanda

Married on 06/08/2019

Beautiful Wedding Gowns

After looking at several other bridal boutiques, I finally found my dream dress at The Lily Rose! They had so many beautiful dresses to choose from, but I knew as soon as a tried on my dress that it was the one! It was everything that I dreamed of in a dress!
The girls there were incredibly helpful. They let me, my mom, and my matron of honor look around the store and pick out dresses that we liked. I picked out one dress that I really liked and the sales associate got an idea of my style and guided me in the right direction. I am a very small person so she helped clip the dresses to make it fit more appropriately, giving me a much better idea of how a dress my size would look. I ended up buying the first dress that I tried on. The sales associated measured me, and for the first time in my life, the dress fit so perfectly that it did not require any alterations! I was honestly expecting to spend several hundred on alterations, so I was very happy that it fit! All that needed to be added was a bustle.
I felt so beautiful in my wedding dress on our wedding day. I also received SO many complements on the dress!
For a wonderful variety of wedding dresses, I would highly recommend trying The Lily Rose!


+ 2

photos

Stevie

Married on 05/18/2019

I had the best bridal experience at The Lily Rose a few days ago. I think the lady helping me was Kathryn and she was so sweet and very helpful. She made me very comfortable. And the entire staff there is just so nice and welcoming. The boutique itself is very cute and has a ton of beautiful dresses. I HIGHLY recommend The Lily Rose.

Brittany

Married on 03/23/2019

Fantastic bridal salon!

I had a great experience while picking my wedding dress at The Lily Rose. I worked with Kathryn, who was super sweet and helpful (and patient!). I didn't have a great idea of what I wanted, but she did a great job of helping me pick out a variety of dresses within my budget without being pushy or overbearing. They were super professional, and everything went smoothly with ordering / receiving my dress. They have a ton of dresses to choose from! I LOVED the dress that I picked out and got so many compliments on it. I'd highly recommend them to any bride-to-be!

Sarah

Married on 10/20/2018

So I honestly came to The Lily Rose with the mindset that I was not going to find the dress of my dress because I was "too picky" and "too complicated" I actually had an appointment to meet with a custom dress maker the weekend after. However, to my and my entourages' surprise, I FOUND MY DRESS! It was completely opposite than what I came in looking for. I literally looked at my consultant Bonnie and said "this is wrong, this wasn't supposed to happen". But it was fabulous. She made my experience amazing. I don't want to put any other boutiques down, but the very first one I went to was so impersonal and I left there feeling hideous, like a burden, and angry. The Lily Rose provides you with a luxury experience in a relaxed environment. I would totally recommend to anyone. So crazy that the very last dress I tried on of my appointment was the one that was meant for me. Don't give up ladies! The Lily Rose has got you covered :)

Cori

Married on 09/22/2018

I can't express how satisfied I was, still am, with The Lily Rose! I walked in with my matron of honor having no idea they were by appointment and they took us in and hosted us without question. Came across this one dress that was all over my Pinterest and fell in love. We scheduled a follow up appointment with all my bridesmaids and my mom, where we tried on several dresses and Bonnie, my AMAZING sales associate suggested this one, that covered my back more but was almost identical in style to my top favorite, turned out to be THE dress. I got amazing pricing and my bridesmaids found a dress they all fell in love with too. Couldn't have asked for a better experience, I will definitely be back for the mother of the bride dress and more!

Ashley

Married on 09/01/2018

This place is amazing! I booked an appointment because several friends recommended them. It's the perfect size shop where you have plenty of options but aren't ridiculously overwhelmed. The staff truly make the experience though. It's very low key with no pressure but they make you
feel so comfortable that it makes you want to commit! The zipper was broken on the dress I liked and they gave me a MASSIVE discount which solidified my love for the dress and the store!!! You gotta check them out!!!

Haven

Married on 06/02/2018

Lily Rose was incredible from the very start. This was the first boutique I went to and my dress was the second one I tried on! I still wanted to go around to other boutiques and try on just to be sure. When we did this, we realized how amazing Lily Rose was in all areas. From the customer service Marissa (who has now since moved) provided and the atmosphere on top of the amazing selection of dresses - I was definitely sold. I ordered my dress in May of 2017 and It arrived in early November which was faster than expected.

The ONLY thing I would recommend to others is to not use their in store seamstress. She did a great job on my dress so I didn't let that affect my overall score rating for Lily Rose but she is not personable at all. In fact she made every fitting stressful and miserable for me. The Lily Rose staff even forewarned me of her flat personality ahead of time so I didn't take it personal but it definitely wasn't pleasant for my wedding dress fittings which still are big milestones and should be fun! She was also very expensive, so now that it's said and done I do wish I would have gotten that work done somewhere else.

But The Lily Rose Staff are amazing, responsive, and provide all around superb customer service. I LOVE my dress and am so happy with my experience with them.

Kristi

Married on 06/02/2018

Why are you still reading this review? What you SHOULD be doing is driving to Lily Rose (and not reading this while driving!) I found Lily Rose after I had already found my dream dress, but I was blown away by their beautiful store, WONDERFUL personalities (seriously - some of the sweetest, most supportive, and bubbly women EVER!), and all of the options their store held. I ended up having each of my bridesmaids (6 total - 4 from out of town) travel to this store to have their "Say yes to the dress" moment (1/1) picking out their dresses. They are so important to me, so I wanted them to have the BEST experience ever picking out their bridesmaid dresses, and Lily Rose Bridal provided that EVERY time. They have a separate room for bridesmaid dresses and mother of the bride dresses, and it was always so much fun working with the consultant helping us (We worked with Merissa mostly, but had the wonderful opportunity to also interact some with Jennifer, Bonnie, & Julie), and it was actually very bittersweet at the final appointment to know my saturday afternoons at Lily Rose were coming to a close! Every single appointment, no matter how busy they were, we were taken care of. Merissa also was really great at listening to what the girls liked about each dresses, and would suggest dresses... and I've got to say a lot of the girls ended up falling in love with the one Merissa pulled! The women at this store are so gifted at what they do - had my fiance allowed I would have been purchasing a second wedding gown from them, because they had such a huge selection of beautiful wedding gowns for all body shapes, sizes, and styles, and always provided such exceptional service. So if you're looking for an exceptional experience finding your dream wedding gown, flattering bridesmaid dresses for your best girls, or an elegant dress for your doting mother for the big day - - get in the car and drive to Lily Rose!

Susan

Married on 05/19/2018

Bonnie was the best bridal consultant we could ask for. She made every effort to provide a worry free and enjoyable experience for my daughter, her bridesmaids and mother of the bride. We traveled several times from SC to NC, about 2 hours each way, because we trusted Bonnie and The Lily Rose team to make our choices easy and shopping fun. They have a beautiful store with first class employees who offer to go out of their way to meet the needs of their customers. We highly recommend The Lily Rose and sweet Bonnie who worked so hard for our bride and bridal party. Thank you Ladies :)

Stephanie

Married on 11/25/2017

I loved Lily Rose! I worked with Bonnie and she was excellent! I got both my dress and my bridesmaids dress from her and I would change nothing about my experience.

Glenda

Married on 11/04/2017

I am so happy that I ended up getting my dress from The Lily Rose! After going to J Major's in Dilworth (good experience!), New York Bride (not great), and Anjolique (terrible experience!), I went to The Lily Rose. The service I received was more than I ever could have asked for. I purchased the Princia gown from Pronovias, along with the extended vail, in Spanish lace. Alterations were timed great; and the seamstress, Sharon Wallace, was wonderful to work with. All in all, this is a fantastic boutique, with wonderful consultants, at a fantastic value!

Sarah

Married on 10/21/2017

My experience at The Lily Rose a few weeks back was amazing! From the moment my mom, sister and I walked in, I felt this would be the place that I'd find my dress. I had been to three other bridal shops near Raleigh (where I live), and found a few gowns where the price was either too high or the sales women were too pushy.

I really appreciated how laid back and understanding the manager Bonnie was to my situation, (engaged in April, with the wedding in October). She was focused on making sure my dress matched my unique sense of style. I ended up going with the second dress I tried on, that my sister liked. She also found her bridesmaid dress here too, and took it home right off the rack! There are not enough words to describe how happy I felt shopping here and what a perfect day this was for me. Thank you Bonnie and thank you Lily Rose for helping me find my dream dress!!! I know I'm going to feel gorgeous when the big day gets here!!

Katie

Married on 10/01/2017

The Lily Rose made my whole wedding dress shopping experience absolutely amazing, from beginning to end. When I went in to look for my dress I didn't feel pressured or rushed at all, and my consultant was spectacular. She helped me as I tried on probably 20 dresses. The salon wasn't busy so I definitely felt like all attention was on me, which was a nice bonus. I also got my alterations done here and it was a quick and easy process. Can't recommend this salon enough!

Christina

Married on 09/30/2017

The Lily Rose is a great place to shop for your dress. It's a gorgeous bridal salon and they offer wedding dresses and bridesmaids dresses. I tried on close to 20 dresses at other salons. I said yes to the dress at the Lily Rose.

I purchased both my mother of bride and mother of groom dresses from here. I was more than pleased with every aspect of the experience each time!
Are you interested?
Send a message