Reviews
4.9 out of 5 rating
Quality of service

4.9 out of 5 rating

Average response time

4.9 out of 5 rating

Professionalism

4.9 out of 5 rating

Value

4.9 out of 5 rating

Flexibility

4.9 out of 5 rating
98%
Recommended by couples
33 User photos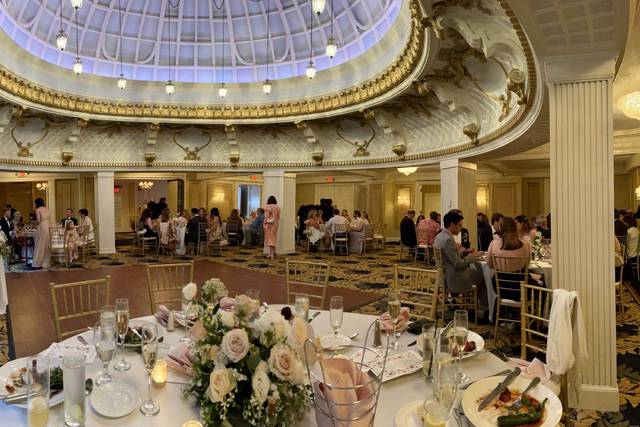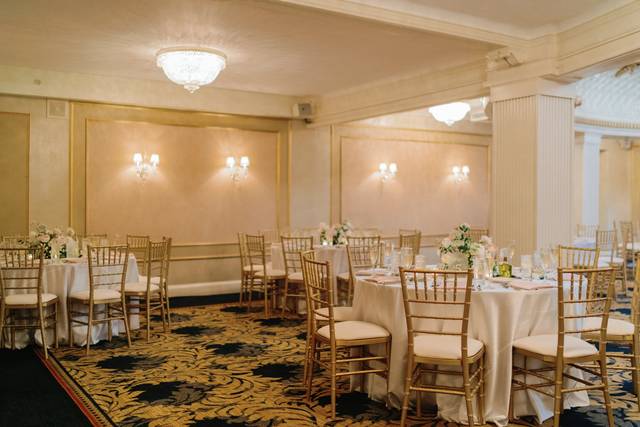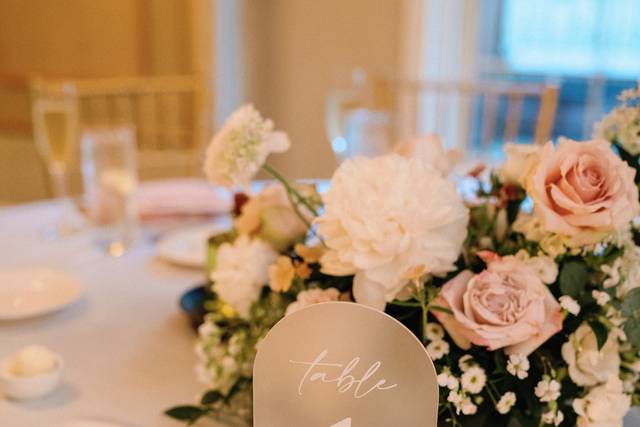 + 29

photos
Featured

David C.

Married on 04/28/2023

A truly magical wedding experience

The Lenox provided the best wedding we could have imagined. Period.

Neither of us live in New England anymore, but we knew Boston had to be where we tied the knot. Planning your wedding remotely makes it harder, right? Not when you choose the exceptional team at the Lenox.

We'd never heard of the hotel before. Thank god it surfaced in our research. It's literally like finding a pure diamond hiding in a stack of shiny jewels. Given the shockingly reasonable price (that includes taxes baked in), food selection, photos of the venue, perks offered in its wedding package, and ideal location in the city center, it didn't take long for us to choose the Lenox. It would prove one of the best decisions we ever made, not far behind marrying each other.

We didn't hire a wedding planner, but it didn't matter, because Alison at the Lenox ran the show from start to finish. Alison is a rock star who deserves to be paid like one. We were so lucky to have her as our coordinator. Never mind that she's got scores of other weddings to plan each year. It had no effect on her attention to detail, or the level of care she gave us.

The Lenox made it easy to customize our wedding. We got to adjust the menu (adding an entree option, reducing appetizer and hors d'oeuvres options) to reduce per-person costs while still providing guests with great food options. They accommodated every special feature we requested. They even made a room available for one of our guests to pump breast milk during the wedding festivities!

We got our first in-person look at the Lenox during the menu tasting, and they instantly made us feel special. The tasting was in a private room, with our names announced on a gold plaque at the door. The whole setup was classy, from our servers' attire to the plating arrangements to the wine service. The food was delicious, down to the vegan risotto they made special for my mother-in-law. And Alison was on point, demonstrating the professionalism, warmth, and precision that would show up again on the wedding weekend.

That still didn't prepare us for how incredible the Lenox turned out to be on the wedding weekend. Alison asked us for a list of VIPs staying at the hotel. (We chose our parents.) When we arrived, we discovered they were upgraded to corner rooms! Moreover, staying at the Lenox is like getting to lounge and stroll around your own urban castle for the weekend. It is the definition of elegance: From the comfy beds with welcome bags of chocolate truffles, to the bathrobes and slippers waiting in the closet, to the awesome window views of Back Bay, to the stately lobby that became our social center. The service is high-touch, right down to the valets who never fail to greet you at the door. They even gifted teddy bears to my niece and nephew!

The Lenox made it easy for us to store and organize all the wedding decor that we brought. They even helped bring in the giant box of flowers we brought back from the rehearsal dinner, stored them in the banquet fridge, and found a way to incorporate them into the reception the next night! Credit again to Alison. She was amazing the whole time. She ran an efficient rehearsal, worked easily with our wedding party, and took our packed schedule for the wedding day and kept everything on time. We were most grateful for how the Lenox team made us feel at home. A perfect example: On the wedding night, Alison somehow found time to leave a congratulatory note in our room, accompanied by a picture she took of us that same night!

The Lenox is also generous with its facilities. Both the ceremony and reception are in the Dome Room, a premier event space. It's a beautiful setting, was just the right size for our party of 120, and dancing under the dome is a magical experience. Our wedding party also had free use of the Board Room, which proved a great place to take an afternoon siesta and get ready. And the cherry on top: The newlyweds get the exclusive privilege of going to the rooftop (under the iconic Lenox sign) for photos. You get a sweeping view of Boston up there, and a feeling of serenity.

Oh, and we can't forget the food! It's fantastic. We had chicken and short rib options for the carnivores, both of which were hits. The biggest star was the wild mushroom ravioli, one of the best raviolis we've ever tasted. We highly recommend it. Perhaps the biggest food perk is that when you book a Lenox wedding, the wedding cake is included - provided by Dessert Works, a local bakery that gets its own 5-star review from us.

The verdict is in: The Lenox nailed it. We had a world-class experience. This is a premium venue with premium service, and for weddings they clearly have the premium playbook.

Olivia A.

Married on 06/17/2023

A Perfect June Wedding at The Lenox Hotel

We held our wedding at The Lenox Hotel and it was the best decision ever!

From the initial tour of the venue, Mara Payne was beyond incredible to work with. From customizing the design of our menu cards to match our invitations, to ensuring every single guest with a food allergy was taken care of, Mara went above and beyond to make sure everything was taken care of and no detail was forgotten.

Having so many things included was a huge perk. The Lenox Hotel's food is amazing- and we loved our private tasting picking everything out! We loved how easy it was to customize menu offerings to our liking and add additional options. Table linens and chairs, menu cards, table numbers, the hotel suite for the night of the wedding, the wedding cake, even a piano player for cocktail hour are all included in the wedding package.

Dessert Works, the wedding cake provider, was absolutely amazing to work with (and the cake was delicious!) We also had Ben & Jerry's bring in a sundae station which was so much fun.

Mara helped us feel so at ease during planning that we ended up also hosting our welcome party downstairs at City Table- another incredibly seamless event with great food and drinks!

The Dome Room is a beautiful space. It did rain the day of our wedding which made photo locations a bit tricky, as the surrounding area is largely uncovered. However, we made it work in large part thanks to the recommendations from Mara on photo locations.

Apart from the logistics/planning which were all seamless- the location in Boston, the rooms, the food and drinks, and quality of service are unmatched. City All our friends and family that stayed at The Lenox raved about their experience staying here. We feel like we struck gold finding the Lenox and hosting our wedding here- and advise any couples-to-be in Boston to choose it for their special day- you truly won't regret it!

Jennie G.

Married on 06/25/2022

An absolutely dream!

Working with the Lenox Hotel for our wedding was nothing short of a dream! Alison made everything perfect, stress-free and so, so much fun from the start of our wedding planning to the end of our post-wedding brunch! Every detail was perfect - Alison was extremely communicative and always made us feel so special and at ease. We planned our rehearsal dinner at Sólás, wedding day, and post wedding brunch all at the Lenox and everything was perfect! Our guests repeatedly came up to us throughout the weekend telling us how much they LOVED the Lenox, how beautiful the venue is, how kind everyone was, and how amazing all of food and beverages were! I highly, highly recommend the Lenox to anyone planning a wedding! It is so fun to have your wedding at the most beautiful, romantic and classy venue and then walk upstairs to the most beautiful hotel room stay you've ever seen! The wedding package made the whole wedding planning process seamless and so, so much fun! Thank you Alison and The Lenox for EVERYTHING!! We'll remember the best day of our lives forever and ever

Are you interested?

Send a message

Samantha C.

Married on 10/31/2021

Beautiful Hotel and Helpful Planner

My husband and I got married at The Lenox Hotel on Halloween 2021. The planning of the wedding was made so much easier by our wedding coordinator Taylor Marshall-Lima. She was so helpful, sweet, and incredibly responsive. Then it came to our wedding day and the hotel was just perfect. We opted to have all of our out of town guests stay there, we got married in the dome room, had dinner at City Table, and then my husband and I stayed in a suite there that night. I would not have had it any other way. It was so convenient, and everything was well planned and organized.

One of the best and most convenient things was the ability to choose a custom package with the hotel for the wedding that best suited our needs. In our case it was the Elopement package which allowed for us to have the small and intimate wedding of our dreams without paying a fortune.

Nicole C.

Married on 10/01/2021

Thoughtful little things; Incredible city venues; Thoughtful coordinator!

I'm a Boston wedding photographer that wanted to chime in and give her 2 cents. The Lenox is a joy to photograph in, especially their beautiful rooms and the rooftop. I love working with Taylor, who is always on top of her game.

In a world where weddings are a little crazy right now, The Lenox handles them safely and elegantly. Thanks so much. We all appreciate you, Lenox Hotel! :)

Elizabeth

Married on 04/05/2021

Extraordinary, exceeded all expectations

The Lenox has exceeded my expectations beyond what I ever imagined. Planning and organizing a wedding can be a stress-inducing endeavor, but Alison (the wedding coordinator) made it seamless on all accounts. She is my hero and I cannot express how appreciative I am to her and her team for making our big day spectacular. If you're looking for a Boston venue that will cater to your every needs, provide the highest level of customer service and deliver top notch results, do not look any further, The Lenox is your venue. Thank you Alison, you are the very best.

Kimberly L.

Married on 07/12/2020

Glamour, Beauty, and the best City Pictures

Alison Majka and staff from The Lenox Hotel were a blessing in the most challenging of times and we are forever grateful for their generosity and unwavering support. We had issues with our original venue due to covid19 and were in a panic 1 month leading up to our original date. We were hoping to down size to a minimony but had resigned myself that we likely needed to cancel completely. My now husband secretly reached out to The Lenox Hotel and together they were able to surprise me with the most spectacular wedding; even better than I had hoped!

We appreciated their transparency; always keeping us informed of current city guidelines and updates; even offering alternative solutions if small changes arose. You truly made us feel so special throughout the planning process.

Couples may have booked their weddings at The Lenox in the past for the boutique glamour; the location does after all offer spectacular views inside and out. However, I hope our wedding experience serves as a shining example of the truly top notch service and care provided from start to finish; even during a global pandemic! Their creativity with repurposing the flowers and candles from our ceremony to define a dance floor perfectly highlighted their excellent service!

We feel so lucky to have had our wedding with The Lenox Hotel! Alison surprised us with welcome baskets (with full family sized treats!) and printed pictures that were ready in our suite at the end of the night. It was these thoughtful gestures that just made me want to cry in gratitude!

We also loved our dining experience as Solas; conveniently connected to The Lenox. They were all so attentive; no one was ever waiting for a thing; right down to assisting with the cake cutting and boxing!

We wish we could do it all again! We will for sure plan a return trip back for our first anniversary; if not sooner!


+ 3

photos

Kim H.

Married on 10/19/2019

Most Beautiful Ballroom in Boston

My husband and I looked at a majority of the Boston hotels with ballrooms available for our wedding date. Immediately upon walking into the Dome Room, we were wowed by the beautiful detail of the ceiling. It was the only ballroom in my opinion that was both intricately beautiful and intimate. There are so many advantages to getting married and I've listed a few below:
1. You will be the only wedding at the venue that day.
2. The Lenox package is the best value in the city with so many nice add ons. They price all taxes and fees in for complete transparency. Also, many venues offer inclusions such as the chivari chairs but the Lenox essentially offers you a credit to rent from Peak. This was huge for us as I wanted to create my own unique tablescape and we didn't lose out on the value of the package by upgrading, we just had to pay the upcharge.
3. Taylor Marshall was absolutely wonderful to work with. We also had a wedding planning (Mandy Connor at Hummingbird Bridal) so we didn't have to go through all the details personally with her but whenever we did have a question, Taylor got back to us quickly with accurate information.
4. The food is amazing and they are willing to work with you to customize the menu. We had several gluten free guests and this was not a problem. We also were able to do fun things like a make your own cannoli bar!



Jaimee T.

Married on 10/13/2019

Far exceeded my expectations!!!

I don't know where to even begin. Upon first meeting Taylor M. with the Catering Office, David and I knew she was going to be great and she far exceeded our expectations. We love the Lenox as that is where we had our first date so that made sense to have our wedding there. The entire process was seemless thanks to Taylor. The Lenox staff did an amazing job as well on the actual day.

Teri

Married on 09/15/2018

Just the best in every area no complaints at all.

Rebecca

Married on 08/11/2018

Cannot say enough good things. They thought of everything and the service was so attentive from the event staff to the valet. Timing and flow of the day was so smooth. The hotel is absolutely gorgeous. Taylor, our coordinator made my whole family feel comfortable and welcome and she remained so calm when last minute changes came up. Didn't faze her at all. She was so great to work with the entire planning process. And then we got both her and Jenn, another coordinator on the night of our wedding and the two were just a dream team on their A Game. The best decision we made was to have our wedding at The Lenox!

Jacqueline

Married on 09/03/2017

We are grateful we chose to have our wedding reception at The Lenox Hotel. The Dome Room is beautiful, as is the rest of the hotel. The staff at The Lenox was superb, and it was very easy working with Taylor Marshall, who helped us throughout the entire process down to every last detail. She answered so many of my questions via e-mail and was very helpful. The bartender made a special drink just for my mother in law for the wedding night, they upgraded the rooms for both sets of parents at no charge, they made special menu accommodations and even honored special pricing for us. They made it a really enjoyable experience, rather than stressful, and we wish we could experience the day all over again! Aside from the wonderful staff, the venue itself is stunning, and is the perfect place for an intimate wedding of 120 or less. Our 90 guests raved about the raw bar, passed hors d'oeuvres, the salad, and dinner meals. The food was amazing! They also have a lot of details taken care of for you, like table numbers, a card box, and they work with Dessert Works to create your cake (the cake was delicious, too)! We looked at many other venues in and around Boston, and none included so many details and touches like The Lenox did. We are excited to have this special gem of a spot to go back to each year to celebrate!

Erin

Married on 08/26/2017

Having our wedding reception at the Lenox was the best decision we ever made! Alison and her team are incredibly professional, approachable, honest and fun!
One of the things we really appreciated was how transparent and reasonable the pricing was. The per person cost may seem high but it includes EVERYTHING! We weren't hit with all kinds of additional add on costs, taxes, service charges, etc. It was so refreshing. The food...was amazing! Our guests keep talking about it. The honeymoon suite (one night included in your package!) was such a great place to get ready and also to retreat to later. Dessert Works, the Lenox's cake vendor, made a delicious and beautiful cake! Alison's vendor referrals were spot on and appreciated! Our guests loved the central location, and we were able to take advantage of Solas and City Table for a great after-party and Sunday brunch. If you are thinking about a Boston wedding for 150 or less people, this is the place! It's historic and never felt like a hotel wedding. Go take a look, talk to Alison and the team, and I promise you'll look no further! We didn't and we were so happy with our choice!

Alison

Married on 04/01/2017

PERFECT….the word we use to describe our wedding on April 1, 2017 at The Lenox. From our first meeting with Alison, to planning details with Taylor, to the day of with Taylor & Jenn, we can't thank everyone enough for making our day perfect! The Lenox wedding package made planning a breeze, they think of every detail and the cost is all inclusive. We had Frank Baptista as our DJ and Whim Events for flowers which were recommended by The Lenox, knowing they work together as a team was so reassuring. The Lenox is ideal for a Boston wedding, many of our guests commented that they felt so welcome from the minute they arrived throughout their stay; it definitely doesn't feel like a "hotel wedding" and the photos in the dome room and on the roof are priceless!

Lindsay

Married on 03/25/2017

I honestly cannot possibly say enough good things about the Lenox Hotel.

Every single interaction which we had at the hotel exceeded all of our expectations. From our very first visit to the morning after the wedding day every person at the Lenox was such a pleasure to work with and our guests were treated like royalty.

We initially worked with Alison when looking at venues and she was so responsive, accommodating and a pleasure to work with.

Taylor was our wedding coordinator and we absolutely loved her!! She went above and beyond to make sure everything went perfectly and made us feel so comfortable knowing that she had everything covered. I loved every minute of working with Taylor and cannot recommend her highly enough.

The rest of the staff at the Lenox was just as amazing, from all of the doormen, to the valet and front desk staff to every member of the waitstaff we dealt with during the wedding and morning after brunch they all felt like family.

The Lenox honestly made our wedding feel so much more special than it already did as everyone there went so far above and beyond to make sure everything was perfect.

I cannot imagine having had my wedding anywhere else and my only regret is that we can't do it again!!

Heather

Married on 03/11/2017

There are not enough good things to say about the Lenox Hotel, and more importantly, Taylor, the Lenox's amazing Wedding Planner. Due to circumstances beyond our control, my husband and I needed to marry quickly, and Taylor was calm, cool, and collected, when we certainly were not. Taylor literally handles EVERYTHING for you, and is such a pleasure to work with. Taylor was nice enough to share timelines and literature to help guide us through the day, and coordinated with all of our vendors, taking a lot of stress out of the pre-planning process. The Lenox Wedding package really does make the planning process a breeze, as its all inclusive, and does not leave you wondering what financial surprise is headed your way. If you want to enjoy your wedding day and feel confident that everything will be handled, do yourself a favor and have your big event at the Lenox!

Lauren

Married on 01/15/2017

Great hotel and event space. The restaurants/bars in the lobby are also quite good. We booked our wedding here and had a number of our guests stay for multiple days. Everyone raved about the Lenox and I agree! The staff was always super friendly and overly helpful. As far as planning a wedding with them, Taylor was my right-hand lady through it all. She was in contact with me the entire time from when I booked (a year in advance) until after the wedding. She would send me reminders for any wedding tasks. She contacted my other vendors for me to coordinate everything for the day of. She had everything taken care of and I would have gone crazy without her! The Lenox also has a great package for weddings that is all inclusive and definitely beat the competition.

Margaret

Married on 12/17/2016

Choosing The Lenox Hotel was the best decision my husband and I made for our wedding. Taylor, our coordinator, was absolutely amazing. Not only is the hotel gorgeous (and one of our favorites) but the service we received from Taylor and The Lenox throughout the whole process was far beyond our expectations. Taylor was so professional, kind and responsive (I had a lot of questions) throughout the many months leading up to our wedding and she made sure everything went flawlessly on our big day. Literally not a single thing went wrong on the day and my husband and I definitely attribute that to Taylor. She helped us book our rehearsal dinner at City Table too, and even managed to organize some beautiful floral arrangements for me for the tables free of cost when I emailed her last minute saying I forgot (thank you!) She was always there when we needed her and was on point and so helpful reminding us of things to start thinking about as we got closer to the wedding. The food at The Lenox is also fabulous and all of our guests were commenting on how great it was to go to a wedding without "wedding food." The Dome Room where we had our reception is gorgeous and I could not have imagined a better place to have our reception. Another stand out thing about The Lenox is that on your wedding day you have an entire floor to yourself, so the only people on the floor all evening are guests and hotel staff. Honestly, I cannot say enough good things about The Lenox and about Taylor. We could not be happier about how the day went and if you are looking for a reception venue downtown, you have to look at The Lenox. If you book and you are lucky enough to work with Taylor too, I promise your day will be flawless. Thank you again to Taylor and to everyone at the Lenox for making our wedding day the best day ever!

Mindy

Married on 09/10/2016

My husband and I had both our ceremony and reception at The Lenox, and we worked with Taylor Marshall as our Coordinator. We had a unique situation, where we had to change venues 3 months before our wedding day so Taylor had her work cut out for her planning on such short notice. She jumped right on top of things and made it look easy! She was so organized, knowledgeable, professional, and was very quick to respond to emails and phone calls. She's such a sweet, friendly person and so great to work with. My husband and I couldn't have asked for a more beautiful venue for our ceremony and reception. The Dome Room is gorgeous, and the dome really makes the space so much more than your typical hotel function room. The wedding package that you get with The Lenox is comprehensive and their team really takes care of everything for you so you don't have to worry about booking as many outside vendors or doing a ton of stuff yourself. They are also really flexible, and Taylor went above and beyond to accommodate our needs and wishes. She took so much of the stress off of us, as we knew that she would be able to make any last minute guest count changes or other changes work. Having gone through most of planning a wedding at a different venue, I can say with confidence that the catering tasting and food on the day of at The Lenox is unbelievable. Our guests were raving about their meals! The location of the hotel is perfect for photos, as well, with so many great areas being right there (BPL, Marathon finish line, Boylston Street, etc.). The Lenox allows the bride and groom to take photos on the roof at any point throughout the day/evening, which also made for some amazing pictures with the Boston city skyline in the background. Taylor and the rest of the team at The Lenox really went out of their way to make our wedding day amazing, not only with the big things but with the little touches as well. If you choose The Lenox as your venue you won't regret it!

Jennifer

Married on 09/03/2016

I had the pleasure of getting married here over Labor Day weekend. I must say, it went off like a well choreographed symphony. We stayed and got ready in the Judy Garland suite, which was just so pretty and feminine, and was the perfect backdrop for wedding day photos. Alison, the Director of Catering & Events is the John Williams of this Lenox symphony, not one note was out of place. No idea how she stays so calm and organized with all the weddings and events she is planning. All of the food was delicious and got rave reviews. We even did some menu customization and everything was perfect. Alison was also a dream in providing vendor suggestions (photographer, DJ), as I was overwhelmed with choices online. We were planning this wedding from CA and she made it as easy as it could possibly be. (I am Type A and like to control everything and felt perfectly comfortable leaving everything in her hands.) The best part of the weekend was though was the staff. I wish I could name everyone. They do at least one, if not two weddings every weekend in peak season, yet every staff member treated us like we were the king and queen. They went out of their way to make us feel special. My new hubby and I, along with our dog, look forward to spending many more momentous occasions at the Lenox. Thank you to all the team for playing a role in the best Boston wedding weekend ever!

Elizabeth

Married on 08/20/2016

The Lenox was the perfect venue for our wedding reception. We wanted a classic Boston wedding and the Lenox delivered just that! The space is beautiful and all of our guests raved about the food. From the beginning, Alison was so helpful and willing to answer all of my questions and help me make decisions. The reception went off without a hitch. It was a relief not to have to worry about anything during the reception. I knew that Alison and the Lenox staff had it covered. I also appreciated that the Lenox's pricing system included everything for a base rate per person. Most venues we looked at required a spreadsheet to figure how much we'd have to pay. But with the Lenox, I knew exactly what to expect in the end, which was really nice when you're trying to stick to a budget and avoid any surprises.

Courtney

Married on 08/06/2016

Booking the Lenox hotel was literally the greatest thing we did for our wedding!!!
From the day we went to see the space, all the way through our wedding brunch and afterwards the Lenox and their staff including Alison Majka and Taylor Marshall were so friendly, professional, and so personal! They always made us feel like our wedding was the most top priority.
All of our wedding guests raved about the amazing service and the food! My husband and I are foodies so that was very important to us! The private food tasting was so special and allowed us to bring guests - gave us so much more confidence that we made the right decision.
We did an after party at Solas Irish pub which was so much fun and the perfect place to end the night. We had our brunch in the dome room which had a completely different feel and worked so seamlessly for the weekend to wrap up.
I am forever grateful for Taylor Marshall for taking a huge weight off of my shoulders, and assisting with the vendor management. She virtually was a wedding planner even though her title states day of coordinator, she was so much more than that.
Taylor checked in throughout the planning process and made sure everything went seamlessly and made sure I had zero stress the day of my wedding. She set up my suite and my husbands room with our favorite snacks from each other and a little emergency kit- which came in handy for the big day. She even went as far as hand delivering adorable little decorated glasses of rosé while the ladies got ready in my suite. We found a really nice handwritten card from her the next morning, she really made us feel so special. There was a dance number with sunglasses which I left at the hotel by accident, Taylor had taken the liberty of shipping them to me and were there in a few days without me even asking. The service was above and beyond throughout the process and even after!
Needless to say, I would recommend this venue, perfect for headcount of 95 people!


Alyssa

Married on 08/05/2016

My husband and I got married at the Lenox Hotel in August 2016, and if we had to do it again we would choose the Lenox every single time! We cannot thank them enough for our amazing wedding. A friend recommended the Lenox to us after she attended another wedding there. She raved about the food and kept saying how much fun she had. I'm so thankful she told us contact the Lenox because it was a magical place to get married. The dome room is absolutely gorgeous- the photographs do not do it justice. Alison and her team are extraordinary. We would frequently have questions, and we would worry about whether the Lenox could accommodate our requests, but we quickly learned how helpful Alison was. Working with this team in the months, weeks, and days leading to our wedding was very easy. We had far less wedding stress than many couples. Every single time we went to the hotel, we were treated like part of the family. From our first meetings to view the venue, to our tasting, to our rehearsal and wedding, every event was absolutely perfect. Even our guests commented about how welcome they felt at our wedding. Alison is such a talented coordinator. She is so accommodating, warm, and she made us feel so special. The day of our wedding was an absolute dream- Alison, Jenn, and their team did an amazing job setting up the room, the food was FANTASTIC (our 114 guests raved about it), and the staff absolutely went above and beyond to make it so that we had nothing to worry about on the day of wedding. There wasn't a single part of our wedding that did not go as planned, and Alison is a huge part of that! She is incredible at her job. Everyone was extremely friendly, and they even delivered our cards and gifts to our suite and laid out a congratulations message in candy! Almost three months later, our friends and family are still talking about how amazing our wedding was and how much fun they had. The Lenox was an extraordinary venue, and it's absolutely worthy of 5 stars.



Ashley

Married on 06/04/2016

I don't know where to begin! Alison and the staff at the Lenox made us feel comfortable from day one. They are thoughtful, attentive, flexible, and their level of service is unparalled. Our wedding was flawless. Every detail that I wanted, and DIY project I gave them to implement day of, was executed without a hitch. Honestly, there aren't words to describe how perfect the experience was from start to finish. It was a dream wedding and it would not have been possible without Alison, Jenn, and the staff at the Lenox. They are true professionals who clearly love their work. When you spend time with them you feel that love and it is a remarkable thing. Our ceremony was held in the dome room, and then they set the room for the reception while we were in the cocktail space across the hall. The ceremony space was set up beautifully, with intimate seating that mirrored the dome, and a special extra large aisle runner for the trios in our bridal party. The table settings were beautiful, and the team customized our menus (and even some last minute escort cards) to match our invitation suite perfectly. The hotel itself is gorgeous and guests that stayed over were absolutely gushing about their accomodations and the staff. I would be remiss if I didn't mention that the food at our wedding was insanely good. Everything from the cocktail hour appetizers to the entree selections were hot/fresh/flavorful, not "wedding food" at all! Our guests were raving, and texting pictures to friends who couldn't make it to show them what they were missing! Choosing the Lenox and Alison was the best decision we could have made for our day, and I am so deeply happy that we did.

Alicia

Married on 12/19/2015

We cannot say enough about The Lenox Hotel. Alison M. was our wedding coordinator and she is literally the best person ever. She responded to all of our emails (even the one liners), nailed every single detail and even checked in with us during the reception! No one could have been better than her. When we first started planning our wedding, we were overwhelmed. She made things so easy for us and kept us on track the entire year prior to the wedding. The rest of the staff at the hotel responded to every question, need and strange request we and our guests had throughout the weekend. We had our reception in the Dome room on the second floor and it was perfect. Better than we imagined. I would highly recommend The Lenox as a ceremony/reception venue.
Are you interested?
Send a message