53 Reviews
Recommended by 98% of couples
Quality of service

4.9 out of 5 rating

Average response time

5 out of 5 rating

Professionalism

5 out of 5 rating

Value

4.8 out of 5 rating

Flexibility

4.8 out of 5 rating
65 User photos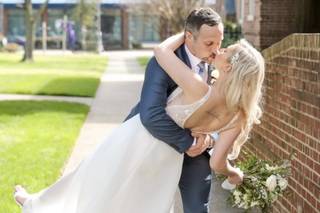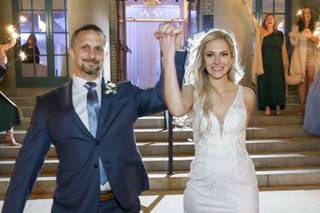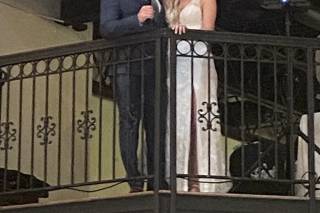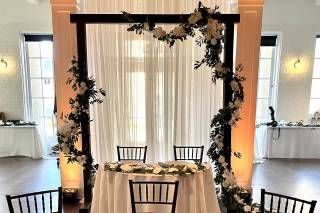 + 61

photos
Featured

Nicole A.

Married on 02/19/2022

DREAM wedding venue

I cannot say enough great things about the Historic Post Office. From day one, they provided direct and concise communication which made comparing venues very easy and is one of the many things that drew us there. The day-of-coordination service is one of the most helpful a la carte items they offer. Our DOC was able to guide us to vendors within our price range, answer any and all questions we had, and really helped us shape our day through her questions and experience. We were one of the countless couples who had to postpone their big celebration due to the pandemic but we were fortunate enough to be able to use the HPO for our elopement in 2021 and celebration in 2022. Having the DOC as a point of contact at both events was so special and she went above and beyond to ensure that our elopement was still a sweet and memorable day. The bridal suite and grooms lounge access kept the day stress free and running on time, there was plenty of space for the wedding party to get ready comfortably, and also provide beautiful backdrops for getting ready photography and portraits. It is so easy to customize your event through add-ons like lighting, the venue itself is a perfect canvas for any mood/vibe/theme imaginable, and the HPO team has the experience to ensure a smooth wedding day. I would recommend the HPO and their coordination services to any and everyone, it is, in my opinion, the perfect venue.

+ 4

photos

Lauren E.

Married on 03/18/2023

Phenomenal

We had the pleasure of marrying last Saturday at this beautiful venue. Our coordinator, Ellie Bernstein was amazing. From start to finish she kept us on track, was thorough & her experience & organizational skills has made her a master of herding cats with patience, grace, thoughtfulness & attention to detail. Highly recommend this venue & Ellie to make your day the most wonderful day & your vision come true.

+ 3

photos

Katherine

Married on 10/29/2022

10/10 Recommend

Working with Ellie and the HPO team was incredible. We paid for the day of coordinator, and got a full fledged planner and life long friend out of it. The venue was flawless, and our guests were mesmerized by the inside of the venue. We would recommend 1,000 times.

Are you interested?

Send a message

Andrea

Married on 10/14/2022

Perfect Wedding Venue and Coordination

We had such a wonderful experience with the HPO venue and their coordination service option. It's their venue and boy do they know how to run the show. I'm sure that all of the coordinators are wonderful, but we were lucky to have had Ellie Bernstein beside us. We enjoyed every meeting leading up to the big day, helpful tips, and vendor recommendations. She helped us make sure things where addressed, gave us assignments, and was always available to answer questions. I can't say enough about that because we opted to plan our own wedding and this was JUST the right support we needed. We still drove things—- but her wisdom was vital to our success. She helped execute our set up and breakdown perfectly. From what I hear the breakdown is always a bit of a scramble. That's the only advice I'll give is plan ahead (more then you think needed) to leave with things that night. There are always little things that happen with these events, behind the scenes, and I promise you don't want to handle them on your most important day. You can trust the HPO team to have your back and have your best interests. I highly recommend.
The venue is gorgeous and a perfect canvas for however you want to make it your own event. The area is perfect with bars that are walking distance and a nice hotel around the corner. It's the full package.

Shawn G.

Married on 10/01/2022

The perfect venue

Nothing says a successful wedding like a night where everything is perfect. Our wedding was hosted at The Historic Post Office in the downtown Hampton area. This venue is everything you would want and more. The venue has an open floor plan with a balcony overlooking the first floor as well as a bridal and groom suite. Their suites include showers, washer/dryer machines, a pool table, a kitchen and more! During our morning there, we were able to relax and get ready while our day-of coordinator, Silvia, managed everything happening downstairs. Silvia was the most helpful person we have ever worked with. She coordinated all other vendors and set up all the decorations for us. If you use The Historic Post Office as your venue, we'd definitely suggest using one of their day-of coordinators! Everyone there is beyond professional and will certainly make your wedding the easiest and most enjoyable day possible.



+ 2

photos

James C.

Married on 09/10/2022

Wow! Just wow!

Such an amazing venue. From the expansive suites with kitchenette, foosball table, pool table, and ample prep space to the one-stop-shop capabilities, this was the perfect venue for our wedding. They have obviously spent a lot of time thinking about functionality and appearance and, from our booking until the wedding, a number of additional enhancements became available (additional napkin colors, etc) so they are continually evolving!

Also, I can't speak highly enough about their coordination services. Our coordinator, Ellie, was very thorough and helped us figure out just exactly what we didn't even know we wanted (we were all over the place but she gave us time to hone our decisions while offering insight as to what has been successful in past events (but never trying to push us to repeat or scale back).

Five stars all around!

Kristin

Married on 08/07/2022

Dream come true!

The Historic Post Office in Hampton was a dream venue for our wedding! The inclusive packages offered an array of options for any celebration and the al a carte additional services available were awesome touches to add flare to the event. We had an incredible experience planning our wedding. Both our ceremony and reception were held at HPO. We had the pleasure of working with one of the in-house coordinators, Ellie, who was a gem and vital part of our special day! Ellie met with us several times and was always a text or phone call away to answer any questions or brainstorm about concerns. Her expertise helped guide us into the perfect elements of our wedding. Ellie was always kind, respectful, friendly and professional. For a bride like myself, who wanted to know every detail throughout the planning process, Ellie was a God send. She offered my mind and heart wisdom and relief in the exact right moments I needed it. Ellie made my wedding better. She made the day so much more enjoyable because of the peace of mind she offered. The HPO team, Ellie included, were all very responsive and helpful. They worked tirelessly the day of our event, and transformed each portion of our wedding into its own unique visual landscape. Of the venues we visited locally, none compare to the offerings or caliber of HPO. We could rave all day long about how much we loved HPO and how perfectly suited this venue was for our wedding day. HPO will proudly and forever be etched in our memories, for the rest of our lives.

Casey T.

Married on 06/20/2022

Gorgeous venue and a dream team!

This is the one stop shop for all things wedding!!! The venue itself is absolutely stunning but the staff are the real treasure here. I had no clue what I was doing and they guided me through the whole thing making it stress free and they were extremely flexible along the way. All of the vendors they recommended/including were incredibly as well. Really a dream team!

Nicole A.

Married on 04/02/2022

Best Venue Ever

The Historic Post Office was the first and only place we toured. I think the day after we saw it we signed our contract and picked our date. All the information they give you up front is super helpful as well as their preferred vendor list, which gave us a great starting point for choosing the rest of our vendors. The space itself is gorgeous on its own but it was nice to know their DOC service would handle everything too. We had Ellie as our coordinator and she was so sweet, helpful, fun, and made our wedding planning, wedding week, day and experience top notch. We loved the updates they keep adding - the vault/photo booth area was all cleared out and painted and looked great, the bridal suite to get ready in was well lit and comfortable, and the men's parlor was a blast for them. We loved that we didn't have to worry about weather or transportation and everything was all in the same spot. If you choose this venue, which you 100% should, definitely ask for Ellie - you won't be disappointed. The hotel across the street was super convenient as well as the bars / restaurants / coffee & donut shops and area had everything we could want. We may be bias but we had the best experience, the most fun, and beautiful wedding here!

Alli C.

Married on 03/01/2022

Love this Venue!

The Historic Post Office is simply beautiful. My husband and I fell in love with it as soon as we walked in. Kelsey was our coordinator and did an amazing job with making sure everything was perfect. Planning through COVID was not an easy task, but Kelsey was there every step of the way. We couldn't have asked for anything more!

Madi

Married on 10/22/2021

Best Event Venue in Hampton Roads

The HPO was the perfect place for our big day and will forever hold a special place in our hearts. The venue was the perfect size and it's gorgeous in of itself. My husband and I actually had another tour booked for after our tour with the HPO that we cancelled because we knew we wanted to book with them. Madeline and Kelsey are wonderful to work with and are very responsive to any emails I sent them. The venue hosted our ceremony, cocktail hour, and reception easily and held every moment of our day exactly where we wanted it. I can't recommend the HPO enough!

Jamey B.

Married on 09/25/2021

Perfect Venue

This was the perfect venue for our wedding! We were able to have both our ceremony and reception here and it was everything we could have asked for! Highly recommend having your wedding here as well as utilizing their day of coordination- it took the stress out of everything!

Ally M.

Married on 09/23/2021

Best day ever!

We just had our wedding here and it was amazing! We did the elopement package which is all inclusive for a great price. Everything was taken care of for us and the staff was so helpful! They were very accommodating throughout the whole process. They worked really hard to make sure all of our wants and needs were met. To top it all off, the venue looks amazing. You have to put very little effort into decorating because the venue is gorgeous on its own. It was 100% worth every dollar spent.

Amy B.

Married on 06/11/2021

Beautiful venue and amazing staff!

This venue was perfect for our wedding day! Everything you need all in one place. The bride and grooms suites to get ready in beforehand are amazing, and beautifully laid out to accommodate all of your needs. I highly recommend their Day of Coordination services. Madeline helped me so much throughout the process, I could have not done it without her. Her professionalism and calm demeanor was a breath of fresh air!! The Historic Post Office is a wonderful choice, you will not be disappointed!

Ashley T.

Married on 05/28/2021

Above and beyond!

From start to finish, the HPO was professional and attentive! All of the staff went above and beyond and made my wedding truly magical!

Amanda O.

Married on 05/14/2021

Absolutely perfect

The Historic Post Office is a beautiful venue and was perfect for our wedding. The bridal suite is the perfect space to spend the day getting ready. Plenty of room for lots of people and great lighting for pictures. When I first walked in to the building my jaw dropped and I couldn't stop looking around. It's also a must that you hire the day of coordination from the venue. Madeline worked with us and I can't speak highly enough about her and the work she did for us. She asked the questions you wouldn't think of yourself and heard out everything I was looking for and then made it a reality. Madeline made sure that our day was perfect. Anything we needed she took care of it. She directed us through rehearsal, was a quick text away when we were upstairs getting ready and she was down stairs getting the space set up and made sure the entire day flowed perfectly. Her professionalism, organizational skills, attention to detail and calm demeanor were on full display every time I met with her. The venue is perfect on it's own. But if you're going to book it, hiring Madeline is a must!

Claira S.

Married on 05/08/2021

A dream come true!

Our wedding at The Historic Post Office was absolutely wonderful. We were supposed to be married in 2020, but had to postpone multiple times due to COVID. The HPO was so helpful in changing the dates for us each time and made the process very easy. The whole team is great to work with and the venue is absolutely beautiful. We loved our wedding at the HPO and would choose them again and again.

Christine R.

Married on 12/04/2020

Amazing flexibility and organization!

When my Husband and I first walked into the post office we knew we wanted to have our reception there! It is a beautiful facility, very clean and just absolutely breath taking. The staff is very easy to get in contact with and they were a huge help. 2 weeks out from our wedding and we had to change our guest size from 90 to 25 because of the new Virginia Covid regulations. Madeleine, HPO wedding coordinator was fabulous! She helped us do all the last minute changes and our wedding was absolutely perfect. The groom and bridal suites are absolutely amazing!! So much fun to hangout there and get ready. Truly and awesome experience!

Cortney

Married on 10/17/2020

Best Venue!

I don't have enough great things to say about the Historic Post Office. The venue is so beautiful, pictures do not do it justice. It's perfect for hosting a ceremony, cocktail hour and reception. The getting ready suites are spacious and convenient. Their coordination services are amazing. They will make your entire day run smoothly and help you throughout the planning process. They made our wedding day so perfect and I 100% recommend them!

+ 4

photos

Tara U.

Married on 07/04/2020

The Perfect Venue for Us to Get Married In!

We hosted our wedding at Historic Post Office last November, and it was a truly amazing experience. The building itself is absolutely gorgeous, with so many places to take beautiful wedding photos. The bistro lights wide archways give it a modern, but elegant feel. It was also one of the few places we looked at that had a bride suite and a groom suite, both huge, cute, and comfy for the hours leading up to our event as we got ready. The staff was so easy to work with - Kelsey and Madeline helping from booking until our day, being so accommodating during the challenges of the pandemic and so communicative in answering all our questions. We hired Ellie through the HPO as our day of coordinator, and she was a Rockstar and a blessing. She made us feel so comfortable and supportive of our unique wedding details. She went above and beyond to make our day run smoothly and look stunning, and could not have done it without her. We would not hesitate to recommend the Historic Post Office to anyone looking for a location to host a special event. Our time there was one we will never forget.

Caitlyn L.

Married on 03/14/2020

Madeline is the best!

From the moment I walked into The Historic Post Office I knew I HAD to get married there. My husband and I booked this venue a little over a year ago to be sure that we got it! Our wedding was March 14th 2020 and it was a day I'll never forget. Madeline was AMAZING through the wedding planning process and always kept me calm and handled so much so I didn't have much to worry about. She communicated with all my vendors which took a lot of the stress off of me. For that, I will forever be grateful! The staff on the day of was great! The venue itself is so beautiful and helped my dreams come true! Best day ever!💕

+ 4

photos

Heidi

Married on 10/06/2019

Amazing venue! Amazing staff!

We chose the HPO based on proximity to our church and it was one of the best decisions we could have made. The space is gorgeous and we received so many compliments on the layout of the tables and dance floor. We also made the decision early on the add on the coordination services they offer and were so lucky to work with Madeline. Madeline made our entire vision come to life and the reception was exactly how we pictured it. She communicated with vendors, coordinated the set up, and even broke down the event at the end of the night. She was so responsive to my emails and always provided valuable insight when I was making decisions. She is so knowledgeable! We had the absolute best experience with the post office and can't stop recommending them to our friends and family.

The Historic Post Office's reply:

Thanks so much, Heidi! You and Sam were truly a joy to host and work with. So glad your day was everything you dreamed it to be!

Sukurat

Married on 08/23/2019

Kelsey was perfect!

Kelsey (the manager at HPO) was our planner and she was beyond awesome!!! Couldn't have done it without her.

Misty

Married on 07/21/2019

Amazing day at the HPO

The Historic Post Office was the most wonderful venue for our July wedding. The upstairs suites were so comfortable and made getting ready so easy. My bridal party had beautiful light for makeup and hair. While my groom and his groomsmen had a blast playing pool. Madeline was our day of coordinator and she was amazingly organized, punctual, and made sure our day went exactly as planned. Many guests reach out to us after our wedding exclaiming about beauty of the HPO. We are beyond happy with the HPO and with Madeline!

Jenna

Married on 06/15/2019

The most unique venue

The Historic Post Office made our wedding the one of our dreams. The venue is the most unique and beautiful in the area, and the staff make your day absolute perfection. Madeline was our day of coordinator and she went above and beyond to make sure our day was perfect. I can't say enough good things about this venue. It was beautiful and just an amazing atmosphere.
Are you interested?
Send a message