162 Reviews
Recommended by 97% of couples
Quality of service

4.9 out of 5 rating

Average response time

4.9 out of 5 rating

Professionalism

4.9 out of 5 rating

Value

4.8 out of 5 rating

Flexibility

4.8 out of 5 rating
58 User photos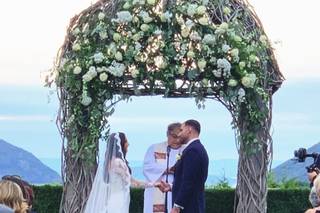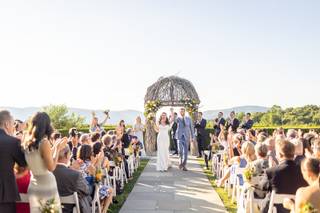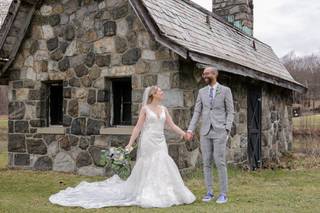 + 54

photos
Rachel S.

Married on 10/22/2022

Bride and Groom

Picking the Garrison as our wedding venue was the best decision we made! Not only is the venue itself STUNNING and surrounded by a beautiful landscape, but the food is INCREDIBLE, the staff is kind and professional, and most important our coordinator, Annie, is a reason in itself to choose the Garrison. She guided us through everything and was extremely communicative, answered all of our questions, walked us through what we need to know to prepare for the wedding and the day of the wedding. She was by our side the entire day with her staff to ensure everything went perfectly. Honestly, I never stressed once about the wedding or the venue - plus they have a great rain plan, which takes some stress off your plate (since you can't control the weather!)


Joanna S.

Married on 09/16/2022

Best of the best!


Having our wedding at The Garrison was the best decision we ever made! Amazing doesn't even begin to describe the experience. Starting with Annie R., we knew from the first meeting that this venue was a step above the rest, and we trusted them to deliver a memorable and smooth day for us. Annie was extremely helpful throughout the booking and planning process – she offered her professional advice and also provided sound recommendations for additional vendors.

The day of the wedding was a pure dream! Annie and Julianna were by my side and made sure that everything was taken care of. The rest of the staff were also super attentive and made sure that guests had everything they needed. We received countless compliments on so many aspects of the wedding, mainly on the food - everyone loved it!! The Garrison is a truly special place, both due to its unique location / views and the incredible team that works there. We are so happy that there's a restaurant we can return to annually to reflect on our special day. Do not hesitate to book this venue for your wedding, or any special occasion!



Eliza K.

Married on 08/27/2022

A perfect day!

We're so glad we picked The Garrison for our wedding! Not only was the setting stunning, but the space was exactly what we were looking for, the food was delicious, and the service was incredible. Bridget and her team answered all of our questions leading up to the wedding day. On the day of, they were so helpful and took care of everything. We never had to worry about where we should be or what our vendors were doing—Bridget managed everything. We were able to relax, enjoy ourselves, and have the perfect day.

Are you interested?

Send a message

Nadia A.

Married on 07/09/2022

Amazing Wedding Venue + Team!

Our wedding at the Garrison was fantastic and I would definitely recommend this venue!! Why was it so great?
1. The Service: Annie and the team were really responsive and supportive during the planning, but also day of. They helped guide me (the bride) through getting ready upstairs and since we didn't do a first look they helped time all of the movement so my husband and I didn't see each other until the alter. Annie made sure all of our vendors had access to the space and were able to set up in time before the ceremony. As someone who generally likes to manage things personally, I was really grateful that the team had everything taken care of and I didn't have to think about anything!
2. The Space: The space at the Garrison was idyllic. We had views of the Hudson Valley during our ceremony, and the full wall of windows during the reception provided an amazing view of the sunset. Our guests were able to move between indoor and outdoor spaces and really enjoyed the setting.
3. The Food: The food was great! I was a bit nervous about how it would turn out since we didn't have a tasting, but everything exceeded our expectations and the quality is high. Our guests universally (and without prompting) told us afterwards that the food at cocktail hour was delicious and continuously refilled - they couldn't get enough! Dinner (short rib and bass) was also super tasty and the parmesan risotto was a stand out.
4. Location: We had guests who were coming from NYC and from out of town. The location was convenient enough that folks who needed to could drive back to the city the same night, but we also had a hotel block in Nyack for those who didn't want to make the drive.

Overall we can't say enough good things about our experience with The Garrison and would highly recommend to anyone planning their wedding!

Hilary

Married on 06/25/2022

My son and daughter in law got married this summer and we couldn't have been happier with the Garrison. One of their best assets is definitely Annie Rozycki! She has a way about her that is so calming yet assertive, which seems to be exactly what you need to get through a wedding. She was always right on the money in guiding us, but also very open and accommodating to our ideas and suggestions. She took a lot of the anxiety away from all the usual concerns when planning such a meaningful event.
As far as the staff goes, they were AMAZING! From setting the chairs up and taking them down THREE times (we had strong thunderstorms right before the ceremony that were stop and go), to their complete attentiveness to our guests. To this day, we still have friends who comment on the incredible staff.
The food was also beyond our expectations. I knew The Garrison was known for their culinary experience, and it surpassed that. We also got comments on how delicious the food was and how much there was!! We highly recommend the Garrison if you are thinking about having your wedding here!

Caroline Z.

Married on 06/19/2022

Best day of our lives

The Garrison was overall the perfect venue. We live in the busy city, and this was the perfect distance out of the city for us for a little getaway. We just got married last weekend. Annie was our main point of contact and from the beginning she was helpful, generous and thoughtful. She made sure the day went exactly as planned. Even on the day of, when some of our guests weren't able to find rides to the venue she offered to pick them up. .. She is amazing.

Diana D.

Married on 04/23/2022

Incredible and professional!

We held our wedding at The Garrison in April 2022 and it was the best wedding decision we made! The venue is beautiful, the food is delicious, the layout is perfect for weddings, and every member of the staff is so on top of everything. We had the pleasure of working with Bridget, and I can't recommend her highly enough. From the beginning when we booked in 2020, Bridget was very responsive, proactive, helpful, patient with my many questions, and incredibly organized. Her attention to detail really kept us on track with various tasks leading up to the big day. She is experienced, has great suggestions, provides excellent vendor recommendations, and knows all the right things to do to make a wedding run smoothly. I felt totally at ease knowing that Bridget and her team had everything under control on the day-of, which helped us relax and enjoy our big day. Bridget was incredible with every element of the planning process through the day-of coordination and logistics. She is also genuinely kind and very easy to work with. I can't recommend Bridget and the Garrison enough!!

Sasha O.

Married on 03/20/2022

Our Dream Venue

I have always wanted to get married on a mountain top so I searched for venues using Google Maps and came across The Garrison. As soon as I walked inside, I knew this was the perfect place. Bridget was our day of coordinator and she was absolutely amazing! She was quick to respond to emails, had really good suggestions, and made our big day run seamlessly. The staff was attentive and professional. We had Richard as our Captain and Karen as our bridal assistant. I can't express enough how amazing they all were the day of our wedding. Karen made sure that we had everything we could have wanted (food, drinks, space, help with pictures, etc) and I don't know what we would have done without her! We literally had not one thing go wrong. It was incredible. I highly recommend The Garrison as a wedding venue. The setting is beyond compare, the food was incredible, and the staff was amazing. What more could you ask for?

+ 3

photos

Tod C.

Married on 09/18/2021

Outstanding Team and Location

The Garrison staff, led by Bridget Bell, did an outstanding job of planning for and our daughter's wedding. Bridget was professional, calm and cordial throughout the process and promptly responded to all of our questions. The outside vendors that we selected based on The Garrison's recommendations also did an outstanding job.
One thing we really appreciated was the venue's flexibility regarding whether the ceremony would be indoors or outdoors. We had hoped for an outdoor ceremony, but it was raining on and off throughout the day. The Garrison was prepared to have the ceremony either indoors or out and was able to make a last-minute change to have it indoors. Some other venues we considered required that the decision be made days in advance. The bride was thankful that she didn't need to make that decision.
The views at the location are amazing, even in bad weather. Windows line an entire view and afford great views of the Hudson River and the surrounding mountains. The arrangement of the rooms accommodates a natural flow from ceremony to cocktail hour to reception.
Now that the adjoining golf course has closed, there are ample opportunities for outdoor photos in natural settings.
The Hudson Valley Shakespeare Festival now holds seasonal performance on the site, and one was underway while we were there, but it was far enough away that you would never know it.
Since the wedding, our guests have been telling us how much they enjoyed it and how outstanding the food was.


Caitlin A.

Married on 04/09/2021

Total Pros

Annie and the events staff at the Garrison are 100% pros, and did a great job of managing the details in the run-up and day-of. Thanks!

Sarah C.

Married on 10/24/2020

The Garrison is excellent!

Bridget at the Garrison was amazing!! Having a pandemic wedding was not easy, but she helped us find a solution where we still got to keep our original date and have an intimate gathering with our immediate family. Our guests raved about the food and service! The Garrison staff is excellent!

Brittany P.

Married on 05/25/2020

The Garrison is the BEST!

We truly couldn't have had a more magical experience on our special day at the Garrison. From the incredible staff to the breathtaking views, we had the best day ever!
We had a Covid wedding, which means our experience dated back to 2019, when we were originally supposed to get married in 2020 at the Garrison. We all know what happened then! Throughout all of the uncertainty and rescheduling, the Garrison remained flexible and adapted to our needs and wishes. It was well worth the wait!
Bridget, our wedding coordinator, was a star. When one of our shuttles left a hotel lobby full of guests and we were notified, Bridget seamlessly took care of the situation without a hitch, which left us stress free. Another great perk was that the Garrison provided us a list of vendors which we ended up using and they were spectacular. The florist, DJ, photographer, and photo booth vendors all came from their recommendations and they all added a tremendous amount to the experience. Additionally, the food was incredible and the overall flow of the wedding itself appeared effortless thanks to the finely tuned workings on site. All staff members were extremely professional and worked as a cohesive team throughout the evening.
We have received soooo many compliments about the wedding and it is in large part thanks to everything the Garrison offered and executed. I 100% recommend them!


Liza R.

Married on 11/20/2019

Perfect wedding!

My wedding was perfect =) I live in Nashville and planned everything from there - I was worried that it was going to be a disaster planning long distance but everything went perfectly! I worked with Annie who was always on top of her game and left me feeling very confident. On the day, anything that I needed or wanted to change she made happen. And the venue itself is stunning. Everyone loved the views. We had our wedding inside (November 16th) in a beautiful room with floor to ceiling windows so it felt like you were outside. We also had a bonfire with smores so people could enjoy being outside under the clear starry sky. The food was another home run!! It was presented beautifully and everything tasted delicious. The chef is truly talented and the meal was what you would expect to be served at a very fancy restaurant. On the actual day everything went smoothly and I was calm and confident in my team!! Would recommend The Garrison to everyone!

Lindsey

Married on 10/12/2019

The best wedding venue we could have imagined

The Garrison is not cheap... but boy do they show you time and time again where your money is going. Choosing The Garrison as our wedding venue was the best possible decision we could have made. Every thing that was A+ about our wedding (the scenery, the food, the list of vendors we worked with, the small touches) came from our decision to book The Garrison. The staff absolutely does not mess around. They will anticipate every need you didn't know you had, and every question you didn't know to ask. We worked exclusively with vendors from their "preferred" list which was an excellent call - we heard time and time again that the Garrison staff are very intentional about who they put on their list, and it shows. The vendors are so accustomed to working with The Garrison that it eliminates a ton of logistical work that other couples need to put in to ensure the wedding runs smoothly. We got extremely lucky with beautiful weather, but even if we hadn't (with rain, snow, or extreme temperatures) The Garrison still would have been the perfect site because their indoor ceremony option, which has floor to ceiling windows, still would have been breathtaking. Bridget and the rest of the staff were an absolute dream and I am so grateful we chose this venue. Truly the best day of our lives.

+ 5

photos

Lauren G.

Married on 09/15/2019

September Garrison Wedding

We couldn't have imagined a more perfect venue for our wedding. The minute we stepped out in front of the beautiful view from the ceremony site, we knew we had found our place. It made it even more special that the bride's parents were married at the Garrison 30 years ago. Annie made the whole process with the Garrison so smooth - we sat down for our organizing meetings in advance of the wedding to sort out all the little details of the day, and kept in communication via email throughout the planning. No matter how stressed we were about other wedding planning, we knew we didn't need to worry about anything that The Garrison was in charge of. Annie made sure everything went exactly as planned for the day of, and we really had the most wonderful, memorable day. All of the chairs, tables, place-settings, and decor were flawless, and our guests raved about all of the cocktail hour and reception food. We were so glad that we got to take home the rest of our filet mignons to finish, and we devoured every bite! Our friends and family loved the incredible view of the Hudson, and the sunset we were lucky enough to have. We hope we get invited to someone else's Garrison wedding, so that we can enjoy it all over again. It was such a special experience, and we can't wait to come back next year to the restaurant for our anniversary!

+ 4

photos

Alexandra

Married on 09/14/2019

Beyond incredible

Perfect. Perfect. Perfect. Everything about the Garrison is incredible. From the service, the views, the girls working, the food, and more. From the second we visited we knew it was the place for us. It was the best decision we could have made. There will never be a lack of communication, so you'll always feel taken care off. Working with Bridget, was a saving grace! She knew everything I wanted, needed, and was on top of it from the second we met! The options for food are endless and you can't go wrong with any selection! We did the BBQ and it was amazing! Everyone couldn't get over it! The dinner was cooked to excellence. Bridal suite is newly updated! If you pick the Garrison you will be blown away with happiness on your wedding day!!!!


Lauren

Married on 08/10/2019

Phenomenal! Book now!

The Garrison was the perfect venue for us and I could not feel more grateful that we found it. We got married on August 10th and could not be happier. I feel so incredibly lucky that we stumbled upon The Garrison (after countless venue tours), and more importantly, that we found Annie. Annie is a dream to work with and she makes the whole wedding process so easy. Although I am sure she does numerous weddings, she made us feel like we were the only couple to ever have been married there - her focus on our day made us feel so special. Everything about the Garrison is perfect - the food, the pastry garden cake, the venue itself, the views, etc. I have had so many guests tell me since the wedding that it is the best wedding food they have ever had, and the best wedding they ever experienced. We owe so much of it to Annie and her team. Thank you so much to the wonderful staff and team at The Garrison - we can't wait to come back and celebrate our anniversary here!

+ 3

photos

Andrew

Married on 05/11/2019

Simply amazing, highly recommend.

We looked at A LOT of venues in the Hudson Valley. The Garrison was simply the best for us across the board: Bridget put us at ease from the moment we met her, through the day. The scenery, food, and dynamic setup for ceremony, cocktail hour, and reception was classy, comfortable, and fun. Everyone loved it, and we did too!

Emily K.

Married on 04/27/2019

Beautiful, accommodating, amazing venue!

This venue was everything I could have asked for. They were incredibly responsive and accommodating when first meeting and booking the venue. From there, we felt like we were absolutely taken care of and special and had nothing to worry about. Bridget Bell, our wedding coordinator, was amazing and helped us to get through all of the planning beforehand and day of. She was super responsive and helpful. We got married at the end of April, and it ended up being extremely windy with intermittent rains and the venue worked with us to have the ceremony slightly early so we could be outside. It was so beautiful and out pictures came out amazing. All staff were very attentive day of. They also lit a fire pit outside for us without us asking. They took over day of and made it super stress free so we were able to enjoy it rather than be worried about details. I can not say enough good things about The Garrison.

Michelle

Married on 03/31/2019

Stunning place.

The Garrison was perfect. Beautiful place with gorgeous views. Everything turned out great. The food, the setup, the atmosphere, and the whole timeline of the day was perfect. Bridget my day of coordinator made everything happen exactly how I wanted it to go. She was very easy going, very attention to detail about everything, and was a very friendly person to be around. She made my day exactly how I wanted it to be and I didn't have to worry about anything. Would highly recommend the Garrison.

+ 2

photos

Devin

Married on 03/16/2019

The best of the best

As soon as I saw photos of The Garrison online, I knew I had to get married there. Once we visited and met with Bridget, we did not even consider any other venue. From our first email conversation, Bridget was attentive, professional, kind, and informative. She made the entire process easy and as stress-free as possible. On our wedding day, Bridget and the team at The Garrison went above and beyond in making sure the room was set and everything was ready to go. She also encouraged me to make the call to have our ceremony outside despite somewhat chilly temperatures because she knew we wanted to. I am so grateful she did!

The space at The Garrison is absolutely breathtaking. Every room is gorgeous. The food was delicious--we had so many guests raving about it. Some were surprised when dinner came because the cocktail hour was so filling! The value was phenomenal. All of the waiters and staff at The Garrison were also outstanding.

As we were planning our wedding, every other vendor we worked with had such great things to say about The Garrison and they were totally right. We were in the best hands during our wedding planning process and the day of. We had multiple guests who work in the wedding industry tell us it was the best wedding they have been to. Bridget and everyone at The Garrison made sure we had our dream day and we are forever grateful. If you are looking to get married in the Hudson Valley, choose The Garrison!

Asa Y.

Married on 03/05/2019

Magical Wedding!

The Garrison was the only place that felt right. We knew the moment we saw the arch and the mountain views, but Jane really sealed the deal for us. She was so monumental in our wedding planning and made us feel comforted, supported and had our backs from the moment we met to the big day. Her and her staff knocked everything out of the park and almost every guest came up to us to tell us how magical the venue and service was. She even helped go above and beyond in adding flowers to the arch with the extra flowers that we had!! Our wedding was sheer perfection because of The Garrison and it was the best decision we ever made. We feel beyond grateful that we made the choice to have our wedding at The Garrison. The day will never be forgotten and it houses the best memories of our lives. Forever grateful for Jane and The Garrison team! We love you guys

Louise

Married on 02/03/2019

Couldn't have been better

We never considered any venues other than The Garrison. Annie was communicative, responsive, and lovely to work with from the very beginning. We had a somewhat non-traditional wedding (a lot of music from animated shows, pie instead of cake, not a lot of decor, an overtly political signature cocktail) and never felt anything less than fully respected by everyone at the venue. The setting was so gorgeous for our early February wedding and the valet parking made it very easy for our guests to get there even with snow on the ground. The food was as incredible as we expected and we got the chance to try everything. The overnight rooms are gorgeous and the bridal suite was very generously sized. We felt very taken care of from the day we booked through the end of the event. All of our guests had a fantastic time and so did we! So many people say they can't remember their wedding or felt like they didn't really get to be there and we didn't feel that way at all, which is at least in part due to the excellent service we received.

Yuki

Married on 11/16/2018

Stunning views and outstanding food

We were fortunate to have our wedding at The Garrison. From start to finish, the process was personalized and organized. The minute we arrived, we were blown away by the panoramic view of the Hudson Valley. Bridget Bell was our wedding coordinator. She spent quality time with us throughout the planning process to ensure that our vision would come to life. She was a pleasure to work with and coordinated with our vendors for a stress- free wedding day. Bridget answered all of our emails promptly, gave us great advice, and was very easy going. Her professionalism and ability to get things done were second to none. We had the best time of our lives and Bridget was a big part in making it a memorable day.

The venue is approx. 1.5hr drive from the city/ major airports, which our guests found easy to access. There were enough parking spots for our guests who drove. The major hotels (in Fishkill) are about 15min drive/ bus/ shuttle away. The venue held 125 guests, a 9-piece band with 2 sound technicians, and a photobooth with more than enough room to spare. The wedding package we chose was competitive to other venues we looked at.

We chose to hold our ceremony indoors and timed it so that the sun would set as we said our vows. It made for awesome pictures. The transition from ceremony to cocktail hour (held in the same room) was smooth. After the cocktail hour, we liked that the guests simply had to walk a few steps to the reception hall. Guests could not stop complementing on the cocktail hour food as well as reception dinner- many said that they had the "best wedding food ever". We also had a fire pit on the patio for a s'mores bar, which was a big hit for both children and adults. We would highly recommend this venue and Bridget Bell.


Jeanelle

Married on 09/14/2018

The Garrison = OUTSTANDING views, service, and food!

We couldn't have asked for more than our experience at The Garrison. As we searched for a venue, we prioritized three things- space, service, and food. Here is now Annie and the staff at The Garrison exceeded at each:
SPACE: If you've gotten this far and you haven't gone to their website or social media to look at the images on social media, then look now because the view is incredible! Since The Garrison only hosts one wedding at a time, you also have access to the outside area. We had a s'mores bar and also a ice cream stand out there. It was so much fun and so unique!
SERVICE: One word- OUTSTANDING! Annie and her team thought of every detail and they went out of their way to accommodate our requests for personalization. Our guests absolutely loved how were served their main course. A member of the staff stood behind each seat so that they could serve the entire table simultaneously.
FOOD: The food was unbelievable, especially the Wagyu Steak. We received so many compliments on the food, as the guests loved the cocktail hour as well as the main course. The BBQ station was a big hit and our favorite Hors D'oeuvres were the Tomato Soup with Grilled Cheese Brioche; House Made Potato Chips with Bleu Cheese Dip; Scallop Ceviche; and the Sushi Rolls.

If you're thinking about booking The Garrison, just do it. You won't be disappointed.
Are you interested?
Send a message