55 Reviews
Recommended by 100% of couples
Quality of service

5 out of 5 rating

Average response time

5 out of 5 rating

Professionalism

5 out of 5 rating

Value

5 out of 5 rating

Flexibility

5 out of 5 rating
58 User photos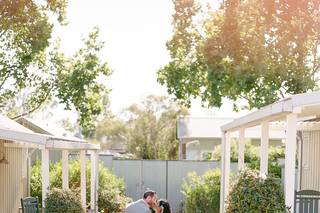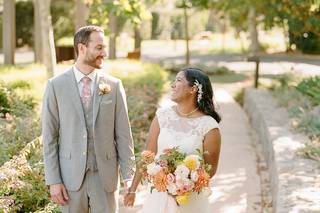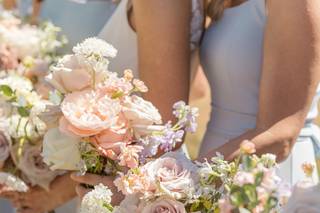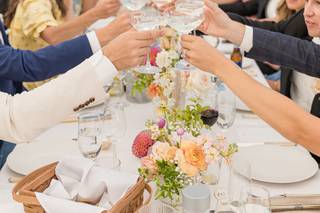 + 54

photos
Raeesah M.

Married on 09/16/2022

Light Romantic Film Photography with Attentiveness and Kindness

The moment I looked through The Ganey's portfolio, I knew that I absolutely wanted Emily as a photographer for our wedding. Her use of light and movement left me absolutely speechless - I know nothing about art or photography in a technical sense, but at this point I'd been through hundreds of photographer's portfolios and I knew something was different about her.

Turns out she photographs using film - actual tangible film on rolls - which apparently makes this soft, ethereal look that I adored. So much so that we only looked at venues that were available on dates that Emily was free to work on.

After our initial planning meeting she sent over a list of some of her favorite places she'd done weddings at - and this helpfulness/bridesmaid-esque attentiveness from her lasted throughout all of our planning and the wedding itself. From providing neck fans during our first look shoot so I didn't melt my makeup off, helping me actually get dressed, keeping us on track logistically and just generally being a calming presence during the day, she was so much more than just a photographer for us.

I will never look at our photographs without thinking of her with warm, grateful feelings and could not recommend her more.

Molly R.

Married on 08/06/2022

Beyond Obsessed!!

I seriously can't say enough good things about The Ganeys! Not only are they insanely talented and delivered beautiful and timeless photos, but they're honestly just so much fun to work with. People say you spend more time with your photographers on your wedding day than anyone else and that's honestly true, so it's important to like them and we genuinely loved hanging out with Emily and Thomas. They're hilarious together and create such an approachable environment. It's also great that they're husband and wife so they can demo romantic poses and show you how to look great on camera!

They also absolutely saved us on our wedding day. We had a full wedding planner, but your planning team will be busy getting everything ready the morning of the wedding and Emily and Thomas did an amazing job at keeping us on time and on track (even when the groomsmen decide to play golf instead of getting ready when they were supposed to and the groom forgets half of his clothes...).

If you're deciding between The Ganeys and another photographer, save yourself the trouble and just go with Emily and Thomas! It'll be the best wedding planning decision you make!

+ 14

photos

Kate

Married on 06/25/2022

Unbelievable

The Ganey's were the best thing that happened to our wedding. Emily's expertise, personality, attention to details, ability to capture all our moments, and overall ease to work with allowed us to have an incredibly low stress magical wedding day. She is a planner, a photographer, a friend, and advice giver all in one. Emily and Thomas made our wedding day and when we received our photos back they were more than we could have ever imagined!

Are you interested?

Send a message

Jing

Married on 08/10/2021

Emily is wonderful!


We hired the Ganeys for our wedding in August 2021 and we couldn't be happier. I had known about the Ganeys and their work for a while when I reached out to them in April 2021. In fact, I wanted them to photo our wedding so much that I coordinated our wedding date with their availability. Because we had a micro wedding on a Tuesday, Emily was our photographer. From the very first email to post-wedding photo delivery, Emily has been like a friend who always comforted me with her kindness.

Emily was very organized. Shortly after we booked her (admittedly it was only three months prior to our wedding), she sent me a proposed timeline with various planning details. She also sent me suggestions of vendors. We only had a day-of-planner, so Emily's suggestions were very helpful at the early stage of our planning.

Emily was fun to work with! Her words warmed my heart. Her smiles and cheerful attitude made sure we were completely relaxed when posing for portraits.

Last but not least, Emily is a great photographer! We love how natural we were in her photos, adore the beautiful light and texture of her photos, and most importantly love the happiness she captured. Every time I look at our wedding album, I feel grateful for having chosen Emily as our photographer. Oh, did I mention that she delivered all our photos in less than a month's time!

Amanda S.

Married on 06/21/2021

Incredible photographer and wonderful person

It is no exaggeration to say choosing Emily to be our photographer was one of the greatest decisions we made for our elopement. We look back fondly on that day largely because of her. We were married at SF City Hall, and she was able to beautifully capture the small, intimate moments as well as the grand architecture of the building. Our photos are absolutely gorgeous, and we are flooded with memories every time we look at them. She was extremely responsive from the very beginning. She was calm and comforting on a stressful day, but she also brought a lot of positive energy and made us laugh throughout the process. She is the kind of person who feels like an old friend. Emily is an incredible photographer and a wonderful human being. I cannot recommend her enough.

+ 7

photos

Cissy X.

Married on 06/06/2020

Look no thurther, this is the best wedding photographer!

Emily and Thomas (wife & husband team) from The Ganeys are simply my favorite!! I say this both professionally and personally. I had a very long engagement - 15 months. Emily was the second vendor I hired after planner. We had over a year of interactions before meeting in person. The first time we met, it felt like we had been friends for a long time! On a professional level, Emily's customer care and attention to details are simply unmatched (so responsive, thoughtful and thorough). Not to mention the quality of her work. When selecting photographers, I did a lot of research, looking through vendors' full galleries (taking notes on light, composition, style, naturalness), as well as reading reviews. Out of the 20+ full galleries I reviewed from 5-6 photographers (highly recommend reviewing full galleries, not just the cherry-picking best photos from photographers' ins or websites), Emily's work just stood out (the full galleries are perfect, every single pic in her gallery was worthy for print and frame). Reviews were plenty and overwhelmingly good. The only thing that held me back a little was price. Matching her high quality work and stellar track record, Emily's package was not at the economical end of the range. But looking back, this is bar far the best wedding investment I've made (because the day went fast but the memories live in the beautiful photos and every time looking at them, I could feel the day again)! I still remember a comment from a previous review I read a year ago. It's something like "Emily's package wasn't cheap but looking back, we almost feel we did not pay her enough". That comment, along with the others, gave me a lot of confidence in making my decision, and I'm proud to say the same after having the experience with Emily and Thomas over the past year. I'd recommend them 200% to all my friends and everyone who looks at this review! Look no further, you are looking at the best one!

Meaghan B.

Married on 09/28/2019

Incredibly talented, best decision we made

No words can truly do these two justice- they were the best decision we made! Not only are they incredibly talented, they have a true passion for capturing these memories that shines in every photo. When my husband and I first looked through all of the photos from our wedding day, it felt like I was gasping and saying "we should frame this one" or "this is definitely going in the album" with every picture. They even documented all the little details we didn't really get to see in the blur of the day- the seating chart we DIY'd, the table accents, even the bar signs. They took the time and effort to go to our venue before the day of to find all of the best spots for portraits and sunset, and found a couple of amazing places we never would have thought to focus on, but made for some of our favorite pictures.

All of our wedding party and family commented on how amazing these two are, and how they seemed to be everywhere at once. They are so genuinely warm and made everyone feel really comfortable. The portraits of the two of us came out so wonderful, and I have no idea how we'll decide which are our favorites- they made two incredibly awkward people look romantic and natural. Emily's advice on doing a first look was right on- I can't imagine not having had that time together beforehand to ease our nerves and have a few last memorable moments before starting our married life.

Part of what makes the Ganeys so special is that they truly care about getting to know and having a connection with the couples they work with. We were already sold on the idea of taking engagement photos for our save-the-dates, and it makes so much sense that they consider that a part of the whole experience. We had such a great time spending several hours with them the day of our engagement shoot, and then continued to be in touch during the planning process. Emily gave great advice and a proposed timeline, and by the time the actual day of our wedding came, we were excited to see our new friends again. They even sent us a coffee table book with favorite photos from our engagement shoot as a gift before the wedding, which was incredibly thoughtful and touching. As someone who is not at all comfortable in front of a camera, it made a huge difference to feel so comfortable with the people capturing our memories of that day. I am so thankful that we found these two and that they shared their talents and gave us this incredible gift of photos that we will look at for so many years to come. It's also nice to know that we made two great new friends in the process. These two are such amazing people, and I'm so happy that they came into our lives!


Annie

Married on 05/18/2019

Absolutely amazing

This is a long overdue review! I found The Ganeys when I was randomly on pinterest (which is a rare event) and fell in love with one of their images. After looking through their portfolio and finding out that they just moved to the Bay Area, I was absolutely floored and had to get on a call with Emily. From the onset, Emily was so amazing to talk to - extremely friendly and you could tell that she cares about the couple and the experience she is creating.

Three reasons why working with The Ganeys is the best: 1) It is clear that Emily has a ton of passion for her couples and truly wants to get to know them. I'm so glad that we have become friends over the last year and got to enjoy dinner with them after our wedding was over! 2) She is extremely organized and professional - as someone who values planning, I knew I was in great hands with Emily's schedule and plan for our hectic wedding day. She also delivers images crazy fast - I didn't expect our wedding highlights to come back within a week. 3) She is so incredibly talented and she shoots in film as well. This is a KEY DIFFERENTIATOR! Anyone can take 100 shots within 5 seconds on a digital camera and find the best shot, but with film, you really have to capture the key moment precisely while making sure you have great lighting for the image. She does this so naturally and her film shots are so epic and artistic.

I never expected that our wedding would get featured in Style Me Pretty (I don't even follow SMP on IG), but this is all due to Emily's hard work in capturing an extremely long and crazy day!

---
Some additional thoughts regarding our experience during the engagement shoot and wedding day:

During our engagement shoot, Emily and Thomas were so comfortable to work with! They are hilarious together - Emily takes lead and Thomas follows with jokes and their dynamic makes the whole situation a lot more fun. I totally went into the shoot thinking we would get a ton of awkward shots (because we are the most unphotogenic couple, as evidenced by our typical vacation photos). But when the album came back, I was absolutely amazed. Even Tim was like "wow, I look REALLY good" - this is coming from the guy who dreaded taking photos. There were so many amazing pictures that we had a hard time picking our favorite for our save the date. After the engagement session, we immediately knew we were in good hands for the wedding and couldn't wait to see the two of them again! :)

A few days before our wedding, we saw that the forecast indicated heavy rain showers. I reached out to Emily to know that we were setting up Plan B plans, and she wrote back the sweetest response. Amidst all the stress of trying to move a ceremony location from outdoors to an indoor location, she knew all the right things to say in a very stressful period for us and I can't thank her enough for that. On the day of, she went ABOVE AND BEYOND anything a photographer should have been doing - making sure that we stayed dry and warm in the weather, holding my dress so that it didn't get soaked, guiding us on what to do when it came to cake cutting - all in all she was there for us every step of the way. And we could not have gotten through the day without her and Thomas. Their experience with so many weddings shines through as they're able to foresee what's going to happen next and plan for it before it even happens. It was a crazy and extremely memorable wedding day for us and there's no one else that we would have wanted to be there with us through it all!

Thank you Emily and Thomas for everything - you've created memories that we will cherish forever!!

Natalie

Married on 04/06/2019

An Absolute Must!

There are no words to truly describe how incredible these two are! You are not just getting a professional wedding photographer duo - you are gaining a friendship. For Emily and Thomas, this is not just a job. This is their passion and it shows in their work. They are invested in your happiness and are committed to delivering the greatest memories you will have of your special day. They are timely, professional, extremely talented (check their website), and honest. Above all that, they are two of the kindest people my husband and I have met. You feel comfortable around them and taking pictures becomes something that feels natural - that means a lot from someone who does not feel like a natural in front of a camera! Some of the fondest memories leading up to our wedding day were with them and we look forward to continuing our friendship.

Our engagement and wedding photos came out better than I ever could have imagined. They captured every little detail. Everyone that was at our wedding, every emotion, and every dance move was photographed! I don't understand how the two of them were literally EVERYWHERE all night! They didn't miss a beat.

Search no further - I can guarantee that you will not find anyone better!



Amanda B.

Married on 02/11/2019

Far exceeded expectations, best decision ever

I've been putting off writing this review because I feel like no words can fully explain the amazing experience I had with the Ganeys. I first met Emily and Thomas when I was a bridesmaid in my friends' wedding in Florida, which the Ganeys were shooting! Based on that day and the resulting photos, I knew how talented this pair was and I REALLY wanted them for my own wedding. After getting engaged, I actually reached out to Emily before we even had a venue or date booked. Once they signed on to be our wedding photographers, my (already high) expectations were totally exceeded. I loved how organized, detailed-oriented, and responsive Emily was as we planned our engagement shoot and wedding day. At the engagement shoot, they did an amazing job including our 2 golden retrievers and shooting in sub-optimal weather conditions. Emily is so kind, thoughtful, and talented as a photographer, and Thomas is the secret ingredient that makes husbands everywhere feel at ease! This husband and wife team communicates so well and I believe that is part of the reason why they make their jobs look so effortless and fun on your wedding day and why the photos are so breathtaking. We can't wait to host Emily and Thomas at our house in a few weeks, and show off the way we've displayed their photos around the house!! I would be more than happy to share my full gallery and answer questions from any other brides/grooms considering the Ganeys.

+ 12

photos

Emily L.

Married on 10/20/2018

Over-delivers

Emily and Thomas Ganey are who you should hire to photograph your engagement and wedding. Period. They are extremely warm and wonderful people to work with. Not only are they experienced, knowledgeable, and incredible artists, but they are also flexible and extremely accommodating. They will make anything happen and will do it with professionalism and a smile. They will *literally* travel anywhere for your shoot. Throughout our engagement year, they were detail oriented and communicative, helping us organize our wedding day timeline and making helpful, experience-based suggestions. They struck the perfect balance of being "on top of it" without being overbearing. They sent us sweet gifts and encouragement throughout the year and quickly became our friends. While shooting, they make you feel so comfortable and at ease. They totally over-delivered in every expectation that I had, and photography was one of my top priorities for our wedding. We were given so many more photos than promised, we were sent preview proofs within TWO DAYS of our wedding, and we could NOT be happier with the photos. Don't think twice about hiring these wonderful people; you will not be disappointed!

Michelle

Married on 12/09/2017

It has taken me a while since my wedding day to write a review for The Ganeys because putting into words just how incredible they are seemed like a daunting task. I truly mean this when I say they were the absolute best decision of our entire wedding day! Emily + Thomas are the absolute dream team of wedding photographers and far exceeded all of the expectations we had. The Ganeys are so amazing to work with - they're hilarious, have an incredible eye, are always responsive and have the best work ethic of any vendor I have ever worked with. Seriously they are some hard workers! They consistently checked in, were doing things outside their scope of work and went above and beyond in every single aspect of the entire process. My husband does not like taking photos and therefore did not want to spend a lot of money on the photographer for our wedding - that changed immediately after our first meeting with Emily and Thomas. Once we booked them, he said it was the best money we ever spent! They even made the engagement and wedding photos fun and comfortable for him! :) The Ganeys are not the cheapest, but after the entire process my husband and I both think they don't charge enough. The amount of time that Thomas and Emily put into our big day prior to, on and after the big day makes them an incredible value. Emily almost became a mini wedding planner providing vendor recs, timelines, wedding day weather forecasts and even reaching out to my other vendors to get them in line! haha. Seriously, what photographer does that?! The pictures attached speak for themselves, but I cannot tell you how many compliments we received about them from our friends, family and strangers - and not only compliments for the photos, but about amazing they were to be around on the big day. No amount of credit or praise is enough to show truly remarkable The Ganeys are. They literally became a part of our family that day and it meant everything to us!

+ 7

photos

Melinda

Married on 06/09/2017

The Ganeys are ... hands down ... the very best! We will always be beyond happy that we chose to hire them to photograph our wedding! Since I'm a photographer myself, my then-fiance left it up to me to choose the photographer for our wedding- this was the one thing that I was picky about. I did a lot of research, wanting to find someone who I trusted enough so that I could let it go and not worry about it. I wanted a photographer with 1) advanced technical skills; 2) great people skills; and, by extension, 3) the ability to capture the emotion of our day. The Ganeys have all of those things in spades! They are worth. every. single. penny. I've stalked -- I mean followed -- their work for a while now :-) and it speaks for itself. I'm drawn in by the light, dreamy quality, and the emotion. That feeling you get when you look at a photograph and your heart flutters, and your throat catches. That's the sweet stuff - and not all photographers can deliver it. We had a very intimate wedding (10 guests) so Emily was solo that day. She was a breeze to work with from the first time we contacted her, and helped us work out a detailed timeline in the months leading up to the wedding. She was quick to respond to our e-mails. On the day of our wedding, she was prompt and got right to work. Everyone was immediately at ease and she felt like part of the family. She worked quickly and efficiently, and was able to get so many shots when we didn't even know she was there! She even helped with wardrobe malfunctions, and so many other little things that tend to happen at weddings. It was like she was all over the place! Emily knew exactly how to make us feel comfortable in front of the camera, and gave us direction so that we looked our best. She also captured candids that may just be our favorites (I don't know - we have so many favorites!!) She created beautiful works of art that we will treasure for the rest of our lives! ~ Jim & Mindy

Stephanie

Married on 05/12/2017

There are truly just not enough words for how grateful we are for Emily and Thomas. I could go on and on about how wonderful this team is. Our journey to finding the perfect wedding photographer was LONG and tough but the minute I read the response email from Emily and spoke to her on the phone, I knew that we found our perfect photographers. The insane dedication and work that they put in to make sure that every detail of our engagement photos, wedding photos, and overall experience was perfect was truly exceptional. Right down to making a long drive to Bella Collina just to scope out the area and find the perfect spots for photos (in the rain). Emily and Thomas make you feel like they are your besties the moment you meet them. They are so fun to be around and make you feel so comfortable in every photo. One of our favorite parts about our engagement shoot (and wedding photos) was that Thomas was always playing music while photographing. There are no awkward moments when taking photos with them. We got our entire wedding album edited while we were on our honeymoon and it was the greatest surprise. We will cherish our wedding photos for the rest of our lives and be friends with Emily and Thomas for years to come!


Kristen

Married on 05/06/2017

Emily and Thomas are absolutely incredible to work with! Can't recommend them highly enough. If you are looking for photographers who feel like your best friends, provide a truly collaborative experience, and take beautiful pictures (with real film to boot!), you want to work with The Ganeys. Their one package pricing is easy to wrap your brain around, there aren't any surprises, and you get a TON for what you're spending. Emily and Thomas spent the entire day with us at our wedding, flew to Boston for our engagement session, and surprised us with their thoughtfulness for the entire 10 months that we worked together. LOVE these two!

Emma

Married on 04/08/2017

Firstly, drop everything and go hire these two right now. Seriously. There shouldn't be a single hesitation because Emily and Thomas are the definition of perfect. And I don't say that lightly. When it came to finding a photographer, to say my standards were high is an understatement. I knew I wanted someone who could capture portraits without them looking staged, capture the feel of a moment, not just a photo, and someone who could put me at ease. And these two checked all the boxes. The also shoot in film! These cameras have no preview and it takes pure talent to do it well. And these guys do it phenomenally. They also care about each and every one of their couples. You only have to click on their blog link and you'll see it. They don't just work with you, they become your friends. They have this unique ability to put you at ease and it shows. After our engagement shoot, I trusted them whole-heartedly and they did not disappoint. Also, one of my favorite things about these guys is the fact they are always there, not just as photographers but as whatever you need them to be. And they are never in the way.
As for the photos...THE PHOTOS! There are literally no words to describe how INCREDIBLE these photos are. I got 1500 photos and there isn't one I don't like. Remember the part where I said I'm picky? I also hate getting my photo taken. I'm not photogenic at all. But here we are with 1500 photos and I love every last one. They didn't just capture us and our day, they captured every feeling, emotion and the entire atmosphere of the day. And did I mention I got previews the next day? Less than 24hrs and I had pictures at my fingertips. Are you kidding me?! Emily and Thomas are actually out of this world talented and the kindest, sweetest people to boot. Photography isn't a job for them, it's their passion and it shows. I cannot even begin to thank them because there just aren't words to describe the magnitude of admiration and gratitude I have for these two.

Stephen

Married on 02/25/2017

Emily and Thomas are THE BEST, without question. I don't even know where to start this review! First of all, our photographs could not have turned out better! Because of Emily and Thomas' unbelievable talent and hard work, my wife and I will forever be able to relive the best day of our lives! Not to mention their willingness to travel from Florida to Colorado to take our equally stunning engagement photos! As an additional bonus, this amazing duo still shoots with film, as well as digital photography. If you are looking for the most talented, friendly, relaxed and fun photography team around, this is the team to choose. After meeting Emily and Thomas, we immediately knew we were going to receive SPECTACULAR photos. We did not expect to walk away with such wonderful new friends!!!

Love,
Kyle & Courtney

Teresa

Married on 02/18/2017

Emily + Thomas make for such an amazing photography team. I've been following her blog for a long time, all starry-eyed, thinking that when my time came around (one day!)...I had to have her document my wedding day. Her photos make me feel all warm and fuzzy inside. She has a knack for capturing the sunlight and people in their natural element. It's most definitely the best friend vibe you get from Emily + Thomas as soon as you meet them that probably makes a difference in their photos (especially being at ease in front of the camera and fun company following us around all day is a plus). Rain or shine (and we had both on our wedding day), they capture some dreamy photos. She was with me every step of the way, from engagement photo session advice to wedding day timeline. She'll tease you with photos and sweet messages through her social media outlets, fill your heart with hugs, and once you see the final photo collection in all its glory, it will take your breath away. We love you Emily + Thomas! We can't thank you enough for all the beautiful wedding day memories!

Kate

Married on 01/25/2017

Emily is the best photographer you could hire! She's most definitely worth the money you will spend. She's so friendly to work with and she will make you so comfortable during all your photos. I am a family photographer and as a photographer you cannot skimp on the wedding photography. I REPEAT, you must leave room in your budget for a great wedding photographer! I was married on Wednesday, January 25, 2017. I had a small beach wedding on a weekday and very much needed a photographer to accommodate me. Even though my wedding was small, Emily was on time and did a phenomenal job photographing the wedding. One thing I really appreciated was that she sends you a questionnaire and shot list for you to fill out. This helps her know the couple and family needs better. What is also special about Emily is she photographs in both digital and film formats. You will get digital and film scans of your wedding, which is very rare. Don't think twice and book her while you can! She provided all my photos in an online gallery and I received tons of photos in less than a month!

The Ganeys's reply:

Thank you so much Kate!!! I so appreciate the kind review! You and John were wonderful to work with and the love you two share is contagious! You made my job so easy by communicating wonderfully throughout the process. :) Thank you again!! Hugs!

David

Married on 01/14/2017

Unbelievable. Blown away by the incredible pictures. Emily and Thomas knocked it out of the park!!! Shooting film makes a huge difference and I'm glad they go to all the trouble to do that. The pictures are absolutely incredible and they were quick too so we actually got to enjoy our cocktail hour and wedding reception!

Janelle

Married on 12/16/2016

Hiring Emily Katharine Photography was hands down one of the best decisions I made for my wedding, aside from the decision to marry my wonderful husband! They went above and beyond from the very beginning. Emily is wonderfully responsive, both Emily and Thomas did their best to make us feel comfortable in front of the camera during the Engagement shoots, and they blew both my husband and I away on the wedding day in so many ways. They were worth every penny we paid for them, and I could not be happier with the photos, which we will cherish forever. My advice? Just do it!

Lindsay

Married on 11/17/2016

If you can, book Emily Katharine Photography right now! All it took for me was one look at her blog and I knew she was the one. You don't even have to read the rest of this review, trust me, just do it. But if you're still reading, I'll tell you why. When we first reached out to Emily, we could tell that she was genuinely excited for us and interested in photographing our day. Sharing our plans for our wedding with Emily was fun because she was so positive. She was extremely responsive and flexible throughout the many months we communicated. I didn't have a wedding planner, but Emily developed a schedule for pictures that I was able to use as a base to plan the rest of the day. That was extremely helpful! We didn't plan on doing an engagement session at first, but we are so glad we did because it helped us to feel less camera-shy on our wedding day (bonus - great photos!) On the day of the wedding, Emily arrived nice and early. She fit right in with the bridal party and it really just felt right that she was there with us. When it was time for our first look (which I would recommend), we were right on schedule. We went outside to a park, and Emily captured everything just perfectly. Multiple people have told me that they have never seen us so happy, and that they can feel the love radiating from the photos. Dan and I both don't consider ourselves to be photogenic, but Emily's photos of us look natural and beautiful. Besides being the most talented photographer, she is also as sweet as can be and she is the kind of girl that becomes your friend right away. I'm sadly running out of space on this review, but trust me - having Emily Katharine Photography at our wedding was hands down the BEST decision we made!

Olivia

Married on 11/11/2016

Where do I even begin to describe our experience with Emily? I could not have asked for a better photographer for our wedding day. But she is so much more than that. She went above and beyond any expectations that I could have ever had. Planning a Florida wedding from New York is difficult enough. From the minute that I contacted her we set up a skype date to get to know each other and she started helping me plan the timeline for the day of and suggesting businesses to work with. She really got to know my husband and I on a personal level and by the time the wedding rolled around I felt like I had known Emily forever. During the entire experience she was a joy to work with, very professional and she CARED. She wasn't there just to take some pictures and make some money. She wants to tell your story and she does it flawlessly. By the end of the day she was really a part of the wedding party; our friends loved her too! I could go on and on about Emily. Bottom line - Stop thinking about it and book her already! You won't find anyone better for the job and you will be 110% satisfied.

Monica

Married on 10/23/2016

Emily & Thomas photographed my wedding in October 2016. I fell in love with Emily's use of film and natural light in her work (which I found randomly somewhere on the Internet - I am so glad I did!), and when I contacted Emily, she was immediately responsive and helpful. Emily truly cares about her clients, and she brings genuine enthusiasm for love and weddings that comes through in her beautiful work.

Emily and Thomas were enthusiastic about traveling three states away to meet us for an engagement shoot. They didn't blink at staying with me, or at their introduction to my fiance when he called them "stranger danger"! They were professional but also fun - they put us at ease being photographed (one part of the wedding process I'd particularly dreaded), and we became friends (not just photographers/clients - Emily truly works to build relationships).

Our engagement and wedding photographs are everything we could've asked for and more - Emily and Thomas have a knack of blending in and capturing unscripted moments on which we'll look back and remember forever. Several of our wedding guests complimented Emily and Thomas for somehow managing to be everywhere at once and, again, for their enduring professionalism and happiness to be a part of the celebration.

Photography was a priority for me in wedding planning. Emily was my first choice photographer - and even though I know Emily and Thomas had a long day shooting a wedding the day before ours, they made us feel like we were the only client they had!

We love, love, love our wedding photographs and will treasure them forever! I highly recommend Emily Katharine Photography and cannot say enough wonderful things about Emily and Thomas!

Brandi

Married on 10/22/2016

This review will not be able to give enough praise for The Ganeys. They are the whole package. Their talent is obvious; look at their pictures (they use film guys...) and you'll be able to tell this isn't a normal wedding photographer. It's truly an art for them. But aside from their photography skills, what really sets the Ganeys apart is the simple fact that they are great people. They truly invest in their couples and do everything they can for them. From time management on the big day, planning your timeline along with your venue/coordinator, and keeping the bridal party and guests focused, to being available and responsive whenever a question pops up, The Ganeys always give extra care to ensure your day goes as smoothly as possible. Photography is a very intimate and personal detail on your wedding day. You can be sure The Ganeys will capture every moment and will photograph your wedding as if it was their own.
Are you interested?
Send a message