60 Reviews
Recommended by 99% of couples
Quality of service

5 out of 5 rating

Average response time

4.9 out of 5 rating

Professionalism

4.9 out of 5 rating

Value

4.9 out of 5 rating

Flexibility

5 out of 5 rating
7 User photos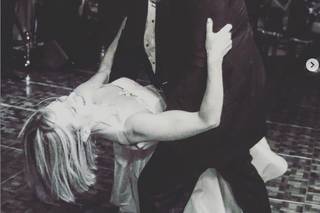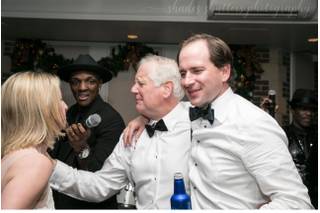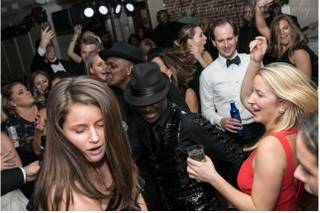 + 3

photos
Courtney D.

Married on 06/25/2022

Had the dance floor packed!

The Eturnity Band was amazing! They are dance floor rocking all night and we got so many compliments for the guests even a few weeks after the wedding! De was awesome to work with during the planning process and accommodating! The band played the perfect music for cocktail hour and it added to the whole ambience of the hour. Then they rocked it for the rest the night!! They had the dance floor packed, song selection was great, and they energy made the guests want to dance all night long!! The guests said how much fun they had and how the band made the whole night a blast. We highly recommend them to anyone!!

Lauren B.

Married on 02/19/2022

The absolute best!

De & the band are hands down the best of the best. They truly exceeded our expectations for our wedding in every single way possible. During the planning process, De was an absolute pleasure to work with and made everything as seamless as possible (even after a date change and an extra year wait!). From the music at cocktail hour to the first and final dances and everything in between, the band kept everyone on the dance floor the ENTIRE night, and our feet still hurt from dancing so much! They are incredibly talented, and their constant high energy made for the best atmosphere we could've ever hoped for. Countless guests told us and are continuing to rave about how amazing you are & we couldn't agree more. The Eturnity Band is truly one of a kind - we would recommend them again and again to everyone!!

Danielle S.

Married on 08/07/2021

Awesome!!!!

Number one comment we got back from our wedding was that the band was awesome. Had a little issue with first dance song but all in all would hire again with out question. Highly recommended.

Are you interested?

Send a message

Samantha S.

Married on 05/30/2021

The best high-energy band you can hire for your wedding!

If you want a band that will keep your guests on the dance floor, then Eturnity is the band for you! Our guests told us multiple times that the band was phenomenal, high energy, and played the best Horah they've ever heard at a wedding. De is an absolute delight to work with and fulfilled all the custom song requests we made. For us, we wanted to select thoughtful music for our ceremony and had picked a special song for our first dance. De accommodated us and was available any time we had questions about the right mix of music to play. Most importantly, Eturnity takes the lead with emceeing the wedding. They did an amazing job coordinating with our venue, ensuring every portion of our wedding day flowed seamlessly. Our wedding music was perfect because we had amazing talent playing, and professionals who take pride in their business and performance.

Tim F.

Married on 11/23/2020

Highlight of Our Wedding Night!!

"I've never been to a wedding where the dance floor is so crowded all night!"

This was a common refrain among guests, thanks to the Eturnity Band! They kept the party going all night! Dee was great to work with leading up to the event, and the band even learned some songs on short notice. My wife and I got married last November, and the great memories the Eturnity Band helped create have helped get us through 2020.

We looked at Hank Lane and a few of the big NYC bands, but were blown away by the Eturnity Band! We cannot recommend this band enough!

Keillan L.

Married on 12/14/2019

If you want people tearing up the dance floor... this is your band!!!!

They went completely above and beyond my expectations!! I could not have imagined a more perfect band for our wedding. They played nonstop the entire night and the dance floor was nonstop as well!! I would 100% recommend them time and time again... They were so incredibly easy to work with. The entire process was a joy start to finish!

Dominique Z.

Married on 08/24/2019

simply amazing!!

De and the Eturnity Band are AMAZING! Every member is extraordinarily talented beyond anything I can say in a review. They were so much fun at our wedding we couldn't sit down. Our guests thought they were amazing as well and are still raving about them months later. Not only can The Eturnity Band sing, but they are performers! They can sing, play instruments AND dance. Their choreography was on point! They were so much fun to get down with! We gave them a list of songs we wanted them to play one of which was a family favorite and IN ITALIAN and they learned the entire thing (Eh, Cumpari by Julius La Rosa). It made our night! Their style ranges from classics like Frank Sinatra to Earth Wind and Fire to Justin Timberlake. They can play and sing it all! And not only that, they do it WELL! They did a classical trio for our ceremony and a New Orleans styled trio for our cocktail hour. They are truly so versatile in their abilities. De was such a pleasure to work with, always quick to repond to our emails and questions, and such a professional. I would recommend them to anyone looking for a band that's FUN, super talented and professional.

Morgan

Married on 11/17/2018

Amazing Wedding Night with Eturnity

This band was absolutely incredible! My sister-in-law used them at her wedding about 5 years ago and gave raving reviews, so although there were some band member changes, we decided to trust our instincts and hire them for ours... and we are SO GLAD we did! They were amazing and we have still been receiving compliments on how great they were. The dance floor was full all night and the energy was fantastic. They even invited us on stage to dance and watch how much fun our guests were having, which was one of the highlights of our night!!

Lily

Married on 09/22/2018

Our guests danced all night long!

Eturnity is AMAZING! Our guests danced all night long and people are still telling us how great our wedding band was. Eturnity made our wedding a night we will never forget!

Janice

Married on 08/25/2018

Hired Eturnity for my daughter's wedding and WOW AMAZING! When the last song ended the dance floor was how it was all night long - full of people. EVERYONE LOVED the music. Everyone needed foot massages at the end of the evening - we were dancing all night!
De accommodated all! And the band members were so interactive, played what my daughter and son-in-law wanted and sounded like the originals. THANK YOU! THANK YOU!

Julie

Married on 06/03/2017

Wow, if you are looking for a band who sounds better than the originals and will keep your guests on the dance floor all night, you found them. I have received so many compliments from our guests that this was the best wedding band they had ever seen. De was such a pleasure to work with throughout the planning process and her and the band were true showman on the big day. The band mates were dancing, performing and just creating the best atmosphere. I don't think I stopped dancing until the night had to end! The band also never took a break and continued throughout the reception. Eturnity also played at our ceremony and cocktail hour, which was a beautiful touch, and they learned special songs that meant a lot to us and our families. Eturnity also provided AV.

Michael

Married on 10/22/2016

If you are looking to let loose, sing, and have sore dancing feet the morning after your wedding, these are the guys! My wedding was in October 2016 and my guests are still talking about it in Jan 2017. Their energy and their sound are untouchable.

Welyn

Married on 10/01/2016

Love them, have booked the for all of my family's weddings, birthday parties etc. They are the best!

Eturnity is an amazing wedding band and we couldn't be happier! De does a great job pulling everything together as the band manager and Eturnity got every single one of our guests up and dancing almost the entire night! Thank you for helping to make our wedding day so special!

Hands down the best wedding band. Went to go see them in a showcase and knew right away they were perfect. People are still raving about how our wedding was the best they had ever been to. Nobody touched my dessert table because everyone was too busy dancing all night long... which is all that mattered to me. Truly a blast.

Valerie

Married on 07/30/2016

De and the entire band put on such a fantastic show with their superb vocal and musical talents! Had everyone dancing even before dinner was served! Can't say enough good things about them! Everybody at the wedding wanted to know where I found them! Thanks for making my Daughter's wedding so memorable!

The band was great! The guests were dancing the whole time, and people keep telling us how great they were. I would definitely recommend working with them. Great value. Very easy to work with.

Eturnity was better than we could ever expect. Everyone had the best time dancing and I continue to receive compliments. The band was the most important aspect of our wedding to myself, my husband and my mother and we were all so impressed by their performance. Thank you for making our day!

Caroline

Married on 10/10/2015

The band was the most important part of the reception planning for us! I wanted people dancing all night and Eternity band made that happen. The seats at all the tables were empty and everyone was on the dance floor. All we kept hearing from everyone was how great the band was. I can't wait for my friend's wedding in February because she is also having Eternity Band!

Barrett

Married on 10/03/2015

Eturnity is the real deal. The dance floor at our wedding was nearly reduced to splinters, it was so packed with so many shimmying, smiling people. I first saw Eturnity at a friend's wedding in DC and immediately considered them my top choice for my own wedding in the Catskills in Fall 2015. The booker, De, was very responsive and logistically, things went off without a hitch. More importantly, the band was happy, energetic, and so, so good. They specialize in hits throughout the ages, from the Weeknd to Carly Rae to Whitney to Motown. Highly, highly recommended.

Shauna

Married on 09/25/2015

The number one question I heard during and after our wedding: "WHERE DID YOU FIND THAT BAND?" It's almost three weeks later and our guests are still raving about The Eturnity Band. They were incredible. The dance floor was packed the entire night. The band is high energy and super fun. They keep the party going, and they are just really really good!!! Eturnity is made up of very talented singers and musicians who can seemingly play anything. They provide continuous music, which was really important to us when selecting a band. After dinner Eturnity had to have played for nearly two hours straight! We had the absolute greatest dance party I have ever seen at a wedding. Everyone is telling us they are the best wedding band they've ever seen. I can't say enough how amazing this band is, and hiring them was a decision I would make again and again. We also used Eturnity for our ceremony and cocktail music, and I was very happy with both. And De is very responsive, professional, and easy to work with. I will be recommending Eturnity to everyone I know who is having a wedding or party. Awesome, awesome band!!!

Molly

Married on 09/12/2015

Eturnity is the BEST! They kept our wedding guests dancing all night. Till this day people still talk about how amazing they were. We highly recommend them if you want your wedding to be the best party of the year.

Annmarie

Married on 09/05/2015

This band is absolutely amazing! Our guests are still raving about them . Highly recommend them for any special event ! They played everything we asked them to and so much more. They made our wedding so amazing !

Brett

Married on 08/29/2015

Before I hired the Eturnity Band for my own wedding, I had seen them at two other events so I knew what I was getting. But nothing could have prepared me for the amazing show they put on!! Not only were they very easy to work with but they had the crowd up and dancing from the second they started playing until the night ended. They were also so easy going and fun with the guests. As a singer myself I have always been very sensitive to wedding bands. This crew was so talented!!! They played a lot of current music but not in a cheesy way. they actuially sounded better than some of the real artists! They made my night! Hire them immediately and don't look back!

Eturnity was absolutely amazing! Almost every guest commented the next day, 'where did you get that band?!'. They had our entire wedding out on the dance floor the entire night- exactly what we wanted. We are so, so happy we booked them. Best wedding band ever!
Are you interested?
Send a message