61 Reviews
Recommended by 92% of couples
Quality of service

4.6 out of 5 rating

Average response time

4.5 out of 5 rating

Professionalism

4.6 out of 5 rating

Value

4.6 out of 5 rating

Flexibility

4.7 out of 5 rating
Awards
25 User photos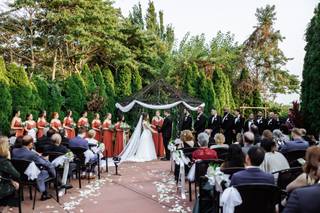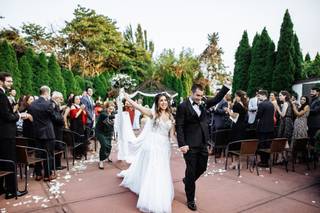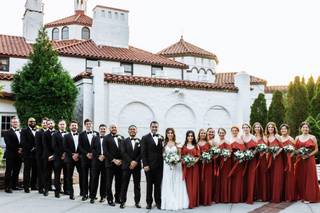 + 21

photos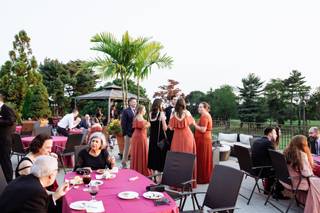 Featured

Gilda O.

Married on 05/01/2021

Excellent!

I had my daughter's wedding in this beautiful paradise, it was delightful!!
The view was spectacular, the whole place just had a magical feeling of being with nature. Our guests had so many wonderful comments and had the opportunity to enjoy the spacious indoor area and the terrace with the green surroundings that created a picture-perfect wedding venue. We all felt so welcome in this romantic, classy Douglaston Manor. It will always hold a special place in our hearts.
Huge thank you to Carlos, Claudia & Lisa for all your hard work behind the scenes and helpful suggestions. They were attentive to every detail. The staff was extremely accommodating and friendly. The food was delicious.
All the contributors were great fantastic.
Honestly, I would recommend this excellent venue for weddings and events from the bottom of my heart. It was an experience you would expect from Long Island/Up State NY but located in Queens...lovely memories.
Gilda O'Kelly

Rossmery S.

Married on 04/01/2023

Exceptional

I got married April 1, 2023, and I couldn't be more happy with my special day. Claudia, Lisa and Carlos made sure that this day was perfect!!! From the food to the service and beyond. I'm still fishing thinking how perfect having my wedding at Douglaston Manor was. Thank you for making my special day Exceptional!!!

The Douglaston Manor's reply:

It was a pleasure working with you and Victor. We were so happy to have made your wedding such a memorable event. Wishing you both more wonderful memories together as the years go on. Thank you for giving us the opportunity to be part of this special moment.

Sepideh A.

Married on 09/17/2022

Best wedding venue ever

Absolutely beautiful venue for a wedding!! We held our wedding here in Sept 2022 and this venue - a 170-year-old Spanish-style mansion just outside of Queens - has the best combination of indoor and outdoor spaces to host your event. It has the most beautiful private garden with a water fountain for a ceremony of all the venues we looked at across multiple states. The venue also has an amazing patio overlooking a golf course and the NYC skyline that we used for cocktail hour, and delicious/plentiful food. Everyone at the manor - Claudia, Kathy, Carlos, Lisa - was incredibly nice and helped us set up and break down after the wedding. The staff was also accommodating to us bringing in our own desserts, which many venues we looked at did not allow. All of our guests raved about the venue's beauty and said the place was magical. Also, the location is phenomenal - half of our guests flew in for the wedding and the venue is a 15 min drive from both JFK and LaGuardia airports. 100/10 recommend this site for any special event you want to host.

Photo Credit: Natali.and.Kate (amazing wedding photographers)

+ 12

photos

Are you interested?

Send a message

Cara M.

Married on 12/03/2021

Amazing Reception!

We had our reception at Douglaston Manor and it was an incredible experience! On the day of our reception, the Manor was decorated for Christmas, which added to the overall beauty of the day. My guests all raved about how beautiful the Manor was. Lisa, the bridal attendant, was astounding; she was at me and my partner's side the whole time. During the planning process, I worked with Claudia and Cathy who were both always accommodating, flexible, and easy to get in touch with.

Working with the Manor overall was a wonderful experience! They did everything for us (cake, worked with vendors, food, drinks, etc). The value was also great, especially for the delicious food and beautiful space. x10/10, would recommend! I'll try to remember to post the professional photos too.

Paulina B.

Married on 04/17/2021

Best wedding ever!

We hired Douglaston Manor to host out 8.8.20 wedding. With the pandemic happening we had to postpone it. Claudia was very helpful and accommodating with us to make sure we get a new date and made this experience stress- free. We finally were able to have our wedding last weekend! The quality of work they put was outstanding. They did everything to make our night so memorable! Carlos made sure everything went with the plan so we didn't have to worry about anything throughout the night! Lisa also made sure I get whatever I needed! not to mention the food! Everyone loved the venue the quality or food and also the overall quality of their work! Everyone did a fantastic job and We Highly Recommend this venue! We will definetely be back! Once again thank you Claudia and the whole team! I couldn't ask for a better wedding!

Cindy C.

Married on 10/11/2020

Douglaston Manor are professionals. They listen and provide you with ideas and thoughts. They are flexible and adjust themselves to fit your plans.

Douglaston manor catered our Wedding Sept 2021. They have been with us since the beginning of COVID19. We originally scheduled to marry October 2020 but they stood by our side even giving us the opportunity to pull back but they guided us and kept in communication with us. When it was time to pick a new date they were flexible. The court yard is beautiful. The outside entrance has a beautiful fountain for pictures. Parking is available. The manor is enchanted view reminiscing architectural from the past. Wood floors, chandeliers, beautiful staircases The staff was wonderful. As a bride I was given someone to stay by my side at all time. She was lovely and it made my day easier. My guest enjoyed the food….. delicious! Pricing is great! Hotel accommodations for guest are near.

Laura P.

Married on 03/28/2020

The most beautiful venue

The Douglaston is such a beautiful venue and reasonably priced. Though our wedding was delayed a few times because of the pandemic, the Douglaston staff provided A+ support. From before we signed the contract to the day of our wedding, working with them was stress-free. They presented solutions for any concerns that may have come up throughout the wedding planning process, and they did everything they could to make our wedding day go smoothly and exactly how we wanted it. Carlos was our maitre-D and just so on it and had the best attitude. Lisa was my bridal attendant and she was amazing not just at taking care of me and my husband, but also looking after our parents, as well—making sure we were doing well, eating, drinking and looking our best at all times.

The food was amazing. So many guests came up to us to rave about the food from the cocktail hour, to dinner, to the Viennese table (it was not just 1 table by the way) which was a huge hit!

This venue and staff were absolutely perfect!


Elise

Married on 08/30/2019

Douglaston Manor Wedding

The venue itself is gorgeous, like an old Italian villa, but it was the staff that made this place so special! There was so much that went into setting up for the big day that happened behind the scenes and I did not worry for one second that the Maitre D and bridal attendant would help get everything into place. Carlos and Lisa went above and beyond to make the day perfect. Everyone we met was helpful and was very accommodating to our requests. Thank you to our banquet manager, Anthony and to Cathy at the front desk! What a truly special place!!! We feel lucky to have had our wedding at the Douglaston Manor!

Deborah W.

Married on 11/23/2018

Best 50 th Birthday Celebration Ever!

My sales person was Kathy, who was excellent in every where. I could not have celebrated my 50th birthday in a more perfect space. On the day of the event, we had to change the table arrangement and it was not problem for Kathy and the staff to accommodate.

I am so grateful for the wonderful memories.

The Douglaston Manor's reply:

Thank you so much Deborah. We are so happy your special day was all you were expecting. You were a pleasure to work with.
Thank You Again

Rose

Married on 11/03/2018

Best Place for your Wedding!

Our experience with the Douglaston Manor was an actual dream come true! From the moment we walked in to see the Manor, Kathy, our wedding coordinator, was wonderful. Relaxed, sweet, and so caring about us and what we wanted, she never made us feel pressured or nervous and gently made suggestions which ended up making our night even better than we could have hoped. Working with Carlos our Maitre D and Michelle my Bridal Attendant was a blessing. Michelle was so attentive and helpful. Within minutes of meeting her, I felt like I was spending time with a good friend. She was so funny, kept me calm and literally did anything and everything I needed- most of the time without me having to ask her. The same could be said for Carlos. Just to give a small example, my fake eyelash starting come off a tiny bit. Without any eyelash glue on us, I was nervous about how we would fix the issue but The Manor proved how above and beyond they'd go when Carlos, unpromoted and unknown to me at the time, went out and brought me eyelash glue! It was a small gesture but it went a long way and showed me how devoted the Manor is to their clients. Michelle made sure he knew exactly what to get and she helped me fix it when he came back (which was unbelievably quick as well) . Carlos was fantastic at keeping my group organized and making sure the ceremony was perfect. We are so grateful to both of them. Aside from their exceptional service, the staff at the manor was outstanding- every room was impeccably decorated and arranged exactly as we had hope, all of the items we had brought with us for various aspects of the night were set up perfectly without instruction and the attention to detail was second to none. The food. I am biased seeing as it was my own wedding, but the food was incredible from start to finish. The cocktail hour sampling that Michelle left from my husband and I including EVERYTHING being served downstairs and was presented beautifully- time was clearly taken to make sure we were able to try the food but also have it presented to us in a really special way. Kathy had suggested we try an "off-menu" item, braised beef in a red wine sauce, and no surprise, it was easily the best tasting wedding dinner item I've had at any wedding. There are so many things that go into making a wedding day perfect and that means there are so many things that are easy to stress over. Not once during the planning process or on the big day did I ever feel worried or concerned. Everybody communicated clearly, checked and double checked things and did everything possible to ensure everything was perfect- not just great, but genuinely perfect. Oh, and the cost was VERY reasonable. Kathy worked with us every step of the way to accommodate our budget while making sure the elements we wanted were included. We are looking forward to going back to the manor for future celebrations and feel so thankful to have been treated so well. They made our day everything we ever could have hoped for!

Racine

Married on 10/20/2018

Tom was such a sweetheart and definitely made an impression with my fiancé. He greeted us at the door and made us feel so special. The venue is beautiful and the deciding factor between this location and the one we selected was the food option. There options were limited and did some research of my own and saw across the board on various sites the food was heavily critiqued and wait staff. It was a risk I wasn't willing to take with my guests.

Lina

Married on 07/16/2018

Thanks to the Douglaston manor and its wonderful staff especially Anthony our planner and Carlos for making our day special. Everybody was so pleased with the amazing hospitatlity and kindness that was displayed at the manor. From the setting to the food to the atmosphere, it was all PERFECT.

Anastasia

Married on 02/17/2018

Once we went to meet with their staff we were completely confident in having our reception here! First of all we worked with Anthony who was awesome. He was worked with us every step of the way, and was beyond accommodating. Any time I had a question or concern I could email him and he was very prompt in getting back to me. You really can tell he isn't about making the commission, he really is there to help you have the event you want to have. Second, the price could not be beat. I don't like talking money in detail, but this was worth every penny, and was quite reasonable for a venue in the NYC area. I also greatly appreciated that there were no last minute tack on's to rack up the bill (no extra "administration fee" or valet parking fee, it was all included with base price).

I waited to write this review until after our wedding, I wanted to be able to write about the day of as well. The food all night was BEYOND amazing! I greatly enjoyed everything I ate (and I did get to eat at my own wedding!), and everyone I've spoken to has been raving about the food since then. Our Bridal attendant Lisa was a GOD SEND. She was amazing. She was with us all night. I told her when we arrived that I wanted to get pictures done as quickly as possible (it was snowing and I wanted to enjoy our cocktail hour!) and I basically already knew where I wanted to do our photos. She got us and the photographers everywhere we wanted to go, kept us on time, reapplied my lipstick throughout the night, and most importantly kept us hydrated! When we got to cocktail hour someone stepped on my dress and ripped the hem off! Lisa had made one plate, she literally took me just outside, grabbed some pins, reassured me, and temporarily fixed my dress while I ate my plate of cocktail hour food and you wouldn't have known once she finished that anything happened.

Jennifer

Married on 11/04/2016

The ENTIRE staff was on point. My guests still rave about how smooth the wedding was. We had exceptional service. Anthony (Tony) and Carlos made sure were were taken care of 100%


Derrick

Married on 10/29/2016

As a father, this was a critical event in my family's life. So many reasons WHY this was an amazing location for this special day. First: We worked closely with our Catering/Event Manager- Anthony. This is a true professional who looked out for our best interests at all times. He was one of the top reasons why we chose this location. Bottom line is that he cares! From the moment that we met Anthony till the wedding date, he was consistently communicating with us and exceeded our expectations for the day. Thank you Anthony.
Next, Douglaston Manor is truly a remarkable venue. Amazing garden area for the ceremony that I can only describe as magical. Our event took place on October 29th and the weather was great. Again, as a father, I have an embedded memory of the beautiful garden and outdoor reception area overlooking the golf course. Magical!! The Manor itself- Beautiful, stylish, classy and memorable. All guests loved the location.
I am honored to give a heart felt shout out to Lisa (bridal attendant) who had the toughest role - to prepare and console my wife, daughter and bridal party. Again exceeded ALL expectations. She is an incredible and caring individual who played a critical role in the success of the wedding. Lisa, you are a savior. Thank you!!
I am alittle emotional writing this review. Again, as a father, I wanted the best day for my daughter and Douglaston Manor, Anthony and Lisa delivered. I would be honored if anybody wanted to contact me with any questions.

Derrick

We can not have the wedding so successful without Douglaston Manor team's help, Kathleen gave us the guidance in preparation, bridal attendant Lisa and MaitreD Carlos are very experienced in coordinating. The decorations and setting up of the ceremony and reception are elegant and gorgeous. Our guest gave high reviews about the food, open bar and service. We had a great evening. Thank you Douglaston Manor for everything!

Marc A.

Married on 10/09/2016

Douglaston Manor does such a great job making sure everything goes as smoothly as possible from the start of the planning process to the actually wedding itself. Both of us had such an easy and enjoyable time working with Claudia and Anthony making sure everything was set before the big day. The venue is beautiful and the food is great! All our guests had nothing but great things to say.

Francis

Married on 09/18/2016

Speak to Kathy and she will help you out!

Dana

Married on 09/16/2016

You absolutely have to see this venue in person. It is absolutely beautiful and the views are breathtaking. All the rooms are gorgeous and the staff is very friendly and definitely put you first.

Anahita

Married on 08/27/2016

Absolutely amazing! We had a very large Persian Wedding (nearly 300 people) at the end of August at Douglaston Manor and cannot be more grateful and appreciative for how incredible this venue was. First and foremost the Manor is GORGEOUS! It's a historical mansion on a golf course that makes you feel like you were just transformed into a European villa (you'll hardly believe you are in NYC).

The whole building is so classy and elegant, the minute I walked in I fell in love. It's a much nicer space than the hotel banquet halls that most weddings are held at.

Aside from how beautiful the building is, the staff is incredible. We had less than six months to plan our wedding. Anthony from Douglaston and the entire staff were extremely supportive throughout the entire process. They were always available by phone or email and did their very best to accommodate every vision we had for our special day. Whether it was setting up stage platforms, assembling an ethnic ceremonial table in the courtyard, extending our reception to a later time, to having my favorite drink in my hand during the night, they did everything they could to make our night special.

On the day of the wedding I was blown away at how every vision we had discussed came together in reality. The whole setup was flawless. We had SO many compliments by our guests on how great the event was (everything from the ceremony, to cocktail hour, to dinner and reception). This venue may have been the only wedding I've been to where the guests raved about how great the food was. The staff was incredibly kind and accommodating throughout the night especially the Maitre D' Carlos as well as the Bridal attendant Lisa.

If you're thinking of booking this venue, then think no more...just book it! You will not find a more beautiful space with such a down to earth and passionate staff as this venue. Thank you Douglaston Manor and Claudia for making our big fat Persian wedding such a memorable success!!!

Mark

Married on 07/10/2016

We booked Douglaston Manor for our July 2016 wedding. Anthony has been an amazing banquet manager. He was reliable, patient and resourceful whenever we had questions or needed help with our vendors. he was very organized and kept us organized for deadlines and in planning our wedding. The outdoor ceremony and cocktail hour stood out for our family and friends with palm trees, lounge furniture and the NYC skyline in the distance. Our family and friends loved the food as well. Mike, our Maitre'D was great. He made sure our night ran smoothly and it showed. Lisa, our bridal attendant, truly went above and beyond and we couldn't have asked for a better attendant. Overall, Douglaston Manor, the Maitre'D, and the staff made our wedding perfect. Thank you!

Alecia

Married on 06/26/2016

The Douglaston Manor made my day come true! I can't express enough how heartfelt I feel that Michael and his team made sure my day beyond special. When we decided to have our special day Michael worked with us at a very comfortable speed. I would truly recommend this venue again and again!

Deepa

Married on 04/23/2016

The Douglaston Manor was literally the most perfect place for our big wedding day. Kathy was a pleasure to work with planning all the details of our event - we had little to worry about as Kathy coordinated with our DJ and caterer to make sure the details were worked out. The night of Michael was our Maitre'd and literally had our 22-person wedding party all organized, well fed, well hydrated and ready to go. And I have to say a special thank to Samantha our wedding attendant - she went above and beyond anything I could expect. Whether it was standing on a table to help me change outfits and get my new jewelry on to making sure all of our wedding accessories were organized, I cannot thank her enough. To top it all off, the Douglaston Manor is a beautiful venue - the golf course, the outdoor cocktail hour and ceremony, the beautiful reception room. It was just so grand! I would recommend this gem to anyone - great staff, beautiful venue, what more can you ask for?

I booked Douglaston Manor for my Spring 2016 Wedding. So far they have been nothing but professional and courteous! My banquet manager Anthony is very responsive and has been flexible with everything I've requested. My grand parents celebrated their 50th anniversary vowel renewal here back and 2008 and it left a such a great impression that I just had to book my own wedding there. The food was great and the service was amazing as well. My wedding ceremony us outdoor and they offer indoors as a back up for any inclement weather, free of any charge. Everyone at the Douglaston Manor has been very courteous and responsive and even when my banquet manager is not in, there is always someone to help.

Natalie

Married on 01/02/2016

This venue allowed our wedding to be everything we had ever dreamed of and more!
Are you interested?
Send a message