90 Reviews
Recommended by 98% of couples
Quality of service

4.9 out of 5 rating

Average response time

4.9 out of 5 rating

Professionalism

4.9 out of 5 rating

Value

4.9 out of 5 rating

Flexibility

4.9 out of 5 rating
69 User photos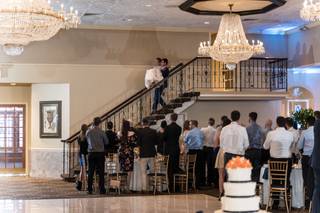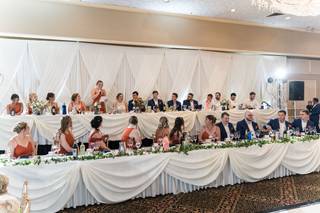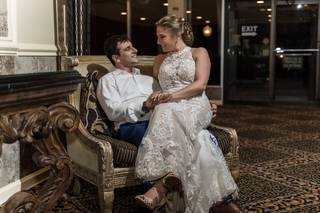 + 65

photos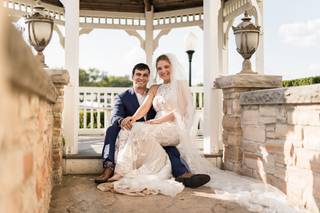 Andrew B.

Married on 11/12/2022

So thankful we chose Cotillion Banquets!

My wife and I are incredibly happy that we chose to have our wedding at Cotillion Banquets. From day one, George was extremely helpful and easy to work with. He was able to capture our vision perfectly. The ceremony was beautiful! The french onion soup and steak were amazing, and our guests really enjoyed their food selection. I have been to quite a few weddings and the food at Cotillion was ranked at the top. The drinks were amazing and the bartenders were well experienced in providing all drinks our guests requested. The outside appearance of the venue was a huge factor for me as it was the first impression our guests would see, and Cotillion did not disappoint. I highly recommend Cotillion Banquets to anyone planning a wedding. The venue is beautiful, the food is amazing, the drinks were great, and George was fun, helpful, and great to work with, especially his attention to detail on the day of.

Mary W.

Married on 09/10/2022

Outstanding in every aspect

9/10/22 George and Tom helped make our wedding everything we dreamed of and more. George was so helpful throughout the whole process from the day of our first showing to the days after the wedding. He always found time to answer any of our questions or concerns. They continuously demonstrated that they cared and worked with us to make sure we got the best value from what we contracted them for not to mention they were extremely generous in their offerings. The main reason why we went with the cotillion was the following: big dance floor, great food, visually elegant by itself, and the people. We booked the front two rooms with 245 guests and there was plenty of room to spare on the dance floor despite us all on it which most venues cannot keep up with. Every guest I talked to at the wedding were raving about the food. Of all the weddings 30+ I've been to over the years, I've never been to one where people went out of their way to reiterate how good the food was throughout the night and reminisce afterwards. The lemon greek soup is a must. The front room includes a sizeable bridal suite with bathroom. The suite connects to the room by a visually appealing staircase as a nice entrance option. Our reception photos were stunning thanks to the interior elegance of the cotillion. We got to enjoy every second of our reception because George and Tom managed everything flawlessly. They are great people to work with, genuine people. We were happy giving them our business and helping support them. Basically there is no competition, the cotillion has excelled in all areas when it comes to a wedding venue.

+ 2

photos

Tarina R.

Married on 07/15/2022

More then we could have imagined

7/15/2022 we had our wedding at this beautiful establishment! Everything was absolutely beautiful! George and Tom were the best and very accommodating! My guests were in total awe of everything!!! We are still getting calls of how beautiful things were and how good the food was! All of our guests raved on how they have never had food taste so good at a wedding! We didn't hire a wedding planner, yet George walked us through everything we would need from beginning to end and the day was perfect! We can't thank George, Tom, and their staff enough for such an amazingly perfect event!

+ 10

photos

Are you interested?

Send a message

Kero B.

Married on 12/10/2021

Beautiful wedding thanks to George and the whole Cotillion team!!

Our initial wedding date was August 22nd, 2020 before Covid-19 caused us to delay it to October 24th, 2020. If it weren't for George and the team at the Cotillion being so flexible, I don't know that our wedding would have happened this year and I know it wouldn't have been as amazing of an event. We probably changed our wedding date 3-4 times between August and September trying to get all of our vendors on board, and the Cotillion always made it work for us to have a beautiful event.
We were expecting to have roughly 225 people in a room for our wedding, but it had to be reduced to 50 in a room because of Covid. It was very important to us to keep our guests safe, and the Cotillion followed the state guidelines, but still allowed us to have 150 guests by utilizing all three rooms (at no additional charge to us!). It was a worry of mine that each room would look empty with only 50 guests, but George and the staff really delivered. The space was used excellently and the venue looked magical when the night came. If you meet with George you'll instantly see that he is extremely nice, but also very confident in his work to make your wedding dreams come true. I've now learned this confidence comes from his 20+ years of experience and that he will actually work so hard to make it happen, and he did for our wedding.
We received so many compliments throughout the night and over the next few weeks after our wedding.
Some compliments we received that I would like George, Tom, Gus, and the whole team for:
"Best food I've eaten at a wedding"
"Dessert table looked and tasted amazing"
"The staff were so kind and cheerful"
"The room looked beautiful with the lights and the color scheme"
I can't thank the Cotillion enough for how great of a job they did on our wedding. I didn't imagine it could have been that magical even if Covid wasn't a factor, and they really made the best possible day for my wife and I!


Ryan K.

Married on 11/27/2021

Perfect in every way!

Venue was absolutely beautiful with excellent service by waiters/waitresses/bartenders. George was so helpful and went above and beyond. All of our guests loved the food and ambience. Perfect venue and recommend everyone to host their event here.

Kelsey N.

Married on 11/06/2021

Perfect Wedding and Outstanding Delicious Food

Our wedding was just absolutely perfect! We loved everything about the day and also to planning process! Working with George was a smooth and flawless process. He was so helpful and helped eased stress and nervousness for the big day! Planning was thought out Precisely, George was able to plan out and think of things I didn't even know I needed to figure out! Our big day went so well and I couldn't have asked for a better smoother day! All of our guest are still raving about how wonderful and delicious the food was! The service was amazing and I wish the day hadn't flown by so quickly! I highly recommend the Cotillion for your events! George was wonderful and has an amazing passion for what he does! You can really tell he cares about you and your family!

Silvi D.

Married on 10/23/2021

Perfect wedding experience!

I had my wedding here back in October of 2021 and it was absolutely perfect in every way. George is FANTASTIC. He doesn't treat you like a customer, he treats you like one of his own. I went through stuff in my personal life during my wedding planning process and George was a support system for me. He follows through on everything he promises and goes above and beyond to make your day perfect. This experience was better than I imagined or could have imagined. Read the rest of the reviews because it really stays it all. I would gladly and easily recommend this banquet hall to anyone who wants a good experience and a perfeedding. Thank you again to everyone at the Cotillion for everything you guys did to make our dreams come true.



Nave W.

Married on 08/14/2021

Exceptional location, Exceptional service

We had our wedding reception at the Cotillion on Saturday August 14, 2021. From our first encounter with George and Tom, we felt like we were VIP's and family. We were always treated with professionalism and courtesy and they showed great concern and interest in our event. It's as if we had our own wedding coordinator/planner in George. What an asset! His many years of experience helped us decide on menu, order of events, vendors for flowers, cake and other decorations.
The communication between us and George was excellent. Whether we called or emailed we always received a response and we had no doubt as to what was discussed and agreed on. We felt more like family and not just another customer.
On the day of the event, George made sure everything was EXCEPTIONAL! The place was nicely decorated, the food was GREAT! All our guests commented on the quality they received. Cold food was cold and hot food was hot! Taste was great and everything was well done.
Thanks, George, Tom and bartender Mike for making our event such a success. If anyone is thinking of using this venue, you can have no doubt that you are in the right place and you will be WELL taken care of.
Signed: Nave and Marie Wilson

Anum

Married on 06/20/2021

Truly a Reception to Remember...

My family, including extended family, have been customers of the Cotillion Banquets for over two decades. So when it was time for my brother to book his wedding reception, there was no question where it would take place. Both George and Tom have treated us like family for years. We are so eternally grateful for everything they did to make my brother and SIL's reception feel like a dream-come-true. When I say that George took care of everything, I MEAN he took care of EVERYTHING. George had assured us that everything would go smoothly. He covered every little detail in our meetings leaving me to realize we're in great hands. George covered details that I didn't even realize needed to be covered! I was so impressed by his knowledge of South Asian culture and knew we made the best decision booking with the Cotillion. Fast forward to the day of the event, any worries we had while planning, instantly disappeared as both George and Tom were on top of everything. They both went above and beyond to ensure that our event went perfectly. George & Tom were truly our fairy Godfathers and provided everything that they had promised. My brother and SIL's wedding reception was a true fairytale and the credit goes to Cotillion for making it happen! We will be customers for life.

Shenika A.

Married on 06/04/2021

Best Venue ever!!! And special thanks to George!!

MAN OH MAN. Me and my now Wife Shenika could not wait to post this review of the Cottilion Banquets and our Friend George!!

We HIGHLY WITHOUT ANY DOUBT recommend this venue to everyone! It was one thing to be able to find the perfect venue for our wedding. A venue so clean, vibrant, up to date, great location, and very accommodating. What we did not expect is to find a venue with people that cared as much as we did about our day!!!!!
When Shenika and I met George, we immediately knew that The Cotillion Banquets was our home for our wedding. He was so genuine and friendly. He listened to all of our needs and made EVERYTHING HAPPEN. It was the wedding of my wife's dreams and George did everything to make sure of that!

We originally had a date set for March 13th, however, due to Covid restrictions, we had to change the date. We weren't sure how that would work out but George made it happen without ANY concerns.
George, Tom and the staff are WONDERFUL and we will be going back to the Cotillion for all of our major events!!! Even the staff at the bar was having a great time with us. That was amazing!

We sincerely thank you for taking care of us and for caring!!!!!
Because of George and the Cotillion Banquets team, our day was PERFECT!!!!!!!!!

Elliana L.

Married on 05/22/2021

Dream wedding

George was outstanding it was like planning my wedding with family! Micheal and I really loved all the hard work and dedication you put into making our dream wedding come true! Thank you so much for everything the food was absolutely hearty and delicious everything turned out beyond perfect!

+ 2

photos

Brittney

Married on 05/08/2021

Cotillion Wedding + Reception

My husband and I looked at 3 locations, the Cotillion was the last and we booked it for our ceremony and our reception. Best decision! Why? Well, the warm inviting welcome we received as soon as we walked in. The price, the location, and the venue blew our mind. It superseded our expectations. George is an amazing man and he is the reason why our wedding day went PERFECTLY. He's so organized, detailed oriented, loving.. and will always put YOU the couple first.. Remember this.... he listens to you. The Cotillion is not out to get your money...they're in the business to create fairly tale memories and George did that for US, you become family. He made every dream come true for us. He will literally provide you with whatever you need for your wedding day, no questions asked, he's got the answer! Our wedding day will forever be a moment we shall never forget. From start to finish, it was perfect. My guest are still talking about it and expressing that my wedding was the best wedding they've ever witness. Thank you George and The Cotillion for making all of our dreams come true. You are our family now. With love always xoxo B+M

Franklin B.

Married on 05/01/2021

Nice, Professional, Amazing, BESTEVER.

The moment we walked in, we knew this was where we were going to have our wedding. Any little doubts we had about the venue were washed away by the warm welcomes and the unbelievable nice treatment we got for Tom and George. Leading up to the wedding date, everything was so smooth. These guys are very nice and genuine and they know how to do business. We still cant decide what our favorite part of the wedding was. The place looked amazing (George IS AMAZING. Made the place look breathtaking. BEST GUY EVER) The food was delicious and the service was very good. Honestly, we cannot think of a single thing that was not perfect EVERYTHING was perfect. If we could go back in time, we would still choose this place to host our wedding a million times over.

Romeo A.

Married on 04/09/2021

Memorable Experience

I'm truly amazed at all of the compliments we received and continue to receive from our wedding guests about the beautiful venue, tasty food and service from the staff. Let's not forget the liquor from the open bar was of high quality! Tom the owner and George the event manager were so hospitable from the first time we sat down with them to discuss our wedding details. George made sure everything we wanted was taken care of and came in to check on us to make sure everything was to our liking. So many of our guests loved the banquet so much that they potentially will be inquiring for future events. Cotillion Banquets held our wedding at their venue and made sure we didn't even think about our original postponed wedding date due to Covid. George and Tom were so personable and made us feel like we were part of the family. Romeo and I thank you so much for the wonderful experience you provided us and the memories we have made not only at your venue but with the friendly connection with you personally.

April

Married on 10/16/2020

Amazing venue and owners

We had our wedding at The Cotillion on October 15,2021. From the moment we walked in to view the venue for the first time in September of 2019 to the last minutes of our wedding night George made us feel like family! He listened to every detail and delivered! I was blown away when I walked into the cotillion on my wedding day. The room looked spectacular and beyond our expectations. We unfortunately had to post pone our original date due to the pandemic and there were no issues what so ever. George made sure we still had a new date in place and helped ease our anxiety along the way. Our wedding guests loved the food and overall ambiance of the venue. George's attention to detail and quality of service makes the Cotillion unparalleled to other venues in Chicagoland. He was 100% honest and completely transparent throughout the entire process from start to finish. We look forward to hosting more events in the future at the cotillon and working with George again. If you need a venue for any type of event the Cotillion is the place to go. George and Tom run their business very professionally and answer any and all questions you may have.

Aley

Married on 08/01/2020

A great venue, and even more amazing team at the Cotillion

Words cannot express how hard George and Tom worked to help make our wedding happen. We first met George about a year ago (Pre-covid-19) to start our wedding planning. From the start, George's personality and hospitality amazed us. He made wedding planning such a breeze. Once the shelter at home order began in March, our wedding planning came to a complete stop. Around end of June, we met with George and Tom to brainstorm ideas on how we could safely have our wedding with a small number of guests. We had to completely change up plans from what we had initially planned for but George and Tom helped us accomplish something we never thought could happen. They listened to us and made sure our voices were heard. They made it their priority to make sure that we got to celebrate our special day. Our wedding day was definitely an unforgettable one. With George and Tom by our side, everything went so wonderfully. The food was AMAZING!! When George tells you about the great food Cotillion offers, he is not kidding! We are so grateful that we chose such an wonderful venue and an even better team that's a part of Cotillion banquets. Cotillion is the best example of a family owned business. You feel the love of family just from walking in through the door. George, thank you for all your support and positive energy during this entire process. Tom, without your key attention to detail, our wedding would not have happened so smoothly. We cannot recommend Cotillion enough! This is the place to be for your events!!

Marisa T.

Married on 06/20/2020

The best experience ever!

We booked the Cotillion prior to the pandemic. We looked at many different halls in different suburban areas before booking at the Cotillion. We felt so comfortable the moment we walked in and we were sold on the very first visit with George. We knew right away that this was the place over all the other halls we visited. They offer so much at an extremely competitive price. I didn't know exactly what to expect but we did have high expectations since it was our only daughter. Our expectations were met beyond our desires. Everything was perfect when we were finally able to have our reception. When the pandemic hit we didn't know what would happen or what to do. My daughter's wedding day was right in the early stages so we could not have the wedding/reception. Our dreams seemed shattered. But George and the owners were so helpful and accommodating. They helped us through the dilemma of what to do and moved our reception to the following year on almost the exact same date. My daughter wanted to get married anyway so we had a very small ceremony during the pandemic and waited to have the reception on our date at the Cotillion. Because of how much the Cotillion did for us, you could not tell that the wedding and reception were in two different years and separated. We had such a great celebration. They did so much for us and made the evening a grand success. The food was amazing! We had so many compliments on how good everything was. People couldn't believe it. We felt so honored and taken care of. I attended chef school as a trade and am very fussy about food. I can't say I expected great food since it is a banquet facility but it was probably the best food I have had at a wedding. We worked mostly with George who is at every party no matter what. He made sure every little detail was taken care of and did it with ease and expertise. I had the pleasure of also meeting one of the owners who was also there the night of our reception. They both kept checking in with us and making sure everything was okay, but they were not intrusive at all. We had a fabulous evening, they took care of every little detail. They made sure the temperature of the room was perfect for us, the food was hot and tasty, the cake was beautiful and good too, the room was perfectly lit and clean! Who has a good wedding cake? We did! They have many great referrals for vendors and hotel accommodations. We highly recommend this place! This is the first time I have written a review but felt very strongly about this. Thank you Cotillion, George and Tom!
Like


Liliana T.

Married on 06/20/2020

We would highly recommend the Cotillion Banquets!

My husband and I would highly recommend the Cotillion Banquets! We had our wedding reception there and it was the most perfect day. We looked at many reception halls, but the moment we walked into the Cotillion and met with George we knew this was the place we wanted to book. We booked our reception for June 2020 prior to the start of the COVID-19 Pandemic. We then had to reschedule for June 2021 and George was so accommodating throughout the entire process! Through lots of ups and downs due to the Pandemic and having to postpone, George and the Cotillion remained constant and worked with us every step of the way to make sure we still got everything we asked for and more. I was blown away by the way they took care of us, and worked with us. Throughout my wedding planning process, George was ALWAYS quick to reply to any question or concern I had. I NEVER had to wait long to get a reply from him whether through text or phone call. He was always very on top of everything and helped me right away whenever I asked for it. He was also very detail oriented and wrote down everything I asked for or we talked about to ensure I received the very best service and exactly what I wanted. George also made sure we got everything we asked for. Whatever we wanted or needed, we got! He was ALWAYS willing to work with us. Every time we visited the Cotillion (and of course on the day of our reception) everything was always very clean, put together and everyone we interacted with was very professional, friendly and helpful. The venue is beautiful - inside and out! Very classic and clean from the bathrooms all the way to the event rooms. The food was delicious! In my experience going to other wedding receptions and talking with friends, often times the food isn't as good as the tasting, but I thought the food at the Cotillion was delicious (both at the tasting and the actual event). And we received SEVERAL compliments from our guests saying the food was delicious! All of the waitstaff at our event were very professional, friendly and helpful. Not only was George helpful throughout the entire planning process of our event, but he himself was present at our event making sure everything was running smoothly and just the way we wanted it. We were so very grateful to him for that. I cannot recommend The Cotillion Banquets highly enough! You should definitely book your event with them whether it's for a wedding or another special occasion. You will not regret it!!! Thank you so much George, Tom and the Cotillion Banquets for everything! You gave us the perfect wedding reception celebration day that we will remember forever! Thank you!

Jessie P.

Married on 06/19/2020

A dream come true.

n 9/30/2020 by Jessie P
George and Tom made everything wonderful. We met George Jan of 2019. I told him what my vision was and what I wanted. He asked if we went any where else and we didn't. The cotillion was the first place we looked at and fell in love with it. We booked and planned for our wedding to be June 19,20. As we got closer to our date we had to reschedule our wedding. George was on top of it and got us in another date this year. When sept came around I talked to George several time and everything was set. George saw my vision and helped me make it come true. On sept 25,20 we had our wedding. And it was everything I could imagine. It was my vision and an amazing night. All our guests said how delicious the food was, how gorgeous the cotillion was and how it truly was my vision. Eveything went just right. And if we had to do it again we would definitely pick the cotillion. For having a wedding during COVID I was worried about it but it truly was amazing. George and Tom had everything all brainstormed for COVID and had everything all set for us to have 2 rooms and needed for the wedding. George's hospitality and being so involved helped make wedding planning a lot less stressful. George and Tom listened to us and made everything we wanted come true. We cannot recommend the cotillion enough.

Jeanine K.

Married on 11/05/2019

Wonderful Wedding Venue!

One of the biggest decisions we had was choosing a hall to hold our wedding reception. When we first walked into The Cotillion we were met by Tom. He made us feel like we were family. The more we talked the more comfortable we felt. He walked us through the building and he was knowledgeable and so cordial. By the end of our first meeting, we knew this is where we needed to have our reception. When we met for the tasting he explained to us his process of how the food is made and nothing was precooked or staged. That made a world of difference to us. We knew our guests were going to be getting a hot fresh meal. Tom left no stone unturned, he walked us through everything. From the time we arrived at the Cotillion to the time we walked out the door at the end of our party. We knew everything that was going to happen, when it was going to happen, and how it was going to happen. He went out of his way to meet with our entertainment to make sure that they had everything they needed as well. He made us feel so at ease and comfortable. There is no place I would trust more to handle such a precious event.

Lisa

Married on 10/12/2019

Beautiful Venue and Beautiful People

My husband and I went to a few places before we decided on the Cotillion Banquets. What made us decide on them was simple.. beautiful venue and GEORGE! George was our venue coordinator, he KNOWS his stuff. In the beginning, he may seem like he's promising you everything and it may be unlikely to happen. Well, guess what? EVERYTHING DID HAPPEN! HE MADE EVERYTHING HE PROMISED HAPPEN! My husband and I was soooo happpy! George also is very honest, he is not here to make you spend a fortune and persuade you to pay more than you need AND THAT is how you keep customers. Our wedding was BEAUTIFUL and all our guests were wowed by the decorations and the food was delicious!! My husband and I are so happy that we HIGHLY HIGHLY recommend the Cotillion Banquets for all your events!! You will NOT regret it!

Excellent Reception Hall

George and the entire Cotillion crew really knocked it out of the park for our wedding. My wife and I were so happy with our experience at this venue. We had toured around twelve different venues and the Cotillion was the clear winner. Of all the venues we looked at, this one offered the best quality at the best price. We had multiple meetings with George in the year leading up to the wedding. The planning process was very thorough and there was never any doubt about how the day would run. George worked closely with us to make sure we got exactly what we wanted, including some upgrades to our package which were most appreciated. 
As for the day of, we couldn't have been happier with how everything went. When we arrived for our reception, we were absolutely blown away by how incredible the room looked. George and his crew made it look just like the fairy tale style my wife had in mind. The food was excellent (we offered beef, chicken, salmon, and a vegan option) and we received numerous compliments about its quality and taste. The night stayed mostly on schedule, although with the length of our toasts and there being two other events that night, some delays were understandable. As to there being other parties that night, you would have never guessed it from inside our ballroom. So, to anyone worried about competing noise volumes, you can rest easy. At the end of the night, clean-up was quick and we were able to stow some of our things at the venue overnight.
Now, onto the most important part of this operation – George. This guy is incredible at his job. He is thorough, organized, and absolutely professional. He will have you read his reviews, which he should because, like this one, they are very positive. George isn't trying to oversell you on how good he is. He really is as good as he says. We felt so welcome at the Cotillion where George, Tom, Gus, and the entire staff truly treat you like family. They have a strong sense of hospitality and friendliness here that made for a very enjoyable experience. My wife and I hope to host more events here in the future and I can't recommend this venue highly enough.


+ 2

photos

Sarah K.

Married on 09/07/2019

Excellent experience!!! Highly Recommend!!

The Cotillion was one of the last venues we looked at, but from the moment we walked in we were sold. The ballroom and even entry way is absolutely gorgeous! From there we met George who is outstanding! He provided us with all the information we could possibly need. George worked with our budget, timeline, and any idea we came up with he took it and made it a reality. The week of we had several last minute changes that George, Tom, and Barbara were able to work with. The day of, the room looked beautiful and the tables were set up perfectly! The food and atmosphere was outstanding. Our guests have not stopped talking about it! I cannot thank George or the entire staff enough for making our special day beautiful and perfect.

Truc M.

Married on 09/07/2019

Best Day Ever

There's a lot of stress planning a wedding but the team at the Cotillion, especially working with George, made the day effortless on mine behalf and I didn't have to worry about a thing when it came to the reception. He made sure that we had a timeline for the night and advise us when we should cut the cake to our first dance and all the important details so our photographer can get those important pictures without the servers in our pictures. The venue was absolutely beautiful from all of the decors to every details on the each tables. The team at the Cotillion was very accommodating and worked with our budget and even went out of their way to help our vendors set up and letting my husband and I practice our first dance in another room while they set up. The servers and bartenders gave one of the best services to all of our guests which is amazing and very important to us. Our guests rave about the amazing food and the venue. George and his team are the of the best in the wedding business!!

Tim A.

Married on 08/30/2019

Simply the Best!

From the beginning of the wedding planning through our wedding day we were incredibly impressed with the Cotillion. Starting from our first visit meeting with George we could tell the Cotillion was a family atmosphere. When we toured the facility, we saw everyone from the owner to the staff working together to prepare for an event that evening.

During the wedding planning, George was enjoyable to work with. His servant heart showed through when with each request his reply was always"no problem." At the same time using his many years of expertise, George kindly guided us to wise decisions that we would not have thought of otherwise.

The day of the wedding was stress-free for us because of all the work George and his staff put into the setup and logistics. During our reception, the staff was incredibly attentive and Tom the owner checked in with us several times throughout the night to make certain everything was going well. We had several people tell us the evening was one of the best receptions they had attended. In particular, people express that the food was delicious. We had several guests with special dietary needs and the Cotillion accommodated all of their needs with ease. Overall, we could not have asked for a better experience throughout the entire wedding process thanks to Tom, George, and staff!

Are you interested?
Send a message