26 Reviews
Recommended by 96% of couples
Quality of service

4.8 out of 5 rating

Average response time

4.7 out of 5 rating

Professionalism

4.8 out of 5 rating

Value

4.7 out of 5 rating

Flexibility

5 out of 5 rating
Awards
21 User photos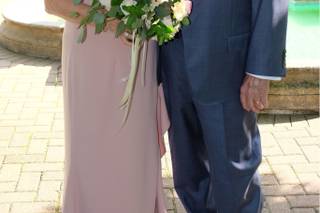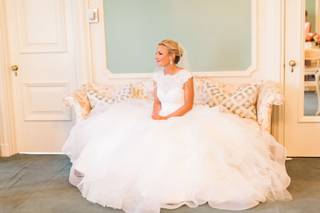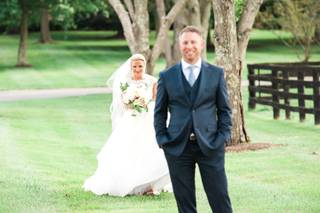 + 17

photos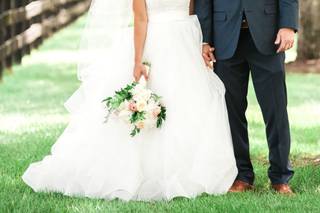 Kaelyn

Married on 09/21/2019

Made our wedding more than we could have dreamed!

The staff at Spindletop is truly top-notch and provided great assistance and service throughout our whole planning process through our big day! We cannot say enough about the beautiful venue and amazing food! It was the perfect setting for our Kentucky wedding!

The Club at UK's Spindletop Hall's reply:

Thank you so much for your kind words Kaelyn. We greatly appreciate it, you were a pleasure to work with, and a stunning bride. We wish your marriage a lifetime of happiness.

Margaret

Married on 05/25/2018

Caitlin and her staff helped to creat the perfect setting and experience for our May wedding. From our first consultation to wedding day, the logistics of "planning" was smooth and stress-free. From selecting the buffet menu, cake options and room designs I was given expert advice and assistance. My floral designer was also given ample time to " create" her romantic setting. I highly recommend Spindletop and the wedding coordinators if you are looking for a memorable event.

Christine

Married on 06/24/2017

Our experience with Spindletop Hall was more than we could ever ask for! They were not only accommodating to any and everything we needed, they were efficient and some of the most kind people I've ever met. Spindletop provided us with a wedding coordinator, Caitlin Gilliam, who was the most perfect, helpful, kind, knowledgable, organized, professional coordinator and friend. Without her, I am not sure what I would have done and I know our wedding would not have run as smoothly as it did. Inside, the building was gorgeous - The walls in the rooms are all hand carved and obtain such one-of-a-kind beauty. When we got ready, the girls were located upstairs in an princess-like suite and the boys were located in the incredible basement. It was perfect. Outside, there was not a location that was not spectacular for photos and event placement. We were in love with the true 'Kentucky' feel of Spindletop. I wish I could relive that day over and over because there is not one thing I would change. I highly recommend Spindletop Hall for all events - the staff, location, and overall experience is truly the best!

+ 7

photos

Are you interested?

Send a message

Christine

Married on 05/13/2017

I had my wedding at Spindletop this past May and had a great overall experience. If you want to have a beautiful, classy but with some southern charm weddingthen Spindletop is the place for you. Probably the best venue in Lexington area. Caitlin the wedding coordinator was great, and basically does everything for you. I just dropped stuff off and they set and take everything down. Plus having the appetizers walked around by the staff was great, saves from one big line to get appetizers during cocktail hour. Plus the staff is amazing. I had one guest tell me, one of the waiters remembered his name and tracked him down to give him more of his favorite appetizer. The staff just made the event seem so personal and great. The Veranda is so beautiful for the ceremony plus it was so much fun to have the dance floor outside, as it was the perfect weather. It's really a "one stop shop" for your wedding that impresses guests with the charm and class of the house, the grounds give you amazing photos, the staff and service was amazing and the wedding coordinators know what they are doing and are going to do everything to give you the perfect day.

+ 7

photos

Madelyn

Married on 11/26/2016

Don't be afraid to ask for what you want! My daughter did and they never said no or acted as if it was a problem.

Molly

Married on 06/25/2016

Loved working with Allison Vanderhorst and the staff at Spindletop. My wedding was exactly how I imagined it would be!!

Tina

Married on 05/14/2016

Spindletop provided the reception venue for my daughters May 14, 2016 wedding. Caitlin Gilliam provided the planning services and she was awesome. Her attention to detail was great. I had absolutely no worries that she would provide us with a beautiful reception and carry out all of our wishes. She made the process so easy and stress free. I would highly recommend Caitlin and Spindletop to anyone. Also we had to make a change at the last minute due to weather and everyone was so accommodating. It was just flawless! Everything was beautiful, the staff was very professional and friendly from the bartenders, who were also awesome by the way, to the wait staff. We had so many comments from our guests about them!
Thank you Spindletop for a memorable and wonderful day for my family!


Kathleen

Married on 07/11/2015

Heather and the staff at Spindletop pulled off the wedding of our dreams. We met with Heather often which allowed us to be able to enjoy the day without any distractions. She gracefully kept everyone on schedule and coordinated the DJ, photographers and the wedding party. The food was to die for and the bar staff kept everyone well hydrated and having fun!

Emily

Married on 06/18/2015

I could not have dreamed of a better place than Spindletop to get married
at! We loved the look of the place, and all of our guests gushed about the
mansion all night! I was originally adamantly against having an outdoor
ceremony (getting married at the end of June here, could have been awfully
humid or a total downpour) but when I saw the back veranda, I fell in love!
And our weather ended up being perfect ;) We hardly had to have any
decorations, really just table centerpieces since the house is so gorgeous
itself! Heather, the event planner, was great to work with. Easy to keep in
contact with, answered all of our questions or directed us to who could. On
the day of she was there all day and helped direct the vendors so neither I
nor my mom or any other family had to worry about anything! The rest of the
staff was just as accommodating on the day of, with us from 8 am to
midnight! So polite to everyone and went above and beyond with service.
Finally, the food they provide is mouthwatering! Everyone loved all the
food and even I, a picky eater, thought everything was fantastic. No one
left hungry! Overall, there is not a more elegant, all inclusive venue to
find in Lexington! All for a fairly reasonable price!

Andi

Married on 06/13/2015

I cannot say enough wonderful things about Spindletop for my June 2015 wedding. From the beginning of the planning to the day of the Wedding, everything was perfect!

Our wedding coordinator, Allison VanderHorst, was PHENOMENAL. She provided recommendations for outside vendors (i.e. DJ, photography, florist, desserts, transportation, hotels) and did an excellent job coordinating with them. Allison is an incredible communicator. She is timely with her emails, flexible, and she makes herself available to meet (this was especially important for me since I was planning the wedding from out of state!). Allison is organized, professional, easy to work with, knowledgeable, and a true expert in

Katherine R.

Married on 06/14/2014

The entire staff at Spindletop Hall did an outstanding job with this reception from start to finish. Our event differed somewhat from other receptions at Spindletop Hall in the areas of menu, room arrangement, location of the band, and sequence of events. The staff was receptive to our wishes, accommodating and cooperating with us every step of the way. Edward Valente, Executive Chef, seemed delighted to try our suggested menu and we could not have been more impressed. The food was outstanding! The service staff were all extremely polite and professional with Matricia Cook, Captain, personally bringing food to guests throughout the night. The Events Coordinator, Heather Martin, was pleasant, quick to respond and impressed us with her cooperative approach to planning this event as per our specifications. She is definitely a top notch professional. Guests who are members of other outstanding country clubs in Lexington made a point to write us with comments such as: "You have set a new standard for receptions in Lexington.", "Best wedding reception ever!", "I've been to many receptions but this was absolutely the best!" In summary, we would say the staff at Spindletop "Hit a homerun!".

The service and food were wonderful, the grounds and venue were spectacular! It truly was a storybook wedding! The entire night was accomplished with all the professional help provided by The Club at Spindletop Hall. Heather Martin, Special Events Coordinator, was truly an angel from heaven and provided exceptional advice which certainly relieved many of the stresses a mother and daughter can have in planning a wedding. It definitely was an event that left us with many wonderful memories.

Janella

Married on 04/26/2014

Heather was a wonderful wedding planner. She always had a smile on her face. She made the process and the day so stress free for me (the mother of the bride) and the whole wedding party. She did everything we asked for and more. I would gladly recommend Spindletop Hall for a wedding venue. It is so beautiful and the out of town guests loved the history of the mansion and grounds. We had 150 people and it never seemed crowded. We used the grounds for the ceremony and all of the first floor for the reception.

Pam

Married on 08/24/2013

My daughter's wedding could not have been more perfect!! She had an outdoor ceremony in a picturesque lawn with a horsedrawn carriage and receiption in a beautiful, historic southern mansion. Spindletop made accommodations for the number of guests we expected, the price was very reasonable while the quality of service, food and beverages was superior to other venues being considered who had lots of add on charges. The staff allowed me and my family to enjoy the special day without having to worry about small last minute details. I recommend Spindletop to anyone planning a wedding in the Lexington area.

Niles

Married on 06/01/2013

The staff at Spindletop Hall are excellent. Heather, Ed, Gerald and many others went above and beyond to ensure we had a great wedding. From the venue to the catering and the last minute switch to "plan B" on account of the weather, the folks at Spindletop were a delight to work with. We fully recommend Spindletop Hall.


Jonathan A.

Married on 07/16/2011

We had our wedding reception here, and it was better than I every could have asked for! It is a beautiful venue, and you do not need to do anything to decorate other than flowers. The wedding coordinator there, Pat, is absolutely amazing! She helped a lot with the planning process, and was there throughout the reception making sure everything was going smoothly. It was perfect!

Cindy

Married on 06/11/2011

Wedding & Reception Amber & Rhett. We had our daughter's wedding here June 11, 2011 and cannot say enough about HOW fabulous everything, from the staff especially Pat Prater & Vanessa were to work with for planning and seeing the event come to life. The bride and bridemaids got ready starting at 9AM the day of the wedding. By 12 midnight all the personel at Spindletop were just as Great as at the start of the day. You could not ask for more!!! Food beyond belief and the manison itself is breathtaking!!!

Spindletop Hall is just a wonderful and magical place for any event! Our wedding was somewhat of a destination wedding for many people and Spindletop really bring together Kentucky Charm and Vintage Beauty! We were super happy to work with the staff and the wedding planners were very helpful with recommendations for vendors and everything else in the area!

Caroline

Married on 10/12/2013

Everything was beautiful and exactly what I wanted. I felt like I did not have to worry about a thing during the whole day of the wedding to make sure that everything was getting done.

Alexandra

Married on 06/08/2018

My wedding at Spindletop was perfect. Caitlin did a great job running the day. If I couldn't find her, when I did, she was always taking care of something I hadn't thought of. The price is steep, and make sure you read the fine print, they had a 20% service charge and 6% sales tax. I didn't want my family and friends to have to do a lot of work setting up, tearing down, etc for the wedding, so the extra money was worth it. They were also very flexible with the bar options as my group wasn't big with drinks. There are a few details here and there that started things off a little shaky, but my actual day went perfect. It was a beautiful day and despite the price, my whole family and group enjoyed it while they took care of everything.

The Club at UK's Spindletop Hall's reply:

Thank you so much for your kind words Alexandra. We greatly appreciate it, you were a pleasure to work with, and your pictures are gorgeous. We wish your marriage a lifetime of happiness.

Kathy

Married on 06/11/2016

Spindletop was a fantastic venue for my daughter's recent wedding. Allison made this such an easy event to coordinate, due to the Bride and Groom living out of town. She was extremely professional and organized and so pleasant to work with! The food was excellent and we are still receiving complements from our guests!! You can't go wrong in selecting this venue!

Elizabeth

Married on 05/10/2014

The wedding coordinator , Heather Martin, was so great to work with. She was always happy to discuss any ideas we had or changes we wanted. And usually offered some alternative ideas and suggestions. With her to help guide the process no other wedding planner was necessary. As mother of the bride, I could not have been happier with this beautiful venue.

Kimberly

Married on 10/15/2016

This is a beautiful, romantic venue. If you are looking for something formal with a vintage feel, this is it. It was absolutely a magical place to get married. I heard so many compliments about the food and the staff. Our wedding coordinator was Allison and she really helped a lot the day-of. When my matron of honor went into labor 15 minutes before the ceremony, Allison didn't miss a beat and changed the processional seamlessly. I highly recommend this venue!

Tara

Married on 06/12/2010

This was absolutely the most amazing place to have a reception. The mansion and grounds are absolutely stunning and many of our out-of-town guests were stunned at the grandeur of the place. We used all white flowers on large trumpet vases because the decor of Spindletop is absolutely so amazing that not much is needed. My bridesmaids and I got ready there during the day, and I cannot say enough about how accomodating the staff was - especially Amanda! We had champagne, fruit and sandwiches while getting ready. I am so thankful we chose Spindletop and cannot sing their praises enough!

Monica

Married on 07/06/2019

Great venue but you need a wedding coordinator!

The venue is gorgeous. We took beautiful pictures and had plenty of space for our wedding festivities. My family and I were highly disappointed in the coordination of the wedding. Our chairs were not set up at 6:15 for our 6:30 ceremony. The day-of coordinator made a lot of promises that she did not keep. She was very inattentive all day and entertained quite a few other couples going to book Spindletop instead of taking care of our wedding. She said things would be set up, but my sister and friend started coordinating what she was supposed to do when pictures were done. I found this out after I returned from my honeymoon. While everything was beautiful, my family needed someone to take charge and help coordinate! The contact at Spindletop did NOT meet that expectation like she promised she would. The servers were great and the venue is great. I would recommend hiring someone else to coordinate if you go with Spindletop.

The Club at UK's Spindletop Hall's reply:

We take great pride in our coordination, and greatly apologize that the same level of price was not reciprocated on your wedding day, there are no excuses. We have addressed the issue, and are excited to have on board a new Wedding Coordinator with an extensive background in the wedding and hospitality industry, and are excited to see change where needed.
Are you interested?
Send a message