44 Reviews
Recommended by 96% of couples
Quality of service

4.8 out of 5 rating

Average response time

4.9 out of 5 rating

Professionalism

4.9 out of 5 rating

Value

4.8 out of 5 rating

Flexibility

4.7 out of 5 rating
1 User photo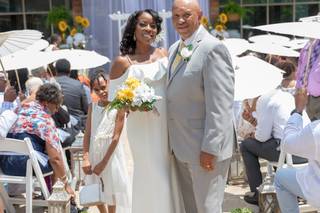 Aaron H.

Married on 10/11/2019

Great experience

The staff was incredibly helpful, and has definitely made our vision come into fruition. Response time is quick, and we booked within three days. We can't wait until our big day.

Dianna

Married on 06/23/2018

I had to plan my wedding with little time and from another state and relied solely on reviews. From the first call Vickie Morrow mafe me feel at ease and responded to my multiple inquiries. I am a little OCD and always felt at ease working with Vickie. God smiled heavily upon us and the weather was perfect for our outdoor ceremony in Alice's Garden. Our reception was in the Burlingtin/Moore ballrooms and ithe rooms were set up exactly as planned...everyime raved about the venue and the food from Nine in the Nines got 5 stars...if you want a taste of Downtown Mooresville and a perfect event space, The Charles Mack Center is the perfect fit.

Ashley

Married on 03/30/2018

We just hosted our Wedding and Reception on CMCC. The place and staff were out of this world amazing to work with. I had a lot of very specific visions for our day that required CMCC to be pretty creative and flexible. Kevin, Vickie and Stephanie really went above and beyond to meet our vision. Can not say enough great things about this venue. If you're considering CMCC for your wedding you can't go wrong. Another perk was all of the prices were up front, there were no surprises. Thank you

The Charles Mack Citizen Center's reply:

Thank you Ashley for your kind review! We had so much fun working with you on your wedding day. We thought it was so beautiful and we are so happy you had an amazing time!

Are you interested?

Send a message

Cindy

Married on 10/21/2017

The staff at The Charles Mack Center could not have been nicer or more accommodating for our daughter's wedding and reception. We had plenty of space, facilities were clean and we had everything we needed for our event.

Karen

Married on 08/12/2017

The staff at Charles Mack Citizen Center made our wedding a perfect day. We had our ceremony in Alice's Garden and it was just an absolutely beautiful setting. Our reception followed in the Burlington/Moore room. It was the perfect space and exactly what we were looking for to celebrate with our family and friends. Thanks to everyone there!

The Charles Mack Citizen Center's reply:

Thank you so much for trusting us to make your special day perfect for you! Congratulations and best wishes!!!

Stephanie

Married on 03/18/2017

I had my wedding/reception at the Charles Mack Citizen Center on March 18,2017. I chose the venue because it was beautiful AND much more affordable than several others. The staff was extremly helpful and friendly during the entire process of planning our wedding. A huge shout out to venue's Coordinator, Vickie Morrow! She assisted my mother and caterer when picking out the best linens, chairs, decor for our ceremony and reception. She was open to all of our ideas and also gave us great suggestions. The day of the wedding was perfect, and the staff at Charles Mack was on their A-Game. We had our ceremony in Alice Garden (one of the two courtyards at Charles Mack) and our cocktail hour was in Kellys Courtyard. Despite a little rain before our ceremony, it cleared up, the sun came out, and the courtyard was an amazing setting. With the spring flowers beginning to bloom to the fountain in the courtyard, it was truly magical. Our reception was held indoors in the Moore/Burlington/Lowrance rooms. The space was perfect for our 200 guests. I would also recommend using the Chivari chairs that the venues rents out (very fancy looking) and the drapes/fairy lights for the ceiling. They really make the space feel even more romantic and warm. I am so thankful to have had my wedding here and I would highly recommend this place to all brides!!!

Tina

Married on 08/06/2016

Stephanie was awesome to work with!

The Charles Mack Citizen Center's reply:

Thank you so much Tina! It was an absolute pleasure working with you this past year! I can't believe it went by so quickly!
Best wishes and congratulations to you! Cheers!

Brittaney

Married on 06/11/2016

I had my wedding at the Charles Mack Citizen center and everything was wonderful. Vickie Meadows and the rest of the team were very responsive. I knew if I sent an email I would hear back the same day. We were planning to have an outdoor wedding but because it was so hot that week we changed it to an indoor wedding. Vickie immediately gave me some back up ideas. This venue is very affordable and have a lot of different options. They also hold a bridal fair, which I found very helpful since I was not too familiar with the area. I would definitely recommend this venue to anyone who is having an event.

Darshica

Married on 04/02/2016

The staff was absolutely amazing! Stephanie and her team were a pleasure to work with.

The Charles Mack Citizen Center's reply:

Thank you so much Darshica! We were thrilled to work with you and your wedding was absolutely beautiful! From all of us here at CMCC, CONGRATULATIONS AND BEST WISHES!

Pam

Married on 10/03/2015

Vickie is awesome - she helped from beginning to end and she knows her stuff!
The outdoor courtyard is BEAUTIFUL - Unfortunately, it rained on my wedding day so we had to go inside (Which is a huge advantage - you have the flexibility to use indoor space if it rains and there is space available.) CMCC is very affordable, and you have a lot more flexibility than most wedding venues, which you will find typically make you use THEIR vendors (in other words, $$$$$$$$$$$$$$$$$!!!!) The only thing to keep in mind with CMCC is that it is a DIY type of venue - all they set up is tables/chairs. If you use their linens, they will set that up as well, but everything else is up to you. (Centerpieces, gift tables, cake table, etc.) I was fortunate to have my dad, father-in-law, sister and dad's friend to help with the set up! If you have a lot to set up, make sure you have people who you can enlist for help! I saved money by buying plastic tablecloths ($1 each) instead of renting their linens and they didn't look bad at all! The people working there on the day of for set up were awesome and very helpful and accommodating. My husband and I had a budget of $5,000 for the entire wedding - it was beautiful and we made it work!! If you are trying to keep it cheap, but still have a BEAUTIFUL wedding, Charles Mack Citizen Center should DEFINITELY be on your list!

The Charles Mack Center is a GREAT place for a reception. They also have a beautiful garden for the ceremony but we were married in a church instead. The Reception hall was PERFECT - we had a cute garden guests could mingle in for the cocktail hour the reception was 3 large rooms with TALL ceilings - we had white draperies hanging across the ceiling with white lights in them - it looked wonderful! They also have 3 projection screens that can come down from the ceiling which we used to show a video/slideshow during the father/daughter and mother/son dances - it was so special and professional looking!The people are VERY helpful and accommodating. The value is amazing as well compared to ALL other places we looked at. we are so thankful for the Charles Mack Center and all the people there that made our reception so wonderful! we had so many compliments and the space was just perfect!

Robert

Married on 09/20/2014

You won't believe your eyes when you see this place. It is beautiful, well layed out and conducive to any size event. The facility director Stephanie Crisco was amazing to work with. She was so accommodating and so was her staff. We looked all over the Lake Norman area and none was better but all were more expensive. You can't go wrong with this place for any event.

Brittany

Married on 09/13/2014

The citizens center was the perfect venue for our wedding! All of the staff was so easy to work with! All of the information is right there on the website! It was nice thAt I didn't have to go searching for answers or try to recall tiny details! I used the Burlington, Moore and Lowrance rooms with the ball room windows! It turned out do beautiful! I would recommend spending the extra money on the ceiling drapery! It is worth it! Everyone commented on what a unique and elegant touch it was! The only draw back to booking these rooms is the cap on guest count. With the round tables, 225 is max. This was a pretty tight fit too! Everything turned out great! Couldn't be happier with my choice!

This is a lovely venue for a wedding and reception. Mooresville is a quaint little town. The Moore and Burlington rooms have beautiful lighting. The gardens on site are perfect for photographs. There is parking close by and plenty of facilities nearby for guests to utilize. We were very pleased with the venue and the friendly staff members.

Amanda

Married on 01/18/2014

Very very affordable and convent location. Staff were very helpful in helping plan our dream wedding within our budget. Facility was very clean and updated.

Kathi

Married on 10/26/2013

The Charles Mack Citizen Center was the perfect venue to host our daughter's wedding reception. I knew from my first meeting with Vickie that we were in very good hands. The entire staff worked hard to make sure everything was just as we envisioned. I would highly recommend this venue to anyone!

Heather

Married on 10/26/2013

They we wonderful to work with and made our wedding beautiful and memorable!

Ashleigh

Married on 10/05/2013

The staff at Charles Mack was very friendly and easy to work with. Vickie was helpful keeping in contact with me, and helping me order linens, and showing me how to set the room up. The room looked amazing with the tables set up and the chair covers made it look amazing. The courtyard was perfect for the ceremony and there was plenty of room for big weddings! Beautiful venue, and it was so great to find a beautiful place to have a ceremony and reception at the same place!

We recently had our wedding and reception at this location. I must say everything was amazing from the professional staff to the clean and spacious venue. From the time I booked this venue to the day of our event, the coordinator and administrative staff were more than helpful. The prices are great and you would receive top notch service. If you don't believe me take a look at the photo gallery on the site of check more on Facebook. I promise you, you will not be disappointed.

Audrey

Married on 06/29/2013

The staff at the Charles Mack Citizen Center went well above my expectations to make our special day most memorable.

Shinora

Married on 06/08/2013

I was very satisfied and thoroughly impressed with my service from the Charles Mack Citizens Center. I am a very hard person to please, but Stephanie and Vickie, really the whole staff made my wedding planning process vey easy. I planned my wedding from another state and they were flexible with last minute changes as well as open to giving me suggestions, being that I was not from the area. The Charles Mack is a hidden gem. Thanks for everything and making my wedding perfect.

The Charles Mack Citizen Center's reply:

Thank you Shinora! It truly was a pleasure working with you! Congratulations and Best Wishes!!

Melissa

Married on 09/29/2012

I highly recommend Charles Mack Citizen Center for you next event. My husband and I searched and searched for the right, affordable place. We had to accommodate a few elderly grandparents while not being too far from the church we were getting married at. With the elevators, and wheel chair ramps, this made it very possible. It may be a senior citizen center, but my guests would have not known any different. The prices and rates didn't make you feel like you were being taken advantage of.
The staff and service you get is immeccable. From working with Stephanie Crisco to planning and booking to Vicki Morrow viewing the room prior to the day and envisioning the way I want it. She offered suggestions and went far and beyond. I couldn't have asked for a better staff to work with. My wedding day went perfect and Charles Mack Citizen Center helped make that possible.

Meredith

Married on 08/11/2012

All staff very helpful and organized. They made this event planning easier for me and ensured everything ran smoothly!

The Charles Mack Citizen Center's reply:

Thank you Meredith! Your wedding was amazing and you looked beautiful! Congratulations and Best Wishes for a long and happy marriage!

Vijay

Event on: 06/16/2012

We pretty much liked everything.. No Concerns...
People working after hours were so helpful and kind enough to help us out, was really a great party as well the Venue.
Will definetly recommend to our friends, infact one of our friend already booked the Lowrance Hall for the Birthday Party.

Suzie

Married on 04/21/2012

My daughter's reception was held at the Charles Mack Citizen Center on April 21, 2012. Vickie Morrow and Stephanie Crisco as well as the entire staff were very helpful. Everything was set up and waiting on me when I arrived around 9:00. We couldn't have asked for a better place to hold the reception.
Are you interested?
Send a message