Reviews
4.9 out of 5 rating
Quality of service

5 out of 5 rating

Average response time

5 out of 5 rating

Professionalism

5 out of 5 rating

Value

4.9 out of 5 rating

Flexibility

4.9 out of 5 rating
99%
Recommended by couples
30 User photos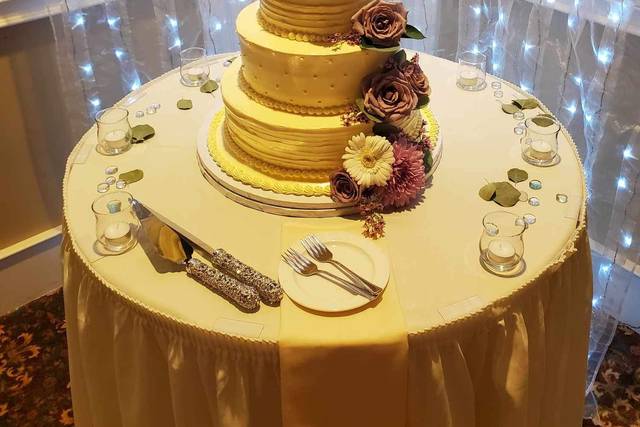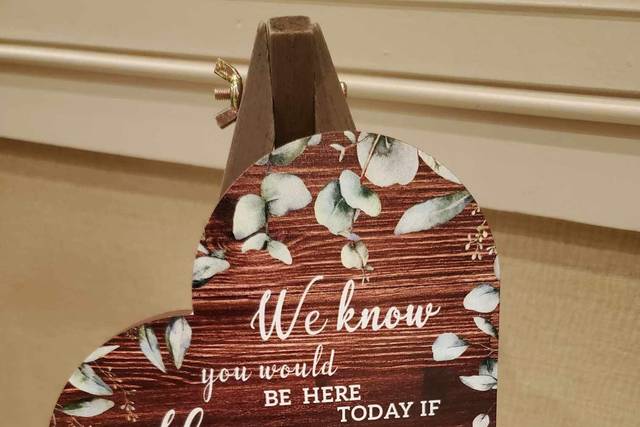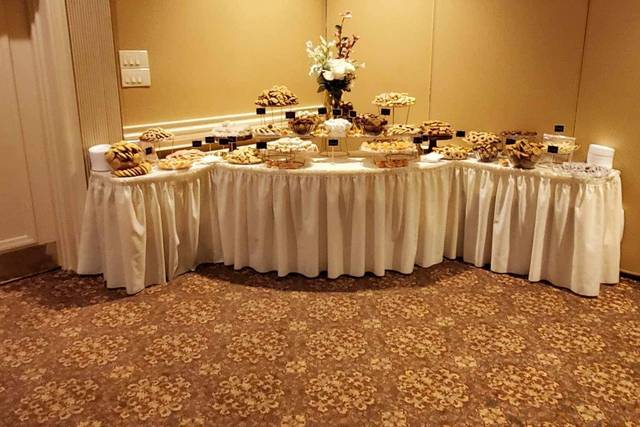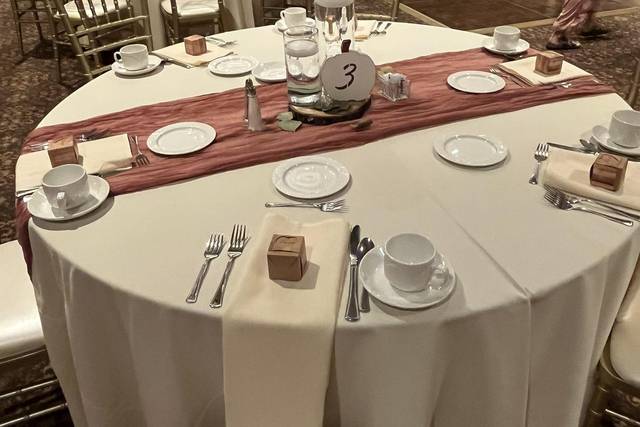 + 26

photos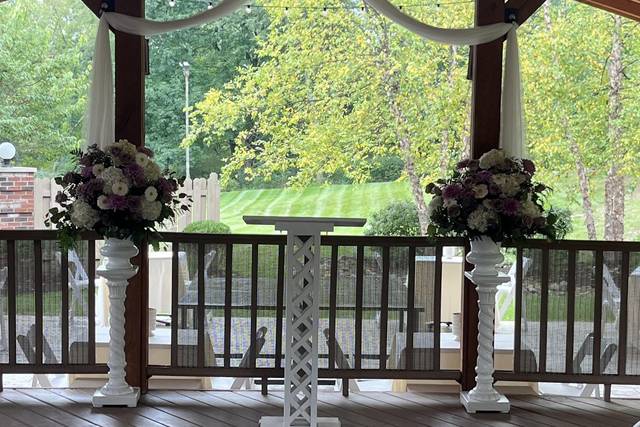 Susan G.

Married on 09/08/2023

The perfect day!

The Chadwick was absolutely perfect! Stacy was so great, she was always quick to respond to anything I needed. When we took all of our things to drop off the day before Judy and Stacy helped us and exceeded our expectations with how beautifully decorated our ceremony and reception were! We highly recommend the Chadwick!

+ 4

photos

Sydney Y.

Married on 09/01/2023

All around perfect!!

We worked with Stacy from the beginning and she was absolutely amazing to work with! She always answered any questions I had right away and made our day feel so special. The night before the wedding and day of everyone that worked the wedding was absolutely amazing and helpful. They made our dreams come true and everything turned out perfect!

Erin J.

Married on 08/19/2023

The Chadwick was the best

I can not say enough nice things about the Chadwick. They're the best staff I have ever worked with and they treated us and our families from start to finish with so much respect, kindness, and joy. They made us feel like we were family the moment we stepped foot in there.

Are you interested?

Send a message

Amy M.

Married on 08/27/2022

Perfect Wedding Venue!

The Chadwick allowed us to have the most perfect wedding! We absolutely loved it! From start to finish all of the staff were absolutely amazing! (Giving a special shout out to Stacy and Judy!) They were incredible with walking us through every step of the coordinating and planning process. The staff did such a great job displaying all of our decorations and made our wedding area look perfect. Every staff member that we interacted with was great and always so helpful. The food and drinks were delicious too. We got so many compliments on the venue and all that they did. It really was such a beautiful, stress-free and memorable day.

Kate R.

Married on 08/26/2022

Book them now!

My husband and I had our wedding at The Chadwick in August 2022 and it was amazing! Stacy was our coordinator and she was so helpful and on top of everything throughout the entire process! We received so many compliments on how great the food was and how beautiful the room looked. The staff did a great job and we had the best night! We couldn't have picked a better place!

Jessica G.

Married on 07/31/2022

Perfect wedding day!

My wedding was everything I hoped it would be. I keep looking back on the photos and reliving the day. The staff really was the cherry on top. Stacy was amazing to work with. During the getting ready process all the way to the very end I felt like an honored guest and was constantly asked if I needed anything. During dinner I would get stuck in conversations and there was always someone there a second later grabbing my plate for me to take to my table so my arm wouldn't get tired holding it up. There was one gentleman filling drinks and chatting and was super friendly and he just felt like a friend just walking around the room. My goal was to have a beautiful ceremony then share a delicious meal with close family and friends and we got exactly that. Everyone was raving about the food. My aunt with a gluten intolerance loved that she was able to eat and thoroughly enjoy the food. And Brigette is rightfully on the top of their list for suggested florists. She was friendly and her work was stunning. The decor was beautiful. All of my friends and family told me it was one of the best weddings they had been to in a while.

Karen H.

Married on 05/14/2022

Great experience

The Chadwick is a perfect place to have a wedding. Everyone was so pleasant and so helpful in planning our wedding especially Stacy!

Thank you for making our day so special!!

Ryan S.

Married on 04/02/2022

Perfect wedding

My now wife and I picked the Chadwick about a year before our wedding. We loved the look of the place on our visit. We worked with Stacy. She was amazing every step of the way. There are a million things to plan for a wedding, but she helped us through the whole process. We had multiple meetings where we discussed details about the wedding and she walked us through all of the options. We also had contact via email and phone. Any time we had questions or suggestions, she was available to help. It made stressing about the wedding, a lot easier. Then came the wedding weekend. We had decided earlier that we wanted the ceremony and rehearsal dinner there as well. Having everything at one place made everything easy for not only us, but our guests as well. We got through the rehearsal smoothly and then headed over to the attached restaurant. There we were able to enjoy a great dinner before the big day in a private room with our family and bridal party. Finally came the big day. Everything looked more amazing than we imagined. We had so many people come up to us and say how beautiful everything was. The staff was so great. They made the whole day run so smoothly, I even had some of our other vendors say they've never seen a wedding be so on time all night. We are grateful to have picked such a wonderful venue for our special day.

Lisa W.

Married on 11/27/2021

Excellent!

My husband and I just got married 11/27/21 at The Chadwick and it was AMAZING! Stacy, their wedding coordinator, is just extraordinary. You can tell they work hard to give you everything you want. They were pretty flexible when we wanted to change our date because of COVID. You definitely pay for what you get and it was just beautiful. I received tons of compliments on everything ranging from decor to service to location to food. I am so pleased with how everything turned out and would recommend this venue to anyone looking to have a beautiful wedding.

Breawna B.

Married on 10/17/2021

Amazing Wedding/Reception

I got married at The Chadwick yesterday, 10/17/2021 and the decor was beyond my expectations! If you're looking for an all inclusive wedding, The Chadwick is the way to go! Venue is amazing from the outside to the inside.

Stacy was amazing helping my fiancé and I figure out what we wanted out of our wedding day.

Judy did an amazing job helping coordinate the wedding rehearsal and ceremony.

I can't express how much having Stacy in our corner put us at ease on our wedding day. I would definitely recommend The Chadwick for your event needs.

Adrienne H.

Married on 09/25/2021

Perfect day!

The Chadwick was nothing but amazing! They were super easy to work with and answered all of our questions quickly! They made planning a wedding easy and stress free. All of their packages include a lot of basic decorations, they were more than happy to work with the items that I wanted to add to make the ideas we had for our day come true! Also the staff we worked with day of was fantastic and we cannot say enough about them, Judy made sure everything went off without a hitch and Val made sure the entire bridal party had everything they needed to get their party started. Everything was beautiful and we had the most prefect day!

Luz R.

Married on 09/04/2021

Very highly recommended!!!

We stumbled upon The Chadwick At Wexford while we were searching for our wedding venue on the internet a couple months after we got engaged last year. Around that time, we were planning on buying/building a house at Cranberry Twp. so we checked for the venues close to that area. We had checked multiple places before the Chadwick but did not find anything that suited what we wanted yet. We scheduled an appointment with the Chadwick that weekend. We met with Stacy, their Event Planning Manager, during our initial meeting and liked her immediately. She was very easy to talk with, fun, efficient, and very professional! She gave us a tour of the place and discussed the different wedding packages available, etc. She did it so well that before we even reached home, we knew we would want to have our wedding there! Stacy gave us plenty of time to make our decision but she was always available to answer any questions we had or clarifications we needed. She was very responsive, very patient, and reassuring at all times! We ended up buying a house in S. Fayette but, even though The Chadwick is in opposite direction and an hour away from us, we were firm in our decision to have our wedding there. Our only dilemma was to whether have our ceremony at the Pavillion or the Patio but decided on the Patio instead because of the number of guests (200) we would have. All throughout the preparation, Stacy was always there to help and guide us, offering her suggestions but letting us make our decisions on how we wanted things to be. When we had our food tasting, the staff/chef (sorry, I couldn't remember her name) who was assigned to us was also great! She gave us suggestions and honest opinions on what was or was not popular in terms of the appetizers to choose from, and why. She made our food tasting experience a fun experience and though they were busy that night, we never felt hurried or neglected. As we got closer to the wedding day, we had more meetings with Stacy and we were given clear, ample instructions on what we needed to do. Stacy was very flexible especially since she knew how crazy my schedule was at work. We were also allowed to drop off our decorations and other stuffs days before the wedding, to make it easier for us as our out-of-town guests started to arrive. We decided to have our rehearsal dinner at The Chadwick/Frescos as well. Originally, we were going to have it at the Sienna room but when we talked to Stacy about moving it to the Pavillion instead, she made it happen. She also agreed when we requested to have our wedding rehearsal 2 days prior to the wedding (Thursday) instead of the day before so we would be able to eat, drink & enjoy ourselves as well. We were glad we did because that night turned out to be a very beautiful night and everybody had tons of fun and great experience! Our lead server, Val Jean, and other staff were superb! They were on point in everything we needed that night! Our bridal party, friends, and family members were all super impressed at how beautiful the Pavillion was and how delicious the food was! On our wedding day, the Chadwick staff made sure that the Patio was more beautiful than we ever imagined it to be! The guests were very comfortable, the greeneries/garden was a perfect backdrop for the ceremony. At the reception, Val Jean was still our lead server and she made sure the bridal party had everything we needed. The rest of the staff members were all equally efficient and most, if not all, of our guests complimented on how delicious the food was and how beautiful the grand ballroom was! The late snacks (mini hotdogs and soft pretzels) were a big hit! I wish I had eaten more of it while I could! lol... As for the things that The Chadwick could do better in the future, I only have two recommendations:
1. There were some minor confusions that day as there was also another wedding going on. Some of our guests ended up sitting in the other ballroom instead of in ours but was politely guided by the other wedding's guests towards where they should be. There was a sign at the hallway above the fireplace about which wedding was in what ballroom but guests probably did not pay any attention to it either as they just followed the crowd. Looking back, maybe there's a need to also put up a sign by the ballroom entrances to avoid mix ups. 2. While dinner was being served, I had to get up to go to the bathroom and my two bridesmaids came with me to help me with my gown (didn't get a chance to do it before the reception because of the pictorials, etc.). A few minutes later, my husband came to find us and told us we needed to hurry back in as "dinner is halted" and nobody was getting served because I was not in the room. We hurried back in and the dinner service resumed. Maybe it was just us but we were not aware of that rule, lol. Maybe let the newlyweds be aware of this ahead of time or remind them of this so they can attend to their needs prior to the start of the reception and not interrupt dinner service :)
Other than these two minor things, we think The Chadwick did a really fabulous job of making our dream wedding come true! We highly recommend them to all couples looking to make their wedding day even more special! Thank you, Stacy, Val Jean, Judy, and all the staff members of Chadwick! YOU GUYS ROCK!!!



Melissa C.

Married on 05/01/2021

Amazing Venue!

I cannot say enough about Stacy and her team at The Chadwick. From the first meeting, Stacy was very responsive and answered all of my questions. As time passed and restrictions were changing due to COVID, she kept us updated and worked tirelessly to make sure our wedding was what we had originally envisioned. She responded very quickly to every call and email. And there were many! She went above and beyond to ensure that all the details were perfect for our day. Our day of coordinator Judy was also fantastic. The entire team including the wait staff were professional and kind. Many of our guests raved about the venue. Any couple getting married should definitely consider the Chadwick.

Nicole

Married on 04/03/2021

Gladly recommend

My wife Jackie and I went through the Chadwick for our wedding July of 2020 and our second separate wedding reception event in April 2021. First of all they are gay friendly! So check that on your list LGBTQIA!

No matter what changes in mandates were going on Stacy, our planner, and The Chadwick were updating us. Stacy and the team at The Chadwick are amazing. They kept in touch with us about all the little details and helped us take care of all the items we needed. This venue helps to provide an all inclusive experience and helped us add in our own love and style to that experience. Through this crazy year we could trust that our event would be executed well. Thank you to Judy and Val Jean and all those working behind the scenes to make our days so much fun and ones to remember forever! I would gladly recommend them.

+ 5

photos

Leah M.

Married on 12/08/2020

Best Wedding Venue in Pittsburgh

The Chadwick was the PERFECT wedding venue for my husband and I. We were looking for a beautiful, rustic outdoor wedding, with the security of having an indoor reception to avoid the unpredictable Pittsburgh weather. We have said over & over again since our wedding on 8/24/2019 that the best decision we made throughout the planning process was picking The Chadwick as our venue. Stacy was our go-to girl from day 1. We were planning our wedding from out of state, and she made everything so easy & enjoyable. The modern style of the venue, the price, the location, the friendliness & professionalism of the staff (shout out to Stacy & Miss D!), the packages available to you with food, alcohol, decorations, etc. Everything about this venue was exactly what we needed/wanted. I HIGHLY recommend The Chadwick to all newly-engaged couples looking for a venue. We are so thankful for all they did to make our wedding absolutely PERFECT.

+ 2

photos

Hope B.

Married on 06/06/2020

Venue tour

Beautiful venue! Stacy was very nice and answered all of our questions.

Vanessa S.

Married on 01/25/2020

The were amazing

The staff at the Chadwick was amazing! The were so attentive, quick and efficient. Miss D made us feel so comfortable and at ease at our reception knowing she had everything handled. Our bridal party loved Val Jean, she took amazing care of us! Stacy was amazing to work with throughout the entire planning process. We were very happy with everything, and thought our day turned out perfectly.

Emily

Married on 10/25/2019

Best venue in the area!

My husband and I got married here on 10/25/19 and, honestly, I have a million wonderful things to say about this venue! To begin, Stacy and Jackie were absolutely amazing in the planning process, they were responsive, and they also offered advice for us which was super helpful! They helped us put our vision together and when the day finally came, they even added some of their own details to our room and space and I was speechless when I saw how beautiful everything turned out! Val and Miss D were our day of coordinators and they did an amazing job making sure everything went as it should! All of our guests raved about the wait staff during dinner and how kind and helpful everyone was. And, the food was delicious! Lisa helped us on our rehearsal and coordinated that which was awesome. On the day of our wedding, one of my bridesmaids had a small wardrobe malfunction, and Lisa fixed it right up! I could go on and on- but I will say that I highly highly recommend The Chadwick for your wedding! They are so helpful in the planning and can help make your dream wedding come true!!!!

Jessica L.

Married on 10/19/2019

Everything I dreamed of!

I had my wedding at The Chadwick on 10/19/19 and it was absolutely beautiful! We had both our ceremony and reception there.
Stacy helped me start planning over a year ago and she was amazing through the whole process from start to finish! She made wedding planning beyond easy!
Everything was so beautiful! They decorated the entire ceremony and reception better than I could even imagine! The entire staff was so nice and anything we needed they were there in a heartbeat! Judy coordinated our day perfectly! She got all my family lined up and organized for the ceremony flawlessly!
Marissa was our amazing server for the night and she was so sweet and so attentive! Miss Dana got us anything we needed when we asked and was so incredible.
The food was great! We did a sit down dinner and everyone raved about the food. If I had to do It all over again, I would 100% pick The Chadwick again.

Hilary

Married on 09/21/2019

Best. Day. Ever!

Everything about our experience with the Chadwick was top notch! From our first meeting with Stacy, through countless emails with questions, to the planning meeting a few weeks before, she and her team were nothing short of amazing. They are always there to answer a question, provide advice, and truly make your wedding day special. When I walked into my wedding day and saw the vision I had planned in my head for a year in real life, I was so incredibly happy! My husband, our families, and our guests can not stop saying how wonderful the day was. The food, the service, the decoration set-up, every person there goes above and beyond to make you feel special and relaxed on your wedding day. We would recommend the Chadwick 100% to any couple.

Ashley

Married on 09/14/2019

The Chadwick

The Chadwick was the perfect place to have our wedding! Everything was amazing from the moment we went to tour it to the actual wedding. Stacy and her team do a phenomenal job and are so easy to work with. They help you with every decision and answer every question within a day or two. The best part was that we didn't have to do any set up or tear down. We just dropped off our stuff and they set it all up and boxed it up for us at the end of the wedding. If you want to be stress free wedding planning, choose the Chadwick! The food is incredible also!

+ 2

photos

Karen

Married on 09/14/2019

Mother of the Bride had her daughter's wedding on September 14, 2019 and reception here. It was exceptional.

From the 1st meeting with Stacey throughout the planning of my daughter's wedding. I was out of the state and she was so professional and supportive throughout the wedding planning. Having the ability to see a wedding set up decreased my anxiety and I knew that Stacey and her staff would do an excellent job. The wedding and reception was AMAZING!! Friends and family are still talking about how beautiful the venue was. It was also so wonderful to be able to drop off items the day before.
Thank you for doing an Amazing job and helping make a perfect day for my daughter.


+ 2

photos

Casey P.

Married on 05/10/2019

Outstanding

We had our wedding at The Chadwick and it was everything we could have imagined and more! The entire staff at The Chadwick is so attentive, helpful, and truly top notch with the whole wedding planning/day of event process. We met with Stacy multiple times and each time she was extremely helpful in making our wedding exactly what we had envisioned. She also made the process extremely fun and stress free. The day of our event, the staff felt like family. They are so friendly, extremely hardworking, very attentive, and the food is excellent. Our family and friends have not stopped commenting to us about how GORGEOUS our wedding was and it's all thanks to Stacy and the entire staff at The Chadwick. I cannot stay enough good things about this venue and staff. THEY ARE AMAZING. Highly recommend!!!

Katiee

Married on 05/03/2019

This Place is Amazing!

It is so hard to transfer the overwhelming and joyous feelings I have towards this place into words, but I am going to try!

The Chadwick is simply amazing! We had our ceremony and reception there. Stacy was a pure gem to work with from start to finish throughout the planning! I could not think of a better person to go through such an important process with when it came to planning, executing, and her always being willing to accommodate my quirkiness (I was not a by-the-book bride). She was always available to answer my questions, give me advice, and was just a fun-loving person in general to deal with. She sees lots of brides, but Stacy made me feel so special!

The day before and the day of, The Chadwick's staff BLEW US AWAY with their execution of our rehearsal, rehearsal dinner, ceremony, cocktail hour, and of course the reception. We do not have a single thing we'd change about any of those events. How easy is it to drop a ton of decor, favors, etc. at their door and walk in the next day to see it placed even more beautifully than you imagined without having to give any direction? The staff itself was so kind, and so professional! We received compliment after compliment on how good the food was and how beautiful The Chadwick was.

Brides, grooms, their families- you will NOT regret having your wedding here!

Kelly B.

Married on 10/19/2018

Highly recommended!!

Stacy and her entire team are seriously the best!! Everyone at the Chadwick worked so hard to make every detail of our wedding perfect. It exceeded our expectations. They take care of everything on your wedding day so you're able to relax and enjoy yourself. We were blown away at how beautiful the room looked once the Chadwick put their finishing touches on all of our tables and extra space!! We can't thank the team enough for being there for us every step of the way. Highly recommend this venue for future brides!!
Are you interested?
Send a message