61 Reviews
Recommended by 99% of couples
Quality of service

4.9 out of 5 rating

Average response time

4.9 out of 5 rating

Professionalism

4.9 out of 5 rating

Value

4.9 out of 5 rating

Flexibility

4.9 out of 5 rating
24 User photos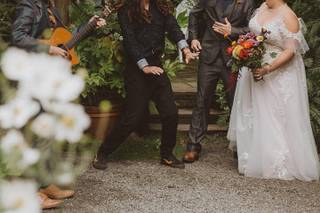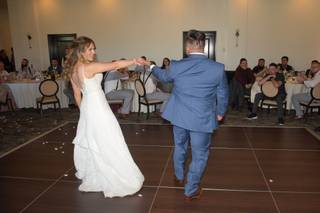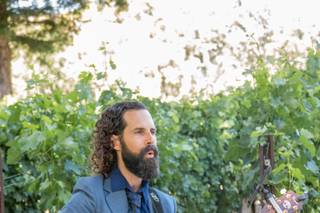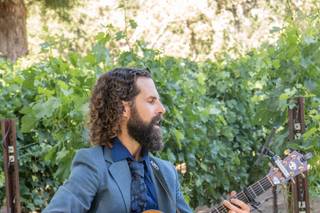 + 20

photos
Matt Z.

Married on 09/25/2022

Awesome, customized experience - perfect vibes

We could not recommend DJ Brandon and his team enough. He has a great planning process and can offer a lot of extras, like lighting, karaoke, and a photo booth if you want it. We went with his "wandering minstrel" playing live music before the ceremony, and serving as our MC and DJ. He executed the vibe of the wedding flawlessly, and we could not have been happier. Thanks, Brandon!

Ali S.

Married on 08/01/2022

Above and beyond fantastic!

Brandon was the first vendor we hired for our wedding and it was the best decision ever! He provided us with a wedding checklist, which was essential to us during the planning process and suggested several personal touches we wouldn't have thought of (games, etc.).

On the day of the wedding Brandon did an outstanding job of working on the fly while exuding a calming presence. Just before the ceremony we asked him to cue our officiant in an unconventional way. Brandon rolled with the change and executed it perfectly. He went above and beyond by encouraging our groomsmen to surprise us with a singing performance, and he even backed them with a base drop!

Thank you to the Celebration DJ team for making our wedding so magical!

Leandra V.

Married on 07/01/2022

Best night of my life!

When I say Brandon made our wedding the most epic party ever, I mean it. He seriously killed it. Throughout the entire process, he was incredible with communication, recommendations and helping our vision come to life. He sang acoustic guitar for our ceremony and has one of the most beautiful voices ever. The sound system was absolutely flawless throughout the ceremony, even having no power connections and running everything off of a battery. Brandon went above and beyond to make sure everything went off without a hitch. Now the real party - cocktail hour and reception. Brandon has a great MC voice and was flawless with pronunciation. He perfectly timed out every single song and could read the room from start to finish. We had karaoke during the reception and I cannot recommend this enough. It was the "party of a lifetime" as our guests put it. Every single person sang karaoke and Brandon facilitated it perfectly - even with having to sort through DOZENS of song requests. He played the right song at the right time, every time. As soon as you have one conversation with Brandon you'll understand his passion for music and how much he truly understands how to DJ. Thank you so much for everything, Brandon!!!

The Celebration DJ's reply:

Leandra! There's nothing sweeter than reading "party of a lifetime" for me. That's just the best. I'm so glad to read all of this. Thank you so much for such a thorough review and for enjoying yourselves so thoroughly!

Are you interested?

Send a message

Sarah L.

Married on 06/18/2022

Recommend to all - Amazing dj and live performer!

Brandon was an incredible DJ and performer and made our wedding perfect. We were in between having a DJ and band because good music throughout and a lively dance floor were top priorities. Brandon is the best of both worlds. He offers an incredibly fair and affordable price and the fact that he also performs live was the cherry on top. He was also very easy to work with and a good combination of laid back and organized, providing a step by step checklist so we knew what to expect and felt confident leading up to the big day.

From walking around playing music while guests arrived to performing our first dance and ending the night in a live performance of country roads - he absolutely crushed it. And the dance floor! We had hours of dancing with never a dull moment. We still have guests telling us how amazing the dance floor was and how cool it was that the dj ALSO played live.

If you are looking for live music that makes your day come to life and brings tears to the eyes and a dance floor that is the party of the year - Brandon is a must!

The Celebration DJ's reply:

Sarah & Ben! Wow!!! What an incredible recap of an incredible day. I grew so much for your day. Learning Jack Johnson's "Better Together" for the ceremony was quite an experience. I found out that it's the hardest, easy-sounding song I've ever learned. I'm elated that it's now in my repertoire! I've also never played live guitar for a 1st dance, not to mention looping Eric Clapton's "Wonderful Tonight"s essential guitar solo over myself: that's new territory for me! AND I'd never played a live encore before. Seeing your entire crowd still there, in a huge circle of arms, and hearing them sing along with "Take me home country roads" was such a life affirming experience! Everyone there was so beautiful and wonderful to us throughout the day. Thank you so much for gifting us with the opportunity to be part of your family for the day.

Mike F.

Married on 05/21/2022

100% Would Hire Again!

We were referred to Brandon and The Celebration DJ by friends of ours who had hired him at their wedding. After our initial call with Brandon, we knew he was the DJ we needed to have a wonderful, memorable ceremony, and crazy dance party after. He delivered.

Our wedding took place 5.21.22 in San Francisco, CA. It really was the greatest day of our lives, and Brandon and his staff helped make it make it extra special.

Prior to the wedding day, Brandon was prepared months out. We felt ready. It's clear he has a lot of experience, as every detail was covered. From the ceremonial songs (we opted to have Brandon perform live, and it was AMAZING) to the dinner playlist, the dance party, and operating as the MC, Brandon's skill and experience were obvious.

He worked in tandem with our venue and other vendors. For me (groom), I felt like he immediately shared our vision and helped bring it to life. During the dinner ceremony, we had several guests already tell us how impressed they were with the live music performance, and our selection of songs. After the wedding, for several days, all we heard was how much it was, and how much everyone enjoyed the music. I cannot recommend Brandon enough times. 1000 Stars.

The Celebration DJ's reply:

Mike, I'll reiterate what I said to you after the wedding: it's so obvious why you have called such a wonderful love into your life, because you are a loving man. Your friends have loved you dearly for decades and I immediately saw that you just fully see, appreciate and love people. I'm inspired by you, thank you for inviting me into your life for this powerful experience. My life is improved having played your wedding! Thank you.

Lauren D.

Married on 04/15/2022

We partied hard!

Brandon was great! Was great to work with while making our playlist and really brought our vision to life. We had an awesome party, he really kept the party going! He provides great lighting too. Would highly recommend.

The Celebration DJ's reply:

Thanks Lauren! I'll never forget your Dad's Lord of the Rings quote to lead off his thank you Toast. That's legendary! So glad we had such a great party. 3 hours of dancing!!!

Karen

Married on 04/01/2022

Smooth Operator

We really appreciated Brandon's flexibility with our requests and changes last minute. We also loved that he came out with us during the sparkler exit, playing on his guitar. He was such a great help in making sure our wedding ran smoothly, being a great emcee, and making the night feel magical. Also based on the photos, the Photo Booth was a smash 😂. We appreciate all the effort Brandon put in to make the wedding feel perfect for us.

Ashley B.

Married on 10/31/2021

Epic!!!!!!!

Brandon didn't hesitate to dress in theme, per request. And when I told him we wanted metal at our wedding, he was excited to try something new. He felt out the crowd and worked his way up to the metal excellently. The playlist and his choices in the moment made for some amazing moments filled with headbanging! We literally danced until the music stopped. Thanks for being apart of the best night of our lives!

The Celebration DJ's reply:

Ashley, you have VISION! What an incredible experience, being part of your day. From the deeply mystical Celtic ceremony to the Guardians wielding real swords at the gates as you burst through the fog machine for your Grand Entrance, this was one for the memory books! And yes, playing metal and industrial alongside pop and throwback classics was a challenge, and it was so fun. I'm elated how well it turned out! Here's the link to the set again in case you haven't heard it. https://tinyurl.com/2p8d5rs2

Karina B.

Married on 09/16/2021

Who you gonna call for a fantastic DJ?! BRANDON!

I cannot thank Brandon and his assistant, Sky, enough!! They were absolutely fantastic throughout the whole ceremony.

I first found Brandon through here reading great reviews and knew his personality would make an excellent DJ. I mean who really wants a stiff that is supposed to pump up the party? Not me. After reading his "about me" and seeing there is a section to dress him plus his awesome 'stache, I mean come on now, I obviously had to see if he was available for our wedding date.

Brandon was great at communicating and in a timely manner (especially helps since we live in Hawaii). He was professional yet easy to talk to and you can obviously see his passion for music. We meet with Brandon to make sure he was a good fit where he asked about our musical interests. YUP! we hired him, easy decision really.

Closer to the date, he sent us an email to his Spotify that we can share which songs we wanted played during each part of the wedding and we also had him play guitar and sing for two hours which was amazing! The whole email was very organized and well put together.

On to the wedding day, everything went off without a hitch. If you like acoustic guitar then you should get it! It sounded so beautiful. Walking down the aisle looking at my husband while he played started to make me tear up.
Thanks to Sky as well they set up in four areas with no trouble (2 areas were acoustic guitar and 2 we're DJ). Also, Brandon totally has the right "DJ voice".

Lastly, if you're thinking of a Photo Booth definitely get one through them! Sky was profession and banging out the photos left and right cause our families had a blast with it throughout the whole reception.

THANK YOU SO MUCH BRANDON AND SKY!!!
-Karina and Chris

The Celebration DJ's reply:

Oh those photos! Hahah! Thanks for sending those along and thanks so much for posting this testimonial! I'm so glad to read how much you enjoyed the process of working with me and it was cool to hear how the decision process went for you! I'm also glad that Sky was so helpful for you. Did you know he's my Tai Chi teacher? I'm about to go to his class right now? I'm so blessed to have him working with me whenever he can! Thanks again for having us and blessings to your lives!

Anna M.

Married on 08/12/2021

Best Wedding DJ Ever!

Brandon was a dream to work with! Our original wedding date in August 2020 was postponed due to the pandemic, and Brandon openly communicated and worked with us. Thankfully he was available the following year on a different date and the transition of our contract was seamless. Our actual wedding day in August 2021 was absolutely perfect and we owe a lot of that to him. The music completely set the tone of the wedding for us.

The set up for our ceremony site was a bit confusing, complicated, and he was only allotted about 15 minutes to set up for the ceremony. Brandon was flexible, collaborated with our day of wedding coordinator, and the ceremony music went so smoothly. The ceremony music was absolutely perfect. He worked with us on timing of the recessional music to start playing immediately before our first kiss and the video with the music perfectly looping in makes me cry every time! He even made time to take a spontaneous video of our ceremony train of guests arriving and he sent it to us afterward. We were also allowed to make two 30 minute playlists for the train ride up and train ride down with our wedding guests. Brandon collaborated with us on those train playlists as well, and one of the train staff told me it was the best wedding train playlist she has ever heard on the ceremony train.

During the planning process, Brandon brought up things we hadn't even considered before the wedding, which we felt made our day go a lot smoother. I'm so used to my name being mispronounced at doctor's offices, graduation ceremonies, by family members, etc, but Brandon was very intentional about making sure he pronounced our names correctly the day of which we really appreciated! I wasn't sure how much musical freedom we would have, but Brandon played every single song that we had added to our cocktail and dinner playlists, all of our must play songs, as well as guest requests! Thank you Brandon for letting us choose the music we connected with, we felt so seen and represented by you.

He kept the dance floor going all night and I had the dance party of my dreams. He created amazing transitions from song to song which had guests getting pumped up for each next song. We noticed he only played one slow song (which was a guest request) because the energy of the guests was so high and they kept dancing! Brandon has an amazing ability to read the room, and is also willing to take risks. Brandon asked us a few days before about possibly playing a few songs by artists that may be better known by the guests instead of the ones we requested. We left it up to his professional judgment, but when the time came he went for it, played the song we requested, and our guests loved it!! We also loved the personal shoutouts he made so our guests felt connected to the songs! We got so many compliments from our guests about how amazing our DJ was, one of our friends even took his business card for their wedding!

Brandon keeps the wedding playlists we collaborated on up on Spotify, so we listened to all the playlists on the honeymoon and we are still listening to them a month after the wedding!

Thank you again Brandon, we will recommend you over and over again.

Anna & Ryan


The Celebration DJ's reply:

YES! I love love LOVE reading all of this! I'll honestly never forget your actual steam train entrance to the ceremony in the redwoods! How epic! Not everyone wants me to start music in the officiant's last words but your drum loop build up was sooo perfect I had to! I'll also never forget the children of so many ages holding hands in a circle and dancing/jumping up and down together throughout the dance party! After the 15 months of the pandemic separation, I honestly had tears in my eyes repeatedly while DJing! Thank you so much Anna!

Maria A.

Married on 06/12/2021

The Celebration DJ is the perfect tone setter for any type of wedding

Planning a wedding during a pandemic isn't easy and the music was very important to my wife and I considering it sets the mood for each part of the evening. Brandon's process of making collaborative playlists and asking all the right questions leading up to our wedding day made things so easy on us. He was also a great communicator during the process and was able to hop on a phone call or zoom with us any time we needed. It's very easy to see why he's got all of the awards on wedding websites, the guy is an absolute pro. At the end of our wedding day we got many, many different compliments from guests about how good the music and vibe was from the DJ. Hiring Brandon Bosch was the best decision we could have made for our wedding.

Ryann K.

Married on 06/05/2021

Excellent DJ and MC

I can't say enough good things about our experience with The Celebration DJ (Brandon Bosch). Brandon was extremely organized and kept us engaged throughout the planning process. We collaborated closely on the structure of the ceremony and reception, including the timing of the events and the music selection. He was a great MC and kept the ceremony and reception progressing smoothly. First dances, toasts, and opening up the dance floor all went super smoothly, as did everything else. He also brought a very fun & enthusiastic attitude that helped bring everything together. You won't go wrong with booking his services for your wedding or other special event.

Thomas C.

Married on 09/19/2020

Fantastic!

Brandon was fantastic! We got married during a very challenging period (covid, fires, venue uncertainty) and Brandon worked with us throughout. He was super collaborative, responsive, organized and made out event a success! We couldn't have been more happy!

Yeyen G.

Married on 08/31/2020

Just the right DJ for us

We love Brandon and recommend him to anyone. He is professional, love able , full of personalities and reasonable. He just has it all!

Shelby B.

Married on 07/12/2020

You won't regret hiring Brandon!!!

You can't go wrong with hiring Brandon. My now husband and I don't listen to typical "wedding music", and Brandon worked with us to create a playlist that had some classic wedding songs that everyone loves and can dance to, while also having more alternative/indie music that we genuinely like. We also specifically requested some throwback 2000's dance music like
"yeah!" and "low" which he happily obliged. He was very good at reading the room as well. Later in the night when it was mostly the younger crown dancing - he takes notice and shifts the music to whatever everyone is dancing too. He helped with the timeline events as far as first dance/ parent dance goes to make sure there was a really good flow and nothing would completely cut off dancing. One of the main reasons we hired Brandon was because he also plays acoustic guitar/sings. Our venue has sound restrictions where we can't have any amplified sound outdoors (we had the ceremony/cocktail hour/dinner outdoors), so Brandon played acoustic guitar and sang and it was absolutely magical. It was the perfect vibe for our wedding, and while we didn't have any song requests besides our ceremony music, he took notice of what we liked and played accordingly. We had so much fun at the end of the night (maybe too much fun lol) and Brandon even got out on the dance floor with us for the last song. It was an absolute blast and I couldn't have asked for a better night.

Brandon M.

Married on 06/17/2020

Best of the best.

Planning and executing a wedding is already stressful enough, but even more during a global pandemic. However, Brandon absolutely put our minds at ease in the planning process and killed it during the wedding itself. He really took the time to get to know what music we were into and what vibes we were going for. My wife and I wanted a simpler, more intimate wedding (which was almost perfect due to the social distancing regulations) and he understood our vision.
                In the beginning, we had no idea what songs we wanted to choose during our wedding ceremony but Brandon made that super easy, by sending us his library of playlists that he put together. We were able to choose a few songs from those playlists that we had never heard before. We also chose to have him play the songs we selected on guitar and it was perfect. During dinner, he walked around with his guitar, entertaining our guests and striking up conversation with every table. During the party portion of the wedding, he did an excellent job in reading the dance floor and choosing music that was inclusive for everyone whilst staying true to our vision. Towards the end of the night, as the older folk began to part and the younger crowd persisted, the music became increasingly of our generation. We had friends dancing that I would have never have thought to see on the dance floor. The night was topped off when we requested he play the last song, of his choice, and he came out to the dance floor and danced with all of us.
Overall, Brandon has an affinity in being able to understand you want and needs in order evoke emotion or to get people dancing. His passion for music is apparent and his talent knocked it out of the park. As more of our friends look to marry their significant other, he will absolutely be recommended by us every time.

The Celebration DJ's reply:

Brother Brandon! Your wedding wasn such an incredible experience. Amongst so many highlights, I got to sing Aladdin's "A whole new world" with a little girl and Zeppelin's "Over the hills and far away" for your father and his table, both of which I'd never played live before! I was a little nervous about playing some of the punk rock and metal that you two had requested (even though I'm a fan too), but once I saw that your guests truly DID want to rock out, oh how we rocked out!! No one has ever asked me to play my favorite childhood punk rock song as well and what a blast to do an Irish jig circle/mosh pit with y'all. Even after 250+ weddings, your wedding is truly unforgettable. Thank you for having me for your day. -Other Brandon

Michael M.

Married on 02/09/2020

Brandon did it all!

Brandon's music was a huge part of making our wedding amazing and he was so easy to work with. I had so many things up in the air, I wasn't much help with music, and Brandon made sure the lighting, songs, and overall vibe were perfect. From looking up acoustic children's songs on the fly to selecting dance songs I still sing in my head when I think of that night, I can think of no better wedding music selection than Brandon. We're so happy we found him!

Jia P.

Married on 12/21/2019

December wedding at the Viaggio

Brandon and his team really made our day special, 100% professional, and went really out of their way to accommodate our needs. Absolutely a great addition to our wedding day, would unconditionally recommend.

The Celebration DJ's reply:

Oooh, "unconditionally recommend" I love that! Thanks so much Jia! Hope to dance with you again someday!

Ken R.

Married on 09/07/2019

If you want a great dance party, you need to hire Brandon!

We could not have been happier with Brandon as our DJ. He was organized, professional, thoughtful, and executed to perfection on the big day. He sent us a questionnaire before the wedding to get to know our style and the mood we wanted to set for each part of the evening. On the day of the event everything ran smoothly from the set up to the execution. One of the things we cared most about was having an awesome dance party and he absolutely delivered. I've never put on such a great dance party and I'm glad it was at our wedding. Weeks later and our friends are still raving how fun the music was and how well executed the songs were at pulling out all different generations to the dance floor. Brandon, seriously, thanks for such a great night!

Jarrad M.

Married on 09/07/2019

People still talking about the music!

We wanted a mix of live music and DJ sets for our wedding so Brandon looked perfect and he was! From the early stages of chatting with Brandon about what we wanted in terms of setup and style of music for different parts our day Brandon was so helpful and positive about everything. He played the songs requested during our ceremony, played live during the cocktail hour and then played an amazing DJ set well into the night.
Brandon's live music during cocktail hour set the perfect vibe for a sunny afternoon while our guests mingled, played games and started to have a few drinks. Then after the first dance Brandon had the dance floor going all night. We were married a few months ago and I still have people raving to me that it was by far the most fun dance floor at a wedding they had ever been to.
I could not recommend Brandon – The Celebration DJ more highly for a wedding or any event. From the initial planning stages, to setting up mics for our celebrant and MC's, all throughout the wedding and even to joining us for our recovery breakfast the following day, Brandon was absolutely amazing and positive.


The Celebration DJ's reply:

Yo Jarrad! So good to hear from you again. Thanks for the great review! I'm so happy to hear that people are still talking about the music and that you enjoyed it so much. I hope that you and Steph are loving married life and I really hope we run into one another again someday. Let me know if you're ever in the Bay, I really appreciate your style of life lovin' and I'd be happy to have you over for dinner or go dancing!

Spencer

Married on 09/06/2019

Worlds Greatest Dance Party

The whole process with Brandon was so easy! Communication was great and he helped us through the entire process. We were able to create some amazing playlists for different parts of our wedding (happy hour, dinner and dancing) with the help of Brandon and his deep music collection.

I'm not just saying this because it was my wedding but I have never been on the dance floor for the entire party. Brandon played music that got everyone on their feet and really keep the part going through the night.

I can't recommend Brandon enough. If you want an amazing dance party with music from all decades, this is your guy!

Grace

Married on 08/24/2019

Perfection

We loved working with Brandon. My husband and I were very busy and planned most of the wedding ourselves. Brandon jumped in and took initiative organizationally, which was great because we had so much on our plate. He was the one to schedule initial and follow up consultations (in person and/or by phone), set up a Google document with "To-Dos", and created Spotify playlists for us to add songs to. Overall, the process was very customizable, but Brandon is there to offer his two cents! We selected playlists with what we wanted during the event (ceremony, first dances, dance floor), but Brandon reads the crowd well and plays bangers when the time is called for. Overall, we had such a great time dancing to all his tunes. Brandon's top selling point, however, is how much care he puts into the event. He really caters to your requests beyond just song selections. He wants to know what type of "vibe" you are looking for, and meets those needs. He was great announcing special moments in our wedding (family traditions), and even let my husband get behind the DJ table to spin for a few songs. His assistant, David, was amazing too! Overall, - we would go with him again DEFINITELY - reasonable price and well worth it - very professional and organized, no qualms!

Liz C.

Married on 07/27/2019

Awesome Wedding DJ

We found Brandon through our wedding planner Christine Garrison of CMG Events. She suggested him because we were interested in having someone play acoustic guitar and singing during the wedding. After chatting with Brandon, we hired him to play the guitar for our ceremony, act as a wandering minstrel during the cocktail hour, and DJ the entire event.

Our ceremony took place outdoors in an open lawn area. Brandon did a great job with setting up the sound. Everyone was able to hear both us and the officiant clearly. The acoustic rendition of Heartbeats (Jose Gonzalez) and Wildflowers (Tom Petty) he played for our processional and recessional were beautiful and really set the mood we were looking for.

Brandon also did a great job DJing the event. He was able to take a small number of songs and expand the playlist to not only fit our tastes but keep the party hopping. We had expected that we would have minimal dancing and that our crowd would mostly just sit around chatting. However, Brandon was able to keep the energy up and the dance floor going throughout the night. It far exceeded our expectations and made the night really memorable.

He was extremely professional throughout the planning process. We had several calls leading up to the wedding, and he made it easy to communicate what we were looking for in the event. We added songs to a few different playlists which he used as a jumping off point. He also provided suggestions for all the important moments (e.g., processionals, recessional, first dance, grand entrance). His contract and other documents were also clear and always sent promptly.

On the day of Brandon arrived on time for set up and did a great job with all aspects (sound, DJing, acoustic performance, and lighting) of the event. He looked extremely professional and was communicative throughout the day, constantly checking in with the planner and us to make sure everything was going well. If he wasn't sure about a song, he'd ask before playing it. Best of all, he was extremely reasonably priced. His assistant, Josh, was also very nice and did a great job.

I highly recommend hiring the Celebration DJ for your next event.

Sarah

Married on 06/22/2019

Brandon is the reason our dance floor was so fun!

Brandon and his team were such an amazing choice for our wedding day and I'm SOOOO thankful we chose them. Music was hugely important to me and I wanted to choose someone who I felt *really* understood how much it could affect our day — we found that in Brandon! His process for letting us select our music while adding his own choices and expertise in was the perfect balanc. I had total faith that he would meet us wherever we were at. I got so many compliments after about how fun the party was and I attribute a ton of that to Brandon (and our awesome guests!). I'm so thankful that we chose The Celebration DJ as I truly believe he was the best choice for our amazing wedding!

The Celebration DJ's reply:

I'm so glad to hear to received such high praise for the party! We had a great time as well. Thank you so much for the kind words Sarah. You two are wonderful people!

Paul

Married on 04/26/2019

Don't Hesitate - Book Brandon NOW - He Is The BEST

I would like to first start this off by saying that Brandon is generally just a wonderful person with a great heart, personality, and vision that makes you want him involved in any event you are planning.
Now to the specifics...my wife and I recently had Brandon and his crew perform for our wedding. He played and sang live music during the wedding ceremony and cocktail hour, then MC'ed and DJ'ed the rest of the evening for the reception/party into the night. Brandon is a fantastic singer and musician, and I have to say that while we were uncertain of live music during the ceremony, afterward we felt privileged to have him perform at our wedding. He guided us thorough along the way in picking the right music for our tastes and never made us feel like we had to do things a certain way. He was genuinely interested in what we wanted and made sure to give us a lot of options for music that he was able to perform for. And he has a VERY long list of music he can play, and was even willing to learn new songs if needed. It was fantastic, heartfelt, and beautiful.
For the rest of the wedding, he not only DJ'ed like the certified PRO that he is, but he also helped MC and coordinate things - constantly being engaged with the crowd, flexible in tweaking things on the spot (let's be honest, when do weddings ever go exactly as planned...??)
Brandon made sure the celebration/reception was a blast. We had countless friends and family ask us where and how we found him. Many said it was the most fun wedding they'd been to, and my wife and I agreed that he deserved huge credit for this.
Played a wide range of music to keep everyone engaged, dancing, mingling, and just all-around having fun!! He seems to really enjoy what he does and his passion shows while he is performing.
Were we to do this all over again, Brandon and his team would be the first group that we would contact to ask to perform again. I mean this in all seriousness and without hesitation. His pricing is affordable, and he is willing to work with your budget to make sure you get what you need without 'breaking the bank' - can it get better than this?? If you can book this genius, then count yourselves lucky, and do so while you can!!
Are you interested?
Send a message