30 Reviews
Recommended by 95% of couples
Quality of service

4.8 out of 5 rating

Average response time

4.7 out of 5 rating

Professionalism

4.7 out of 5 rating

Value

4.9 out of 5 rating

Flexibility

4.8 out of 5 rating
18 User photos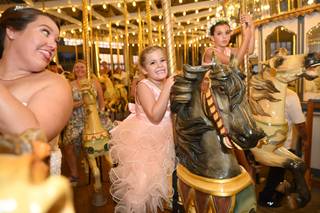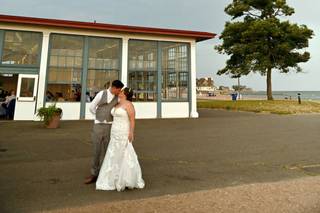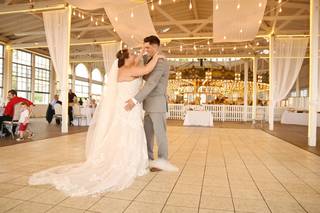 + 14

photos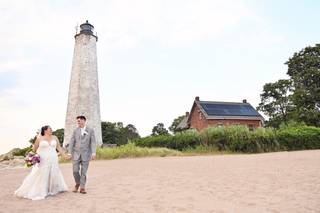 Andrea

Married on 07/22/2022

Dream wedding location!

July made for a hot wedding day so definitely dress light. My pictures came out stunning with so many choices for scenery. The guests loved walking around the park and the carousel was a hugeeee hit! Loved the open layout with dance floor in the middle. Sabrina was the best at calming nerves and keeping everything organized.

+ 2

photos

Kathryn

Married on 05/26/2019

Beautiful, unique venue

The unique beauty of this space is what drew us to Lighthouse. This venue books up far in advance, but it was worth the wait! Sabrina and the City of New Haven employees who staff the event were kind, responsive, and ensured the space was just for us during our ceremony and reception. Highly recommend!

Janine

Married on 07/14/2018

Lighthouse is a totally beautiful venue and a great value. You're on the beach, the building is beautifully decorated so you don't have to do a thing, and you have entertainment with the carousel. We had kids to our reception so that was a huge help to keep them having fun. People truly loved the venue. You can set-up an outside cocktail area which is prefect to enjoy being near the beach. The area is primo for pictures. Sabrina is very knowledgable and a wonderful resource to point you in the right direction for your function. I thought the space was very affordable compared to other venues. Our guests had an awesome time, and so did we! If you want an outdoorsy beach venue, look no further!

Are you interested?

Send a message

Abby

Married on 06/30/2018

Just the BEST!

I still cannot believe how amazing everything turned out at Lighthouse Point Park for our wedding. This was the only venue we ended up looking at, because right away we knew it had everything we wanted: a beach, an indoor reception spot, a beautiful lighthouse and amazing scenery for photos, and a CAROUSEL!! What else could you ask for? Sabrina, who runs the Lighthouse, was a lifesaver and literally answered every question I had about getting married within hours via email, anytime of the day or night. She was open and honest about our ideas, since she has done so many weddings, however did not discourage us from putting together the day of our dreams. I cannot tell you how many people still tell us the wedding was one of the most fun ones they have ever been to -- everyone LOVED the carousel, and taking sunset photos on the beach. Although we had to book about 20 months ahead of time (because this venue is so popular and fills up so fast), it was worth the time and every penny spent -- which by the way was very affordable compared to many venues in the area, and you get to choose any vendors you want, and you are not tied down to other constraints like minimum number of guests, etc. Seriously cannot recommend Lighthouse enough for anyone looking to get married in the area and have a fun, magical, beach wedding!

Kaity

Married on 08/06/2017

Most amazing place

ABSOLUTELY MAGICAL!! It was way more than we expected. We wanted a beach wedding and we got the ultimate beach wedding!! The carousel, the sunset. Only thing that I didn't like was all the people still around while we were trying to have our pictures done. We had our wedding on Sunday at 5:30 I was under the impression that they cleared out beach goers but the didn't. Still was amazing pictures were absolutely stunning. Would definitely recommend this venue. The price was amazing as well.

+ 2

photos

Rachel

Married on 07/28/2017

Our wedding here was absolutely amazing. Sabrina is a doll, and was so helpful during our year of planning. She always answered emails within a day, and was super helpful with suggesting vendors and ideas for the day. She has done so much to make Lighthouse Point a magical event venue, and I couldn't imagine having our wedding anywhere else.

The ranger station works as a bridal suite, and it was great to have that space all night to leave our stuff in and finish getting ready.

If you're looking for a non-traditional wedding venue, look up pictures of this park. You will fall in love with it as soon as you visit, just like we did!

Jessica

Married on 07/07/2017

Our wedding at the Carousel at LPP was absolutely magical! This was our top choice, we never ended up looking at any other place once we saw this in person. We booked for a Friday night about 17 months before our wedding. Sabrina, the site coordinator, was quick to respond to our inquiry and sent us some info to review while we scheduled an appointment to view. The inside of the carousel house during the day with no wedding set-up looks completely different, but lends itself to really imagine what you want. The reception area has lots of simple decorations in place: hanging white linens, string lights, paper lanterns, a beautiful chandelier. The carousel has recently been restored and looks phenomenal. The venue includes tables and relatively new reception chairs that were perfect for our vision.

With this type of venue, we had to do a lot of the vendor selection and planning on our own, since you are mainly just renting the space with a few staff members: carousel attendant, new haven police officer, bathroom attendant, etc.
We chose a caterer that came highly recommended particularly for this venue, Fitzgerald's Fine Catering. We rented cocktail tables for outside; a lot of guests hung out outside with their drinks to take in the beautiful sunset. Our caterer team set up our decorations and everything looked phenomenal!

The renovated Ranger Room (for getting ready) was perfect. There was plenty of space for our large bridal party, with spacious bathrooms and plenty of tables and seating for everyone. We were there at 10:15 AM and the day went so smoothly. The staff was there ready to let us in and drop off our decorations in the carousel house and set-up our snacks and wedding attire in the Ranger Room.

It was pouring rain most of the day of our wedding, but it stopped and the sun came out about 3 hours before the ceremony and the sand dried just enough so that we could still have our ceremony on the beach. Sabrina was there to monitor the situatio

+ 5

photos

Samantha

Married on 06/02/2017

We were so happy to work with Sabrina at Lighthouse. Our guests raved about how beautiful it was, from the beach to the carousel. They were so accommodating and Sabrina was willing to help with even the silliest of questions I had. It is a great venue for a big crowd as there is just so much room to dance and sit and ride on the carousel, which everyone did and loved!

Rachel

Married on 05/29/2017

Perfect venue, it rained and I still had the dream wedding of getting married in front of a carousel! Sabrina was nice and responded quickly to emails, so many settings for pictures it was unbelievable!

Rosa

Married on 05/28/2017

We had our wedding ceremony on the beach at Lighthouse Point Park, and we had our reception at the Carousel. The day of our wedding, and the weekend before, there was a tropical storm warning in place. Sabrina notified us right away about possible changes that would have to be made in the event of a direct hit to the beach - like running the lighting at the venue but not the Carousel as this would require a lot of amps. Thankfully all of that planning was for nought and the day of our wedding was sunny and windy with a beautiful sunset! Sabrina was there the day of to assist my sister and my bridesmaid in getting the venue ready. Our family has known her since I was a little girl and it was wonderful to have someone we trusted over-seeing everything the day of the wedding - almost like a built in day of coordinator we never got charged for! We used Nick from Fitzgerald's catering for our food and this was one of the best decisions we made. Nick served alcohol we brought in without an "uncorking fee," served our wedding cake from another vendor without a "cake cutting fee" and his staff broke down the entire set up at the end of the night for us- which was great because I had assigned my family members the task of cleaning up as the end of the night. We really appreciated the flexibility of being able to choose every decoration and vendor that we wanted to use, to help make the space and the experience our own. It gave us the freedom to design exactly what we wanted within our budget. The park staff that ran the event were extremely helpful and friendly, and they kept that carousel spinning all night long - playing one last ride with the real carousel music at the end of the night for us! So many guests have complimented us on our choice of venue, and one of my friends who is originally from Ohio is considering having a destination wedding at the Carousel!

Kaitlynn

Married on 09/17/2016

The venue is stunning, and Sabrina Bruno is a God-send who made our event come to life when all of our plans crashed and burned. We cannot thank her and her staff enough! She's also extremely responsive via email, so helpful, and one of my favorite people to have the pleasure of working with. I'd have a wedding at The Carousel again in a heartbeat!

Frank

Married on 09/26/2015

Sabrina Bruno is the best! Seriously, the best!

Laura

Married on 10/12/2014

This venue is amazing! We had our wedding there last October and couldn't be happier with how everything turned out. Sabrina Bruno is the wedding coordinator for the park, and she is extremely thoughtful, responsive, informative, and helpful. She even answers emails at the wee hours of the morning and on weekends to ease any worries that couples may have. She worked with us to make our vision come true. The venue is somewhat of a blank (but beautiful) space that you can design to be anything you'd like! We went for a whimsical theme with boardwalk-themed food and lots of sunflowers. The carousel ran during the reception and everyone loved it! We were looking for a unique venue on the beach and this is truly it!

Lauren

Married on 09/01/2014

I cannot say enough about this venue! IT IS BEAUTIFUL!!! There is so much I could say about our amazing wedding day. Sabrina, the event coordinator is incredible to work with. She was wonderful to work with leading up to the wedding. She answered all of my questions within 24 hours and she truly cared about all of them. She even came a day early to test out the options for the ceremony so my grandparents could make it to the ceremony on the beach! Sabrina was so helpful and seriously made the entire process fun and enjoyable and so worth it. The venue itself is a dream. It was the most perfect beach wedding I could have ever imagined. Our guests LOVED the carousel!!! It runs all night with an attendant (and without the loud carousel music) and people young and old were on it and loving it! The blank canvas of a venue was perfect for us to decorate exactly how we wanted it. The lights were so beautiful at night and from inside the carousel all you can see is water which is so so amazing. Our guests spent time walking the beach, riding the carousel, and of course on the dance floor. Lighthouse point is the perfect place for the beach wedding of your dreams. The only thing to be prepared for is that it is a "do it yourself" venue. We brought in our own caterer, florist, baker, dj etc... But we actually preferred having the options! I highly recommend this venue!!! I wouldn't have changed a thing!!! LOVED IT!!

Carenna

Married on 05/16/2014

I absolutely loved the carousel atmosphere, the venue kept all our guests, adults & children entertained and was so elegant at night all lit up! I would recommend this venue to anyone!

We chose Lighthouse point park for my daughters wedding and from the moment we contacted Sabrina we knew she was a doll. She was accommodating and a real pleasure to work with. The venue is gorgeous and the carousel is beautiful. We even took some family pictures on it! I would highly recommend lighthouse and Sabrina!

Lauren

Married on 04/14/2013

Great place to have your wedding. They just got new chairs and of course... The CAROUSEL!!! It was such a stunning day. If you want a beac wedding in New England but are afraid of getting rained out this is the perfect location. Right on the beach but its in an enclosed room. Even if it rains its stunning. Trust me. Sabrina is great and an added bonus...you can run the carousel without the loud carnival music. This is awesome because people can ride during dinner while background music is playing so no one should ever be bored. Sabrina is great. She knows her stuff and is always available.

This venue is absolutely breath taking! It is truly a blank canvas, so be prepared to coordinate catering, flowers, dessert, rentals, etc...but it is SO worth it!
Sabrina is the coordinator for the venue and although I communicated primarily via email with her for almost 2 years while planning, she responded promptly and was always happy to help and answer every little question (I had alot)!
During the day this park may seem overcrowded and the venue does not look like anything special, but just wait until it is lit up at night. With the carousel going and right lighting, it is stunning and all my guests are still raving about it. I had some guests say they had been to expensive country/beach clubs and they do not hold a candle to Lighthouse Point. It is simple, yet classy and beautiful all at the same time.
Also, do not worry too much about the weather, on our September wedding we had tornado and thunderstorm warnings. Thankfully the rain held off until after dinner and guests loved watching storm clouds roll in off the sound!
We had 160 guests, about 21 round tables and it was not too crowded or cramped. We used the round tables there and rented folding white wooden chairs which looked very pretty! Definitly recommend this venue, it is so unique and gorgeous!

Kristen

Married on 05/15/2010

Our reception at Lighthouse Point Park was magical, an absolutely beautiful celebration. We have received so many compliments on the venue, especially about how it was so unique. The guests LOVED the carousel! I almost cried when the DJ announced the carousel was now operating for the guests and nearly every single one got up and went over to it, it made me so happy to see them so excited to take part in that special part of our reception.
The venue truly is a blank canvas-they provide the building, chairs, tables, and, of course, use of the carousel. You book and bring in everything else. It may seem like a lot to handle, but with time, and even a little help from family, friends, a wedding planner, or (in our case) a wedding coordinator, you will create a beautiful celebration all your own. Sabrina Bruno, the City of New Haven employee you are in touch with during the renting/planning process, was so helpful and so much fun to work with! I highly recommend Lighthouse Point Park for a unique, seaside wedding and/or reception!

Laura

Married on 09/27/2008

Lighthouse Point Park is an amazing place. It is a lot different from your typical wedding venue, which is exactly what we wanted. It's on the beach, has a beautiful lighthouse, and the Carousel House with the dance floor has such character! The carousel itself is beautiful, and you may think that's weird to have a carousel at your wedding but you will be shocked how much fun it is and how much your guests will love it. Your pictures look awesome too! It definitely makes for an unforgettable wedding. Plus, it looks so cool with all of the lights on the carousel at night reflecting off the windows that surround the building. Sabrina is really cool and has some great visions that allow you to make the place over to how you want it to look. It's basically a blank canvas that you get to bring your special touches to. Sabrina was so helpful as well as the staff. It was everything we wanted and more. We had planned to get married on the beach but due to the weather had to move it inside, and it was just as beautiful. So as much as you may want a beautiful sunny day there, the rain does not take away the beauty of it b/c there is plenty of room to set up your ceremony inside. The only down side about the place is that the bathrooms are in a separate building right next to the Carousel House. And even though they are park bathrooms, my mother-in-law and I made them over w/ rugs, a nice chair, flowers, etc so that they were a lot more welcoming. Hope this helps.

We booked our date five weeks before the wedding and from that until the day of the wedding we were in touch with Sabrina and felt so supported and helped by her and the crew at the carousel.

Once in a while it was difficult to get in touch with Sabrina but it didn't affect anything in the end. She also lent us random things that people left behind from other weddings for no extra cost (cute signs, a chuppah etc)

The venue itself was magnificent. We couldn't have asked for a more beautiful and magical wedding. The lighting in there was amazing without any additional lighting (saving us money!) and the carousel itself was amazing for us and our guests and our photographers. We loved that we could have our ceremony on the beach (we had a spectacular sunset) and that we had such an interesting place to eat dinner and dancing. We also loved that at the end of the wedding when the dj was closed and they were sweeping up the place, Walter, the manager, let us ride the carousel one last time with the original carousel music. It was a moment that me and my family will never forget.

Thank you to this amazing place!

Kristen

Married on 06/07/2013

Hands down, this is the most unique, fun and gorgeous reception site in the state. Granted I'm totally biased since we held the greatest reception of all time here, but I've worked in the wedding industry for many years and having set-up hundreds of weddings, I can safely say that this is the PERFECT site for the couple looking for something a little different. Its location on the beach offers a terrific view of Long Island Sound and the inside is spacious, whimsical and airy. It really is a blank canvas, as other reviewers mentioned, and would work with any color scheme and theme. The Carousel runs all night and was an incredible hit with my guests, most of whom hadn't been on one in over 20 years. 2 months later, people are still telling us what a fun and magical reception it was. Sadly, it downpoured on our wedding day, so we were unable to have cocktail hour outside, but the Carousel staff were ready with ample umbrellas to greet guests as they jumped off the buses and mops to soak up any leaks! The bathrooms are located outside, which provided to be an adventure for many guests (probably the only negative, and only because it rained), but I didn't hear anyone complaining. The space is a shell, which again offers creative license, but you do need to bring in a caterer who will build their own kitchen. Even still, I was able to stay well under budget for our whole reception, so I wouldn't let this deter you from checking the space out. They just bought new chairs (so disregard any reviews you see about old chairs) and include the tables you'll need. Sabrina, the primary contact, is very nice and easy to work with. An added bonus (at least for my husband and I) is that part of (or all of, can't remember) the rental fee goes to the continued upkeep of this historic site...major plus! Most importantly, the Carousel gives you a killer background for pictures!

Rebecca

Married on 05/06/2012

As soon as I saw this venus I fell in love. I knew this was where I wanted to be. My husband fell in love with it and our beach ceremony followed by our carousel reception was so unique and fun and wonderful! The staff was wonderful, accommodating, and I can not say enough about how happy I am with this location.

Becky

Married on 10/12/2013

We had our wedding ceremony in front of the Lighthouse at Lighthouse Point Park, and we had our reception at the Carousel. We brought in great BBQ and a live band and proceeded to have, hands down, the best night of our lives! This place is beautiful, its open and spacious, and the most unique place to have a wedding reception! What i liked a lot about this venue is that they do not have a "preferred vendor list" and we had the freedom to hire whoever we want, make and bring whatever we wanted...no rules!! It gave us the freedom to design exactly what we wanted...on the budget we wanted. The contact person for this venue, Sabrina, is super helpful and always seemed willing to answer questions. The staff that ran the event was super helpful and friendly, and they kept that carousel spinning all night long! Our guests were unanimous in their praises that it was the best wedding they had been to, and I couldn't agree more! If you want a venue that is unique and FUN, consider Lighthouse Point Park!

Sarah

Married on 08/31/2014

We are still receiving feedback about how much our guests enjoyed Lighthouse Point Park. Many found the lighthouse on a beach beautiful for pictures, but most fell in love with the carousel. It made for incredible pictures and an even better experience. We didn't have any children at our wedding, but you would've thought we had 200 with the way LPP brought out the carefree spirit of our guests.

Sabrina was really easy to work with and highly responsive. She made the process easy and set expectations from the beginning. She'll probably tell you, but I'll confirm that you MUST BOOK EARLY. It may seem a bit bold, but we actually booked the venue before we were engaged and glad we did because it booked up quickly.

Our wedding was at the end of August when the weather can be highly unpredictable. If you're going to have your wedding around the same time, we definitely recommend spending the money for fans. The ventilation is pretty good, but it's a humid time of year and we would say it was the only thing we'd change about our wedding. That said, we didn't have an empty dance floor the entire night so that contributed to the heat as well.

Also keep in mind that you're only booking the venue. You still have to supply the music, linens, flowers, food, etc. We knew this going in and preferred it because we could really tailor our wedding to what we wanted, but just something to keep in mind. Sabrina can provide you with the costs for the venue depending on how long you'll be there.

We could go on and on about how wonderful the venue is, but you should really see it for yourself!
Are you interested?
Send a message