60 Reviews
Recommended by 98% of couples
Quality of service

4.9 out of 5 rating

Average response time

4.9 out of 5 rating

Professionalism

4.9 out of 5 rating

Value

4.9 out of 5 rating

Flexibility

4.9 out of 5 rating
14 User photos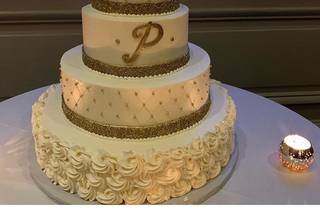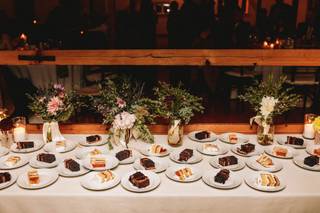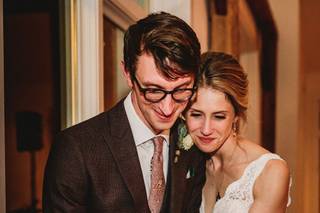 + 10

photos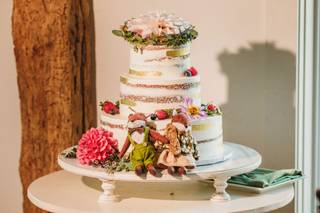 Brittany

Getting married on 09/09/2023

I cannot say enough wonderful things about Beth and The Caketeria. They were so great to work with from start to finish. Beth answered any question I had and helped us to come up with the perfect wedding cake! She took the ideas we had and the outcome was better than we ever imagined. The cake was so beautiful we felt bad cutting it! I'm glad we did though because it was delicious! Our guests keep talking about how good the cake was from our wedding and how they wish they could have it all the time! We also had mini cupcakes made and they were perfect. I would recommend Beth and The Caketeria to anyone. We cant wait until our anniversary so we can have it again!

Sara

Married on 10/15/2022

Amazing experience and delicious desserts!

Beth and the Caketeria were absolutely wonderful! Professional, kind, and knowledgeable. We had a small cutting cake and cupcakes for our guests. Not only were they beautiful, but they were absolutely delicious!

Madison B.

Married on 09/04/2022

Divine Cakes!

Our wedding cake came as part of the package with Lambertville Station. But we still got to have the fun cake tasting experience because they had two bakeries they contracted with to make the cake, and we got to try them both! We ended up going with The Caketeria, in Newtown, PA. Beth, the head baker, is phenomenal. Her cakes are divine! They do wedding and special event cakes, but they also have a small bakery to just buy baked goods like cupcakes at her location, and we have made it a regular place to go for special occasion desserts. It is obvious she has been doing this for a very long time, and she has a great working relationship with Lambertville Station. All we had to do was show up to the tasting, pick our flavors, and she handled the rest. Our guests said the cake was the best wedding cake ever!

Are you interested?

Send a message

Elise

Married on 11/21/2021

A truly yummy wedding cake!

The Caketeria makes the most delicious cakes and cupcakes. Our wedding cake came with our wedding package at the Barley Sheaf and it was from the Caketeria. It was so good. We went for the tasting and had a hard time deciding. We finally decided on Yellow pound with lemon and raspberry with buttercream and it was heavenly.
We also had dozens cupcakes and mini cupcakes of various flavors for our guests that were "out of this world" good!
Next time we need to get a cake for a birthday aor a special event we are heading to Caketera because they are so good. Thank you for the lovely wedding cake.

Valerie

Married on 12/31/2019

Best wedding cake

I'm a HUGE dessert person so cake was important for my wedding. Caketeria had the best tasting cakes and they customized layers as well as the design how we wanted it! Their carrot cake and cannoli cake was amazing ! They also helped me customize a surprise grooms cake which was a philly sports team cake! Sooo amazing!!

Sara D.

Married on 12/13/2019

We loved our cake!

Our experience with the Caketeria was fantastic! Beth executed our winter theme and vision perfectly. We got the cannoli cream cake, it was absolutely delicious and was such a treat for us and our guests. Highly recommend!

Allison

Married on 10/05/2019

Stunning and Tasty

An excellent-tasting wedding cake was essential to both of us, especially as it was the only dessert at our wedding.
Fortunately, we chose The Inn at Barley Sheaf Farm as our venue and they work with Beth at the Caketeria.
Beth helped us create our perfect cake. Two cakes, in fact. She worked with all of our ideas, added her own and we came up with just what was right for us:
Yellow cake with lemon, lemon curd and raspberry preserves and buttercream. The cake looked amazing and tasted even better.
We also had a chocolate raspberry ganache cake for people who like chocolate. Everything tasted incredible.
Our cake tasting was easy, informative and fun. She was always available to answer questions and collaborate. She cares just as deeply about the look of the cake as the taste. We couldn't have been happier. Our guests continually tell me they have never had better wedding cake.

Adi N.

Married on 09/01/2019

Beautiful, delicious wedding cake!

We were married at Nassau Inn and Caketeria was the recommended vendor for wedding cakes. Beth from Caketeria was lovely, patient and accommodating! We met with her for a tasting and she was happy to walk us through all the flavor and filling combinations and brainstorm ideas that were not on the pre-existing list of options. We enjoyed her chocolate fudge cake the most, but when we weren't completely satisfied with the flavor combinations we had tried and asked for something else, Beth went out of her way to bake us a small cake so we could try the cake/icing/filling combination we described. We were also interested in chocolate covered strawberries so she made some for us to sample as well. We ended up going with the chocolate fudge cake with two different fillings that alternated by tier. They were both delicious! In the end, the cake looked and tasted exactly as I had hoped it would, and all of our guests were very impressed! The chocolate covered strawberries were also very tasty!

Angela K.

Married on 07/07/2019

Best and Most beautiful cake

Beth is absolutely amazing. Her and her team make delicious cake and they are beautiful too! It was a pleasure working with her and being able to enjoy her amazing work!

Jonna Z.

Married on 11/03/2018

Words can't even describe!!!

When my now husband and I were making our tasting appointments, we scheduled two for the same day since the two locations were close by. The Caketeria was first on our list and honestly what we were most excited for.

From the start Beth was so friendly and willing to accommodate the ideas we were thinking. I told her the flavors we were thinking because we didn't want just traditional wedding cake flavors. She delivered! We were able to try so much besides just the idea we had. After our tasting, we canceled our second appointment because we knew we were going with Beth! Our cake was absolutely beautiful and DELICIOUS! Our guests raved about our cake! We decided to go with a 4 tier cake: 2 tiers were pumpkin cake with cream cheese frosting and the other two were a cinnamon pound cake with salted caramel frosting and a little layer of salted caramel on the cake! Yum! We were married in November, so the flavors fit perfectly! We now have our top layer in our freezer and are not sure it's going to make it until next year! We could not have been happier with our experience, thank so much to Beth and The Caketeria for making our day that much better! :)

Jenna

Married on 10/20/2018

My husband and I just got married at the end of September. Beth was so incredibly helpful and professional from the first point of contact. Our cake was more than we could ever hope for! So beautiful and exactly how we imagined it!

Tammy

Married on 09/16/2018

The Caketeria was recommended to us by the staff at the Inn at Barley Sheaf Farm, where we held our small wedding with 31 attendees. Beth was very helpful to me in selecting the cake style that met our needs. We chose sponge with mixed berries, and it was delicious! Beth worked with our florist to obtain flowers with which to decorate our cake. Our guests were very complimentary about the event. The Caketeria also bakes and sells an incredible array of delicious cupcakes! You will not go wrong if you chose to work with Beth from the Caketeria for your wedding cake!

Scott

Married on 09/15/2018

We used the Caketeria for our wedding cake, and they did a fantastic job. Our tasting was so good that we ended up getting three different cake options, which the crew there handled with ease, in addition to us throwing in cookie favors. All of the cakes were great, and we got multiple comments similar to "I don't even usually like wedding cake, but this is amazing!"

Highly recommended!

Kelsey

Married on 08/17/2018

My husband and I got married in August and we got our cake from The Caketeria. Beth was so helpful with picking flavors and design! I got a cake and cupcakes because I couldn't pick just one flavor. I changed my mind so many times about what cupcake flavors I wanted and they were so patient and had great ideas. My guests couldn't wait for the cake after they tasted The Caketerias amazing cake at my shower and they didn't disappoint. Not only was everything beautiful, but it tasted amazing! We had some cake and cupcakes left over and they were just as moist and delicious the next day. We will be getting all of our cakes from The Caketeria! 5 stars isn't enough!

Nancy

Married on 07/28/2018

I have order 3 major cakes from this bakery, shower, christening, and wedding, and all of them have been outstanding. They are easy to work with and I have no problem recommending them to everyone I know. I have even left it up to Beth to help with the decorating ideas and she has never let me down.

Allie

Married on 06/29/2018

Beth was extremely helpful throughout the process of picking out and delivering the wedding cake. We liked so many flavors as they all tasted so good that we were able to have a different flavor for each layer of the cake. At our wedding everyone raved that the cake was just as good as it looked and the best wedding cake they ever had! I would definitely recommend The Cakateria to anyone looking for a wedding cake!

Brianna S.

Married on 05/18/2018

Gorgeous and Tasty!

We had an amazing experience with the Caketeria. Beth baker my older sister's wedding cake and once I was engaged, we knew we had to have a Caketeria cake for our wedding. Every flavor of Beth's cakes taste incredible! When we met for our tasting, Beth met with us for a while and even read that I was not necessarily one for traditional looking cakes so she asked about my wedding style and made great suggestions that led us to a marble cake with different shaped layers! It was more beautiful than I ever could have imagined.

Needless to say, we started the day out getting compliments on how beautiful the cake was and ended it with compliments on how amazing it tasted!

Taylor

Married on 04/21/2018

I cannot say enough good things about my experience working with Caketeria! From the initial inquiry to my absolutely perfect cake, that my wedding guests are still talking about, every step was super easy and almost exciting. Beth was super communicative and listened to all of our questions with sincerity. I would recommend Caketeria to anyone, you will not be disappointed!

Allison

Married on 03/03/2018

LOVE THE CAKETERIA! When we went for our tasting Beth had 4 very different types of cake for us to try and also explained all of the ways they can combine and alter them. She also offered to pull some more unique flavors from the display case, but we were more than satisfied with the options we had. We couldn't agree on a flavor (I like fruit in my cake and my husband only wants chocolate) so Beth did 2 different flavored tiers for us and they were PERFECT! I had a yellow pound cake with raspberry and lemon curd and Beth helped my husband decide upon a chocolate cake with chocolate mouse then yellow cake and chocolate ganache all layered up. It was all covered in a perfect and yummy white buttercream. Beth then sat with me and patiently went through pictures until I found the exact look that I wanted for the frosting. I think we were done in 12 minutes. It was the easiest (and best) part of the wedding planning.

Our wedding was just last Saturday and since the cake was so delicious we decided not to freeze the top layer and eat it instead. Beth is going to make us 2 anniversary cakes instead and we can't wait. I went to a lot of wedding shows where there was cake from Palermo's and that cake was overly sweet. Beth's cakes are perfect. Everyone loved it! Coincidentally we went on a little trip in January and met someone who works near the Caketeria and she told me how much she loves their cupcakes!

I cannot say enough good things about Beth, her staff and the Caketeria. If you need a bakery, for any sort of wedding confectionery I highly recommend going there. The price of the cake was included in our venue and when I have some pictures I will be sure to share them!

Chloe

Married on 11/17/2017

My husband & I got married in November & Beth and The Caketeria made cakes for a few of our wedding events, my shower, the rehearsal dinner (groom's cake) and our wedding cake. They absolutely nailed every single cake, not only did they look amazing but they also tasted great too.They did an AMAZING job on on our wedding cake, a "naked" style almond pound cake with raspberry filling. It was great and so beautiful! My only regret is the caterer threw out leftovers and didn't package them for us to take home, I wish I had some now LOL thank you so much The Caketeria! You guys are awesome

Jessica

Married on 10/15/2017

My husband and I got our wedding cake from The Caketeria as part of our wedding package from Jamie Hollander Gourmet Foods & Catering. Beth from The Caketeria is fantastic to work with, and her cakes are to die for! We had a multilayer cake with two flavors: lemon soaked pound cake with lemon curd and raspberry and a chocolate cake with coffee filling. Both flavors were a huge hit amongst guests. I particularly recommend the chocolate/coffee combination for any couple who loves coffee! Beyond this, the decor of the cake was exactly what I described to Beth when we met for a cake tasting. I asked for a birch tree look with space for leaves and flowers (provided by The Pod Shop in New Hope), and the final product was perfect (even better than I imagined).

Beth was also wonderful to work with throughout the wedding planning process. My parents were helping me plan the day, since I no longer live locally, and Beth was great at accommodating this. First, she met with my parents and took them through a tasting. Then, when I had a surprise work trip to the area, she scheduled a second tasting for my sister and I at the last moment, and was very accommodating. I felt very comfortable working with The Caketeria, and I was incredibly happy with the wedding cake. I highly recommend The Caketeria for wedding cakes and any other occasion you want something delicious!

Ryan

Married on 10/07/2017

My husband and I got married on this past Saturday and we had our cake made by Beth and her team at The Caketeria. The design we wanted was a VERY unique character from an older video game (Bundt from Super Mario: RPG). I was a bit nervous when I first contacted the team at The Caketeria because we're a gay couple (I know it shouldn't matter, but you occasionally see those sad stories in the news) AND we had a very obscure cake request. My anxiety vanished when I was presented with the highest quality of professionalism and friendliness by Beth and her team. We contacted them months in advance for the cake design, and Beth was in regular contact with me throughout. She accepted the request without hesitation and even conducted her own research online to ensure that the cake looked exactly as it should- which must have been hard, because they make such beautiful cakes there and our design could only be described as "unique". The team at The Caketeria was always accommodating and reassuring.

When the big day came and the cake was delivered (promptly within the window of time we decided on), my husband and I were so happy with the result. The cake exceeded our expectations and it was DELICIOUS. I can't tell you how many people approached us to ask where we got the cake from and to compliment us on how flavorful it was. I am so happy we trusted The Caketeria to make our special cake and if I ever have to order another cake, it will definitely be with them!

In case anyone was wondering: our cake was made for 60 guests and was vanilla pound cake with raspberry icing and raspberry preserves. :)

Claire

Married on 06/17/2017

Beth was professional, friendly and easy to work with! Her portfolio includes such a variety that I knew she would really listen to our vision and make it happen. She and her team accommodated our requests with ease and the result was both gorgeous AND delicious!

Sarah

Married on 05/06/2017

I am so happy I trusted Caketeria to create my wedding cake! Hands down - everything I could want and more!
Beth will set you up with a tasting to figure out exactly what you want for your special day and answer all your questions. She is super responsive to any emails and calls, but most importantly, incredibly talented.
I had a bride's cake made of sponge cake, fresh berries, and fresh cream as well as a groom's cake made of chocolate sponge cake with a beautiful chocolate drizzle and blueberries. Every single one of my guests expressed that these were the BEST cakes they have EVER had at a wedding ... And that they tried steeling his or her neighbor's slice!
I wish I could eat these two cakes everyday for the rest of my life, but the memory of how perfect they were is more than enough. Thank you Caketeria for making this process so easy!

Brielle

Married on 01/07/2017

Caketeria was included as one of the bakeries of choice from our venue. After tasting the cake at a bridal show, I knew this was the bakery to choose. Beth was so helpful during the tasting and helped us come up with exactly what we were looking for with our wedding cake design. She also planned and made a surprise groom's cake for my husband for the rehearsal dinner, which he loved! The cake was very affordable and delicious! My husband is picky but couldn't get enough. We also already ate our cake topper (it was that good) and are planning on ordering a 1 year anniversary cake from them next year. I highly recommend Beth and Caketeria.
Are you interested?
Send a message