107 Reviews
Recommended by 100% of couples
Quality of service

5 out of 5 rating

Average response time

5 out of 5 rating

Professionalism

5 out of 5 rating

Value

5 out of 5 rating

Flexibility

5 out of 5 rating
193 User photos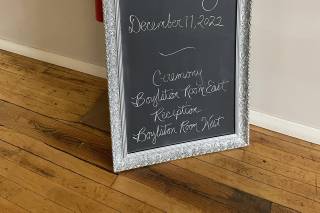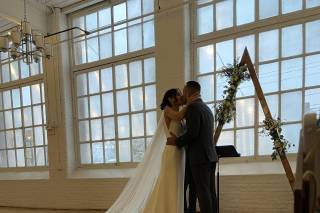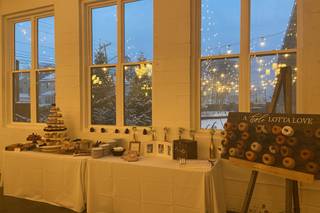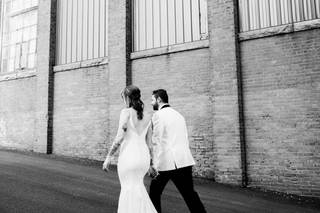 + 189

photos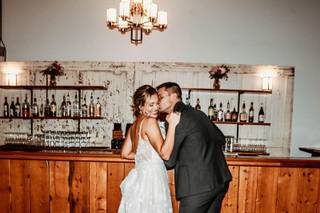 Featured

Adriana S.

Married on 10/30/2021

BOOK THIS VENUE! Perfection all around

I don't even know where to start with how incredible Erin and Myles were throughout our planning process! Their creativity, flexibility, and support got us through. They thought of every little detail to make our day special, managed other vendors on the day of, and overall went above and beyond to make our day perfect. For context, I am high maintenance- I'm type A and a planner, and giving up any control sends me into a panic. Erin and Myles took it in stride and reassured me they had everything covered- and they did! They brought our vision to life and we are forever grateful to them.

Aside from that, the space itself is SO cool!! Raw space that you can make your own, they have a ton of decor that you can use (which saved us a lot of money!), and having a getting ready room for both bride and groom on site was so convenient throughout the night (a little home base for the bridal party).

I can't recommend them enough!

Mairin D.

Married on 12/30/2022

Amazing venue!

We cannot say enough about how great the Boylston Rooms is! Myles, Erin and staff were helpful, accommodating, and were there whenever we needed them. We put everything together in 4 months and the night couldn't have gone smoother. Guests are continuing to compliment the food from Myers Catering, the venue and overall night. I would highly recommend them to anyone looking to get married in Western Mass!

Elizabeth E.

Married on 12/11/2022

Nothing less than exquisite!

The dream team was everything we ever hoped for! From the planning, to the final decisions, to the day of the wedding, they were with us every step of the way. Everyone is so responsive and clear with their communication. Myles was the MVP for making sure I was feeling comfortable and really taking everything in the day of. Myles even cleaned my dress from the snow of going outside! Super thankful for the Boylston team. Never did we feel out of the loop or nervous about the planning, they took care of it all. Thank you Erin, Jacquetta and Myles! Thank you for making our special night one to remember.

Are you interested?

Send a message

Sarah D.

Married on 11/26/2022

Wish we could get married here again!

I cannot say enough wonderful things about The Boylston Rooms. We knew as soon as we met Erin and Myles and saw the beautiful ceremony space that it was the perfect venue for us. The venue itself has a glamorous industrial vibe and there are really cool spaces to take photos in. The natural light is what dreams are made of. Myles and Erin are also what dreams are made of. They responded very quickly to any email we sent and made us feel so comfortable and special - as if we were their only couple. They were very patient with all of Tyler's crazy ideas and with our bridal party. They both checked in with us continuously throughout the day and our photographer said she had never worked with such a welcoming venue. I wish we could plan it all again

The Boylston Rooms's reply:

Thank you so much for the kind words, Sarah! You and Tyler were amazing to work with and we are so glad you had such a great experience!

Alexa J.

Married on 11/19/2022

Best wedding venue I could have imagined

The Boylston Room was the best choice we could have possibly made for our wedding venue. Erin and Myles went above and beyond every step of the way. They were incredibly responsive and thought of every detail making the entire process truly stress free. The room for both the ceremony and reception were flawlessly prepared and the bridal suite was perfect for me and my bridal party to get ready in. Myles and Erin also were prepared for truly everything on wedding day putting me at ease at every turn. I received countless compliments from our guests on the beautiful venue, great food (from Myer's Catering, who were also excellent to work with), and amazing service from all the staff. I can't say enough amazing things about our experience and would highly recommend this location for your wedding!

The Boylston Rooms's reply:

Thank you so much for the sweet review! We miss you and Corey here already! Wishing you both the best!

Tanya A.

Married on 11/05/2022

Beautiful Venue, Fantastic Staff

From the minute we inquired with The Boylston Rooms, we just knew we wanted it to be part of our special day. The entire staff was extremely friendly throughout the entire process. They understood my vision and made it happen. When our wedding day arrived, everything was perfection.

The Boylston Rooms's reply:

Thank you so much for the kind review, Tanya! It was a pleasure working with you and Andrew! Cant wait to see more photos from this magical day!

Sam M.

Married on 10/28/2022

Best Day of Our Lives at The Boylston Rooms

Erin, Myles, and Jacquetta are simply amazing at what they do. We fell in love with the "Industrial Chic" vibe of the building as well as the size, location, and convenience of all the rooms (reception, ceremony, groom, & bride suites, courtyard) being in the same building. The Boylston Room team was more that accommodating to all of our crazy DIY ideas and also had a whole entire huge room of wedding décor that could be used or could even spark more imagination. We were always in communication with them whenever a new idea came up, or if there was ever a question about any detail. Even last minute changes seemed so not last minute and easy to adjust! We both knew that they had everything covered and we did not have a worry in the world, nor would they let us! Our wedding day was magical. They were there making sure everything remained flawless and of course it did...we would of never imagined that we would feel so calm, comfortable, and at ease on probably one of the most important days of our lives! They are an AMAZING team and made us feel so special & important throughout the process. Our experience was more than anything we could of ever hoped for, and it wouldn't have been possible without The Boylston Rooms.
-Sammy & Billy Bryant

The Boylston Rooms's reply:

Sam! It was an absolute pleasure working with you and Billy! Your wedding will be one to remember! I will never be able to hear Bohemian Rapsody and not think of you! Thank you for the review!

Jonathan M.

Married on 10/23/2022

Amazing experience all around

We can't say enough about how great the team at the Boylston Rooms is! Myles, Jacquetta, and Erin were incredibly responsive throughout the planning process, and put us at ease with their competence and clear communication. The ceremony and reception rooms were beautifully put together, and having the bridal and groom suites available for the whole day made everything smoother. On our wedding day, Myles, Jacquetta, and Erin were warm, calm, and prepared, which made the day stress free and enjoyable for us. We can't recommend this venue enough!

The Boylston Rooms's reply:

Thank you so much for your review, Jonathan! It was absolutely amazing working with you and Rose! If you every want to have a vow renewal, you know where to find us!

Gretta I.

Married on 10/22/2022

Best day ever!

When it came to planning our wedding we wanted a venue that included a lot as far as on site catering and full staff. We couldn't have been happier with the crew at The Boylston Rooms. Everyone from our first meeting to walking down the aisle and even after were so helpful. You can tell they have done this before!
The space is clean and classic industrial with endless possibilities for whatever you envision for that special day. They have an inventory of decor if you'd prefer but were also very welcoming of us bringing our own things. They completely got our vision and helped execute it perfectly! If anything went wrong that day, we did not notice. The day of staff was a well oiled machine and you know they take this very seriously.
Best day ever!

The Boylston Rooms's reply:

Thank you so much for the kind words Gretta! We hope that you and Rich have a long and happy marriage! We are wishing you the absolute best!

Victoria V.

Married on 10/20/2022

Absolutely Perfect

There is honestly no words that could accurately describe how amazing the whole experience was at the Boylston Rooms. It was everything I could have ever dreamed of. I am so grateful for the whole team who made the process as smooth and not stressful as possible; they are so so helpful with everything you could need help with. It is absolutely gorgeous there and all of my guests loved it and won't stop talking about it. I will gladly recommend anyone getting married to do it here!!!

The Boylston Rooms's reply:

Thank you so much for your kind words, Victoria! You had such an amazing and unique day! Wishing you and Edward the best!

Skyla C.

Married on 10/15/2022

A Western Mass Gem!

My husband and I were married at The Boylston Rooms last month in the peak of fall season. It was the most magical night of our lives and everything we planned for it to be. Erin, Myles, Jacquetta, Walter and their awesome event staff worked together to coordinate our day so perfectly. They are hands down the most dedicated people for this job!
Jacquetta led our rehearsal and got us prepared for the big day while keeping us entertained and laughing. Her and Myles even arrived on the day of (both of their days off) to show us love and support. Myles was so involved in our portraits taken outside. He carried my train and assisted me with walking in my super uncomfortable heels (wear comfortable shoes! no one sees them). Erin even stepped in and insisted I wear her shoes to walk back up to the venue! One thing I could recommend from the experience is maybe a golf cart to get the couples around to the many beautiful spots around the property. We were kept on track of our timeline in such a graceful way by the team and when we found out our officiant would not be making it to the ceremony, Jacquette jumped into action. A situation that could've ultimately ruined our day was remedied within twenty minutes.
From the very beginning of our planning (almost two years ago) they remained in touch consistently, professional and flexible with any updates/changes we needed. Did I mention this venue has a whole room of decor included? They brought our vision to life using a lot of their own inventory. There is a bridal and groom suite to get ready for the day in - so many fun memories made with our friends getting ready here. The only downside is that they are right next to each other which at times created some stress trying not to be seen. We had some mimosas and whiskey delivered by Myers Catering however, to loosen us up and alleviate some of the jitters. At the end of the night Walter was a huge help gathering all of our leftover belongings from the suites to be picked up the next day.
Another thing to mention...there is only one catering option which eliminates comparing prices when considering your budget for the event. They were a little pricey and inconsistent with their communication. Also, we had several guests say the bartenders were unfriendly. The food was raved about though and it is one of the most important parts! I wouldn't say it's a make or break, but definitely ask for a quote ahead of time if you are having a large wedding.
I could go on, but I'll leave it with a huge THANK YOU to all of the staff that made this the best night of our lives. OH, and get the trolley!! Just one of the many highlights of the night.
Cheers to love,
Skyla and Matt


+ 2

photos

The Boylston Rooms's reply:

Thank you for your honest review, Skyla! We appreciate the feedback and take everything very seriously to help improve the next experience. We hope you and Matt have a life full of smiles and amazing memories together!

Olivia R.

Married on 10/14/2022

We love them...so so much

Erin, Myles, and Jaquetta are miracle workers. They made planning and organizing a wedding as seamless as humanly possible. The amount that we got by booking this venue--the space, the tables and chairs and linens, an endless supply of decorations, PLUS three incredibly knowledgeable coordinators to help our vision come to life...it's kind of astonishing. Myles and Jaquetta made the day of run so smoothly, from bustling dresses and carrying trains, to making sure that we ate and remembered to breathe. Plus the dressing rooms were absolutely STOCKED with basically anything we could possibly need...the wedding party went to town with the fabric steamers that were on hand. My wife and I could not possibly recommend a venue more highly!!!

The Boylston Rooms's reply:

Thank you so much for this review! We already miss working with you and Julia here! We hope you both have such a happy life together!

Chelsey P.

Married on 10/09/2022

A++ for the Boylston Rooms!

The Boylston staff were amazing to work with! Very responsive to all of my last minute wedding questions via email, polite, and easy to work with. Our wedding day was beyond perfect. Everything went flawlessly, and I am so happy we chose this venue. The day of the wedding, they were so so helpful, and I can not thank them enough for making our wedding feel like a fairytale.

The Boylston Rooms's reply:

Chelsey! Thank you so much for the review! It was amazing working with you and your family through this process! Everything came out perfectly! We hope that you and Samuell have a happy life building your new family together!

Katie J.

Married on 09/24/2022

Best wedding venue

The Boylston Rooms team was nothing short of amazing for our dream wedding! The venue itself is just gorgeous and was able to accommodate our large guest list and provide unique locations for our ceremony, social hour, and reception. From the very beginning the team was incredibly helpful with all the decisions we had to make and really made us feel special. Every little detail was absolutely perfect and the team was always responsive to any questions or needs we had. On the day of, Miles was incredible and everyone made us feel welcome and comfortable to where We didn't feel like we had to worry about anything and could enjoy our day. We could not have picked a better venue or team and had the absolute best day ever thanks to them all! If you're looking for a wedding venue that can take care of all your needs and make you feel like family, then I would highly recommend the Boylston Rooms!

The Boylston Rooms's reply:

Thank you so much for the kind words, Katie! Your day was such a fun day for us here! We hope you and Rashad have a long and happy life together!

Hillary G.

Married on 09/17/2022

BEST Wedding Venue Ever!

The Boylston Rooms was by far the best choice of wedding venue for us. Not only are the room spaces gorgeous, but the entire team at The Boylston Rooms is extremely kind, caring, and will do anything to make sure you have the most special day. The venue also has a huge amount of decorations on hand, so there's plenty to pick from for both the ceremony and the reception! Erin, Myles, and Jacquetta were amazing during our entire planning process (especially with all of the frantic emails I sent them!) and they were especially incredible the weekend of our wedding. I couldn't have asked for a better team to make sure our day went smoothly. They truly cared about making sure everything was exactly what we wanted. Our wedding day went perfectly and a huge part of that was The Boylston Rooms team! I am so glad we chose this venue and would recommend it to absolutely anyone looking for a gorgeous wedding venue that is managed by an amazing team!

Stefanie E.

Married on 09/10/2022

Incredible Venue and Team!

We can't say enough about what an amazing experience we had at the Boylston rooms. My husband and I were overwhelmed at the start of the wedding planning process, but from the beginning, Erin, Myles and Jacquetta put us completely at ease. It is clear they are experts at what they do! They walked us through the process step-by-step, gave design advice, and were super responsive with any and all questions we had. The day of the wedding, we felt so well taken care of and truly did not have to worry about a thing. The day ran smoothly from start to finish and my husband and I could really just focus on enjoying the day with our guests. Aside from the incredible staff, the venue is absolutely gorgeous and we still receive so many compliments about what an awesome space it was. Highly, highly recommend having your wedding here!!

The Boylston Rooms's reply:

Stefanie! It was amazing working with you and Chris through the planning process! Thank you so much for the review!

Adrienne

Married on 09/03/2022

Incredible Team, Venue, Everything!

Wow, I simultaneously have so much to say and also am speechless. The team at the Boylston Rooms made everything as stress-free as possible. They all treat everyone involved in the wedding with kindness, warmth- and they are so attentive and helpful. Myles is an INCREDIBLE decorator, Erin is such a kind individual, and don't even get me started about Q. What a gem. Every person in this organization is fabulous, and people are STILL talking about our food. 100000000/10

The Boylston Rooms's reply:

Thank you so much for your review, Adrienne! We appreciate your kind words! It was amazing working with you and Jacob on this magical day! So glad you enjoyed it!

Laura

Married on 08/06/2022

THE BEST VENUE - stress free wedding day!

The Boylston Rooms was everything and more when it comes to wedding venues. Where do I even start? I came across Boylston Rooms on one of these websites and obviously the 5 star reviews sparked my interest. After cancelling 3 covid weddings in Mexico I was honestly kind of over it. I figured i would just reach out to see what the deal was. Erin answered my phone call and I immediately felt as if I was talking to a friend. She was just super personable and laid back. She sent me their wedding package options and I was surprised at the price point being so affordable. We requested a date and the more I looked at the weddings The Boylston Rooms was hosting on social media, the more I fell in love with the venue. Living in LA and never having seen the venue in person I felt a little nervous so I sent my (now) mother in law, who lives in Boston to set up a walk through. She was so happy with the venue and face-timed me in to see it. Erin and Myles were so accommodating in those beginning stages and we felt confident and booked it! Throughout the year of planning, The Boylston Rooms was super communicative and always responded to my email right away. they got me in contact with many vendors and also gave me suggestions. They were like a wedding planning team and went above and beyond for me. Jaquetta was also a huge help. I had no idea about tipping and she gave me suggestions and really helped tie everything together. The day of - Myles and Jaquetta were the staff working that day. Myles is seriously a ball of sunshine and he made the day fun and helped me to not feel any stress. He only checked in when he needed something but I trusted him to do what he does best and everything was perfect. Jaquetta was in and out checking to see what we needed in the bridal suite all morning and her presence felt like a supportive friend. She really kept everyone upbeat and kept the vibe up. There's really so many more things I could say but I just really felt so incredibly taken care of on my wedding day and it was so much fun, I couldn't have done it without the Team at the Boylston Rooms. THANK YOU TEAM!!!

Caitlyn S.

Married on 08/06/2022

Incredible Wedding Venue!

Our wedding was absolutely perfect and the team at the Boylston Rooms made our day the best one ever!
When my husband and I booked the venue tour, we instantly knew this was the place for our special day and while the venue is incredible in so many ways, it was the people that made it so easy to choose.
Their timeliness, attention to detail, calm demeanors, understanding and passion for their work made us feel so taken care of. Every member of our wedding party and our families agree that the entire event was seamless and that is all credit to them. Any question I had was either answered before I could say or taken care of it immediately. That ease of mind was so important on our busy day! For anyone looking for an industrial vibe with attention to every detail, the Boylston Rooms is the perfect venue!


Kristina G.

Married on 07/30/2022

Perfect Venue and Team!

My husband and I are so grateful we found this venue. The space itself is breathtaking and we also loved that we could have our ceremony and reception all in the same location. Their inventory of decorations was super helpful. In the year leading up to the wedding, Myles was an angel. He answered all emails quickly and professionally and worked with us to design what we wanted our day to look like. Myles and Jacquetta coordinated our wedding day and they did such a wonderful job setting things up and working with our other vendors. I highly recommend getting married here!

Lily K.

Married on 07/23/2022

Beautiful unique venue

We had an amazing wedding day which was primarily due to the beautiful space and helpful staff of the Boylston Rooms. We had a very hot wedding day (95 degrees) and we were grateful for the air conditioned space that still allowed great lighting and beautiful pictures. In addition to using the two different spaces for the ceremony and reception, we were able to use some of the other parts of the property for great pictures with an industrial background.

In addition to the interesting space, we were able to use a lot of the Boylston Room's inventory of decoration and other items which (1) helped saved us some money and (2) helped us not buy things that were wasteful. We used the arch, large sign holders, table number holders, candle holders, the card box and more all from the Boylston Rooms. When we met with the team to go over initial details, they were really helpful in suggesting what they had and were also able to assist us via email as we continued to make decisions.

Finally, the staff of the Boylston Rooms were very helpful day of. They were constantly making sure that we had what we need (food, water, etc.) and they were very helpful in letting guests know when and where to go, to keep the day moving. Additionally, they were creative in their solutions and were willing to go the extra mile. When my dress got dirty from walking around outside during our first look, Myles suggested that a lint roller helps remove the dirt and got on the ground and helped clean my dress. Also, working with seasoned pros, the have the expertise to help present you with various options to make a decision (like seating charts), and provide solutions when problems arise. They are well versed in what they do, and have seen a lot of different weddings so have great example to go off of.

One final item is that (at least when we had our wedding) you are required to use Myers Catering, which ended up being great because they have a lot of food options and the quality was great!

Overall, we are so happy we went with the Boylston Rooms and would highly recommend.

+ 8

photos

Danielle R.

Married on 07/15/2022

The Most AMAZING Venue & Team You Can Find!

We first toured the Boylston Rooms 18 months before our expected wedding date. From the first time we set foot in the Boylston Rooms, we fell in love with this beautiful venue. Erin and Myles provided us with a thorough tour, and took time to ensure we had a complete understanding of what their venue provided. It was an easy decision to book the Boylston Rooms for our special day. Throughout the planning process, Erin, Myles, and Jacquetta were very attentive and quick to respond to any questions we had. They also kept us on track with all steps in the planning process. The team at the Boylston Rooms was organized, professional, and kind throughout our entire experience. They were patient, flexible, and accommodating, helping us with all our wedding needs. The night before our wedding, they worked with our officiant to facilitate our wedding rehearsal. Our wedding day was everything we dreamed of, and went exactly according to the plan we laid out with the Boylston Rooms' staff. Myles' energy was both calm and fun throughout the morning and day leading up to the ceremony. It was just what we needed! Erin and Myles were very attentive to detail. It was clear our happiness and ease was at the forefront of their minds. Erin communicated effectively, making sure all scheduled events were carried out on time. If you are looking for the complete package, including an amazing staff to work with, as well as a venue that offers breathtaking spaces both inside and outside, then the Boylston Rooms is the place for you. We highly recommend this venue for your special day!

Michaela V.

Married on 06/25/2022

I wish I could bottle up this day and re-live it again and again

Erin, Myles and Q are stars! We could not have asked for a more attentive, responsive or organized team to work with in planning and coordinating our special day. We had endless compliments from our family and friends about execution of the entire day from the set-up, to ceremony, social hour, reception and every important moment in between. I wish I could bottle up this day and re-live it again and again.

M Mcq

Married on 06/24/2022

Incredible, unique, and easy wedding experience

Jacquetta, Erin, and Miles are incredible. From the first tour of the venue to the big day they were incredibly responsive and flexible. They responded perfectly to our unique mix of highly specific preferences and our requests for their professional opinions. Everything we picked was special to us and everything they provided filled out the setting perfectly. It was all well managed and planned for and we truly had the BEST WEDDING EVER!

The Boylston Rooms's reply:

Thank you so much for the kind words! We are going to miss working with you and we hope that this day will be with you forever!

Ariana S.

Married on 06/18/2022

The sweetest industrial venue there ever was

I must first note about the staff at The Boylston Rooms, who made my wedding dreams come true. Erin, Myles and Jaquetta are the three musketeers of wedding coordinating. They were helpful, reliable, encouraging, thorough, flexible, and most of all, genuinely kind humans. Whether in answer emails punctually, offering decor advice when needed, accommodating our schedule pre-wedding day, or making sure that our night was flowing happily (and that we were fed) during our reception, they truly exceeded our expectations. I will sincerely miss working with them.

Now for the venue itself... So. Cool. The best way I can describe it is "industrial-chic". The character of the brick foundation, the new repurposed bar in the West Room, beautiful greenery along the outside pathway, string lights galore and access to other recreational activities (table-tennis, coffee shop, antique store) all lent to this venue being our number one choice. The richness in this venue is unprecedented.

Our 200+ guests ALL had the time of their lives at our reception. Young and old raved about how AMAZING of a time they had, come day after wedding. My heart could burst with all of the praises our family and friends were singing, as we recapped the wedding day. It truly took a village, but our wedding reception was more than we could have ever imagined.

The utmost gratitude to The Boylston Room's staff, for making our dream come true. You will forever have a special place in our hearts.

The Boylston Rooms's reply:

Ariana, thank you so much for such kind words! We are going to miss working with you and Gordon, but we are glad that you had your amazing day! We hope you now get some needed time to relax from all the wedding planning!
Are you interested?
Send a message