41 Reviews
Recommended by 95% of couples
Quality of service

4.8 out of 5 rating

Average response time

4.6 out of 5 rating

Professionalism

4.8 out of 5 rating

Value

4.8 out of 5 rating

Flexibility

4.8 out of 5 rating
Awards
4 User photos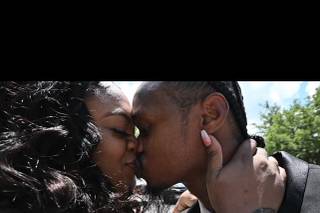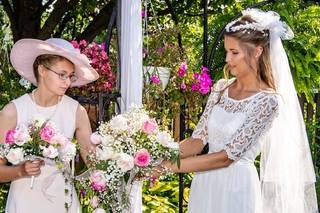 Leslie

Married on 07/22/2022

I loved how my vision couldn't have been better

I loved every moment of it. There were some hiccups but you go into it expecting that. My day was beautiful and I got to marry my best friends with all the people I love around me

Leslie

Married on 07/22/2017

Kevin and I got married on July 22nd at Bendora Wedding Gallery. From our first meeting with Debbie, to meeting Patty to the day of our wedding we had no worries and felt like we were their only concern. They took care of everything(even down to the "back up plan" of moving indoors if the weather turned ugly, it didn't thank God!). Many of our guests complimented us on our venue choice and how unique and beautiful the garden. We have been to 3 weddings this summer and we and some of the guests that have been at the other weddings with us, have to say our venue was the most beautiful and most accommodating and comfortable. Thank you Patty and Debbie you made our day!!!

Kris

Married on 05/28/2016

We had a small outdoor wedding the end of May. They could not have been more accommodating as we were rushing to get the ceremony in before storms hit. Everything was perfect! We were able to plan out our own ceremony exactly how we wanted it. The venue was beautiful inside and out with the flowers in full bloom outside. Would highly recommend!

Are you interested?

Send a message

We planned on having a wedding in 2015. Last minute we decided to do 12/13/14. My (now) husband wanted this day since we got engaged, I told him no at first then decided to just go with it! I emailed Tarah and she fit us in no problem at all. We are so thankful. The wedding turned out amazing!!! The place is beautiful

I just had my wedding at Bendora on September 14, 2013. Tarah is the best! I live out of state and was clueless on how to plan my wedding. She helped made our big day possible. Our day was fun and stress free. Every person that I hired for my wedding was Tarah suggestion. I would recommend Bendora for anyone who wants a small wedding or the use of her services. At the end of my wedding I had such nice feedback on my day thanks to Bendora.

Danielle

Married on 09/13/2013

Bendora was awesome, I loved everything. My wedding was everything I wanted:). Terah was great to work with. I would pick Bendora over and over again.

Alex

Married on 09/07/2013

The Bendora Wedding Gallery is hands down the best place to get married! It is a beautiful venue. The staff are so kind and professional. Thanks to Bendora, I will never forget my special day!

Cassandra

Married on 08/31/2013

I had my dream wedding and it would not have been possible without Tarah and her team. I'm not a very "bridal bride" and had NO clue where to even start planning a wedding. To be honest, I was dreading the entire process... until I sat down with Tarah for the first time - I booked her right away! She was extremely organized and professional, and her bubbly personality made everything fun. My engagement was 18 months and I was able to meet with her in person or call her on the phone as much as I wanted! She has relationships with the best vendors in Columbus, and being able to meet with them in the Bendora studio (instead of a Panera or somewhere) was a real blessing. She kept track of vendor connections and contracts, the time-line, and budget - I only did the fun stuff! She even negotiated better prices on my vendor contracts. On my wedding day, Tarah made sure everything was on time and beautifully done; if anything went wrong she made sure it was resolved without my knowledge!

I cannot recommend Tarah and the Bendora team enough. Her taste level is exquisite, her organization and professionalism take the stress out of the wedding planning experience, and her relationships with great vendors are worth every penny in themselves.

Autumn

Married on 08/10/2013

Our wedding was very elegant and our guest appreciated the hospitality of the staff. They made me feel very special like a bride should! I am very pleased that you shared our special day with us!

Rachael

Married on 07/21/2013

The Bendora Wedding Gallery provided all that was needed to make our wedding day perfect. All emails and phone calls were returned promptly, and all needs were met efficiently. Due to some snags with my husbands US visa, we had to postpone our wedding day at the last minute. Tarah, our consultant at Bendora, went above and beyond to schedule the event for 2 days later on a day that the gallery is normally closed. She arranged with a photographer to come in, and the wedding was absolutely everything I hoped for.

When our plans for a destination wedding fell through, we were scrambling to plan a wedding in a short amount of time: a wedding that would be beautiful and memorable. Bendora Wedding Gallery made our vision a reality. Our wedding was elegant and included many personalized touches. Guests are still talking about the garden setting and how lovely the service was. Our pictures are gorgeous and reflect the emotions and feelings we were experiencing that day. I truly feel like our wedding was just perfect and I wouldn't change a thing. It turned out better than the destination wedding we had originally planned! We were so please with the flexibility, service, and convenience Bendora Wedding Gallery offered. It was perfect.

Beth

Married on 06/21/2013

Tarah and The Bendora Wedding Chapel assisted us in making our wedding day even more special than we ever could have imagined. It was a day we will never forget! For a Bride, your wedding day can be very hectic, Tarah helped with my veil and her team worked to make me feel relaxed and calm. Our Garden Wedding was full of beautiful flowers and plush grass. The photos taken by Tarah and her team came out beautifully and we are planning to renew our vows at Bendora in the future. Our cake was wonderful too which was ordered for us and delivered to the Chapel. Thanks Again for making our wedding day one that we will never forget!

Gary and Beth Conley

Donna

Married on 06/05/2013

We received exactly the wedding we wanted and expected...no frills or fuss and just the 2 of us...wonderful weather in a beautiful garden ~ was the best day ever for us...thank you so much for offering this in our community and best wishes to you as well...thanks!!

Amber

Married on 05/25/2013

Wow! Everything was so amazing and ran so smoothly thanks to Bendora! We loved everything about it and couldn't have asked for a more perfect day! The flowers looked amazing and everything they helped us with really took away a lot of stress. EVERYONE keeps talking about how awesome, different, and intimate it was. I wouldn't have changed a thing. We appreciate everything they did for us!!

Patience

Married on 04/20/2013

I wanted something convenient, quick, and no planning for me, and Bendora provided that and more for me. I went in one afternoon, picked out what I wanted and a month later I was married and Bendora made all the arrangements I asked for the ceremony, we just showed up. The photographer was professional and polite, Tarah was always prompt in response to any questions I asked, and the ceremony went very well. They provided suggestions for dinner afterward and for floral and hair arrangements prior to the cermemony and all were excellant. I highly suggest this company for whatever wedding needs you may be looking for that they are able to provide.

Tina

Married on 06/02/2012

THE BEST CHOICE I MADE WAS HIRING THE BENDOR LADIES!!!! If I had one piece of advice to give to future bides, HIRE a BENDORA CONSULTANT worthy every penny!!!!!!! Working with my consultant Sarah, saved me time, money and sanity during my planning. On the day of my wedding she was there when ever I needed anything... a glass of water, pin a loose piece of my hair back in place, to give me an encouraging hug. Sarah was my rock and made sure the day went smoothly she was my "behind the scenes" gal! My friends and family could enjoy the wedding instead of running around trying to coordinate things. Sarah and the rest of the ladies were so easy to work with I felt like I was working with a group of my friends! They had great ideas on ways to save money, knew vendors that could give me discounts, and helped me add touches that made my wedding stand out from others!

Angi

Married on 05/26/2012

Hiring a day of coordinator was the best decision I made! Sarah made my day perfect. She went above and beyond her duties. She helped me throughout the process and was so willing to answer any questions that I had. People were amazed how relaxed I was the day of the wedding. I owe so much to Bendora and Sarah for such an amazing wedding day!

Katherine

Married on 05/19/2012

Sarah Vansickle was AWESOME to work with. She helped keep me on track and was so helpful the day of the wedding! Bendora is awesome, and it was well worth the investment :-)

Kandace

Married on 05/18/2012

The team at Bendora Wedding Gallery were Great! They did a fantastic job, and our wedding day went so smooth. My husband and I have recommended Bendora to other couples looking to get married.

Colleen

Married on 04/28/2012

Words cannot describe how much my fiancee and I enjoyed working with these ladies! We responded to Sarah for everything, and she was AMAZING from start to finish. She was always on top of it with our vendors and whenever I had a question for a vendor, she always reached out to them and was able to give me an answer. On the day of our wedding, the entire Bendora Wedding Gallery team was there and everything ran so smoothly!!! We didn't even have a hiccup during the day and it was great! I know our day was like this due to all of the previous conversations we had about the timeline of our day and reciprocating that information to our vendors!! I would recommend them to everyone I know getting married in the Columbus area. They were truly a breath of fresh air. My fiancee and I are truly going to miss going into the Gallery for meetings and talking with Tarah, Sarah, and Morgan!!

Alissa

Married on 02/12/2012

I loved Bendora's Wedding Gallery! It was a little too far from my apartment for me to take full advantage of the gallery (but that's not their fault!). They were wonderful to work with! Sarah was my planner and she helped me with everything!!!! I was very indecisive but Sarah helped me stay focused and come up with good ideas. The day of the wedding, I didn't have a boutonnière for the groom (long story!), but Sarah saved the day and when it was time for our "First Look", my groom had one! That was a very pleasant surprise! Sarah helped set up the ceremony, communicated with everyone, and basically made my day run as smoothly as possible! She was there with me the entire wedding day - from hours before the wedding until the very end! She was truly my wedding BFF and I highly, HIGHLY recommend Bendora's Wedding Gallery!

Danielle

Married on 12/27/2011

Our experience at the Bendora Wedding Gallery was wonderful. Tarah and Sarah couldn't have been more helpful. I would recommend the gallery to any bride planning a wedding. Thank you so much!

Rebecca

Married on 12/27/2011

We used the Bendora Wedding Gallery for a planned elopement ceremony. I couldn't have been more pleased. The atmosphere was warm and welcoming and the ladies that work there were absolutely charming. Sarah preformed our ceremony and it was exactly what we were looking for. We wanted an intimate, stress-free wedding, and got just that. I can't thank them enough. I would highly recommend to anyone.

Bridget

Married on 11/19/2011

You guys were wonderful. Very helpful and professional. The chapel was beautiful and everyone was more than friendly.

Justine

Married on 10/22/2011

We planned our wedding in 24 hours and the Bendora Wedding Gallery was very accomodating. They were very professional and their facility is great. I would recommend their services to anyone getting married.
Are you interested?
Send a message