59 Reviews
Recommended by 99% of couples
Quality of service

5 out of 5 rating

Average response time

5 out of 5 rating

Professionalism

5 out of 5 rating

Value

5 out of 5 rating

Flexibility

5 out of 5 rating
56 User photos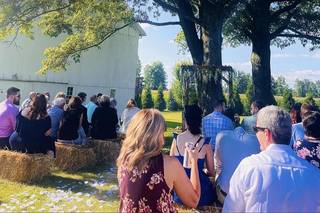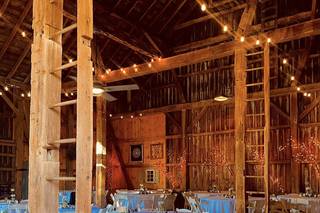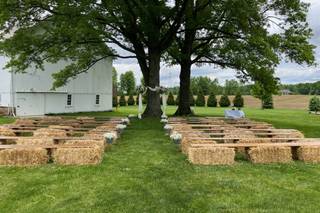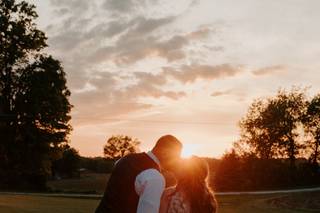 + 52

photos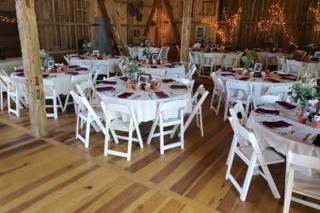 Meghan T.

Married on 10/08/2022

Incredible

I cannot recommend The Barnstone enough! Doug was amazing to work with and was incredible professional and helpful! The venue is so beautiful and they made sure everything went smoothly. It unexpectedly was cold the day of my wedding, so the week of they contacted me that they could rent a heater if I wanted it! I was so wonderful they were looking out for me and I didn't need to worry about it at all! I've heard horror stories about different venues, but at this venue, I have no complaints at all! Another bonus, I barely had to decorate because of how beautiful it was. It save so much money and time and everyone said how beautiful it was. The venue was one part of my wedding I did not have to worry or stress about at all.

Taylor L.

Married on 08/27/2022

Beautiful Barn Venue

Perfect location with great sunsets and landscape for pictures. Loved the setup with the Carriage House for drinks/appetizers, spacious barn for the reception, and fun summer house & chicken coop for the bridal party to get ready. Our guests loved the location and setup. The owner was super great to work with and very helpful. We had no complaints through the process! We really enjoyed the cute lock wall that couples can secure a lock on. We would highly recommend The Barnstone if you are looking to have a memorable barn wedding!

The Barnstone's reply:

Thanks Taylor, it was great to work with you and your family through the whole process, we are so glad everyone is happy.
Best wishes,
Doug H

Tia M.

Married on 08/20/2022

Above and Beyond

This is a beautiful venue with lots of character and charm. I was blown away by the venue director's (Doug) attentiveness. Leading up to the wedding, he was flexible in allowing me the visit the venue multiple times and was detailed in writing down everything I wanted. On the day of, mostly everything was set up the way we had discussed. While guests arrived, he attended parking and ensured those who needed extra assistance a ride on the golf cart. There were many things he did behind the scenes that I wasn't fully aware of but made the day that much more special and run smoothly. I would recommend this venue to anyone looking to have a wedding!

Are you interested?

Send a message

Taylor M.

Married on 04/30/2022

A Perfect Day

Doug was an awesome person to work with! He let us visit throughout our planning period to get refreshers and fall in love with the venue all over again. Having the entire day before our wedding to set up was so stress relieving!! He was even so helpful the day of :) We continuously get compliments of how beautiful everything was. We couldn't recommend this place enough!

Kristi C.

Married on 10/16/2021

Excellent.

I really could not be more pleased with Doug and the Barnstone! Our day went wonderfully and Doug was amazing to work with. I'm more than pleased!! It was PERFECT.

The Barnstone's reply:

Thanks Kristi, it was great working you and Colton and I am glad it perfect and everything you dreamed it would be.
Doug H

Kelsey W.

Married on 10/02/2021

Fantastic!

I would recommend this vendor to anyone!! Doug was who I worked with before the big day and his family as it got closer. They are all very nice and reasonable - easiest people to work with! You can bring your own alcohol in, we had food trucks, and he let us stay until late and we had the whole venue the day before. The only downfall, it will get a little uncomfortable if there are more than 175 people (we know, we maxed this), but if you're less than that, you'll never regret booking this beautiful amd quaint venue.

Katie P.

Married on 09/11/2021

Awesome!!!!

Beautiful place to get married. It was everything I had envisioned it to be. Doug the owner was great to work with. Very kind and professional.

The Barnstone's reply:

Thanks Katie, we loved sharing our farm with you and your beautiful family and hope for nothing but great times ahead!!
Doug H

Elizabeth K.

Married on 08/14/2021

Book this venue

The owner is completely accommodating and flexible. You can really transform this space on a budget as they have put a lot of thought into décor that is already present. Loved our experience.

Mikaela Z.

Married on 07/31/2021

The perfect wedding venue

I've had so many compliments about my ceremony and reception because how beautiful the site was the owner of the Barnstone what's the kindest man and he was so hopeful 10 out of 10 recommend.

Jennifer Z.

Married on 07/18/2021

The Barnstone is a wonderful indoor/outdoor venue!

We had our long awaited, post-COVID wedding reception at The Barnstone. Doug was extremely easy to work with and very flexible with rescheduling during the pandemic. Our guests loved the venue with the spacious barn (with plenty of room for the DJ and dancing), wonderful shaded yard and unique bar area. The buildings available for the bridal party were perfect for our sized wedding party. We had a food truck for our main catering and it worked out perfectly. Just a beautiful day at this lovely unique setting. I would recommend to anyone looking for a relaxing venue that can be casual or kicked up a notch!

The Barnstone's reply:

Thanks Jen, we appreciate the compliments and it was a pleasure working with you and all your family and friends.
Best wishes, Doug H

Sydney S.

Married on 06/12/2021

Absolutely wonderful experience with the Barnstone!

The Barnstone could not have been a better wedding venue! Doug is so easy to work with and was always willing to take extra calls and answer additional questions that we had. Everything about the Barnstone we loved. To any future couples getting married near Wayne County, we HIGHLY recommend this venue!

The Barnstone's reply:

Thank you Sydney, it was a pleasure working with you guys and your family and friends!!
Wish you all well,
Doug H


Nikki

Married on 05/28/2021

Outstanding

Doug was fantastic to work with. He was kind and responded quickly to questions. The weather was chilly but we made the best of it and moved everything inside. The venue is gorgeous and made for some fantastic pictures!

Allison W.

Married on 05/08/2021

Beautiful Barn Venue

My husband and I had an amazing time for our wedding at the beautiful Barnstone! The barn and carriage house bar area were already decorated with vintage things, so we didn't have to decorate much otherwise! The owner, Doug, was very accommodating as he let us visit multiple times before our wedding day to plan things out. He also landscaped the property beautifully in time for our day, and helped with setup the day before and the day of. It's rare to find a venue that lets you set up the whole day before and the day of, and my husband and I really appreciated that! Would recommend this one of a kind venue to anyone! It has a lot of charm.

The Barnstone's reply:

Thanks Allison, it was an honor and pleasure to be able to host your wedding and reception last month at the Barnstone.
Best Wishes,
Doug House

Courtney B.

Married on 10/03/2020

Overall Amazing

The Barnstone and Doug are amazing! He was so accommodating for both our rehearsal and our big day. He worked hard to ensure that everything was taken care of and our day could be beautiful. Leading up to our day he always responded and answered my questions in a timely manner. This is a great venue that is so beautiful and everything we wanted but it comes with great people too!

Bethany H.

Married on 10/03/2020

Awesome and beautiful

Beautiful venue with a great setup

Anna M.

Married on 09/19/2020

Best barn venue!

If you're looking for the perfect barn venue, look no further. The barn itself is beautiful and needs very little additional decor. It also has more amenities than other barn venues we looked at (tables/chairs/arches for ceremony) that were able to be used with no extra charge. Doug was always quick to respond and was so helpful along the way, always letting us come check out the space while we were planning. We even had our rehearsal dinner at the venue the night before the wedding which was nice. Had so many guests comment on how beautiful the venue was and I agree, I would recommend The Barnstone to anyone!! Thanks!

Raquel

Married on 09/05/2020

My Perfect Wedding

The owners were amazingly wonderful. No stress and just wonderful. I have received so many phone calls from friends and family telling us that this was the best wedding they had been too in years. THANK YOU BARNSTONE for making our dreams of a fun gorgeous wedding come true!

Shelby

Married on 06/20/2020

Great Experience

We were very blessed to be able to book this date with The Barnstone. This was not our original venue but we are so happy it became our venue. From the moment we booked this everything went so smoothly. The Owner is super helpful and easy going. He made it such an awesome experience for us from start to end. They have so many great features and decorations you barely have to decorate! We received SO many compliments of how beautiful this venue was. They have amazing places for you to get ready with your bridesmaids and groomsmen. Such a awesome feature! Our wedding was 10.10.20 and to say it went great was an understatement. It was amazing and we couldn't have had such a great day without such a great venue. Definitely 10/10 and would highly recommend!

Chelsea

Married on 05/23/2020

Amazing, very accommodating

Due to COVID19 we had to cancel our wedding but Doug was amazing, understanding, and very kind during the entire process we worked with him for about a year leading up to having to cancel and it was the best experience! So sad we cant have our big day there now but its so beautiful and i tell every bride i know about it !

The Barnstone's reply:

Thanks again Chelsea, it was great working with you and your family and we were so looking forward to celebrating your big event at our venue. Doug H

Molly

Married on 10/26/2019

Our Wedding 10.26.19

We cannot say enough great things about our experience with The Barnstone for our wedding day. When I first began my search for a venue, I was surprised at how difficult a lot of places were to communicate with which didn't give me confidence in working with them for such a big day of my life. Doug was so fantastic from the beginning. Setting up an appointment to view the venue was so easy and so was getting ahold of him for the remainder of working together. Once we saw The Barnstone we knew that it was the right choice for us. Doug was always there along the way to answer any questions we had. We were able to have our rehearsal dinner at the venue the day before which was a bonus. The barn itself is gorgeous and we barely had to decorate it because it speaks for itself. Our guests couldn't say enough good things about how beautiful everything looked. Doug also gives you a lists of vendors in the area you can work with which was so helpful. It did rain on our wedding day which meant we had to do our ceremony in the barn (not our original plan) but it was still just as amazing. We loved our wedding day and I would recommend this venue to anyone.

+ 14

photos

Wes

Married on 10/19/2019

Perfect Venue for an Unforgettable Day

This was by far the best venue we could have found. From value, to amenities, to Doug being the the best host, we couldn't have imagined having our wedding anywhere else. We were able to set up appointments to visit the venue whenever we gave enough heads up which eased the stress of planning. Do yourself a favor and have your wedding at The Barnstone. You'll be glad you did.

+ 2

photos

Tiffany M.

Married on 10/12/2019

Bride, Used Venue from Wedding & Reception

Doug was very upfront with his rules and expectations of his customers. He was very easy to work with whether it be through text, call, or email with my dad or me. Had things set up the day before for us to decorate and have a rehearsal. Was ready to change things around for us if there was rain. Never bothered any of our guests or made his short attendances at the reception really stand out. Was very helpful through the whole process! The venue itself is beautiful, Doug keeps it well kept and has great flowers & barn decor around the venue. Overall, am recommending the barnstone to any of my friends looking for a barn wedding!! We had a wonderful day and this venue was perfect!

Rachel M.

Married on 09/29/2019

Beautiful venue

Such a pleasure to work with Doug at the Barnstone! The venue was absolutely beautiful and he helped any way he could and made our day perfect! We had so many people tell us how amazing and smooth everything went. And my favorite part was the hay bails at the ceremony! My day was perfect!

+ 3

photos

Alyssa

Married on 09/21/2019

The PERFECT Rustic Barn Venue!!

I had SO MANY people at my wedding compliment how beautiful and perfect this venue was! It really took our wedding to a whole other level. The beautiful ceremony area, the rustic reception barn, and even the restrooms (working plumbing!! You don't usually get that with a barn venue!) took an already amazing day and made it picture-perfect. Thanks to Doug and his way of making you feel heard and important, I had the best wedding ever!! (Yes, I am biased, but it really was perfect!)

Breana

Married on 09/14/2019

Amazing Venue!

Amazing Venue! Amazing people to work with! So helpful! He even drove my grandpa around in his golf cart because he can't walk that well anymore. Made sure everything was going good throughout the night!
Are you interested?
Send a message