Reviews
4.9 out of 5 rating
Quality of service

4.9 out of 5 rating

Average response time

4.9 out of 5 rating

Professionalism

4.8 out of 5 rating

Value

4.8 out of 5 rating

Flexibility

4.9 out of 5 rating
97%
Recommended by couples
Awards
32 User photos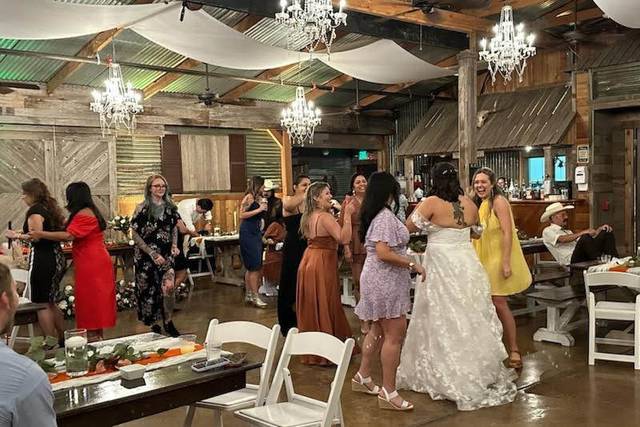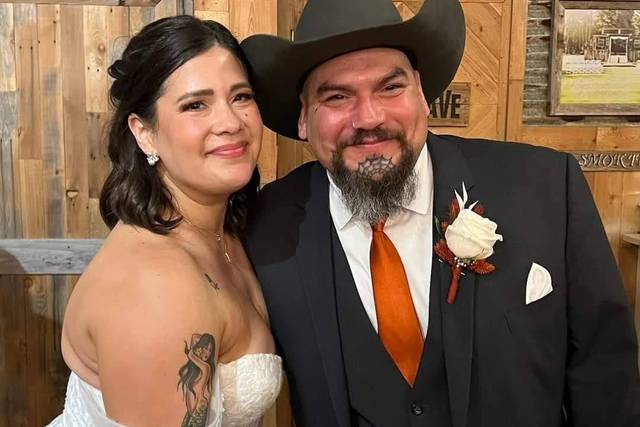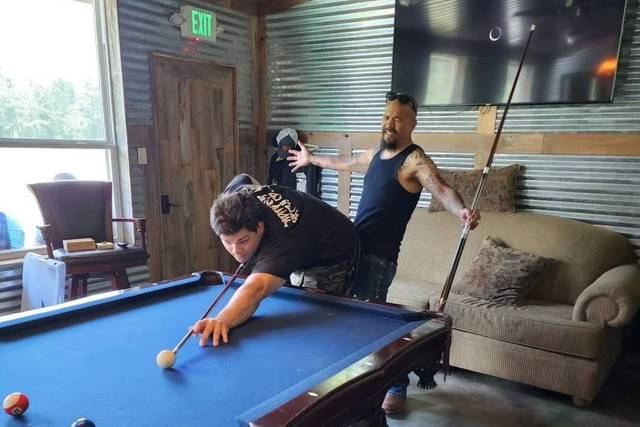 + 28

photos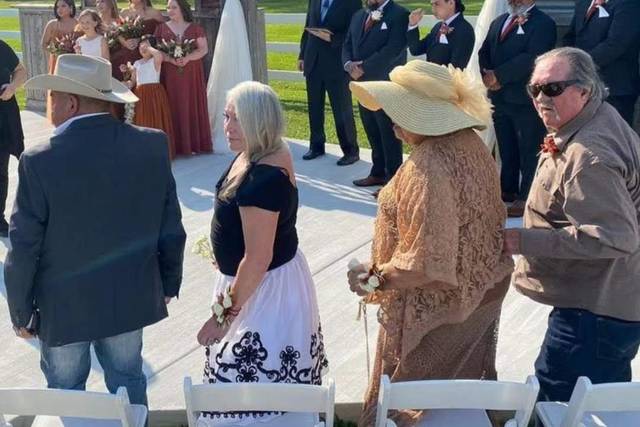 Suzanne G.

Married on 06/03/2023

"Yay to the day" indeed.

This venue was the perfect place for my daughters wedding last weekend. On a scale of 1-5, I could give it a 10. The all inclusive package is definitely the way to go and having the entire day on site is a plus. The main room was grand, the bridal suite was spacious, and the man cave was "the bomb." Kim was very helpful from the beginning to the end. Any questions I had, I would send an email and she would promptly respond. The provided catering service, DJ, and clean up crew were on point. Not only did the DJ provide music, he conducted the rehearsal, told us folklore about weddings, sent us down the isle at the appropriate time, and kept the guests engaged. Many guests told us the meal was delicious (we chose chicken marsala and spaghetti and meatballs) and the DJ was especially entertaining. We agreed. The clean up crew was well worth the expense. They really took good care to make sure we had everything we needed to take back with us and then they went to work making the venue just as clean as it was when we arrived. Thank you to all at The Barn for making our day special. We could not have asked for anything more. "Yay to the day" indeed.

+ 6

photos

Elvira F.

Married on 04/24/2021

Super fabulous!

Our wedding was amazing, with help of the staff. Great value, and great help!

+ 4

photos

None

Married on 12/04/2020

beautiful venue

My cousin's wedding was here and I contacted this vendor for my own wedding. this is a beautiful location. Very rustic feel and plenty of space.

Are you interested?

Send a message

Kathy M.

Married on 11/10/2020

Just the place we were looking for

The Barn had just the feel and look we wanted and we loved working with Todd and Kimberly. They have great prices (we did venue only not all inclusive - we booked before they offered it) and they had great payment terms. Also liked that we could, for the most part, select our own vendors. The only thing that was a concern is that they make changes to the venue over time and so, when you book 20 months in advance, something you see then, might be different closer to the date. For us, the changes were mostly positive - they moved some walls so that part of the Groomsmens "Man Cave" was more event space. But still, it came as a surprise. Also, I think they could have done a better job keeping brides updated on the COVID impact. They sent out a "30 days before" letter but by then it is hard to make some of the changes required - like reducing the guest count. For us, it was not an issue as we were already within the guidelines. But still brides need to know what the current COVID capacity limits are before invitations go out, not 30 days before. the event.

The Barn at Four Pines Ranch's reply:

Thank you for your review. The COVID guidelines have changed 6-9 times since the pandemic. Each time it's changed, we notify the brides of the guidelines. Unfortunately, some brides only get a couple weeks notice while others enjoy months to make their guest plans. We call this notice a 30-Day letter because normally, it is a simple reminder of things, not new "guidelines." Now, we must inform brides of the rules as they are ever changing. Hopefully that makes sense and explains the difficulty with your comment about "could have done a better job keeping brides updated". COVID has added challenges to everyone, unfortunately. Thank you for picking us for your big day! We drive to make each event extremely special and we are glad you gave us 5 stars!

Joy N.

Married on 09/13/2020

So Wonderful

We were so fortunate to have chosen this venue, especially with all this COVID nonsense. They allowed us to reschedule with no fees, and were super responsive every time I had a question. We chose the all-inclusive package and that was definitely the best way to go! Everything was included but the cake, and the day-of coordinator (Kim) was the sweetest, most amazing person ever. Plus, the venues is just the right size to feel both cozy and spacious.

Jessica

Married on 09/06/2020

Absolutely AMAZING!

I reached out to this venue on a Saturday night and got a quick response. They were able to let me see the venue the next day! When we met with Todd he was just the sweetest. He gave us a tour of the place and made us feel at home. As soon as I walked into the venue I was speechless. It is absolutely BEAUTIFUL. We cannot wait to have our wedding here!

Ashlie

Married on 07/31/2020

Everything in one place

Super responsive staff and multiple outdoor locations for vows as well as a beautiful inside venue for the wedding reception. The staff lets you arrive at 11AM on wedding day so hair and makeup can be all taken care of in one place. I was pleased with the price and the grounds are so stunning for amazing pictures!

Grassli O.

Married on 02/07/2020

Beautiful Venue!!!

I fell in love with this venue as soon as we walked in! The staff has been very helpful in making sure our big day is perfect! We are having our wedding here in one week and I can't wait!!! Would definitely recommend!

Candy W.

Married on 12/19/2019

Kim Bennett Manager is Amazing!

The Venue is gorgeous! Rustic yet elegant and chic:) the manager was very personable always answered calls and text. Coordinated times around my schedule and was thoughtful of our wants and needs. She was very cooperative and managed to get all of our desires met within a budget that couldn't be found anywhere else! I found a treasure in Crosby TX with this venue and was blessed beyond words with Kim as my helper!

The Barn at Four Pines Ranch's reply:

Thank you so much!! We are honored that you selected us for your big day! "Yay to the Day!" Bless your wedding!

Courtney

Married on 01/25/2019

The Barn at Four Pines Ranch was a DREAM COME TRUE!

I can not say enough wonderful things about this venue!!
First of all, it is absolutely gorgeous!!! The grounds, the barn, the bridal suite, the grooms suite, all 3 altars!! Not only as a bride will you love all the options you have available, but your groom will be ecstatic when he finds out all the fun there is to be had on the property on the wedding day!
The Barn was the first and only venue we looked at! As soon as I saw it, I knew I wanted to get married there! I told my mom I made my decision, and she signed the paperwork & deposit before we left.
Next, the staff is absolutely WONDERFUL! We had the pleasure of working with Todd from our very first visit. He was so helpful, patient, and understanding. He was able to answer all of our questions, give us advice for what was to come the following months leading up to the day, provide a list of vendors near the area, and more!
Now I was a pretty tedious and detail oriented bride, so whenever I had a question, comment, or concern I would send an email. Todd got back to me SO FAST that any worries or clarification I needed got addressed right away. You can not ask for better customer service!!! The staff handled my dozens of emails quickly and professionally.
Billy, the property manager, was very helpful and informative when we arrived to the venue the day of our wedding. He was easy going and able to handle any requests we had!
Any alcohol served must be through the Barn's preferred vendor. Let me tell you, the bar service they partner with are LEGIT! The bartenders provided FAST and GREAT service to all of our guests. I had quite a few thirsty friends and family members, and the bar never ran out! That is impressive how well stocked and prepared they were! The perk of having this vendor partner with the barn is you can directly communicate with the Barn, and they take care of the details with the liquor company.
Decor & Rentals are the only other mandatory vendor and they were awesome to work with as well! EB Inc showed up on time to set up the linen at the altar and deliver/set up the additional tables and chairs we rented. They are familiar with the barn so it is extremely easy to communicate your ideas and vision with them. They have all the sizes already and can provide you with endless options!
PS We didn't hire a wedding coordinator, but I had the pleasure of meeting Kim when we visited the venue a few times leading up to our wedding day. She was so nice and knowledgable. I could tell she would be the perfect person to work with had we hired one. (My advice after planning a 180 person wedding: Hire a Wedding Coordinator, you'll be glad you did! LOL)
Overall, this venue is a TOTAL PACKAGE! I highly recommend this wedding venue!!! 🌟🌟🌟🌟🌟 5 STARS!

Amber

Married on 10/22/2018

Absolutely love The Barn at Four Pines Ranch. The property is absolutely beautiful, the staff are so nice and helpful and answered all my questions all the way up to the big day. I highly recommend this place and suggest taking the tour. Perfect for any rustic bride!

Ashley

Married on 09/29/2018

I was so glad to have The Barn at Four Pines Ranch as my venue. This venue is absolutely gorgeous! I loved the rustic atmosphere of this venue. They have done several updates to this place and provide several options for a ceremony site. Kim answered any questions I had every step of the way and was very attentive. Highly recommend!

Leanne

Married on 09/15/2018

Our wedding was truly wonderful. Ideally we wanted the ceremony in the wooded area but due to the wet weather that wasn't possible. But it was planned ahead of time and we changed it to by the big barn doors. The staff got the area cleaned and the suite ready for our arrival. The groomsmen loved the "man cave" and spent the day playing golf while us ladies got ourselves ready. During the day we had some minor changes to the tables and where things would go but it was easily fixed. It was just a big beautiful blur and it went off without a hitch. I loved every moment and will cherish the day forever.

Kazia

Married on 08/25/2018

I'm so glad I chose The Barn as the venue for my wedding. Todd told us we would be back to book on the day we toured and he was right! It was beautiful, had plenty of space, and allowed me to have my dream wedding. We hardly needed to lift a finger the entire time as everyone was very helpful and attentive. Kim was amazing on the day of our wedding and I don't know what I would have done without her. She contacted all of our vendors ahead of the time and was always one step ahead of the game. Billy, the property manager, was also extremely helpful with answering any questions we had and helping us on the big day. I would definitely recommend The Barn for any event!

Bekah

Married on 08/16/2018

Todd (Owner) is so kind and helpful, Kim (Coordinator) she is amazing, and was on top of everything. So thankful we picked this place for our wedding, i couldn't image a more perfect day. It was everything we ever wanted!

Keirsten

Married on 08/09/2018

The owners were very helpful! & the ranch was absolutely beautiful! Awesome place!!

Kyndal

Married on 07/23/2018

Amazing experience, beautiful place and great owner. Would go back for future events !

Brieanna

Married on 06/21/2018

When looking for a place to accommodate a small or large group this place is the right choice. The barn is absolutely stunning and the perfect place if you are looking for a rustic venue. All the staff is friendly and very very helpful. My wedding was absolutely beautiful and my special day was just perfect. Thank you to the staff at the barn for having us and helping us make memories that make a lifetime.

Cindy

Married on 04/28/2018

From our very first tour of the venue it has been an amazing experience.Kim and Todd have been our go to and are very professional and helpful. This rustic venue is just perfect and the new addition they have recently added is a must see!

Echo

Married on 04/22/2018

This place is absolutely beautiful! Every one of my guests had nothing but great things to say about how much they loved the venue! I couldn't have found a better place for our special day!

Megan

Married on 04/15/2018

My wedding will be on April 15th and we are so excited to be able to get married and celebrate at such a beautiful venue. The outdoor and indoor spaces are all beautiful & the bridal & groom suite is fantastic. The staff have been very helpful and accomodating with questions, concerns and visits to plan out the event and set up.

Kaylea

Married on 03/11/2018

Got married here 3-11-18 and it was everything we could have wanted!

Mel

Married on 03/10/2018

I was very happy to have used The Barn for our special day, the venue is beautiful and the staff are friendly and very helpful! I am so very happy that we decided to tie the knot here.

Chelsea

Married on 03/02/2018

I just want to thank everyone at The Barn At Four Pines Ranch! The barn was exactly what we dreamed of for our wedding. It was quiet and in the country, peaceful, and a beautiful experience. Absolutely breath taking. We will highly recommend this venue to anyone looking for a lovely country feel

Danyale

Married on 02/20/2018

We had our cheer banquet here. Such a beautiful place. Lots of photo opportunities. Would love to use them again!
Are you interested?
Send a message