59 Reviews
Recommended by 99% of couples
Quality of service

4.9 out of 5 rating

Average response time

5 out of 5 rating

Professionalism

4.9 out of 5 rating

Value

5 out of 5 rating

Flexibility

4.9 out of 5 rating
9 User photos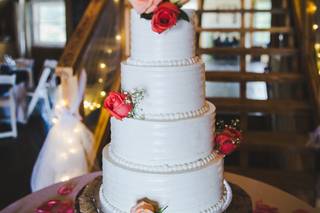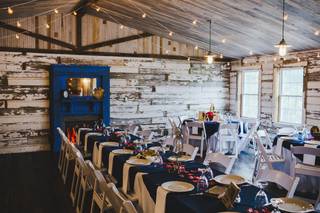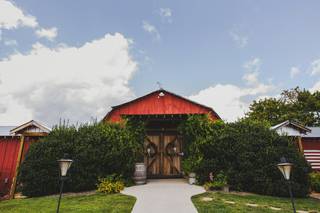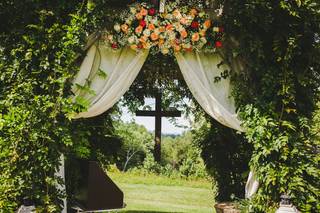 + 5

photos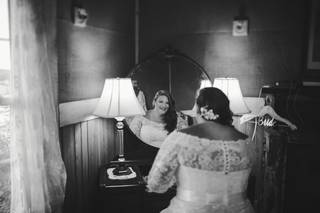 Paige G.

Married on 01/09/2021

Uh-mazing.

I cannot thank Sandra and Jacob enough. They handled my crazy wedding party like champs.

Sandra was so easy to work with, anything I wanted, she obliged. We had the most perfect day I have dreamed about since I was a little girl. I cannot thank them all enough.



The Barn at Blueberry Hill's reply:

Thank you Paige, I'm glad your wedding was what you dreamed of. It was beautiful. Thanks for choosing Blueberry Hill.

Kimberly

Married on 11/09/2019

Absolutely perfect!

I'm not sure how to put into words how perfect this venue and all of the staff are. We visited the barn during the summer of 2018 and fell in love. Sandra and her team, Jacob, Danny, and the on-site bartender, are not only extremely professional and excellent workers but they are genuinely wonderful people. Sandra recommended perfect vendors to round out the day but the stars of the show are the workers at the barn.

Danny is a fabulous DJ who was in contact with us any time we needed him and was willing to make last minute additions and changes during the reception itself. We edited our own music and he worked for weeks to make sure he could play them during the ceremony. He asked for a list of songs to play during the reception but he didn't actually need them - he knew what we and our guests wanted from the very beginning.

Jacob is the silent star of the barn. Warm and friendly he made us feel like superstars during every visit and the days we spent at the barn. He showed us around the property, pointing out spots for photography or areas we could go to during the days. On the day of our wedding he was always around when we needed him - often before we realized we did! It was exceptionally cold on our wedding day and he helped turn our outdoor wedding into a beautiful indoor ceremony. During pictures (outside) he appeared like a dream with a cart to help us get to different areas quicker (which was great for a bride in a strapless dress!). Then, during a little downtime, he turned on the outdoor fire for me and the groom to relax by and warm near, and he brought over a nice warm drink of apple cider for us once we could sit down during the reception.

Finally, Sandra. I could spend another twenty minutes writing about how amazing this woman is. She opened her barn doors to us and invited us to use all of their resources - which we happily took advantage of. She also did the flowers for the wedding and they were gorgeous. The biggest thing Sandra did for us is give us our perfect wedding - more perfect than we could have imagined. Our ceremony moved indoors at the last minute and she turned the barn into a beautiful dream, going above and beyond for us. Sandra was accommodating and wonderful throughout the process and we wish we could get married every weekend - as long as it is at the barn. Thank you to everyone who was there to help us celebrate.

The Barn at Blueberry Hill's reply:

Thank you, you are awesome. Your wedding was beautiful and so much fun. I loved having you guys are the barn, you made my job easy.

Scarlette

Married on 10/13/2018

We fell in love from the moment we step on the property! Sandra has been amazing in helping us get ready for our wedding! We booked immediately!

The Barn at Blueberry Hill's reply:

Thank you, can't wait to help with your wedding.

Are you interested?

Send a message

Ashleyjo

Married on 06/16/2018

The barn is AMAZING! It was everything that I wanted in a venue, and more! Everyone there was so nice and helpful. Everything was taken care of. As the bride I had nothing to worry about. Everyone had a blast! This place is extremely affordable for everything they do. I would highly recommend.

The Barn at Blueberry Hill's reply:

Thank you. I loved every detail of your wedding.

Maddie

Married on 05/12/2018

The Barn at Blueberry Hill is a phenomenal venue! It's absolutely breath taking out there and so peaceful! My husband and I knew as soon as we pulled up to the venue that, that was the one! Sandra and Jacob are also a dream to work with! They are there for anything and everything you may need and go out of their way to make sure things are perfect and run smoothly! If you're looking for a venue for a beautiful outdoor/barn wedding this is definitely the place!

The Barn at Blueberry Hill's reply:

Thank you, you guys are so easy to work with, it made our job fun.

Jason

Married on 05/08/2018

The Barn at Blueberry Hill is an Absolutely Beautiful Place to get married. The Barn is Rustic and exciting for all guests. Sandra Really knows what she is doing and makes your wedding day something you will never forget. Thanks for what you do!!!!

The Barn at Blueberry Hill's reply:

Thanks, I love working with you

Makenzie

Married on 04/28/2018

Sandra is an outstanding person to work with for your special day! She and her staff make sure that everything is exactly what you want and how you want it. The Barn at Blueberry Hill is absolutely everything you could ever imagine for your wedding day! I highly recommend this venue and staff to anyone who is looking for that rustic country wedding!

The Barn at Blueberry Hill's reply:

Thank you, your wedding was beautiful.

Kasey

Married on 04/07/2018

Sandra and her team provided us with the absolutely perfect day! They went above and beyond what we expected. We even had a family emergency the night of the rehearsal dinner and she took the time to come out to the hospital to check on our family.

The Barn at Blueberry Hill's reply:

Your wedding was beautiful and I enjoyed working with your family. Congratulations!

Melissa

Married on 03/10/2018

It was an amazing experience..... I would recommend barn at blueberry hill to anyone who wants a fairy tale wedding.

The Barn at Blueberry Hill's reply:

Thank you for your comments. Three wedding was a fairy tale


Jonathan

Married on 12/22/2017

Thank you for an amazing venue!

Laura

Married on 12/16/2017

This venue was everything that I could have imagined and more. Sandra is incredible and works with whatever vision you have in mind!

The Barn at Blueberry Hill's reply:

I loved your wedding, you guys seem so happy and I loved working with you.

Amanda

Married on 11/18/2017

Sandra and the rest of her staff made our wedding WONDERFUL! It was an overall great experience. We had plenty of time to set up, all the help we needed, and her recommended vendors rounded out the event to perfection. If I had it to do all over again I wouldn't have changed a thing. Thanks for making our special day a breeze!

The Barn at Blueberry Hill's reply:

Loved having you guys. I'm so glad you guys chose us for your wedding.

Andrea

Married on 11/11/2017

Sandra, the owner of the barn was wonderful!! She suggested our caterer for our rehearsal and our main meal and they were both fantastic!! She also did my flowers for me and they were exactly what I wanted. She is great to work with. She is very down to earth and a kind person. Our wedding was everything we wanted!! I highly recommend!

The Barn at Blueberry Hill's reply:

Thank you for your kind words. Nothing make me happier than a couple who have the wedding of their dreams.

Nichole

Married on 10/22/2017

Love, love, love this place!
Sandra really goes above and beyond to make your day special!
I was genuinely sad when my day came and went because it meant I had to leave this beautiful venue!


The Barn at Blueberry Hill's reply:

You are always welcome at the barn, loved your wedding.

Kelly

Married on 09/09/2017

YALL THE BARN IS AMAZING! I feel like there aren't appropriate words to describe my love for this place. My husband Steven picked this venue when we were living across the country from one another, I in Texas and he in NC. I had never even seen the venue until a week before our wedding. Sandra let him take photos on his tour and gave him so much information and made him feel so at home that he instantly fell in love and we booked this venue that day. Throughout the entire planning process, her communication was efficient, effective and definitely eased our minds as we were planning the wedding from Texas. During the week of the wedding, Sandra and her team decorated and organized our wedding and reception spaces with the perfect combination of rustic and modern themes, and she allowed for personal family heirlooms to be used in our reception space which added such a personal touch to our wedding. As a bride, I felt like I had nothing to worry about with Sandra - she made sure everything went off without a hitch and her team took care of Steven and I on our wedding day. No words will ever do it justice as to how we felt dancing under the beautiful lighting in the center of the barn to as husband and wife, or how sweet her staff members were to make sure we tasted all of our beautifully catered food and that we had awesome to-go boxes. Sandra is now family to the Hale-Brown household, and if you book this venue, you will most certainly feel the same way. The barn is simple, classic, elegant and a beautiful rustic space to celebrate any occasion. It was priced well and worth every single penny, and truly is all-inclusive. Our guests still talk about the venue and how we need to have an anniversary party there every year with Sandra and her team in tow. BOOK THIS VENUE NOW. You will not regret it.

God bless you, Sandra, and all of the folks at the Barn at Blueberry Hill... from a few happily married Texans ;)
Kelly Marie Hale-Brown and Steven H Brown


+ 5

photos

The Barn at Blueberry Hill's reply:

Your wedding wins the most creative award. The centerpieces of family heirlooms were amazing. The program was awesom.

Aarika

Married on 08/12/2017

Sandra was absolutely wonderful to work with. The barn and decorations was everything (and more) that my husband and I could have ever dreamed of. She made our day much more special just by being there and making sure things went smoothly!

The Barn at Blueberry Hill's reply:

I loved having your wedding here. Thanks for choosing us.

Alexandria

Married on 08/05/2017

Sandra was seriously the most incredible woman! The barn was beautiful, and she went above and beyond to make our day perfect!!

The Barn at Blueberry Hill's reply:

Your wedding was spectacular, you guys are great.

Megan

Married on 07/22/2017

Our wedding day was perfect!
Sandra was so sweet and easy to work with!.!. With her having the majority of decorations, tables, chairs and dinner ware our wedding planning was stress free!

The Barn at Blueberry Hill's reply:

You guys are so much fun, thanks for sharing your wedding day with me. Also loved the race car driver on the golf cart.

Dana

Married on 06/24/2017

Sandra is awesome with taking the load off of the bride. She made mine and my husband the absolute best. I could not have asked for anything better. Beautiful beautiful beautiful ??

The Barn at Blueberry Hill's reply:

You guys were wonderful

Allison

Married on 06/10/2017

This venue is absolutely breathtaking and was more than we could have ever wanted for our wedding. Sandra was wonderful to work with and made our wedding day go so smoothly. I highly recommend this location for a wedding!

The Barn at Blueberry Hill's reply:

Thank you glad you guys had fun. You guys are awesome.

Alexis

Married on 06/04/2017

I heard so many of my guests comment on how beautiful this venue was. Sandra was wonderful to work with! We are so happy that we chose the Barn at Blueberry Hill for our wedding.

The Barn at Blueberry Hill's reply:

Thanks, you guys are the greatest. Thou family and friends know how to put on a wedding
.

Chelsea

Married on 06/03/2017

The best venue in NC hands down! Everything you need is there i.e. rustic wedding decor, plenty of room, bar with beer tender, games, flatware, stemware, dishes, photo booth, flowers from local nursery, bridal room, grooms room, specific set ups for the special moments for a wedding. This place is absolutely breathtaking! Sandra is a genius and so helpful! She is the mastermind behind the barn! Her special touches make for the perfect southern rustic wedding! The barn is beautiful, but Sandra is the heart of it all.

The Barn at Blueberry Hill's reply:

Thank you Chelsea, I loved being part of your wedding.

Kelly

Married on 04/29/2017

Where do I begin?! We originally saw this venue online and instantly fell in love. We live in Florida, but took a leap of faith and booked site unseen (in person). We visited the venue about a year prior to our big day and everything was just perfect. Sandy is AMAZING and I cannot rave and say enough great things about her. She has all of the wonderful things to make your rustic, romantic, "Pinterest" wedding take place. We had our dream wedding at The Barn at Blueberry Hill and we will forever cherish every single moment of that day. Sandy arranged our flowers and bouquets beautifully in addition to making sure every detail was in place for our reception. We had guests from all over since we had a destination wedding and everyone fell in love with it just as we had in the beginning. I wouldn't have changed a thing from our big day because it was simply perfect.

The Barn at Blueberry Hill's reply:

You guys were great and I loved being a part of you wedding.

Brittany

Married on 12/31/2016

Loved the barn and Sandra too! It's a great place to get married I wish I could relive it everyday there!

Courtney

Married on 11/05/2016

Sandra is so amazing and sweet!! She will bend over backwards to help you in anyway possible!! I am very OCD but yet very wishy washy and she handled me so well!! I can not thank her enough for what she did for me!! Her place was the best all around as in price, view and supplies!! Thank you again so much Sandra!!
Are you interested?
Send a message