14 Reviews
Recommended by 100% of couples
Quality of service

5 out of 5 rating

Average response time

5 out of 5 rating

Professionalism

5 out of 5 rating

Value

5 out of 5 rating

Flexibility

5 out of 5 rating
Awards
40 User photos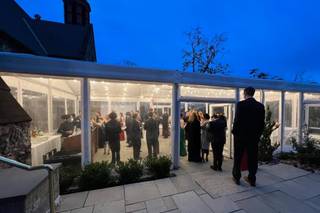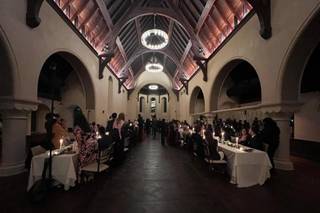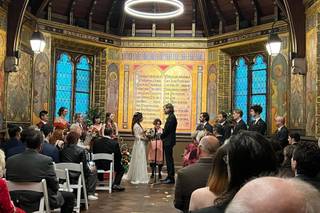 + 36

photos
Featured

Louise S.

Married on 10/30/2021

Stunning Wedding Venue

We actually just held our daughter's wedding here, and used 5 rooms. The architecture and gardens are absolutely stunning. The food is amazing, filet mignon, branzino, etc. The rooms are beautiful. The people who work there are friendly and helpful. They even did the entire wedding gluten-free. We loved everything about The Abbey.

- We had the ceremony in the Cornerstone room, photos outdoors overlooking the Hudson, cocktail hour on The Bluff, the reception in the Highlands ballroom, the rehearsal dinner in the Grand Terrace, and the farewell breakfast in the Hudson room. The couple stayed in the bridal suite, which included a separate sitting room and a large balcony. All rooms were beautiful. Everyone especially loved the Cornerstone room, which is hand-painted with Latin words and saints. The Highlands ballroom looks like a castle.

- The entire wedding was gluten-free, which is difficult, but they were very accommodating to our needs. They also were careful of other special diets.

- We also had a handicap-accessible room for grandparents, and it was the most beautiful handicap room anyone had ever seen. It had a large balcony with table and rocking chairs, walk-in shower, and low bed.

- The people there were very helpful. At breakfast, a waitress told our guests the history of the hand-painted cornerstone room. It was painted by a nun, who continued painting until she was 89. The room was restored several years ago, and restored by hand. A man who helped set up the ballroom told us the history of the hotel and the ballroom also. It was built in 1872 and was an abbey for 100 years. It was meticulously restored from about 2017-2020, and opened in March 2020 - right at the start of covid. Everyone seems to really love the place. The wedding & events specialist worked closely with us, and was by our side throughout the weekend.

- Even if you are just going there for a weekend, lunch, or dinner, this is a fabulous place. It even has a happy hour with burgers, ricotta toast, and half-price drinks. It is such a beautiful place, it truly looks like a European castle, or Abbey. It is a gem in New York!!!



The Abbey Inn & Spa's reply:

Louise,
Thank you so much for taking the time to write such a thoughtful review! We are delighted that you had a wonderful experience and grateful that you took the time to share that experience.
It was such a pleasure working with you to plan your Daughter's wedding weekend! By hosting your entire wedding weekend with us, you really had the opportunity to experience The Abbey Hotel & Spa in it's fullness. From the rich history, gorgeous grounds, and spacious room accommodations, to our amazing cuisine and private events! Wishing you and your family lots of joy & happiness, and we hope to welcome you back to The Abbey in the future. Gina, Chef Jarod, & The Abbey Team

Jordyn M.

Married on 06/18/2022

The most PERFECT wedding venue!!!

Where do I even begin?! The Abbey was the absolute PERFECT choice for our wedding. I truly cannot say enough fabulous things about how special this location is and how amazing they were to work with for our special day. We held our rehearsal dinner, ceremony, cocktail hour, reception, after party, and brunch all at the Abbey in mid-June, and every single one was absolute perfection. Gina was a DREAM to work with -- I felt like we had our own personal wedding planner throughout the entire process. She answered all (and I mean ALL) of our emails, calls, questions, etc. and when I arrived at the Abbey for our wedding weekend I felt totally calm, cool, and collected knowing that Gina was running the show. And of course, there are no words to describe how beautiful and magical this property is both inside and out! Most of our guests stayed at the hotel so we were all able to really take advantage of the property throughout the weekend and every single staff member made us and our family and friends feel special and welcomed. The food was amazing, everything was well organized, coordinated, and beautiful... what more can I say?! I am so grateful we found a place where we could really build an entire weekend, and I am even more grateful that the Abbey helped us to coordinate it all as seamlessly as they did! I can't wait to go back and visit our special place for many many years to come!

+ 4

photos

Dawn C.

Married on 11/20/2021

More perfect than we hoped for!

We found the Abbey Inn when it was still under construction in 2019. My daughter's wedding was set for May 2020 but was cancelled due to the pandemic. Eileen was beyond flexible, allow us to change the date three times! The happy day finally happened on Saturday and I couldn't be more pleased with the result. Thanks to Gina, Joe and the Chef for a memorable day!

The Abbey Inn & Spa's reply:

Thank you, Dawn, for taking the time to write such an amazing review. It was our honor and greatest pleasure to assist you with planning Kathryn & Kyle's dream wedding. I absolutely loved seeing the tears of excitement come to Kathryn's eyes when she stepped into the ballroom all setup and realized her big day was finally happening! It was such a pleasure meeting you and your family, and I wish you all joy and happiness. Gina, Joe, Chef Jarod & the entire staff at The Abbey.

Are you interested?

Send a message

Carolyn D.

Married on 10/16/2021

Amazing experience! Can't wait to get married here!

First of all, the venue is downright gorgeous! If you're looking for an all-in-one venue that has beautiful views, traditional elegance, and architectural greatness, this is your place! Eileen (The Director of Catering, Wedding & Events Specialist), is amazing to work with. She's responsive, welcoming, and flexible to work with! Can't wait to have our dream wedding here.

+ 6

photos

The Abbey Inn & Spa's reply:

Carolyn,
Thank you for such a kind review. I am really looking forward to working with you and Jason! Your wedding is going to be "The Best Day Ever!!" Let the planning begin! LOVE IS NOT CANCELLED AT THE ABBEY!!! Love these pictures!!
Eileen XO

Stephanie H.

Married on 08/28/2021

So excited for our 2021 wedding

After seeing the beautiful pictures online, my fiance and I went for a site tour this past weekend. Not only was the property absolutely stunning, but our experience with Eileen was amazing. She was so great about pointing out all of the unique and historic details of the Abbey, and answering our never-ending stream of questions. We felt so confident in both the Abbey and Eileen, we booked our date right on the spot! We could not be more excited for our 2021 wedding.

UPDATE:
We had our wedding at the Abbey this past August and it was truly the wedding of our dreams. Eileen was absolutely fantastic to work with through the entire process, and the whole team made our day go literally FLAWLESSLY! The venue was gorgeous, the food was fantastic, and overall it was truly the best day ever. We could not be more thankful to the Abbey for making our dream wedding come true!

The Abbey Inn & Spa's reply:

Stephanie,
Thank you for such an amazing review. It was my greatest pleasure to give you & Taylor a site tour. The Abbey has so many incredible details and quaint little "secret spots" for photo opportunities. I look forward to assisting you further. Let the planning begin!!! Eileen xx

Carly C.

Married on 06/12/2021

MAGICAL Hudson Valley Wedding!

Due to COVID, our original venue unfortunately had cancelled our June 12, 2021 wedding and we were directed to The Abbey as an option. When they say everything happens for a reason, it is true! When you arrive at The Abbey, not only are you amazed by the gorgeous Hudson River/ mountain views, but you are immersed in pure magic! When we were planning our wedding, we wanted our guests to feel like they were transported to the Amalfi Coast and The Abbey did just that. It is not like any other venue in the Hudson Valley - it is a little bit of old with a modern spin. The ballroom is stunning, the food is incredible, but the most important piece to The Abbey is their wonderful staff. Not only was Eileen and her team extremely accommodating (we have tons of food allergies, etc.), they truly go out of their way to ensure your day is special. Eileen is attentive, professional, and a joy to work with. She will ensure that everything you want is there and that everything is executed perfectly. We are so happy that we had our June wedding at The Abbey. Like our guests keep saying - it was THE BEST wedding ever!

The Abbey Inn & Spa's reply:

Carly,
Thank you for such an amazing review. I had the best time working with you and Andre. You two were always happy and your energy together is such a beautiful thing to witness. Your wedding day was so beautiful and full of so much love. Your vision was on point! I LOVED the long tables. They were perfect for a wedding for 80 guests. Thank you for entrusting us with such a special day. We are grateful & humbled by your review. We look forward to having you and Andre back for your one year anniversary stay. Best wishes for a lifetime of love and happiness. XO Eileen, Chef John, Chef Jared, and the entire staff at The Abbey Inn & Spa.

Cynthia R.

Married on 10/31/2020

The Abby Inn and Spa - Eileen, Chef John and Jimmy

From the moment you arrive the service is impeccable. No detail is left undone.
Outstanding Professionalism where every effort is made to understand your Event, the importance of it and their goal to make it a day like no other. Chef John is Outstanding Food was 5 star, tasting was amazing, full menu was at our offering each coarse done with you in mind and the flavor profiles were a dinning experience like no other.

+ 2

photos

The Abbey Inn & Spa's reply:

Thank you for such a nice review! It was our greatest pleasure to serve you. We covered a lot of ground during our tasting. I enjoyed joining your family for dinner. It was such a nice way to get everyone on the same page. A delicious meal was a bonus! The tasting was just a small "Taste" of what Chef John has in store for you & your guests. I look forward to a fairy-tale, beautiful wedding! Sending you love & light. XO Eileen, Chef John & Jimmy!!!

Zia

Married on 10/24/2020

Eileen has been incredible to work with!

Eileen has been an amazing help in assisting with our wedding planning. She has been kind, honest, and enjoyable to be around. She has made our wedding planning exciting and as stress-reducing as possible! She has provided unlimited tours of her venue, with no questions asked. It's very evident how much she loves her job and her energy lights up a room. Eileen has true passion and talent that makes her stand out in her profession.

The Abbey Inn & Spa's reply:

Zia & Mike,
Thank you for such a beautiful review. I am so happy you and your families have crossed my path. I can't wait to see you two on your wedding day. The love the both of you have is so evident to anyone lucky enough to be in your presence. It is my honor & greatest pleasure to assist you with your wedding. 10.24.2020 will be the BEST DAY EVER!! Meet you on the dance floor!!
Eileen XO

Melony F.

Married on 10/10/2020

The most amazing experience!!

My husband and I got married at the abbey yesterday. 10/10/20 . It was everything and more !!!! The staff was absolutely incredible! The service was amazing !! All of our guests loved the food !! Everything from beginning to end was just perfection . Without Eileen Whitney this wouldn't have been possible !
Gilbert , Rebecca , and Mike were absolutely incredible! All of them treated us like family . And you can't get any better than that . We are forever grateful! Thank you so much !!!

The Abbey Inn & Spa's reply:

Melony & Michael,
Thank you for such a wonderful review. From the moment we met, I knew we were going to work together. I love that we had that "instant connection." One of my favorite memories of you and Michael would have to be the look on your faces and the way your eyes lit up when we entered each of the event spaces at The Abbey. It was a thrill to witness. I just knew we had to make this wedding happen!! I am so happy that you were able to meet & work with our General Manager, Gilbert Baeriswil, our Bridal Attendant, Rebecca, Mike and all of our other amazing waitstaff. Our Executive Sous Chef, Jared Secor, certainly gave 110% with his amazing cocktail hour & six course tasting meal. We always try to raise the bar and give our customers a unique experience. We are grateful you picked us and humbled by your review. We can't wait to see you on your first year anniversary. It is always a treat to be able to sit with you and riminess about your wedding day. Wishing you both a lifetime of love & happiness. Love, Eileen, Gilbert, Rebecca, Mike, Jared & the entire staff at The Abbey Inn & Spa.

Gail D.

Married on 10/02/2020

You can still have the wedding of your dreams during a pandemic

Eileen and Executive Chef John were 100% transparent with what could and could not be accomplished when we were scouting venues. Not only were they honest they were creative in how we could make our wedding beautiful and memorable during a time when most couples were pushing their weddings into the following year. We had to accept that a traditional cocktail hour and dancing were two things we would have to forego in order to comply with the current state guidelines. around COVID whereas other venues within a 20 mile radius were quoting things I knew they could not pull off legally and without compromising the health of our guests.

I did not hire a wedding planner but Eileen sure did take on that role. As a COVID bride nothing is more important than communication. Eileen didn't miss a beat and handled each request/concern I had no matter how large or small with professionalism and class.

Let's talk about the food! Our guests are still raving about how full they are and how delicious the menu was. With a guest list where 50% was vegetarian and the balance true carnivores Executive Chef John and Chef Jared found a way to please everyone. I still don't truly know how they pulled that off but they did and flawlessly.

The day of staff from our bartenders, wait staff, F&B director were a pleasure to work with. They were all so sweet and beyond accommodating. They went above and beyond to not only ensure my husband and I were content but also did this for our guests.

There are many beautiful venues in this area which we scouted out but at the end of day I chose the Abbey Inn & Spa because of Eileen. Working with her was like planning my wedding with my mom. I fully trusted her, her taste is impeccable, she's brutally honest and she's an expert. I won't write too much about the grounds because you can see by the pictures how gorgeous the venue is. The photo's don't even do this place justice. The landscaping is magical. When we were exchanging vows under the gazebo, overlooking the Hudson river at almost sunset I was mesmerized by the view and had to remind myself to pay attention! A few days later I asked my husband if I could read his vow book because I truly blanked out as I was paying attention to the view and not him!

Thank you Eileen and the rest of The Abbey staff for truly giving us the wedding of our dreams during a time when the world is in disarray. We are still in awe of how truly beautiful our wedding day was. We owe that all to you.

+ 4

photos

The Abbey Inn & Spa's reply:

Gail,
Thank you so much for such an incredible review. Working with you and Dashu was one of my greatest pleasures. From the moment we met, I knew we had a beautiful connection. We had much of the same taste and vision for your wedding. Yes, Chef John and I were extremely transparent with you regarding the CDC and Governor Cuomo's guidelines for weddings during COVID-19. It was our moral and ethical obligation to go over the terms and conditions with you so that you could make an educated, informed decision on your venue choice. Our foremost responsibility was to keep you and your guests safe, happy and fulfilled. I am very happy to know that we were successful! Okay, let's talk about the food! When Executive Sous Chef, Jared Secor, learned that 50% of your guests were vegetarian, he quickly made sure that those guests had the same amount of delicious food that your carnivore guests did. This request was made after the original menu was finalized, so it was even more impressive when Jared delivered those changes within 24 hours of our request. He does not disappoint! Now, let's talk about your dress!!! It was the most beautiful dress with "Gail" written all over it! The beautiful long lace sleeves and satin dress were perfect for a fall wedding. BUT, the pockets for the win!! You looked like a movie star and Dashu was your perfect match! Talk about a gorgeous couple. I can't wait to have one of your beautiful pictures hanging on the wall of my office. I will miss our phone calls and our emails, but I know we will continue to be in each others lives. I look forward to seeing you and Dashu on your 1 year anniversary stay at The Abbey! We will definitely circle back and remines about your beautiful wedding day, full of love, light & your beautiful families. Thank you for entrusting me and all of the staff at The Abbey with one of the most important days of your lives. I wish we had more than a few short months together. But I know that sometimes it isn't the amount of time we have together, but what we are able to accomplish in the time we do have together, that matters the most. Personally, I think we nailed it! Wishing you & Dashu a lifetime of love and happiness with a few little miracles along the way! Love Always, Eileen, John, Jared and the entire staff at The Abbey Inn & Spa.

Danielle

Married on 09/25/2020

One Of A Kind Venue and Experience

The Abbey truly is a one of a kind venue. We visited countless other wedding venues and nothing compares to the beauty and uniqueness of The Abbey. We never knew it was possible to feel like we were a world away while being so close to the City. It's very apparent that a great deal of thought was put into the restoration of the 1890s convent and chapel, turning it into a beautiful escape. Also, the views of the Hudson River are breathtaking, especially during a sunset.

Working with Eileen has been an all-around great experience. She is transparent, responsive, and takes the time to talk through the details. Especially while planning and re-planning a wedding during this uncertain time, we couldn't have asked for anyone better to work with. She is extremely creative and thinks outside the box, using her experience and building on the vision you have for your big day.

Now, onto the food. Chef John Paidas is incredible, so much thought has been put into the menu. Meticulous attention to the details, from the flavors to the plating – everything has been considered. Our tasting was one to remember and we can't wait to celebrate our big day at The Abbey with great food, family and friends!


The Abbey Inn & Spa's reply:

Danielle,
Thank you for such an amazing review. I was thrilled when you and Sebastian chose to have your ceremony & reception at The Abbey! You both took a leap of faith, booking your wedding in November 2019, well before The Abbey was even open. Seeing your faces when you came back for your tasting, after not seeing The Abbey in person for months, was thrilling for me. I know we had ZOOM calls to keep you up-to-date with all the final touches, but nothing beats seeing our Majestic Abbey in person! Our journey together has been exciting, yet ever changing! I applaud you both for your patience and understanding the changes we have had to make during this unprecedented time. It takes a very dedicated "Team" to work together and come up with a "New Normal" way of enjoying wedding ceremonies & intimate receptions. Chef John has been an incredible part of this transition. I am so happy that you both could see & taste the meticulous attention to detail & flavor profiling that John creates in every course. Some of his plating looks like a piece of art; not sure if you want to eat it or admire it! It is truly my honor and greatest pleasure to continue this journey with you. We all look forward to celebrating your beautiful day ... September 24, 2020! It will be the most romantic, incredible day of your lives! LOVE is in full bloom at The Abbey. XO Eileen, Chef John & the entire team at The Abbey.

Cathy-Marie H.

Married on 09/20/2020

Amazing venue

We got married at The Abbey Inn & Spa September 2020, and it was amazing!! Everything turned out beautifully, and we couldn't have wished for a more perfect day. They were able to take on our last minute micro wedding, and the Director, Eileen, was so kind and accommodating. She was so responsive from the day I reached out to her, extremely patient, and worked closely with us to make sure the day turned out exactly the way we wanted it to. The staff at the Inn were all so polite, friendly, and helpful during our stay. The rooms/suites at the Abbey are also lovely, and the view of the Hudson River from this location is stunning! If you get married here, you won't regret it!

The Abbey Inn & Spa's reply:

Thank you, Cathy, for such an amazing review. It was our honor and greatest pleasure to assist you & Clyde with your wedding. Your day was an 11 out of 10! The weather was perfect, you were gorgeous and Clyde looked like a Prince. I enjoyed meeting your family and sharing some very special moments together. Wishing you both a lifetime of love, light & miracles. XO Eileen, Chef Jarod & the entire staff at The Abbey.

Kristen B.

Married on 09/19/2020

Absolutely Flawless

My fiancé and I are getting married at The Abbey Inn & Spa this fall. All I can say is this venue is absolutely FLAWLESS!! What makes it so flawless is how they kept the history of Peekskill tide in throughout the entire venue.
Hands-down to Eileen who is the wedding coordinator at The Abbey Inn & Spa. From the moment we met her there was a connection. Any questions I had she answered with extreme confidence. She tells you how it is and I absolutely love that! She is always checking in especially with COVID-19 pandemic. Eileen is truly first in class. You will not want to look at another venue after you see The Abbey! ❤️

The Abbey Inn & Spa's reply:

Kristen,
Thank you for such an amazing review. Our connection was immediate! I loved the energy you and Andrew have together and new we would be fast friends. I am so happy that you mentioned the history of the Abbey and Peekskill, NY. I love telling people about the history and the mix of old and new. I can't wait until September 19, 2020! It will be EPIC!
Eileen XO

Lynda

Married on 09/12/2020

Incredible everything

Not only are the grounds and the views amazing, but the coordinator, Eileen, is literally superhuman. Not only did she work with me and ease my concerns and answer questions nearly everyday before my wedding but she made the day stress free. The power went out the morning of my wedding right as hair and makeup arrived. Eileen spoke to everyone she needed and got it back on within an hour when they originally quoted her two. She blocked people from bothering me on my wedding and set everything up exactly how I asked. She put us in touch with the head chef, John, who is just incredible, and made sure everything we wanted was done. Also, The Abbey made planning and executing a wedding during covid so painless. Eileen kept pivoting the plans as guidelines and ordinances changed, and allowed us to hold our small wedding with social distancing and we're having an "encore" reception next year. I don't even have the words to express how perfect everything was. I would give this place a thousand stars if I could.

+ 2

photos

The Abbey Inn & Spa's reply:

Thank you. What a beautiful review. The loss of power on a beautiful day in Peekskill, made for a stressful start to your wedding day. It was a town issue that thankfully was resolved and restored in under an hour. You were so calm and collected, which helped everyone else relax. John is a firm believer is "service" and never disappoints our customers. Your wedding ceremony & cocktail hour was absolutely perfect. The weather was as well. I am still obsessed with your wooden flower bouquet! I am telling everyone about how gorgeous it was. Now, can we talk about your dress? It was perfect for you and you were stunning!! Your pictures are amazing, thank you for sharing them with me. I am really looking forward to your "Encore" wedding next year! Thank you for choosing The Abbey for your wedding day. It was our honor and greatest pleasure to assist you and David. Wishing you both a lifetime full love, light and miracles. XO Eileen, John and the entire staff at The Abbey.