25 Reviews
Recommended by 100% of couples
Quality of service

5 out of 5 rating

Average response time

5 out of 5 rating

Professionalism

5 out of 5 rating

Value

5 out of 5 rating

Flexibility

5 out of 5 rating
3 User photos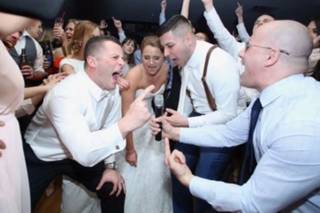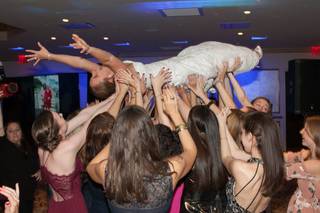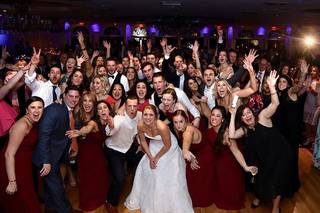 Tracy

Married on 09/23/2022

Amazing team!

Donato was absolutely amazing! He took charge and made it so we didn't have to worry about a single thing. He did a fabulous job starting the party and an even better job helping us honor our late son Levi in our dedication dance. Several guests raved about how amazing they were and asked for their name! Love love loved them!

Francesca

Married on 10/18/2019

Incredible job.

Donato, and That's entertainment are incredible. Our guests cannot stop talking about the wedding. Everyone was up and dancing and so engaged the entire night. They got the crowd moving! Guests we coming up to us during the wedding asking where we found them. I had a few special requests, and I cannot believe that everything I asked for was done. A big thank you to Phyllis! Donato is so personable. He wants to make sure everyone is enjoying themselves and happy. The photobooth was awesome, great quality pictures, backdrop and props. We even received a USB drive with all the pictures on it. Nice touch to re-live everything again. But the music? Forget it. We loved it. It was non-stop. I am so happy we chose to work with them. Best decision.

Justina

Married on 06/09/2019

The best dj ever!

AMAZING. AMAZING. AMAZING !!!!

Are you interested?

Send a message

Viktoria

Married on 06/15/2018

DJ Donato and his team were absolutely amazing, our guests are still asking about them! Our wedding was such a fun party thanks to them! They made sure everyone was dancing at all times. DJ Donato is so engaging and knows how to get the party started. We are so happy we chose That's Entertainment!

Daniela

Married on 04/28/2018

That's Entertainment has been our go to DJ for years, ever since my sister's wedding in 2008. We have used them for every family party in between and I knew the minute we got engaged that we would book them for our wedding. They are so easy to work with and their prices are extremely affordable. My friends and family all came up to me throughout our wedding telling us how fun and engaging they were with the crowd and how good the music was. Donato is the best MC and I loved having him be a part of our special day. They have giveaways, someone who helps get everyone up and dancing and they played all the music I asked for. They even somehow got my husband crowd surfing which was one of the highlights of the night. They truly treat you like family and I will absolutely use them over and over again.

Kristen

Married on 04/13/2018

The man, the myth, the legend! Donato is absolute professional PERFECTION!! When my husband and I got engaged, we agreed that the most important vendor would be the DJ/MC since they essentially run the night. We had a vision that at our wedding, our guests would be on the dance floor the entire night- this was really important to us because we both love dancing and just having a good time. We had already seen That's Entertainment at a friend's wedding, and we knew they were awesome and a lot of fun but wanted to come to a decision on our own. We met with a couple of different companies, but after meeting Donato, we knew right away that we wanted to go with That's Entertainment. This company was able to do EXACTLY what we envisioned and so much more. After meeting with Donato twice, we were able to plan how we wanted our night to go including a short dance set right after being introduced and dance sets in between courses as much as possible. It's one thing to talk about it, but to actually experience this – it was so amazing. We were so happy to see our guests were on the floor all night long. We literally had guests telling us it was the best wedding they've ever been to and that they couldn't believe how many people were on the dance floor for the whole time. We are truly so thankful to That's Entertainment for making our dream wedding a reality. Donato is not only down-to-earth and fun, but he is extremely genuine as well. He said he would check in on us multiple times the day of our wedding, and when he actually followed through, it was truly heart-warming. In the days following our wedding, we kept circling back to Donato and how he was the key to our perfect wedding reception. Without giving away all of the details, I can assure you that if you want to guarantee the time of your life at your wedding, you should absolutely book That's Entertainment. My husband and I literally wish we could hang out with these people every weekend!

Michael

Married on 04/07/2018

When my daughter got engaged, I told her & my son-in-law they could pick any DJ for their wedding. I only asked that checked out Donato & That's Entertainment before making a decision on who they were using. All it took was 5 minutes watching him energize the guests at a wedding to know he was the one for their wedding.

I can't say enough good things about Donato, Phyllis, and their staff. My daughter's wedding was a party. Everyone had a great time, and we were complimented on the DJ from all ages. Donato and his crew kept the crowd dancing all night. The chants of "one more song" at the end of night was a good indication that no one wanted the night to end.

Phyllis was unbelievable with handling all the details for the wedding. Not only do they provide unparalleled entertainment for the evening but thanks to Phyllis' network we found our photographer and limo service for the day.

Christina

Married on 04/07/2018

That's Entertainment DJed my Sweet 16 back in 2006! When it came time to choose a DJ for my Wedding this past April there was no decision making required, I knew I wanted Donato and his crew to do it. Donato and Phyllis were absolutely amazing to work with and so easy to get in touch with at all times. After our wedding was over we received SO MANY compliments from friends and family, saying how great our DJ was or that it was the best DJ they have had at a wedding. Donato is the best MC and I loved having him be a part of our special day. They had everyone up and dancing the entire night and they played all of the music I asked for. At one point they even had my husband and I crowd surfing which was one of the best parts of the night. I will absolutely use them over and over again and would recommend them to anyone looking for a DJ. I cannot thank Donato, Phyllis and the rest of their crew for making our wedding night absolutely amazing and memorable!

Ange

Married on 04/30/2017

What can i say about these guys? They were AMAZING!!!!!!! every single guest were up and dancing around! Vinny and his crew had people off of their seats before they had dinner!! the whole night was a party from start to finish!!! My guest cannot stop talking about how amazing these guys were!! If you want to have a good time with your friends and family, these guys can make it happen!! They were very family friendly too, we had a mixed crowd, we also had young children and our 97 year old grandmother at our wedding and they all loved that's entertainment!!!! BEST DAY EVER!!

Michelle

Married on 08/28/2015

When we were searching for a DJ for our upcoming wedding everybody told us Donato from That's Entertainment was the best and we can now say first hand that he absolutely is the best!! WOW is all we have to say. In my opinion, the DJ you choose is so important because it sets the course for your entire wedding-how smoothly it will run, timing, the atmosphere and how much you and your guests will enjoy themselves. Donato blew everyone away with his fantastic energy and charisma. He kept everything running so smoothly and had everybody up and dancing all night. Between the crowd-surfing, awesome music and impeccable timing, we couldn't ask for a better DJ. He even brought a hype man who danced all night with our guests which was such a hit!! Donato is such a great person and genuinely wants you to enjoy yourselves at your wedding. He will go to great lengths to make sure that happens and always makes himself readily available to be of any help. Our guests are still raving about him and how much fun our wedding was. If you want peace of mind knowing your wedding will be a BLAST and will run smoothly, Donato is hands down the best guy for the job.

Maria

Married on 08/27/2015

I heard many phenomenal comments about Donato Petagine w/ That's Entertainment and his team. Him and Phyllis were fantastic via phone and/or email, I didn't have to worry about a thing. Our families are strong party goers and we love to dance but Donato definitely kept the party going throughout the entire night. We said we didn't want the music to stop at any point, even during dinner and he made sure that there was always something awesome going on. If you want a DJ and team that blows it out of the water then you want to hire Donato from That's Entertainment. He is professional and knows what needs to be done so that the bride, groom and guests can have fun all night long!!! Thanks so much Donato for making out night memorable :) Can't wait to party with you again, Maria & Keith

Crystal

Married on 06/21/2015

You can now stop looking for a DJ. There is no one else you should consider than Donato. He is AMAZING! He kept the crowd pumped, made things flow seamlessly, and made our wedding one for the record books. I couldn't be happier!!

Erica

Married on 06/19/2015

That's Entertainment and Donato were both amazing and more than we ever could have asked for! They were very organized and easy to work with, they took care of absolutely everything, all we had to do was pick our music selections and package they took care of the rest. Our wedding was at Aria in June with about 150 people, Donato and his crew had everyone up and dancing the entire night. From the ceremony music, to the introductions, the bouquet/garner toss, cake cutting and everything in between Donato had all of our guests involved and out of the seats dancing. The music they played was perfect for our guests, they really played all genres of music which everyone enjoyed. Our package included two big screen tv's which displayed picture of us throughout our relationship which people really enjoyed. We also had tons of props like glow sticks, hats, feather boas and sunglasses which were a huge hit, everyone loved having all the fun props and dancing the night away!! I was concerned about the flow of events during the wedding but Donate so great and kept telling us not to worry, he announced everything and each event flowed into the next so smoothly. All of our guests raved about Donato and his staff and we have also raved about him since the wedding. It was the best night of our lives and so much fun thanks to Donato and his entire staff. We knew that they were going to be awesome but we never could have imaged how great they actually were!! We are so happy and thankful that we had Donato and his staff at our wedding and would recommend them to anyone looking for a fun, talented, organized DJ that is going to take care of everything so you can enjoy the night. Thank you Donato for everything!!!

Daniel

Married on 05/16/2015

It has been over two years since my wife and I had the absolute pleasure of working with Donato and we are just now recovering from the party!! We are latin, so obviously dancing is a big part of our culture and is always important to any party - let alone a wedding. Needless to say we were stressed out about who would be controlling the music and mood at our special day. Our event coordinator at our venue knew what we were all about and suggested Donato. After one short meeting, we already knew we had found our guy, he was professional but also bursting with great energy. We hired him on the spot and on the day of the wedding we were blown away!! He literally had everyone on their feet, people who don't even normally dance were jumping around like crazy people - yelling, laughing, & screaming. We crowd surfed, we had a hype man, and we still have people to this day wanting to know his name, and wanting to relive our special day. He truly made our day memorable and unforgettable and I wish I could give him and his crew more than 5 stars. Literally if you are on here looking for the best DJ and person to deal with, just call Donato!

Donato is the best DJ/MC I've ever seen at a wedding and I am not saying that because it was my wedding! He pumped up the crowd all night long and played the best variety of music! Everyone commented how much they danced and how much they enjoyed the music played. Donato was wonderful to work with too. He made me feel at ease, even when the bouquet toss started and I didn't have the toss bouquet with me. Very calmly and with a smile on his face, he went to the bridal suite and grabbed it for me without skipping a beat! No one noticed! He kept the wedding on track and everything was timed perfectly. I would recommend Donato 100x over. You will not be disappointed!

Lauren

Married on 11/30/2013

Donato is absolutely the best DJ, words can't even begin to describe! We've been to events where Donato was the DJ and knew instantly that we would chose him for our wedding day. He knows just how to get the crowd going and keeps everyone on the dance floor all night.

You don't even need to give him a playlist, he will play the best music to keep everyone dancing all night. And if you want to share a playlist, he'll definitely make sure your songs are played. He is the most involved DJ I've ever seen at weddings. He got myself and my husband on the dance floor having an amazing time, and even got us doing a duet song and crowd surfing! It was truly remarkable.

People are still raving about the music and entertainment months after our wedding. Having a great DJ truly makes your wedding fun, which is exactly what we wanted. I highly recommend Donato!

Sandy

Married on 10/08/2011

Our wedding was 10.8.2011, and besides choosing one another for holy matrimony, our 2nd BEST decision was picking That's Entertainment to provide our DJ services. Merriam-Webster has not come up with an adjective that would best describe these guys, so I'll do my best here. The team was fun, enthusiastic, professional, courteous, talented, engaging, LIVELY... the list would truly go on and on. My husband is Puerto Rican and I am Portuguese... The DJ and MC managed to pull it off and keep everyone engaged the entire time! People were up and dancing before the salad was served, and they kept dancing all night! My husband and I crowd surfed for goodness sake! :o) That was a great surprise; we LOVED it!! It's been almost three weeks now since our wedding and people are still asking us, "Where did you find those guys?" saying, "They were amazing!" I could NOT have been any happier. I am already planning my next party and am planning on booking That's Entertainment again! You can NOT GO WRONG with booking these guys!!! xoxoxoxo- Love you all! Sandy & Jay

Jennifer

Married on 09/09/2011

Phyllis, Donato and their team are amazing!!! Phyllis was so quick to respond to and questions and concerns I had. Donato & Staff did a GREAT job at my wedding on 9-9-11. Really keep me in the loop as to what was going on, played great music!! Everyone was up dancing!!
If you want helpful, friendly and professional DJ's this is the place to go!!!

Laura

Married on 07/16/2011

Our wedding was amazing and it was mainly because of the DJ. They brought such energy and excitement to our room making it an unforgettable night!

Jaci

Married on 06/25/2011

I don't know how to thank That's Entertainment enough for the amazing job they did at our wedding! Donato Petagine got every person up on that dance floor - the whole night! He even got my husband to crowd surf!!! I've never seen that at a wedding before - it was just awesome!!! Not only were the DJ and MC skills amazing but their Harrison, NY office was sooooo easy to work with! They made hard decisions a piece of cake!

Thank you Donato and Phyllis for everything! Brides to be - call That's Entertainment - you will definitely be impressed!

Jayzel

Married on 09/17/2010

Wonferful AWESOME GREAT job! Even now we still get complimented for the great job they did at our wedding. ALL of our guests said that Donato (MC) did such a great job getting our guests off their seats, engaged in the reception activities and on the dance floor. I would definitely hire them again for my 10th year wedding anniversary! Thanks for everything Donato!!

Michelle

Married on 05/08/2010

All I wanted was a wedding where everyone was having fun and dancing the night away!! Thanks to Donato, Phyllis and their team my wish came true. They are professional and just plain awesome!! They listen to you and give you exactly what you want!! Our wedding was perfect because of them!!!

Constanza

Married on 05/24/2009

It was a pleasure working with the That's Entertainment team. They are extremely professional and helpful and made our decision making process extremely easy. We highly recommed them for any event.

Julia

Married on 07/20/2008

We have absolutely no complaints about this DJ company and the service they provided us. They were very flexible during our reception as we were pressed for time and they let us add in all the last minute things we wanted to do (the bouquet/garter ceremonies, cake cutting, etc). The music was excellent and they really got the crowd dancing and having an amazing time!

Bernadette

Married on 10/23/2009

Phyllis and Donato from Thats Entertainment were so helpful in our wedding process. I emailed Phyllis so many times she prob wanted to change her email address lol but she was always professional and always got back to us in a timely fashion! Donato has done a few weddings for friends and families of ours and we knew how good of a job he does! He really gets the crowd going and people out of their seats! I won't get into detail on what he does at the reception you'll just have to book them and see for yourself but he's awesome! We highly recommend Thats Entertainment and we wish we could do it all over again-it was SO much fun!!
Are you interested?
Send a message