52 Reviews
Recommended by 99% of couples
Quality of service

4.9 out of 5 rating

Average response time

4.9 out of 5 rating

Professionalism

4.8 out of 5 rating

Value

4.9 out of 5 rating

Flexibility

5 out of 5 rating
59 User photos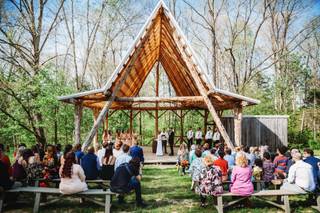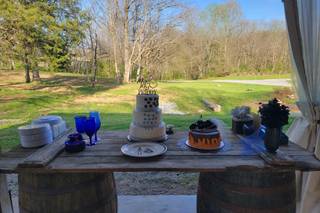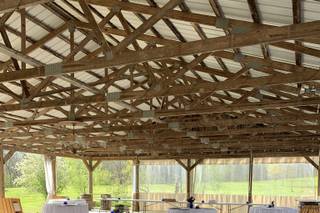 + 55

photos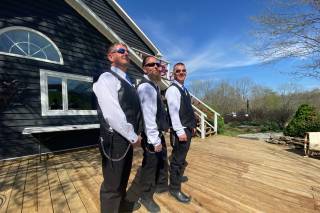 Stephanie T.

Married on 04/30/2022

Dreams Come True

Working with Brenda and Pete for our wedding was the better than I could have ever hoped! They have a beautiful way of sharing their calm while you're in the chaos of day-of and last minute prep. The venue was absolutely stunning and I am so grateful we chose to celebrate our love at a place that emanates such a natural peace sense of wonder!

Terrapin Hill Farm's reply:

Thank you for your glowing review, Stephanie! It was a pleasure working with you on your beautiful wedding.

Jess P.

Married on 04/23/2022

Tracey and Jess Priddy wedding

Best day ever marring my beautiful wife at the best place ever. We where just looking online and found this place. It was everything I ask for on my wedding day. Brenda and Pete have a awesome set up. They are wonderful people they helped us with so much made things so easy. Their property is beautiful the whole weekend was just wonderful for us I'm so glad that we found them because once again it was everything we asked for. Brenda and Pete thank you for a beautiful day and wedding I will never forget it. Thanks Jess Priddy

+ 3

photos

Terrapin Hill Farm's reply:

We loved hosting your wedding, and we love that you and Tracey chose a new spot on the farm to have your ceremony - now we can add it to the list of beautiful ceremony locations!

Melvin J.

Married on 04/16/2022

The Perfect Day

It was a great day. The venue was perfect in every way. The staff of Terrapin went above and beyond to make our wedding perfect. I highly recommend them for your own perfect day.

Terrapin Hill Farm's reply:

We love going above and beyond for our clients - it's our goal to make sure you're happy! Thanks for starting out our season with a super fun weekend!

Are you interested?

Send a message

H B

Married on 02/22/2022

Exceptional experience

We went with the Elopement Package, and it was more than I could imagine. Aside from what is advertised, there were no limitations on our wedding, we were offered amazing assistance and still felt like a big event with our small five person party. An absolutely gorgeous venue with two wonderful owners who helped make our day extremely spacial.

Terrapin Hill Farm's reply:

Big or small, every wedding is special and we're so glad we could help make yours what you wanted it to be!

Katie D.

Married on 11/16/2021

Gorgeous venue!

We couldn't have had a more perfect venue for our elopement ceremony and small reception. Pete and Brenda were so amazing through the planning process and executed my vision for our big day perfectly. Highly recommend, 10/10 and can't say enough good things about this place and these people!

Terrapin Hill Farm's reply:

Thank you Katie! I'm so glad we were able to create a package that worked just for your needs and your budget. It was a lovely wedding!

Daniela M.

Married on 10/09/2021

Gorgeous, Relaxed, Rustic Venue with everything you'd want for a perfect Wedding!

Where to begin? Our October wedding at Terrapin Hill Farm was PERFECT! It turned out better than I ever could have imagined. First of all, the landscape is gorgeous! It is rustic and serene. We chose the top of the hill as our ceremony sight and the breeze and sunshine, mixed with the view of the surrounding hills in the background, and the rustic wooden arch/teepee covered in flowers, made it all a dream to look at! Pete and Brenda are so relaxed and such lovely people who really strive to make sure you have an amazing day! Pete will even drive you (the bride) up to your ceremony in his old cadillac to make a grand entrance if you want. One of my favorite parts of the day was sitting in the cadillac with him on our way to the hill, and just talking about life and family. He was so kind and really helped calm my nerves! He also set up a bunch of lights and firewood and a mattress in the teepee on the property for our wedding night. They also have lots of decor that fits with the venue on hand that you can use that really looks good in that setting! We came up with most of our decor the morning of, using a lot of what they had, and everything turned out beautiful. We were able to have everything we wanted, from the huge bonfire and s'mores table, to a whole hog roast and mariachi band at the end of the night. Everything was perfect! I 100% recommend this venue to anyone who is a free spirit, who wants a relaxed place to celebrate with family and friends, while still having a gorgeous venue with everything you'd want!

+ 3

photos

Terrapin Hill Farm's reply:

Thank you for your glowing review, Daniela! You and Michael had a gorgeous wedding and it was our pleasure to help make sure it all turned out the way you wanted to!

Sandra B.

Married on 10/02/2021

Perfect in every way

Pete and Brenda, the owners, are incredible. The venue is beautiful. If you want a chill wedding and a professional venue, this is the place. I could not be happier with our choice. Everyone loved it.

Terrapin Hill Farm's reply:

We're always happy when our bride and groom are happy! But it's really great when we hear about how much their guests love our venue too!

Kara B.

Married on 09/18/2021

Our favorite place in the world

Terrapin Hill is a truly magical place, our weekend was everything we had hoped it would be. Pete and Brenda are so helpful and amazing, they feel like family! The farm is beyond beautiful and no one will every forget their experience there.

Terrapin Hill Farm's reply:

Thank you, Kara! It was so great that your family and friends could spend the whole weekend at the farm with you - it sure seemed like everyone had a wonderful time!

Eryn K.

Married on 09/18/2021

Absolutely the BEST wedding vendors around.

Pete and Brenda were so amazing and helpful through the whole process, they are very patient and accommodating! They truly went above and beyond to make sure it was everything we dreamed about. We hired Brenda to be the coordinator as well and we are so glad we did because she was in regular contact with us through all the planning stages and helped make sure everything went smooth and on schedule the day of. Terrapin Hill Farm is such a beautiful venue, there are many great spots to take unique wedding photos. There is so much potential there to customize and create a unique wedding tailored to your style. I would highly recommend Terrapin Hill Farm!

+ 2

photos

Terrapin Hill Farm's reply:

Thank you Eryn! It was such a pleasure working with you to make your dream wedding come true. I'm so glad you took advantage of the many places around the farm to get photos - the ones I've seen so far are wonderful!

Blaire C.

Married on 09/11/2021

Amazing!!!

The Cashels were absolutely amazing. My husband and I would highly recommend this venue to anyone, and we did so very often throughout the planning process! They were very responsive the entire time, and the amount of resources on hand were incredible. You truly can not beat this venue for the price

Heather P.

Married on 09/04/2021

10/10 Recommend!

My experience with Terrapin was top notch from the first interaction. Pete and Brenda are more than accommodating during every step.

Terrapin Hill Farm's reply:

Thanks Heather, it was a pleasure working with you! We do our best to make sure all the details are taken care of from start to finish.

Erlyn D.

Married on 08/19/2021

Stunning venue!

We absolutely loved the venue and feel so grateful to Pete and Brenda! We were really drawn to the quiet and the nature surrounding the farm, and it did not disappoint on our wedding day! It felt magical! I 100% recommend having your wedding at Terrapin Hill Farm!

Bri B.

Married on 08/08/2021

We highly recommend Terrapin Farm!

A priority for us was being able to focus less on the little details and more on the commitment we were making. That being said, we also tried to plan our 160+ person wedding within 2.5 months… Despite the short timeline, it went so well, and that was in large part thanks to Brenda and Pete. Brenda was extremely quick to respond to emails and had a wealth of knowledge about local vendors. She offered ideas and items they had on hand, saving us a lot of money and brain-space in the process. Pete helped us set up and went above and beyond on the day-of to keep things running smoothly, from topping up water jugs to creating an awesome bonfire. We highly recommend renting the farmhouse for the night before, which allowed the wedding party to bond and relax leading up to the wedding. The whole venue is absolutely BEAUTIFUL, and even though we had our wedding in the muggy heat of August, a nice breeze blew through the reception area and made it a sweaty-but-totally-bearable event. Having our wedding at Terrapin was a smooth, surprisingly chill, gorgeous experience. I recommend it to everyone seeking an outdoor wedding facilitated by extremely experienced, knowledgeable, and laid-back venue owners. Pro tip: get Brenda as the day-of coordinator! She handled our planning chaos with grace and poise and helped lower our stress immensely!

Terrapin Hill Farm's reply:

Thanks for your wonderful review, Bri! It truly was a pleasure working with you and Peter. I'm glad you decided to plan your wedding even though you had a short time to do it, and that we could help make it all happen just the way you wanted it.

Ed Hernandez

Married on 07/31/2021

Would get married there again

Gorgeous location, friendly hosts, I'm not saying I plan to get married again, because I think once oughta be enough, but the folks at Terrapin Hill made it as painless as possible. They sent us a checklist of things in advance to make sure we had everything covered, which saved us from forgetting stuff, too. Highly recommend.

Terrapin Hill Farm's reply:

Thanks for your kind review, it was such a pleasure to host your wedding! We have over 15 years of experience, so we love to give tips to help out couples doing this for the first time!

Bee B.

Married on 07/24/2021

Absolutely Fantastic

Getting married at Terrapin Hill was the BEST decision we made in the wedding-planning process!! Brenda and Pete are wonderful people, who made it impossible to stress during the weekend. By Friday night, they felt like family! We were able to stay on site with our family for the whole weekend, and it was amazing to have no cut-off time to leave the bonfire. Brenda answered all my questions with kindness, and made me feel comfortable asking for what I needed. If you want to get married outside in a beautiful location, THIS. IS. IT!!

Terrapin Hill Farm's reply:

Awww, thanks for your sweet review! We definitely do our best to keep stress completely out of the wedding plans. We're so glad you enjoyed our venue, it was a pleasure hosting your wedding!

Katelyn S.

Married on 05/08/2021

Magical perfection!

Literally perfection. We booked Terrapin for our wedding weekend. My husband's groomsmen spent the night out there before the wedding, and everyone (including many of our out of town guests) camped, brought RVs/campers, and/or slept in the farmhouse and bunk cabins after the wedding. The chapel stage was absolutely perfect for our ceremony, and we held our reception at the pavilion. Everyone raved about the bonfire, and our friends Restless Leg String Band played the reception. We danced ALL. NIGHT. LONG. Being able to bring in our own catering (with no limitations) and our own alcohol really helped our budget...and our guests benefitted from the open bar. Pete and Brenda were the most fabulous hosts, and were extremely accommodating and helpful every step of the way. If you are looking for a private, picturesque place to hold your wedding...please look no further.

+ 10

photos

Terrapin Hill Farm's reply:

Thank you, Katelyn, we enjoyed hosting your beautiful wedding! And I'm glad the weekend package worked out so well for you and your guests.

Autumn K.

Married on 10/24/2020

A fairytale place for a perfect fairytale wedding

My husband and I got married here on this past weekend, and it was beyond perfect. Not only was it naturally beautiful, but Brenda and Pete were very friendly and professional and did their utmost to male sure we had our perfect fairytale wedding!

Terrapin Hill Farm's reply:

We were honored to host your fairtytale wedding! And I enjoyed being your day-of coordinator too - had to go the extra-mile to make sure your caterer made it to the venue but I'll do whatever it takes!

Samantha

Married on 09/26/2020

Fantastic Experience

Beautiful farm! Everything was so perfect for our special day! Brenda and Pete were there to help with anything and to make any vision you have come true! Looking for a peaceful place to have your dream wedding. This is the place! Couldn't have imagined it any better!

Terrapin Hill Farm's reply:

Thank you Samantha. We're so happy we were able to help make your wedding just as you imagined it. We received several compliments from your guests as well!

Taylor T.

Married on 08/15/2020

Perfect venue!

Me and my Husband absolutely fell in love the moment we came to view this venue. Brenda and Pete made everything so easy and stress free and made sure we had everything we needed. The house was beautiful and had plenty of room for me and my husband and people included in our wedding. Our wedding was perfect!

Terrapin Hill Farm's reply:

So glad you loved it, Taylor! It's our job to make your wedding easy and stress free and we're happy we succeeded!

Katie W.

Married on 05/23/2020

Perfect Wedding Experience

I loved our wedding at Terrapin Hill Farm! Pete and Brenda were the best hosts. Brenda is always quick to respond and was so helpful from the get go with planning and details. They really take the time to make your wedding day just how you picture it. They were both available to help with last minute details. They also have a ton of items on hand that you can use! The farm house was great! We had plenty of room and natural light for getting ready. Having access to refrigerators and ice during the reception was also a perk. The farm is absolutely beautiful. Pete & Brenda are some of the best people around and it was a pleasure to have them be a part of our special day! I definitely recommend this venue for any size wedding!!

Beth M.

Married on 09/21/2019

The Perfect Wedding

My daughter found Terrapin Hill Farm and loved it. I was a bit concerned. It seemed a bit more rustic than I wanted. Man, was I wrong. It was absolutely perfect! The wedding site was absolutely beautiful. My daughter walking out of the woods to come down the aisle is a picture I'll never get out of my head. You won't get prettier pictures anywhere! The reception area, we had it under the pavilion, was perfect! We didn't even have to go the next day to clean up. The staff was so helpful and made everything run smoothly! It was just the absolute best day!

+ 5

photos

Kelsey H.

Married on 09/14/2019

Very Accommodating

Pete and Brenda are amazing, we had our venue booked with them for a year before our actual wedding date, Brenda was always available to answer any questions and accommodated every request me or vendors had to come view the property. Pete was a lifesaver with setup/take-down and helped with everything we needed and also things we did not know was needed. They both we very familiar with "the process" of weddings and are very good at handling the setup. The venue is absolutely BEAUTIFUL! We opted for the 2 night package and it was worth every penny. So much less stressful and great to have everyone there. :) very affordable, beautiful, & the best owners who are laid back and understand that it is YOUR day 😊

Kyle F.

Married on 06/22/2019

Summer solstice wedding

Wow this place is full of love and magic to the top. One of the most beautiful farms in all of Kentucky owned by some of the most humble and nurturing caretakers. We could not have asked for a better weekend experience this past June 21st through the 23rd. Both beating Brenda the farm's owners we're there to help take care of any minute or large situation at hand. Absolutely one of the best experiences I may ever have in my entire life. This is a spot I promise.

Sabrina

Married on 10/20/2018

Our Wedding at Terrapin Hill Farm

We knew we wanted to host our ceremony somewhere unique, somewhere that spoke to our values. After months of searching, we stumbled upon a photo of the farm's chapel stage on Instagram and instantly knew that was where we wanted to say our vows. Terrapin Hill Farm allowed us to get the most for our money and alleviate the stress of having so many different vendors - providing tables, chairs, linens, dishes, assistance with setting up and breaking down, and wedding packages that include an overnight stay. Brenda and Pete are delightful and helpful. Brenda offers assistance in wedding planning and Pete is able to officiate weddings on the farm - a service we utilized. Booking our wedding with Terrapin Hill Farms allowed us to spend the day focusing on what our wedding meant to us and spend the night celebrating in a way we'll never forget. We're forever thankful for our opportunity to have been married at Terrapin Hill Farm, and we're confident that you'll love this venue too.

Terrapin Hill Farm's reply:

We love that you described our venue as unique - we think it is too! Sabrina, you and Willie had a beautiful wedding and we're so glad you were happy with our services.

Alanna S.

Married on 10/20/2018

Brenda and Pete made everything so easy!

The farm is gorgeous and my daughter and son in law were extremely pleased with their whole day. We chose the overnight package and it was convenient for the guests that stayed with us. We loved everything about the farm is nd can't say enough great things about Brenda and Pete!
Are you interested?
Send a message