103 Reviews
Recommended by 100% of couples
Quality of service

5 out of 5 rating

Average response time

5 out of 5 rating

Professionalism

5 out of 5 rating

Value

5 out of 5 rating

Flexibility

5 out of 5 rating
1 User photo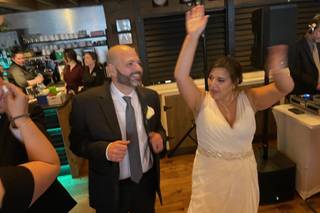 Featured

Kendall F.

Married on 06/11/2022

Hire DJ Nate!!

We couldn't have asked for a better DJ than DJ Nate! We were specifically looking for someone who wasn't your typical cheesy wedding DJ, and Nate far surpassed our expectations. He kept the energy high and the event flowing all night without interrupting anything or being too invasive. He worked with the playlists and inspirations we gave him but built off them to include songs I meant to include on my playlist but forgot! He totally knew our vibe and read our minds. He was also super helpful in the lead-up to the wedding and his grounded demeanor was much appreciated amidst all the stress of wedding planning. We seriously can't thank him enough and would definitely recommend him to other couples!

Kelley C.

Married on 10/02/2022

DJ Nate is an absolute delight

Highly satisfied; great communication; played a great mix of our choices but made suggestions. Didn't overwhelm the event with his style.

Chelsea M.

Married on 09/17/2022

Excellent in Every Way!

DJ Nate was fantastic - booking him as our wedding DJ was one of our best planning decisions! He is professional, friendly, and really went the extra mile to make sure he understood my vision for the music and announcements (he even worked with me to edit some specific songs down to the minute!). The day of the wedding, he arrived to the venue with time to make sure the ceremony and reception areas had just the right sound set-up, handled everything flawlessly, helped keep the wedding party on-task for introductions and speeches, helped organize guests for dinner and dessert, and was just an all-around excellent wedding vendor. Thank you so much DJ Nate!

Are you interested?

Send a message

Sarah N.

Married on 08/19/2022

Non-stop party!

I live in the UK with my British partner, but we planned to get married in my home state of PA. When we decided on the Philadelphia area, I knew I wanted a DJ who would be happy to blend my partner's favourite, more British songs with classics that everyone loves. Nate is the only DJ I interviewed who openly welcomed the challenge and allowed us the opportunity to customise a playlist from both his existing library and as many purchased songs as we wished. This meant we could include my now-husband's favourites, which aren't always as well-known in the US. Though I didn't have many questions leading up to the event, when I did, Nate was extremely responsive and more than happy to help. As I was not able to meet in person, he worked around the time difference to call me and review plans. We wanted a dance floor that was never empty, and no slower songs or requests from guests. Honestly, there was so much for everyone to enjoy that I don't think anyone could think of anything to request! He perfectly mixed our varied playlist to create 'sections' that appealed to different generations, so the floor truly was always pretty packed. I've had so many compliments on the music since the wedding! I truly can't thank Nate enough for bringing that energy to our day and ensuring everyone enjoyed themselves so much. He was a pleasure to work with and really up for anything we threw at him.

Zohra A.

Married on 07/16/2022

excellent wedding DJ

DJ Nate was absolutely incredible, I can't say enough good things! Responded very fast to questions in the months, weeks, and days leading up to our wedding, and had a very easy-to-use portal to help with song selection. DJ Nate was absolutely wonderful day-of with so many last minute changes in weather, the ceremony, and other set up that needed to be adjusted quickly. Our dance floor was packed and had awesome energy all night! Highly, highly recommend booking Terrace DJ for your wedding!

Phil F.

Married on 04/23/2022

Top Notch!

Can't say enough great things about Terrace DJ. Professionalism and quality all the way. Even from the planning stage right up until the last song of the night, Terrace DJ did not miss a beat (no pun intended) They couldn't have been easier to work with. It's like they just knew what we wanted. They read the room, kept the crowd moving and our guests didn't leave the dance floor. A+ for Terrace DJ. Highly recommend!

Virginia D.

Married on 10/02/2021

DJ Nate- What a Guy!

We are so grateful our band fell through so that we could experience the magic of DJ Nate of Terrace DJ! He is truly such a genuine and thoughtful man. DJ Nate is not your typical wedding DJ in the best ways possible- he is thoughtful, not corny, and knows how to read the room and match the vibes of the dance floor and the crowd. He was also SO helpful during our unique Quaker ceremony by providing COVID safe microphone use to our guests. We can't wait for our next excuse to hire DJ Nate!

Lily R.

Married on 10/01/2021

Fantastic DJ!

Nate was incredibly professional and helpful leading up to our wedding and was very responsive. On the day of the wedding, he was prompt, knew exactly what he was doing, had great volume for the music, was very professional, and kind. He had the dance floor packed the whole time and was great to work with. We highly recommend Nate!

Joseph M.

Married on 09/25/2021

An Incredible Experience

We worked with Terrace DJ for our wedding on 9-25-21. The entire experience was easy and painless, from booking & planning, to the incredible entertainment during our ceremony and reception.

DJ Nate was an absolute joy to work with. He was prompt and responsive, professional and helpful, and super flexible. His music and lighting were perfect, and he did an amazing job acting as MC. We threw a few curveballs at him last minute and he handled it flawlessly.

We had a planning phone call one week before the wedding to go over the details, with a few follow-ups to iron out kinks, and then everything was handled for us after that.

He took care of the sound and music for our ceremony as well as the reception. His music was great and all of our guests had a blast.

The music/entertainment is the most critical aspect of a successful event, and Terrace DJ really came through for us. They came to us highly recommended, and we too would highly recommend them to anyone looking to throw an event.

Deborah L.

Married on 09/04/2021

A wonderful DJ for our non-traditional tastes!

We had a great experience with Terrace DJ! From the getgo he was responsive, kind, flexible and understanding of our idiosyncratic music tastes and requests. As a DJ at our wedding he supported and encouraged a great time without being too much of a hype-man, which was absolutely the vibe we were going for! Our guests had a blast on the dance floor and we would absolutely recommend Terrace DJ to anyone who wants a laid-back attentive DJ with great alternative music tastes!

Rebecca S.

Married on 08/01/2021

Best. Dj. Ever.

Picking a dj for our wedding was the most challenging part of wedding planning because music means so much to my husband and me, and our love of dance music brought us together. We were looking for a dj to play all the techno and house music we love, but also cater to the more traditional tastes of our family. DJ Terrace was the PERFECT choice for us. DJ Nate heard us and brought our vision to life and helped us throw the best dance party (I mean wedding) ever.

Marley W.

Married on 06/20/2021

Thank you DJ Nate!

We hired the TerraceDJ team pretty last minute after an issue with our first DJ. Nate was wonderful, accommodating and playing our VERY ecclectic tastes in music, doing an extended hora for us, and being willing to roll with the punches at our casual wedding. The TerraceDJ back end system is great, as it let us upload our full day of schedule and all of our must have music requests!

Rachel B.

Married on 11/14/2020

best dj around!

First and foremost ... I can not recommend DJ Nate enough! Given the absolute insanity that has been planning, re-planning and re-planning again a wedding in 2020... his flexibility and easygoing nature was exactly what we needed (and pricing is MORE than fair based on my convos with other DJs over the past year!) I contacted him pretty late in the game, when we realized we really DID need a DJ for our minimony. He was prompt, professional and understanding about the unique situation this year has put couples in.

We sent him a giant spotify playlist with a VERY eclectic array of songs that we had put together ourselves (back when we were negligently going to try to do it all on our own). He was not only willing, but excited to be introduced to our mix of country, power metal and action movie theme songs.

Most impressively... he worked our entire array into the evening! I don't know how you actually effectively jump around that mix of musical types, but he managed to do it. He even played my bridesmaid's favorite song twice since one of them ran to the bathroom the first time around.

We are so grateful to have chosen DJ Nate, he truly was one of the best decisions we made!


Ryan Z.

Married on 10/10/2020

Outstanding DJ - Best Value Available

We had an outstanding experience with DJ Nate and we would recommend him to anyone. He offers terrific service at a reasonable price, so if you want a DJ who will maximize your value then look no further.

Our wedding had about 40 guests with an outdoor ceremony and indoor reception. Nate coordinated with us over the phone and adhered to every song we provided, playing the right song at the right time. Many of our guests complimented us on the music afterwards. He arrived at 8 am to set up at both locations, which he was very gracious about (other DJs wanted to charge us double or hire a second DJ), and stayed until the reception concluded at 3 pm. DJ Nate was professional, fun, reliable, responsive, and a choice that we are so glad we made. In other words, he is everything one could want in a DJ and you cannot go wrong with him.

Terrace DJ's reply:

Thanks Ryan and Amanda for the glowing review! I had so much fun working with you to craft the perfect ceremony and ceremony for you both, the special songs that surprised your family and friends were amazing. All the Best!

Kat S.

Married on 09/19/2020

Awesome sauce!

Nate was everything I could ask for in a DJ! He kept everyone dancing and singing! I am getting all kinds of compliments from my guests!

Terrace DJ's reply:

Thanks Kathleen! I'm so glad that you were finally able to have a beautiful ceremony and reception on an incredible fall day in upstate NY - All the best to you both!

Emily P.

Married on 09/19/2020

Perfect and on point, from start to finish

When our wedding had to be canceled due to Covid in 2020, DJ Nate was incredibly helpful and considerate with the entire process of rescheduling. He accommodated all our music requests, and even those of our guests and was able to put together a fantastic Playlist that several people asked us to send to them after the wedding!

Dave D.

Married on 03/10/2020

Easy to Work with Change Until the Last Minute

Terrace DJ was the best DJ we could hope for to preside over our wedding. He was very easy to work with and was able to round out a few very complete different music genres into a perfect playlist for the evening. Also, he has a Request by Text system for our current social distance situation and it worked out perfectly, allowing people to request the songs they want without needing to get up from their table. He was very nice and was able to get any song we asked for and met every request we had prior to the wedding. I couldn't have asked for anything better.

Terrace DJ's reply:

Thanks David for the great review! I'm glad your expectations were met and I really enjoyed being an integral part of your special day. Congrats again and all the best to you both!

Melissa

Married on 01/18/2020

Easy to work with and fair price

DJ Nate is professional, but laid back and receptive. I know wedding planning can be a lot, but he really tries to listen to what you and your significant other want out of his services. His website is super helpful in gathering a list of up to a 100 songs that you wish to play at your wedding. Also, he can take requests from your guests with a specialized link that you can look through and add to your overall list for the big day. He plays what you want, which was huge for us. I have heard from other people that some DJ's control the music without listening to the couples personal styles or preferences. DJ Nate told us upfront that he was going to work with us to give us what we wanted, which was reassuring. He gave us extra options to add to our total package, but was not pushy about them. He definitely made us feel at ease with one of the most important parts of our wedding. He also communicated how he will make all the music flow so that we knew what we could look forward to. He chose the overall order of songs being played for us and did a fantastic job. A majority of our guests (young and old) commented on how well he did all night. Overall, price was extremely reasonable and affordable, he is easy to work with and laid back, music selection is vast and even if you have specific requests, he will find them for you. Lastly, He made sure to get exact times for when certain songs needed to be played and for how long. He made sure to write down every detail that needed to be covered for the big day and delivered on everything he promised. I would highly recommend him to anyone who is looking for a great DJ. Thanks again DJ Nate!

Jose E.

Married on 10/11/2019

Everything we wanted

Working with Nate exceeded our expectations at every juncture. He made sure every detail we talked about was included in spades and constantly checked in with us throughout our night to make sure everything was to our liking. We can't recommend him enough for an intuitive and seamlessly custom fit DJ experience!

Kathleen B.

Married on 09/28/2019

Would Hire DJ Nate Again

Highly recommend DJ Nate. He created a great playlist based on our personal taste. Our guests had a great time.

Laura G.

Married on 08/03/2019

DJ Nate is the absolute best!

DJ Nate was the best. He was so easy to get a hold of, his communication was prompt and friendly and he really made sure we were happy and played what we asked for. He is an overall amazing guy and would recommend him to anyone!!

Beth S.

Married on 07/06/2019

Super nice, responsive, thoughtful

Had a great experience with Nate! The wedding was just great--he kept people dancing on a hot night, made a great flow from our music requests (even the Hamilton remixes which must've seemed kind of weird), and was a nice friendly, non-intrusive presence on the mic. We booked him for ceremony sound as well which was a challenging setup, off in the woods with no power; I saw him working VERY hard to get everything set up, and everything sounded just great. And he was just so wonderful to work with through the planning process too--we were planning a wedding from across the country so we could only talk on the phone at weird hours, and we made some changes to the wedding time, and he cheerfully worked around our schedules. Such a smooth, pleasant process throughout. Hire him, he's great!

Lindsey

Married on 06/15/2019

Wonderful experience with Terrace DJ!

I would highly recommend Terrace DJ for your wedding! We worked with DJ Nate and from the time we had our first phone call with him I knew he was our guy. He was an absolute pleasure to work with, professional, extremely flexible, responsive, and went out of his way to make sure our wedding reception was everything we envisioned it to be.

Lauren

Married on 05/26/2019

The best DJ around!!!!

DJ Nate was the perfect DJ for our recent wedding. Starting from the beginning during our introductory call, we knew we'd be in good hands. He took lots of time to answer all of our questions and was later very prompt answering emails where we had more questions. We had a great call a few weeks before the wedding that put my husband and I at total ease!

The wedding went off without a hitch largely thanks to DJ Nate. The music was perfect--exactly what we asked for. The ceremony was perfect with the mics he provided and during cocktail hour and the reception the music continued to be amazing! If you want a DJ who will work with you to do exactly what YOU want, DJ Nate is your man. I cannot say enough wonderful things about working with him and the job he did at our wedding to make it so unforgettable!!!

Vicki D.

Married on 05/18/2019

10/10 highly recommend!!

From the moment we booked Nate for our wedding, working with him went perfectly. The DJ was one of the most important wedding day details for us - we love good music across many genres, our guests love to sing and dance, and we did NOT want the stereotypical/cheesy wedding DJ. Nate was EXACTLY as we hoped. His music selection was great, the dance floor had great energy. He assisted with the flow of the night through announcements, but there was absolutely no cheesy MC'ing. I can't say enough how much Nate paid attention to our personal requests, and fully thought out every detail. Nate also did the audio set up for our ceremony, and even went the extra mile on researching the ceremony area to have the optimal speaker positions so they were not intrusive in pictures. Bottom line - Nate made our wedding night the party we always dreamed of. 10/10 highly recommend!!
Are you interested?
Send a message