57 Reviews
Recommended by 97% of couples
Quality of service

4.9 out of 5 rating

Average response time

4.8 out of 5 rating

Professionalism

4.8 out of 5 rating

Value

4.8 out of 5 rating

Flexibility

4.9 out of 5 rating
14 User photos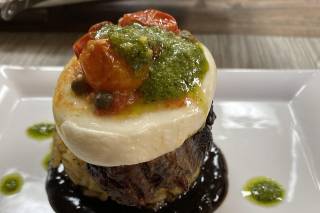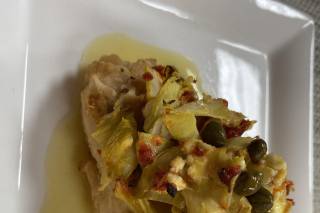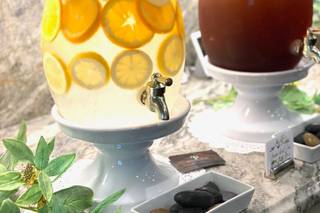 + 10

photos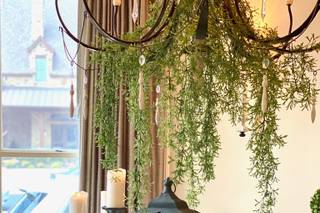 Diane B.

Married on 04/08/2022

Excellent Caterer

Don't hesitate to cater your next event with Tastefully Yours! They catered my daughters wedding with 150 guests. The food was delicious, beautifully presented, and HOT! So were the plates! The portion size was perfect too! Lisa is knowledgeable, kind, and easy to work with. Her team was very professional as well! I wish I had another event so I could enjoy their delicious food! Nice job Lisa! Thank you so much for making our event even better!

Tom S.

Married on 04/02/2022

outstanding group

When we sent an info request to Tastefully Yours we were sure they would be out of our range, based on the pictures of their food and layouts it was clearly on the higher end. However, when we got to speak to Lisa and Page, we found that they were not only closer to our range than we had considered, but were able to offer us choices that would get into our budget. They mentioned that if we chose pork instead of beef that would save us a little, and we could provide our own drinks that they would serve and whatnot. Instead of just saying, sorry no, they said, let's make this work! And we are so glad that they did! We had our tasting and put down a deposit that same day because we knew Tastefully Yours was for us hands down. At the tasting they even took us to their giant back room full of décor in all colors, shapes, and sized that they decorate the buffet with to go with your wedding themes! The service we received on the day of the wedding was impeccable. The bartenders were fast and friendly, the buffet was set up beautifully, and even though we provided our own dinner ware they set it up at the tables for us so we could focus on other things. We've even asked them if we could buy the mac n cheese they served by the tray in the future because it was hands down the BEST we've EVER had. Our guests have been talking about the food ever since the wedding day, from the passed apps (the bacon twists are EVERYTHING) to the chicken and pork, and of course, that mac n cheese.
We were concerned when reaching out to people that the fact that our wedding was for two men might be a problem. With Tastefully Yours it wasn't even questioned or side eyed once. They were welcoming and lovely to us from start to finish. Something well worth keeping in mind for anyone doing an LGBT event
They were great to work with on every level and I'd be pleased to do business with them any time I may be in need.


Carol D.

Married on 09/01/2021

Absolutely a fantastic experience!

Lisa and staff were punctual, attentive, and friendly. The food was exceptional. So many ideas to choose from, and all were equally delicious.

Are you interested?

Send a message

Lorna D.

Married on 08/28/2021

If I could give them 10 stars I would. Excellent!

If I could give them 10 stars I would. I found Tastefully Yours online with no references. I read a lot of their reviews and I talked to them personally two different times, while calling other places, before I decided to go with them. On the phone they were very professional, took their time and really wanted to know about our event. Just talking to them made me feel happy about our decision. The food was absolutely amazing. All very fresh and cooked to perfection. The presentation was beautiful. I received so many compliments from our guests. I could not have been happier with the service or the food. Will definitely use them again as well as tell my friends about them.

Cathy N.

Married on 12/04/2020

Off the Hook!

Tastefully Yours is OUTSTANDING! We engaged their services for a brunch for 60 people the day after our daughters wedding. I can't say enough great things about them! Professional, efficient, first class service. AND the food was off the hook fantastic! Presentation as well as taste was remarkable. One of the items I ordered was the Eggs Benedict. I was skeptical as to how they would be able to serve 60 and still have that must have runny yoke but they DID IT! WOW! This crew came in and did it all and would not let me do a thing. They left my home cleaner than when they arrived. They move about their work so quietly and efficiently, you hardly know they are there. It was such a pleasure and so relaxing after such a busy stressful day before. You won't go wrong with Tastefully Yours-everything was outstanding!

Kathy

Married on 10/10/2020

Delicious & Tasty

Lisa and team did a great job at my son's wedding. The food was delicious and the service was impeccable. If given the opportunity, would definitely hire them again.

Julia B.

Married on 08/21/2020

Amazing food!

We were blown away at our tasting with the level of care and passion that went into their dishes. It is run by a sweet couple so our entire experience felt very personal. We were specific on budget and they worked with us to create a beautiful menu within it. They were very flexible when we had to cut our wedding guest count in half just a month before the wedding and never pushed us to spend more but just to ensure we were getting the food experience we were hoping for. The food at the reception was highlight of the night! We would definitely work with Tastefully Yours again!

Tastefully Yours Catering's reply:

Julia,
Thank you so much for your kind words. We loved working with you and your mother and are thankful to have shared your special day with you!
Thank you,
Lisa and Andrew

Tracy W.

Married on 08/21/2020

Delicious and Beautiful Dinner!!

This was the best food I have ever tasted at a wedding reception, and many of our wedding guests went out of their way to let me know they agreed! I hired Tastefully Yours Catering for my daughter's wedding reception. Lisa and Andrew and so talented, kind, and friendly! I also worked with Page who managed the delicious reception appetizers and beautiful buffet dinner. Everyone was so professional and a joy to work with!! Due to the pandemic, we had to change our wedding date and restrictions reduced our guest count to less than half of our original plan. Lisa was so understanding and kindly modified our quote and contract. I highly recommend this great catering company!!

Tastefully Yours Catering's reply:

Thank you for the kind words Tracy! You and your family are so gracious. We loved sharing this day with you!
Warmest Regards,
Lisa and Andrew Huszar


Rosaline F.

Married on 06/08/2020

Food was the best we tasted amongst 4 vendors

Lisa and Chef Andrew had not only the very best tasting food, but also the most beautifully presented. The food at the wedding was exactly as we had tasted. He uses only the freshest ingredients from superior vendors and his preparation was hands down the best that we tried. His selections were different and extraordinary than the usual wedding fare. The service at the wedding was outstanding and everything was delicious. You and your guests will taste the difference.

Melissa M.

Married on 05/10/2020

Excellent Service & Food

The team was absolutely amazing! I felt like they melted into the background and everything was perfectly prepared, always available, and they did a fabulous job of cleaning up. Everyone at the party also thought they were fantastic and loved the food! I will definitely continue to use them again.

Tastefully Yours Catering's reply:

Melissa
Thank you so much for your kind words.
We enjoyed working with you on your wedding menu.
Thank you, Lisa and Andrew

Vickie O.

Married on 05/03/2020

Beyond our expectations!

From the smallest detail to the spectacular presentation, our experience with Tastefully Yours was beyond what we had hoped. Our chef prepared menu was expertly executed, presentation was elegant and beautiful, our server was a constant source of creativity and resourcefulness! This was one of the most delightful collaborations in my experience. We literally had to do nothing. Every detail was anticipated and addressed before we could have even asked. From set up and service to clean up and tip-toeing out...excellence.

+ 5

photos

Adriana R.

Married on 11/09/2019

They are great!

The quality of the food and the service are great.
I highly recommend Tastefully yours!!

Krista

Married on 09/28/2019

Ruth Robbins - MVB (most valuable baker)

Ruth Robbins is a pro. She made our cake vision come to life at HALF the price that the vendors in downtown Fort Worth could offer - and I promise you the cake tasted just as good if not better than all of the others we had tried.

She's been doing this for over 25 years and it shows - Ruth is professional, organized & very very talented. We've had so many people compliment our cake selection. I can completely attribute that to Ruth - she walked us through all of the options, & her recommendations. The process was so smooth and easy - and that's something special when you're in the midst of wedding planning.

You can't go wrong with booking Tastefully Yours Cakes & Ruth Robbins for your next event. Thank you, Ruth, for everything you did. We are so grateful!

Tastefully Yours Catering's reply:

Hello Krista,
It seems you have accidentally left a review for Tastefully Yours Catering, instead of Tastefully Yours CAKES! I am sure Ruth would love this review though so please make sure to post on her website!
Thank you,
Page Lewellen
Tastefully Yours Catering

Elizabeth S.

Married on 08/28/2019

Excellent presentation and quality of food!

Tastefully Yours Cartering is dedicated to making your event special. As an event planner, I have had the pleasure of working with them a few times on both small and large events. Every time the quality of food and service was impeccable! My clients have been exceptionally happy!
!

Caitlin

Married on 05/26/2019

Foodie Catering

We loved going in for our tasting and trying out the food, and they were very flexible with make some changes due to allergies and taste! Many people said it was the best wedding food they had ever had! For sure recommend!

Tastefully Yours Catering's reply:

Caitlin,
The pleasure was all min. Thank you for allowing Tastefully Yours Catering to be on your extraordinary vendor team

Julia

Married on 03/02/2019

Fantastic!

Andrew, Lisa and her team are amazing! Our guests said, "the best food they have ever had at a wedding". The appetizers, dinner and service were exceptional! I cannot thank you enough for making our daughter's wedding perfect! Not only was the food delicious, but there was plenty! No one went home hungry! Tastefully yours also does an exceptional job with the presentation! I HIGHLY recommend them and would definitely use them again! Thank you, thank you Andrew, Lisa and the TEAM!

Shelly K.

Married on 12/22/2018

Great job!

Thank you, Mary, for being so accommodating, flexible, and helpful! The food was great and reasonable and with an outdoor venue, were so great about not interfering in any way with the wedding going on in the same space! I highly recommend Tastefully Yours for your wedding. They were reasonable as well and being on a budget, this helped so much! We were able to come up with a great combination of foods for a brunch reception, and had lots of nice feedback!

Mary

Married on 03/03/2018

We were introduced to the Tastefully Yours catering service through our wedding venue, The Laurel, as being one of their preferred vendors.

Once I requested a quote for the type of service we were looking for, Lisa Huszar was very prompt to respond and sent me a very comprehensive quote. The quote included several delicious appetizer and meal options as well as several pictures so we could get a better idea of what we would be selecting. The final quote was very detailed so that we could better understand exactly where we were spending our money.

Lisa always gave me sound advice on what would work best for the large attendance we were expecting. We were very grateful for her cost effective input!

Tastefully Yours also provided a taste testing experience that included a generous selection of appetizers and meal options so that we would be confident in our final decisions. At this time, we were also able to choose our serving and centerpiece decor from the storeroom which was adjacent to the kitchen.

Prior to our wedding, we had to make a few updates based on our guest count and Lisa was very flexible and made prompt adjustments to our quote so that we could move on to other last minute wedding preparations. I had full confidence that Lisa had this part my daughter's wedding day handled, which was a huge relief throughout the rest of our wedding planning!

On the wedding day, Tastefully Yours sent their staff earlier than I expected (which was a good thing). They were very professional and took great pride in the table set up, appetizer stations and and buffet preparations.

The food was absolutely delicious and plentiful! I received many compliments on the catering and would highly recommend Tastefully Yours for any occasion. They have an extensive selection of recipes and can accommodate any event, large or small!

Mary Weinrich (MOB)

Terri

Married on 11/10/2017

I honestly can't rave enough about Tastefully Yours! Our wedding was on November 10, 2017 and Lisa was the most organized and pleasant caterer to work with, we didn't worry about a thing. After our initial meeting and tasting with she and Chef Andrew, we knew our reception was in good hands. Lisa listened to us and worked with us on a menu that reflected our tastes perfectly. We're still getting compliments about how good the food was. Chef Andrew's Gouda mac and cheese is the bomb! The catering team on the day of our wedding was fantastic, everyone was on time, efficient, super helpful and made everything seem effortless. They took incredibly good care of my groom and I, making sure we had plenty to eat and our glasses were never empty. I highly recommend Tastefully Yours!

Tastefully Yours Catering's reply:

Terri,
That was such a sweet review. I have to say that you made it easy as well. Both you both were super easy to work with.
Best of luck and love forever!

Jacqueline

Married on 06/03/2017

Lisa and Andrew at Tastefully Yours Catering were amazing to work with for our wedding this past June. Lisa was great, she really goes above and beyond to meet the needs of her clients. The tasting dinner was wonderful...Not only did Chef Andrew personally serve us dinner, they even boxed up all our leftovers! Additionally, Lisa was a HUGE help with a number of our rentals. We have absolutely zero complaints and will recommend their service to everyone we know !

Tastefully Yours Catering's reply:

Thank you so much much for this sweet review.
i truly enjoyed working with you on your wedding.
You looked AMAZING! We were proud to be your caterer.

Madison

Married on 04/08/2017

The food and service from Tastefully Yours is unmatched in DFW!! Lisa and Andrew went above and beyond with every detail in catering our wedding! We did food stations at our wedding and the food was delicious and presented in the most beautiful way. No stainless steel "buffet servers!!" All of the food was in beautiful dishes and presented in a stunning way, served hot and the stations were all decorated beautifully!! I would choose Tastefully Yours for any future event! We had more people tell us after the wedding that the food was the BEST FOOD they have EVER had at a wedding!! As a bride that is exactly the reaction that you want!! They were a joy to work with and they are willing to do whatever is needed to make sure your vision comes to life!

Tastefully Yours Catering's reply:

Madison,
Thank you for the kind words. Your wedding and stations were fun to create.
Andrew and I wish you both all the best in love and luck!

Tayler

Married on 01/21/2017

If you are looking for a caterer that will accommodate what you are wanting withing a specific budget then go to Tastefully Yours. Our wedding was very large and I wanted alot for the amount of guests we had. All of the pricing was upfront with no surprises. Our bill included food, staff service, rentals(linens, plates, cups, silverware napkins etc) tip, tax, Lisa helped me with my vision of the food and not wanting a typical silver tray and heat lamp buffet. I was able to have a buffet, with passed and displayed appetizers! She provided lots of decor for the food displays and even ordered linens so I did not have to deal with the extra stress. The food is also amazing. The chef has traveled the world and it shows in his food. Our guests loved the food. One guest
"Your food was actually amazing it didn't taste like wedding food at all" Another guest is getting married later this year and is also hoping to book Tastefully Yours after her experience at our wedding!

Valerie

Married on 11/12/2016

We had the best time working with Lisa to plan our event. She was very flexible and friendly. She helped us get everything we wanted and more!! I would highly recommend Tastefully Yours for any event your planning!!!!

Lori

Married on 10/22/2016

My husband and I met Lisa and Andrew for the first time at a tasting for our daughter's wedding. All we can say is ...."amazing, wonderful and out of this world delicious!" The food was beyond compare and we knew we had made the right decision. Andrew is an amazing chef! His dishes not only taste great, but are so beautifully prepared! He is a true artist in both respects. Lisa is awesome and so great to work with. She will work within your budget to give you the best, most amazing food for your event. So many of our guests came up to us after dinner and said it was the best food they had ever had at a wedding! Wow....so awesome to hear that and what a great testament to the team at Tastefully Yours. They are awesome and made our daughter's wedding day the best! Lori S.

Emily

Married on 10/08/2016

Everything from start to finish with Tastefully Yours Catering was exceptional. The planning stage with Lisa and Andrew was easy and fun. The tasting was very elegant and tasteful. Everything on the day of the wedding was went off without a hitch. The servers were absolute professionals, the service of the food was perfect, the bartender made sure I always had a fresh drink!! That's important!! I was so impressed with every element of Tastefully Yours - I would definitely hire them again.
Are you interested?
Send a message