35 Reviews
Recommended by 100% of couples
Quality of service

5 out of 5 rating

Average response time

5 out of 5 rating

Professionalism

5 out of 5 rating

Value

5 out of 5 rating

Flexibility

5 out of 5 rating
8 User photos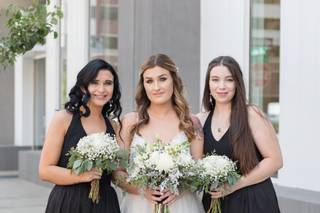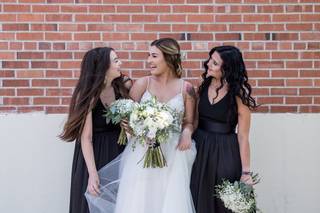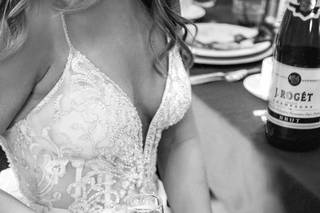 + 4

photos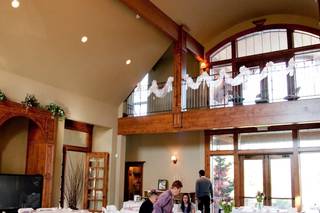 Vicky

Married on 09/29/2018

My wedding dreams captured forever

Photos last a lifetime and I'll remember Tana every time I look back on my wedding photos. I appreciate her confidence, trustworthiness, and creativity. She is a high quality photographer, who loves details, captures delightful angles, and works to portray the best version of you. She was flexible to my requests, but was also consultative and provided suggestions. She shot my bridal portraits at the Old State Penitentiary (location was her idea) and I loved every moment of it. On my wedding day, I knew I was in good hands. I trusted Tana's vision and followed her guidance. She has endless great ideas and a passionate eye for details. As a result of Tana's passion, my wedding photos are literally my wedding dreams captured forever.

Crystal R.

Married on 09/08/2018

Tana is amazing!!

Tana did the most beautiful job on my wedding photos. I couldn't recommend her enough! Not only did she go above and beyond with the photos, but she became a friend! She is amazing

Denise

Married on 01/01/2017

If you are seeking someone with an artistic and creative flair, call Tana!

Are you interested?

Send a message

Abigail

Married on 08/20/2016

Photographs are all you have to show for all that time and energy that goes into your special day so when picking someone to capture it you want the best. Tana is the best! She is a delight to work with. Calm, focused, easygoing and detail oriented. She was responsive and easy to work with leading up to the wedding. The day of she kept us on schedule and made sure to capture all our special moments. The photographs she delivered are gorgeous. The lighting is beautiful, the backgrounds are stunning and the finished product is just fabulous. We could not be happier with them or with our decision to hire Tana to take our photos.

Emily

Married on 06/04/2016

She was VERY accommodating, she really took our wedding seriously, she was kind, and calm, though we gave her a tight timeline. She was very good with my mother who hates photos. She was detail oriented, and very efficient all while being a calming force in my wedding. LOVED her.

I absolutely recommend Tana to anyone in search of beautiful photos and a professional photographer - in Idaho or beyond. Tana did our engagement, rehearsal, and wedding photos. She had a lot of great suggestions, moved the sessions along, and was also receptive to our ideas and requests. We had a destination wedding and, although the locations were also new to Tana, she still scouted for and found wonderful spots for us. The results are gorgeous photos we love!

Tana is such a fun person to work with, yet a true professional! She has creative new ideas and captures images that are timeless. We will certainly ask Tana to photograph our family as we continue to grow!

If you want photos that are beautiful and not "photos like everyone has", Tana is your gal!

Tana photographed our son's wedding and reception, and I have NEVER worked with anyone so wonderful. Her unique ideas, along with total professionalism was remarkable. Also, she is an amazing person and a lot of fun !!!

I highly recommend working with Tana! Not only is she a talented photographer (... just check out her work, it speaks for itself!) but she really knows all of the ins and outs of making your wedding day run flawlessly. She helped my husband and I work out a schedule so that we could capture all of the moments we wanted to remember from our big day. Tana was not only helping us with the photos, but she cared about every aspect of our wedding (making sure we were all set with vendors/coordinating our day). She was inviting and friendly the first time we met, and she has been nothing but wonderful since that day! Tana is extremely responsive and takes her commitments to her clients seriously. She is always working quickly to get your images back to you. I cannot say enough nice things about her and the quality of the album/prints we received. Even though I was very particular about how I wanted the photos/layout of my album Tana made sure to honor all of my requests without any hesitation. She is so easy to work with and you definitely are getting what you pay for.

Isabelle

Married on 03/29/2014

We did a wedding portrait session with Tana and prior to her I had my photos taken professionally before and was not impressed. Tana, however made us feel at ease the whole time during the session. I was blown away when I finally got to look through our picture gallery. All the pictures were beautiful and I felt like they could've been in a magazine! She is ridiculously talented. She is pricy but you get your money's worth, I definitely recommend her to future brides who are picky when it comes to photography because she will not let you down!

Suzanne O.

Married on 11/09/2013

5 years later

In the chaos after my daughter's wedding I did not get around to writing a review. Now, as I'm looking for 1000th time at the beautiful wedding pictures, I just had to stop and write this. WORTH EVERY PENNY and more!
Tana did such lovely job. She was so easy to work with and gave us 100% of her time and attention on the day of the wedding. She took shots I didn't even think of, but I'm so glad we have them now. I highly recommend Tana Photography.

Tana Photography's reply:

Thank you so much, Suzanne! I loved photographing Megan and Avniel's engagements and wedding day! Everyone was so happy and gracious, and it was such a great day. They're an amazing couple! I still watch their social media so that I can follow along as their lives unfold and I'm so happy for them. : )

Lindsay

Married on 09/14/2013

She is amazing! Creative, personable, and always gets the perfect shot! I dont know any other photographers who would be able to get the quality of photographs that Tana can produce. She makes you feel at ease and gives you some direction but doesn't make you feel awkward. As a woman, she understands what we do like seeing in photos and what we don't like seeing. Our photos turned out perfect! She captured our day so perfectly. I've gotten many comments from family and friends who think her pictures should be in a bridal magazine. She captures the romantic side of weddings and I would recommend her to anyone looking for their photographer! She is amazing, personable and fun! I loved her! Believe me when I say, you will not be disappointed!


Ayesha

Married on 08/23/2013

Tana Photography made my wedding photographs a dream come true! I can't say enough about how talented Tana is and how passionate she is about her photography. My Wedding was very different from the traditional one day wedding. My wedding was a 4 day traditional Pakistani wedding with lots of family, friends, and chaos. Tana took the time months before the wedding to get details of every ceremony during the different events. She wanted to make sure she captured every special moment. During the wedding events Tana made sure to photograph all my friends and family so that all our guests felt special to be part of our wedding celebrations. Tana was very efficient about posting our pictures to her webpage so that all the guests could access the albums online and view the pictures and purchase prints. Our wedding photos were breathtaking! Looking at my wedding pictures made me so emotional because I was able to remember every moment that Tana captured. As I looked through the pictures I felt as if I was reliving my wedding days again. Tana brought my wedding to life with the portraits she had taken. I was blown away when I saw our wedding pictures! Tana's pictures include all the delicate details that every bride spends months planning. Tana's work is phenomenal and I wouldn't recommend anyone else for all of life's special events, especially Weddings!

Tana was the best photographer we could have asked for on our special day. She was creative, patient and very flexible. She brought many good Ideas to the table and was friendly. Her skills and artistic eye will remind us of our beautiful wedding for many years to come. I highly recommend her!

Aletia

Married on 12/31/2012

It was such a pleasure working with Tana! She helped us with our engagement photos and our wedding on New Year's Eve. We really enjoyed collaborating with her and couldn't be more pleased with the images from our special day and our engagement shoot. We've received numerous compliments from family and friends! Her style and taste was a perfect match for us and more importantly, we felt like we were spending time with a friend and not a vendor.

Tana is absolutely the best wedding photographer, She has a knack for capturing your life's moments with such originality. I still cry when I look at my wedding photos and my engagement photos for that matter! Not only are the photos amazing, but she is so professional and really works with each individual to make you comfortable and capture you in your best moments. Amazing

Karissa

Married on 08/03/2012

I met with 3 different photographers in the Treasure Valley area before I sat down with Tana, and finding her was truly a blessing. She instantly made me feel comfortable and I didn't feel like she was putting on a show. Not only did I have a beautiful engagement session but my wedding photos are perfect. I have had so many people compliment my pictures and ask me who I went through. They are something I will treasure my entire life and I am so proud of them. I could never thank Tana enough for her amazing service and for making my wedding day a beautiful memory for my husband and I. Hiring her will be the easiest part of planning your wedding.

Danielle

Married on 05/05/2012

I was one of those brides that started planning my wedding when I first started dating my husband. After stalking wedding blogs for a year (before even being engaged), I knew Tana Photography was one of my favorites... not just in Idaho, but out of all of the photographers I had seen. We originally booked Tana just to take our engagement photos because we were going to get married out of state in Florida. After only shooting with her for a few minutes and before even seeing our engagement pictures, I knew we HAD to have Tana shoot our wedding. She gave us great direction, but not too much that we felt awkward. We were at ease and had a blast. Tana flew across the country to shoot our wedding! She came out earlier to scope the area, see the lighting, etc... in other words, she really does her homework. When we got to see the pictures from our wedding day, we were blown away. All of our friends say they belong in a magazine. We could not be happier. Like some of the other reviews, we now have a life photographer.

Carlie

Married on 12/17/2011

I feel as though our wedding really began when we found Tana Photography to shoot our special day! From our engagement images to the wedding, we have been left with photos that we will hold dear forever. Not only did Tana provide us with amazing photography services, she also helped to put us in touch with other local vendors that matched our personal style. Now that is great service! Tana cares about her clients and what they want for their photos, and it shows in the end results. Her timeless style and attention to detail truly create a memory frozen in time. She does not get wrapped up in all the photoshop hoopla, and allows a couple's beauty and character to shine through. Her professionalism is second to none - she made sure we got the shots that we wanted, as well as those candid moments that only an excellent photographer can spot! Unlike many of the local photographers, we were given access to our photos less than two weeks, as well as an entire set of 4x6 images in addition to a wedding album that she painstakingly put together herself from our favorites! It cannot be denied that Tana puts care into every snap of the shutter. I cannot imagine our day without her. I've said it before, and I'll say it again, we truly feel like we found not just a photographer for one day, but for life!

My husband and I thoroughly enjoyed working with Tana for our wedding. She was easy to work with, responsive to our requests, and very professional. Not only were we impressed with Tana's work ethic but we love all of our wedding photos. Tana truly captured all the special moments at our wedding. She also made sure that all the photos were flattering and carefully taken. I would highly recommend Tana to any family member or friend looking for a photographer. We can not wait to use her services again.

Katie

Married on 07/09/2011

Everyone has that one thing that matters most to them when planning their wedding. For me it was the photography. I looked at multiple wedding websites and even researched several Seattle photographers before selecting Tana. I chose her for one reason; she is the best.

I liked Tana so much because she was talented, easy to work with, and fun to be around. In the months leading up to our wedding, I called and emailed Tana multiple times with questions that didn't really have anything to do with the photography (ie. what color bridesmaid dresses look best, what should I do with my hair, etc.) because I trusted her opinion more than my own! Tana would always return my phone calls/emails the same day, and spent tons of time talking to me about minute details that only a bride would obsess over.

Where I really got to witness Tana's talent and professionalism was on our wedding day. She showed up early and went to work immediately taking pictures with her assistant. Tana made the bridal party feel at ease and did a great job coordinating with the family and other vendors. For example, when our florist forgot to bring the boutonnieres to the photography location, Tana called and coordinated their arrival. When the flowers arrived Tana and her assistant took care of pinning the boutonnieres on the guys. Although this may seem like a silly example, when it is your wedding day, the last thing you want to deal with is pinning some flowers on a group of semi-hungover groomsmen. It really made me realize how refreshing it was to work with some that was willing to do something outside of their job description to make the overall day run smoother.

I received the online proofs about a week after our wedding and could not have been happier. It kind of took my breath away going through the photo show because the day was captured so beautifully. Right now I am tasked with selecting around 70 photos to put in our wedding album. This is going to be somewhat difficult because I have almost 200 photos selected as my "favorites!" If you are interested in seeing the quality of Tana's work, a preview of my pics are up on her blog dated August 10, 2011.

In addition to shooting our wedding, Tana also shot family portraits of my brothers and I. Although Tana mainly photographs weddings, my mom loved her work, and wanted her to shoot pics as a surprise gift for my dad's 60th Birthday. Taking pictures of my family is no easy task - one of my brothers usually opts out of smiling, thus making an awkward close lipped grimace. I don't know how she did it, but the pictures she took were perfect.

My mom ordered prints from Tana and took them to Michaels to be professionally matted and framed. She ordered one picture that was huge - an over the fireplace pic. The man at Michael's that framed the pictures was amazed and said that it is a rarity to find a portrait of that size that looks as good as it's 4x6 counterpart.

I was fortunate to work with a lot of great vendors on my wedding day. However, if I were to recommend just one person, it would be Tana.

Cheers and Happy Wedding Planning -

Katie

Miranda

Married on 06/25/2011

Tana made my wedding day unforgettable. I have gone through my photos over and over again! She shot our engagements and our wedding. Both times she was very prepared and had an individualized plan of shots thought of to fit our style. She was super modern in her work, but caught every traditional moment of our day in an unforgettable way. She spent a lot of time with us while taking our portraits, and then was totally out of the way through the ceremony and reception. If I didn't have the photos to prove it I would almost think she had left! She is so nice, took my style into consideration, and now I have the most amazing wedding photos. She is truly about the couple and wants your day to be every bit incredible as you had imagined.

Jennifer

Married on 06/11/2011

Tana is wonderful! When I first started planning my wedding, I knew that our photographer would be one of the most important vendors to us. Tana was exactly what my fiance' and I were looking for. She is very classic and traditional - but adds a fun & artistic touch to her photos. She spent a lot of time creating our beautiful wedding album - which is something we will cherish forever.

Tana was always very responsive and easy to get ahold of...which made everything with her very stress free. She is truly a "breath of fresh air" when planning your wedding and on the day of, because she is prompt, organized, and takes care of details and photo ideas for you. We have no doubt that we picked the best photographer in town - and you will have no regrets booking your wedding with Tana! I will recommend her to everyone I know.

Kathleen

Married on 06/04/2011

I have to say how pleased I am with my wedding photos!!! I just received them today and they are beautiful, I can't wait to show them to everyone!
When my husband and I were looking for a photographer it was stressful to pick someone by just looking at their photos online, I'm someone who picks a vendor by how good the photos are but also how I get along with them when I meet them. Price was not my concern, I was prepared to pay for beautiful photos because I knew that was how I and my children are going to remember my wedding day. And I am so happy with the photos we have because I know I will look back at them and remember the happiest day of my life!
Tana was an instant match for us to pohotograph our wedding. During our quote session we really felt like she knew the look we were going for for our 50's inspired wedding and seemed so excited to be a part of our dream. I had a few friends recommend her and say they were so happy with the photos of their weddings and when my caterer recommended her as well I knew she would be a good fit us.
On the day of the wedding she was there early, I hate late people, so that was nice. She was ready to start photographing everything from the wedding site to my getting dressed right away! Even though my wedding photos session was shot in the heat of the day she did an amazing job of getting beautiful photos. I also really wanted some photos with a vintage fire truck, my husband is a fireman, she was excited to shoot with this big truck and all of us on there and tried many things to make it fun.
I truly can't say how happy I am with my photos by Tana, I feel she took my vintage feel and made it timeless. I can't wait to look back at the photos again and again. Thank you so much Tana for capturing my dream wedding!

Anne

Married on 10/30/2010

I hired Tana at the very beginning of our engagement and never regretted it for a moment. She did multiple shoots with my husband and I and each time I was beyond impressed with her and her work. We were nervous about the shoots but she made us feel at ease and we really had fun with her. Even more importantly, she spent so much time before the shoot thinking about how to stylize the shoot to match our personalities. She really worked with us and went out of her way to give us the best possible photographs! Tana was one of my absolute favorite parts of the wedding process! I would encourage anyone to hire her!
Are you interested?
Send a message