49 Reviews
Recommended by 97% of couples
Quality of service

4.9 out of 5 rating

Average response time

4.9 out of 5 rating

Professionalism

4.9 out of 5 rating

Value

4.7 out of 5 rating

Flexibility

4.8 out of 5 rating
Awards
4 User photos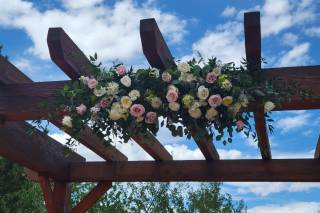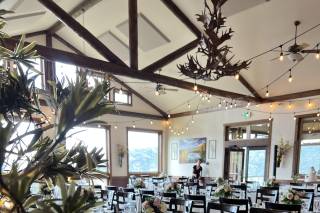 Rachel K.

Married on 09/03/2022

A perfect day!

Everyone at Taharaa really made our wedding a dream come true. They took care of any matter that could have been considered stressful and worked well with my other vendors and wedding planner! I was the calmest I ever thought I would be on my wedding day! My husband and I will always treasure the memories and look forward to visiting taharaa again for our anniversary.

Madison G.

Married on 09/01/2022

Wonderful!

great staff, beautiful view! Highly recommend!

Anabelle A.

Married on 08/13/2022

Absolutely Amazing!

This venue was everything we could have dreamed of and more! First of all, it is such a stunning mountain venue. The view is absolutely incredible and the reception room is stunning. There is a lovely bridal suite to get ready in and my whole wedding party raved about how seamless everything was over the weekend. Kathy was so wonderful to work with and responded to all of our questions throughout the planning process so quickly. Everyone was so kind and easy to work with, and was extremely flexible with some last minute changes we had.

I truly could not have been happier with this venue. Our wedding day was everything we could have dreamed of and it was mostly thanks to this incredible venue and team!

Are you interested?

Send a message

Vickie O.

Married on 11/06/2021

Absolutely amazing!


My husband and I held our wedding at Taharaa Mountain Lodge, and I only have amazing things to say about the venue, the staff, and our overall experience!

The lodge itself is unbelievable - it is luxurious yet homey at the same time, and makes for a wonderful mountain getaway for you and your guests. Vicky, the lodge manager, was so helpful with everything from accommodating for off-hours check-ins, any and all room needs, and of course, cooking delicious handmade breakfast every morning!

Kathy, the event coordinator, was just awesome to work with. She truly made the wedding planning process easier and less stressful. She was communicative, detail oriented, and always willing to hop on a call or set up a meeting for wedding planning details. Her expertise in this field really came to light throughout our wedding planning process, and it was very much appreciated.

The Twin Owls Steakhouse staff was professional and helpful, and the food is amazing! We got so many compliments on our wedding food

Sandra, the owner, made my husband and I feel so comforted from the get go. It's clear that she cares deeply about her guests' experiences, and will do everything she can to make your stay, your event, or whatever it is exactly what you had imagined!

Thank you, Taharaa Mountain Lodge, for making our dream wedding come true!

Andy

Married on 09/25/2021

All around a great venue for a wedding!

We had such an incredible wedding, and it was in large part due to having Taharaa/Twin Owls as our venue. Kathy and the team were nothing short of amazing. The space was terrific, food was fantastic, and the views were...well...priceless. Thanks again!

Lisa H.

Married on 11/21/2020

Spectacular Estes Park setting

Taharaa is all about hospitality, attention to your details, and excellence in service and food! Loved our beautiful event here. Chef Rich is exceptional at creating seasonal menus with your dietary needs in mind, and making the food beautiful and delicious. Sandra and her team appreciate all the details you provide and strive to execute your vision impeccably and joyfully.
You have no need of a wedding planner with the on point team serving here. They successfully coordinated 6 different vendors with our vision and timeline!

Highly recommend Taharaa for a one of a kind wedding experience!


Carolyn

Married on 11/16/2019

November wedding

My daughter's wedding was November 16, 2019. It was a perfect day and this very special venue was wonderful. They were easy to work with, and very helpful. We rented the whole lodge for the wedding party, friends and family, so it was like a big house party! The views from the covered porch are fantastic, and a dusting of snow when they said their vows added to the magical feeling. I would certainly recommend this venue, and thank you to everyone at Tahara'a for helping to make a fantastic wedding weekend.

Daniel P.

Married on 09/15/2019

Beautiful Mountain Venue

Taharaa is a beautiful place for a wedding! Every spot, from the suite, to the ceremony site, to the reception hall was perfect for our desired rustic (but not too rustic) mountain aesthetic.

Alex W.

Married on 07/27/2019

Phenomenal Wedding Venue!

Due to a mixup at our previously-scheduled venue, we were stuck less than two months out from our wedding in Estes Park without a reception venue. Without the super friendly and accomodating staff at Taharaa Mountain Lodge (and a lot of luck), we wouldn't have had the perfect wedding day that we did. Sandra and Thad were very responsive during our frantic process of re-planning, and couldn't have been more helpful on the big day. The views from the event room were breathtaking, the staff was great, and the local beer options added a really nice touch since we both love Colorado breweries. Taharaa was better than we could have imagined, and looking back we are so glad that everything worked out the way that it did!

Becca

Married on 05/11/2019

5/11 Wedding

Oh my goodness, I'm not sure where to even start with all the amazing things to say about Taharaa. Metta and Josh are some of the sweetest people we've ever met, and truly went above and beyond every step of the way for our wedding. We signed our contract with them 1.5 years before our wedding and were filled with questions throughout that time; they answered every one thoughtfully and thoroughly. We stayed at the lodge as did many of our guests and every single one raved about how phenomenal their customer service (and breakfast!) were. Metta walked us through every step of the wedding ensuring that we were comfortable and informed, and she handled coordination with all our vendors that day so my husband and I were never interrupted from the festivities. We are so grateful we had our wedding at Taharaa; it truly was a magical day and wouldn't have been the same without Metta and Joshs' help! If you're looking for a beautiful mountain venue, look no further. No matter which of the ceremony options you choose (the Pergola, the deck, or the Great Hall), you won't be disappointed!

Taharaa Mountain Lodge's reply:

Becca,
Thank you so much for taking the time to submit a review of Taharaa. We appreciate all the kind words, you and Brian were so wonderful to work with and we wish you both all the best! We look forward to welcoming you back to Taharaa for your 1st anniversary!
~Josh & Metta

Becky

Married on 06/30/2018

We absolutely love Taharaa ! We just got married there at the end of June and everyone was so wonderful who we worked with ! Metta and Terisa helped us with everything from the get go and have lots of experience :) In the end, our day was absolutely gorgeous and breathtaking; the venue has the best view of the mountains! Thank you Taharaa for making our day perfect!

Taharaa Mountain Lodge's reply:

Becky,

Thank you so much for your kind words! We are glad that we could host your event and help with all of the steps leading up to the big day. It was a beautiful wedding and you made a gorgeous bride! Please come back to see us again.

Regards,
Taharaa Staff

Teresa

Married on 10/27/2017

Rehearsal dinner

Rehearsal dinner in Nov 2022. Wonderful food and ambience. Great space for the cocktail hour overlooking the scenery. Tasting was wonderful and worked well with our wedding planner.

Erin

Married on 09/17/2017

Beautiful venue! We had our reception here as our ceremony was earlier in the day, and our wedding venue couldn't accommodate an earlier reception. The Great Room has absolutely stunning views! Terisa was very communicative and accommodating.

Taharaa Mountain Lodge's reply:

Thank you so much for taking the time to write these kind words. We strive to make every wedding unique and special, the views themselves make this come naturally to every wedding we host. Please think of Taharaa when you are celebrating any future special occasions as we would love to welcome you back.
~Taharaa Staff

Deb

Married on 07/24/2017

We had a small wedding reception at Taharaa and absolutely loved it!!! The owners and manager are wonderful and very accommodating. I am so glad we had the reception there and I can hardly wait to go back and stay there. Beautiful hall and beautiful views. It couldn't have been any better. Thank you Taharaa!!! And thank you Gourmet Kitchen for catering it. The food was absolutely delicious.

Taharaa Mountain Lodge's reply:

Deb,
It was a pleasure meeting you, and thank you for allowing Taharaa to be a part of Nick and Stacey's big day! Congrats to them and we wish everyone the best.
~Taharaa Staff

Lina

Married on 07/14/2017

We had our daughter's wedding at Taharaa Mountain Lodge last week and we couldn't have been happier! The staff there are just the best! Metta and Terisa were amazing. From start to finish, they were helpful and professional, yet easily accessible. The wedding and reception went so smoothly and I honestly didn't have to worry about a thing! From the first time I saw Taharaa, after my daughter and her fiance had chosen it for their venue, I was in love. What a beautiful venue and you can tell they take pride in ownership and making your stay as wonderful as it can be. I will not be surprised if the happy couple return for a more relaxing visit. Thank you Taharaa for making their day so memorable!

Taharaa Mountain Lodge's reply:

Thank you so much for taking the time to express these extremely kind words, they mean the world to us. It was such a pleasure to be apart of Erin and Mark's special day and to witness them begin their life together as husband and wife. Best wishes to the happy couple!
~Terisa & Metta

Ben

Married on 04/22/2017

highly responsive and on top of everything. They were always courteous and extremely accommodating. I highly recommend looking at renting the entire venue out. The views are AMAZING

Taharaa Mountain Lodge's reply:

Ben,
Thank you kindly for the review. We appreciate you allowing Taharaa and its staff to be a part your big day. Please come back and visit us for your anniversary.
~Taharaa Staff

Megan

Married on 02/25/2017

We could not have asked for a more stunning venue or more delightful staff to work with for our wedding! Terisa was the point person for our wedding and she handled all of the details seamlessly. I could always tell that she and the Tracy family were on top of things. We and our guests also loved staying at the Taharaa for several nights. The rooms are all stunningly beautiful (fireplaces, lovely decor, balconies with views, etc.) and the breakfast is divine! The staff here goes above and beyond. We will definitely be coming back for a future anniversary!

Erin

Married on 12/30/2016

Renting out the entire lodge for our friends and family was one of the best wedding decisions we made! Being surrounded by our friends and family the day before and after our wedding was so great. The venue itself is gorgeous and the staff was friendly and helpful. Highly recommend!

Taharaa Mountain Lodge's reply:

Thank you so much for hosting your wedding here at Taharaa Mountain Lodge. We wish you both the best.
~Taharaa Staff

Kristen

Married on 12/09/2016

This place is unbelievably amazing! Not only is the view the best in Estes Park, the venue is absolutely beautiful and the people are incredible! I am so happy with this place, and I do not believe there is any other place that I would have my wedding at. I wouldn't change my choice for the world and all of our family and friends loved it and thought it was the best as well! I know that if I am back in Estes Park, I will be staying there again! I can't say enough great things about this place, but I know you will not be disappointed!!

Taharaa Mountain Lodge's reply:

Thank you so much for taking the time to submit a positive review for Taharaa Mountain Lodge. We were honored to be a part of your special day, and wish the best.
~Taharaa Staff

Emily

Married on 10/02/2016

Fantastic Experience! We wouldn't change a thing!

After one week of being engaged, we were set on getting married in Estes Park. We toured two venues via Zoom, but Taharaa just blew us away. We really wanted a wedding that was all in one spot: reception, ceremony site, lodging, and more. We picked Taharaa for the beautiful views and their professionalism as a venue. Taharaa did all the heavy lifting for us and made our day magical. The food from Twin Owls was fantastic and Taharaa made our vision come to life! The staff was incredible to work with through the entire process! Kathy, Vickie, Sandra, Thad, Chef Rich, all wonderful! We rented out almost the whole lodge which made the lodging experience even more wonderful. The made to order breakfast and the honeymoon suite, all fantastic! I could go on and on! We definitely made the right decision with Taharaa for our wedding. We can't wait to come back and visit soon!

Melissa

Married on 09/03/2016

Literally the best wedding venue in Estes Park. We loved every minute at Taharaa. The views are incredible. The service is personal and outstanding. The breakfast was amazing. Everyone at Taharaa worked hard to make our wedding day spectacular. They were wonderful at communicating with us. We worked with other venues for the rehearsal, and Taharaa stood out among the rest when it came to customer service. We can't wait to return for our anniversary weekend!

Kathleen

Married on 10/10/2015

This was an amazing setting for our wedding weekend. I say weekend because we were the only event there for those three days. We ended up booking the whole lodge for our family and friends. They are a bed and breakfast and the breakfasts were amazing all three days we were there. The rooms were comfortable with amazing views and a real lodge feel. The great hall is bright, spacious, clean, and has a nice lodge feel with the antler chandeliers and fireplace, which served as the perfect place for our reception. The staff, especially wedding coordinators Metta and Terisa, were amazing. They went above and beyond to make the day of the wedding run smoothly according to our vision. From letting us come in early to decorate, to taking care of moving the gifts, and even running the bar. They worried about the details so we didn't have to. They coordinated with all the vendors so everyone knew where to go and what to do. They made the wedding weekend very personal and stress free. We would highly recommend the Taharaa Mountain Lodge as a beautiful setting for any special event. It will be a weekend that we and our guests will cherish for a long time.

Taharaa Mountain Lodge's reply:

It was our pleasure to help make your special day everything that you envisioned. This was a beautiful wedding for a beautiful couple. Please come back and visit us soon!

Sara

Married on 09/25/2015

We had our wedding at the Taharaa Mountain Lodge this past September and it was absolutely incredible. From our very first meeting with them to the day we left they went above and beyond for us to help us create the wedding of our dreams. We were really looking to have a laid back mountain wedding with our friends and family and that is exactly what we got. The venue is incredible with gorgeous views and with the option to book the rooms for our family and friends it just made it feel like one big home. We had a really low key wedding and actually did not do a lot of the "traditional" stuff that weddings and receptions often have and their staff embraced that with us, which I really appreciated. Also, they did so many things to make us feel relaxed and really special leading up to and especially on the big day. Breakfast is delicious every morning and the happy hours were great as well. The rooms are also very nice and I loved that each one had its own character. Everything is so clean and inviting. It was everything we were hoping for and so much more! We are already talking about going back to visit soon! Thank you Metta, Josh, Terisa, and Thom- you guys are amazing!!

Andrew

Married on 09/05/2015

Come For the Views, Stay For the Staff

Once you walk out onto the covered porch that joins the Great Hall, you will understand why you should have your wedding reception at Taharaa Mountain Lodge. What you will come to appreciate only during the planning and execution of your event is that, in addition to those views, you get a management team that is truly great to work with and committed to making your day as special as it possibly can be. The staff are involved from the beginning, and are able to help navigate issues and decisions, a lot of which you wouldn't have thought of on your own! On the day of the event, set-up was flawless and neither the bride nor the groom were bothered once with any questions. Same with the execution of the event and the interaction with our other vendors – caterer, band, dessert, etc. We can't thank the people at Taharaa for their help in planning and holding our event. And as for the space itself, our guests were in awe at the jaw-dropping beauty of Estes Park that is on display from Taharaa. We chose to put bistro lights on the porch, which made for a great "indoor-outdoor" space throughout the reception. And, we were lucky enough to have some elk join us outside for a brief time during our reception which was fun to watch. Finally, being able to rent out the entire lodge so every room was filled with friends and family was really special and made for a very "homey" feel the entire weekend. We couldn't be happier we held our wedding reception at Taharaa Mountain Lodge and look forward to returning many times in the years to come.


Taharaa Mountain Lodge's reply:

Carrie and Andy we appreciate your kind words and are so glad that you enjoyed your time with us here at Taharaa. Please come back to see us to celebrate all of your wonderful milestones as husband and wife! Congratulations again!

WOW! Taharaa Mountain Lodge was absolutely stunning and Trissa and team were outstanding. Our daughter chose Taharaa Mountain Lodge for her destination wedding in March 2015. Planning was all done long distance. They looked after every detail and put us at ease. The whole experience was a truly memorable and wonderful one. Breakfasts were especially fantastic!

You deserve each and every reward!

Thank you very much!
Are you interested?
Send a message