118 Reviews
Recommended by 98% of couples
Quality of service

5 out of 5 rating

Average response time

4.9 out of 5 rating

Professionalism

4.9 out of 5 rating

Value

4.9 out of 5 rating

Flexibility

4.9 out of 5 rating
15 User photos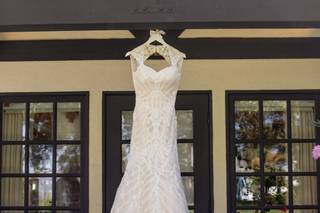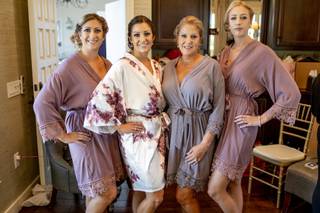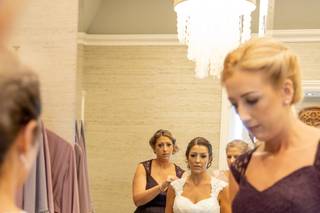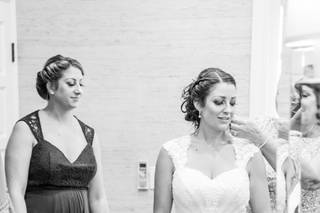 + 11

photos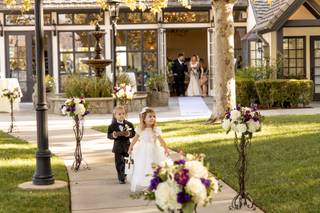 Sandra C.

Married on 09/03/2022

Loved it!!

Having our wedding at the Summit House was truly a dream come true! They were the first venue that my husband and I went to go see and we knew from the start that the Summit House was special. We tried to go tour other venues but the peace that we felt at the Summit House was undeniable. Everyone loved the food, the gazebo, and the view! It's such a beautiful place to have your wedding that it doesn't need much to make it outstanding as it already is. LeeAnn was so helpful leading up to our wedding and we were so appreciative on how organized she is. The Summit House did have a different "Day of Coordinator" for the wedding, and they oversaw all the "behind the scenes". If you want more 1-to-1 interactions, you might want to hire a wedding planner or an additional day of coordinator. Overall, our wedding day was perfect thanks to the Summit House!

Eric A.

Married on 06/11/2022

The BEST Wedding Venue

The Summit House gave us our dream wedding! Every aspect of the Summit House was beyond what we could have ever hoped for. The entire Summit House team was amazing from start to finish, but LeeAnn was truly the reason that we loved our special day. From the moment we stepped foot at the Summit House, we knew it was the perfect place for us. The location was beautiful, the views were spectacular, and their entire system was turn-key. We did not do the Everything But The Ring Package, but we still felt like everything was so streamlined. Every time we spoke with LeeAnn, all of our fears would go away because we knew that we were in good hands. The entire staff was professional, knowledgable, and truly amazing. Our wedding went off without a hitch, and that was entirely because of the Summit House. There is truly not enough good things that we can say. If you are thinking about getting married at the Summit House, don't look any further. We promise that you won't regret it!

Mignonne D.

Married on 05/07/2021

May 2021 Wedding

We had the most incredible wedding at Summit House! Working with LeeAnn and her team at Summit House was an ABSOLUTE DREAM. We originally had planned our wedding for 2020, but due to the pandemic had to postpone. We were very nervous that we wouldn't be able to have our future date available in 2021, but LeeAnn and all the wonderful vendors we worked with assured us that it would not be an issue at all. LeeAnn was so incredibly kind and responsive to all of the questions I had. She made sure that everything was taken care of and more than anything calmed me down when I would psych myself up for no reason. It was an absolute pleasure to have her as our wedding coordinator.

Our actual wedding day was May 7th, 2021. A day prior, we had dropped off all of our little decorative items that needed to be displayed at the reception. LeeAnn and her team executed all of my visions into a reality. We opted to have our cocktail hour and reception at Summit House, while having our ceremony at a church. Not to worry though, Summit House has a beautiful park and gazebo if anyone chooses to have their ceremony on site. Our reception space was ABSOLUTELY GORGEOUS. Not only is Summit House on top of a hill overlooking Orange County, the cute cottage-like, romantic ambiance of the venue makes this location an absolute MUST for a wedding.

We had an open bar along with the most delicious hors d'oeuvres for cocktail hour. What my husband and I enjoyed the most was that everything was so well taken care of so we actually got to enjoy the cocktail hour ourselves. LeeAnn was also kind enough to bring me and my husband our own little tray of hors d'oeuvres to the bridal suite so we could take a few minutes to ourselves and enjoy the delicious food in peace.

Our timeline for how the night was supposed to go was executed without a hitch. My husband and I, along with our 100+ guests, were so impressed by the service, the food, and the venue. The food was out of this world! Most people tend to think that when food is made in such large quantities---especially at a wedding---something tends to lack. That was absolutely not the case at Summit House. We opted for a plated dinner with Filet Mignon, Stuffed Chicken, or a Vegetarian pasta as our meal choices. Every single steak was cooked to absolute perfection and the chicken was so moist. The vegetable pasta had the most scrumptious sauce. Bread service, along with tea and coffee was also available for all of our guests. We had so many of our guests coming up to us sharing that the food at our reception was the best wedding food they have ever had. The service that we received from all of the servers, along with the vendors present was impeccable. They made sure that not only the bride and groom were happy and having a good time, but that also the guests were as well.
All in all, we could not have asked for a more perfect reception. We feel so lucky to have had the opportunity to have our wedding at the Summit House.

To the Summit House team, we want to thank you so much for giving us the best day of our lives. We thank you for all of your hard work in making May 7th, 2021 a day we will never forget!

Should you have your wedding at Summit House? Not even a question. YES YES YES!

Are you interested?

Send a message

Spectacular

We were so impressed with the beauty of this venue combined with the professionalism of the staff and the quality of the yummy food. Our guests raved about the food and the views as well as how nice and comfortable the ballroom is. We received a lot of advanced help from Lee Ann and Tiffany to make the wedding day stress free. The staff took care of all the details so that we could really enjoy and be fully present at our daughter's wedding. We would recommend booking your wedding or event here, it is exceptional !!

Tanya B.

Married on 05/10/2019

The Perfect Venue

The Summit House was the perfect venue for our wedding on October 5, 2019. We were truly blessed to have found this venue. A friend of mine had gotten married there several years ago and I always remembered it being beautiful with great food. We were originally very excited about visiting an old speakeasy. However, since that venue was purely a blank canvas and everything would need to be brought in, we decided to also look at a venue where they offer packages and pretty much take care of the bulk of it for you. That is when the Summit House popped into my head...plus my dad often raved about the restaurant. Long story short, we visited the Summit House in the morning, immediately fell in love, called to cancel our appointment to tour the speakeasy that evening, came home and made the deposit. My husband and I instantly knew that we wouldn't want our wedding ceremony and reception to take place anywhere else. We went with the EBTR package and were referred to the most wonderful vendors. We seriously could not be more grateful for their vendor referrals and the vendor open house event they put on. We got married at the gazebo at Vista Park and our reception was at the Summit House. We cannot say thank you enough to LeeAnn and her team for helping make our dream day possible. They went above and beyond from our first meeting till after the wedding. I am an over thinker, planner, organizer, etc. so you could only imagine the amount of emails I had sent and times I went to visit the venue. Not once did they make me feel like I was annoying them. They were always so gracious in calming my nerves, answering my questions, and taking time to meet with me at the venue. LeeAnn and her team helped me out so much that I didn't even need a wedding planner. If you are looking for a venue, look no further. All of our guests had the kindest words to say about our wedding and it was in large part to everyone involved that made our dream wedding come true. Plus, you can't go wrong with a venue that has the most delicious food! In the end your guests won't remember much, but they will always remember how good the food was. The Summit House will check all of your boxes.

+ 8

photos

Stella

Married on 01/19/2019

Amazing wedding venue!

After looking into multiple wedding venues we decided upon Summit House Restaurant for the following reasons:
1) Close to home. We didn't want distance or driving to our wedding to be a pain in the butt for people. And Summit House was perfect in that most of our guests were from Orange County or LA.
2) Beautiful venue with outdoor ceremony & indoor reception. I loved their ceremony site with the gazebo & how guests would be sitting up on hill so they can witness our ceremony without any obstruction. Plus I wanted the reception to be inside due to weather concerns.
3) Reasonable Price. Honestly weddings are expensive but Summit House had very competitive pricing and was very reasonable.
4) Good food. Both my husband and I are foodies. Therefore, we did not want the food to suck... and the food at Summit House was amazing! On the day of our wedding the food tasted better than it did at our tasting. We were both very impressed.
5) Plenty of parking. Summit House has complimentary valet & self parking.

My husband & I got married at the Summit House this past weekend, 1.19.19. Honestly, it was the best decision we ever made. So glad we went with them and not another place!

Once we booked Summit House. Planning our wedding was like a breeze. LeeAnn and Mark answered all my questions regarding our wedding via email. They were quick to answer even the minor questions I had. Paying for venue was easy as well & they take CREDIT CARD!!! Score with the mileage points!!! Plus the tasting is an awesome experience for the family. It was like a meal with full plating of the dishes! Our families all enjoyed the experience!

We decided to do the Tudor Package & Buffet. Tudor Package comes with chivari chairs plus 3 passed appetizers & champagne & wine served at the table. I think it's a great deal if your guests drink! For those that dont drink they had martinelli apple cider for our guests. My husband and I didn't get a chance to try their apps bc we had to take our wedding portraits but our guests said they were delicious!

I went with the Buffet even though it was slightly more expensive bc I didn't want to worry about who's going to eat what & it was a good idea! People got to choose what they wanted to eat and not eat. Plus people were given the option to go get seconds if they wanted! My groom took advantage of that! Plus we had couple kids with severe allergies & Summit House made a separate plating of food for these kids and served them directly at the table. One the kid's mom praised Summit House for this and mentioned that it was the kid's first time trying green beans and that he loved it! Plus the groom and I got served with a plate full of everything from the buffet. I have heard of horror stories where the bride & groom doesn't even get to eat at their own wedding. This was not the case for us! We were so full from dinner!!!

The hosted bar at our wedding was a nice touch! Some people were taking advantage of it but it still didn't even hit our budget of $2000 since there was champagne & wine being served at the table. The bar was nice at the end of night when people were dancing they could grab drinks as well. Our bartender was nice & even took some pictures for us. Lol :)

Honestly, if you have your wedding at Summit House you do not need a wedding coordinator... unless you are REALLU bad at planning OR you dont want to plan. I am a planner & I planned everything from the day we got engaged up to our wedding day. But Summit House executed everything I wanted for my wedding on the day of since I personally wasn't able to.

LeeAnn & Cristina made sure everything was set up the way I wanted on the day of while I was getting my hair & makeup done in their bridal suite.

Mayra helped us with our wedding ceremony walk thru during rehearsal and on the day of. She made sure the ceremony flowed smoothly.

Cristina made sure reception went as planned & made sure to feed us! :)

Sam stayed thru out our reception and made sure everything ended nicely.

There were so many people at Summit House who made sure that our wedding went well. For that they were wonderful! I knew on the day of that I can just let go and let them handle it!

I most definitely recommend Summit House for your wedding venue! If you are contemplating... JUST DO IT! You won't be disappointed.


Heather

Married on 09/22/2018

Don't think, just say I do!

This review is way overdue. When I think back to my wedding day and I think of a word, no other word comes to mind other than "perfect." My experience from beginning to end was phenomenal with Mark and his staff. Summit House was the first venue I looked at and when I say I should have stopped looking, I really mean it. No other venue can come close to how amazing Summit House is. Nestled on the top of a hill, you have a beautiful panoramic view of Orange County, the venue is immaculate and classy, and the food is delicious. The ballroom is already donned with beautiful ceiling piping and not to mention the light that comes through the ceiling to floor windows, it is the ideal venue location that truly offers it all. I can't even begin to thank Mark and his team, they were so considerate of me and my crazy bride/wedding wants and dreams. If you are even considering Summit House, make sure you definitely check it out. You won't regret it at all! Thanks again for making my wedding so memorable!!

Cindy

Married on 10/15/2017

If you're thinking of having your wedding here, DO IT!

The first time I step foot in here, I knew this was going to be our wedding venue. It has a romantic countryside feel to it that is also elegant and classy. Aside from the obvious beautiful view and building, I wanted our wedding to have AMAZING food (prime rib here is top notch)

But the part that surprised me the most was the service. Marco the banquet manager is AMAZING. He was like my 6th bridesmaid. He was there whenever I needed him (fixed the train on my dress for photos, held my bouquet, offered to bustle my dress if we didn't know how, brought us drinks, set up all the decor, etc). Not only did my fiancé and I notice how well he took care of us the whole evening, my family noticed too. That is a huge compliment. You can't buy service like that anywhere. Our server Cris was also superb. She'd check in on us with our beverages in between photos and during dinner time, she made sure we were taken care of. The staff made sure the wedding was a great time for everyone. Also I love my prime rib cooked medium rare and so I requested it that way for the wedding. I made a note on the invites that it would be served that way in case some people can't eat it then they can pick something else. Unfortunately I did see some plates be sent back to the kitchen for being too pink. I felt so bad for the wait staff for the trouble but they took care of my guests regardless. It really was the best day ever and it would not have been as amazing as it was if it weren't for the staff here. Thank you for making our wedding day PERFECT!! Again especially to Marco!!!

Jennifer

Married on 09/10/2017

I had my wedding (reception only) at Summit House on 9/10/2017, and we are so happy we decided on Summit House for our venue. Aesthetics-wise, it's really up to each couple's personal taste, so you'll have to see the venue for yourself.

Like other reviewers mentioned, Summit House and their staff are a well-oiled machine. They have done so many weddings and their experience, professionalism, and service level really set them apart from other venues. We were initially a bit worried when Carmen, the wedding events director who had shown us the venue, left in between when we booked the venue and when our wedding was, but Mark, Erin, and Marco are a great team and were able to allay all of our concerns. They are super prompt in responding to emails, let us visit the venue multiple times with our coordinator and were always on hand to answer our questions, which was so nice because we kept changing our minds about things.

Throughout the wedding day, Marco or someone on his team were always on hand to give me water, give me food, and just make sure that my husband and I had any needs taken care of. He also is a pro when it comes to prepping for wedding sparklers.

Kim

Married on 08/20/2017

My husband and I just had our wedding here this past Sunday and I must say that our experience was beyond our expectation! The food was from the hor d'oeuvres to the entrees were spectacular! Our guests couldn't stop raving on how delicious the food was and how beautiful our wedding was. But what set the Summit House apart from the rest was the level of service we receive. Marko was there to assist us the whole day. He kept us calm, made sure we were well hydrated and ensured that we finished our meal. We even had a minor emergency with the flower girl baskets but Marko fixed it on the spot! Thank you Summit House for making our wedding so memorable for us!

Jimmy

Married on 05/20/2017

We found Summit House by eating there after we had just been engaged with my now wife. We were sitting there thinking the Prime Rib was absolutely amazing and the view was stunning. We thought, "This is everything we wanted in a wedding venue, good food and a beautiful location. We wondered if they were also a wedding venue."

Little did we know, Summit House was one of the most popular wedding venues in the area. I've since hiring Summit House, known so many people who have been to a wedding there or had their wedding there. I've vetted all the nearby venues and none could compare to Summit House. They give you the venue space for the entire day and were always there for you from the initial planning to our final wedding day. I am so glad to have had Mark and his team to work with on our wedding day. On the day of our tasting, they gave us so much food and every dish was absolutely delicious. If food is the most important highlight of your wedding day, Summit House is the perfect fit.

Special shout out to Marco, the maître d', for being there on our wedding day. This man deserves a raise! He was there from the beginning and making sure we were properly hydrated throughout our photo-shoot and making sure our photographer could get the shots we needed. Marco is incredible, really went above and beyond, I could not have thanked him enough. He made sure everything went as planned and also helped take care of the little changes that came up on the day of.

Amanda

Married on 04/30/2017

DEFINITELY worth every penny!!! An ABSOLUTELY AMAZING venue...

Kelly

Married on 03/25/2017

My fiance and I feel in love with the Summit House on our first visit. It was everything we were hoping for and Carmen and Mark were the absolute best to work with. They were both incredibly responsive and helped make our daytime brunch wedding reception a reality! The food was to die for and we loved that they were willing to try a new menu for us, from their signature prime rib to the strawberry cream cheese french toast, there was something for everyone. Mark and Marco helped run our wedding reception, they made sure my husband and I were taken care of from the moment we got there. Marco arrived with appetizers and water (with a straw for me!) immediately. Throughout the day, Marco kept us calm and always helped us know what was coming next...from the Grand Entrance to the cake cutting he was there and guided us through everything. Mark was wonderful as well and acted like a bodyguard for my husband and I while we ate -- to make sure that we actually did! I was blown away by the service at the Summit House, we all truly felt like royalty for the day. All of the vendors they recommended were a pleasure to work with as well.

My husband and I had the best day of our lives celebrating our wedding at the Summit House and we can't wait to return for dinner on our one year anniversary! We cannot thank Mark, Carmen, Marco, and team enough for everything! Everything was so easy with the Summit House, so much is already included, and it really is an incredible value.

Catherine

Married on 01/28/2017

We absolutely LOVED our wedding reception at the Summit House. Carmen and Mark were easily accessible via email or by phone. They were very flexible with us, even up until the wedding day. Marco was simply AMAZING. He made sure that we followed our schedule and most importantly, that we ate. Words cannot describe how grateful we were for all of the help and support the Summit House staff provided us. We would definitely recommend this venue for anyone getting married. All of our guests were in love with the venue and the food. We couldn't have imagined a more perfect place to host our party.

Emily

Married on 01/21/2017

I truly do not have enough words to articulate how phenomenal the Summit House is-our wedding was an absolute dream because of the staff at the Summit House. It was the first place we looked (as it is a special place for us) and, luckily, we were all immediately impressed with Carmen, the venue, everything. She is so down to earth and you can tell she has seen it all, done it all, and can make it all happen-her business and service mindset set the foundation for everything. She responds quickly and nothing ever seems to be out of reach. I will say, she is not here to be your chatty BFF for a year (though she is extremely friendly), she is here to ensure your wedding is the best day you can imagine, no matter what it takes. You get a dinner for your tasting and you literally get 8 full meals. The food is wonderful-if food is important to you, this is your place. We have received countless compliments across the board. The entire wedding weekend is a dream-from rehearsal with Mia, the ceremony coordinator, to the end, you do not need to think or lift a finger. Marco, their day of coordinator, is by far the most amazing thing to happen to any bride. Seriously, my cousin told him he needs to brand himself. He has every detail thought of before it comes up, has a backup plan or solution to everything (he even fixed my broken bustle himself) and he ensures everyone is eating, drinking, and being treated like royalty. Our entire wedding party felt like they were getting married! Staff was always around us with water, cocktails, food, etc to ensure we didn't miss out on anything. Planning a wedding was a very overwhelming concept for me, as we did not have a planner or coordinator, and the Summit House completely rid me of that feeling and proved all those things unnecessary. I honestly cannot imagine any other venue with this level of quality and service-you do not pay enough for what they provide. I had the wedding of my dreams and then some!

Shannon

Married on 01/14/2017

We just had our wedding there and it was an amazing night! Carmen was so organized and helpful throughout the planning process. She helped to recommend top-notch vendors and her even-temperness was so helpful on the wedding day. Marco the banquet manager was amazing! He was so calm, organized and helped us with every single thing. My bridesmaid kept saying she was going to take Marco home so he could help organize her life-ha! Marco and Carmen are quite a team and for planning a wedding from far away, they helped to make it so easy. 10/10 would I have my wedding at Summit House again!

Lauren

Married on 10/02/2016

Summit house is absolutely amazing from the venues appearance, the amazing food and the perfect service. We had our wedding on 10/16/16 and if we could, we would do it all over again. Carmen is amazing, she makes everything about the planning process stress free. Marco and Erick were a big help the day of and they make sure everything runs smoothly. We have heard amazing feedback from our guests who we enjoyed the food and service. Definitely look at this venue, it is gorgeous, day or night and they are wedding experts. It is no doubt the total package! We fell in love with it the moment we saw it and the day of the wedding we fell in love with it all over again. Thank you so much to the summit house staff!

Hanna

Married on 09/04/2016

I can't even begin to tell you how amazing the summit house is. This is the best value, best service, best anything you will find in Southern California. Carmen has been in the business for a long time and knows what's she's doing. She's super professional, responds to all your never ending questions, and works with every little request - big or small. She's will help you make the best decisions and guide you in anything you need. Plus, they take care of you on the day of the wedding like no other venue will.

Marco is AMAZING. He will make sure your event goes as planned, while making you feel so comfortable on such a busy day. He's the best 'day of' coordinator you can find. And the definition of going above and beyond. For example, during photos he and his staff followed us around with water to make sure we stayed hydrated and feeling our best. He also made sure everything stayed on schedule. He even carried my dress and flowers while we were going to different spots for photos. I mean he truly exemplifies someone who puts guests first.

Now, the food. It's amazing. Our guest couldn't stop talking about the flavors and presentation. And the place is equally as beautiful.

So look no further. You have found your dream wedding spot at summit house!

Nicole

Married on 08/20/2016

We had our dream wedding at the Summit House. Wonderful Carmen and Marcos and their team were conscious of every moment and kept our schedule on track. So thankful that my husband and I didn't have to think of what we were supposed to do next. Our wedding was the second wedding we had either been to, so everything was pretty new to us, but the Summit House staff made it all look flawless.

The venue itself is magical. It is at the top of a hill with a great view of OC and even LA on a clear day. Inside, the many windows surrounding it make it seem more open than it already is. There is also updated carpeting, a beautiful dance-floor, and draped ceilings. Our guests loved the fact that they could utilize both the inside or the outside. It was lovely. The bridal room in which I hid out in before the grand entrance was also so lovely with couches and mirrors and plenty of room, not to mention a password safe door.

Lastly, the food was phenomenal. Our food-tasting day was one of the best ever haha. It was actually so hard to choose our menu because everything tastes so delicious. Many of our guests absolutely loved the dinner, which does not surprise me. Overall, we are both so so happy we went with the Summit House. The staff, the beauty of the venue, and the food were top notch.

Andrea

Married on 06/23/2016

Carmen is the absolute BEST catering director in the world. She has made my wedding planning so much more stress free!

Sabrina

Married on 06/18/2016

The venue is gorgeous and the staff is amazing! I received nothing but compliments from the bridal party about how smooth the day went and how the staff was so nice and worked hard for us all day. Also, guests LOVED the food and the atmosphere. So many perks (valet parking, 4 entree choices, unlimited champagne for bridal party, etc.) included in the total price!

Sandra

Married on 05/06/2016

Summit House was THE PERFECT venue for our wedding. We fell in love with the location and the wonderful staff. We definitely could not have pulled this off without all the endless assistance from Carmen and Marco and the rest of the staff at Summit House. My husband was completely blown over by the service and the attention to detail from the entire staff. They made a stressful day as easy as possible for us. Summit House was definitely worth the investment and more and we would recommend it to any couple looking for a fabulous venue! We love Summit House and our guest can't stop talking about our beautiful venue as well. Summit House is definitely a wonderful venue all around.

Kayla

Married on 04/30/2016

Summit House was the perfect venue for our wedding. We had our ceremony and reception there for 150 guests. Everything was absolutely amazing from the delicious prime ribs to the beautiful view to the most accommodating staff. Our wedding day would not have gone smoothly and stress-free if it weren't for Carmen and Marco. They were awesome and basically ran the show. They set up all of our decorations and made sure the bridal party and us were fed and hydrated throughout the day. They even had a waiter followed us across to the golf course up the hill with a tray of beverages while we were taking pictures. Book them if you want a beautiful and stress-free wedding!

Jamie

Married on 04/16/2016

Our experience with Summitt House was amazing! They helped make our wedding day the best day of our lives and we still have people telling us that our wedding was the best wedding they've ever been to! I would recommend this venue to anybody!

Jen

Married on 12/26/2015

Carmen and Marco were an absolute pleasure to work with. From the start of the process to the very end, the Summit House was very accommodating and made us the priority. We had a beautiful wedding celebration thanks to the kind and genuine hearts from this dream team. Our family and friends were very pleased with the venue and food especially! We could not be happier with the results!
Are you interested?
Send a message