Reviews
4.9 out of 5 rating
Quality of service

4.9 out of 5 rating

Average response time

4.8 out of 5 rating

Professionalism

4.9 out of 5 rating

Value

4.8 out of 5 rating

Flexibility

4.9 out of 5 rating
97%
Recommended by couples
49 User photos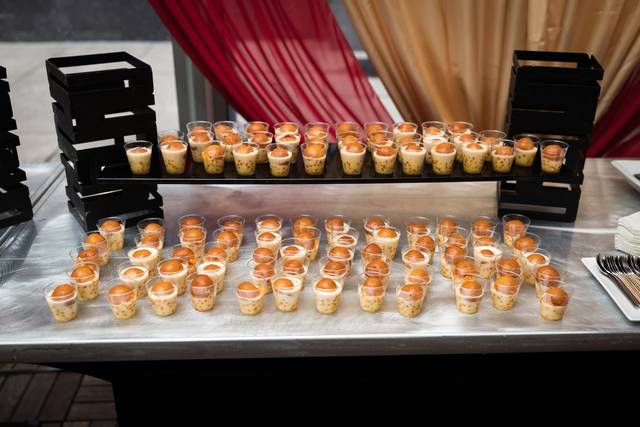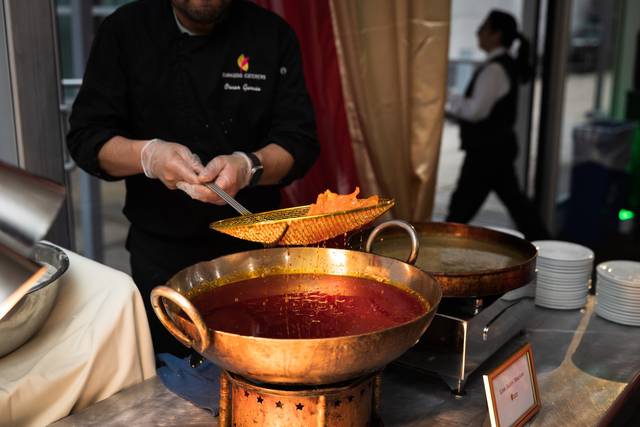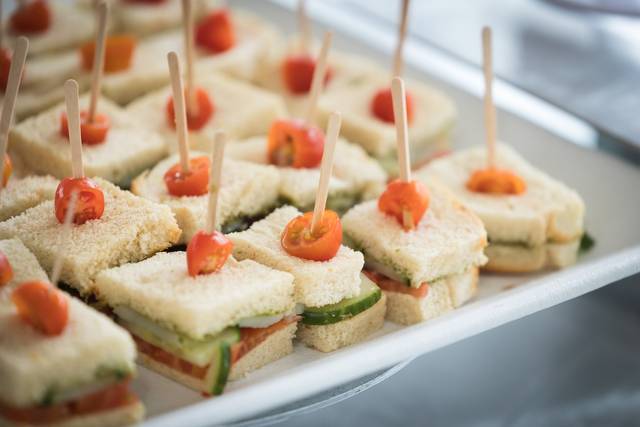 + 45

photos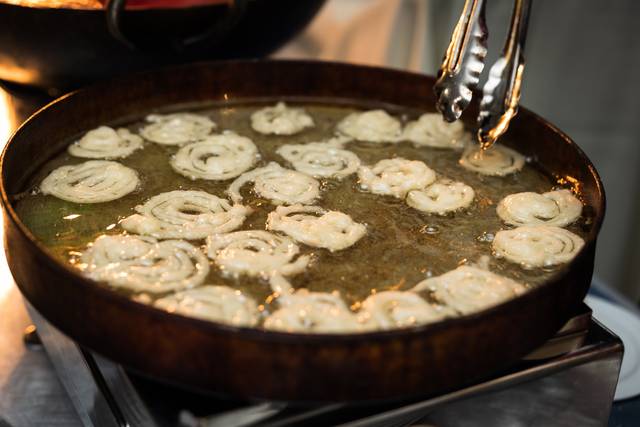 Vidya A.

Married on 07/02/2023

Excellent Food and Presentation

Sukhadia did a fantastic job. They were very easy to work with. Shaivi paid a lot of attention to detail and helped us with our needs for the religious function. We had asked for specific things for the Muhurtham and she delivered flawlessly. The food including the presentation wowed all our guests and the quality was outstanding. Hot Jalebi station was a instant hit. Shaivi and her team are the best and we would definitely recommend them for any event. Thanks Shaivi!!!

+ 6

photos

Pankti

Married on 05/27/2023

Amazing food, unique menus, and genuine people

I had the best experience with having Sukhadia do my wedding events. The food was amazing and they offered so many unique items. The attention to detail was next level- Sukhadia hand crafted macarons for our wedding ceremony. They really personalized the menu for our needs. I have a nut allergy and they were able to create a menu to fit my requirements. Our guests were raving about how good the food was. I highly recommend Sukhadia for any event!

Ketan P.

Married on 05/20/2023

Amazing Food and Outstanding Service

Sukhadias was an amazing caterer for our NJ wedding. Shaivi was very thoughtful and helped us come up with a custom menu for each of our 3 events. The wide variety and style of cuisine possibilities was evident at our tasting – and convinced us Sukhadias was the way to go. In addition to the main events, the Sukhadias team also helped us come up with innovative solutions for breakfast and ceremony options. Our friends and family are extremely discerning when it comes to the food at weddings – our guests could not stop raving about the selections, presentation, and of course the deliciousness of the food itself throughout our wedding weekend. Shaivi and her father are extremely professional, but more importantly kind and warm individuals. We're so glad Sukhadias catered our wedding and we would highly recommend Shaivi and the Sukhadias team.

Are you interested?

Send a message

Vagmin V.

Married on 05/13/2023

Home Party for 60 people. Outstanding Service and food.

We hosted a party for 60 people on 5/13. We were a bit apprehensive as we didn't know what kind of quality we would get. Needless to say we were blown away by their service and food.
Sukhadia's went above and beyond our expectations. We wanted a 100% Gujarati / Rajasthani food. The food quality was outstanding! They threw in an extra main course and a starter at no additional cost. All our guests were raving about the food! Their service was truly exceptional. We had a live station for Bajri Rotla and Halwa. That was a home run with everyone.
Their service was par excellence! They managed the whole show without coming to me even once for anything throughout the party.
I would give them 7 stars if I could.

S P

Married on 10/01/2022

Excellent!!

Thank you for putting together an excellent engagement dinner. The food was delicious and the presentation was very elegant. Our guests loved it and gave us a lot of compliments on the food. Thank you to Shaivi for being there in person and making sure everything went so smoothly.

I am happy to write a positive review for them. Our friends also asked for their contact information and will be getting in touch with them in the future.

They did amazing!

Sukhadia's did an amazing job catering my engagement party! They were extremely professional and the food was amazing.

Ritu K.

Married on 09/22/2022

Outstanding catering experience with Sukhadia

We had Sukhadia cater for our daughter's wedding in NH. The lunch as well as the dinner were both outstanding. All our guests loved the food as well as the mithai's. The chaat was a huge hit and very well made. The desserts were superb and fresh jalebi's were much loved by all. Shaivi attended to every detail and a wonderful time was had by all. Thanks Sukhadia for all your hard work. We appreciate it!

Tamseela G.

Married on 07/01/2022

Absolutely amazing

I was so happy we went with Sukhadia. Shiavi is so pleasant to work with, and really knows what items to combine together to create the perfect menu. She was so accommodating for the food tasting, and willing to tweak dishes to our taste when needed. I would 100% recommend. The food was absolutely amazing.

Nidhi S.

Married on 05/29/2022

Amazing team and good

We signed with Sukhadia in 2019 for our 2021 wedding. Shaivi and her team have been extremely accommodating and flexible even when we had to postpone our wedding to 2022 and make multiple changes to the menu items. Shaivi is extremely professional and very reachable, and she always has suggestions on ways to make the menu creative but also within your budget. Mr. Piyush managed all five of our events seamlessly on the day of. All of our guests raved about the food! We had everything from Gujarati, Punjabi, South Indian, Thai, Street food, Italian, and Mexican dishes, along with numerous live stations and desserts. Sukhadia really excelled from the presentation of the food, to the service, and most importantly the taste. Even months after our wedding, our guests complemented the unique food items we had at our wedding. We really enjoyed working with the team and look forward to future events together!

Deepa C.

Married on 05/21/2022

An unbelievable experience

We could not have been luckier to find Sukhadia for our wedding catering. Their team catered three events (sangeet, ceremony lunch and reception) and were the most professional vendors we worked with by far. Shaivi is incredibly responsive to email and had great ideas that catered to our South Indian and Gujarati families. Our guests truly have not stopped raving about the food (it's been more than three months!). From the dosa station at our sangeet to the authentic avial and dhokla at our ceremony lunch to the AMAZING cocktail hour food (pani puri shots, mini uttapam, mogo fries), we could not believe how tasty and fresh every bite was. Our only regret as the bride and groom was that we didn't eat more and really hope to be invited to a wedding catered by Sukhadia soon!

Santoshi R.

Married on 03/26/2022

Our favorite vendor

Sukhadia Caterers were one of our favorite vendors at our wedding. The whole team along with the owners: Piyush Patel & Oscar came to Houston from New Jersey from Thursday to Sunday to make the event wonderful from breakfast to dinner every day!
They went above and beyond with their food and service and made us feel like they were family. It was so easy to work with them to plan an amazing wedding with south indian, gujarati, mexican, mediterranean, and asian food at our haldi, sangeet, wedding and reception! They also made the best welcome baskets for all our guests at our hotel to enjoy with fabulous snacks and wonderful presentation.

Outstanding quality of food and service! 10/10

Akhil S.

Married on 01/29/2022

Stress-free Caterers

Sukhadia's has been nothing except exceptional. Their team is professional, flexible, and supportive. All three of our events had various dietary restrictions, but Shaivi, Chef Oscar, and Piyush were completely understanding and accommodating.

From the beginning of the process (contact, setting up the menu, and food tasting) to the actual execution day of, we had zero issues with the Sukhadia's team. On top of that rave reviews about the food from our guests! The team was very creative and the food was incredibly fresh and flavorful. Even a few months after the wedding, guests still tell us about the unique food items they were able to enjoy at our wedding.

It was a pleasure to work with the Sukhadia's team, and we would highly recommend them for any event!

Chirag P.

Married on 07/17/2021

The Perfect Caterer & Best Food!

Our journey for a caterer started in parallel with our search for a wedding venue. As I'm sure many Indian couples can agree, food was extremely important for us. As Shaivi was a personal friend, we decided to reach out to her for a quote. Although their team have catered destination weddings all over the country, they had never done an event in Lake Tahoe before. We were a bit hesitant on the initial call as we wanted someone who knew the area, however Shaivi expressed her confidence that they would be able to do accommodate us and make it an amazing weekend. After doing the tasting at their NJ office, we were completely sold. Not only did we appreciate the presentation, taste, and variety, but the pricing was reasonable and the team felt like family.

Our wedding took place at The Ritz Carlton, Lake Tahoe, which has never allowed outside caterers for weddings, but after an incredible amount of pressure, they agreed. It was important that they felt comfortable with the professionalism and quality of the outside caterer and Sukhadias was the perfect fit. Apart from doing a physical site inspection at the resort, Shaivi kept in constant communication with the F&B team there and made sure both teams were able to work with synergy. The Ritz was super impressed with Sukhadia's operations.

When we arrived in Lake Tahoe, Sukhadias was already there prepping for all of our events. Little did we know the obstacles that they had to overcome; with their cargo flight getting cancelled a few days before, Shaivi made the call to have over 1000 lbs of food be brought to Lake Tahoe via their Sukhadias van all the way from New Jersey! She also had to deal with many last minute changes to the layouts, but handled everything with ease.

Throughout the weekend and even after the weekend was over, our guests RAVED about the food. Absolutely nothing but compliments and dozens of people said it was the best food they had ever had at an Indian wedding, including some non-Indian guests who could not stop eating the food at the Vatan Village station! At the reception, people were in awe at the endless table of desserts. Also we are so glad we upgraded to have fresh jalebis at the goodbye brunch -- they were be the best we ever had.

We feel honored to have had Sukhadias cater our wedding weekend and thank you Shaivi for sincerely making all of our events special for us and our guests. Five stars all around and next time we have a big event, they will be top of mind. If you are looking for a caterer who will go above and beyond and make sure everything is perfect down to the dot, hire Sukhadias! Thank you Shaivi, Oscar, and the rest of the Sukhadias team for helping us create an unforgettable weekend.

Mona P.

Married on 07/04/2021

Very responsive and professional

Sukhadia caterers we're so easy to work with and very professional throughout the entire wedding process. The food was great and Shaivi was on site handling everything from the smallest to the largest detail. We got so many compliments on the food presentation and taste from all our guests. I would highly recommend if you're looking for a wedding caterer!

Meerali P.

Married on 06/19/2021

Ft. Lauderdale 3 day/5 event Indian Wedding

Absolutely beyond amazing food, variety, presentation, and professionalism from Shaivi and her team!!! We've been planning our 3 day, 5 event wedding with Shaivi for over 2-3 years. Her attention to detail and planning for different food options and live stations at each of our events made our wedding the #1 wedding that all of our guests have attended or thrown themselves! Our guests can't stop raving about all the new items they tried (a live sushi station) to how wonderful each of the Indian food items was. After waiting a year in a pandemic to have a wedding, our guests truly appreciated having all the food items they haven't had in a year available to them in a 3 day span!! We had no less than what seemed like 50+ different and unique items over 3 days and each item was even better than the next!! We would recommend them to anyone to use for their events or weddings to have the most incredible experience!!! Between the live stations and additional food displayed and available, we know we had happy guests leaving each of our events fully stuffed to the brim. Their food and presentation helped elevate our wedding to a next level success that we hadn't seen coming!!

Ashwin A.

Married on 06/05/2021

Sukhadia Caterers are rockstars, look no further!!!

Out of this world wedding services!! Shaivi, Oscar, and the entire Sukhadia Caterers team completely knocked the events for our New York City rooftop wedding out of the park! Choosing a caterer at the beginning of wedding planning based off of quotes and menus is one thing, but having your vendor plan with your wedding team to deliver an exceptional experience come the big day is a completely different thing, I couldn't have imagined any other caterer being able to do what Sukhadia Caterers did for our multi-event Hindu wedding in NYC.

Shaivi & Oscar guided us throughout the entire planning process, brainstorming themes & event flow, selecting dishes, ironing out day-of plans, etc. Once they understood what our vision was for the big day, Shaivi & Oscar came up with the most creative and innovative ideas for presentation of food and an action plan on how to wow our guests. They went above & beyond to ensure our day was amazing and they definitely exceeded every expectation we had.

The food, the food!!! The food was amazing. Whether it was veg, non-veg, or snacks & dessert, each dish that we selected for our big day was absolutely delicious - they were able to accommodate both South Indian and North Indian cuisine that allowed us to represent the different backgrounds of our families. Even a week after our wedding, our guests are still raving about the food, the presentation, and the creativity that the Sukhadia team brought to all of our events.

Most caterers focus mainly on the food; however, Shaivi and her team played a major role in influencing our venue and wedding vendor teams on how to best utilize the venue and space in order to ensure that the events flowed well and that the guests had an amazing time. Sukhadia's nailed it everytime, whether it was small snacks, drinks, a buffet line, butler-passed food, or live food stations!!

Lastly, our venue, being brand-new, had not completed all construction in time for our big day, at the last minute, Sukhadia Caterers had to plan to bring in kitchen equipment and setup a kitchen on an NYC rooftop to make our vision come true, and they got it done, no fuss.

I strongly recommend that you select Sukhadia Caterers as the caterer of choice for your wedding events and any other events you may have!

+ 2

photos

Dhruti P.

Married on 04/17/2021

Delicious & Memorable!!

All of our guests truly enjoyed every meal provided by Sukhadia at the wedding. They were all raving about each meal and my husband and I can attest to that. We were amazed by the service and hospitality provided by Sukhadia. From Friday to Sunday, our friends and family were so pleased with the selection and display of foods. Sukhadia worked with us through this pandemic and for that we were so grateful. They truly are an amazing team to work with. Shout out to Shaivi for helping us create our vision on a plate and going above and beyond for us!

We will definitely be recommending their services and food to our friends and family!

Kalpana P.

Married on 04/03/2021

Beyond expectations!!

Best Quality food served by great people!
Food at every events had a different flavor, so people enjoyed every food served by them.
We highly recommend them because they will take all burdens of food catering. 😊

Smriti

Married on 04/03/2021

The BEST caterers for your wedding.

I don't even know where to begin, but let me just start by saying Sukhadia's was the HIGHLIGHT of our wedding in many ways. A few months before our wedding, we were still unable to find a caterer. We had some specific, somewhat novel menu in mind, and caterers were unable to fulfill our items to a high standard, and others said they were flat-out unable to the menu. We've enjoyed Sukhadia's sweets for many years, and by chance, happened to stumble upon their website where it mentioned they also catered for weddings. My mom brought our menu to Shaivi (who is AMAZING), and for the first time, not only did she agree to make the menu, but she offered *additional* suggestions to make it even more special. After that point, everything was a breeze. Shaivi and her team went above and beyond in every aspect of our wedding. Their team drove down from NJ to Texas with their supplies, they made everything fresh for all our events (over 5 days), and didn't sacrifice quality at any point. They negotiated with our hotel to use their commercial kitchen (the first time this hotel has ever allowed outside use of their kitchen). Every item was unbelievably delicious, novel, and beautifully presented, and by the end of our wedding, our guests were raving about our food more than anything else. Chef Oscar made an AMAZING okra dish (which is my favorite vegetable), among many many other things. The highlight of this experience was working with Shaivi and Piyush, who made every step effortless for us. They communicated so well about every aspect of our menu. My mom says that after she met Shaivi, all her catering stress was relieved. At the end of our wedding, we all agree that Sukhadia's was perhaps one of our favorite vendors, and definitely the one we were most thankful for. I wish I could go back and enjoy our menu as a guest because of how much every guest talked about our food (everyone knows it's impossible to eat/think about eating when you're the bride). Anyway, the point is, you will NOT find a better caterer for your wedding than Sukhadia's. They are literally the greatest of all time.

Janaki V.

Married on 10/10/2020

They saved our COVID wedding!

As most of us have experienced this year, our dream wedding in August had to be quickly re-planned. We had originally hired Shaivi Sukhadia and her team to cater our multi-day 400+ person wedding in upstate New York. When we had to dramatically scale down our event due to COVID, Shaivi and her team did not hesitate to help us in any way they could! They were extremely flexible with working within our new budget, still traveling to upstate NY to cater our small backyard wedding, and making arrangements to provide food for all of our guests for breakfast, lunch and dinner each day. They also went above and beyond to ensure that the entire process was compliant with current recommends for food service during COVID. What I loved the most was that we were still able to incorporate many of the small details and fun things that we wanted to include in our originally planned wedding including live stations, custom beverages and custom snacks for our guest. We can't thank Shaivi and her team enough for literally saving our COVID wedding and making the entire process as best as it could have been! We would definitely recommend this team and would absolutely hire them again in the future!

Janaki and Pratik Dave

Veena P.

Married on 07/11/2020

Small Wedding

Shaivi and the Sukhadia team were phenomenal. We had a small wedding because of coronavirus but they crafted an amazing menu and the service was great. They were prompt, set up everything (and made sure everything was sanitized and served so it was safe!) and cleaned everything up. The food was fresh and great. Would definitely recommend!!

Indira R.

Married on 05/24/2020

Outstanding service from Shaivi, Raju, Chef Ravi, and Bindu Sukhadia

Our daughter's wedding was held at Tampa Westshore Grand in November 21, 2021. We choose Sukhadia Caterers from New Jersey. It was a pleasure working with Sukhadia team. They are exceptional. The team was professional, flexible and supportive. Guests enjoyed food very much. Bindu Sukhadia is so courteous and took care of the whole breakfast, lunch and dinner arrangements. Bindu is awesome! Our thanks to Shaivi, Raju, Bindu and rest of Sukhadia team for helping us to have a unforgettable weekend. We highly recommend Sukhadia Caterers for wedding events.

Renuka B.

Married on 05/02/2020

Best in the business!

Shaivi, Oscar, and the Sukhadia team are absolute rockstars! They are the best at what they do from professionalism, customization, great service, top notch food, and beautiful presentation. We have now had the honor of working with Sukhadia for not only our wedding, but also for my brother's.

From our initial introduction, Shaivi and the team have treated us like family. When our initial wedding plans with 500+ guests in Virginia had to change due to COVID, the Sukhadia team went above and beyond to help us out! After 2 postponements, a venue change, and a much lower guest count, we were nervous about whether we could pull off a wedding in less than 6 weeks. Thanks to the Sukhadia team and their patience and flexibility, we did and we couldn't be happier!

Their attention to detail and the level of care they take with every event is amazing! We never had to worry about whether the Sukhadia team would follow through since Shaivi was always extremely prompt and professional.

When our big day came, our guests were elated by the variety of food. The Sukhadia team was able to do everything from authentic South Indian dishes, Mexican live stations, baraat and cocktail hour drinks, and custom farewell boxes.

I could not imagine having any other caterer for our wedding day! We are so thankful to the Sukhadia team for making all our wedding dreams come true despite all the changes due to COVID. Don't look any further for your catering decisions – these guys are the best!

+ 3

photos

Shikha D.

Married on 04/10/2020

Excelllent

We hired Sukhadia to cater an intimate, sit-down, anniversary dinner of 11 and they made it memorable. They both prepared and served the multiple courses and showed an amazing eye for detail. They brought all the dinnerware and set the table, even doing some simple and elegant flower arrangements. The food was great and they were attentive without being intrusive. They even went the extra mile and taped the toasts when they saw that no one else was. Shaivi was really calm even during the inevitable pre-party frenzy and very easy to deal with. And Oscar, the chef, if not only a great cook but a great dancer as we discovered when he made a brief appearance on the dance floor. I'd highly recommend them.

Sajal P.

Married on 11/30/2019

Sukhadia catering Savannah Wedding

Sukhadia went over and beyond my expectations. My father being a huge foodie I had suggested him to go with sukhadia for my wedding and we couldn't be happier-the presentation, professionalism and amount of dedication shaivi and her team displayed at all of our 4 events was spectacular. I would highly recommend sukhadia for your next event!
Are you interested?
Send a message