Reviews
5.0 out of 5 rating
Quality of service

5 out of 5 rating

Average response time

5 out of 5 rating

Professionalism

5 out of 5 rating

Value

5 out of 5 rating

Flexibility

5 out of 5 rating
100%
Recommended by couples
3 User photos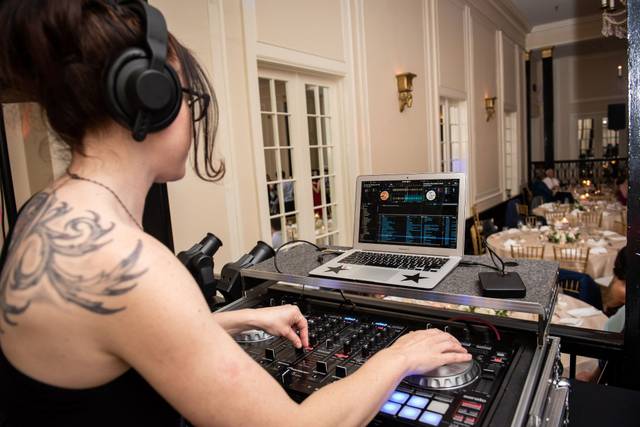 Morgan M.

Married on 07/22/2023

Get ready to dance!

DJ Jason and his team ran our wedding reception so smoothly! Their professionalism and experience really distinguished them from other wedding DJs we have seen before. The variety of music they played ensured that people of all ages were on the dance floor ALL night, which was exactly what we wanted. Our guests were still discussing how awesome he was the next day and most likely for years to come.

Brittany L.

Married on 10/23/2022

Amazing dj 🱯

Let me start by saying Jason and his team need to be your DJ! Our first conversation with Jason was to get our profile for which DJ would best suit us. After about 5 minutes we knew Jason was our match and so did he. From the very beginning he shared our vision. His passion and level of commitment to ensuring we did not stress about our wedding was unbelievable. At one point we were struggling with choices of music and a multitude of other things. Jason not only made himself late to dinner answering all our questions but made sure the pressure we were feeling was lifted. As soon as Jason arrived at the venue he made it clear he was there for us. He brought a member of the team along and they went to work. Jason constantly checked on us making sure we were doing ok and going over our time lines while we were getting ready. It was also the first time I had ever seen 2 dj stations; one outside where our ceremony was and the main station inside our venue. Jason and his team from the first note were spot on with volume, timing and song choices. Now once the reception started Jason and his team hit the ground running like Forrest Gump running across America! He nailed our choreographed dance song we gave him perfectly. The entire night was filled with games, laughter and the best DJ performance I have ever witnessed. Family and friends we did not expect to be on the dance floor we're having a blast. Jason and his team kept the energy going from start to finish. Multiple issues arose during our wedding but thanks to Jason and his team not a single person noticed or cared! They saved our wedding and we can never thank them enough!

Lauren S.

Married on 10/15/2022

Exceeded our expectations!

I can't say enough great things about Stylus, specifically Jason and Spencer. They took time out of their busy lives to speak with us 2-3 times before our wedding and get to know us and our style. They were willing to work with our budget, our music choices, etc. On our wedding day, Spencer made sure everything flowed and ensured that no requests were missed. We received so many compliments from our guests. Cannot recommend them enough!!

Are you interested?

Send a message

Lynn L.

Married on 10/15/2022

Best DJ ever!

Jason and his team made sure we had the most fabulous wedding ever! He had everyone on the dance floor! The best part was that he talked through the entire night with the bride and groom ahead of time and made sure they had the wedding they wanted. He gave them great advice about the wedding and reception! All the guests raved about how wonderful he was!! I would highly recommend them! Best ever!!

Quentin P.

Married on 06/18/2022

Excellent from beginning to end

Stylus provided great quality service. Great interaction service with clients. Amazing job

Ezan C.

Married on 06/12/2022

Beyond our Expectations

I can only sing praises for Stylus Events! Jason and Mez truly helped shape our wedding into everything we wanted it to be. Throughout the whole process, they both brought such an amazing and positive energy that only brightened the atmosphere. They both have such an endearing humor that made our stress about the wedding process disappear. Planning out the music and emcee responsibilities with them did not feel like another chore, but was something we looked forward to and genuinely had such a fun time participating in. I always dreaded when our meetings came to a close because it meant the laughter and amazing conversations were also coming to a close. More than just bringing their amazing energy, they both took the time to listen to what we wanted for each of our events. Our wedding consisted of several events, the mendhis, the barat, and the walima, each with a unique theme. We provided them with a general vibe and direction of what we wanted for each segment of each event, and they were able to complete the picture to perfection. Jason and Mez also took on the role of emcee for our events, and we were beyond satisfied with the way they carried out their roles. They both have an amazing ability to capture the audience's attention and direct it to where it needs to be. Our guests also loved the atmosphere that Jason and Mez helped create and there was no shortage of laughs when one of them had the mic. And of course, the quality of all their speakers and systems is absolutely stunning. If you're looking for DJs who take their job seriously and with pride and also know how to have fun along the way then Stylus events is the way to go. My family and I will always go to Stylus if we need a DJ, and I cannot express enough how grateful we are toward Stylus Events for helping make our dream wedding come to life.


Kristi D.

Married on 06/11/2022

Excellent Service

We had Spencer as our DJ along with an assistant and they handled the music for our wedding flawlessly. They created an engaging atmosphere for dancing and kept that vibe all the way through. Special requests or changes were not a problem. Most of all, everyone was dancing from the beginning to the very end. Couldn't ask for anything better.

John G.

Married on 04/23/2022

Amazing! Jason was easy to deal with and very responsive.

Jason was off the charts! With his energy, sense of humor, wit and charismatic personality, he kept the wedding reception going all night. I'd highly recommend Jason. He really paid attention to every detail and helped make my daughter's wedding a very special, memorable day.

Karen M.

Married on 10/16/2021

Wedding Reception

Jason and his team are simply the best at what they do. Highly recommend. They go out of their way to make you the best party you could ever imagine…

Nereida R.

Married on 10/09/2021

Worth every penny!

Our very first vendor was Jason Huggins that my now husband and I hired and he was the start of the best team of vendors that I could imagine. We met him at a bridal show, where he over heard me saying that Taylor Swift wasn't dance-able. And I'll never forget how he took Shake It Off and mixed it with reggaetón and it was out of this world. He was absolutely wonderful from the beginning, resourceful and very helpful. He guided us on a few things along our journey and even pointed me in the right direction when I needed it. He was so wonderful, several of our family members left that night with his business card! He craftily constructed his position as Emcee and DJ to create plenty of laughter and joy for everyone and even putting some people on the spot for perfect playful embarrassment - it was fantastic! He knew how to work the crowd perfectly and was 100% worth every penny! I couldn't have imagined our wedding day without him honestly, nor would I have wanted it any other way. Thank you so much, Jason. We appreciate you so, so much.

Jesse B.

Married on 06/10/2021

Jenni was awesome!!! Perfect wedding!!!

We feel so lucky to have had J-Star DJ our wedding! She did such a good job of guiding us through selecting our playlist, which took some patience! The website and documents she shared helped walk us through it very clearly. She even mixed a custom song for our first dance! She was an excellent MC and mixed a varied playlist perfectly. It was so cool hearing al of our favorite music throughout our reception and everyone said how much fun they had! The after party was on point, as we were already fans of J-Star's and she played some authentic underground jams for us! She was so knowledgeable about the whole wedding process she guided us through the event and even helped keep us on track during planning. We really couldn't have done it without Jenni! 10/10 would do again!

Meagan C.

Married on 05/22/2021

MUST have!!

Choosing Stylus for our wedding reception was our best big day decision!! Jason was above and beyond and provided outstanding, professional services. Jason also helped us with logistical details and flow. He is not just a dj!! He's an event expert!! Our reception was amazing and we danced for hours with our closest friends! Memorable doesn't cut it!! Stylus is an absolute must have for your wedding. Their prices are very reasonable given the services they provide. Book now!

Danielle K.

Married on 05/15/2021

100% recommend

My husband and I had Jason for our wedding and he was FANTASTIC! Super friendly and engaging guy, knew exactly what he was doing. Everyone complimented us on how awesome our DJ was. The photo booth we used through them was amazing as well, everyone enjoyed it so much.
Jason and all the DJ's at Stylus Events are amazing and I would recommend them over and over again!

Dylan B.

Married on 05/14/2021

Wouldn't go with anyone else! Amazing on all levels!

Jason and the stylus team were truly amazing and made our day that more special. The production value, Jason's ability to provide energy to the crowd, all while playing the music we had asked for were all reasons I'd hire Stylus over and over again. Simply the best!

David W.

Married on 02/06/2021

Great DJ Service

Let me say I don't write many reviews but wanted to pass on the positive experience we had with Stylus.

When scheduling a wedding in Feb2021 we knew we would hit some COVID snags. But our original DJ stopped responding then bailed on us with 2 weeks to Wedding Day, we were panicking. Not Good. But within minutes of calling Stylus, we felt like we had an upgrade and that proved to be true on the Wedding Day. Spencer is a real PRO did a great job on the Ceremony with minimal preparation, and everything else went smooth as well. STYLUS CAME THROUGH. Great Job and Highly recommended!
DPW



Kaylee N.

Married on 05/10/2020

Don't look any further...hire Stylus ASAP!

We got married Sept 2020 at Highgrove Estate, and could not have asked for a better DJ and team to work with on our wedding day. Jason was amazing to work with leading up to our wedding. We were originally supposed to get married in May, but due to COVID we had to move our wedding day. Jason was so understanding and made the process of changing dates stress free! He arranged a meeting a few months prior where we were able to work with him to work on the timeline and picking out the perfect song for each moment on our special day. Jason provided his expert opinion which was so helpful in planning our big day. Plus, his Disney mixes were perfect for our Disney themed wedding! Throughout our wedding Jason did a great job playing music that kept the crowd dancing and having fun all night. He did a great job with announcing all of our wedding party and parents. Everyone kept complementing how great our DJ was and how much fun they had which is all thanks to Stylus!!


Samantha

Married on 10/19/2019

3rd DJs the Charm

If you are looking for a great DJ that is reliable and knows what they are doing, look no further. DJ Jason and his team really rocked my wedding. I had the worst of luck with DJs (2 cancelled on me) until I met Jason and his team. I knew I could put all of my trust in them and they delivered. Having a bicultural wedding I was nervous about all guests musical interest being accommodated, but Jason made it happen!! Tons of my guest complimented on how professional he was and how smooth the transitions between ceremony, cocktail hour & introductions were. I highly recommend Stylus S.E!

Stylus S.E.'s reply:

Sam - I can't begin to tell you what a pleasure it was to help with your wedding day but I have to or we'll be here all night! First up, you and Juan crafted a truly unique event and we were thrilled to be such a big part of it - your personalities and style shone through at every stage and the story of your love was something that your dad summarized so succinctly in his toast that I laughed way louder than I meant to - thank you so much for taking the time to share your experience with us and let Juan know that I've been digging since he brought me those tracks :)

Malika K.

Married on 10/12/2019

Awesome DJ!

Jason Huggins from Stylus S.E. did an amazing job for our wedding! He was also very responsive and planning with his team was easy. He was involved with planning the timeline to make sure the night went smoothly. Jason was easy to work with and did a great job our reading our room to keep our crowd dancing all night! We highly recommend Jason and his team.

Stylus S.E.'s reply:

Malika & Robert - Thanks so much for inviting us to share in your wedding celebration! I loved that your musical tastes reflected so much of your personalities and guests - and your Mom was so on point with her Bhaarateey songs! I have to give a great deal of credit to your own toasts as well - it's obvious that you have a ton of people who love you and your messages to them (Robert FTW!) to wrap up the toasts were truly from the heart and one of my favorite parts - it's not very often that a couple ends up giving such an inspired response to such an indomitable group :)

Yorky M.

Married on 10/12/2019

Great DJ Services- They do bilingual weddings!

Stylus SE is one of the few DJ services that is bilingual in Raleigh. It was a requirement for my wedding, English and Spanish. 4 weeks before the wedding I was contacted by the owner, Jason, who had to change my DJ. I did not notice a difference in service. DJ Rio was great at my wedding and accommodated to our requests, questions, and guests. Highly recommend them!

Melissa G.

Married on 10/05/2019

Such a great DJ!

We absolutely loved having Jason from Stylus SE as our DJ. We had seen him a two different weddings previously and knew we had to have him at ours. He's amazing at mixing songs and can really read the room as well. Not only did he help us with music, but he also helped us figure out our timeline and was very professional in terms of set up and communicating with other vendors the day of the wedding. You can really tell that he loves what he does and he made our wedding so much fun!

Stylus S.E.'s reply:

Melissa & Sam - your wedding day was truly original - just like the two of you. From your wooded ceremony to the epic rager that followed - it was a unique opportunity for your friends and family to showcase the best of each other and yourselves. I'm so grateful that you invited us to party with you - it was truly epic!

Carly

Married on 09/28/2019

Best DJ!!!

We hired Jason after hearing multiple reviews from friends that he was hands down the best DJ if you want a good party. That is the vision we had for our wedding--an amazing party, and he definitely delivered. He played songs that kept everyone on the dance floor all night, and made sure to play everything on the list I provided. He was interactive with the guests in the perfect way, everyone was raving about him all night. Jason was our first hire in the wedding process, and we could not have been happier with that decision!!

Stylus S.E.'s reply:

Carly - Thanks so much for taking the time to share your experience. I was truly honored to have helped with your amazing event and was so grateful to have seen you and Dom celebrate your love in style at the Barclay Villa! Please let me know the next time you guys are celebrating and come party with me at the club sometime soon!

Caroline

Married on 09/07/2019

Jason DJ'd for our wedding ceremony and reception and he was absolutely phenomenal! The online portal that Stylus uses for you to submit your wedding timeline, must-play music choices, ceremony music etc. is very professional and extremely helpful! From start to finish Jason was very prompt with correspondence and genuinely cared about what we wanted. Day of, Jason had everyone laughing, dancing and having a great time. Our dance floor was packed the entire night. Jason was awesome at reading the crowd and playing music that everyone loved! Everyone still talks about how amazing of a DJ Jason was. As the bride, I really appreciated how well organized Jason was, and how well he followed the timeline we put together so that the reception flowed with ease. When picking a DJ it is important that they not only play good music, but that they are a great emcee as well! Jason is a 5 star in every category! I would highly highly recommend him and Stylus events to any couple getting married, or to anyone hosting a large event!

Stylus S.E.'s reply:

Caroline & John - yours was easily one of the most amazing wedding experiences any couple, any guest, or any DJ could ask for - largely because you two were so amazing that you were surrounded by people who genuinely adored you and wanted to do everything they could to make your day special ***FIREWORKS ***!!! It's been such a pleasure getting to know you and be a part of your special day! I'm thrilled you came to party with me at the club and let me know the next time you want to come out - I'll put your name at the door and you can skip the line!

Alex B.

Married on 05/17/2019

Can't go wrong with Stylus and Jenni!

Jenni J*Star was incredible for our wedding. She was a great MC and an even better DJ. She did a great job of listening to our requests, but also reading the room and keeping the party going. I highly recommend if you want your wedding to be a fun dance party!

Angelina

Married on 05/04/2019

Party of the century!!

We first talked with Jason who was very professional and I could tell loves doing what he's doing. After providing our concerns and desires, Jason recommended Jenni as our DJ. Jenni provided contact information for two couples who were recently married. The biggest concern I had for our wedding was the music. My now husband, me (the bride), and my parents all had different likes, dislikes, and ideas for the wedding. Jenni talked with all four of us and rocked our wedding. Needless to say, next time our family needs a DJ, we will be sure to call Jenni. She felt the room and interacted. She had fun which made us have even more fun. Thank you Jenni. You da best!

Cassie

Married on 11/17/2018

Stylus is SO good

Stylus was recommended to us by our planner (specifically, she said if you like to have fun and you have a dancing crowd, Stylus is one of the best), and the Stylus team did an AWESOME job. Leading up to the wedding, Jason (Stylus owner) was extremely prompt, responsive, and helpful. When I first spoke with him, he spent 45 minutes on the phone with me discussing their work and my fiance and I's vision for our wedding. And he definitely had better things to be doing (Stylus is killing it). He will talk with you to get your style/taste in music so he can recommend the appropriate DJ. Stylus also has a bunch of planning tools on their website that are super helpful, such as recommended songs for the DJ to play (as well as songs you don't want played), reception music planner and ceremony music planner. It makes things really easy.

On the day of the wedding, the DJ was the highlight of the reception. He took requests, chatted with guests (and us!) and was great on the mic! He also just looked like he was having an awesome time, which made it really fun. After the wedding, we constantly heard about how great the DJ was. He had everybody dancing and played just the music we were looking for.

I can't recommend Stylus enough!! You'd be amiss not to retain them for your wedding or any other special event, for that matter!
Are you interested?
Send a message